Business Travel and More - November 2007 · · PAGE 249.
November 6, 2007: (This page was posted November 18, 2007) I was on the third day of a week-long trip to the Midwestern states. The clients visited were in the Cincinnati area, Indianapolis, Minnesota, and the Kansas City area. That Tuesday found me going from the Chicago area toward southern Minnesota with the route crossing southern Wisconsin. That put me within a few miles of Flightline Interiors and allowed a brief stop to pick up my repaired seat cushion. Abby did not want to pose for a photo with her staff, so this photo of their shop is all that was approved for posting on this web site.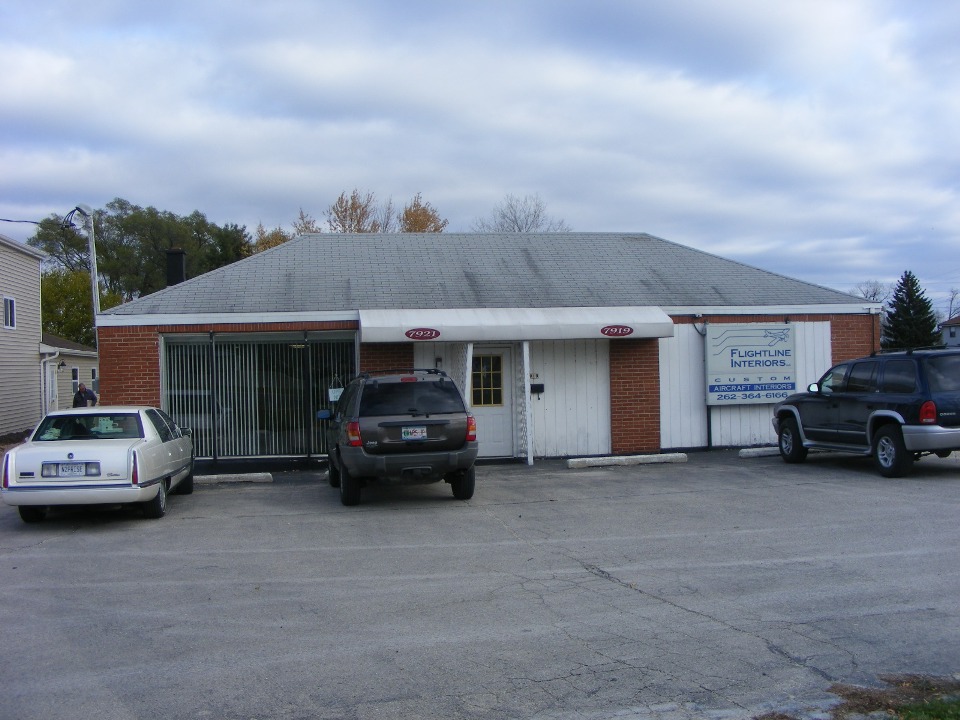 November 8, 2007: I found this gas station getting new fuel tanks while I was in the Kansas City area. It is located across the street from where I stopped for lunch.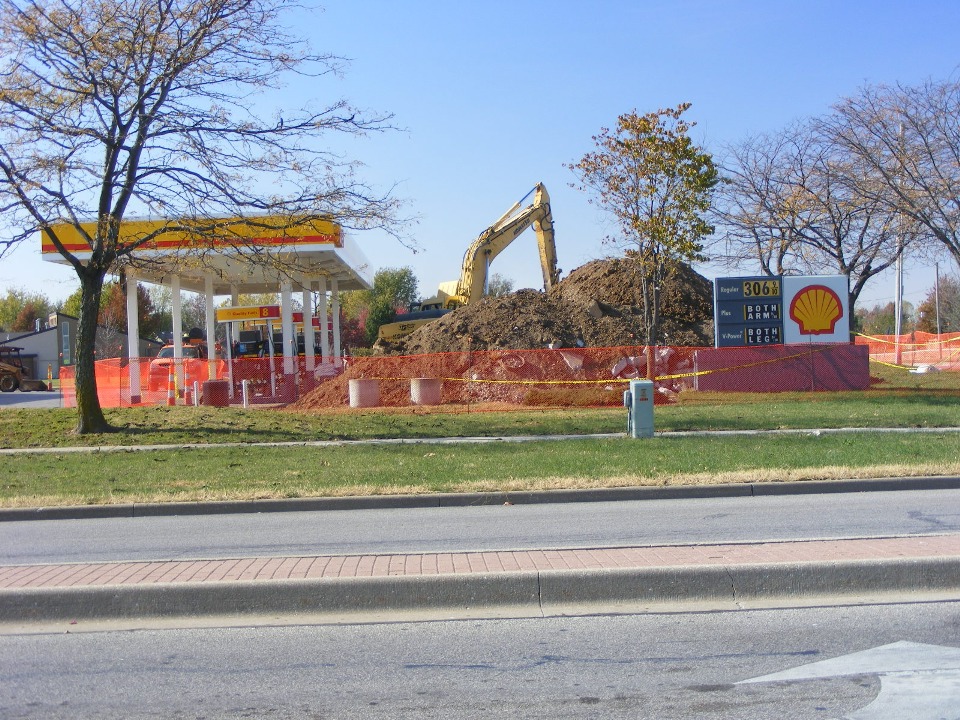 I took this zoomed shot of the price signs to be sure you don't miss the humorous prices for auto fuel while they are closed for upgrades. This photo was taken just after 12 noon on Thursday. By the time I stopped for the evening, I was about 25 miles East of Saint Louis in my motel. I made it home to Chattanooga, Tennessee on Friday afternoon before 5 PM.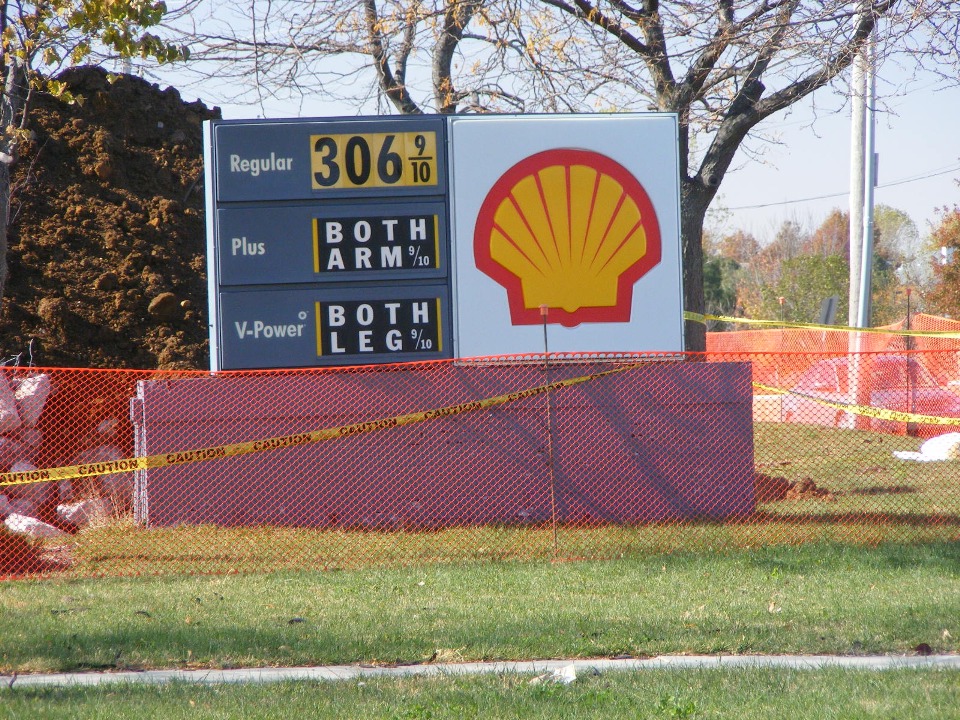 November 17, 2007: Another Saturday with most of the afternoon spent with Wendell to get some milestones out of the way on his RV-8 project. You can see all those photos and text that begin on his PAGE 67. As for me, I had put the repaired seat cushion back in my RV-9A earlier in the week, but realized I had not taken a photo of the finished repair made by Abby. It is good to be "whole again" instead of "holey" when I look at my seat cushion. Nice job Abby and THANKS!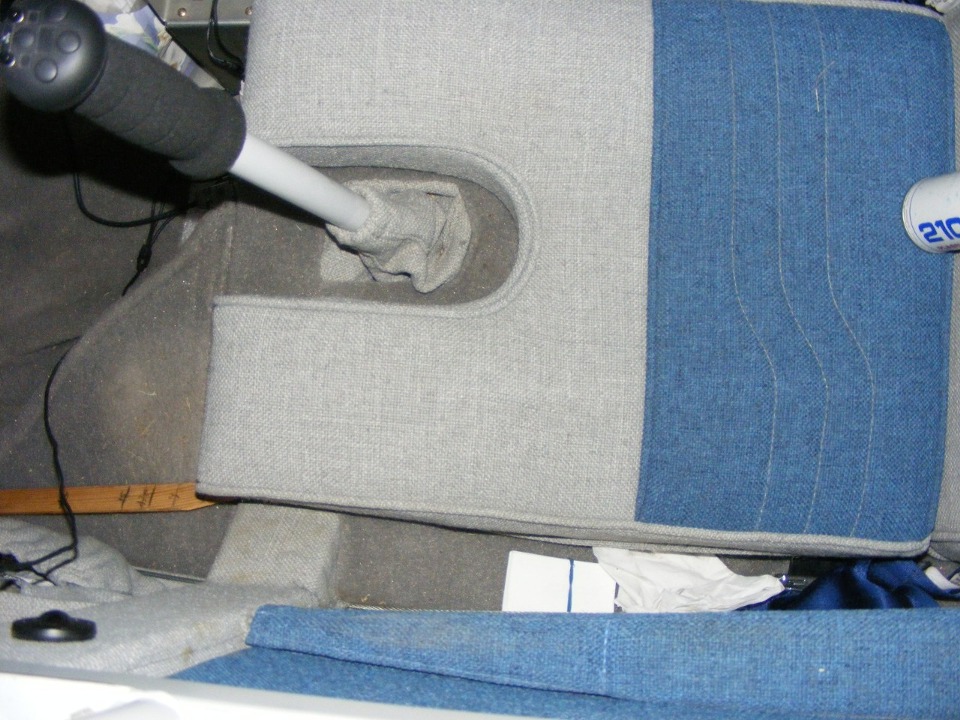 Last of all, I want to thank the friends and family members who called about this web site NOT being updated for several weeks. It is good to know that they keep up with me and my travels via this web space.
November 22, 2007: It is Thanksgiving Day in the USA and I get some time to update web pages and do some more chores around the house. Last night was a time to sweep and mop the kitchen floor and complete my laundry duties. Today, the web site gets a tweak with two new pages showing my cute little grand daughters I visited just before Halloween.
I have to head out for some groceries while Wal-Mart is open until 6 PM today. And yes, when you live alone, you don't worry about cooking a big turkey and all that other stuff. I will go by the hangar to check on what Wendell did yesterday in preparation for the big move of his RV-8 from the shop to the hangar. With any luck, the wings should get installed tomorrow when I have a day off from my day job. I have to teach Wendell the skills to insure the wing sweep and incidence are correct before the aft wing spar bolt holes get match-drilled.
November 25, 2007: It is Sunday evening and I am posting to the web site with the latest updates from Chickamauga International Airport. The big move from the work shop to the hangar occurred on Friday after Thanksgiving. After that, we had a review of the tasks needed to be completed before the wings could be attached to the fuselage. The weather on Friday was beautifully clear outside and great for moving day to the hangar. By Sunday afternoon, we were getting a good soaking rain in chilly temperatures. Considering the exceptional drought in this area of the South, it is a welcome rain indeed.
Wendell's latest project updates continue on his PAGE 69 and continue on his NEW PAGE 70.
November 29, 2007: I have been working with Wendell in a couple of evening sessions this past week. The details are on his PAGE 71. We did not work on Thursday evening, giving me a chance to update these web pages. The wings were attached to the fuselage this week and properly aligned. The first wiring connections between the LEFT WING and the fuselage were made when the prepared electrical connectors were finally mated. Wendell advised me that he has placed the aileron push-rods inside the wings ready for final connection and adjustment to the joy stick assembly.
The weather forecast for Saturday could provide some local flying weather before the light rains forecast for Sunday. Saturday is also when Wendell is expecting to get some paint applied to key wing areas before the flaps and ailerons are mounted to the wings. Having my airplane OUT of the hangar is my goal for the time when there could be paint spray in the air. That is as good an excuse as I need to go flying on Saturday. It will be my first chance to check out the ILS approach to Dalton since my SL-30 NAV/COM receiver was repaired and reinstalled in my RV-9A.
December 1, 2007: A good day to go flying! I made my usual test flight to check out the ILS at Dalton, Georgia (KDNN). Everything works as advertised in this first flight after getting my SL-30 NAV/COM receiver back from Garmin AT repair. There was some mild turbulence until I got in the valley where Dalton is located. A Cessna had just finished a practice ILS approach as I was getting established at the UWI NDB.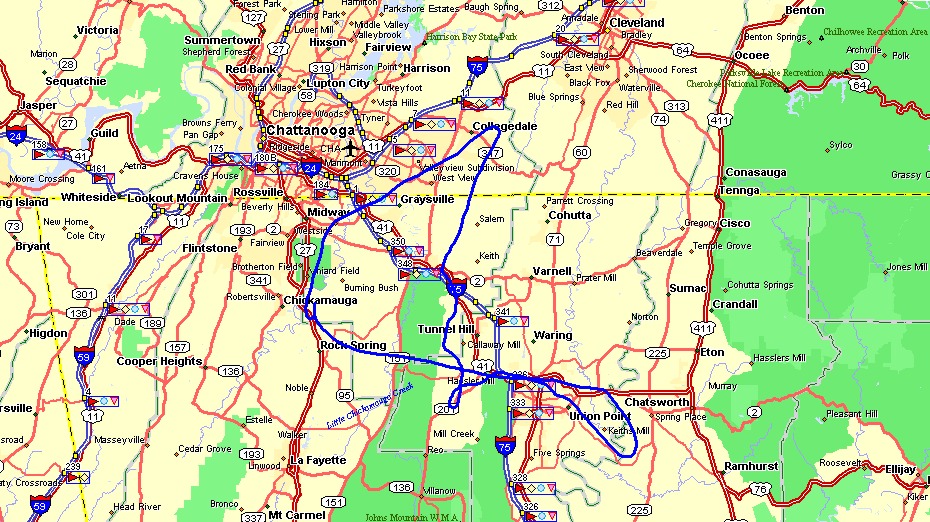 I also did a little bit of sight-seeing down low at about 300 feet over a private grass strip on Georgia State Highway 201 west of Dalton, then up to the gap near Ringgold, GA where I-75, US-41, the CSX railroad, and Chickamauga Creek pass through the ridge gap.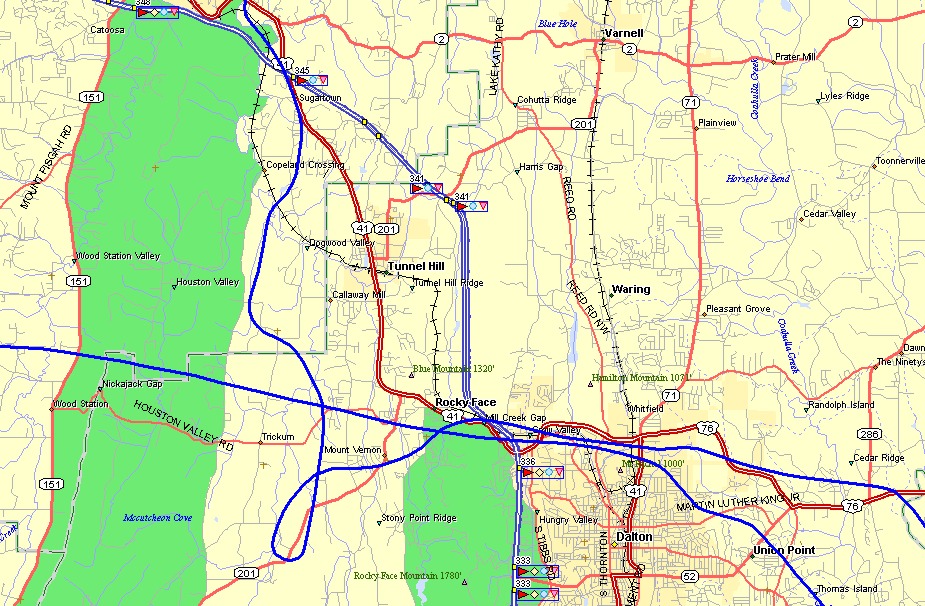 Here is a quick photo I snapped in the turbulence looking west through the Ringgold Gap at Interstate 75.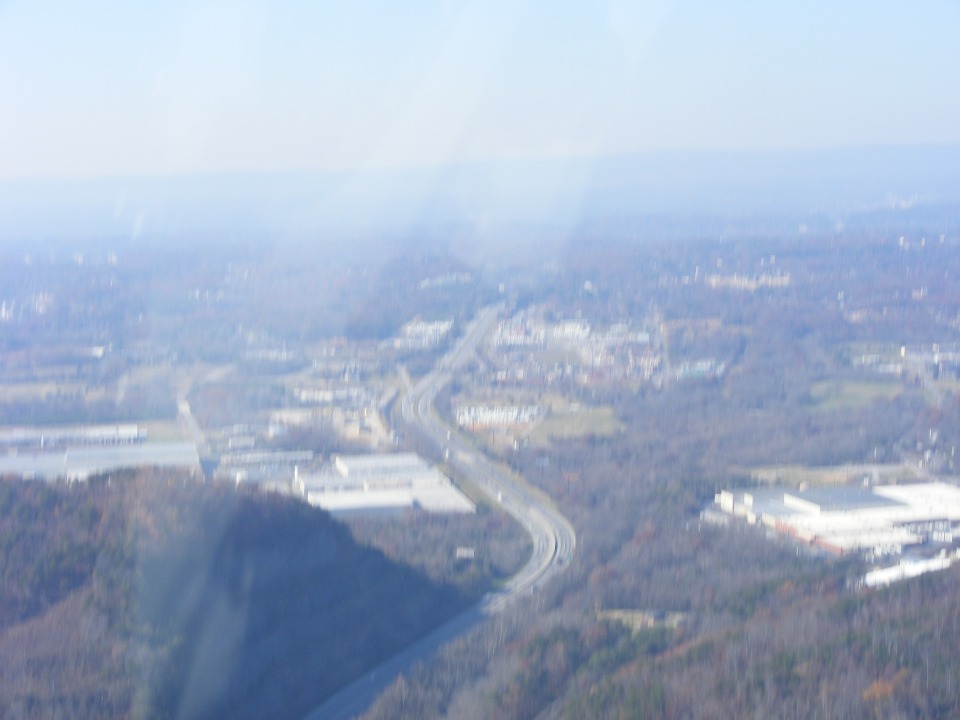 I managed to get a much better picture looking East from the gap area. US41 runs across the bottom of the photo, while I-75 is heading in a southeastern direction. There is a power sub-station just out of the photo as indicated by all the power lines in the bottom right corner of the shot. At this point I was just a few miles south in the same valley as the Collegedale Airport, so a quick touch-and-go there was really easy.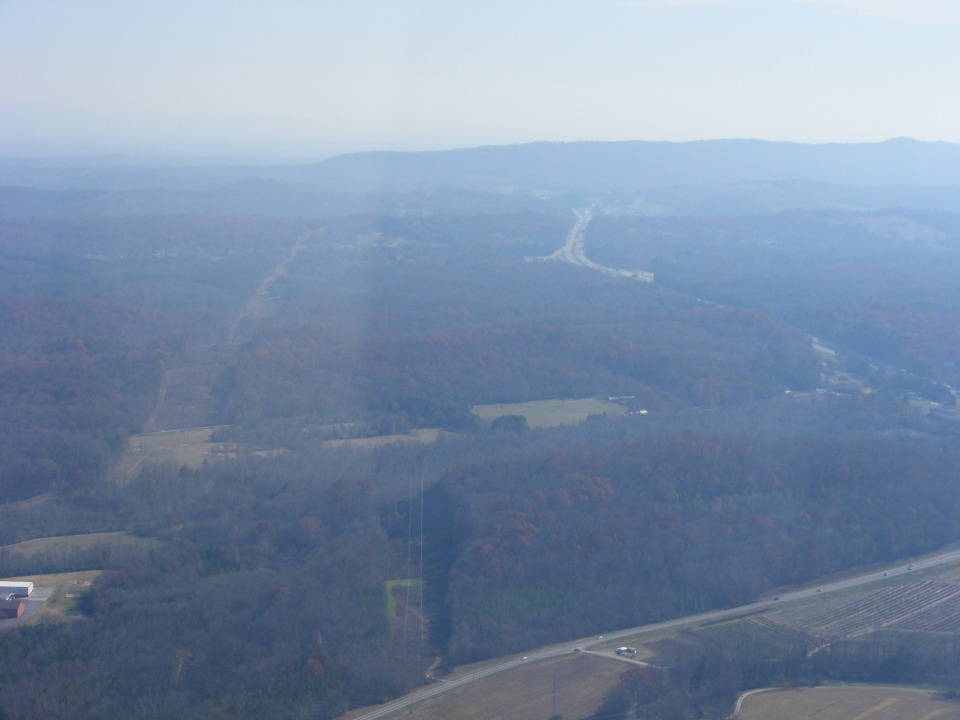 On the way back to Folks Field, I called Chattanooga Approach and asked for a fly-over of MORRT intersection , the middle marker for the ILS to runway 2 at Chattanooga. This was a chance to confirm my 75 MHz marker beacon receiver is working normally, and it was. As always, it is good to get back to the hangar. The Hobbs meter added 0.8 hours today to bring the total flight time up to 239.3 hours.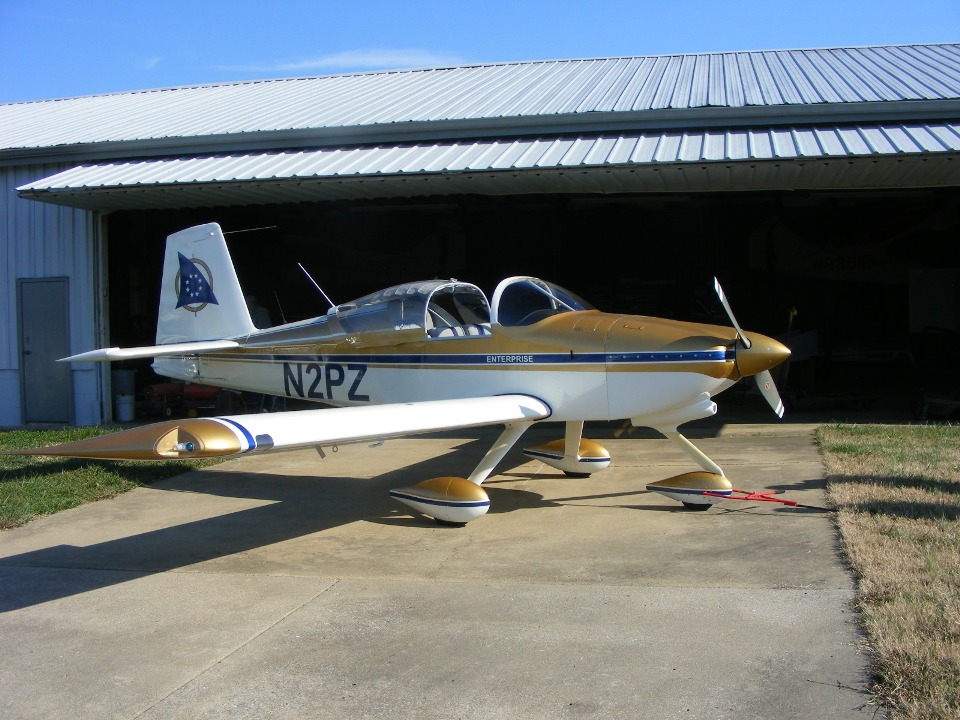 December 12, 2007: It was a good evening session helping Wendell with his RV-8 project. I showed him how the flap fairings are aligned to fit the fuselage when the flaps are in the full UP position. We also talked with the designated air worthiness representative (DAR) that gave my airplane its inspection for an air-worthiness certificate. We talked about the location of Wendell's home field and its position relative to the Georgia state lines with Tennessee and Alabama. It is looking good for a phase 1 test area that is safe and logical, not bound by bureaucracy rules. Wendell scheduled his inspection to be in mid-January with the DAR. It allows enough time to paint the airplane before the first flight.
I also cleaned off one wing of my airplane where a bird left a deposit. The hangar was open the other day with some paint preparation work under way on Wendell's RV-8. Look at his PAGE 72 for the first new photos of recent work that continues on pages 73 & 74.
December 16, 2007: It is Sunday again and I managed to work with Wendell for a couple of hours this afternoon. See his new PAGE 75 for three new photos and text on today's short work session.
The weather is much colder today and the temps are going down into the 20's tonight here in the Chattanooga area. I am starting to make my plans for the holidays ahead to be with friends and family and possibly mix in some business travel if my contacts are available between Christmas and the New Year holidays.
December 22, 2007: It is Saturday morning as I post a new photo and some text for Wendell's project on his PAGE 75. I will be heading over to the hangar after lunch to see what he has accomplished this week. It is the Christmas party season and that is one reason we did not work in the evenings this week.
The local postmaster remembered me as the guy who built an airplane in my garage. I saw him when I had to mail out a letter the other day. It was the busiest mailing day of the season, but it did not matter as I went there late in the day. We had a good discussion about Van's Aircraft kits and the 5,000+ kits that have been completed and flown. He wants to learn to fly after playing with computer flight simulators. He is a military veteran and rode in a number of helicopters, but now wants to become a pilot. I invited him over to the hangar today to see what amateur-built airplanes look like. I need to get going over that way.
December 23, 2007: My usual Sunday update is a short one to talk about the visit with Wendell on Saturday afternoon after I posted the short entry above. There are two new photos on his PAGE 75 and text about our discussion of the work done this past week and the tasks in the week ahead.
The postmaster did not come over to see the airplanes today. The weather was solid overcast and "dreary" for lack of a better word. It is now officially WINTER and the weather tonight is going to be cold. We did get some much needed rain in this area last night, but much more is needed to put a dent in the exceptional drought that grips this region of the country.