RV-8 Builder/Pilot Visits in Georgia · · PAGE 248.
September 22, 2007: I had previously parked near the control tower when we first landed at the Athens airport. I later moved my RV-9A to this location on the northwest ramp. There was a twin parked in front of me, and an Air Force trainer parked behind me. I wanted to move my airplane before it got blown around by one of those airplanes. When I went back up there to move the plane, I found a local RV-7 pilot checking out my my airplane. He was walking away as I came up and I called him back for a short conversation before moving the plane from the front ramp. Athens is the home of the University of Georgia and the tower has two RED "G" flags atop it and a big sign on the front. There is a large painted Georgia Bulldog statue near the vehicle and pedestrian gate to access the ramp area.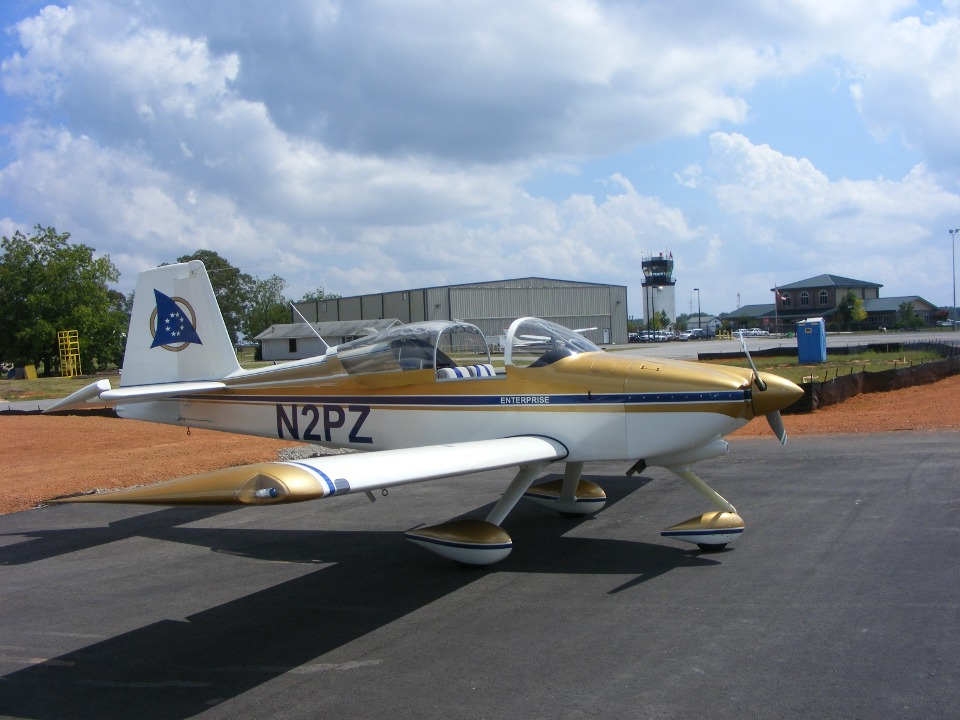 Here is the view of Marshall's hangar from my parking location on the newly-paved ramp.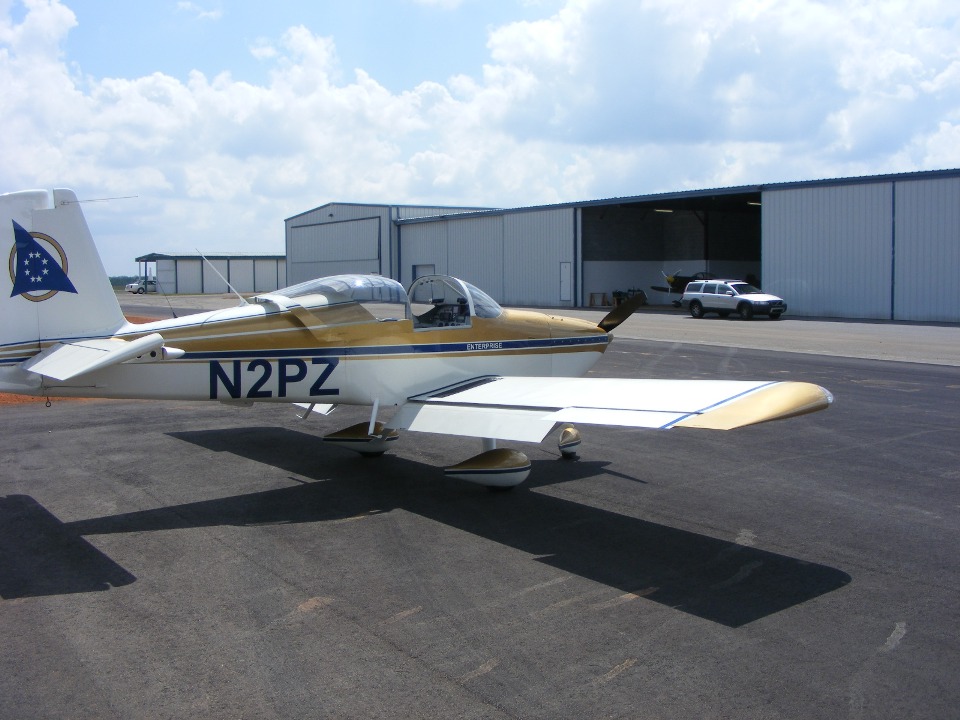 I had some minor radio problems on the way from Cartersville to Athens. The standby frequency input did not work correctly. I could enter a frequency and it would reset itself to the prior value after a few seconds. I could quickly push the "flip-flop" button after entering the new frequency and the numbers would shift, then reset themselves immediately to the previous frequencies. When I landed at Athens, I told the tower I was having problems changing to ground frequency and it was not a problem with them. When I wanted to move the airplane later to the area seen above, they used the flashing white light gun to clear me to "return to starting point."
When it was time to depart after lunch, I used my Sporty's SP-200 hand-held radio to talk to ground control on 121.8 MHz. On the way home, I found that I could push the COM button immediately after entering the new frequency and that would HOLD in the standby memory of the SL-30 radio. At that point, I could push the "flip-flop" button and get a successful frequency change.
Here is a map of the day's flights and each stop along the way. The final stop of the day was for fuel at the Collegedale Airport. The total Hobbs time for today was 2.8 hours bringing the total time on "Enterprise" to 238.5 hours since the first flight on June 9, 2005. The route "wiggles" so much to remain in VFR conditions in a broken-to-scattered cloudy sky.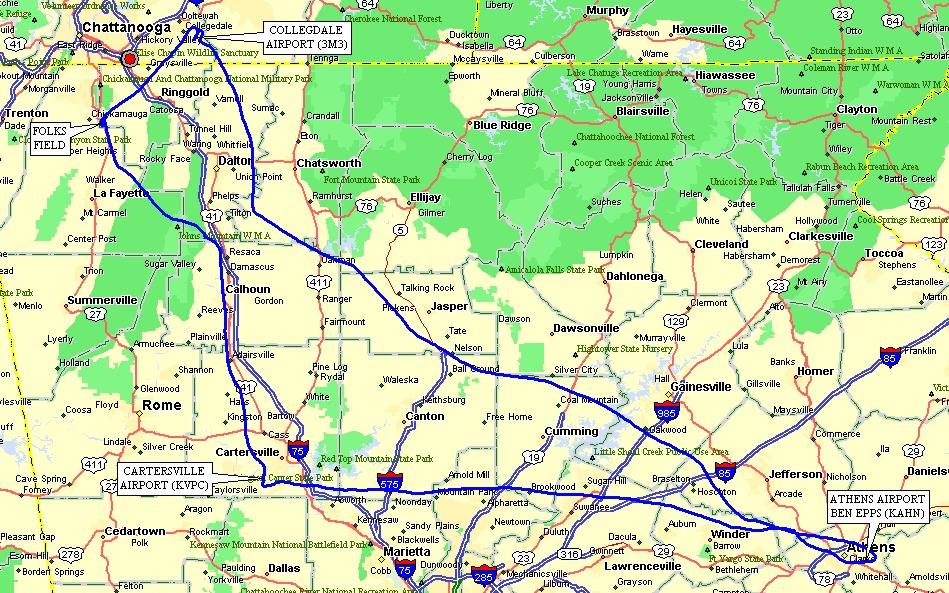 September 23, 2007: I went back to the hangar on Sunday evening and discovered the radio operation was normal again. I also demonstrated to Wendell how much electrical radiated noise comes from all the computer instruments in my panel. I turned on the hand-held unit, then lit up my panel. As I turned off each unit individually, the radio noise would change until I turned off the avionics master ending all the interference to the hand-held unit. I get absolutely NO NOISE in the regular COMM radio using the external antenna mounted on the upper aft fuselage skin. I guess I did a good job of "common grounding" on all the avionics. I won't get a chance to see if the COMM radio is normal again until I fire up the engine again. If the problem comes back, then I will have to put on my electronics hat and do some trouble shooting.
September 28, 2007: I had a chance during the week to check out my Garmin AT SL-30 NAV/COM radio and found it was still malfunctioning. I took it out of the airplane Wednesday night and shipped it on Thursday morning to Garmin in Salem, Oregon for repair. I paid a few bucks extra to get it there via UPS BLUE SECOND DAY morning delivery. UPS got it there NEXT DAY (Friday), morning delivery.
I called the repair shop there on Friday about two hours after it was delivered. There is not much of a backlog of repairs. They indicated my unit would be ready to go early in the week. I will of course, be out of town on business. I allowed for that possibility and will have the unit returned to Wendell's home since someone will have to sign for it upon delivery.
I talked with tech support about the sensitivity of the glide slope receiver. When I told him how my antenna was rigged, he told me why I had poor reception on the glide slope. I will tell you all about that solution when I implement it. More about that when I get the SL-30 back from Garmin AT.
September 29, 2007: I went out to the airport to meet another pilot who wants to build a Van's RV. He did not make it out to Folks Field. I cleaned the bugs off the airplane from last week's flying. I also gave Wendell some tips on preparing his windshield for the fiberglass steps that are coming soon. He will be heading out to Portland, Oregon this week while I will be on a business trip to Florida. I changed the maps in his GPS 396 to include the Portland and Scappoose area. I also showed him how to use Google Earth to get coordinates for user waypoints for the 396.
October 14, 2007: My updates here have been missing in action after two successive weeks on the road for my day job. I made the trip to Florida with my boss and returned home for the Columbus Day holiday weekend. Our company also observed that day as a paid holiday on Monday, October 8th. The next day was the beginning of a trip to Arkansas and Texas with my return home to the Chattanooga area on Friday, October 12th. My intermediate stops in Texarkana and New Boston, Texas both had the possibility of new business. The fiber optic seminar in the Dallas area on Thursday went as planned and I departed the DFW area Thursday afternoon to start the ride back home. The trip could have been easier with my RV-9A except for the bad weather that covered most of Tennessee on the 8th. With two intermediate stops, taking my old Caddy was acceptable.
One nice thing about taking the car is the chance to see "new" old highways that I have never traveled before. One such highway in Tennessee is US 41A and US 64 between Chattanooga and Memphis, Tennessee. One scenic small town that was noteworthy is Cowan, Tennessee. I stopped there to take some photos that are shown in my OTHER TRAVELS section of this web site.
Wendell had been on vacation all week to Niagara Falls with his wife. They rented a BMW for the trip like the one she thought she wanted. After the long ride, she knew that would not be her choice. We spent a couple of hours on Saturday afternoon working on the windshield details to prepare for the final installation. The details are on his PAGE 64.
October 21, 2007: My usual Sunday web update finds TWO NEW PAGES added to Wendell's RV-8 project section of this web site. This has been a week at home working in my office for the day job. That provided Wendell and I a chance to get his airplane project further ahead as you will seen in his section. At the end of yesterday's session, I took Wendell into the hangar to have a look at how my seat cushions are fitted for adjustments as needed. He realized what will happen when his upholstery is completed.
I took this photo on October 21, 2007, but had not published it until November 18th. It shows the solar damage done to my seat cushion that I have lived with since my trip to Oshkosh 2006. I finally decided to get it repaired. I called Abby Erdmann at Flightline Interiors a few days after I took the photo and emailed it to her so she would know what I needed fixed. I shipped the cushion to her along with some excess matching fabric she had given me when my upholstery was first sent to me.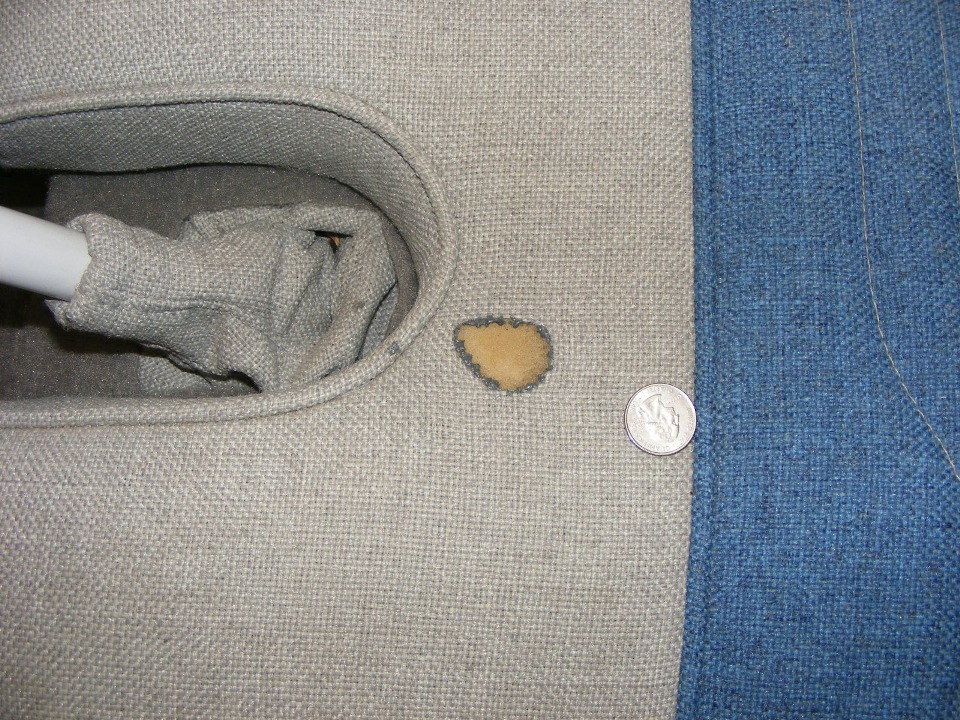 November 18, 2007: A hazy, lazy November Sunday afternoon with conditions not suitable for an enjoyable flight in my RV-9A "Enterprise". But it is a good day to post updates to this web site. I had two straight weeks on the road as part of my day job, so let's do a quick recap of that and post a few interesting photos. The first week on the road took me up to Pennsylvania and Maryland to meet some clients. This was the first time I took any photos of the fall colors. I was cruising up Interstate highway 81 in Tennessee on Saturday, October 27, 2007 when I took this first photo.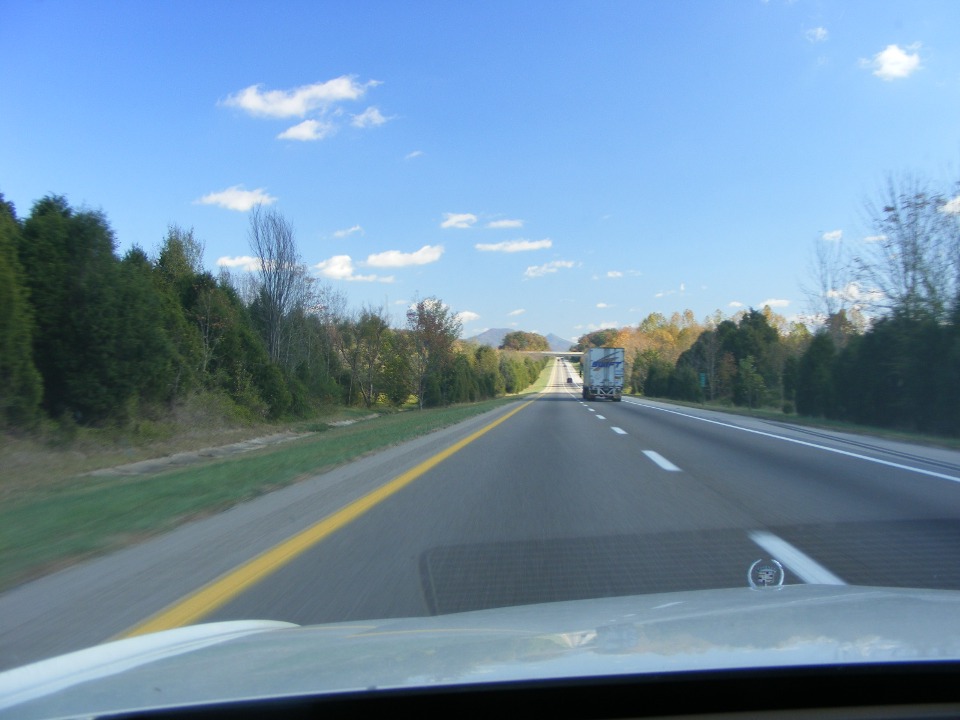 This second highway photo was shot just a few minutes later. This was just over two hours into my Saturday ride from Chattanooga, Tennessee to York, Pennsylvania to see my son and his family for the weekend. Those photos will soon be posted on some new pages in my family section of this web site. With this being the last weekend before Halloween, there are some photos there that involve carving a pumpkin.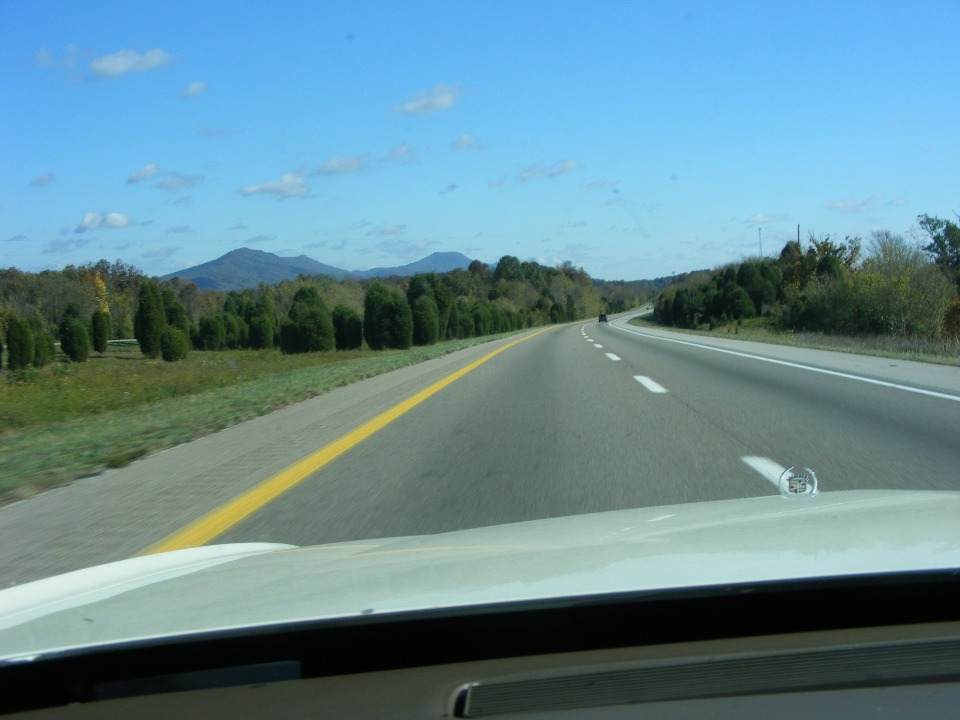 November 3, 2007: I had finished up my trip to the mid-atlantic states and went by to visit Wendell on that Saturday. We had the usual exchange of ideas on what to do next on his RV-8 project. A few photos are posted in that section of the web site on his NEW PAGE 67. Two of Wendell's grand children were at his place this Saturday. Grandpa took them for a ride in his classic Aeronca Champ right before I departed. I had to get ready for another week on the road which begins with a Sunday afternoon departure for the Cincinnati area.