Summer 2007 · · PAGE 245.
July 1, 2007: Sunday again after two weeks of business travel on the road and Delta Air Lines. It is time to catch up with my web postings. What can I say? I had eight days on a trip to Florida, then one day at home catching up on laundry, domestic chores, and a quick day trip to the company lab -- all on the same day. The next day, after one day at home, I headed out on a three-day trip to Phoenix and back, flying commercial due to the nasty weather in Texas and Oklahoma. Even if the weather had been good, it did not make sense to take my RV-9A on a 10+ hour trip (each way) then only be there for 36 hours on company business. The searing heat in Phoenix was another good reason to NOT take my airplane, just in case I could not get it stored under cover, out of the sun.
Let's get caught up on photos. I went to Florida without my digital memory card reader. I have a few photos from my BFR flight from June 14th. This is the view of the "Bonnaroo" music festival held that weekend at Manchester, Tennessee. That is Interstate 24 coming in from the lower left corner of the photo and exiting at the mid-right side of the picture. The white vehicles are all RV campers and motor homes. The other parking areas are filled with cars, SUV's, pick-ups, etc.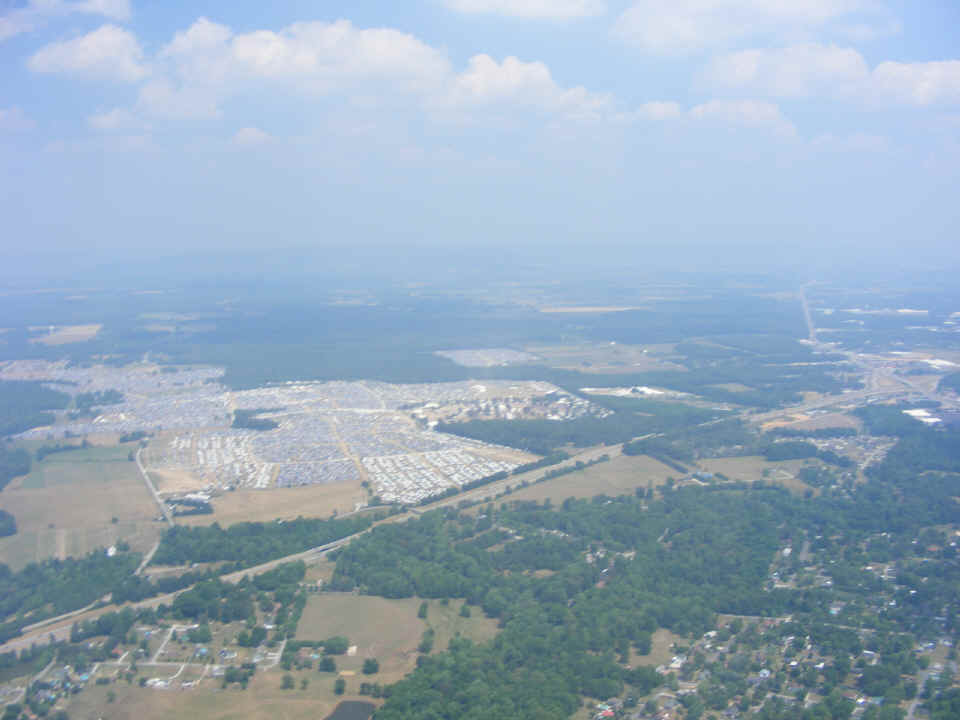 This view adds some perspective from a point over the center of the town of Manchester. That is US 41 directly under the airplane heading southeast to cross over I-24.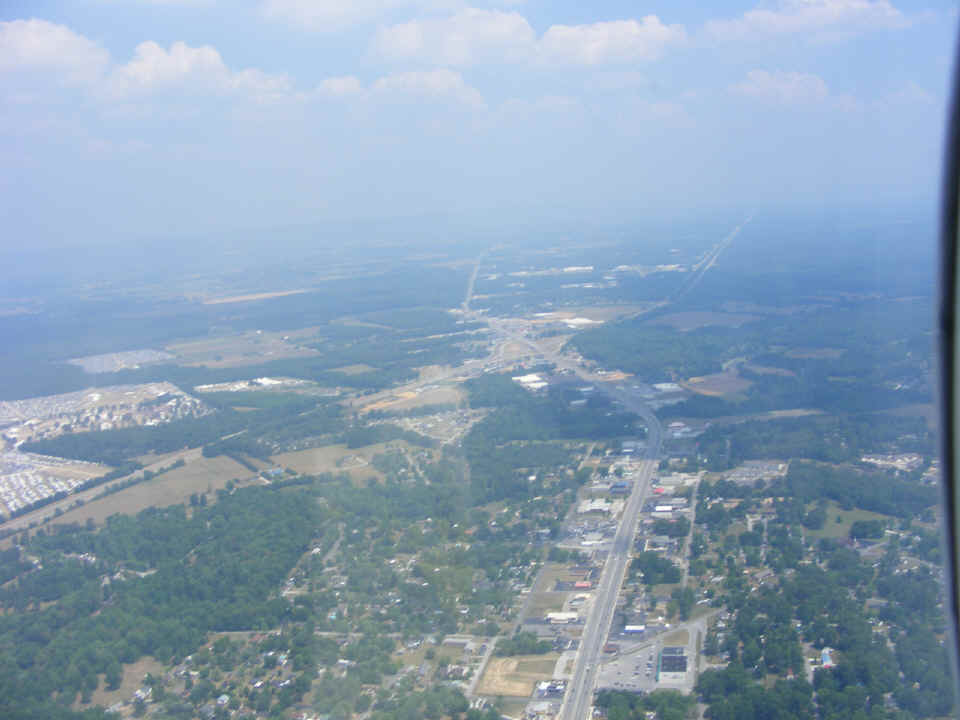 There really is a crowd of folks out in front of a bandstand down there for a live music presentation in the summer heat.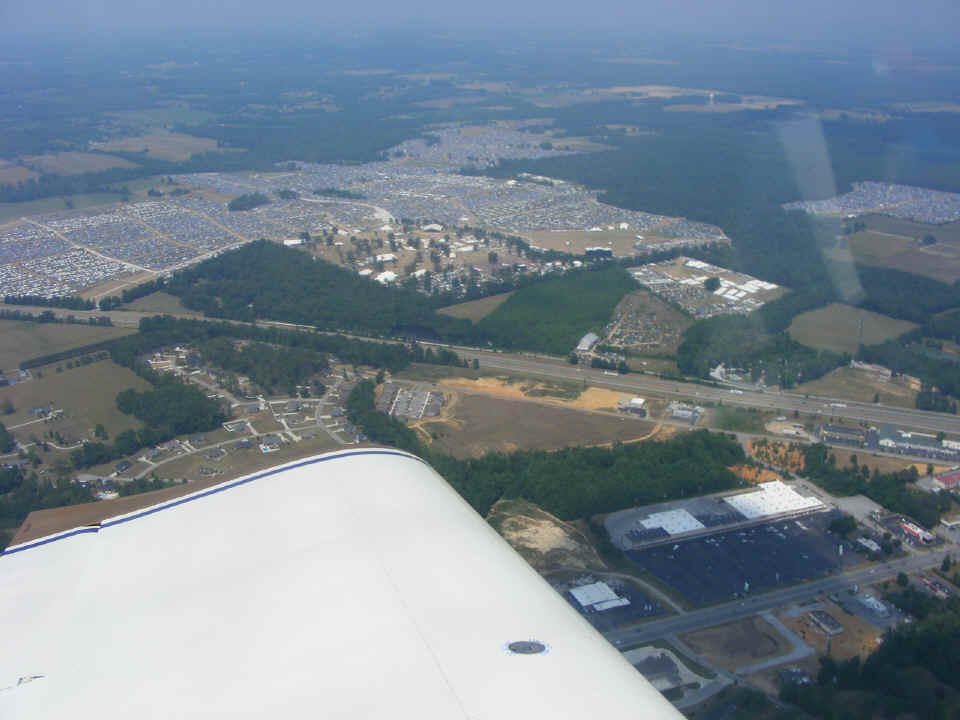 This close-up photo with the outlines should give you the idea of what a big crowd of music fans looks like from over a mile away and 2000 feet up. The yellow-outlined area has a crowd around the tree with the bandstand closer to the tree line and my position. The RED area has a larger bandstand that was not in use as we flew past the Bonnaroo festival site. I cropped this photo from the one above without re-sampling the resolution.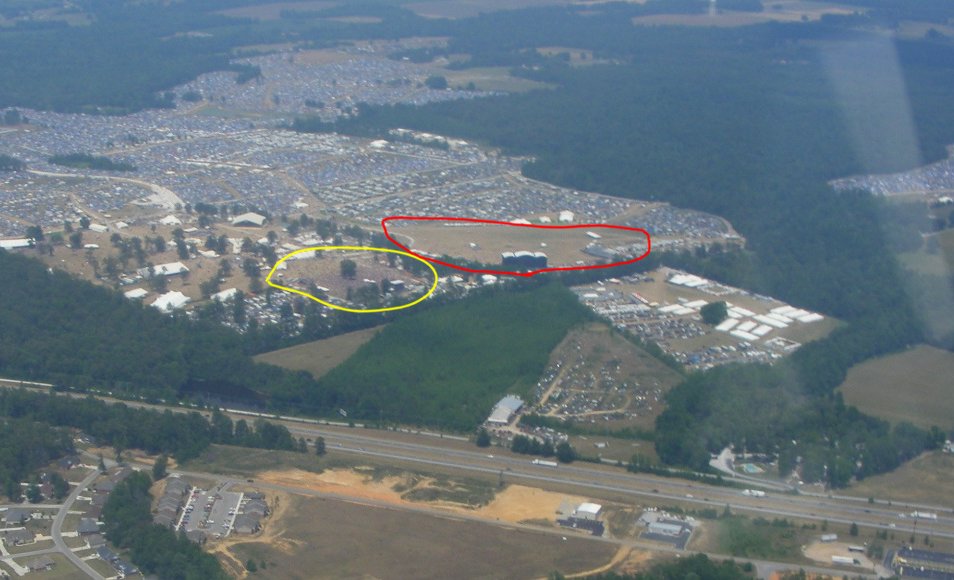 July 8, 2007: It is Sunday morning and the web site gets an update again. I awoke this morning at 6:15 AM to ground fog outside. A friend of mine had been talking about flying with me this morning, but he was not feeling well. I did not have to mention the delay the fog would cause. I spent some time after breakfast reading the last chapters in a book that I started a few weeks ago. Then I realized I needed to post my most recent photos from Wendell's project on his PAGE 56. For now, the "Enterprise" sits in the hangar with about 30 gallons of AVGAS in the tanks until the spirit and the weather move me to take flight again.
Wendell offered to let me fly his Aeronca Champ yesterday afternoon after the weather started to clear up a bit. I declined saying the spirit was not willing. He told me the controls would feel a bit sluggish after flying my RV-9A. I had some grocery shopping to do and headed for home via my local Wal-Mart super center grocery aisles. The freezer is now full again, and there is fresh fruit to enjoy.
UPDATE: I visited local RV-8 slow-builder Larry Champion this Sunday afternoon to check on his project status. I have updated his pages with some new pictures and text of that visit.
July 11, 2007: I have had two evening sessions with Wendell this week. The details of his progress begin on his PAGE 57.
July 14, 2007: My Saturday included the upgrade of the software to my Dynon D-10A. Here is the result of that update with the new screen shown in this available light photo. The digital read out of indicated airspeed (left) and altitude (right) are changed from the previous versions of Dynon software. A new feature is added on the right side of the altitude tape - the vertical speed is now shown. It is displayed with a scale of +/- 2000 feet. The roll indicator now has tick marks at 10, 20, 30, 45, and 60 degrees.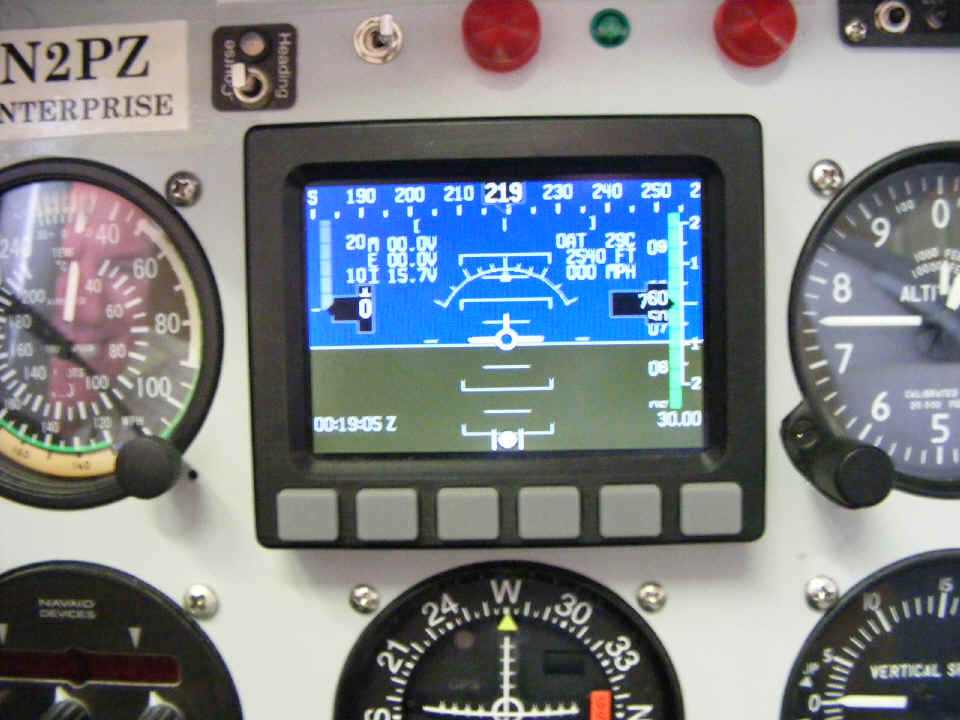 When I was finished working on the Dynon unit, I noticed there were still some bugs on the front of the lower cowl and the windshield from my recent BFR flight on June 14th. I cleaned up those bugs and went in to work with Wendell on his RV-8.
After working with Wendell until 5 PM, I went back to the hangar to close the doors for the day and realized that this is the last Saturday when the Cessna 182 will be in the hangar. Next Friday is the beginning of the trip to Anchorage, Alaska for the delivery to the new owner. Wendell is getting more excited about the trip as the days count down to departure at sunrise on Friday morning, July 20th.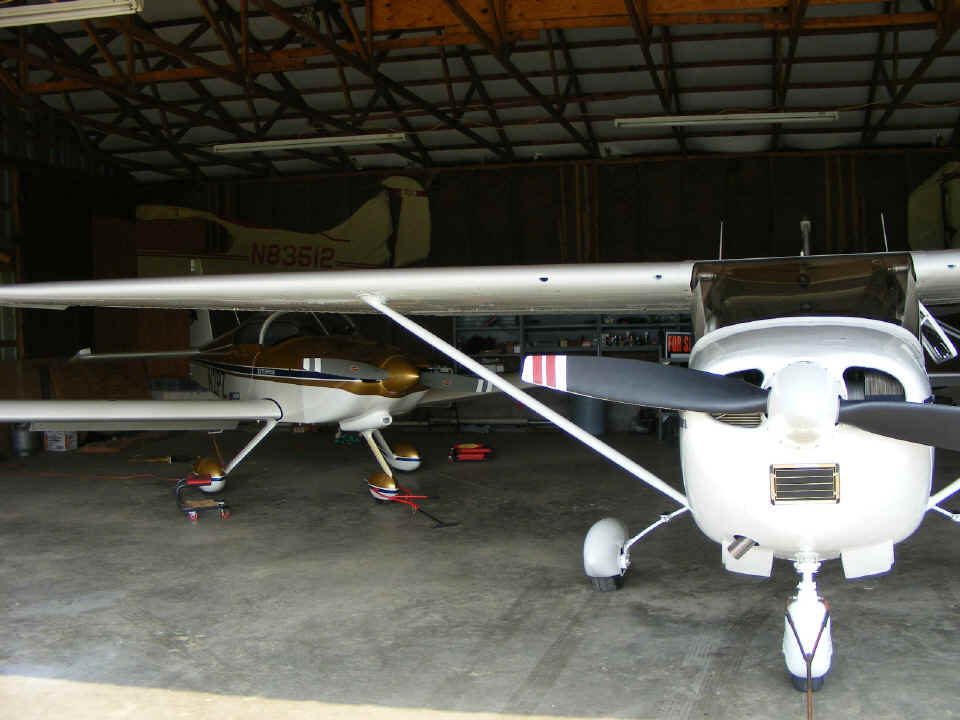 July 19, 2007: I have updated Wendell's section with a NEW PAGE 59. It is all about working on the plexiglass canopy and windshield. The page also includes the finish of the front baggage door latch blocks. It is now Thursday evening as I write this page. Tomorrow morning is the beginning of the trip to Alaska for Wendell and Terry in the Cessna 182 shown above. It will take at least four days for them to cover the 3,800+ miles to Anchorage, Alaska. I will be at the airport for the departure which could be as early as 7:30 AM. I will then be departing for Florida in my car for a week on the road on business for my day job. I will be posting the photos via a dial-up connection over the weekend.
The Alaska Trip Begins for Wendell and Terry.
July 20, 2007: I talked with Wendell around 7 AM when the weather was looking bad. He was not sure if they would get to take off on the first leg of the Alaska trip until the approaching thunder storms passed the Chattanooga area. I had packed my car for my Florida trip on Thursday evening and headed over to Wendell's after 8 AM through the rain expecting to find them waiting for clear air. I tried calling Wendell's cell phone and went to voice mail immediately. I presumed they had made an early departure and left a call back message. When I got to the hangar, the missing Cessna 182 confirmed the voice mail transfer. They were indeed on their way.
I headed for Interstate 75, stopped for gas and cash in Dalton, Georgia, and headed south for my business trip to Florida. It was the typical long ride on a business day with phone calls to the other CATV sales guy with the company, and a couple of customer calls.
Wendell called at the first fuel stop as the noon hour (Eastern Time) approached. They took off just about 8 AM and got ahead of an approaching rain shower coming in from the west. The first contact was with Chattanooga approach as they flew around the east side of the class C airspace and headed for Knoxville. The Garmin 396 with XM weather provided near real time radar of the rain showers. Using that data, they flew up toward Knoxville before they could clear the weather and get on course toward the northwest. The headwinds were really bad during the morning flight reducing their ground speed to around 90 knots on average. The fuel stop was at Litchfield, Illinois where the FBO had Oshkosh fuel discounts in place this weekend at $3.80 per gallon for 100-low-lead AVGAS. They were going to get some lunch before heading for Mitchell, South Dakota in the afternoon flight session.
He told me he had taken some photos of some cloud formations due to the approaching weather they were flying around along the way. The mid-western states were severe clear, but with some hot areas ahead for them. I reminded him to take a picture of the airplane on the ramp at every fuel stop. He pointed out that the airplane is FULL in the back seat and the rear baggage area. All that stuff contains survival gear needed for the flight across the vast wilderness of upper Alberta, the Yukon Territory, and parts of Alaska.
I got a second call through to Wendell as I was cruising down Interstate 95 in Florida around 6 PM Eastern Time. Wendell answered me from Mitchell, SD. They had a hotel for the evening and were going out to get dinner shortly. The 182 was tied down outside at the airport. With clear weather and no weather threatening, they did not need to worry about having the airplane in a hangar.
July 21, 2007: I made a call to Wendell at 7:36 PM Eastern Time to find them at Great Falls, Montana. The highlight of the day was passing by Mount Rushmore. I hope his photos turned out well. I won't get a chance to find out until he returns from Alaska. They got the last courtesy car at the airport and shared it with another couple that landed a few minutes after their arrival at the airport. They could not get a room at any of the national hotel brands. They ended up about five miles from the airport at an independent local motel with a two-bedroom suite for around $75! Tomorrow is the trip across the US/Canadian border with the first landing at Lethbridge, Alberta to clear Canadian customs. I don't know if I will get a chance to hear from them while they are in Canada since cell phone coverage may be non-existent along the Alaska highway route they will be following.
July 22, 2007: It is Sunday morning as I have posted the two days of entries above. I am using a dial-up connection to post this update with no photos. I just attempted a call to Wendell since it is now after 8 AM in Montana. The call went to voice mail and I left a call back message. That tells me his cell phone is off and they are already flying north to Canada. Just on a whim, I tried a second call at 10:25 AM Eastern Time and he answered. They are at Great Falls ready to depart for Canada on a flight plan to Lethbridge, Alberta to clear customs. The call was short since he had just three minutes to get started on his clearance.
July 23, 2007: I got a call tonight from Wendell's wife telling me that Wendell and Terry stayed in Dawson Creek last night, and are in White Horse in the Yukon Territory tonight. The last leg of the trip to Anchorage will happen tomorrow. The visibility today was 40 miles along their route. Terry likes to circle the caribou, or was it antelope? He was a chopper pilot in Viet Nam, so he likes to fly low. He wanted to do that in my RV-9A on a very hot day in June after we completed my BFR flight. The high cylinder head temperatures forced us to climb up higher that day and go faster. When they get to Anchorage, I should be able to speak to Wendell directly to get more information. The cell phone coverage will be "normal" again in the Anchorage area.
July 24, 2007: I got two phone calls directly from Wendell today. The first one was at 6 PM Eastern Time while they were on the ground at Gulkana Airport in Alaska. It was the first place they had cell phone service in two days of traveling. That explains the call from Wendell's wife from yesterday. He probably called her from the motel room in White Horse.
The second call came in at 8:37 PM Eastern Time when they were on the ground in Anchorage. The landing was approved for Elmendorf Air Force Base as requested. It helps to have a retired military pilot on board (Terry). Wendell called from Ken's van on the way over to his house. Ken is the young man who bought the 182 from Wendell.
July 25, 2007: Another call from Wendell at 12:28 PM Eastern Time today. He indicated they would be having a few days of rest and relaxation before heading home. There is a possibility they will get a ride on a Gulfstream IV back home. Terry knows some folks in the business jet community and may be able to get them a ride home in style. That is not certain at this time, but would certainly be a whole lot better than the coach airline seats that await them if they have to come home on the airlines.
July 30, 2007: I finally made it back home from a 10-day trip to Florida. I had business meetings and some time with friends. I called Wendell during the long drive back to the Chattanooga area. He confirms they used their commercial airline tickets, departing Anchorage at 4 PM Saturday for Las Vegas, connecting to Charlotte, NC, and then to Chattanooga. He really learned about jet lag the hard way. His connection was very short in Vegas. I don't think he had time to hit a slot machine in the airport gate area. He said he slept very well Sunday evening and feels as if everything is back to "normal" again. We agreed to download all the pictures taken by Terry and Wendell. I will also be downloading the GPS ground track from his Garmin 396. With all those files, I will be able to examine the time stamps on the ground tracks and the photos to provide a good coverage of "what and where" when I post his "Alaska Travel Story" on this web site.
August 3, 2007: I have been working with Wendell on his RV-8 project providing guidance on wheel fairing installation and developing his Alaska flying trip web pages. I showed him some of the work in progress last night and got enough to post a couple of pages this evening. The weekend is looking good. More about that by Sunday.
August 4, 2007: My youngest son Marshall came for a Saturday visit. We had lunch and a movie before going over to the hangar at Wendell's place. He had a chance to see the RV-8 project and see the pictures taken by Terry. We thought about going for a short flight in my RV-9A, but the clouds came down low enough to prevent a safe flight. He had an evening scheduled with friends back home near Kennesaw, Georgia to celebrate his birthday.
August 5, 2007: I spent ALL of Sunday working on the computer to process MOST of the photos from Wendell and Terry taken during the Alaska trip. I re-sampled copies of all the original photos down to a width of 960 pixels to fit the 1024x768 format of this web site. I found out that Terry's files had only one date and time stamp on every photo. He has never set the internal clock and calendar in his camera. I explained the process I used to identify where each of Wendell's pictures were taken.
By downloading the GPS ground track data points into a spread sheet, I can see the latitude, longitude, date, time, speed, altitude, and more for every data point. Matching the time stamp on Wendell's photos gives the latitude and longitude where each photo was taken when they are in flight. Those same data points can be overlaid on several different digital map programs I own. Up until today, I have only used them on Delorme Street Atlas version 9. I learned how to make the GPS tracks appear in Google Earth. That was the only way I could identify where Terry's pictures in Canada were taken. I used Street Atlas 9 to find the locations in the USA. The maps seen in the first four web pages of the Alaska trip were made using Street Atlas 9 and processing the map segments via Corel Photo Paint. Using Corel Photo Paint prevents Front Page from doing excessive compression of the photos and getting objectionable resolution.
It is late Sunday night as I post this update. You can now see the first FOUR pages of the trip beginning on THIS PAGE of my web site. By the time all the pages are completed, you will be able to fly along with them following the Alaska Highway. That part of the trip is still a few days away. As of tonight, I have completed four pages that takes them to the edge of the Badlands in South Dakota.
August 6, 2007: Wendell had things to do other than work on the airplane project this Monday evening. I spent my time working on the Alaska web page project and the photos that will tell the story.
August 7, 2007: We had a normal work night on Wendell's RV-8 project. You can catch up by going to THESE PAGES.
August 9, 2007: Wendell called me yesterday afternoon when the temperature here in the Chattanooga area was 102 degrees! He said we should forego our usual evening work session for Wednesday evening. He has plans for Thursday evening, so I got two evenings to work on the Alaska Trip web pages. I have just completed the page going from Miles City to Great Falls, Montana. Let's see now, 8 pages created and about 45 more to go before the Alaska Trip will be fully documented on this web site.
August 10, 2007: Mid-night is approaching on Friday night as I type this. I got an extra evening to work on the project. The Alaska web pages now total 13 with the travel story all the way to Dawson Creek, British Columbia documented at the end of the third travel day.
August 11, 2007: I went over to Wendell's shop right after lunch on Saturday. I had time to clean my airplane while waiting for Wendell and his friends to return from their usual Saturday lunch in downtown Chickamauga, Georgia. There is a lot of room in the hangar now that the Cessna 182 is with the new owner in Anchorage, Alaska.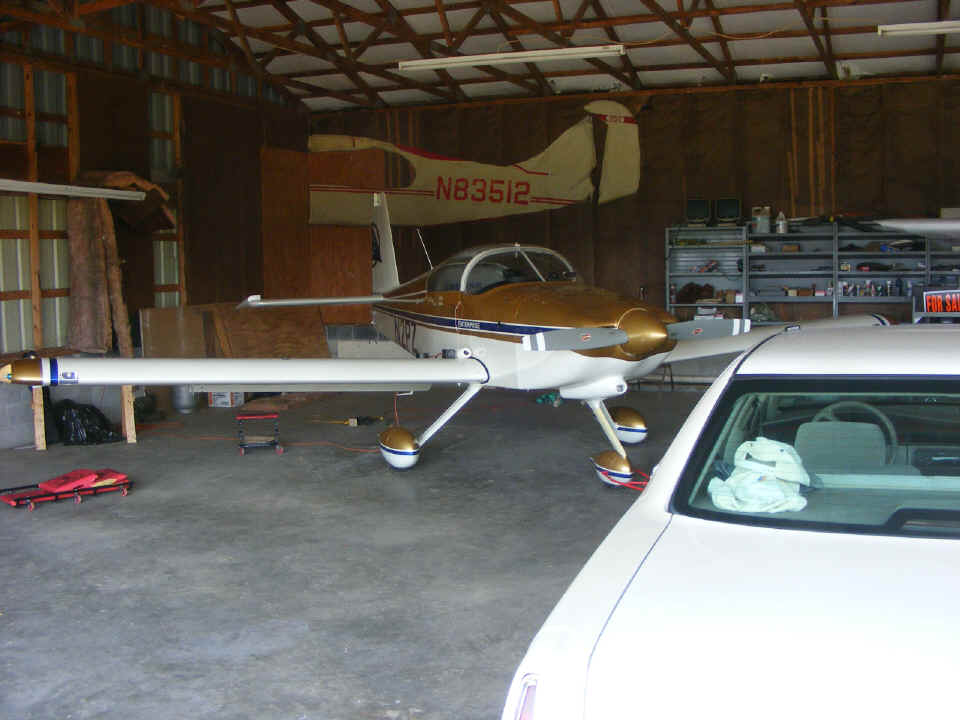 We talked for a while about his RV-8 project and some clean-up work to get the wheel pants on correctly. He has added the extra layers of fiberglass that are needed where screws and rivets are to be installed inside the wheel fairings.
August 12, 2007: I worked the remainder of Saturday and all day Sunday on the Alaska Web Pages. I created a separate MENU PAGE Sunday night with direct access to all the web pages as they are published. As of this evening, I have finished 18 pages up to the point of following the route west along the Alaska Highway from Fort Nelson in British Columbia. This section is starting to follow rivers through the mountains and civilization is getting more sparse as we go along for the ride.
August 19, 2007: It is Sunday again and today I am at my son's home near York, Pennsylvania. I had a business meeting on Friday at a company facility in East Tennessee and continued into Virginia enroute to see my son and his family this weekend. My computer wireless access was not working at the company office, so I used a free CAT5 cable connection there to the router. When I was at the hotel later on Friday night, my wireless card for my laptop computer was again non-functional. Now I was getting concerned since email is very important in my day-to-day business activities. Before I checked out of the hotel on Saturday morning, I convinced the folks at the front desk to allow me to plug directly into the router behind the front desk and all went well in getting connected to the web.
I had about four hours of driving ahead of me on Saturday through the Shenandoah Valley on Interstate 81 heading here to York, PA. I arrived around 2:30 PM. I had not seen my youngest grand daughter since April 11th. The "toddler" was now running and has added a lot of words to her growing vocabulary. Her second birthday was earlier this month.
I had a chance to update the Alaska project web pages on this computer on Sunday afternoon. The number of Alaska pages is now 28. I demonstrated the use of Google Earth to my son even though I did NOT have internet access. The program will use the cache of map photos on your hard drive to display any location you have previously visited, provided you have not cleared the cache. I was surprised!
August 23, 2007: I traveled to the Philadelphia area on Monday from York, PA. My business meeting there went well. I stopped for lunch at a restaurant with wireless internet service, and it still did not work. I figured out the wireless card worked fine, but my IP connection to the card was having problems. When I got to my hotel Tuesday evening, they had both wireless and wired connections for internet access. Guess which one worked. The internet service was via satellite and was about 350 kilobits download speed and dial-up on the return. While I was connected, I managed to do a scan of the Win2000 registry to discover it had over 900 problems.
After my two business appointments in New Jersey on Tuesday, I stopped at an office supply store and picked up a registry cleaner program. When I got to Virginia that evening, the hotel again had a wireless internet access service, but no CAT5 connections. I ran the registry cleaner program and fixed the errors. The IPCONFIG program now reported having a complete IP address, etc. I still could not get a good connection to the web.
Wednesday had one business meeting in the DC area for me. The other client in the area could not be reached via phone. My meeting was completed at Dulles Airport at 2:15 PM. I headed out to Interstate 66 catching up on my business phone calls as I went. I reached I-81 and headed southwest toward home about an hour later. My GPS 296 was predicting arrival at home around midnight. I got a bite to eat and made one fuel stop near Roanoke, Virginia. I stopped by the hotel were I stayed last Friday night to try the wireless connection, but no success. When I got into Tennessee, I made one short stop at another restaurant where I knew they had a wireless internet connection. It worked - but not without some minor internet mail issues. I got back on the road and arrived home around 12:35 PM.
My cable modem speeds are much appreciated after slow or NO internet connections during the past few days. My wireless card reports the secure network from my neighbor, but of course, I cannot confirm anything more about it for now.
August 27, 2007: I got a wave off from Wendell for tonight's work session on his RV-8. It was just too hot for him. I used the time to work on more of the Alaska trip web pages. I have them arriving in Anchorage. There are still more photos to be posted, so be sure to check back in a day or two when I get the remaining photos posted.
August 28, 2007: We had a session on the RV-8 tonight about the basics of putting the hinges into the fiberglass main gear leg fairings. I also gave Wendell some tips on the plate nuts for the wheel fairings. He needed to run an 8x32 tap through them to stop chewing up the stainless steel screws that will hold them onto the landing gear brackets.
August 29, 2007: Another wave off from Wendell tonight since there was not much to do and he has domestic chores to do. I used the time tonight to post more pages from the Alaska Trip. He will probably be working with Rich Nadig on Friday to put the plexiglass canopy onto the steel canopy frame with a very strong adhesive.
August 30, 2007: Wendell called to say we are not doing anything tonight, so I got some time to put some new photos into my family pages. These are from my recent visit to my family near York, PA.
September 1, 2007: I paid a short visit to Wendell and took my laptop computer to review a few fishing story pages. The Alaska pages got some additional editing as a result.
September 3, 2007: A Monday holiday in the USA: Labor Day. I got Wendell up in the RV-9A when the temperature was over 90 degrees and muggy. The engine start was sluggish as if there was no fuel in the carburetor. It must have been the heat. It made for long takeoff rolls, fast landings, and high engine temps. We were flying by the engine monitor readings as much as navigating. Wendell flew the airplane over to Dalton for a simulated ILS. He keeps flying low approaches. He discovered that RV's have a greater sink-rate than any Cessna he has flown. He put in a second landing at Dalton and did a better job, but still has to get acquainted with steeper approaches. The second landing at Dalton was full stop. I taxied back to the north end of runway 14 and checked the ignition once more while discussing how O-320 engines sometimes foul plugs idling and taxiing at full rich mixture settings. After the departure from Dalton, the engine monitor had two temperature alarms to acknowledge. I did a gradual climb getting the maximum forward speed to cool the oil and cylinder heads. The HAZE was terrible going up to Collegedale. I made the landing on runway 21, which is the preferred runway in calm conditions. I wanted Wendell to see a steep approach with an RV. The throttle was set at idle after turning base to final. I put on some power on the runway to keep the nose wheel up in the taxi to the ramp. We topped off the fuel tanks with just over 8 gallons.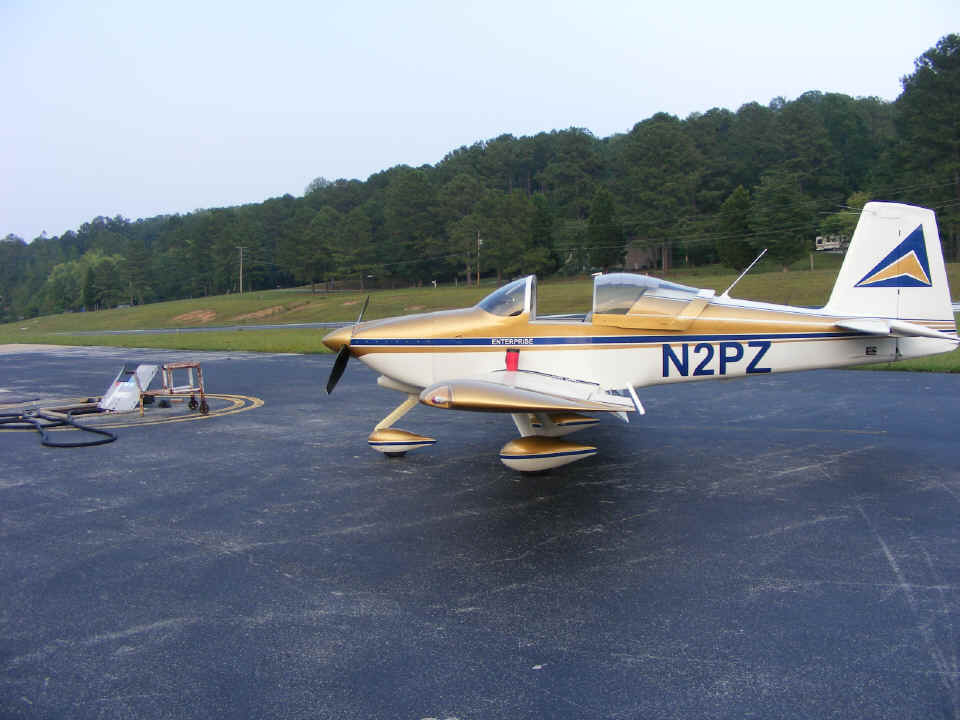 A cool front was working its way south, but the haze was pretty bad before the front got here. That was about the time we were putting the airplane away. The total flight time today was 1.0 hours. There is plenty of room in the hangar for now. The Cessna 182 is in Alaska. The paint shop guy brought back the RV-8 cowl and wing tips, now sanded and primed. When the canopy, windshield, and canopy skirts are installed, the rest of the airplane will be heading to the paint shop. After that, the hangar will be full again. SUMMER is over! Next time a new page for me.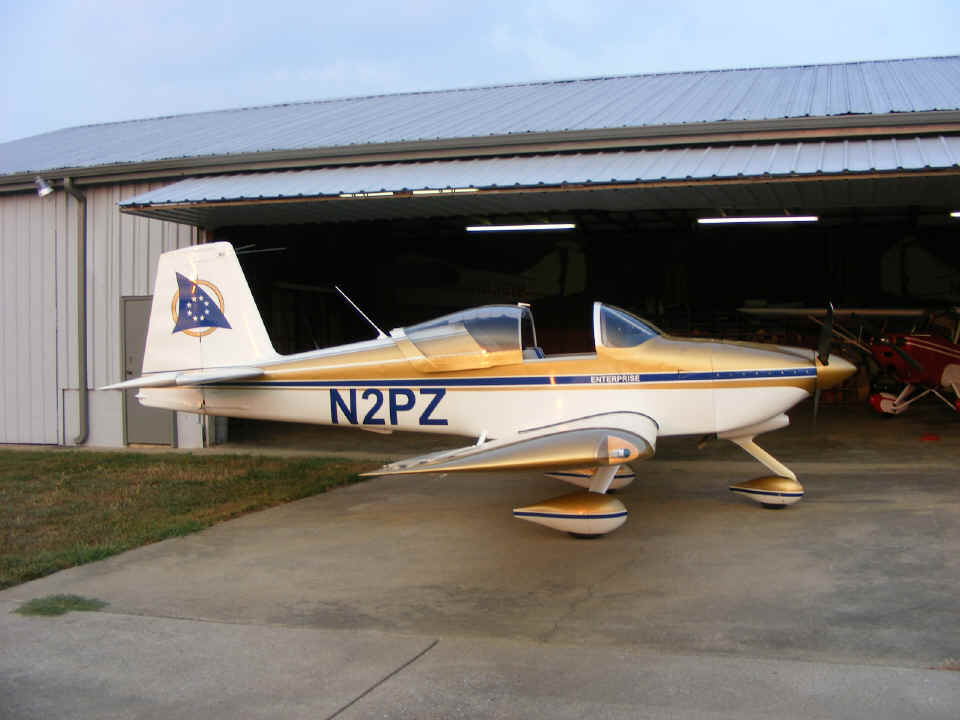 I am heading for Texas this week on business in my car. I have too much demo stuff to take the airplane. Besides, I don't think they want me to land at DFW for the little trade show I will be attending at the DFW Airport Hotel. The trunk of my Caddy will be full and so will the back seat! That is more stuff than I can put in the RV-9A. Maybe I will get a chance to catch up with "THE DOUG REEVES" when I am in the DFW area.
September 4, 2007: I finished the Alaska pages and appropriately enough, the 49th page was about one of the things that is unique to Alaska. Page 50 is the last page of the Alaska journey. Enjoy the story at your leisure via the ALASKA MENU.