"ENTERPRISE" Goes to TEXAS - Page 166.
September 3, 2005: I went by Shreveport and contacted approach since I would be descending just south of their air space on my way over to Carthage, Texas for my scheduled fuel stop. These four local pilots came out to greet me when I pulled up to the self-serve fuel pumps. I gave each of them one of my airplane business cards and two of the guys gave me theirs. I was impressed with their cards and now have to make mine the same way. I plan to stop by for more fuel on the way home since it was only $2.75 for a gallon of 100 LL avgas! I had called this airport on Thursday and Friday before I left home this morning (Saturday) to be sure they had gas on hand. After the pipeline and refinery problems from Hurricane Katrina, I wanted to be sure I could get to Texas and home again before launching on this trip. The low cost of fuel at the Panola County Airport (4F2) at Carthage, Texas is the only reason I could make this trip this weekend! As I write this, the price of gas at home and some other places I have seen here in Texas is around $3.00 per gallon of 87 octane unleaded auto fuel.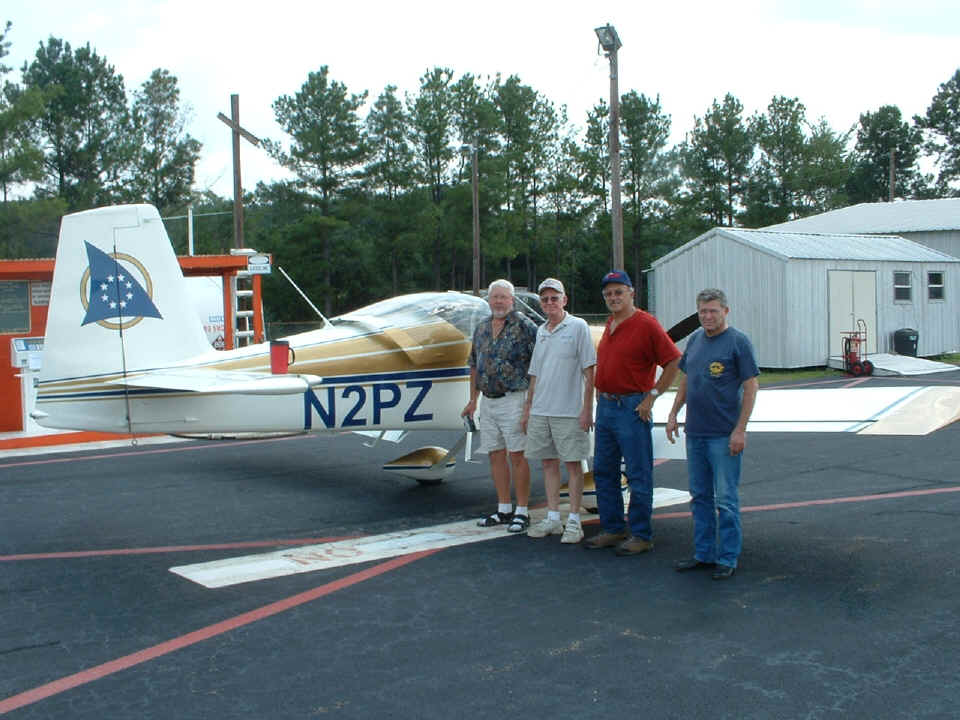 The two airplane cards I received were from James Swilley and Glenn Watson. From Left to Right, the guys are James Swilley, Glenn Watson, Jerry Hale, and Harold Campbell. James Swilley has a 1962 Piper Cherokee 160 with only 1500 total hours, engine and airframe. He wants to sell his Cherokee and order a Van's RV-9A quick build kit. Glenn flies a Capella single-seat kit airplane with Rotax 503. Jerry Hale flies a Decathalon. Harold is currrently building an RV-8 tail dragger with a 200 HP Lycoming IO-360-C1C6 fuel-injected engine.
The beginning of the ride west from Carthage to Georgetown, Texas found me climbing to 10,500 MSL to get above the building cumulus clouds and below a higher level of stratus. It was nice and cool and SHADY up there as you can see in this picture.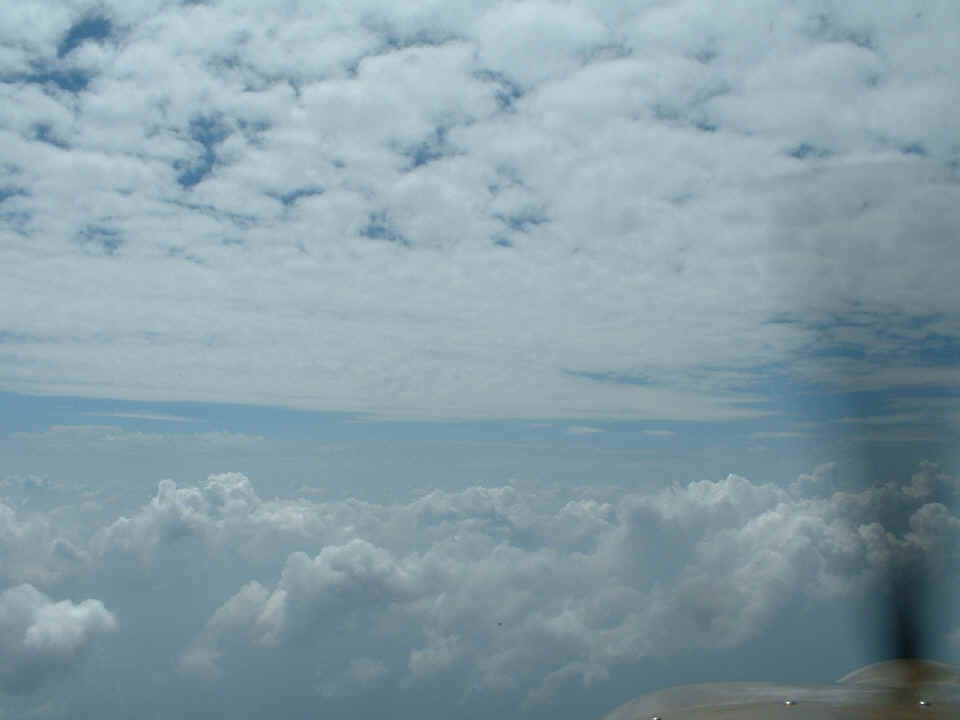 My son had sent me an email with the GPS coordinates for the tie-down area in front of his flight school at the Georgetown Airport. I landed and pulled up to the spot at 3:05 PM Central Time just as my son and his family arrived in his GMC Jimmy. It was really nice to be able to get there in about SIX hours in my airplane instead of SIXTEEN hours in the car. I even saved money on fuel! The Hobbs meter was at 84.7 hours when I shut down at KGTU. The day started with 79.5 hours at Folks Field for a flight time of 5.2 hours of the 6 hours it took to reach KGTU.
September 4, 2005: I spent the night with my son and his family in Round Rock, Texas and this morning was about flying with him in my airplane. We did a bit of local sight-seeing around Georgetown and Round Rock to look at the new highways being built to improve traffic flow in the Austin area. I had Eddie flying the airplane while I took this picture showing the marginal VFR conditions when we began the flight around 10 AM Central Time. That is Round Rock in the background to the north of our position.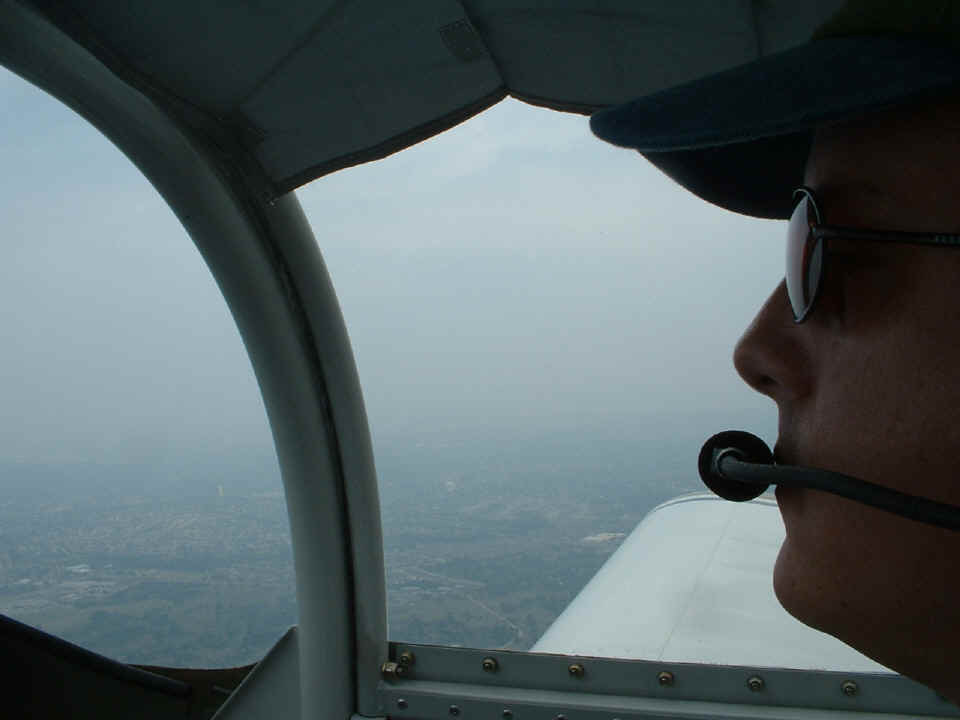 After flying in the area north of Austin, we headed out to the west past Lake Travis to fly over Enchanted Rock State Park. This photo was taken about three miles from Enchanted Rock which is near Texas Ranch Road 965 in the southwest area of Llano County.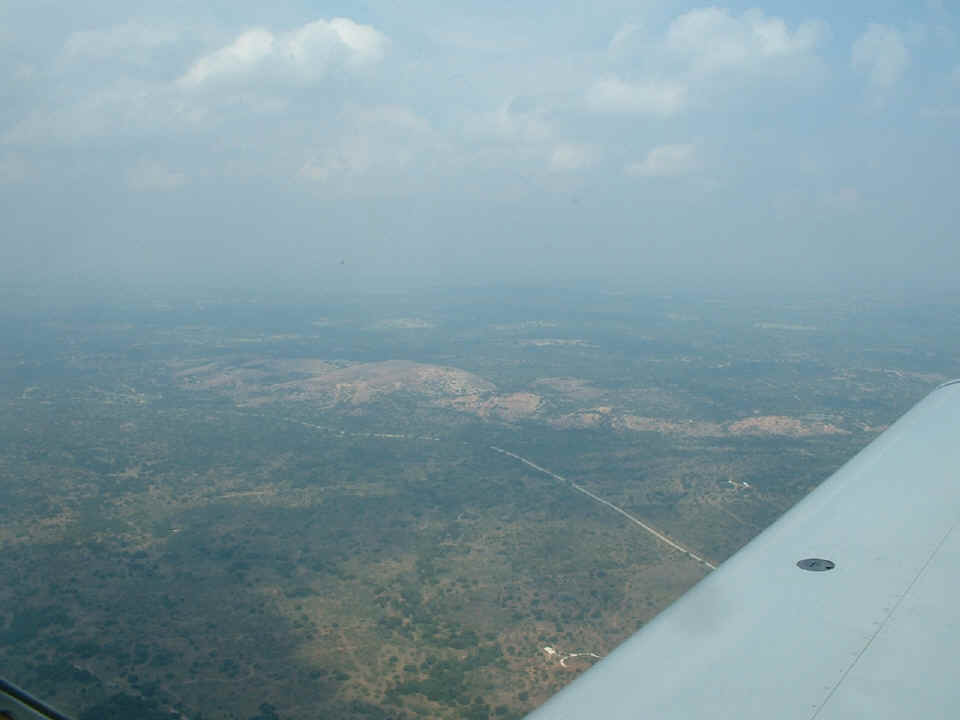 This one is from a bit closer. When we got into Llano for lunch, someone sat down at the table near us and mentioned he had been at this park about the time we flew past it at 11 AM Central Time.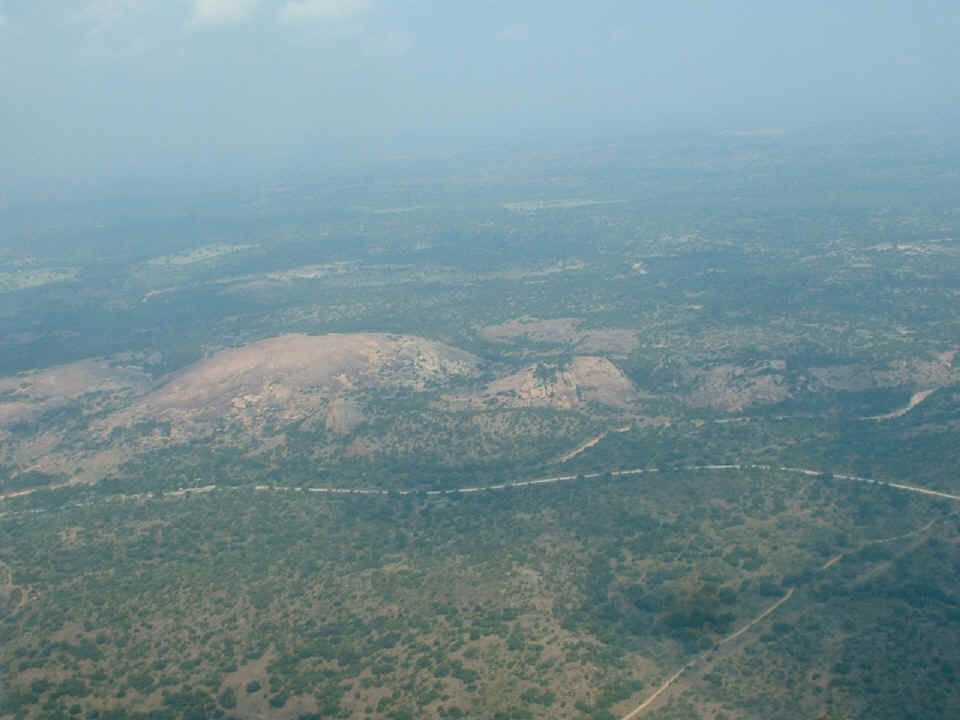 About two miles up the road is Watch Mountain next to Sandy Creek which is dry right now. The dry creek coming in from the left side of the photo is called Helms Creek. This part of Texas west of the Interstate 35 corridor is known as the Texas Hill Country. The typical ground level in this area is 900 to 1000 feet MSL. Enchanted Rock shown in the photo above has a peak elevation of 1825 feet MSL.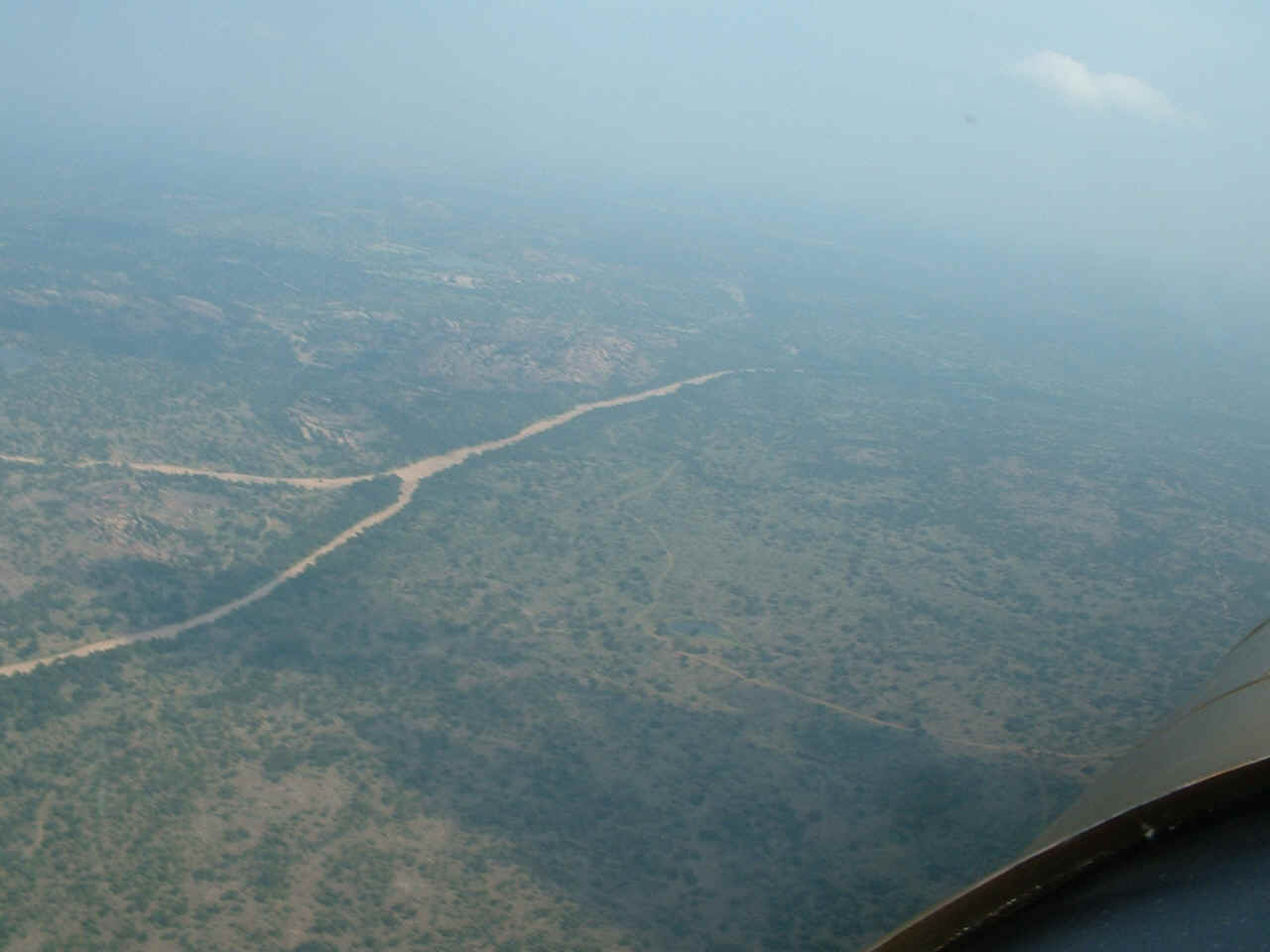 This is the ramp area of the Llano Airport. They loaned us the courtesy car for a ride into town to Cooper's Old Time Barbecue Restaurant.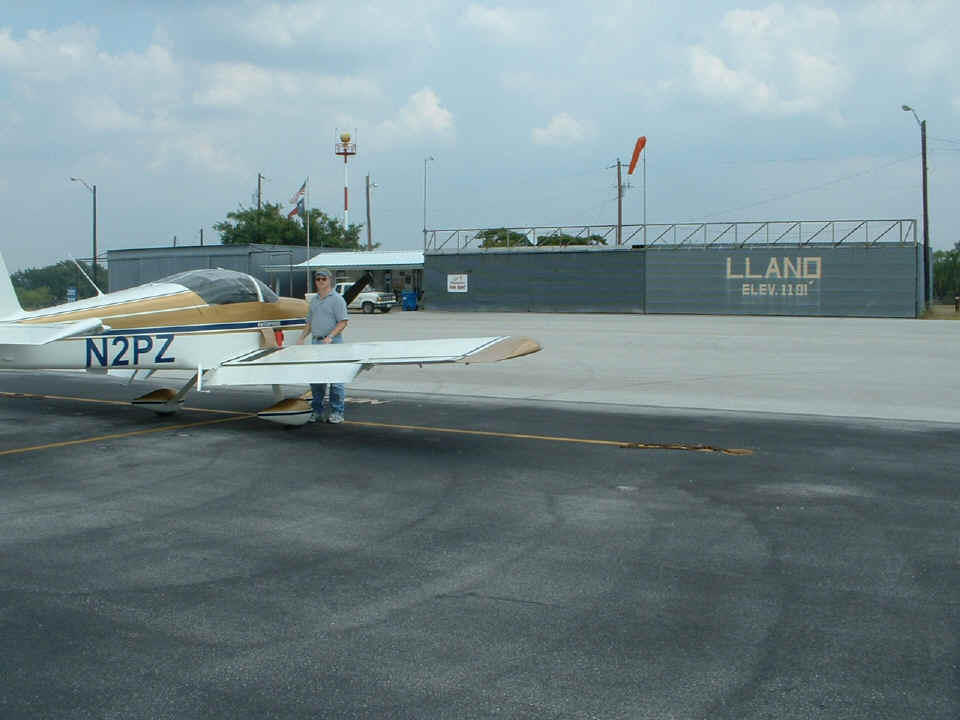 This is their OLD building across the street from the bigger "new" facility. That Ford Crown Victoria is the airport "loaner" courtesy car, an old LLANO police car I have read about on Airnav.Com and now I know a bit more about it. The speedometer works, but the odometer does NOT. It will have 75,000 miles on it forever. The air conditioning in it works JUST FINE!