Mid-Summer is HOT in Florida · · PAGE 459.
August 27, 2021: Friday's are usually slow days for my day job. I looked at the home page for this web site and decided to "clean up" the part about Jerrie Mock. I also took a look at the third page of the Jerrie Mock section to make a few changes there. Late yesterday, I helped Linda to move her large umbrella from the EAST side of the pool deck to the WEST side. It is in a position to provide the most shade from about noon to 2 PM on that side of the pool. She gets in the pool around 4 PM on good days. I usually join her after 5 PM on work days. When I am not flying my airplane, a daily routine is to walk the dog early in the morning before it gets hot. I spend most of the day at my computer checking news online and monitoring the company email account. Here is a photo of the umbrella. That gray cover over the base has four 25-pound bags of kitty litter on the steel frame to stabilize the umbrella.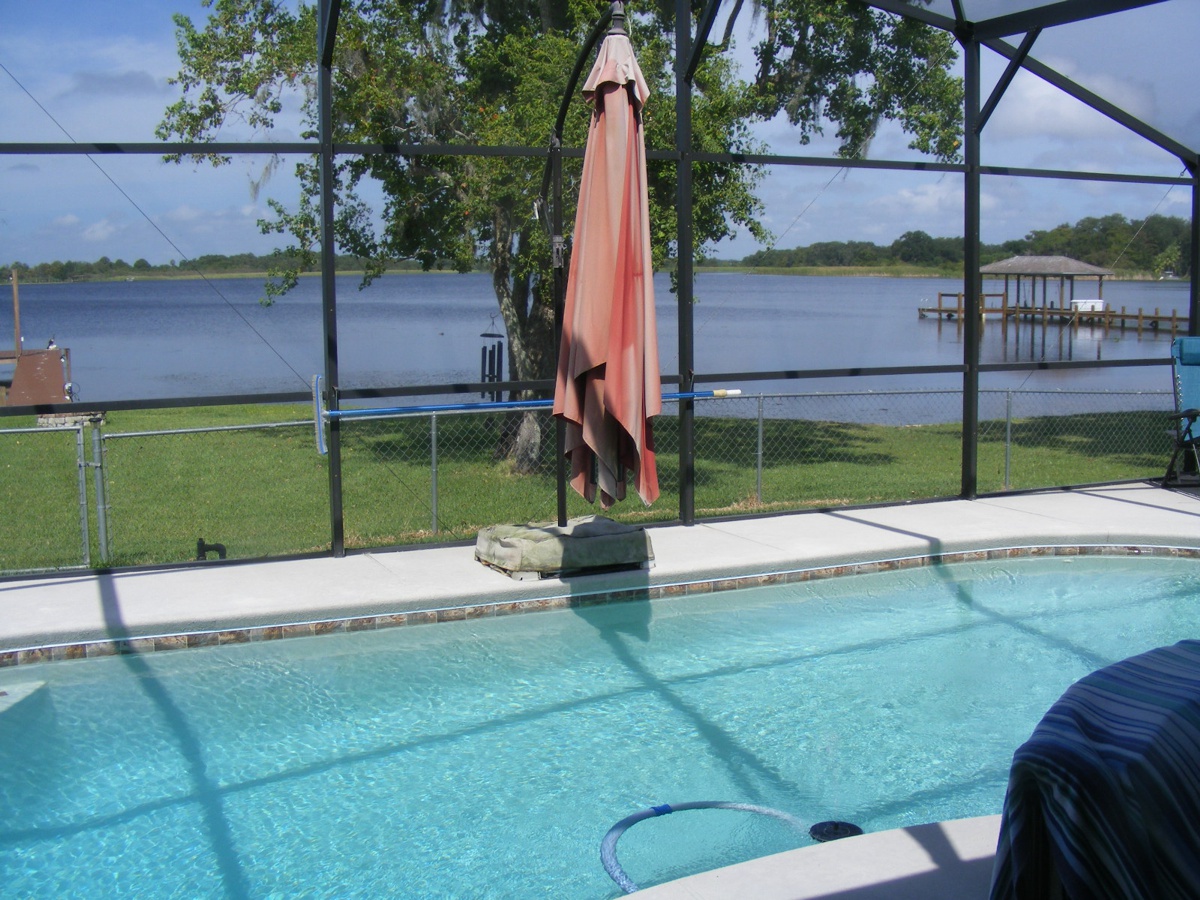 November 15, 2021: The Rockledge Airport is still closed with no flights. Bill is still on duty working to get a court judgment to open the airport again. Now you know why I have not posted here in quite a while.
I took my wife Linda on a 16-day road trip to see the fall colors and more. I have been in contact with a resident of Cynthiana, Kentucky who expressed interest in my radio-controlled model Comanche B which cannot be flown with the obsolete radio. He is so interested in it since his father had a shared interest in the real N9032P airplane. I packed my Comanche RC model into Linda's Chevy Equinox along with a second aerobatic RC model airplane a couple of days before we began the trip. The two airplanes were unloaded on October 27, 2021 in Cynthiana, KY. The man who received the Comanche B model aircraft was very excited as I pointed out how the lights work. This photo was taken years ago of the first model at about sunset on a day that was partly cloudy. The camera shutter caught the RED strobe light flash, both tail lights, and the wing tip marker light that are on all the time when the light switch is activated. I did not take any photos when I was in Cynthiana.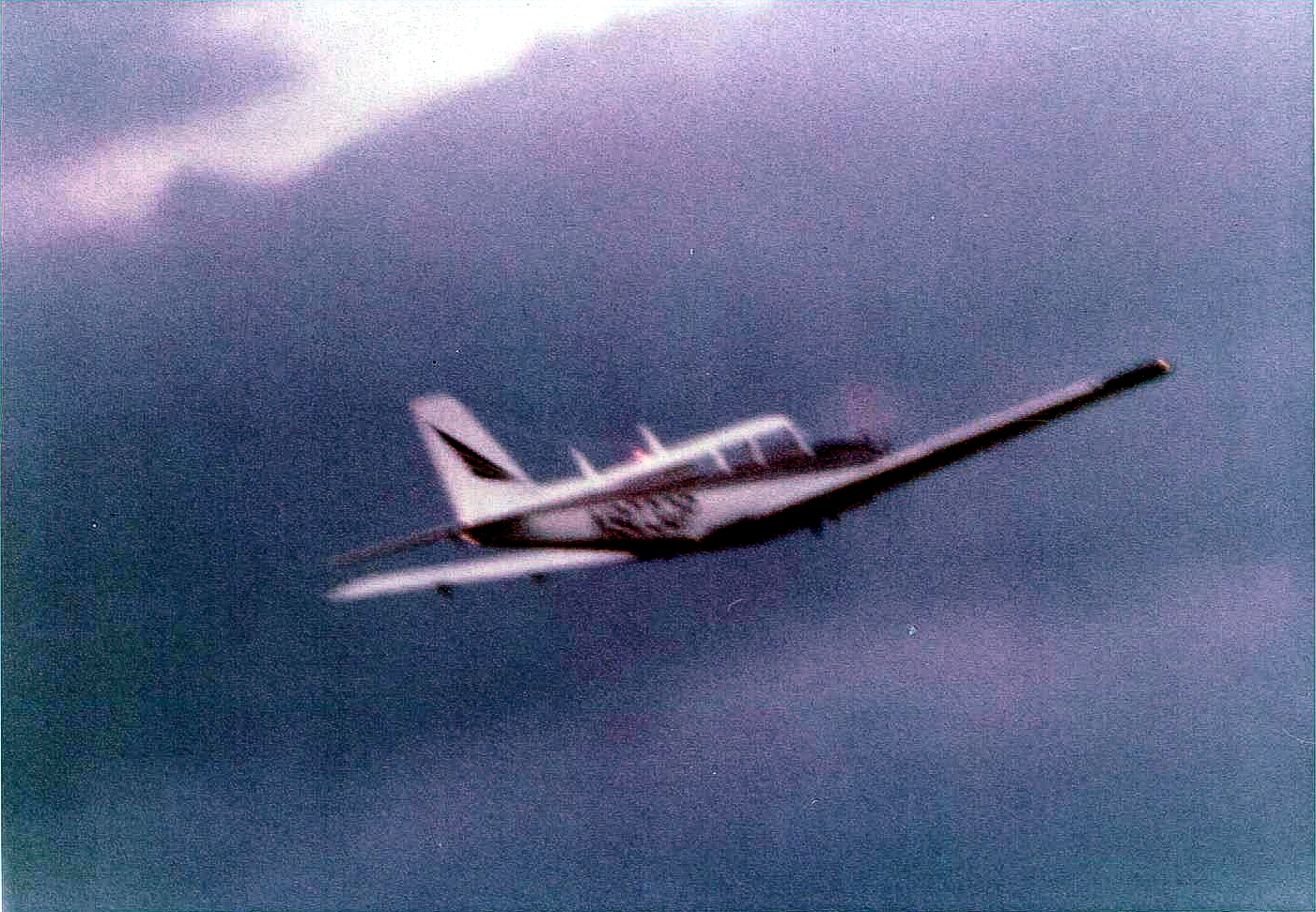 Here is a table of highlights for each day of the route. I used a web site called "Bring Fido" to locate accommodations that accept pets. I finished a full review of the 51 pages about our 2021 vacation on February 21, 2022. This page was edited on February 22, 2022.
OCT 26, 2021
TUESDAY
We travel from Kissimmee, Florida to East Ridge, TN at I-75 Exit ONE, at 560 miles from home. Linda's dog is on this trip with us with his portable bed and his food. He sleeps in his bed on the back seat when he gets bored looking out the windows.
OCT 27, 2021
WEDNESDAY
We stopped at Cynthiana, KY after 293 miles from East Ridge and 853 miles from home to unload the RC model airplanes. We traveled 193 miles north to a motel near Hebron, Ohio on Interstate 70, just over 24 miles east of Columbus, Ohio.
OCT 28, 2021
THURSDAY
We stopped at The Works Museum in Newark, Ohio to give Linda a chance to see the exhibit about Jerrie Mock, the first woman to fly a single-engine airplane around the world in the Spring of 1964. I contributed to the opening day of the exhibit on June 18, 2016. Details of that opening day and photos are found on my Jerrie Mock web page. Jerrie Mock Exhibit at The Works Museum · · PAGE 19. (n2prise.org) After our museum visit, we drove up to Parma, Ohio to spend two nights with my cousin Mary.
OCT 29, 2021
FRIDAY
My cousin Mary has a dander allergy from dogs and cats. She loved Linda's dog chase and took him out back of her house to urinate on her flowers to keep the deer from eating them. This was the full day we spent with Mary and her husband Richard playing cards and catching up on recent history. We are now 1,190 miles from home.
OCT 30, 2021
SATURDAY
We departed early on Saturday for the trip up to Niagara Falls, NY to spend the night. We stopped along the way at several places of interest that are listed in the full story of this trip. We met a couple of fisherman on the shore of Lake Erie which includes photos in the full story.
OCT 31, 2021
SUNDAY
This day started with a trip to see Niagara Falls and a scenic ride along the south shore of Lake Ontario. The day ends in Watertown, NY.
NOV 1, 2021
MONDAY
Today we traveled up along the border with Canada in upstate New York, down into Vermont and New Hampshire to spend the night in Portsmouth, NH.
NOV2, 2021
TUESDAY
Tuesday started with a short trip to Kittery, Maine to see a nice harbor and we saw a yacht pulled out of the water for the winter season storage. We bought fuel for the car at 2,200 miles from home in Kittery. We went down to Gloucester, Massachusetts to photograph the Gloucester Fisherman Statue. We proceeded down to the Boston area see Bunker Hill and the USS Constitution battle ship that fought the British in the Revolutionary War. I had hoped to get out to Cape Cod, but the shorter days and darkness wiped out that idea. We battled Boston traffic to get down to our next hotel in Middletown, Rhode Island well after dark.
NOV 3, 2021
WEDNESDAY
Wednesday we drove through Newport, RI to see the old buildings then crossed a couple of big bridges to get to the mainland after our island stay last night and this morning. We made a short visit to the Westerly, Rhode Island airport where I talked to the ticket agent for New England Airlines asking about the owner of the airline that flies to Block Island, Rhode Island and other locations. I visited the cable system there in my satellite days in the 1980's. The owner of the airline also built the cable system on the island. I left my business card with the ticket agent. She mentioned the owner stopped by the airport earlier this day. We went to Manhattan in New York City and down to Vineland, NJ to the Day's Inn motel.
NOV 4, 2021
THURSDAY
We did some sight seeing in southern New Jersey all the way down to Cape May and got pictures including the departure of the ferry to Lewes, Delaware. New Jersey has lower gas prices than other states in this area. I stopped to fill up the fuel tank on the way back to the motel from Cape May. We stayed at this motel a second night.
NOV 5, 2021
FRIDAY
We used the Commodore Barry toll bridge to I-95 across the Delaware River to Pennsylvania. The first stop of the day was at the Toner Cable headquarters to show Linda where my largest customer office and warehouse are located and to meet some of the staff. We also checked into our dog friendly motel down at King of Prussia, PA.
NOV 6, 2021
SATURDAY
We had time to explore Valley Forge today to learn about George Washington and his army spending the winter of 1777 there. This is the day Toner Cable celebrates their 50 years as a distributor in the CATV market. Linda and I received an invitation to join them at the VALLEY FORGE CASINO RESORT in the town of King of Prussia. This two hours was the only time her dog was left along at the motel. He was not happy and he barked until we returned to the hotel room.
NOV 7, 2021
SUNDAY
This was the first day on the trip we had frost on the windshield. The defroster cleared it by the time the baggage was packed and we were ready to go. We went down to Wilmington, Delaware where we stopped at a Wal-Mart to get the oil and filter changed before continuing our trip back home. We took the US 301 route I usually take across parts of Delaware and Maryland down to the Delaware Bay Bridge past Annapolis and down to the toll bridge into Virginia. We stopped to see some of her relatives out in the country near Heathville, VA. We spent the night at a family-owned motel near White Stone, VA on Virginia state route 3, about 18 miles south from where her relatives live.
NOV 8, 2021
MONDAY
We stopped at a gas station in Norfolk, VA before heading into the North Carolina Outer Banks. Gas prices in NC can be higher. We stopped at the Wright Brothers National Memorial at Kill Devil Hill near Kitty Hawk, NC. We experienced the cold blowing winds while we were there. I used my National Park Pass for the first time to get into the facility operated by the National Park Service. Linda and I both took photos to be shown in the web pages about this trip. We stopped at the Dare County Regional Airport to take some photos. This was the airport where Jerrie Mock flew over to get on the correct course to Hamilton, Bermuda on the first day of her trip around the world. We spent the night at the RED ROOF INN across from Camp Lejeune in Jacksonville, NC. This location is 364 miles from the hotel where we stayed near White Stone, VA.
NOV 9, 2021
TUESDAY
We traveled 227 miles today down to Charleston, SC.
NOV 10, 2021
WEDNESDAY
Today is the final ride to home in central Florida.
USE this web link to see all 51 pages with photos and images from every day of the vacation: Northeastern Trip - - PAGE 1. The index with links to each of the 51 pages is found on this web page: http://www.n2prise.org/OCTNOV2021Menu.htm
February 25, 2020: I have been reviewing all 51 of the published pages for our trip up north and found a few typo errors that have been repaired. I have been thinking about the next vacation which may begin in late May 2022. I have been doing some basic planning listing the stops along the way for a Great Western Tour that could last 22 or 23 days. I have used the web site Bring Fido to select pet friendly motels. I have put together some stops I have visited in the past, and more that I want to see with Linda and Chase along for the big trip.
October 22, 2022: I have completed my web pages with the story of the Great Western Tour vacation posted yesterday, October 21, 2022. Click on that Great Western Tour link to go to the 23-day summer adventure across the states of FLORIDA, ALABAMA, MISSISSIPPI, LOUISIANA, TEXAS, NEW MEXICO, ARIZONA, COLORADO, UTAH NEVADA, CALIFORNIA, OREGON, WASHINGTON, IDAHO, WYOMING, SOUTH DAKOTA, NEBRASKA, and OKLAHOMA.
The total distance traveled was approximately 9,404 miles in the 23 days of traveling. We stayed at 22 motels for one night at each location. We saw the Pacific Ocean while crossing the Golden Gate Bridge at San Francisco and again from the beach in Seaside, Oregon. This was big check mark on my bucket list.
Looking Ahead!
I get the feeling a road trip to parts of Canada could be the next adventure to some places I have not seen before. I have over 500,000 frequent flyer miles with Delta Airlines to make a trip to England where we went in October 1999 and/or Hawaii again where I went in 1981 and 1982 on business trips. I have plenty of photos from those trips, if you are interested?
Here is my email address again:

. Please send me an email if you are interested in my virtual trips posted on this web site, and the photos from the 1980's from Hawaii and my 1999 road trip touring England that have not been posted on this web site. I am retired and love doing this stuff!