May & June to October 2013 · · PAGE 370.
May 9-11, 2013: I used some of my Delta Airlines frequent flyer miles to make a quick trip to Texas. My oldest son graduated from Texas State University getting a computer science degree after several years of classes and working a full time job for IBM. His real world experience in programming now get a formal degree added to it.
Wendell flew his Aeronca Champ to Amarillo, Texas to turn it over to the new owner from California. As with the Alaska trip, Terry McDowell flew with him and they took some photos enroute. Since I am in Florida, not Tennessee, they will send me a CD-ROM of photos to publish on this web site sometime soon. I will add a link to that story to the home page when it is ready for prime time.
May 13-23, 2013: I had a two-week road trip to Pennsylvania beginning on May 13. Penn State University and Georgia Tech hosted a symposium on wireless optical networks. The company that employs me provided some commercial fiber optic equipment used in some experiments by a Penn State Professor. I trained his grad student on the practical operation of the equipment. The second week of the trip was visiting our largest distributor, and OEM customer, a repair facility that works on some our products, and a division of a large audio visual company in Maryland that recently installed some of our equipment at a baseball stadium in PA. It is always good to meet an engineer I have assisted over the phone. We had a good technical presentation on our products with a second engineer and a manager from their office.
During the two-week trip, I stopped in York, PA to visit my second son and his family over the weekend. I saw the new Star Trek movie on the opening day.
I had a doctor's appointment to get treatment for my sciatic inflammation with a short treatment with steroids. An X-ray showed my hip joint to be in good condition. I came back two weeks later on May 31 for a follow-up meeting. The searing pain of inflammation was gone, but a dull pain persists. I received some physical therapy that helped a bit. A second set of X-rays were taken of my lumbar spine area and it showed some disc problems. An MRI was performed on Friday June 7 which revealed the details of my disc problems. It explains my chronic back and leg pain problems. I had my first ever visits to a chiropractic clinic to undergo a series of treatments for spinal decompression. More about that later after the first three treatments are completed.
I went to the trade InfoComm trade show in Orlando on June 12-13. This is the show I did not get to attend in 2011 since it is where I had my cardiac event two years ago as the exhibit hall opened. I did see the lady who was very involved in my rescue two years ago. I learned a few more details of the event and got this photo taken with her iPhone. Barbara Jean is part of the convention center security staff and was well trained to use the automatic defibrillator that got me up off the floor that day, June 15, 2011. It was good to see her again after our first meeting last year, 52 weeks after the event in 2011. My posture gives an indication of the back problem I mentioned above that is still a problem when this photo was taken.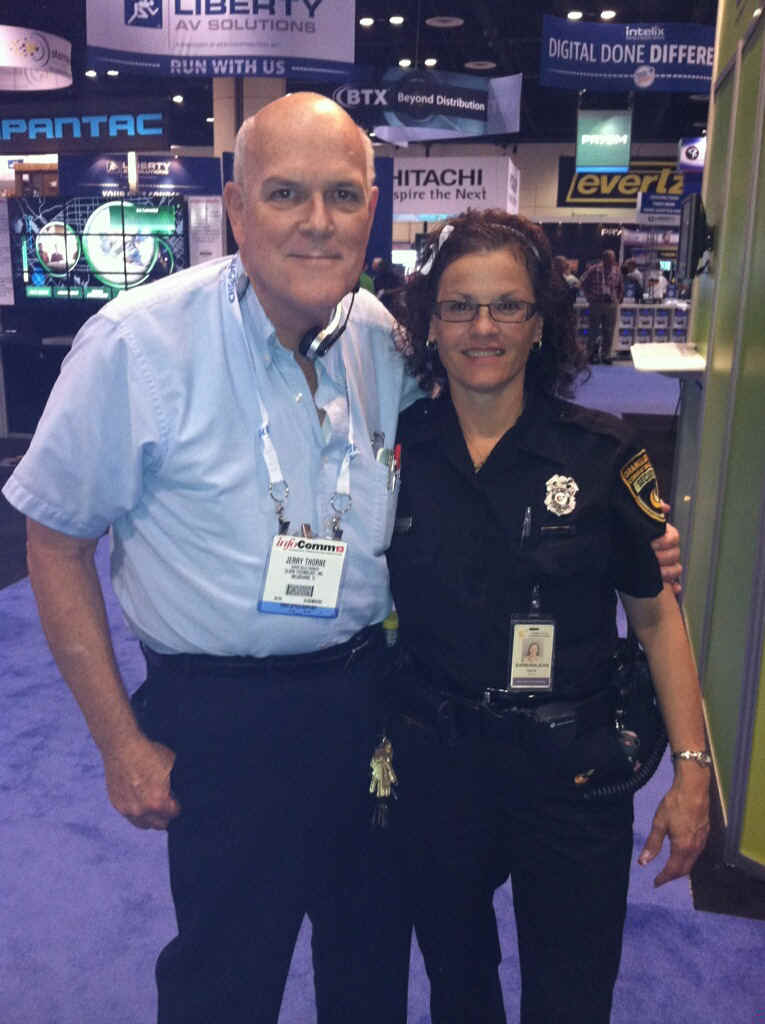 June 22, 2013: I got the airplane out of the hangar for a flight over to Umatilla, Florida to fill the tanks with 100 low-lead AVGAS. This was a day to test me to see if I could get in and out of the airplane with a sore hip joint. There was a bit of a traffic jam on the taxiway before I departed. One pilot with an Extra 300 landed as I was preparing my airplane down by the hangar. He had not yet put it away in his hangar when I taxied down to the ramp to the runway. The yellow Cub shares the same hangar. The tail of the Extra 300 is visible beyond the Cub.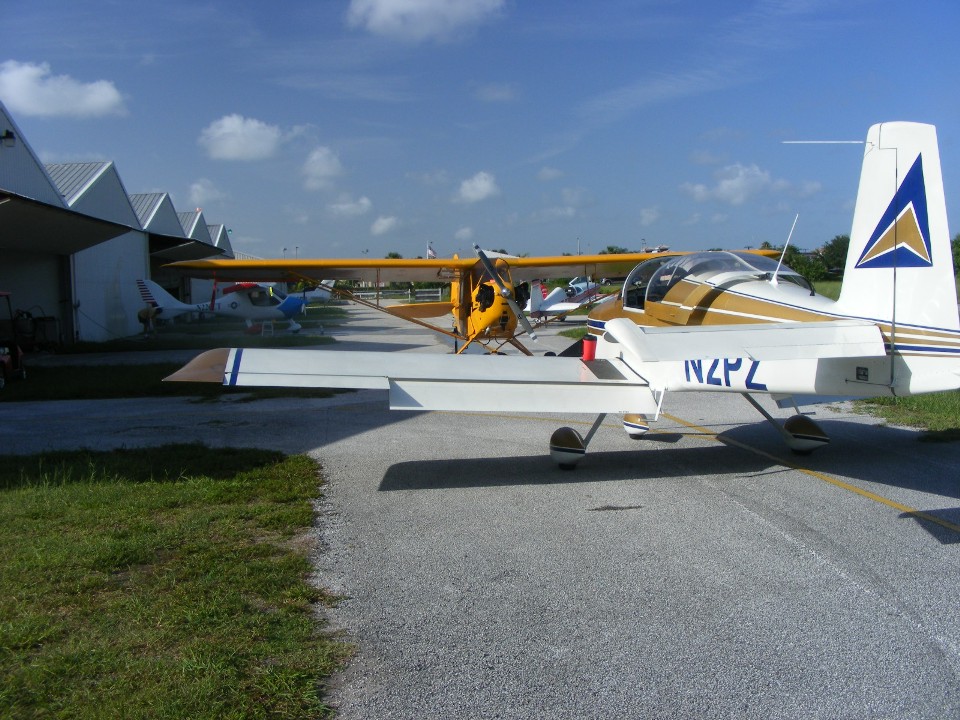 I managed to get in and out the airplane about as easily as I get in and out of my car. The only difference is the size of the fuel hose and the length of it to reach both wing tanks. I took this photo before departure from Umatilla. You can see how low the clouds are in Central Florida at this time of the year. The scattered and broken layer was around 2000 feet MSL. It cleared as I flew back to the Atlantic coastal area of Brevard County.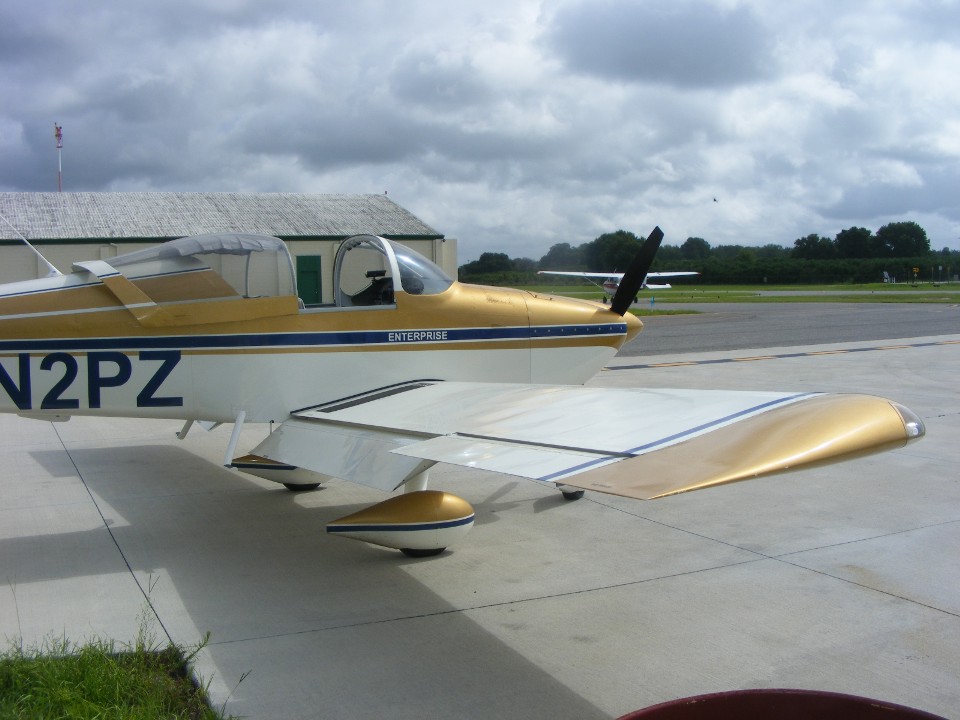 This airport had the lowest self-serve AVGAS price in Florida at $4.75 per gallon.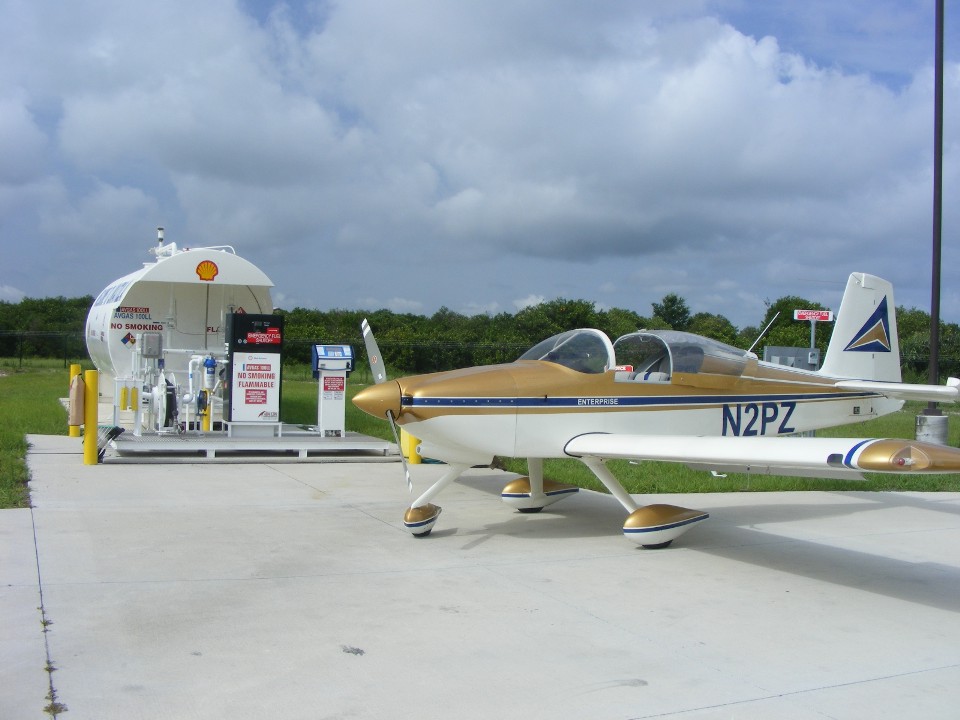 The Hobbs meter added 1.6 hours for the round trip flight. I was not in a hurry and keeping my fuel burn under 6 gallons per hour at around 130 MPH. I flew above the broken cloud layer dodging the build up on the way west to Umatilla and well north of the two tall television broadcast towers south of Deland near Orange City. It was all hand flying without the autopilot. I flew East under the cloud deck on the way back to Rockledge. I avoided the Orlando Class B and Sanford Class C airspace. The clouds cleared at the coast as I flew down the US 1 corridor and over the top of the Titusville Airport where I could hear the tower working a number of helicopter training flights. The Hobbs meter now has 344.6 hours on it.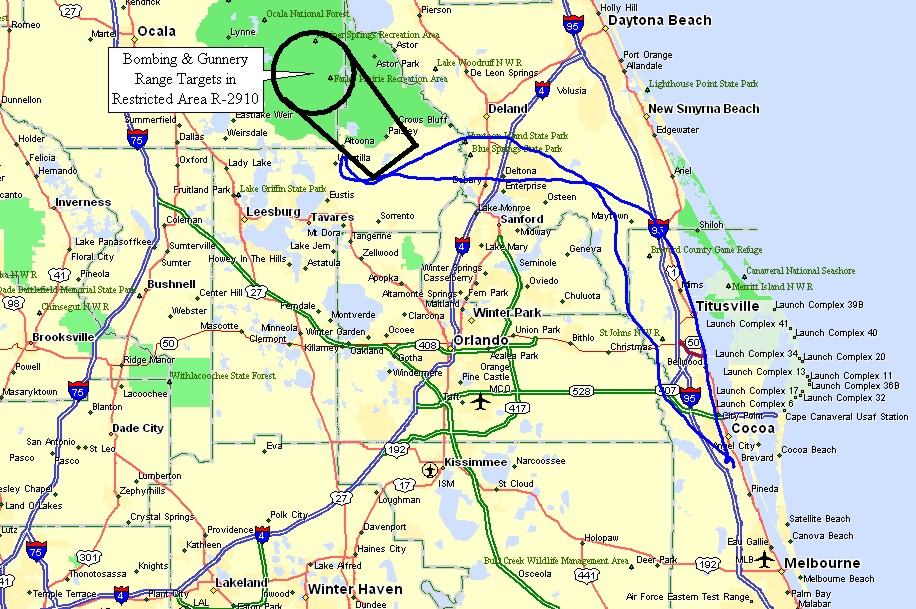 June 30, 2013: This was the morning I had my Biennial Flight Review. The CFI for today was a young man who has been flying as a private pilot since he was 16 years of age. At 30, he has been a certified flight instructor for many years and his professionalism is very evident. He reminded me on the issues I have that are less than perfect, mostly in the pattern. You can see two circles in the GPS ground track showing two turns around a point on the ground. The wind was blowing from the southwest at about 15 MPH and required some changes in bank angle to keep the ground track in circle. The landing back at Rockledge included a sudden drop in the wind as we approached the threshold of runway 18. Tall trees to the right side of the runway blocked the southwest wind near ground level. Extra power was needed during the final descent.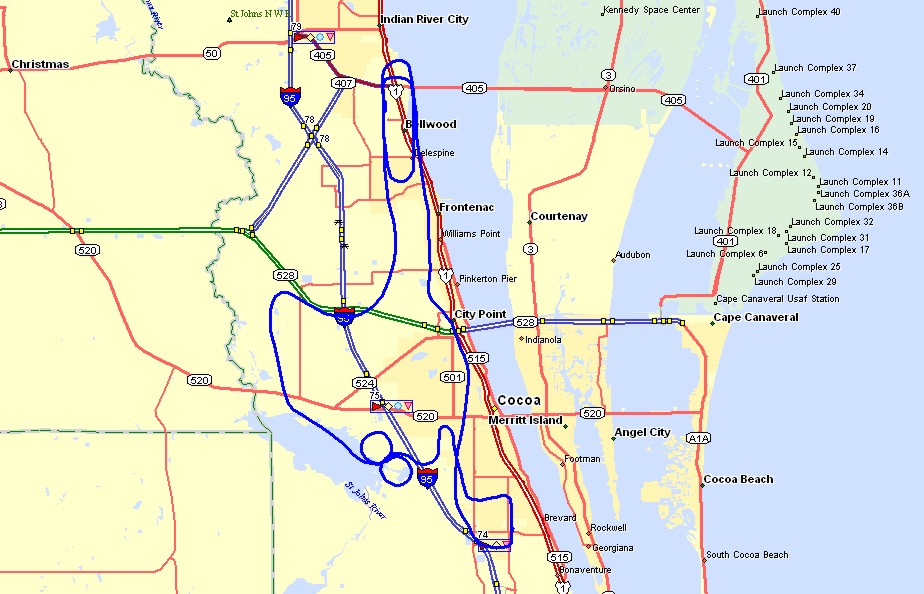 Overall, he was satisfied that I am still a good pilot in the things that count and he likes the idea of building a Van's RV-8 some day. I volunteered the use of my tools and mentoring on building with aluminum. He has building experience, but all of it with fiber glass airplanes. He graduated from Florida Institute of Technology here in Melbourne with a degree in Aeronautical Engineering. This could be a good friendship with our common interest in airplanes and flying. Add one hour to the Hobbs meter with our flight up to KTIX at Titusville, Florida and some work in the practice area west of Rockledge.
Editor's Note: It has been a busy summer in everything but flying. It is now the evening of November 6, 2013 as I start an update of this web site. I have my Outlook Calendar to remind me of recent events.
I started pain management therapy on July 23 and physical therapy on July 31 which lasted until September 13, 2013. I had fully recovered by that day and discontinued the pain medication that kept me grounded from flying. I had my final meeting with the doctor on September 23 to demonstrate that my spinal problems were healed and that I am clear of the meds and ready to fly again.
Moving into the new house was beginning to take up my time in September. A number of issues kept us from moving in until September 25. I had been working at the new house to get things ready for moving day. I would bring some things down in the car on every trip. If you missed the link from the home page, here is the link to the pages about the new place. A new air conditioner was installed on Friday, September 27. It had a failure of the solenoid that runs the outside compressor unit the following Monday. After that, it ran very well until November 5 when a safety switch finally failed due to the excessive current when the first failure occurred.
The move was officially over before the Columbus Day holiday on October 14. The next day I headed out on a company road trip to see our biggest distributor just outside Philadelphia, PA. I had a chance to see my company Director of Engineering in Virginia on the morning of Wednesday, October 16. I met up with a client in Roanoke at 11:15 AM that same morning. My meeting with the distributor was Thursday morning and I met up with one of their salesmen in Chantilly, Virginia as I was heading south that afternoon. I stopped by to see my boss on Friday afternoon near Maryville, Tennessee. I spent that night in East Ridge, TN and met up with Wendell and his friends the next day at their usual Saturday morning meeting.
I managed to have dinner that Saturday night with my youngest son in Kennesaw, Georgia north of Atlanta. I checked into a motel at Vinings, Georgia and had a chance to play with my new computer, which will not run this web publishing software. The new one is fast, but has Windows 8 on it and that has some issues, as did Windows 7. The terabyte hard drive and an Intel Core I-7 processor appears as an 8-core virtual processor running at 2.2 GHz with 8 Gigs of RAM on the mother board. It can accept up to 16 gigabytes of RAM, but I would have to remove the two 4 MB DIMM's in it now and put in two 8 MB units in the two memory slots. I will think about that later on.
I went to Atlanta for the SCTE Expo trade show for the Cable Television Industry. I had a leisurely Sunday at the motel and office hours on Monday since the arrival night reception was on Monday evening, October 21 at the Georgia World Congress Center next door to CNN and the Georgia Dome sports arena.
October 22, 2013: Tuesday is the opening day of the SCTE Expo. My assignment is to work with my largest distributor with some of my demo equipment on display for customers who visit their booth. All those items on the front of this table are made by Olson Technology, Inc.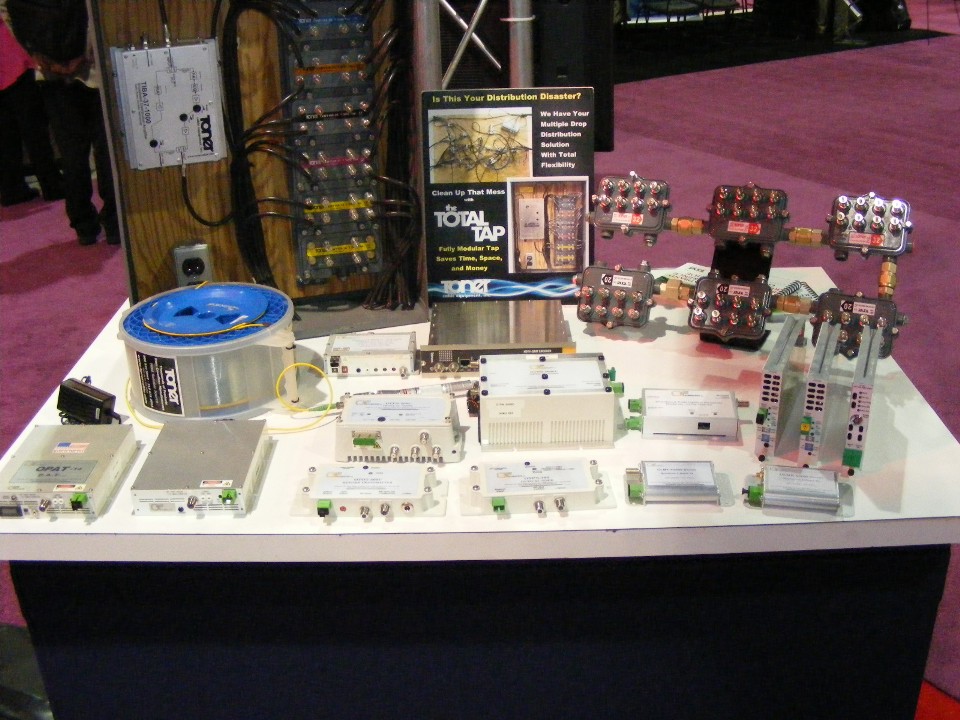 All of these modules can transport satellite signals via single-mode fiber optic cable.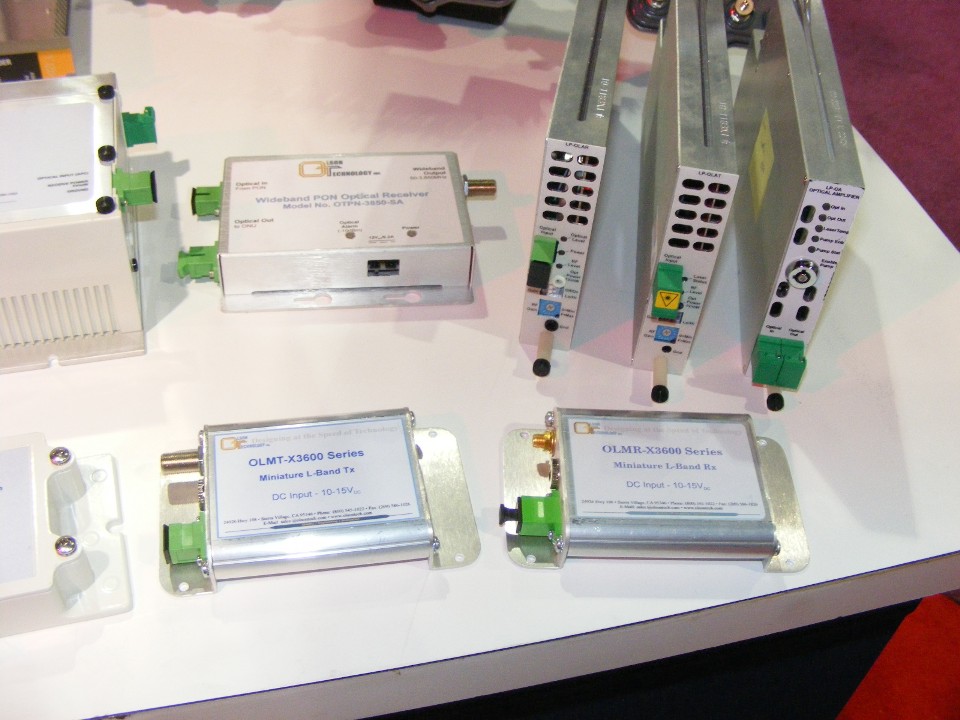 Cable Television signals are transported by these four devices into motels, hotels, apartment buildings, etc.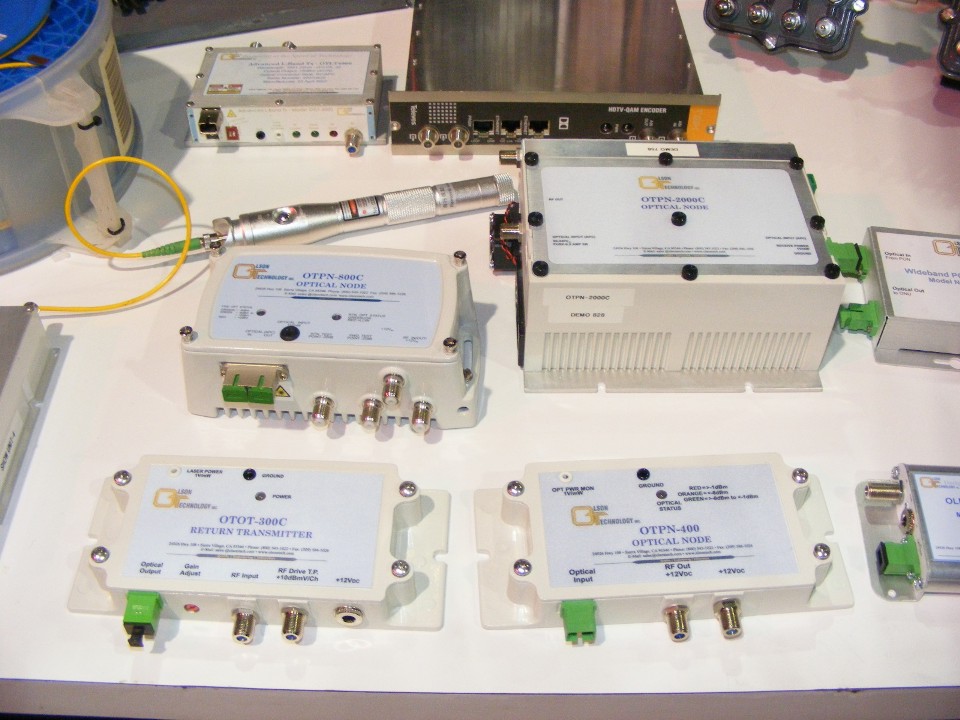 These last two units transmit signals to the devices seen in the photo above.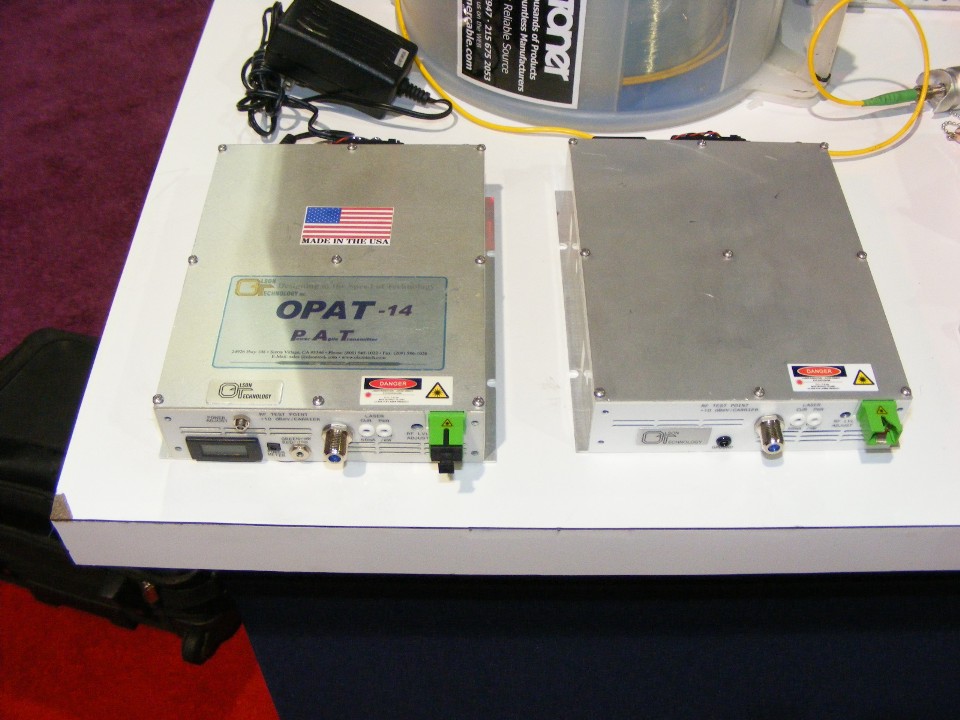 The trade show was over on Thursday at 1 PM. I had a chance to see my sister for dinner before heading south toward Florida. I stopped at a motel near Dublin, Georgia. I had a visit with a customer in Jacksonville, Florida after lunch, and got home around 5:30 PM on Friday, October 25, 2013.