Thoughts of Christmas 2002-2009 · · PAGE 325.
December 25, 2009: Here are more highlights of my RV airplane experiences from 2002 to 2009.
I had a business trip up north in April that allowed me time to visit the new Air & Space Museum at Dulles Airport. The full story on that one is found on my PAGE 295. Also in April was a weather event that damaged the hangar at Folks Field. That story begins on my PAGE 299.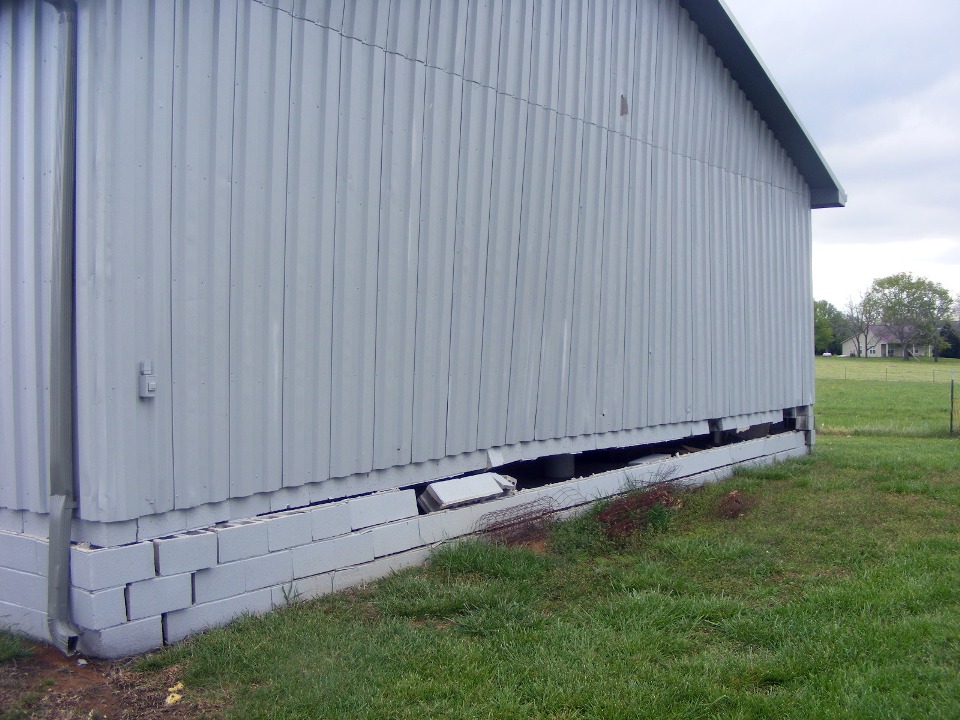 My airplane sustained some minor damage that was quickly fixed before moving the airplanes to a more secure location while the hangar was repaired. The damage to the left elevator reveals that something round hit the trailing edge outboard from the trim tab. I provide the real elevator repair story on my PAGE 303.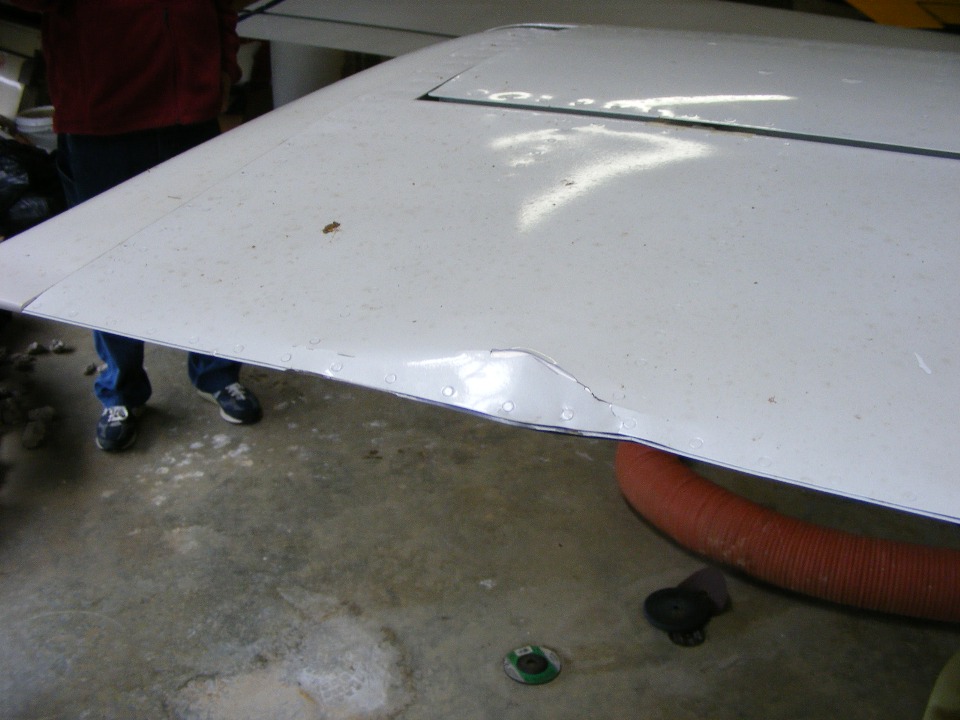 By June of 2009, the famous RED CUP was finally replaced with a new BLUE CUP. The red one had been blown off the wing and dropped enough times that it no longer kept things as cool as it once did. I sure could tell the difference when I loaded ice water into the new one and it took longer for the ice to melt. There is the crack in RED CUP on the side you see, and a crack in the bottom you dont see. There is also moisture in the insulating foam inside the outer shell, which is why the RED CUP is no longer insulated well.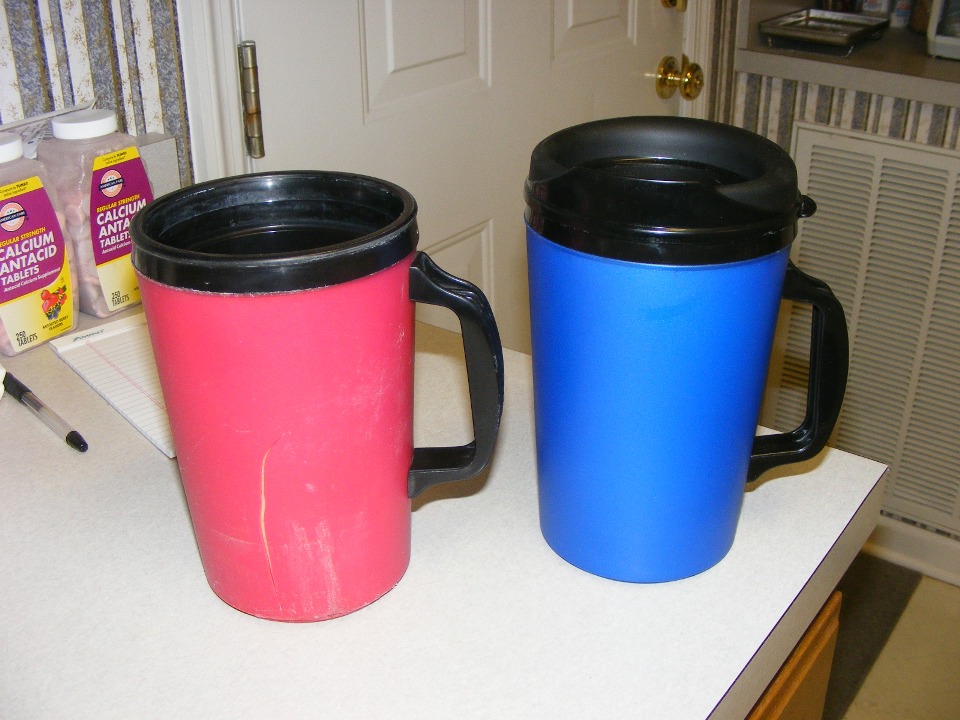 When I did the annual inspection of N2PZ in 2009, I realized the airplane had only flown 11 hours in the previous year. I knew I had not flown very much in that year, but the log book entries surprised me that day in July 2009 when I finished the inspection and updated the aircraft log book. Another reason the hours were low is the end of the multi-year drought that had plagued this area. As of today, December 25, 2009, the weather man reported that the Atlanta area about 100 miles south of here had the second wettest year on record. By the end of December, we may get enough rain next week to make 2009 the year with the most rainfall EVER in this area. Being only 100 miles north of Atlanta, we usually, but not always, get similar weather as the moisture and low-pressure areas come up from the Gulf of Mexico.
On October 3rd, 2009, I had a good day of flying with my friend Marty Mason. The trip that day was from Chattanooga to Lawrenceville, Georgia to pick up Marty, then to Cedar Bluff, Alabama for LUNCH at John Myers' fall fly-in, back to Lawrenceville, then to Rutherfordton, North Carolina, back to Lawrenceville, then home before sunset. Here is my first photo not long after takeoff and enroute to Lawrenceville early that morning. The full story of that GOOD day of flying begins on my PAGE 309 and ends on my PAGE 312.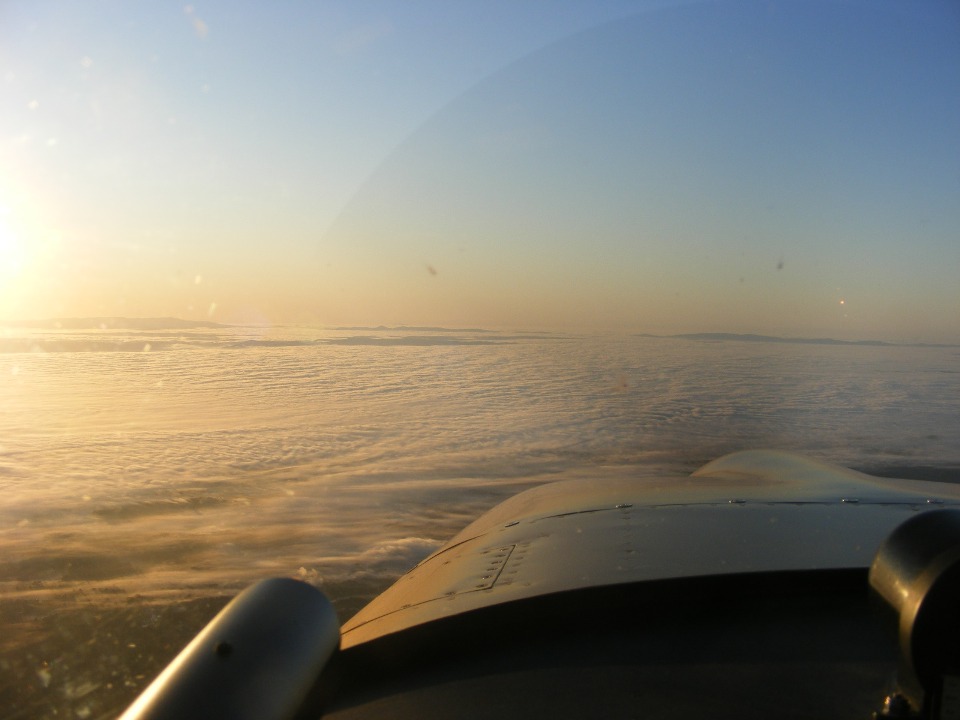 My next flying trip near the end of October was via Delta Air Lines to Denver on company business for my day job. That one has some interesting photos I took from my window seat. The weather was forecast to be bad that week, so the "Enterprise" stayed home. That story and the photos begin on my PAGE 313. And yes, it snowed in Denver that week.
On November 7th, 2009, I had my last big flying trip of the year to Florida. It was a day trip to a fly-in at Love's Landing in Marion County, in Central Florida. That story begins with an pre-dawn early morning departure on my PAGE 315. I made some first-time fuel stops at Baxley and Hazlehurst in South Georgia that day. The story of that day with lots of photos of airplanes and in-flight pictures continues to my PAGE 320.
I had a few days off to travel over to Alabama, Mississippi, and Louisiana to see some old friends. Due to the weather, travel for that trip was in my old Caddy again, not the airplane. That story begins on page 320 immediately after the flying trip report to Florida. There are some nice photos from my ground vantage points in that story.
The first snow of the fall 2009 season fell in the Chattanooga area on December 5th. David Edgemon called to report the completion of his new RV-8 and the first flight of 2.1 hours on December 17th. That brings us up to today, Christmas 2009. When I started this posting, I had no intention of publishing two pages of photos and maps until I realized I had bored you with just end-of-year text pages in years past. I hope you have enjoyed this little look back at the past SEVEN years with an RV-9A in my life. The story will continue for as long as I can maintain my health and keep flying the "Enterprise".
Oh, along the way, you may have noticed that I mentioned that my airplane is the only one with that name. I really want to congratulate the folks at Virgin Galactic and Scaled Composites for the December 7, 2009 roll out of the first commercial SPACE PLANE which bears the name "VSS Enterprise". Unlike the first American space shuttle "Enterprise" which never went into space, this new one will make it outside the Earth's atmosphere, if only for a short time via sub-orbital flights. The letters "VSS" is the abbreviation for Virgin Space Ship.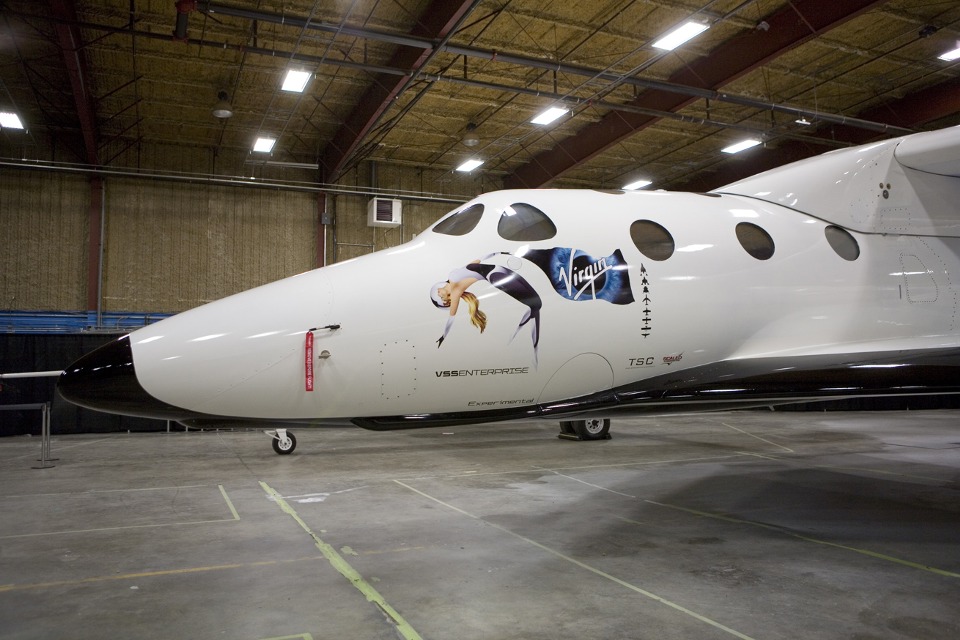 Here is a closer view if the artwork and the name on the side. This is yet another "Experimental" aircraft.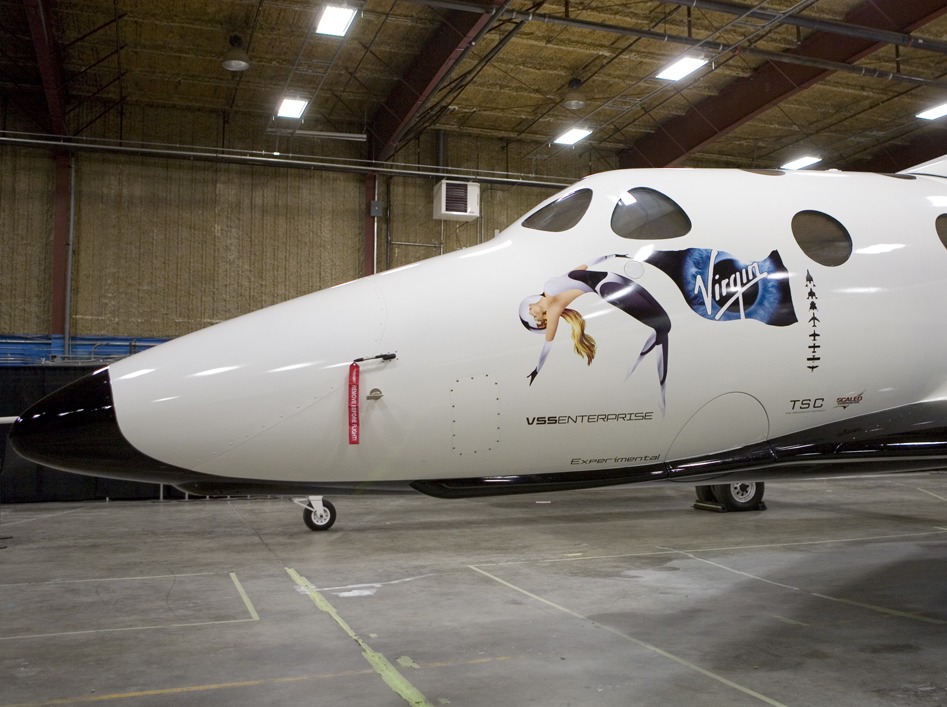 Here is a fact to end Christmas Day 2009 on a winning point. I purchased a memory upgrade on my old 2002 IBM T-23 laptop computer. The postman delivered the padded envelope yesterday. My computer now has the maximum of 1-gigabyte of RAM installed which has sped up many operations that would cause virtual memory swap files on the hard drive to be used previously.