Air & Space Museum Near Dulles Airport · · PAGE 297.
April 9, 2009: The museum tour continues on the main floor with this view of the Virgin Atlantic Global Flyer designed and built by the Burt Rutan team at Scaled Composites in Mojave, California. It is the only custom-built, experimental jet airplane to have flown around the world on two separate occasions, on one fill-up of fuel. It had one takeoff, one landing in Kansas with a full trip around the world eastbound, un-refueled, with only one man aboard - - Steve Fossett. The following year, Steve used this same airplane and flew from the Shuttle Landing site at Cape Canaveral, Florida with a full load of fuel. This time the goal was to fly around the world, with the added mission of crossing the Atlantic Ocean TWICE. The landing on that second trip was in Europe. I also featured this airplane in this web site on PAGE 154 when it was first exhibited at Oshkosh in 2005.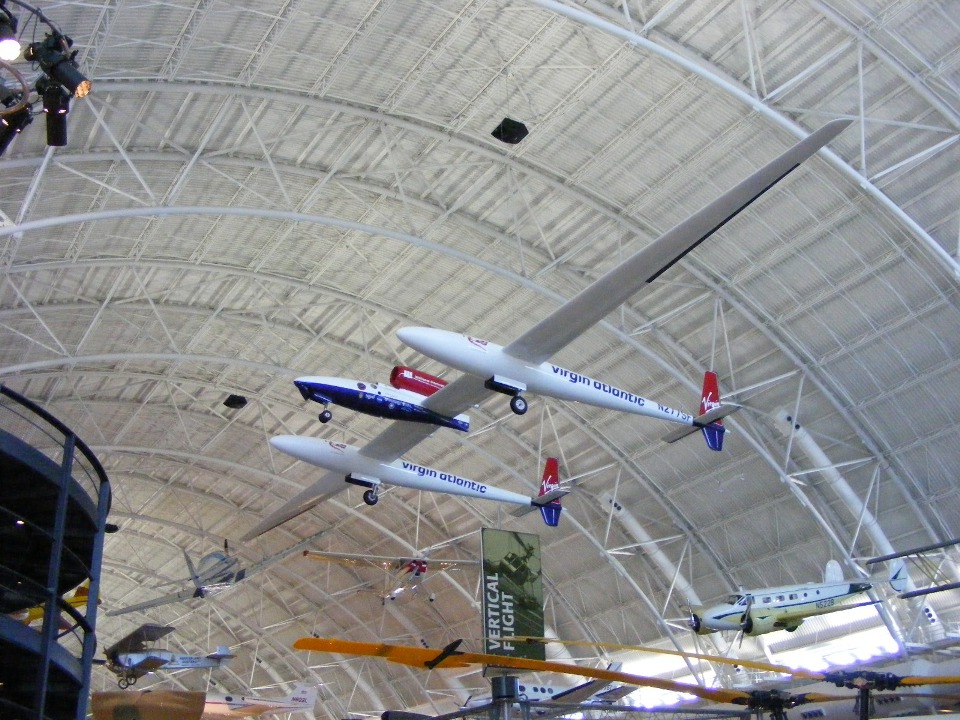 I kept this next photo at full size to be sure you could read about the first Northrop flying wing built in the USA.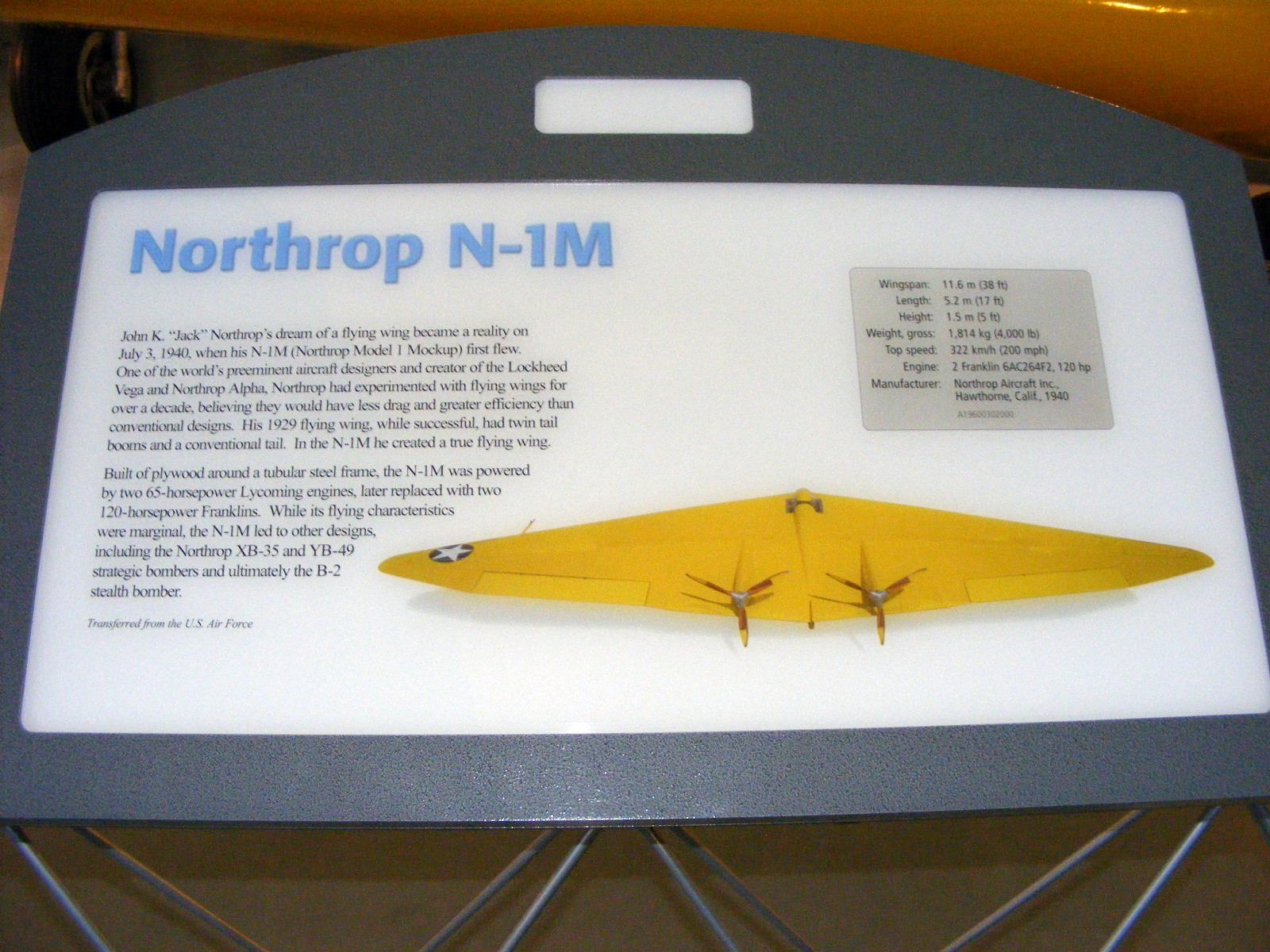 Here is the actual airplane on the ground floor of the main hall, directly in front of the P-61 "Black Widow" night fighter.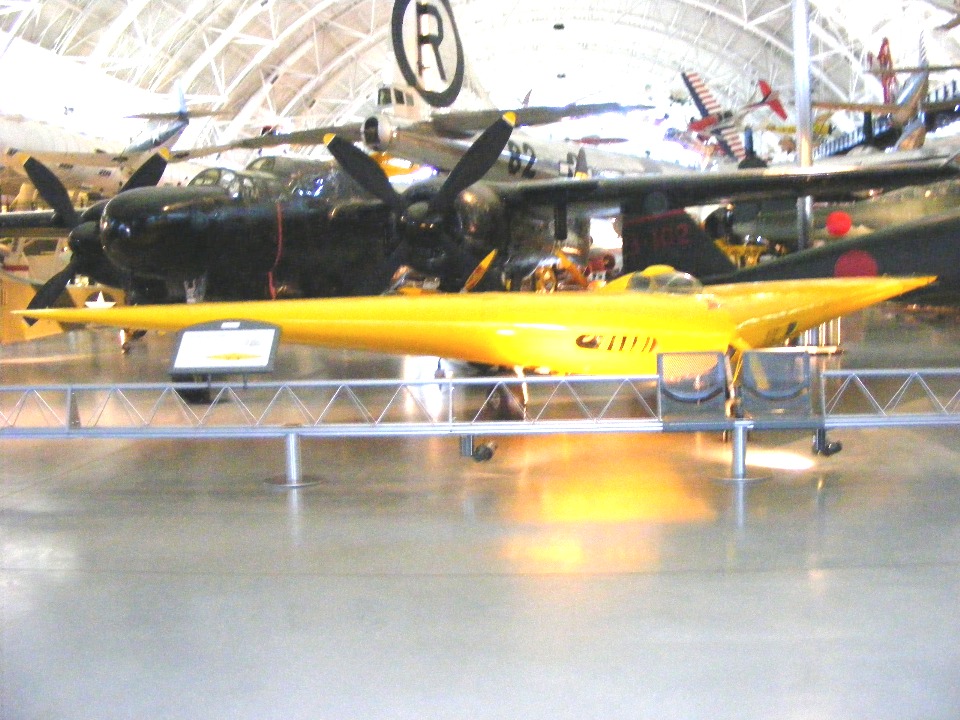 This side view gives a better idea of the size of this flying wing. The Japanese "Betty" bomber is in the background in this photo.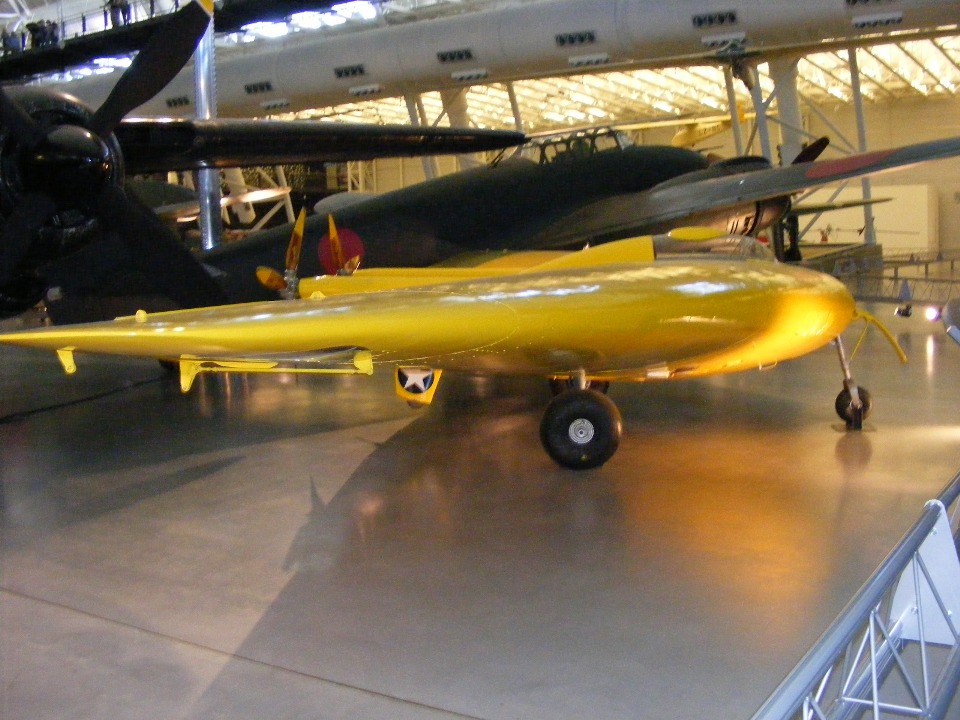 The SR-71 "Black Bird" is hard to see in this light and that was the intent of the design, as well as being the fastest air-breathing jet airplane revealed by the US government. Since this aircraft type is retired, what has replaced it?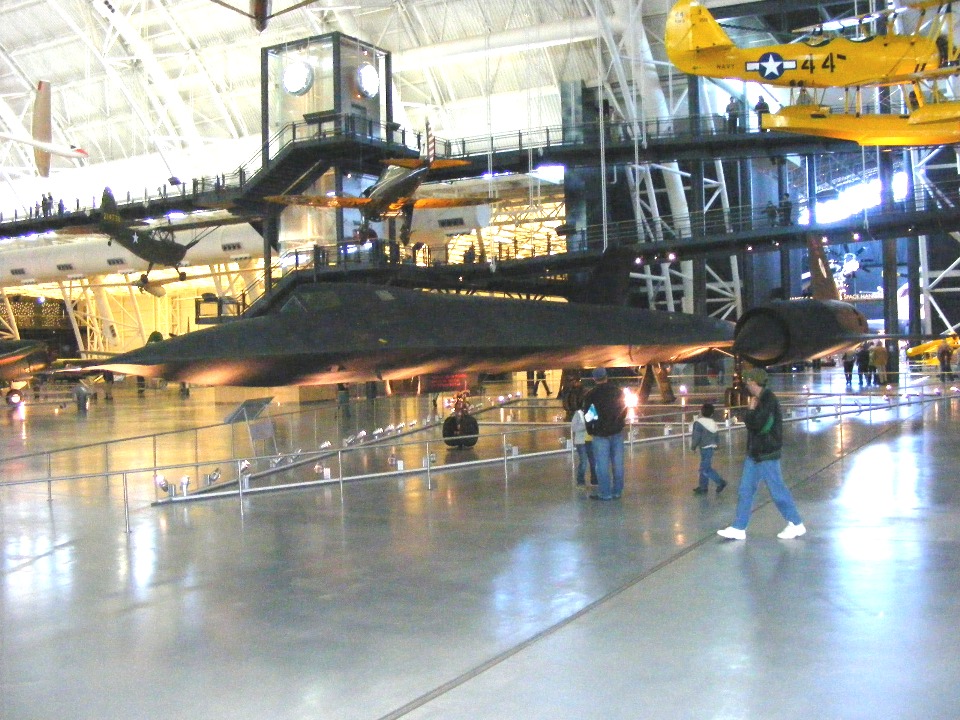 Here is the business end of the F-105 "Thunder Chief" also known as the "Thud" when it was in service during the Viet Nam War.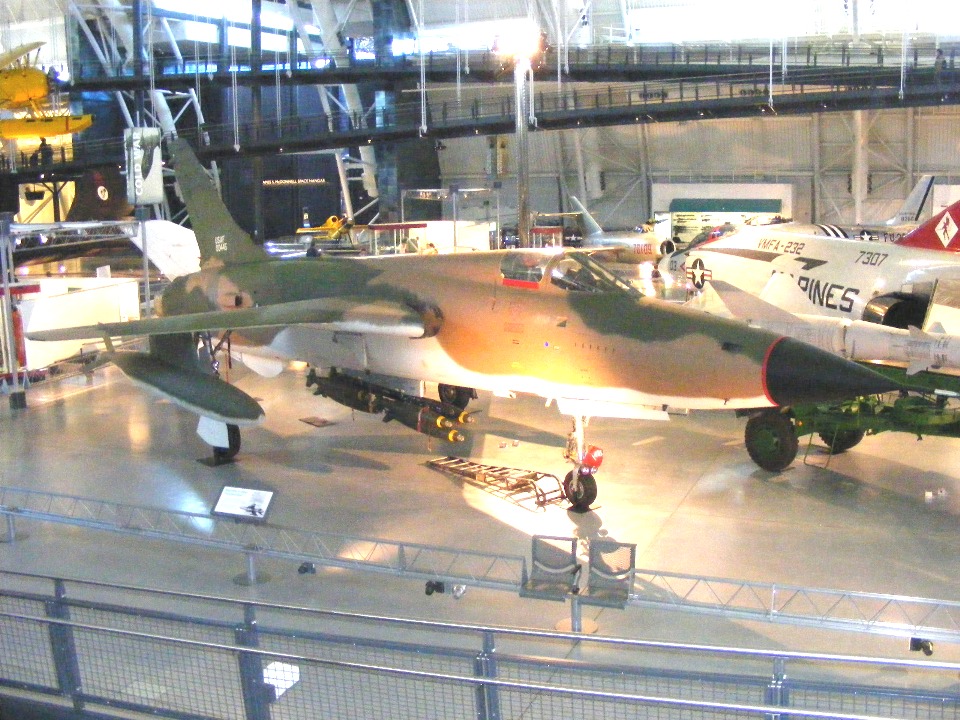 The Chance-Vought Corsair was the premier US Navy and Marine Corps fighter near the end of the second world war. The Japanese called it "Whistling Death" due to the sound it made in flight. The Black Bird becomes more visible from this higher vantage point.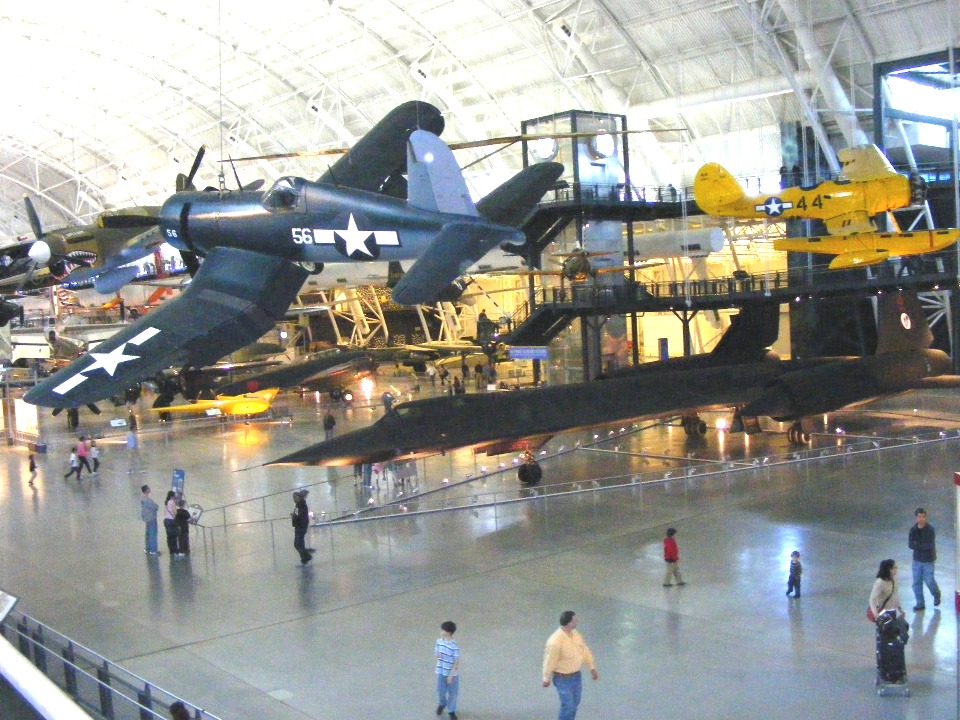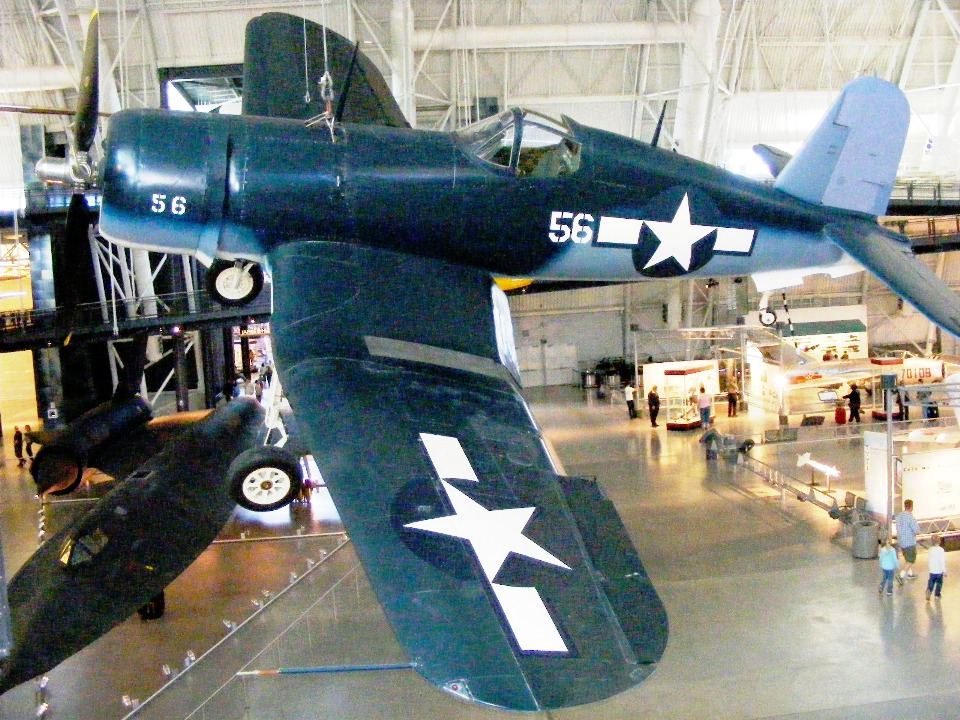 The Curtiss P-40 was used by the "Flying Tigers", a group of American mercenary pilots defending China against the Japanese air force before the war officially began for the United States on December 7, 1941. This was the type of American fighter plane that also defended the Hawaiian Islands during the Japanese sneak attack on Pearl Harbor. Only a few were able to get airborne to face the Japanese attackers on that tragic day.