Spring is HERE · · PAGE 294.
March 29, 2009: The weather the past few days has been WET! The rain deficit in this area got some relief. I will have to hear the local weatherman give the box score later this evening to see how far behind "normal" we are for annual rainfall. I looked out the front door last night during a heavy rain storm when it was really coming down hard. The two storm drains at the end of the street were being overwhelmed with the deluge of water coming down the hill.
This web site has been read by folks all over the world, and some who live not far away. When I went to Oshkosh in 2005 with a brand new airplane, I had not even set up my tent when a guy came walking by and called my name and starting telling his friend all about the "Enterprise" and my construction of it. I asked who he was and why he had not sent me any emails since he had been following my RV activities. That was the first time I met one of my web fans.
My most recent meeting was the other evening in my local Wal-Mart. I was pushing my buggy and paused for a minute to check my list, etc. This guy comes up to me and says something like "I want to shake your hand" and he did. Then he went on to tell me how he is a pilot who lives nearby and flys a Cessna 150. He told me about the day I buzzed the grass field where his airplane is based. I checked my web pages and found this map showing my GPS ground track on December 1, 2007. The strip is located near the bottom of the photo on the East side of Georgia highway 201. My ground track shows a straight course as I lined up with the runway and made my high-speed pass down the runway from south to north.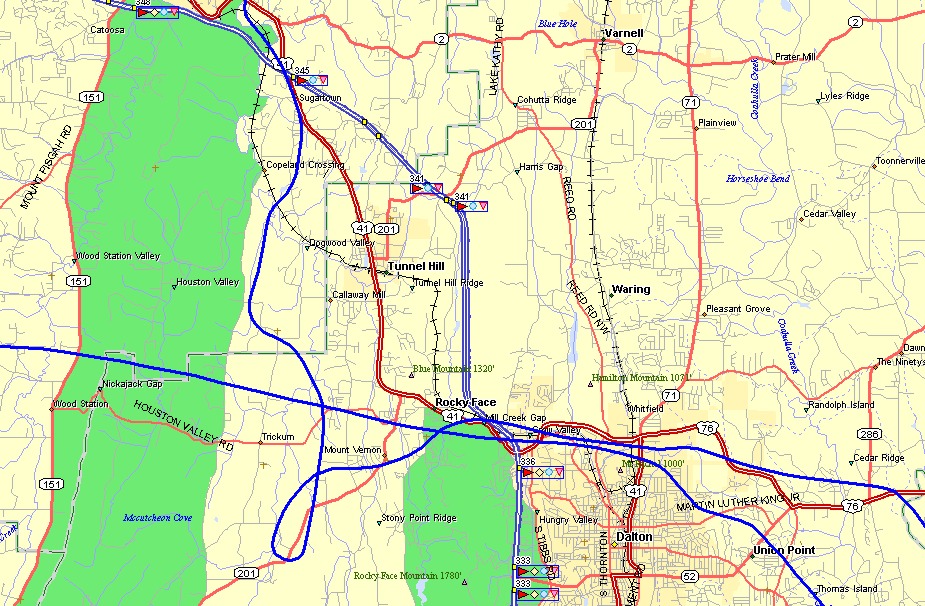 He said he felt he knew me from all my postings here and the photos, etc. He discussed my recent posting about my first flight with Wendell in the back seat of his RV-8. This is why I created the web site. It helps to bring our community of builders and pilots together in the pursuit of flight. I have old photos in this site of the rental airplanes I used to fly in Florida, and few in Tennessee. I wonder if my new pilot friend will take the plunge into building an RV. We shall see when he gets his first ride in my RV-9A. I have his number and we will be getting together when the weather gets better around here. I have not published his name since I did not get his permission. If he gets the ride and the RV-grin mug shot on a future page here, he will be identified as the next victim, er. builder. For now, here is wishing you good flying weather wherever you are.
April 12, 2009: It is Easter Sunday and a holiday with beautiful weather outside today here in the Chattanooga area. I spent several hours today processing digital photos from my most recent trip to up north. I am taking time to post this page late Sunday afternoon. There are more pages to be posted to provide full coverage of the activity from this past week. I am off work tomorrow for a company "Spring Break" holiday, so be patient, the stuff will be posted soon. For now, this page is all that I have time to update right now.
I headed off to Pennsylvania to visit family last Saturday, April 4th and on Sunday, April 5th. I also had a chance to meet Irvin Baughman, owner of a paved private airstrip known as "LAZY B RANCH AIRPORT" (PS08) just a few miles from my son's home north of York, PA. I have a lot of photos taken at his airport posted on FIVE PAGES linked from the "Other RV Menu" near the bottom of the page.
I will add some new pages under my son Jason and his family. The girls are growing fast. Katie is now FIVE, and Megan is "THREE and a HALF" years old. At this age, the "half" is important to a little one learning all about her world.
My last business appointment was on Wednesday, April 8th in Delaware. It gave me a chance to drive some roads I have never traveled before. This time it is US 301 and US 50 from Delaware to Washington, DC. It was my first time to cross the Bay Bridge near Annapolis, Maryland. Thursday morning was about responding to emails before checking out of my hotel in Fairfax, Virginia. After that, I took a few hours to see the new Air & Space Museum near Dulles Airport for my first visit. I have a lot of photos from there to be published tomorrow.
And the other news of this past week is the storm damage to the south wall of Wendell's hangar where my airplane was parked recently. I will get to that news and complete photos later. My airplane suffered some minor dings, one of which I quickly repaired to get the airplane ready to fly out to a safer hangar location. Wendell and I moved our RV's Saturday afternoon to another hangar about 30 minutes away by RV-9A.
Business Travel & Sight Seeing
Lets get the photos started on this page with some snapshots taken Wednesday afternoon, April 8th from the Chesapeake Bay Bridge near Annapolis, Maryland. This is just "point and shoot" photography while driving on the westbound bridge. These bridges are a combination of pilings and short sections, some truss bridge sections, and suspension spans.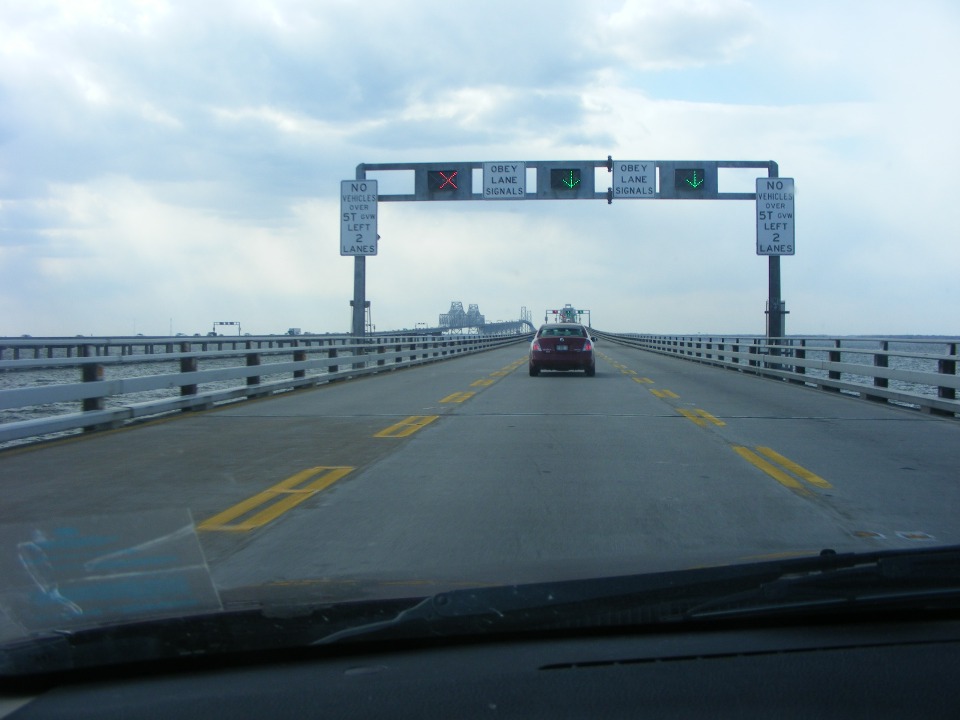 I wanted to get a shot of the truss bridge section on the eastbound lanes. I managed to get the camera tilted a bit at the time the shutter fired.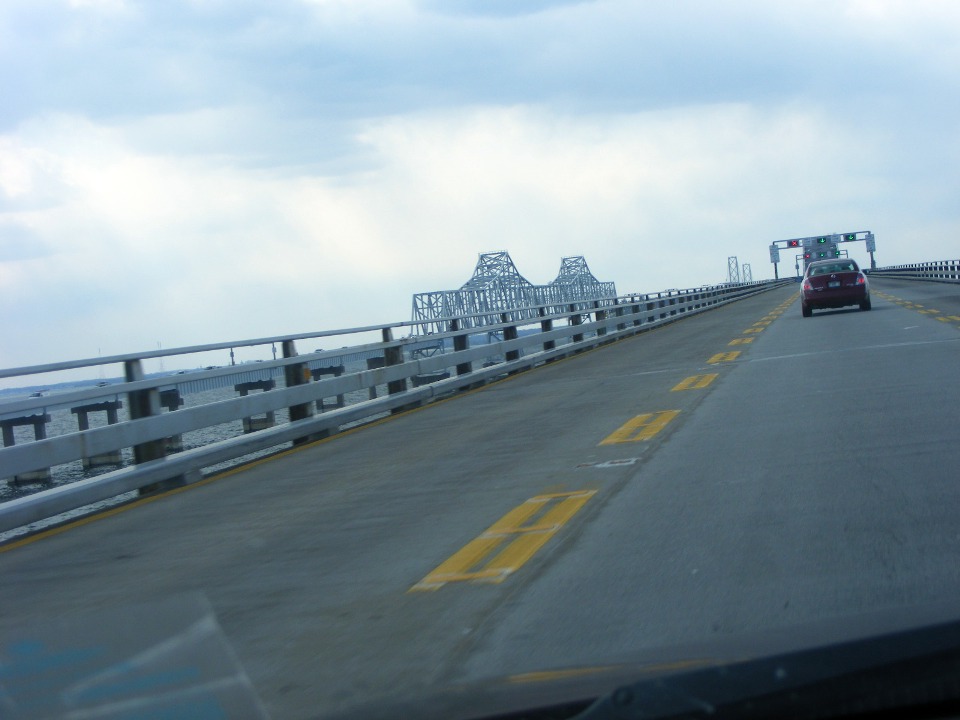 This last shot shows the suspension bridge sections. This section of the bridges is the highest part of the bay bridge to give more room for shipping to pass beneath the spans.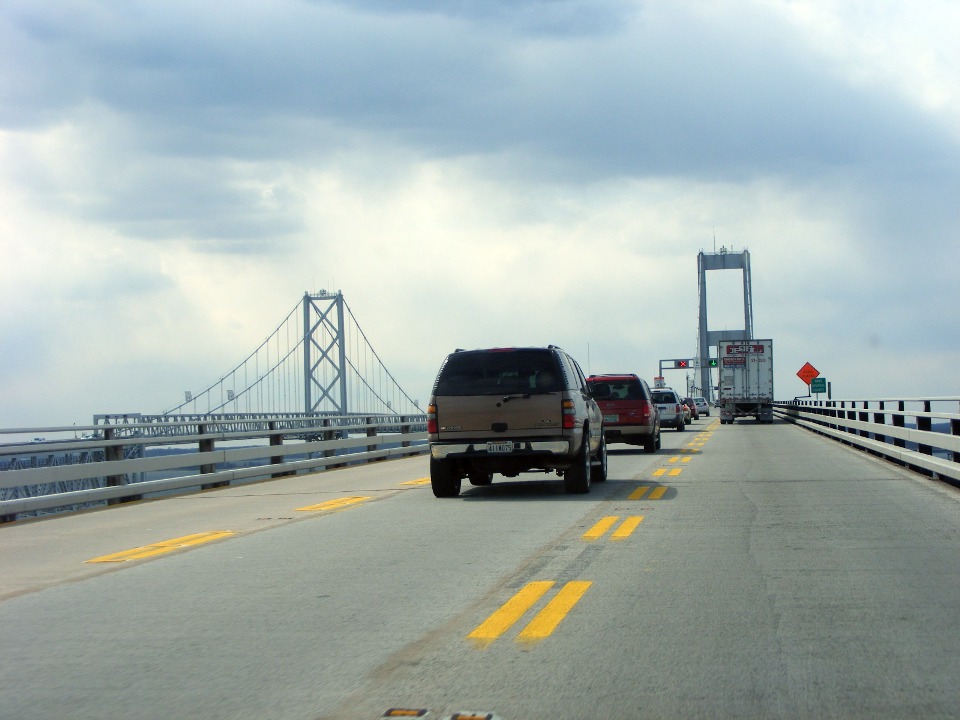 When I got to Annapolis, I got off US 50 & 301 to drive past the US Naval Academy and through some city streets. I wanted to locate a Verizon maintenance office for a potential future visit as part of my day job. Their manager of video services contacted me a few weeks ago about a CATV fiber optic receiver provided by the company and used as a piece of test equipment by the Verizon service techs. After that I was headed for the suburbs of Washington, DC. I took three customer calls in the rental car using my hands-free headset before I reached my hotel for the evening. I decided to drive straight through the city even though the rush hour traffic hours happening as I arrived. I drove past the Willard Hotel on Pennsylvania Avenue near the White House. This photo below was taken while waiting for the traffic light at 15th Street and Constitution Avenue to turn green. This is just a couple of blocks from the White House. The Cherry Blossom Festival was going on with lots of folks on the National Mall and in the area near the Ellipse south of the White House.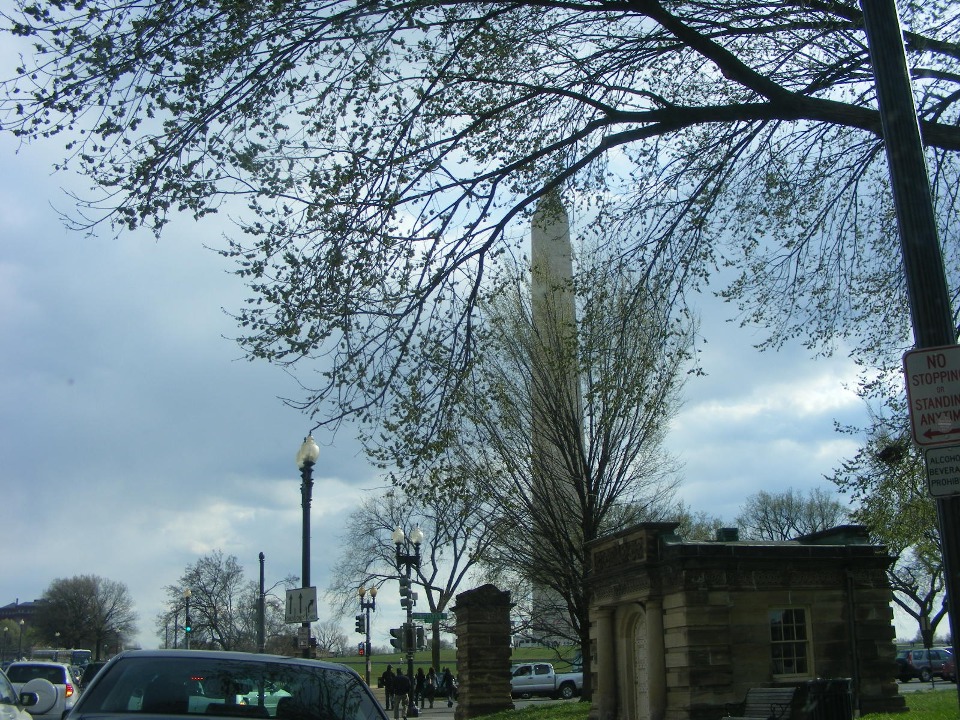 This second shot was taken while stopped at the traffic light on Constitution Avenue closest to the Washington Monument.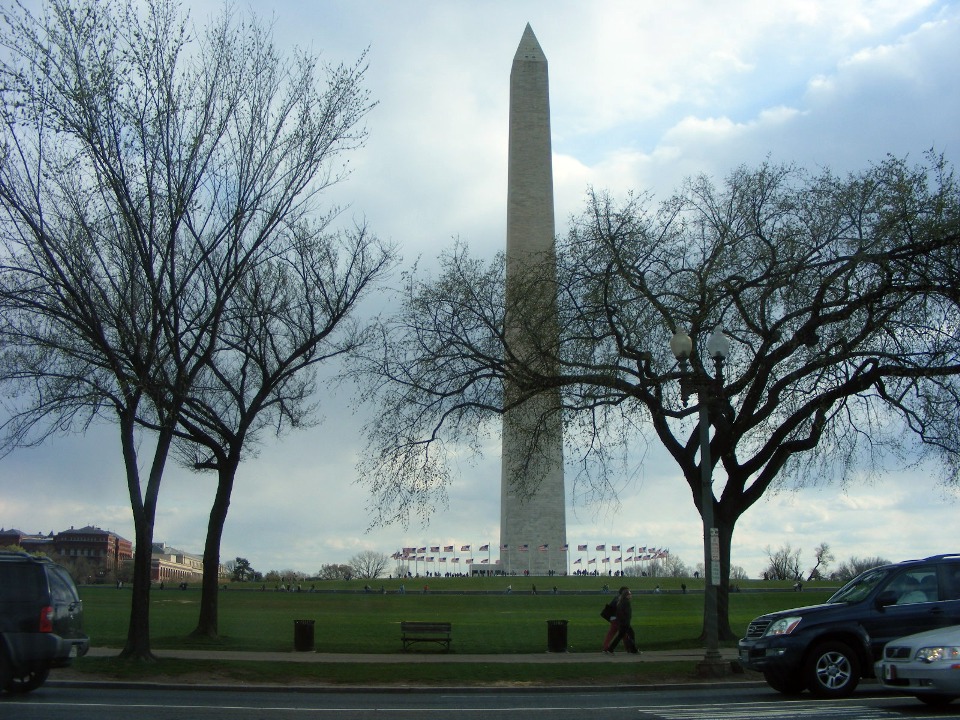 I thought I was going to get a good shot of the White House until this car pulled up beside me as the shutter clicked.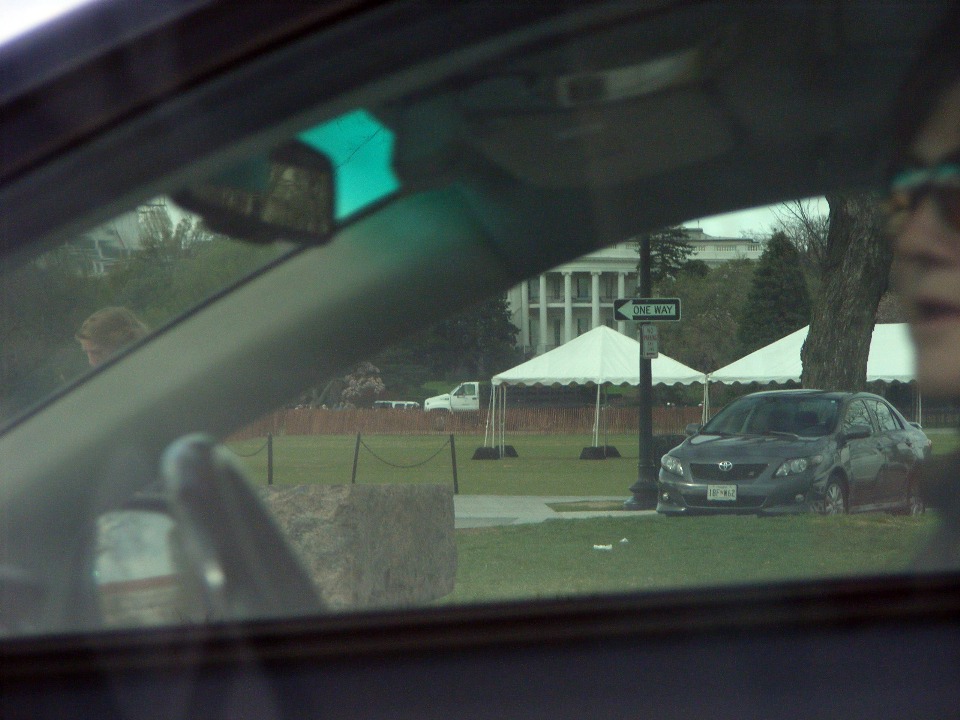 I tried another point and shoot photo as the light turned green and I was moving through the intersection of 16th Street and Constitution Avenue.