October 2008 - Flying Through Atlanta Airspace · · PAGE 278.
October 5, 2008: Marty took these pictures as I was busy flying in the turbulence and avoiding other airplanes as advised by Atlanta approach. It got really bumpy about the time this photo was taken and my altitude was up to 3,800 MSL before I knew it. The controller called me as I started descending back to 3,500. There was a Lear Jet about a mile ahead of me at 4,000 crossing in front of me from my RIGHT to LEFT. We had plenty of room and no wake turbulence as I flew past his route of flight. That skyline below has really changed since I was a college student in the Atlanta area from 1965 to 1968. The combined route of Interstate 75 & 85 is the big freeway you see down there. A lot of that green area just this side of the freeway near the center of the photo is the campus of Georgia Tech. The TBS television studios are also in that area.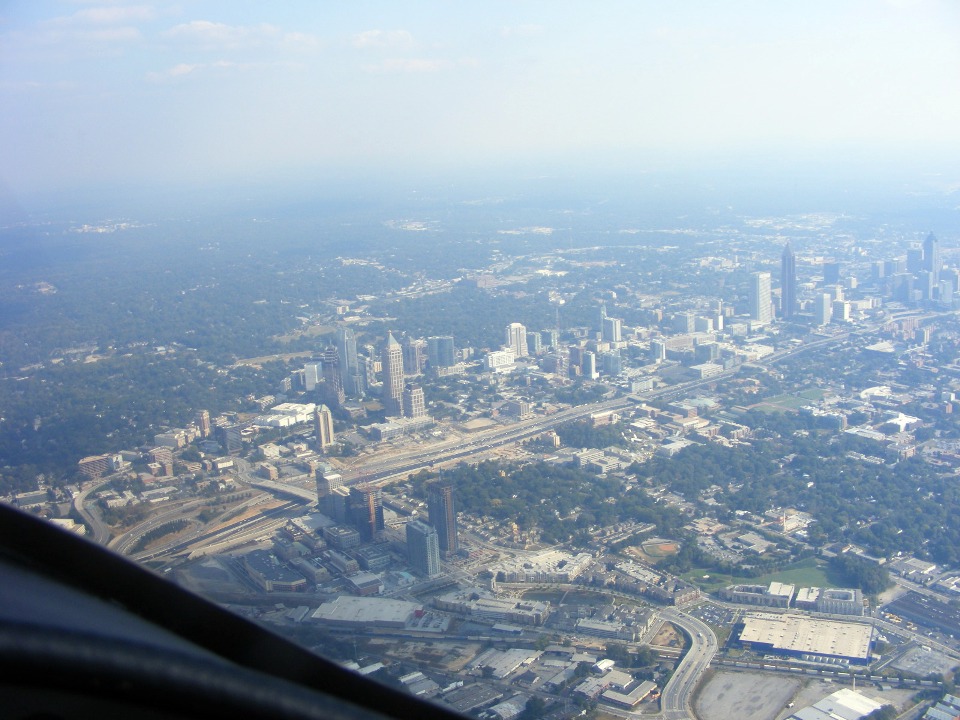 The Buckhead area of Atlanta is visible on my side of the airplane. The Peachtree-Dekalb Airport is visible at the right side of the photo above my dash-mounted video camera.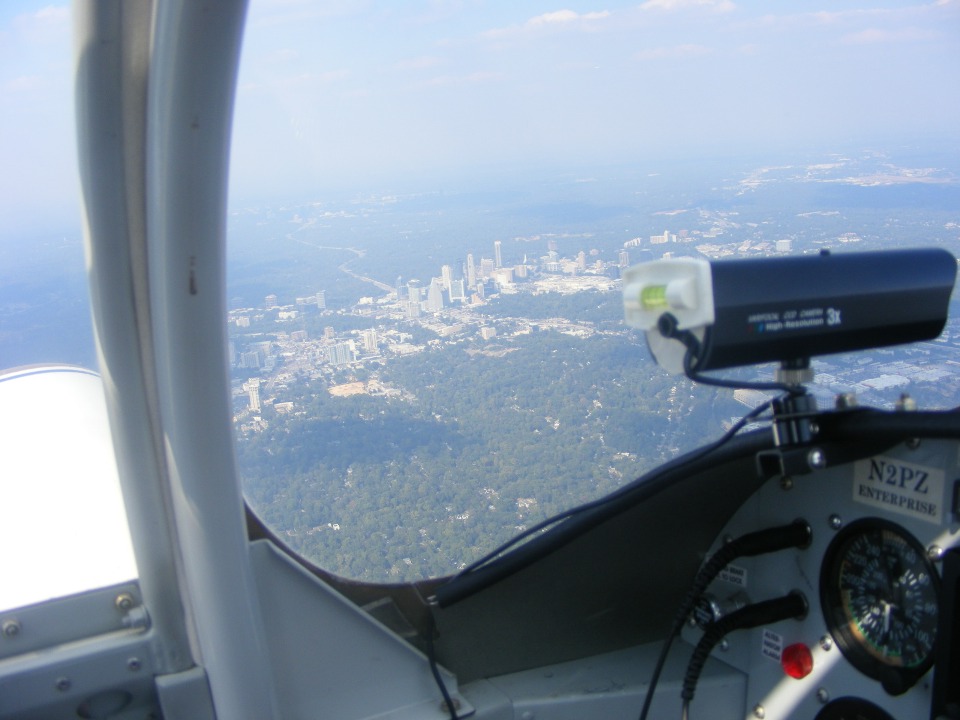 We had one more airplane to dodge after passing by PDK on the way to the Lawrenceville Airport. We never did see that guy. The controller asked for an immediate LEFT turn to heading 020 when the airplane was 1 mile from me at 12 o'clock. I made the sharp turn before I acknowledged his radio transmission. After that, it was clear into KLZU and I let Marty out just before 5 PM at the restaurant where I picked him up this morning.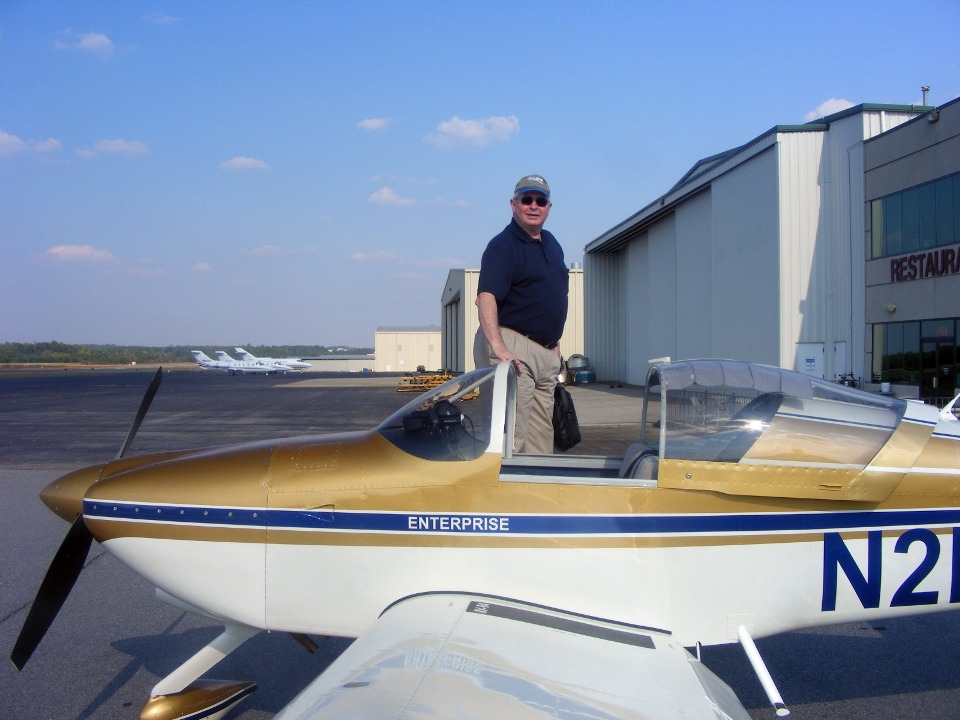 The trip back to Folks Field was typical with the autopilot flying most of the route at 4,500 MSL in VFR conditions. Marty took 51 photos during our 5.4 hours of flying today. I took 23 photos and created the GPS maps that have filled the last 10 pages about today's flights.
October 12, 2008: After all the flying last Sunday, this holiday weekend is time off to catch up on chores. I went over to the hangar yesterday to clean the bugs off the wings and plexiglass of my airplane. Two of the usual Saturday morning friends stopped by after seeing the hangar door open and my car parked out front. Wendell was out of town with his commercial pilot neighbor. Wendell gets to sit right seat in a Beech King Air on a charter flight to the Washington, DC area. I spoke with him Saturday evening and confirmed he and Bobby went to the new Smithsonian Air Museum adjacent to Dulles Airport. They departed Chattanooga Friday and will probably return on Sunday (today).
Some of the leaves are turning in this area. With this area still in drought conditions, the leaves may fall before they reach peak color. I may take a short flight on Monday, the Columbus Day holiday for me, to check out some nearby mountains in North Carolina near the Smoky Mountains. I have been checking out a couple of web cams in the Smoky Mountains, but they don't show much color as yet.
October 18, 2008: I went over to work briefly with Larry Champion this morning on his RV-8. We needed to measure the angle to shim one of his axles to be parallel with the other one. The details of the work session earlier this week and this morning's photo are on his PAGE 4 in the Other RV Section of my web site.
The rest of the day today was about flying with my son Marshall. I took off before 11 AM and headed down to McCollum Field (KRYY) near Kennesaw, Georgia to pick him up. A weather front passed this area today. I climbed out of Folks Field to about 5,500 MSL to get over the low-hanging clouds marking the front as I passed by my home town of Dalton, Georgia. The tail winds were about 20 MPH at 2,000 MSL and about 25 MPH at 5,500 MSL.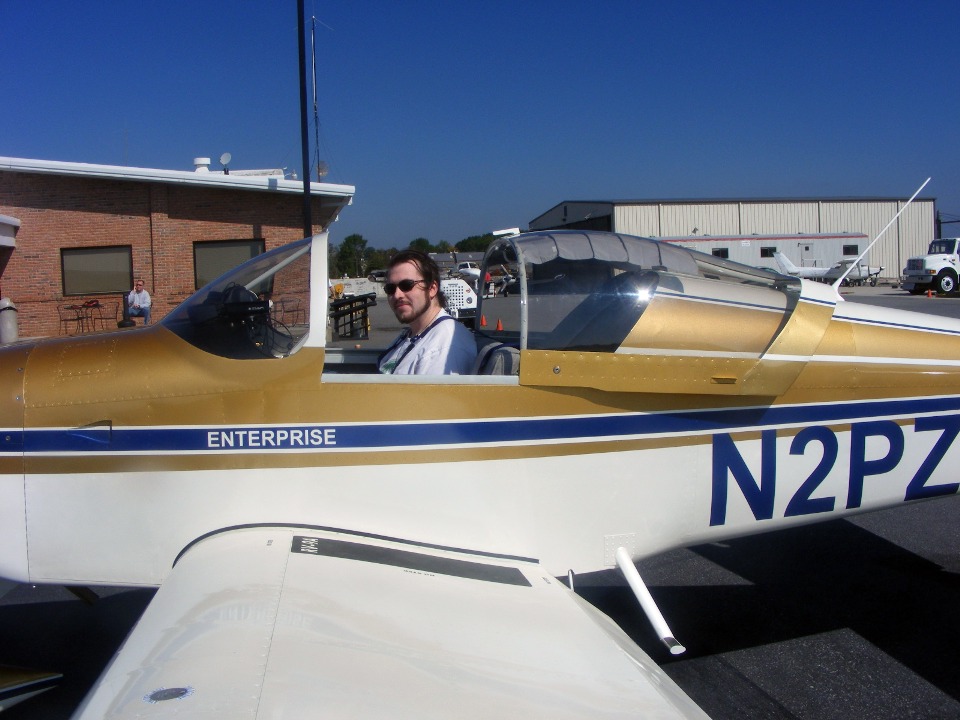 We headed west from the airport and flew past the coal-fired power plant near Cartersville, Georgia. This is the photo taken on August 17th.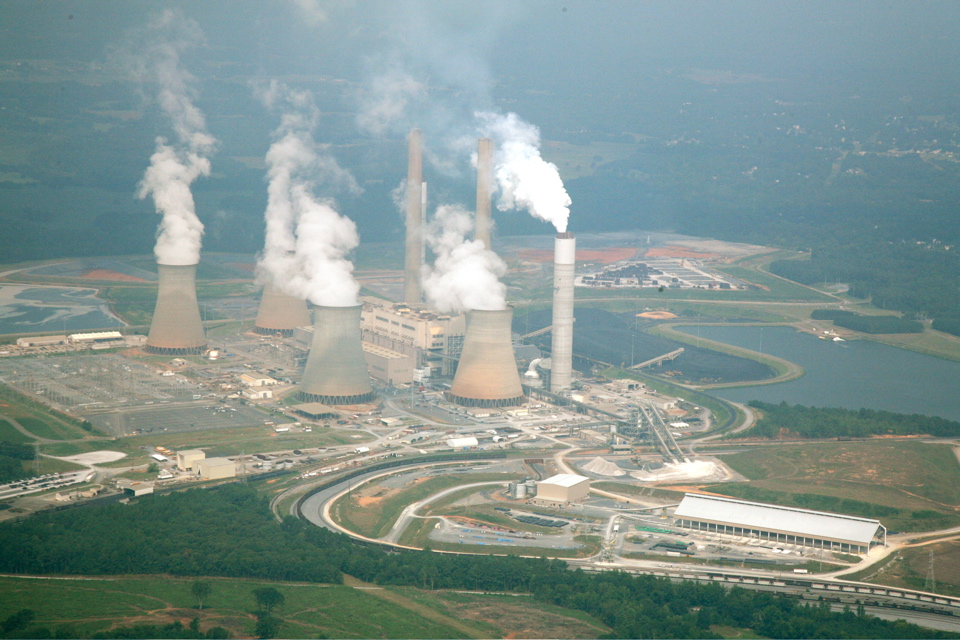 We flew over Rhodes Field a few miles southwest of the power plant. They were also having a fly-in with lunch today. We circled over their field and counted a few visiting airplanes, cars, and a bus there, but decided to go on to the other fly-in at Stockmar Airport near Villa Rica, Georgia located about 29 miles west of downtown Atlanta. We passed over this new airport under construction near Dallas, Georgia. One of the pilots I met at Stockmar told me this would be a new regional airport serving Atlanta as a reliever to Hartsfield International Airport. There is plenty of concrete here, but no buildings yet. Maybe we will see Southwest Airlines and other discount carriers coming here when it is completed.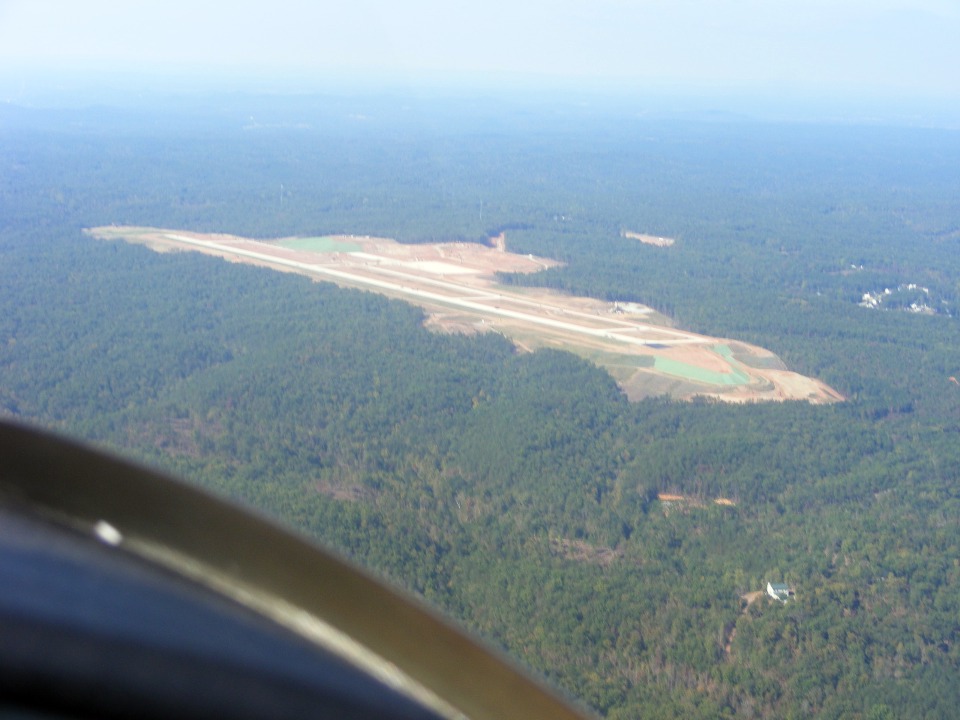 The arrival at Stockmar Airport was interesting with the wind from the north coming over the trees adjacent to the East/West runway. The bottom dropped out from under my airplane when I descended below the tree tops on final approach. I added power and corrected and landed gently just a little past my intended touchdown point on the runway. Local pilot Steve Crimm invited me to this fly-in when I stopped here for AVGAS two weeks ago. Steve is the current owner of an RV-9A built by Mark Pickens and originally posted on this web site on January 10, 2004. The airplane has been repainted since then. Here is the old photo when it was new, and today's photo for a quick comparison.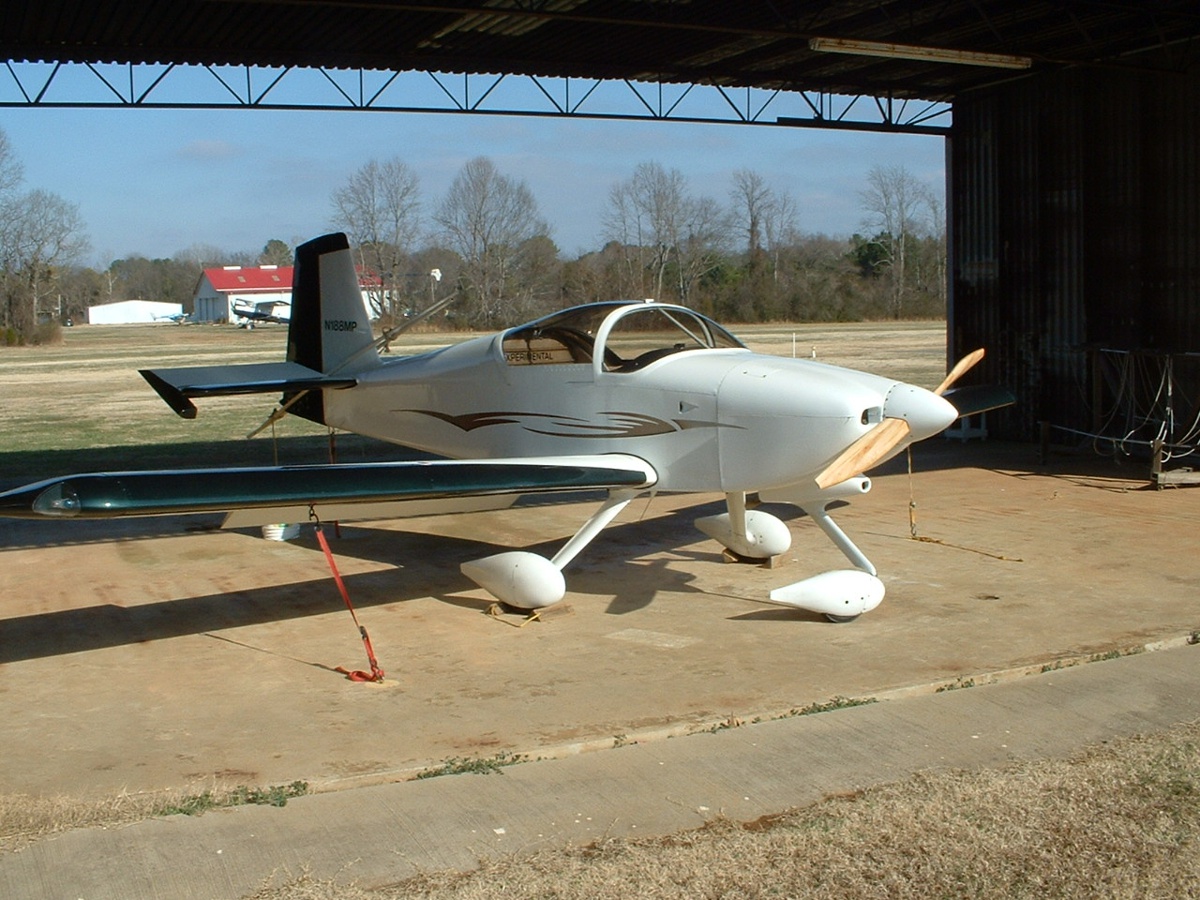 The airplane now has a fixed-pitch metal prop and an O-360 engine. Steve is aware of the speed restrictions on the air frame.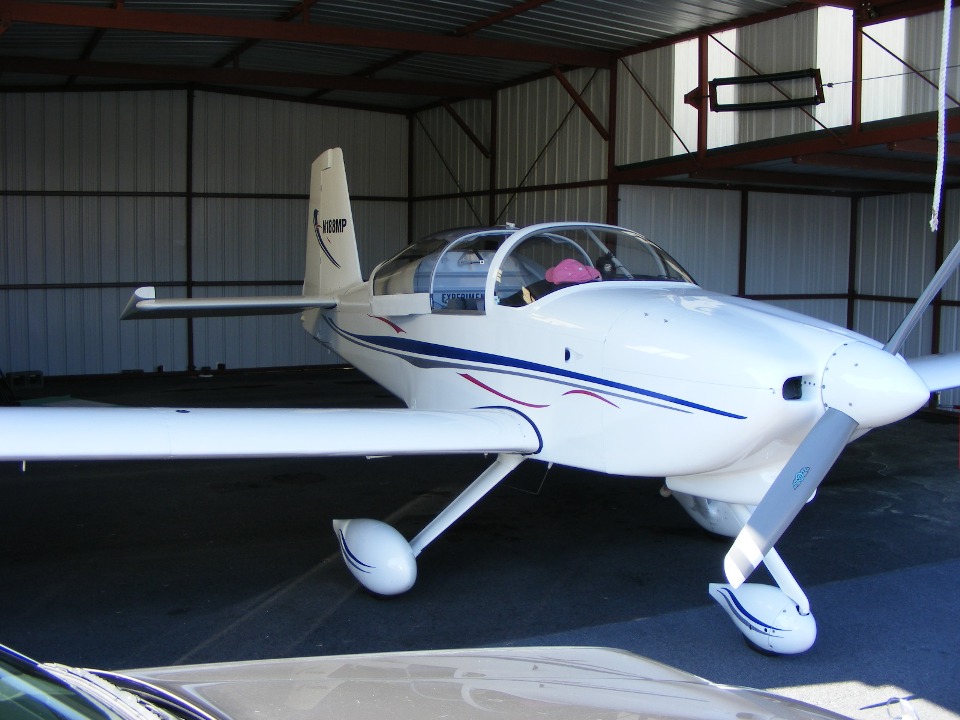 The instrument panel has also been updated completely and will get additional changes soon.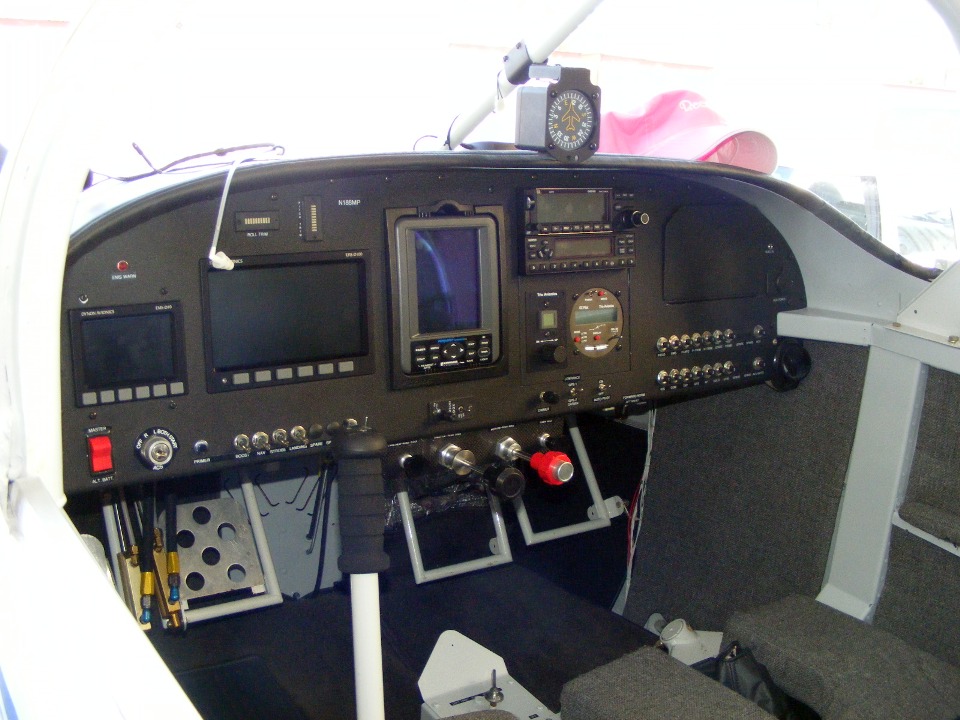 This is the side view of Steve's airplane from inside his hangar at Stockmar Airport.