October 18, 2008 - Stockmar Airport Fly-in · · PAGE 279.
October 18, 2008: This RV-6A with tip-up canopy sits in the hangar directly across from Steve Crimm's hangar at Stockmar Airport (20GA) near Villa Rica, Georgia. The paint scheme pays homage to the Van's Aircraft RV-9A production prototype used for customer "sales rides" at Oshkosh and the Oregon factory.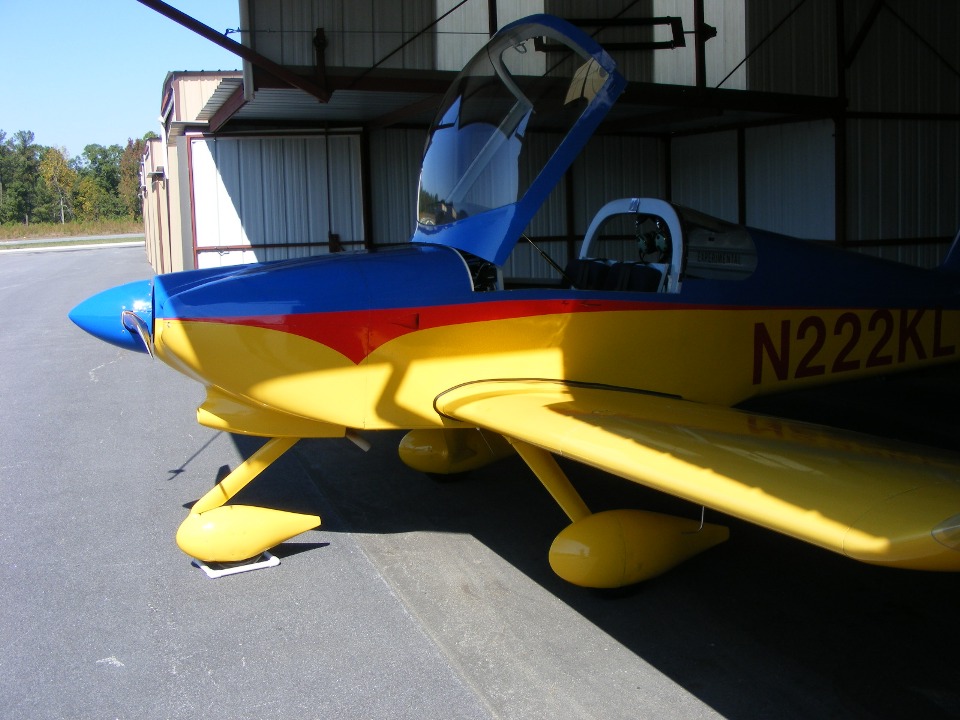 Here is another photo taken in the shade of the hangar.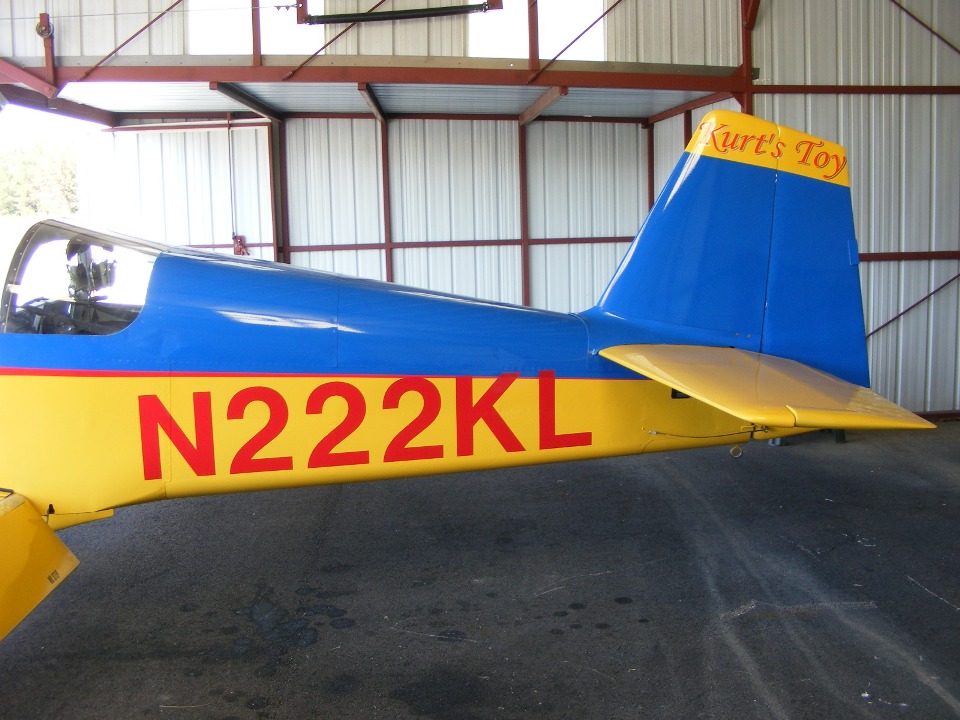 And of course, the panel has to be shown. The panel uses traditional vacuum instruments and gauges. A fixed-pitch prop is up front.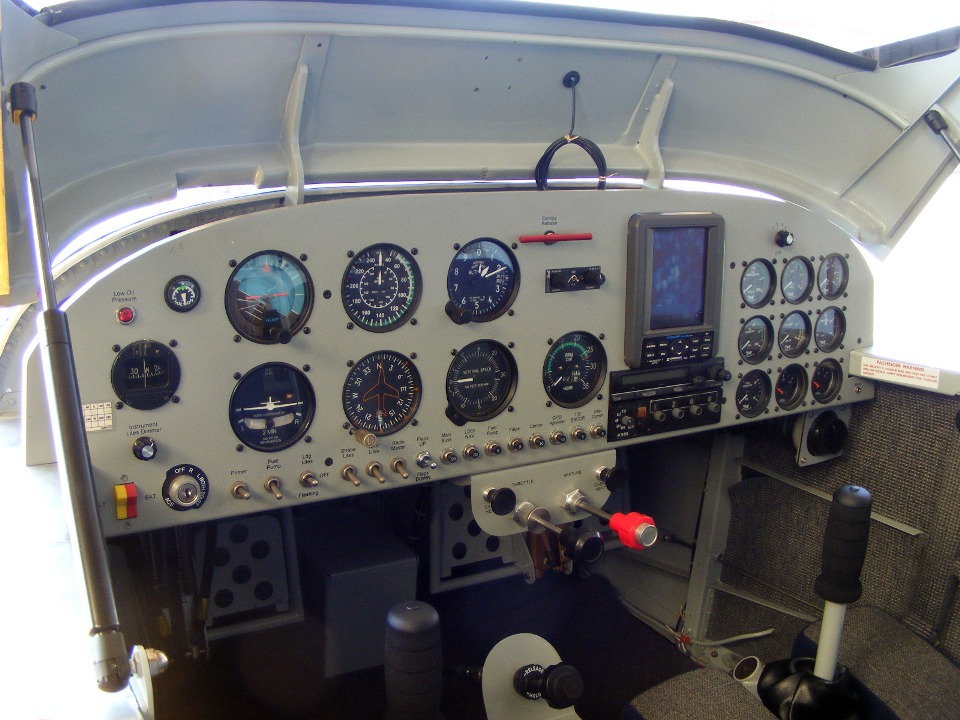 And of course, I had to show my airplane parked in the transient area behind the "T-Hangars" at Stockmar Airport. The luncheon had all kinds of food dishes plus the usual hot dogs, hamburgers, and barbecued chicken. These folks know how to have a good time!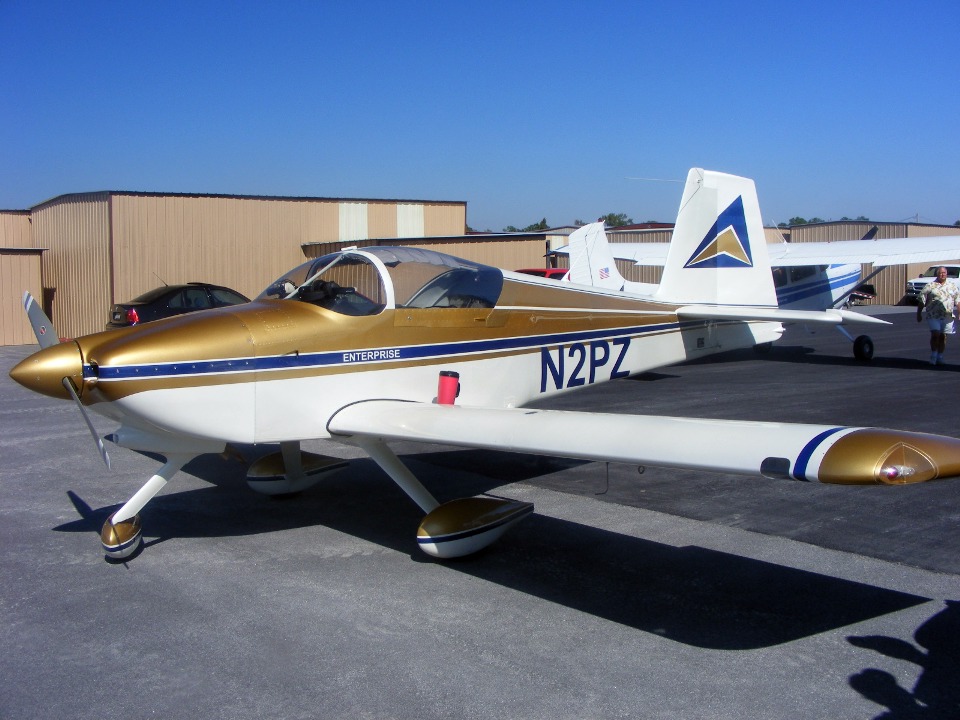 The wind was a bit gusty on departure from Stockmar. After I got the airplane into a slow cruise at a reasonable altitude, I gave Marshall a chance to fly a real airplane instead of just a computer flight simulator. He had a chance to realize the four "forces of flight" and how they interact. We buzzed around in open country a bit before we headed back to McCollum Field.
There was an airshow at Dobbins Air Force Base today. The USAF Thunderbirds were flying there as the main attraction. Their high speed formation maneuvers were easily visible from 10 miles away. They had a flight of FIVE airplanes doing precision maneuvers in F-16 jets. I have seen a lot of these military air show formations with FOUR airplanes in a diamond formation, and SIX airplanes in a triangle formation. This was the first time I saw FIVE in a square formation with a plane in the center of the planes on the four corners.
The ride home to Folks Field was low and bumpy to avoid the headwinds. When I passed by Calhoun, Georgia, the view ahead reminded me that I grew up in a big valley with big mountains on each side, and smaller ridges in between to further sub-divide the farm lands, etc.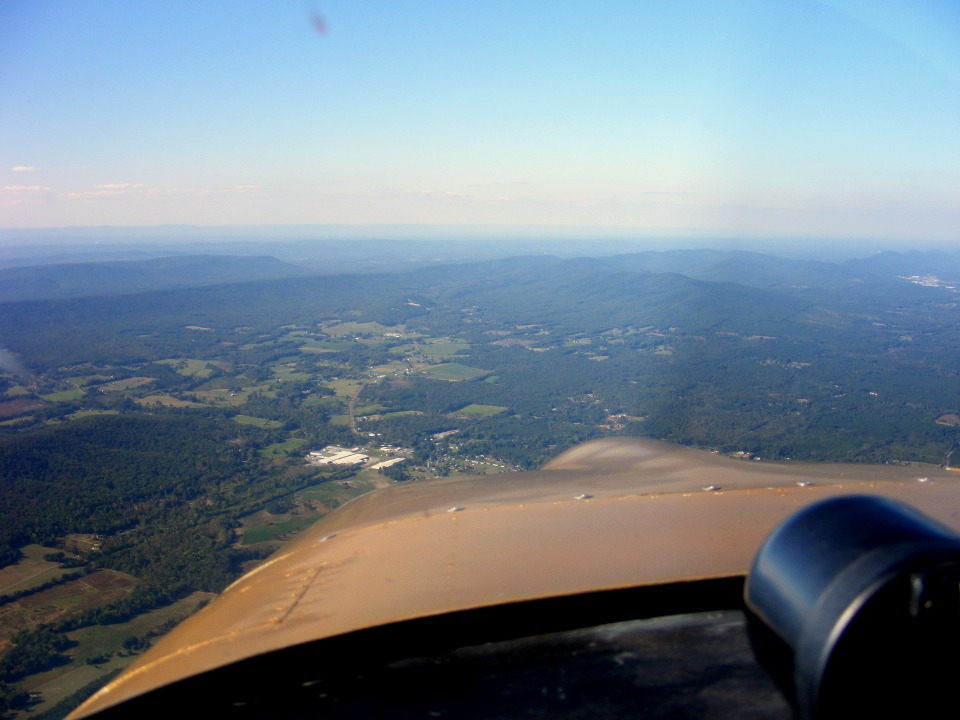 The closer I get to home base, the more the ridges reach up to my flight path. The horizon is just past Lookout Mountain in the distance.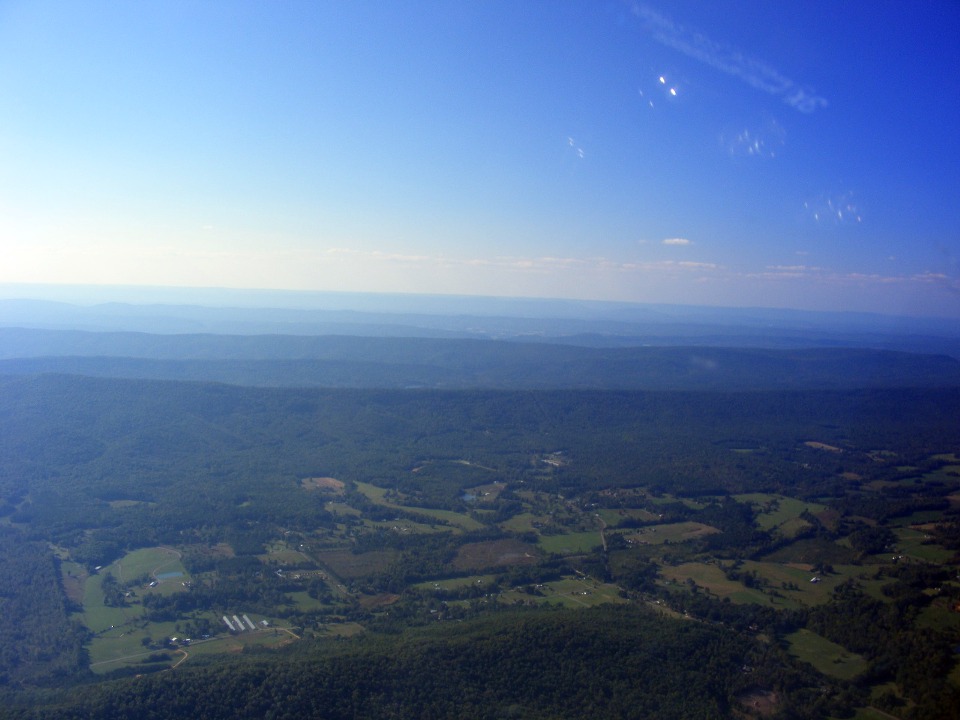 November 1, 2008: The lack of posting last week was due to my being out of town and therefore, no flying-related activities to report. I went down to Florida to visit some friends and conducted my day job from there. All I need is my cell phone and an internet connection to open "the office" wherever I happen to be. Those of you who have been long-time readers of this web site are well aware of that as I have updated this web site from a motel room on many occasions.
Today is Saturday and there should be some aviation-related activities later today. My day job requires that I provide some fiber optic system block diagrams for a job in Texas before I head off to the activities for today. The frosty chill in the air here in the Chattanooga area is also another good reason to finish my drawings before going out to what should be a 70-degree afternoon here in the Tennessee River valley.
I also have some photos from a friend's retirement party that I will post in my "Other Travels Menu" when I get to sit down to the computer for some of "my online time" instead of doing my day job on the weekend. Usually the job requires my time on the usual Monday to Friday time frame, but some developments late on Friday afternoon require my time to get everything back on track. More later...
November 1, 2008: I stopped by the hangar to visit with Wendell and to check the amount of fuel in my tanks for the next time I go flying. The tanks each have 9 gallons of fuel, which is half full for both sides. Wendell had removed his wheel pants because of paint coming off from turf landings, etc. When he looked at the insides of the wheel fairings he noticed some of the reinforced fiberglass was loose due to not enough sanding when they were being modified. He asked me to help alter the alignment of the wheel fairing to minimize the paint wear aft of the wheel openings. We each have other things to do today, so the modifications will have to wait for another day.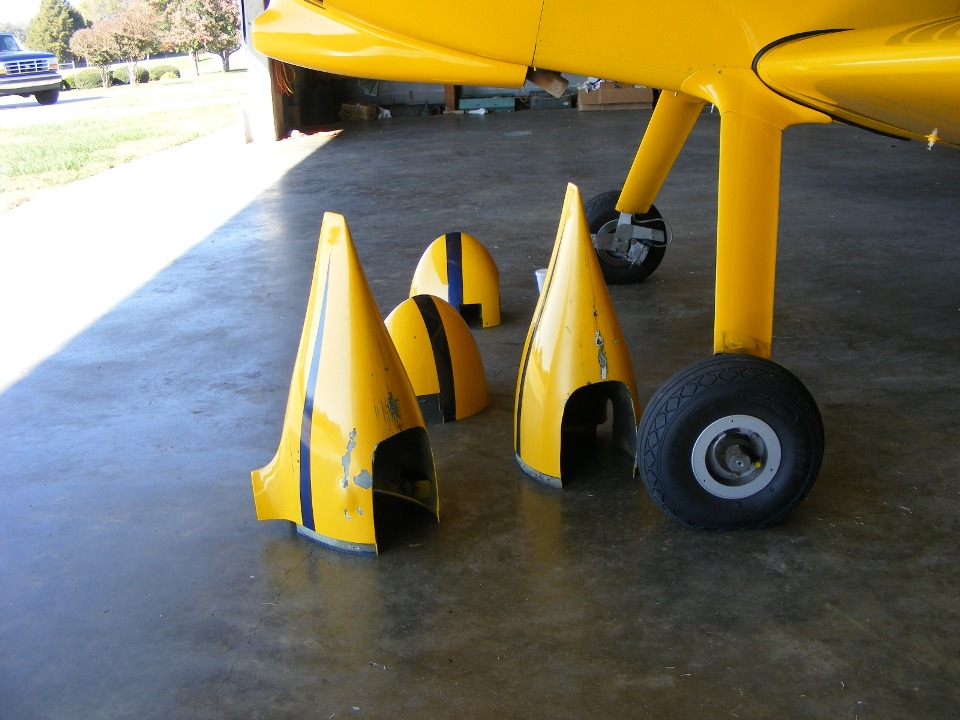 November 6, 2008: I walked out my front door this Thursday morning just as the sun was clearing the ridge to the East of my place. The trees across the street were showing peak fall colors. This photo was a "must capture" image of the fleeting palette of nature.