October 2008 - Sunday Lunch at Pell City, Alabama · · PAGE 276.
October 5, 2008: Marty did something I don't get to do much, take pictures while flying the airport landing pattern. This is looking downwind for runway 3 at the Coosa River going south from Pell City. Some of the water in that river came from Dalton, Georgia. I got to thinking about the rivers in this area and realized just how far some of the tributaries travel in this region to reach the Gulf of Mexico at Mobile, Alabama. For those of you in other countries, that town is pronouced MO-BEEL, not like the cell phone word used in Europe that rhymes with "ISLE" as in tropical isle.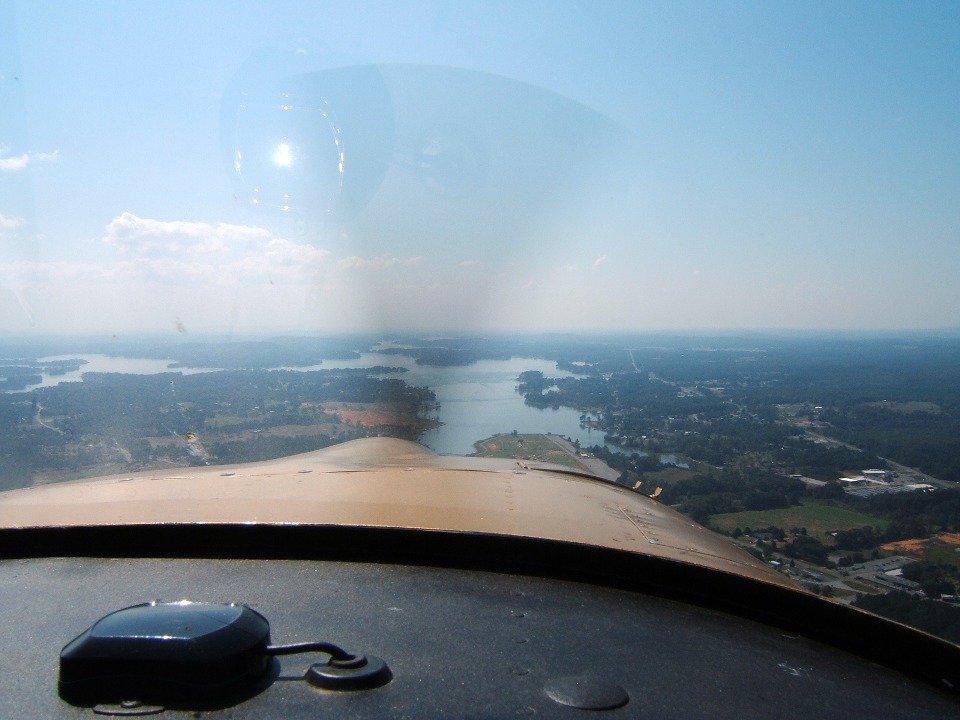 The Pell City Civic Center provides baseball fields, picnic areas, and a boat launch facility. And yes, there is a guy on staff named "Bubba".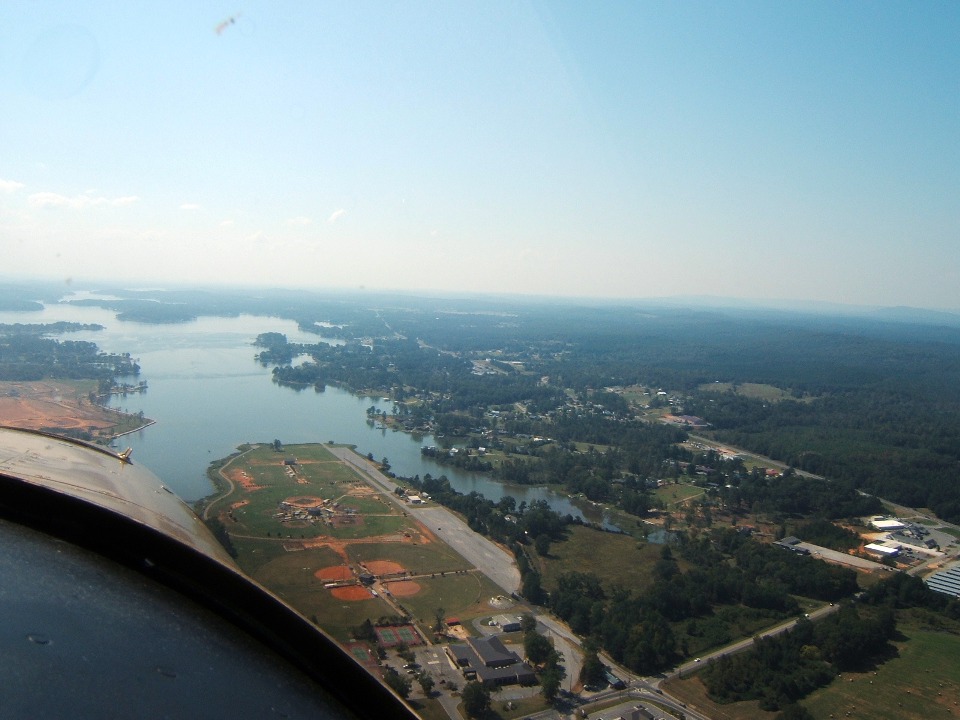 This is how it looks rolling into final approach to runway 3 at Pell City. The sun angle is causing a reflection of the center post off the inside of the windshield again.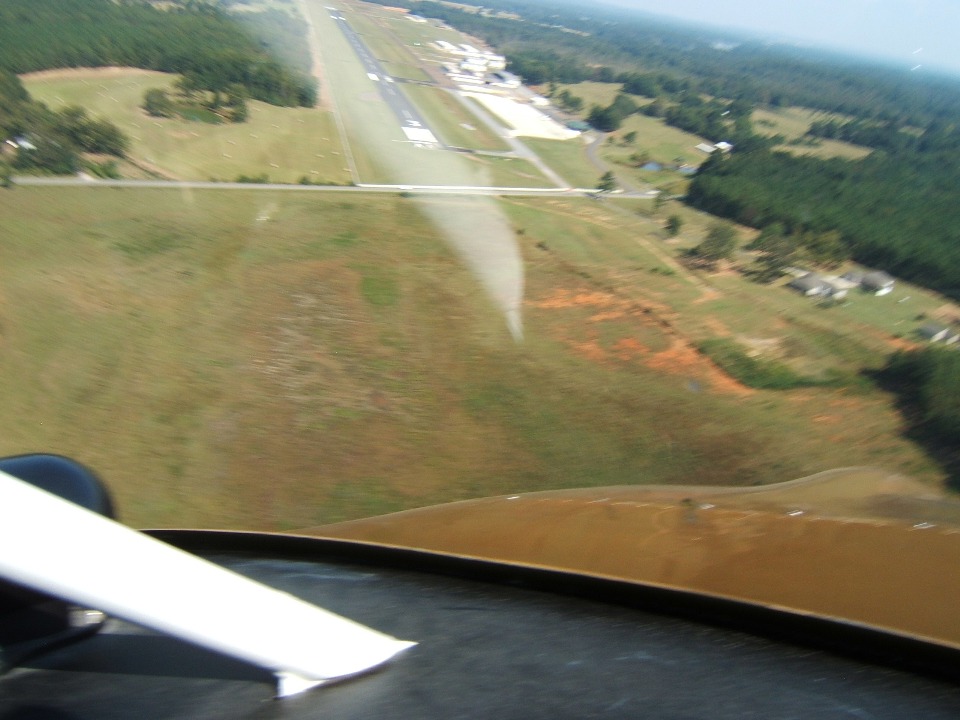 Final approach to runway 3. The dropped advertising banner lies in the grass on the right side of the runway and left of the taxiway abeam the numbers as we say in aviation. That runway is 5,000 feet long and I want to go to the restaurant at the north end of it. I planned for a high approach to land near mid-field and reduce my time to taxi to the grass area in front of the restaurant.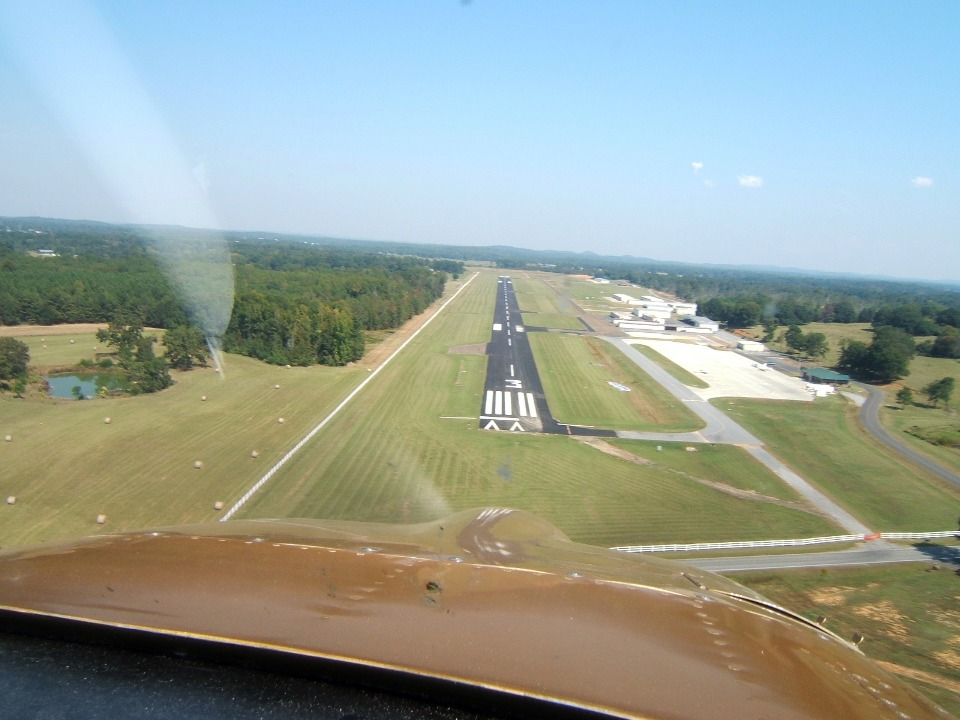 This shot is taken looking north to the white hangars and restaurant.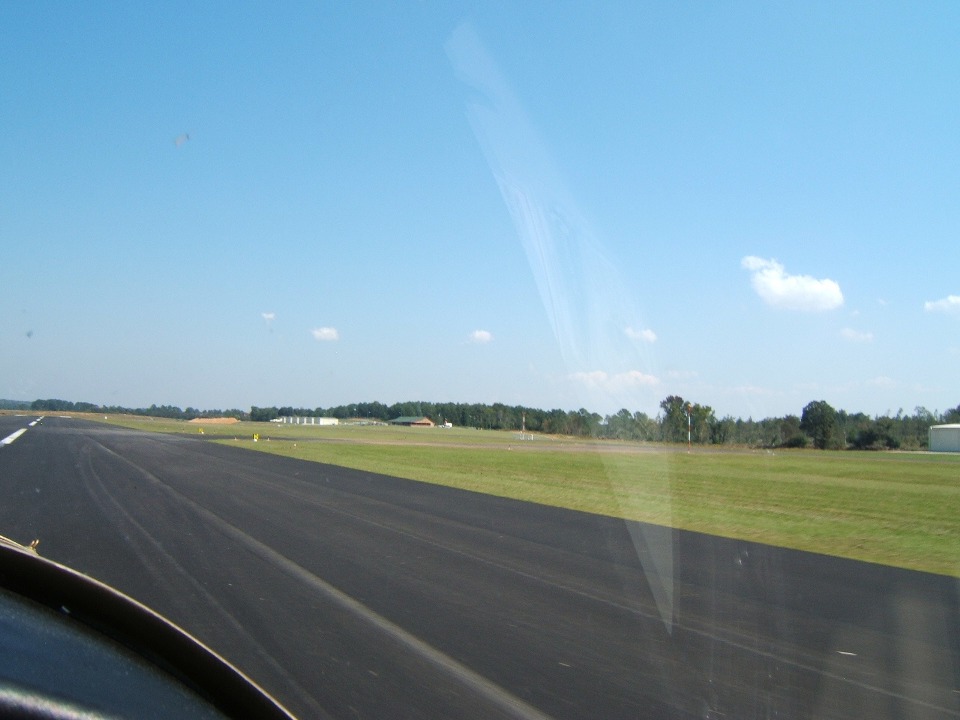 The restaurant is named "Sammie's Touch & Go Restaurant" and it does a good business with non-fliers as well as pilots.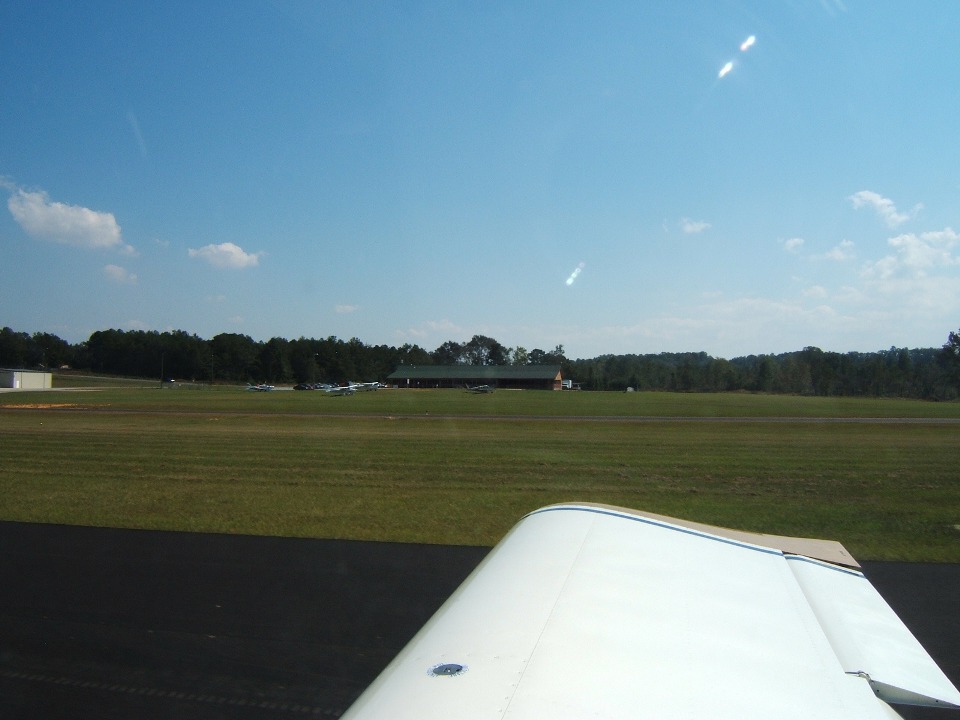 Finally, engine stop and time for lunch. That low-wing airplane directly in front is a Piper Comanche. It turns out he is from Fort Payne, Alabama and I met him when I flew down there on August 30th. He loved the fact that my Van's RV-9A has a 1966 Comanche 260B paint job. I joked with him about how I would love to join their "mass arrival" at Oshkosh as "Tail End Charlie" or as a wingman to a real 1966 Comanche B.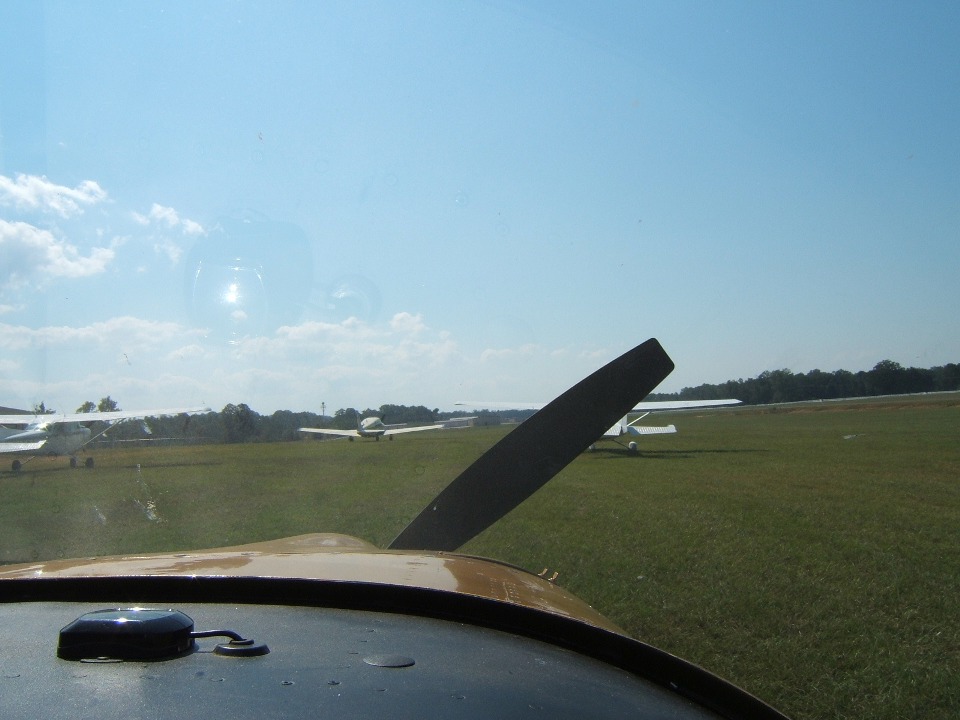 I always like to take a photo of "Enterprise" parked at each airport. This time Marty gets in the picture in front of Sammie's at Pell City.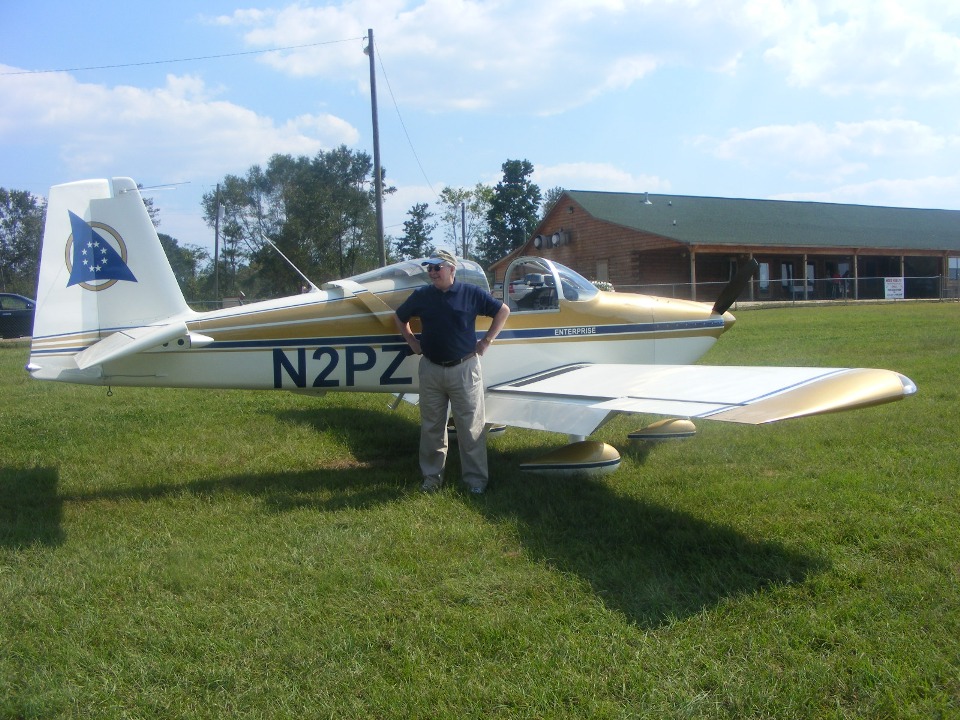 We had lunch with Mark Pickens and another Huntsville, Alabama RV-9A builder. Mark has built several Van's Aircraft airplanes. When lunch was over, Marty and I took off for Atlanta with a cautious flyby of the Talladega Speedway. There is a standing TFR for all major sports events requiring pilots to stay away. In our case, we are about FIVE MILES south of the race track and the BLIMP flying over it providing television coverage of the event.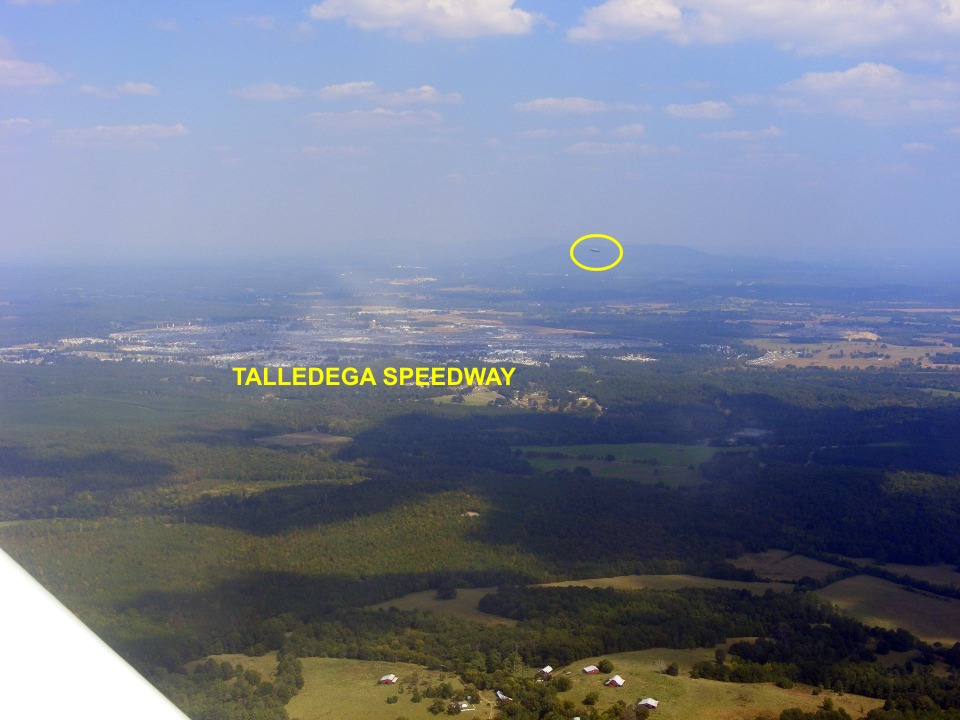 Here is our flight path from Pell City as we head for Atlanta. The race track is adjacent to the Talladega Municipal Airport.