Oshkosh AirVenture 2006 · · PAGE 222.
July 30, 2006: Here are the "video snapshots" from the video tape recordings I made during the trip to AirVenture 2006 at Oshkosh. There are things here that I did not have time to capture using the high-resolution digital still camera. The resolution is low at 640 x 480 pixels. All photos on this page were taken on Sunday, July 23rd.
The first one is from the short test video as we crossed the Ohio River northbound into Indiana west of Louisville and Fort Knox, Kentucky.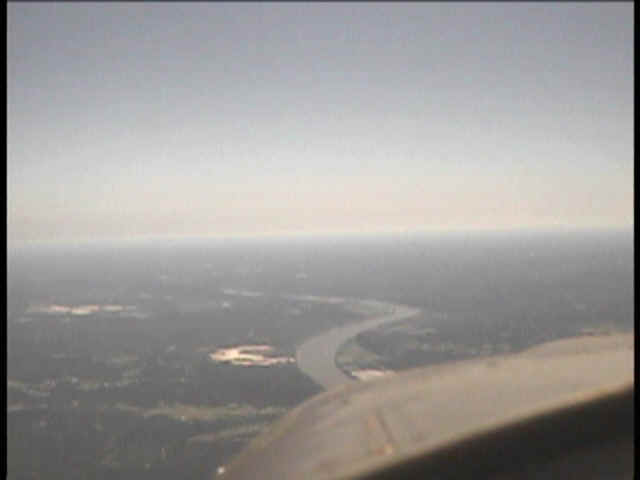 For this one, the video camera on the dash board mount is rotated by hand to the East, looking beyond the right wing.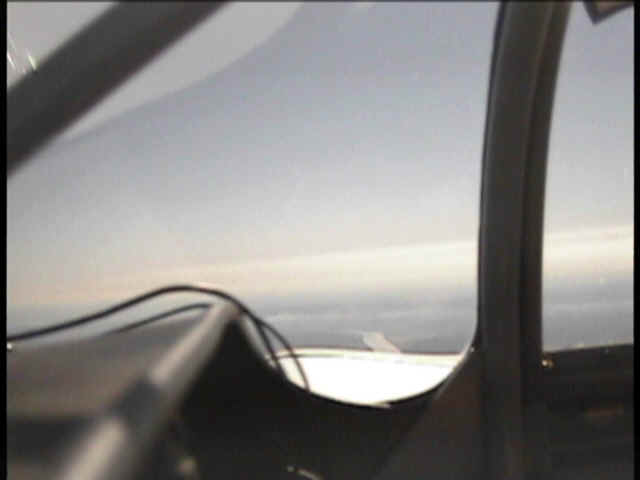 I rotated the camera around to the northwest to show just a bit of the prop arc and the way the Ohio River is winding back and forth along this part of its course downstream to join the Mississippi River further to the southwest.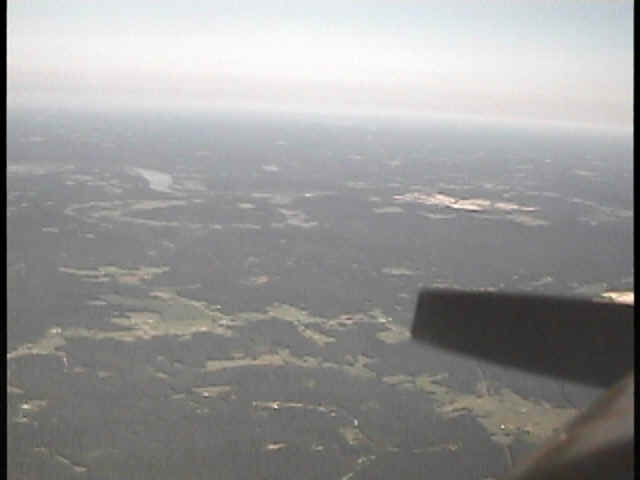 This shot is from the descent to Ripon, Wisconsin for the Ripon-Fisk VFR arrival into Oshkosh.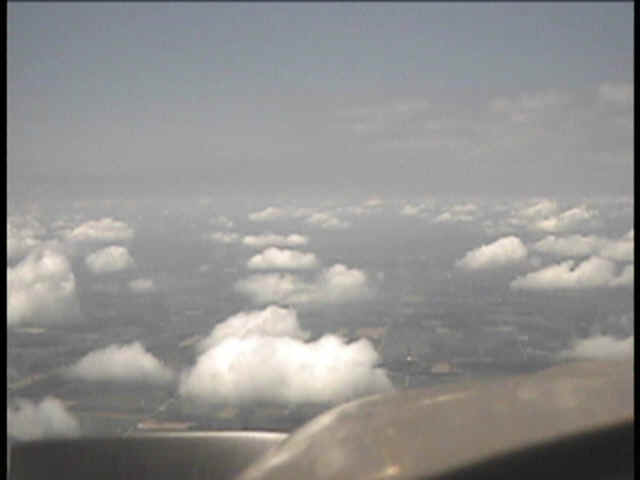 This approach to the town of Ripon is from the south at 1,800 feet MSL. There is now an FAA intersection here named RIPON of course. That is my GPS waypoint that will bring us over the railroad track and begin the turn toward FISKE intersection.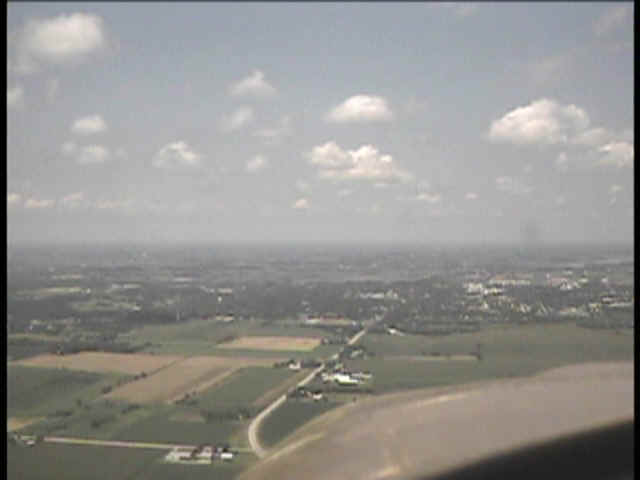 This one is taken while banking right over Ripon to begin following the railroad track NE. That is Rush Lake in the distance, a holding point when the approach gets "backed up" for whatever reason. From here to the landing, the airspeed is going to be 90 knots.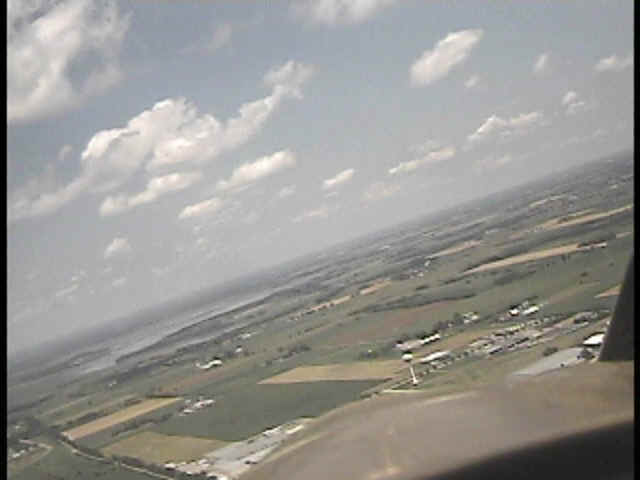 This one is over the railroad track and heading NE. The road near the right side is Wisconsin state route 44.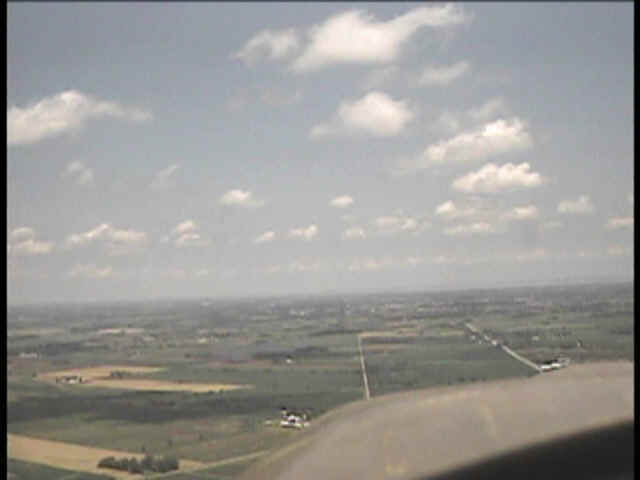 This shot is approaching Pickett, which is just over half way from Ripon to Fisk. Pickett appears to be nothing more than a rural cross roads place with a few homes.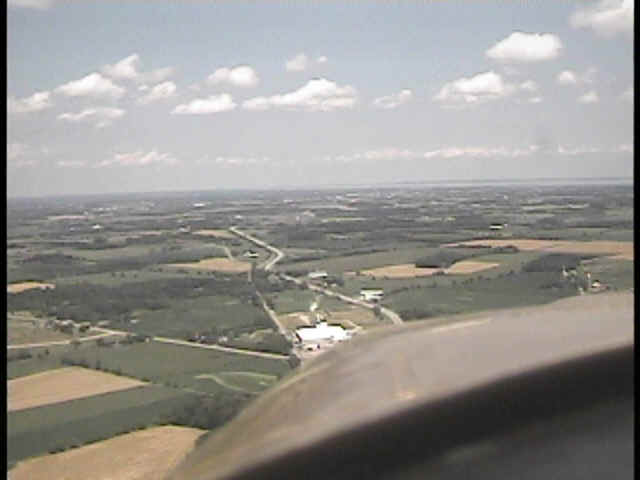 Finally we are approaching FISKE intersection at the village of Fisk. The railroad track is at the left edge of my cowl. I picked this video frame since it caught the flash of the strobe flash by the ground-based FAA air traffic controller. His location is just to the left of the point where the railroad track seems to disappear into the trees. the strobe is a white dot just past some trees that are beyond the plowed ground your see coming from the left side of the photo to the railroad track near the center of the photo. There were probably half a dozen airplanes ahead of us from Ripon to Fisk. We only saw one or two of them ahead of us along this route segment. One of those turned out of line to the East to go to Fond du Lac.