May / June 2022 Vacation Day 6 · · PAGE 12.
May 28, 2022: Arizona welcomes you. Here is the Arizona state line for Interstate route 10. This is the Grand Canyon State and we are headed there as part of our travels in Arizona.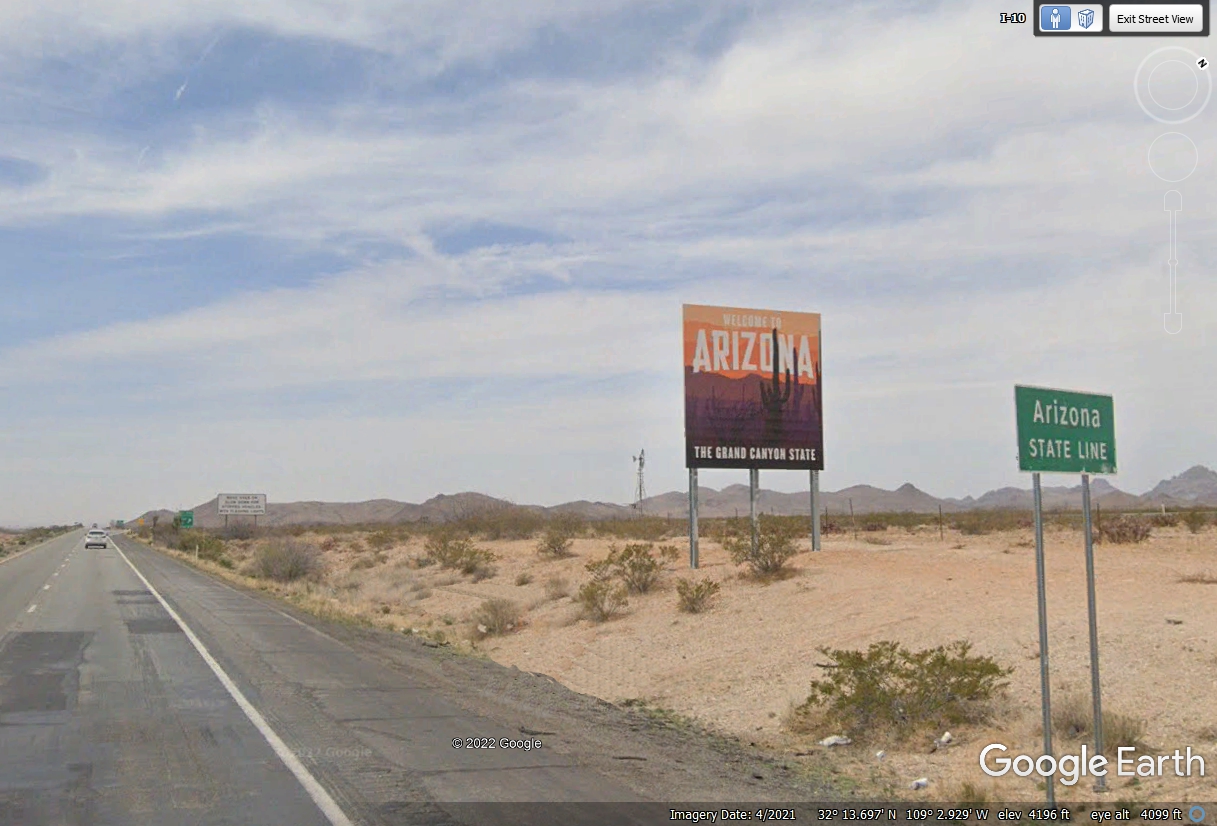 The I-10 Arizona welcome station is less than 2.3 miles past the state line at mile marker 388, the distance to the California State line on Interstate 10 at the west side of Arizona. We stopped at this rest area to give all three of us relief. Chase marked all sides of the pet area. Any kind of grass was very sparse here in the Arizona desert.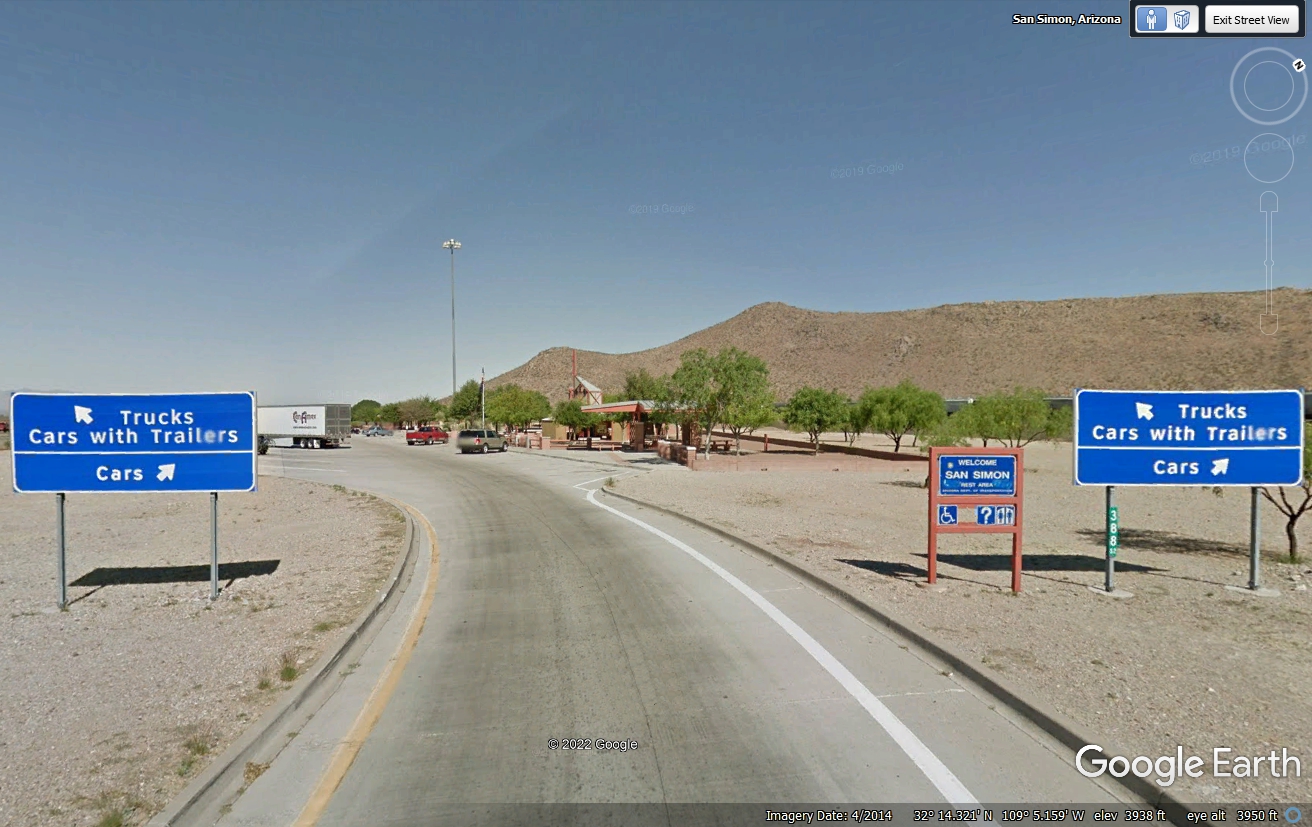 The Arizona Department of Transportation is on guard for any large commercial trucks trying to bypass the scales at the inspection station seen ahead about 8 miles past the state line from New Mexico.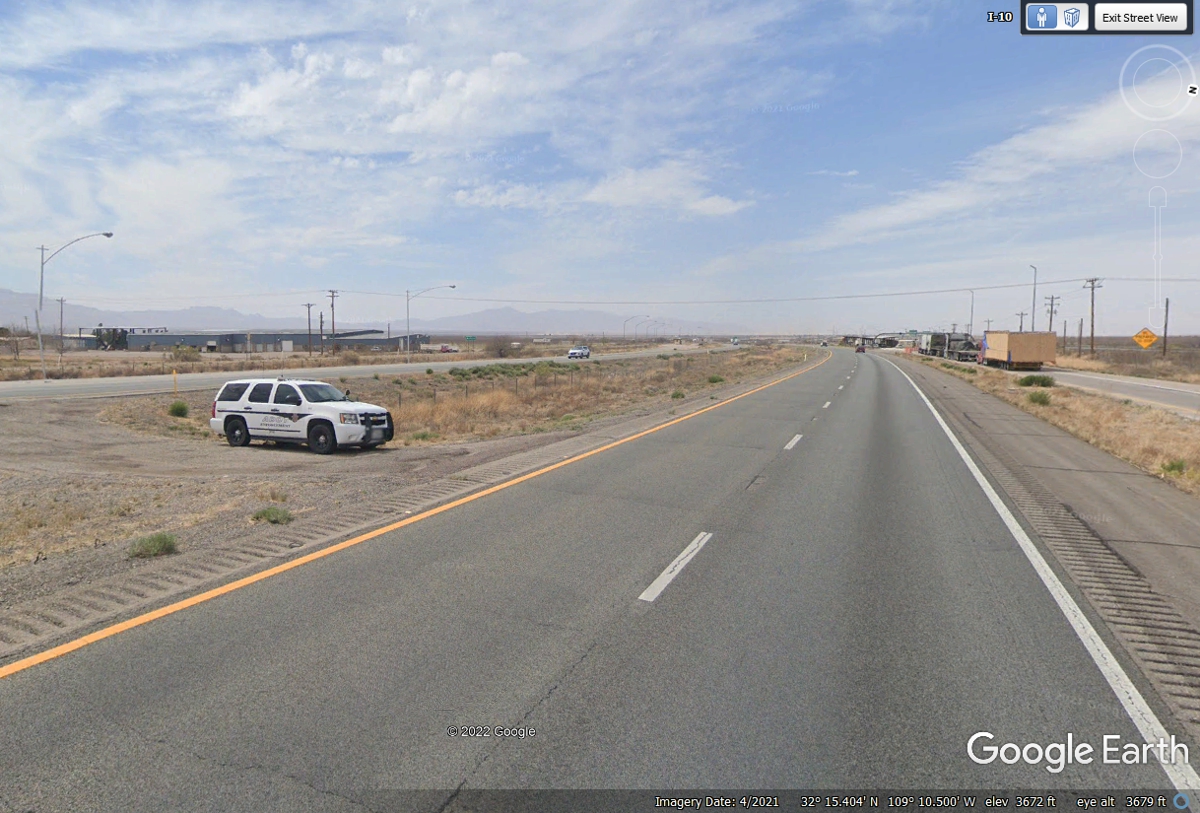 The first town on I-10 inside Arizona has one cell tower to service the community and the interstate highway traffic. This place has history from the days of stage coach traffic before the railroad came through creating the second path for transcontinental train service. The details can be found using "San Simon, Arizona" in a Google search. This frontage road was the main highway before the Interstate Highway came here.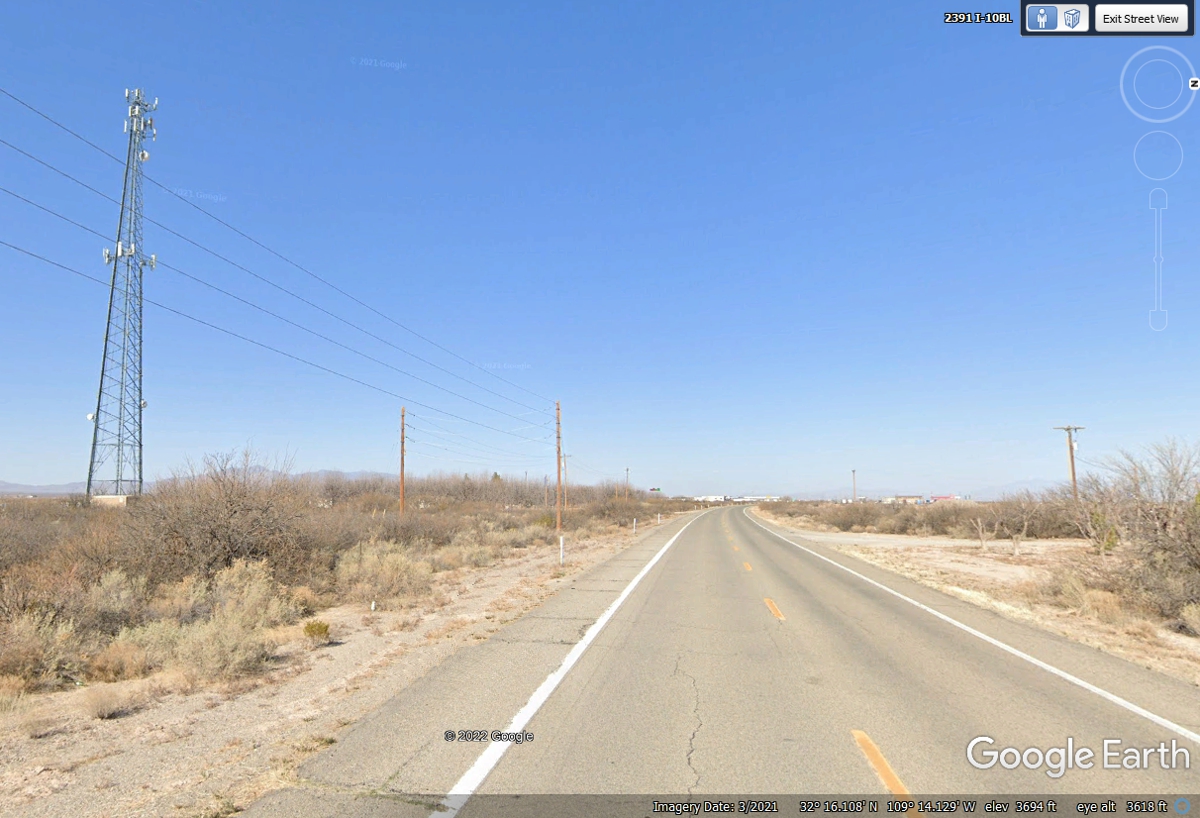 US 191 runs from the border with Mexico at Douglas, Arizona all the way to the Canadian border in Montana. We will be seeing more of this highway later in our western tour. The next town on I-10 going west is Wilcox, AZ less than 50 miles from New Mexico behind us in today's travels going west.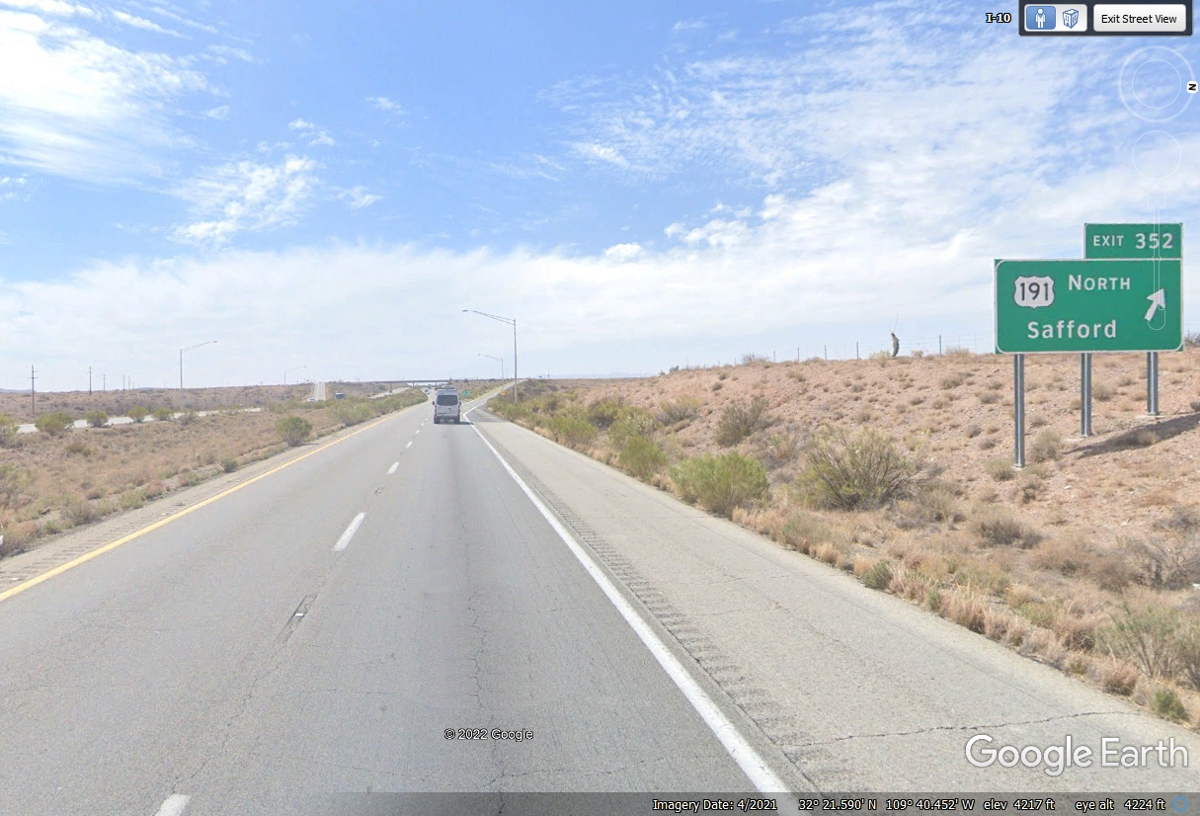 This is Interstate 10 exit 340 to Wilcox, Arizona. The road ahead goes left into the home town of actor Rex Allen who was famously the "good guy" wearing a white hat in Hollywood Western movies when I was growing up in the 1950's. You can learn about Rex via the Wikipedia web page: https://en.wikipedia.org/wiki/Rex_Allen You will learn about other actors who became famous after starring with Rex in his western movies. He was one of the singing cowboys at the time of Gene Autry and Roy Rogers.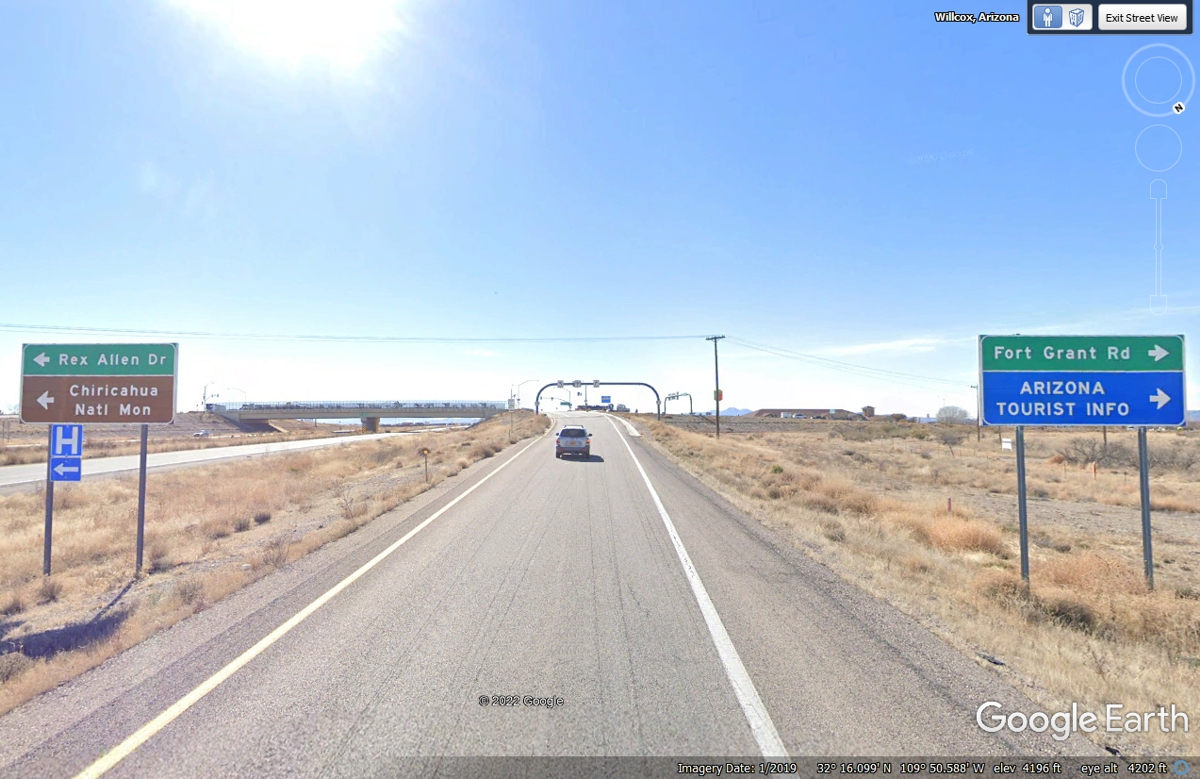 A close look at this Google Earth image about US 191 has a problem to be resolved as we approach that exit. The mile marker by this sign says 333, with one mile to go to get to exit 331. You may be wondering is this FUZZY MATH?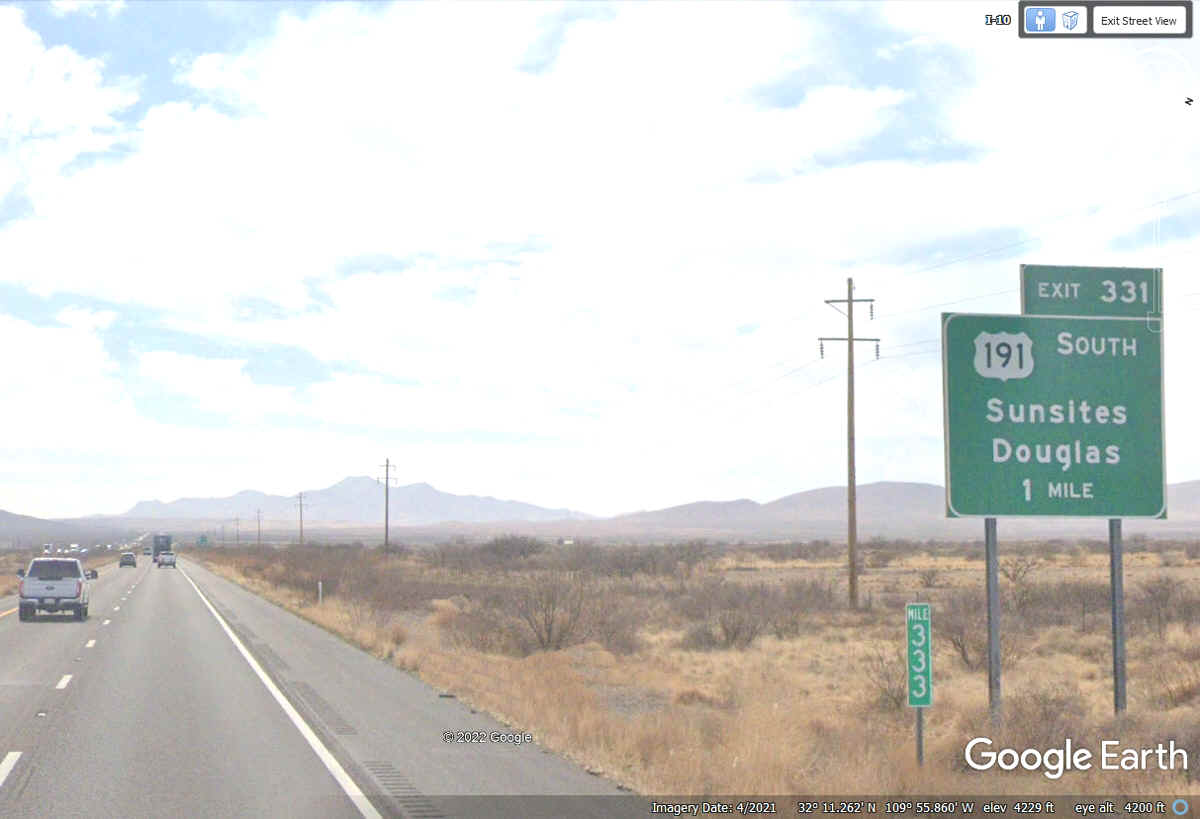 Interstate highway mile markers on East / West routes like I-10 increase in value from a state line GOING EAST and values reset to zero as they enter the next state. The North / South interstate highways increase their mile markers going north the same way. Mile marker 331 is south of the on/off ramps of this exit and the 332 mile marker is north of this exit seen in this Google Earth image below. That is why the exit is numbered as 331.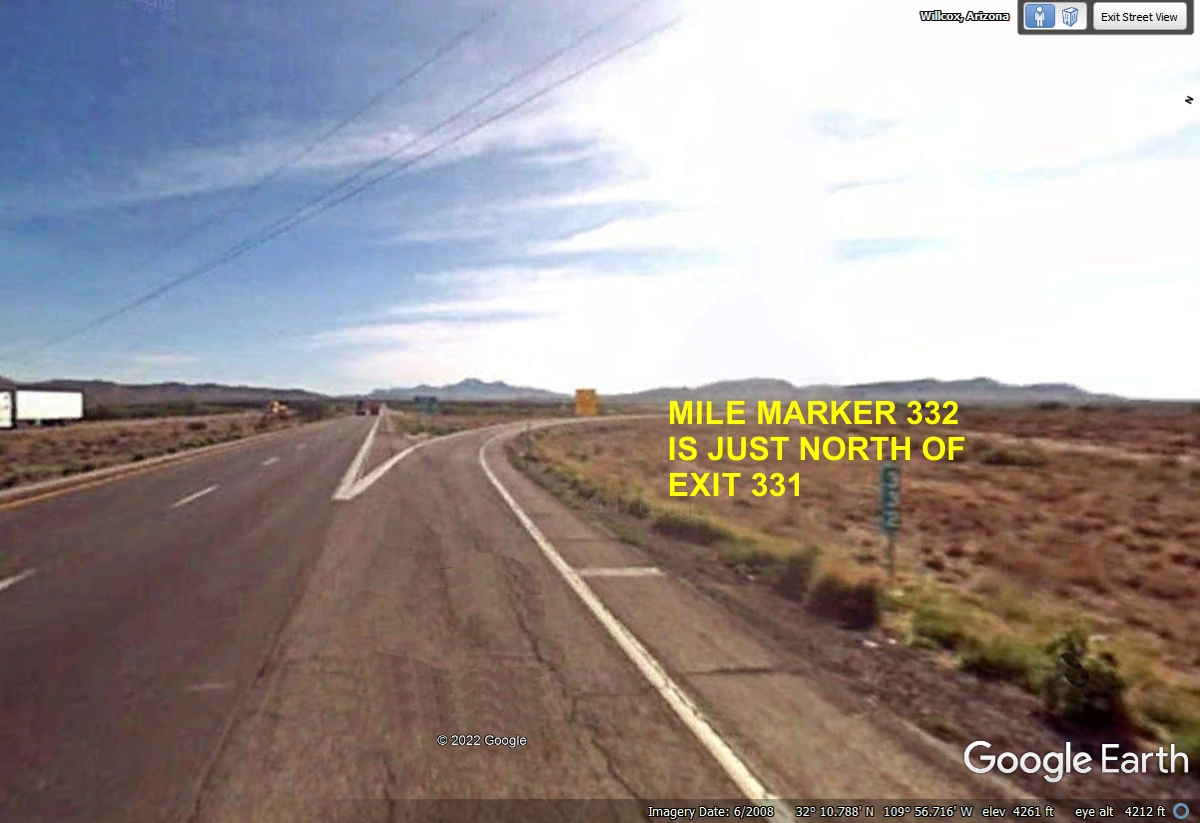 Here is mile marker 331 seen by westbound traffic west of the exit.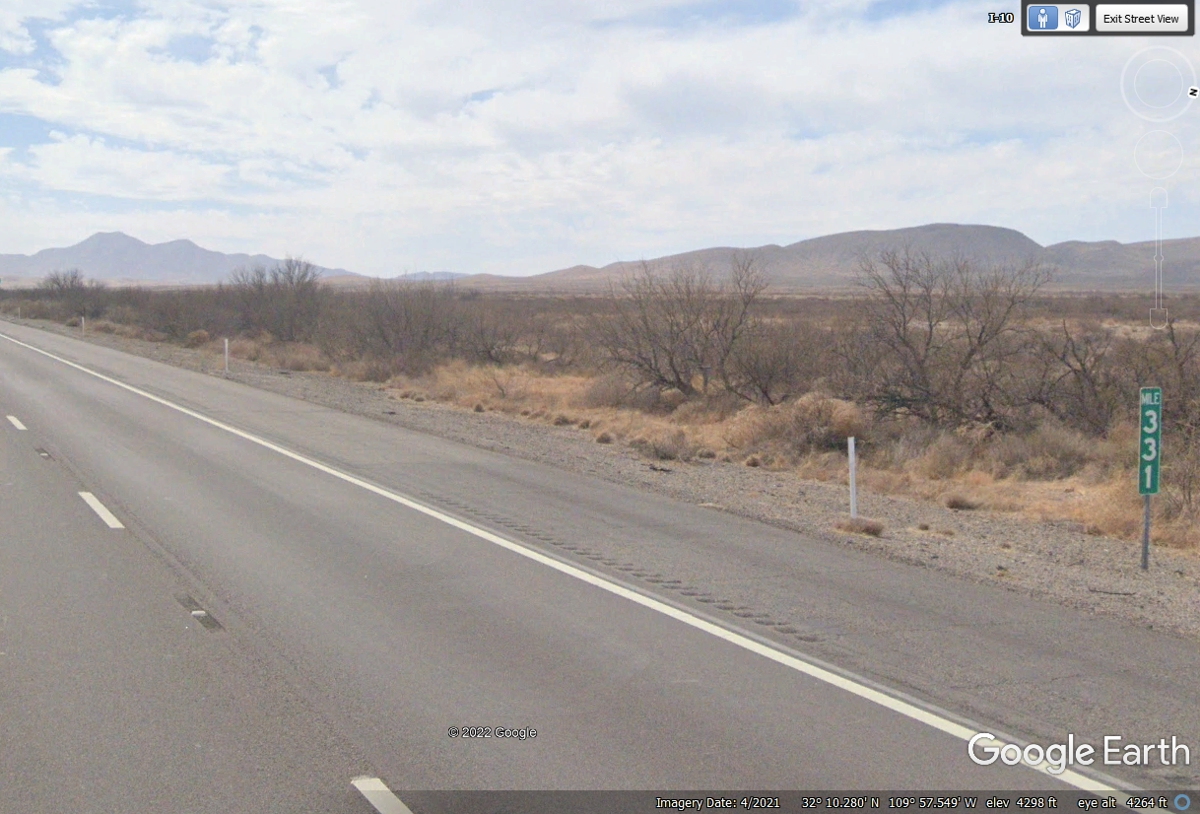 The 331 mile marker in the Eastbound lane was blocked from view by a large commercial truck and trailer in the Google Earth image below. I was lucky when I found this image that shows the mile marker from the back side in the Eastbound lane of I-10.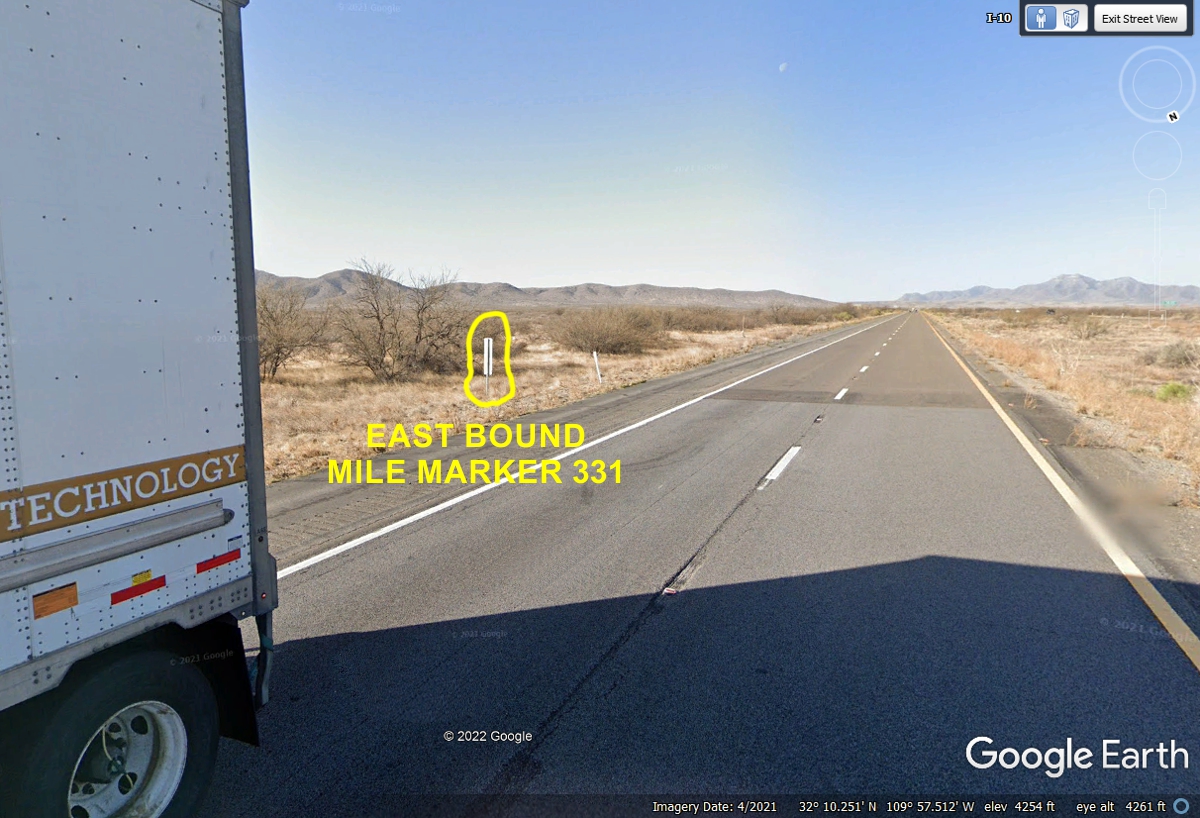 The town of Benson here at exit 306 has some of the lowest gas prices in this part of Arizona. A reminder about the mile markers are counting DOWN as we travel WEST.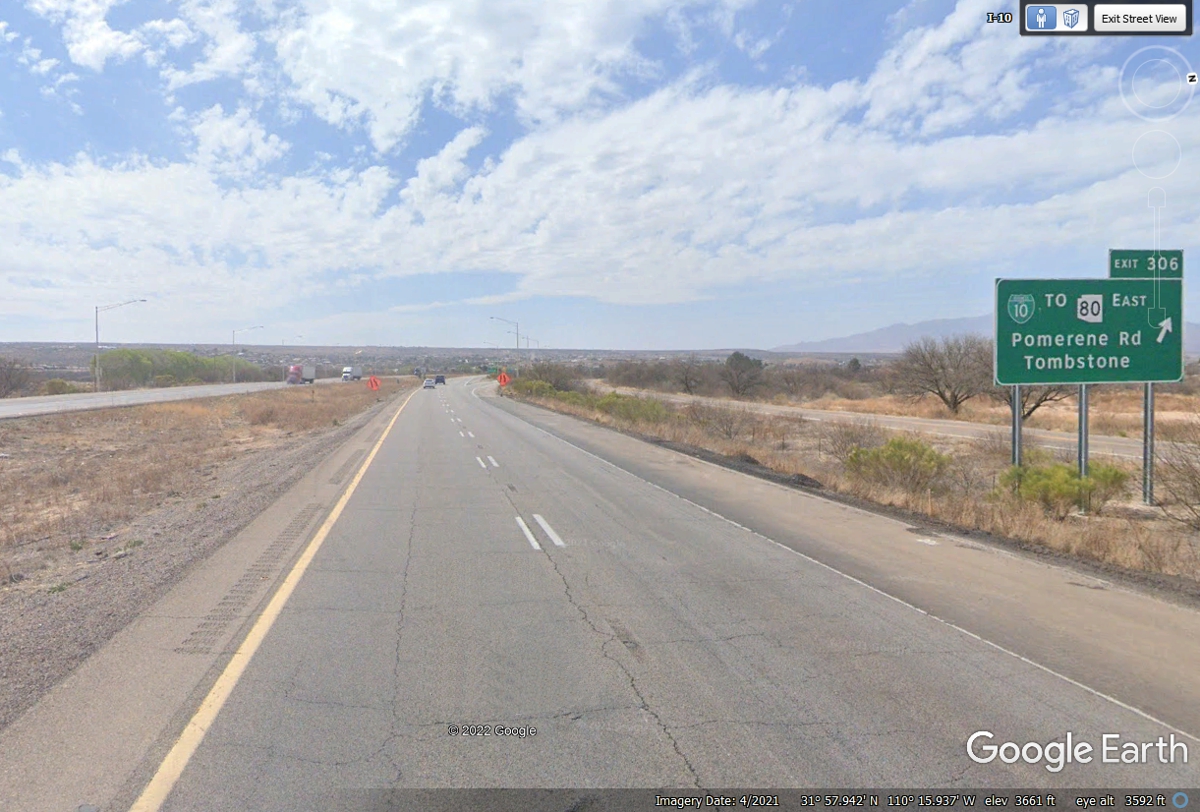 This Circle K in Benson has the lowest priced gas in this area.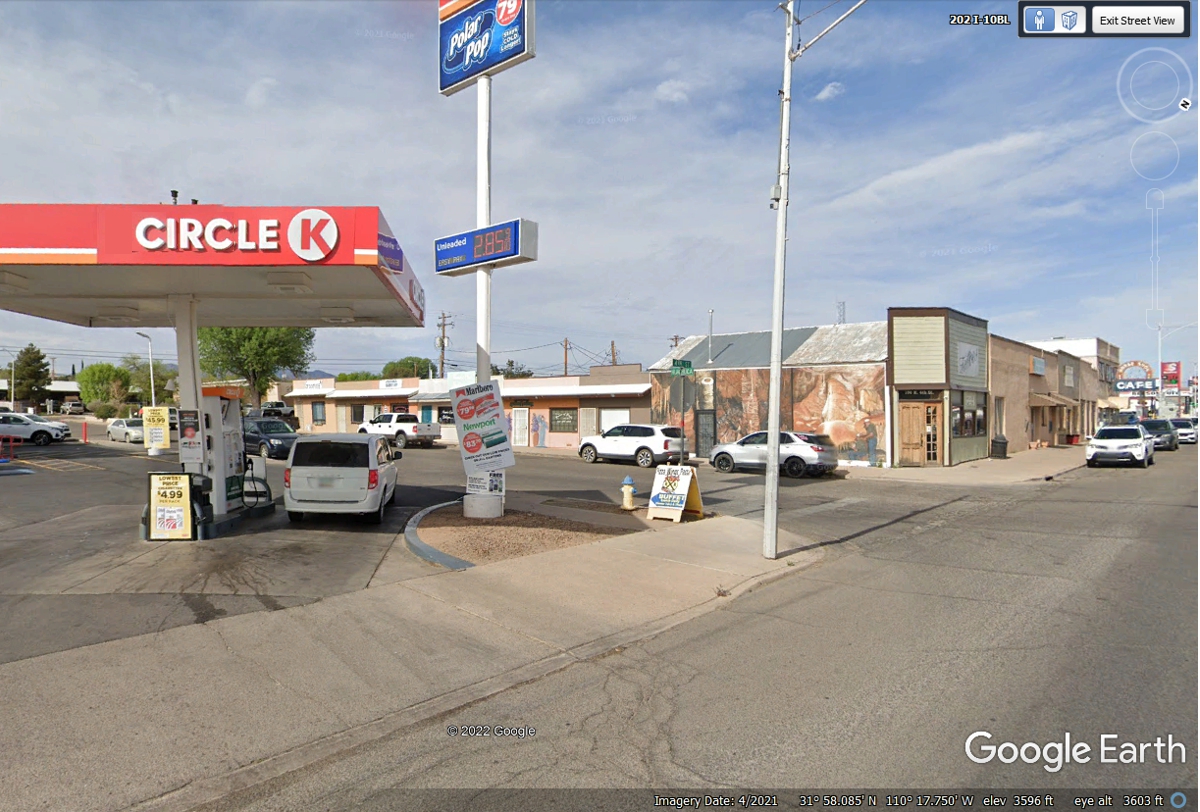 The old western town of Tombstone is only 20 miles south of Benson on AZ route 80. We did not go there on our trip west, but here are some Google Earth images I found in Tombstone, Arizona. This sign on AZ 80 entering town from the north says a lot about this place.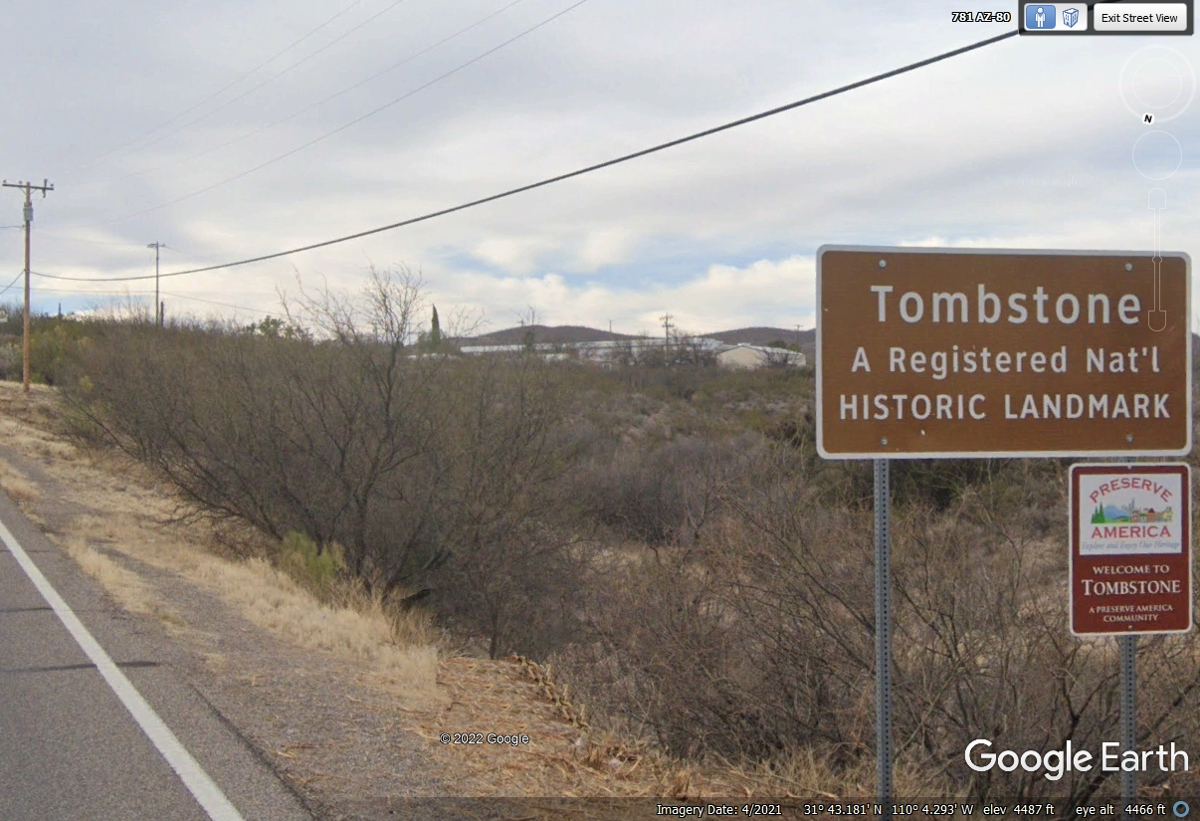 Also near the north end of town is the infamous BOOT HILL GRAVEYARD a.k.a. Boot Hill Cemetery.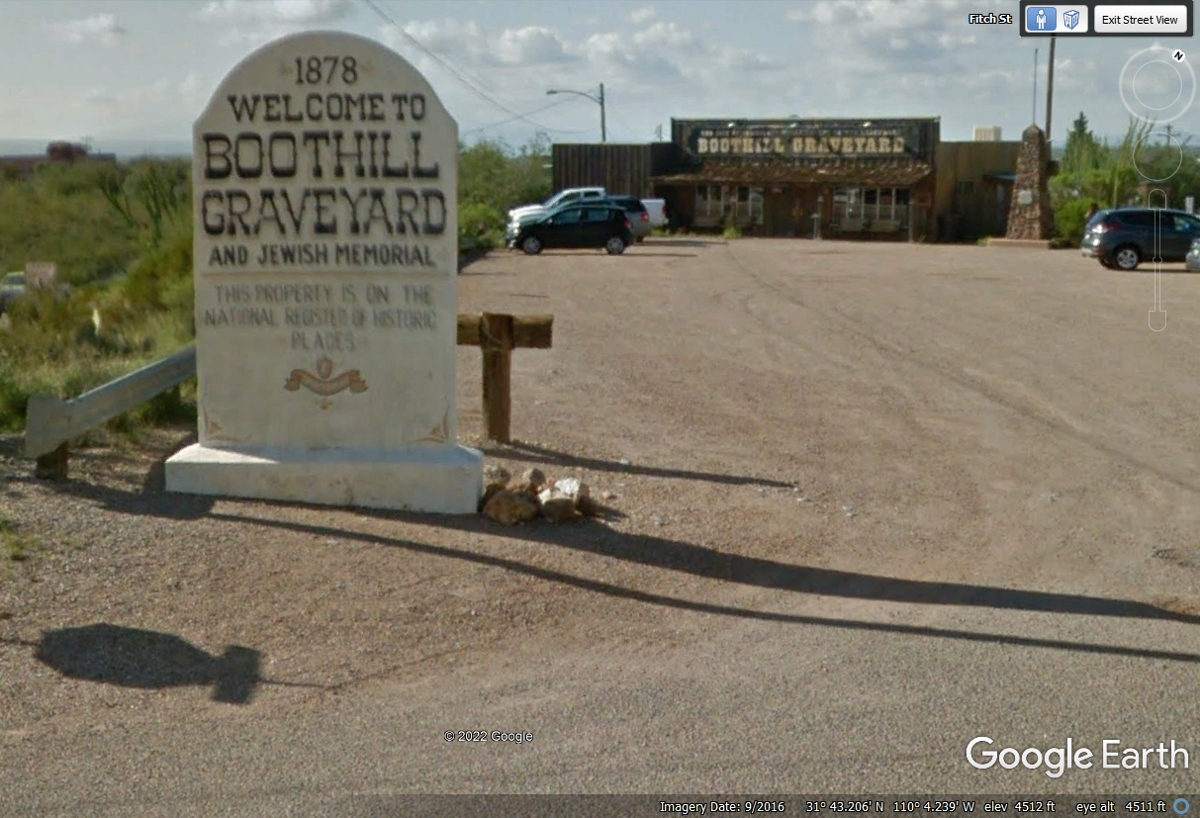 This is an aerial image from Google Earth. Here is an online story about this cemetery. https://southernarizonaguide.com/anyone-really-buried-boothill-graveyard/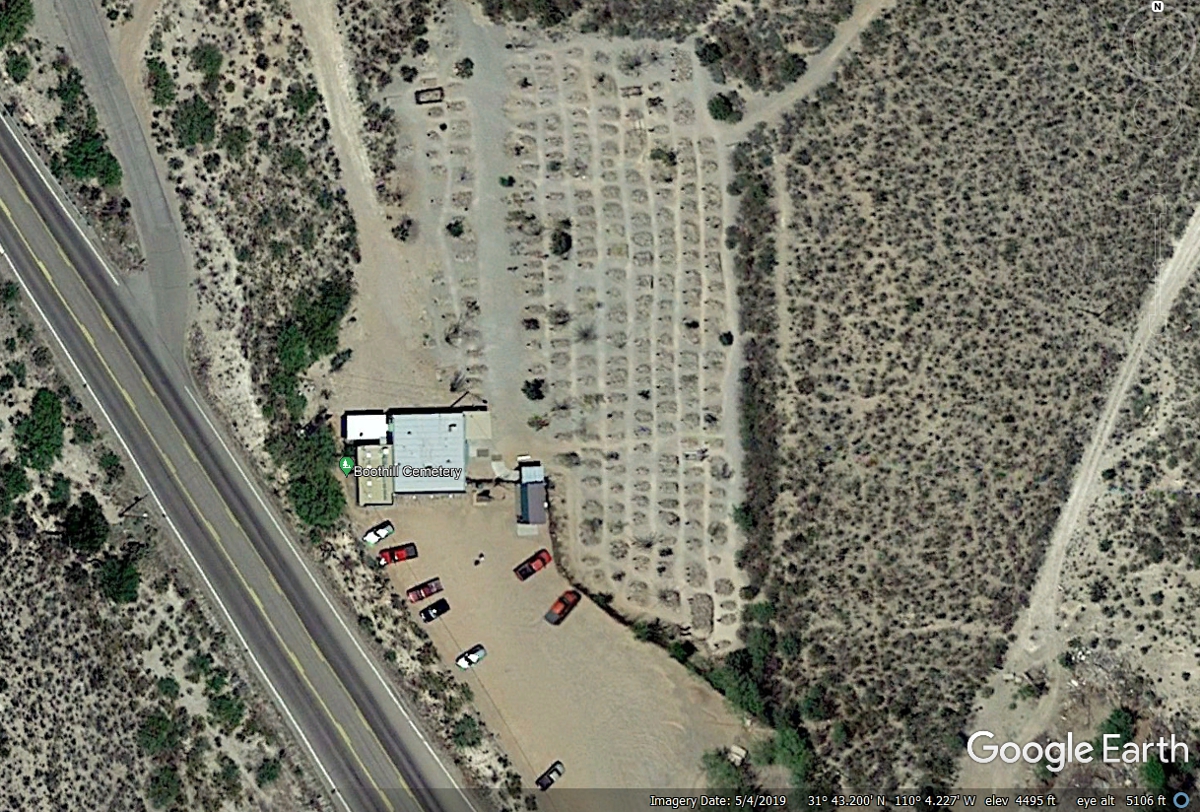 This Wikipedia web page gives the details of Audie Murphy as the most decorated US Army soldier in World War II. In case you missed it, here is the link to Wikipedia about Audie Murphy: https://en.wikipedia.org/wiki/Audie_Murphy He lived in Arizona before his death in an airplane crash. Read the article for information about his movie career.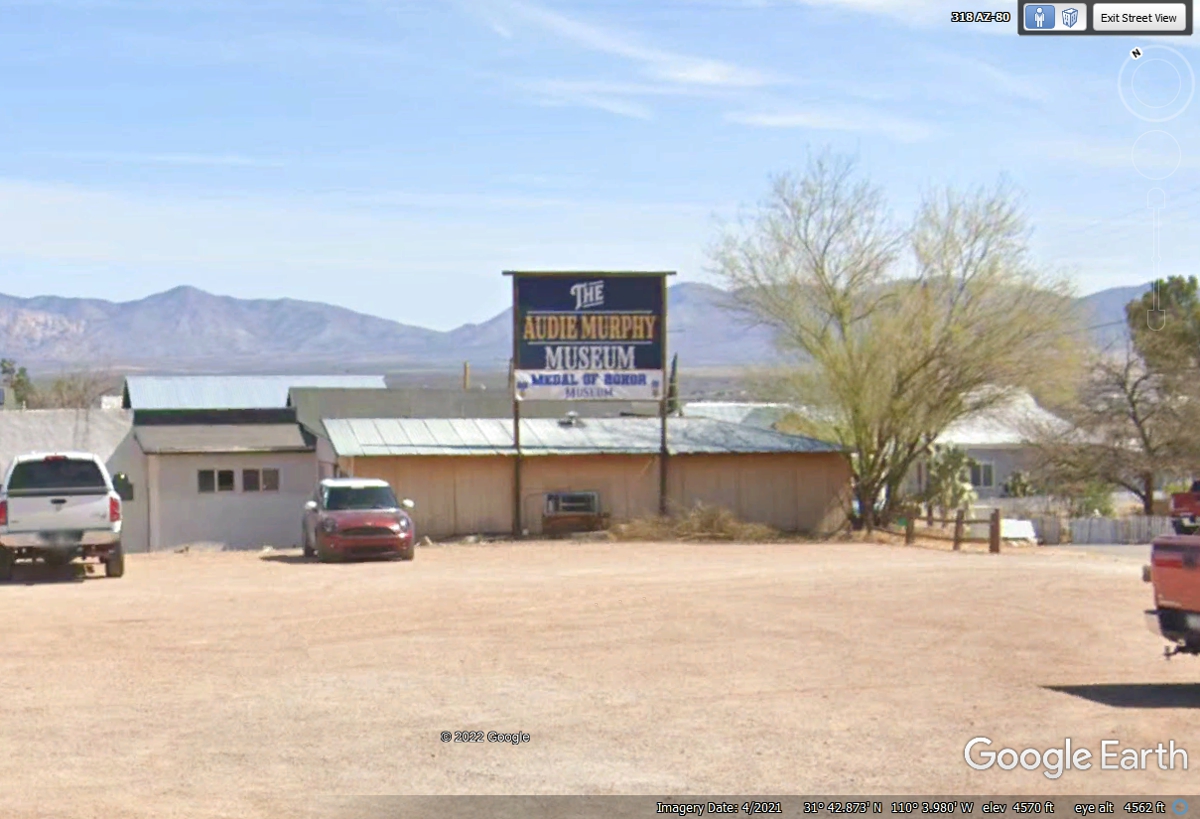 The thing most folks associate with Tombstone, Arizona is the Gunfight at the OK Corral. This building surrounds the OK Corral and charges admission to see their exhibits. Local actors have a gun fight on the street to entertain the tourists.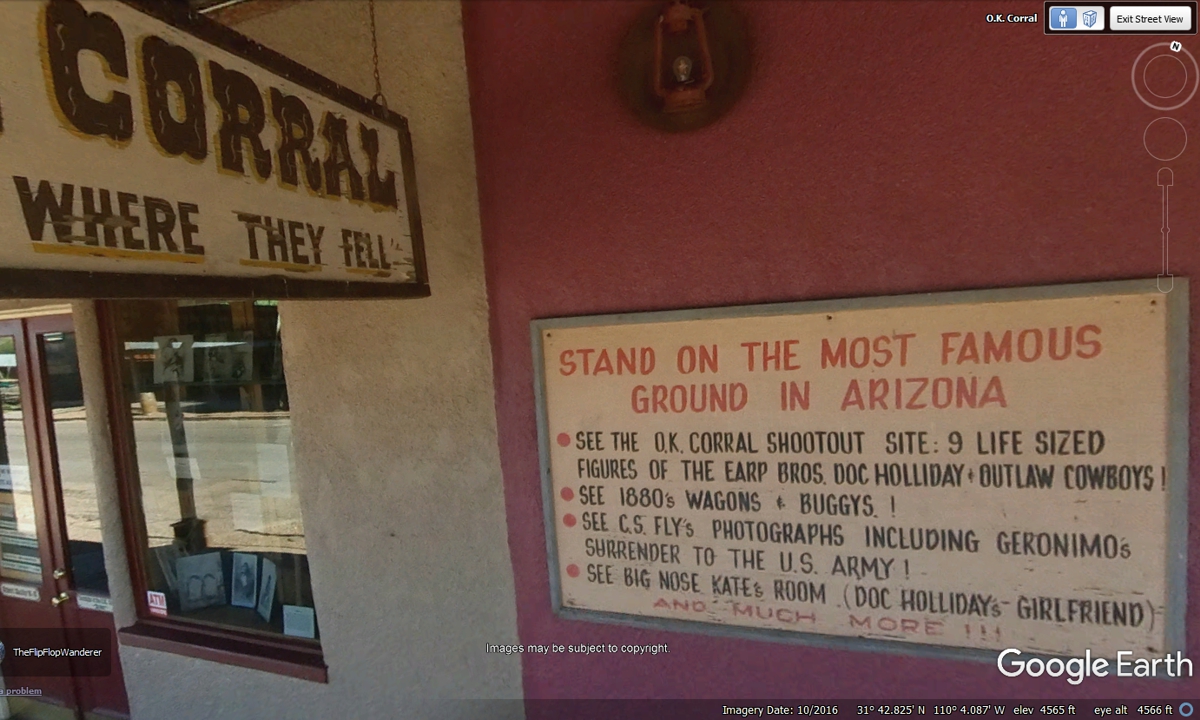 This Wendy's is located on the west side of the town of Benson, Arizona not too far from Interstate 10. We stopped here for lunch. There is more grass here for Chase.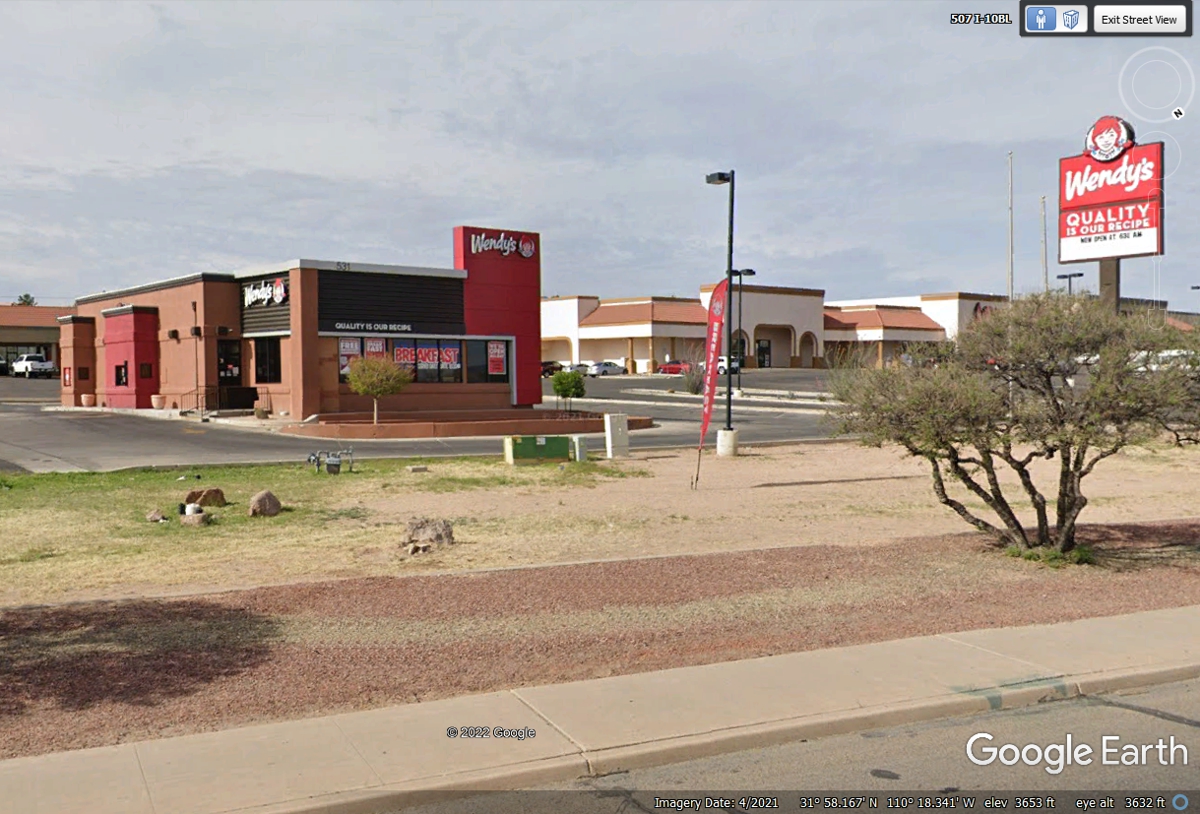 These are the interstate highway signs seen when departing Benson, AZ after a fuel stop and lunch at Wendy's heading west toward Tucson, Arizona.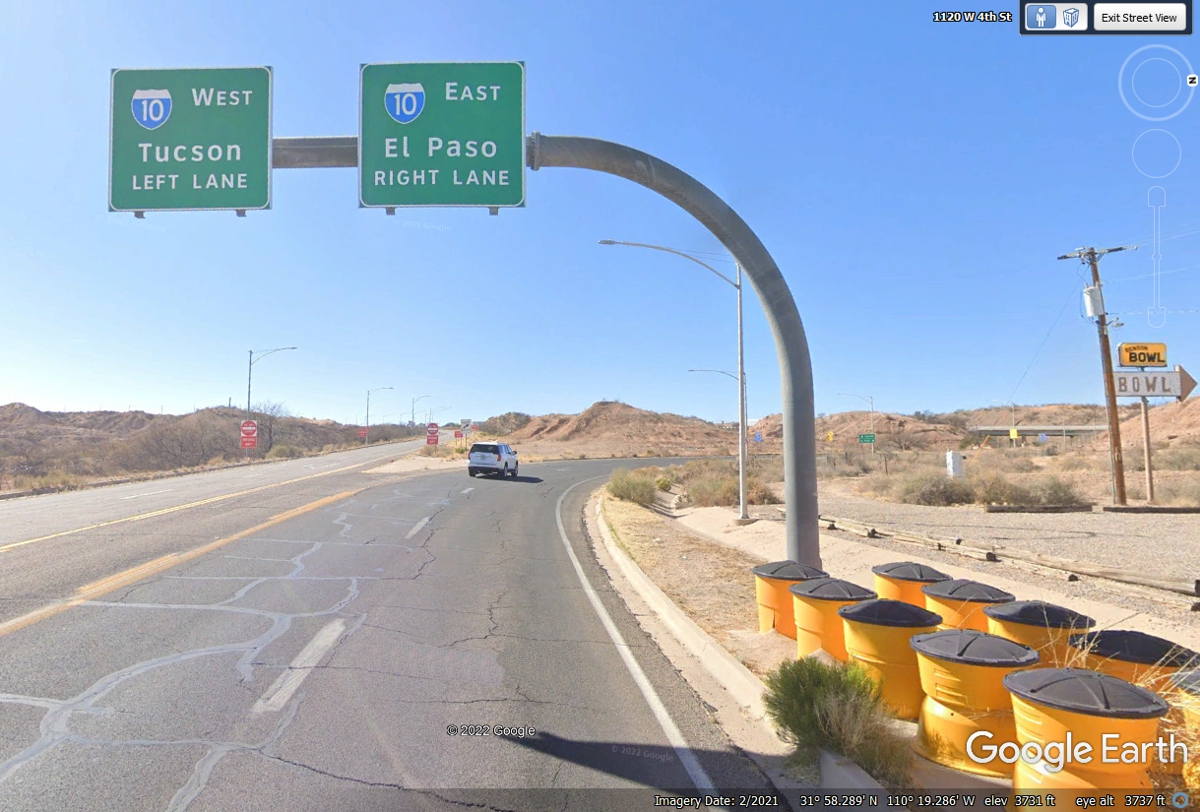 When you see a mileage sign like this one NOT very close to an exit, it reminds us there is civilization ahead. Tucson is our destination for today.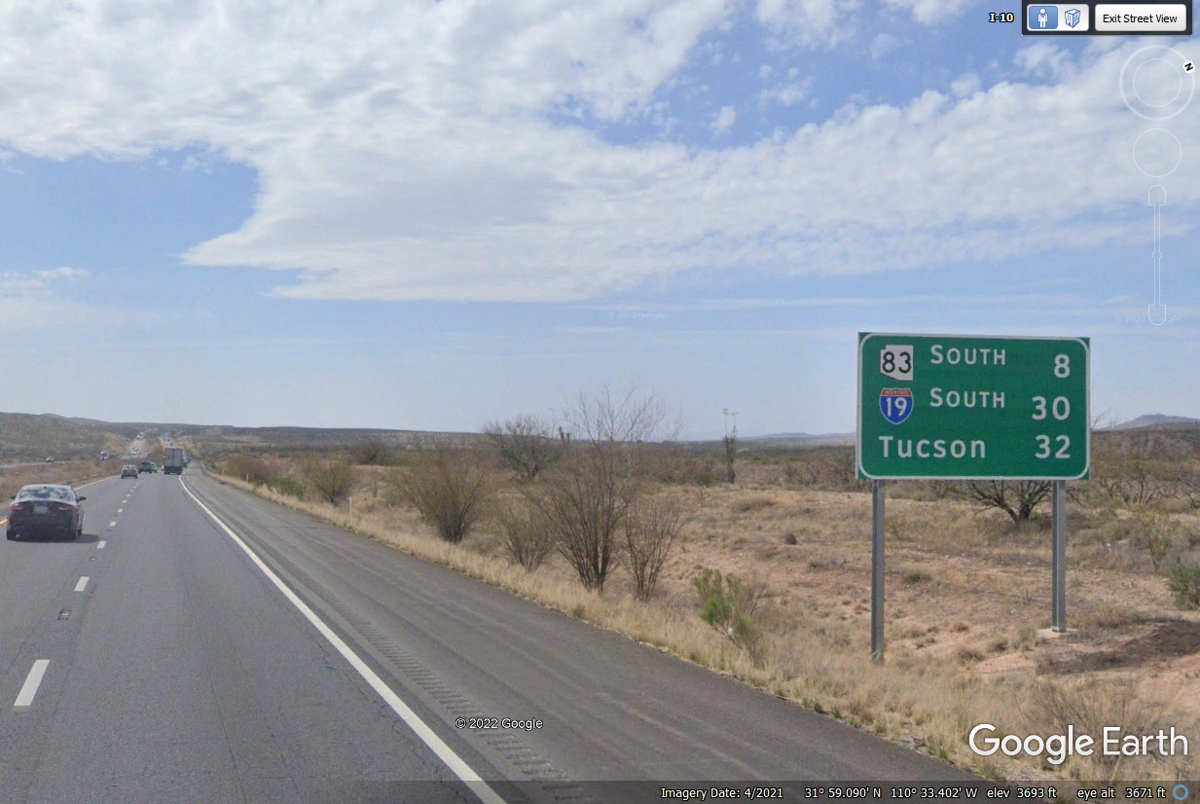 This is our last exit today as our motel is west on Valencia Road and the Pima Air Museum is East on Valencia Road.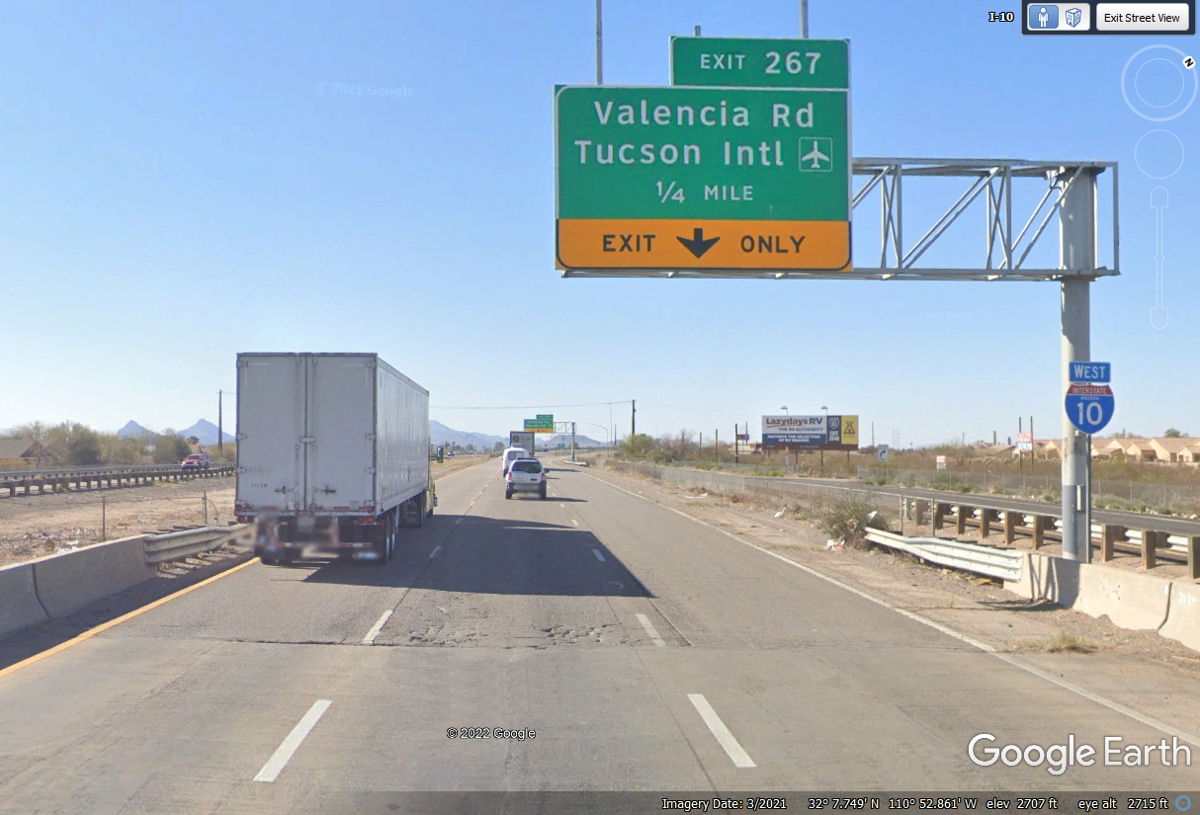 This is my first stay with Country Inn and Suites here in Arizona. I was glad to see they are pet friendly for our 2022 vacation visit here.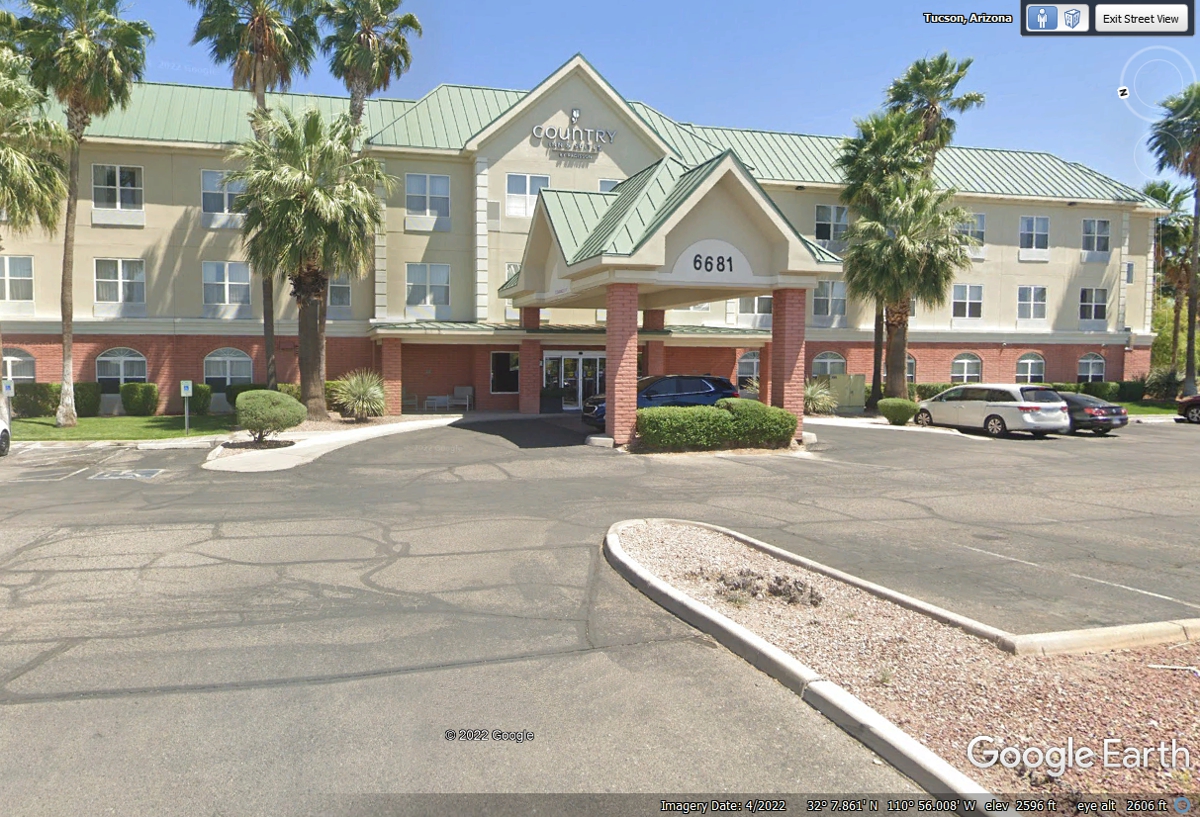 I have two pages of photos from my 2017 business trip to Arizona: Arizona Trip, July 6-9, 2016 and Tucson 2016 - - PAGE 2. There are some photos I took in the 2017 trip about the Pima Air Museum. IF we arrive at the motel seen above early in the afternoon, we will visit the museum on this day. It is much better to see the Pima Museum in the Morning to beat the heat.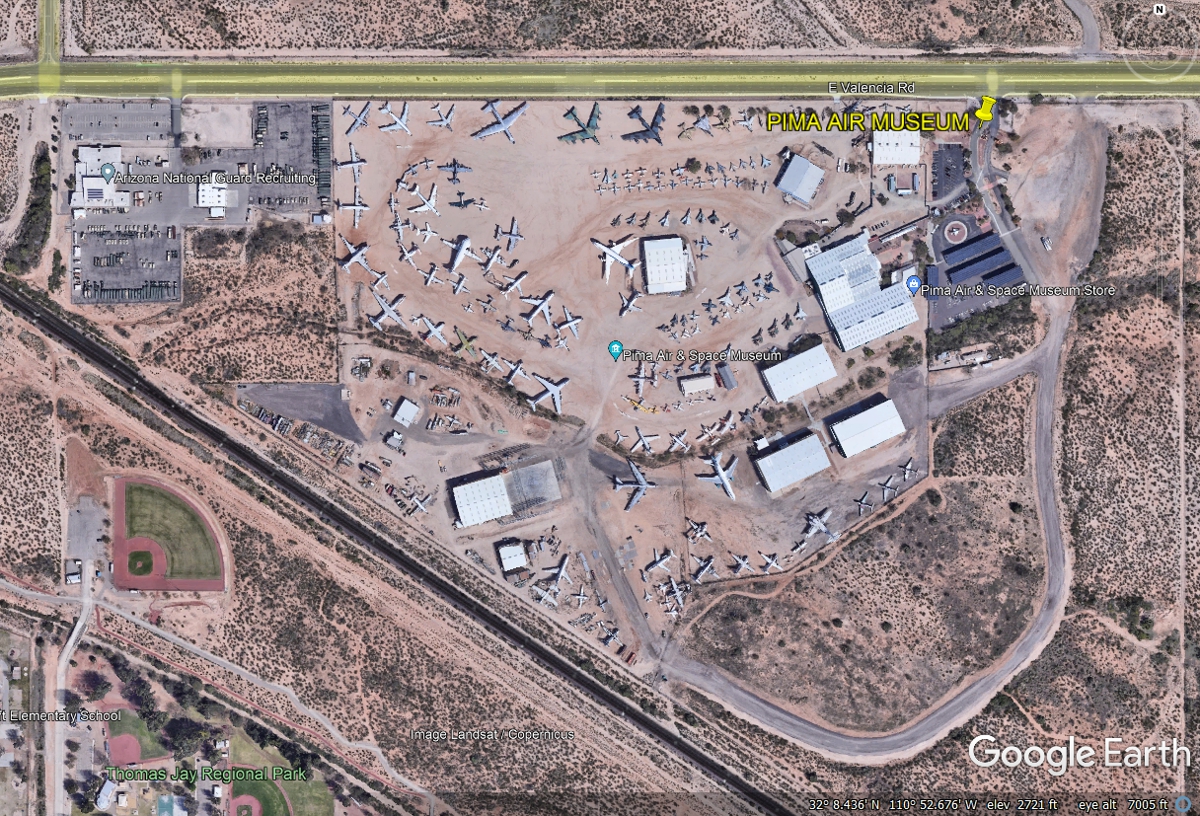 I also took some photos from my 2017 Delta Airlines trip from Tucson to Atlanta. Heading Home from Arizona - - PAGE 3. There are some images about the area around El Paso where we will be traveling on our 2022 western trip.
Because the Pima Air Museum has so much to see, I have added PAGE 12A to provide that photo coverage.