May / June 2022 Vacation Day 4 · · PAGE 7.
May 26, 2022: San Angelo is about 60 miles north of this exit on Interstate 10. I went there back in the 1970's to tune up a Jerrold Commander II CATV signal processor at the local cable TV company. That flying trip from Atlanta via Houston to San Angelo only needed me to be there one day. The audio problem required alignment of the sound I.F. module to set a couple of RF traps and some tuned band pass filters to get the audio free from the "spitting" sound on voices also known as sibilance. The engineer had been talking with other folks who worked for Jerrold, but none of them had any idea what was wrong. He had an RF spectrum analyzer identical to one I carried in my company car. I set it up to see the video and audio signals for his problem with TV channel 2 in his headend. One simple test revealed the problem and required about 15 minutes to get everything properly adjusted to provide perfect audio performance.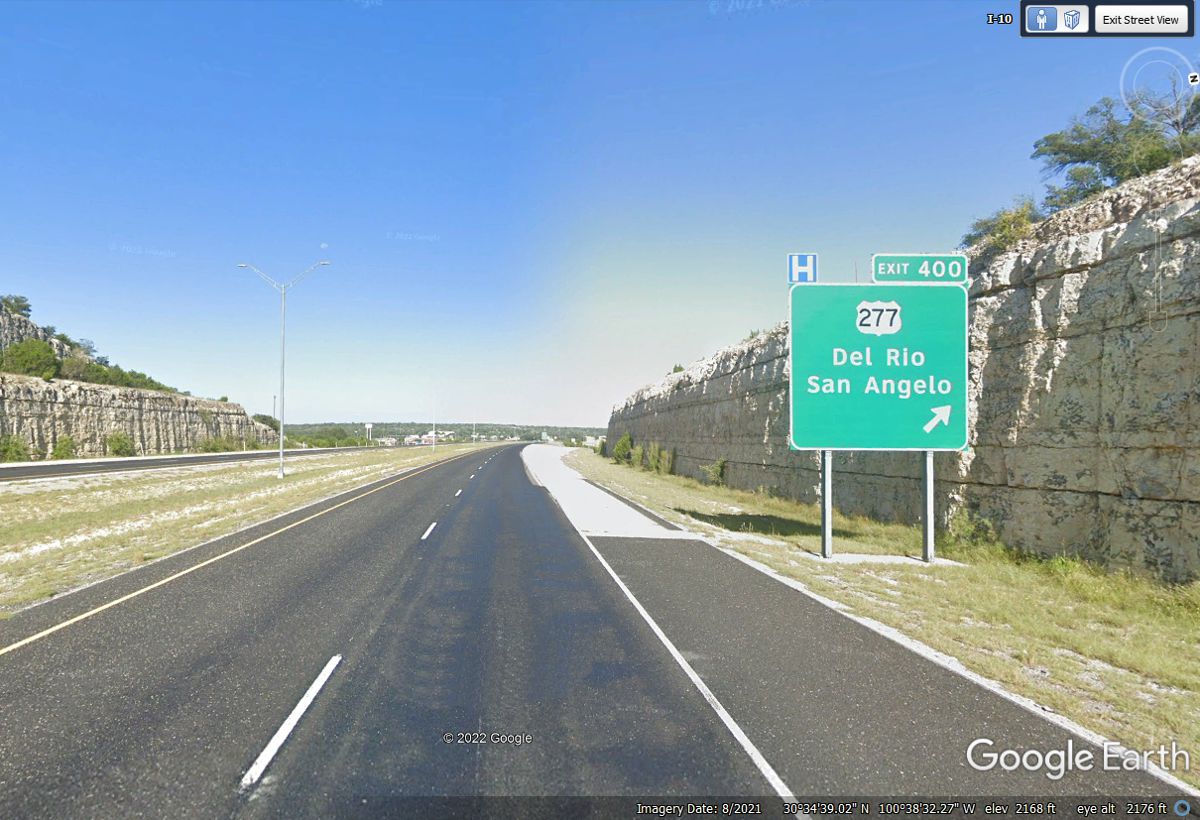 I looked at the distance from Round Rock to the next town west of the exit seen above named Ozona, TX that is located near exit 365 seen in the image below. Texas route 163 runs from Comstock near the Rio Grand River north to the town of Sterling City about 80 miles north of Ozona. Why would Texas DOT not put the name Ozona on this exit sign?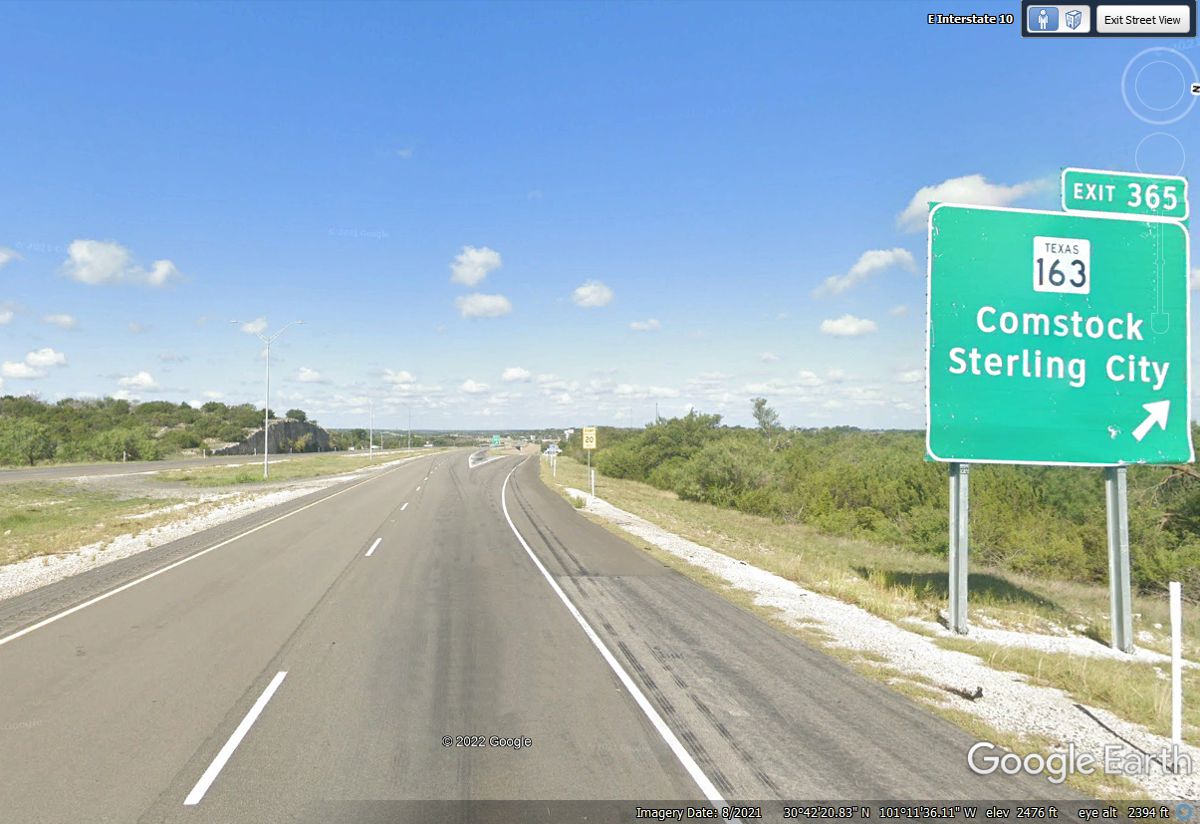 The Subway sandwich shop is where we got a takeout sub and salad up 2 blocks north of the route 163 intersection ahead.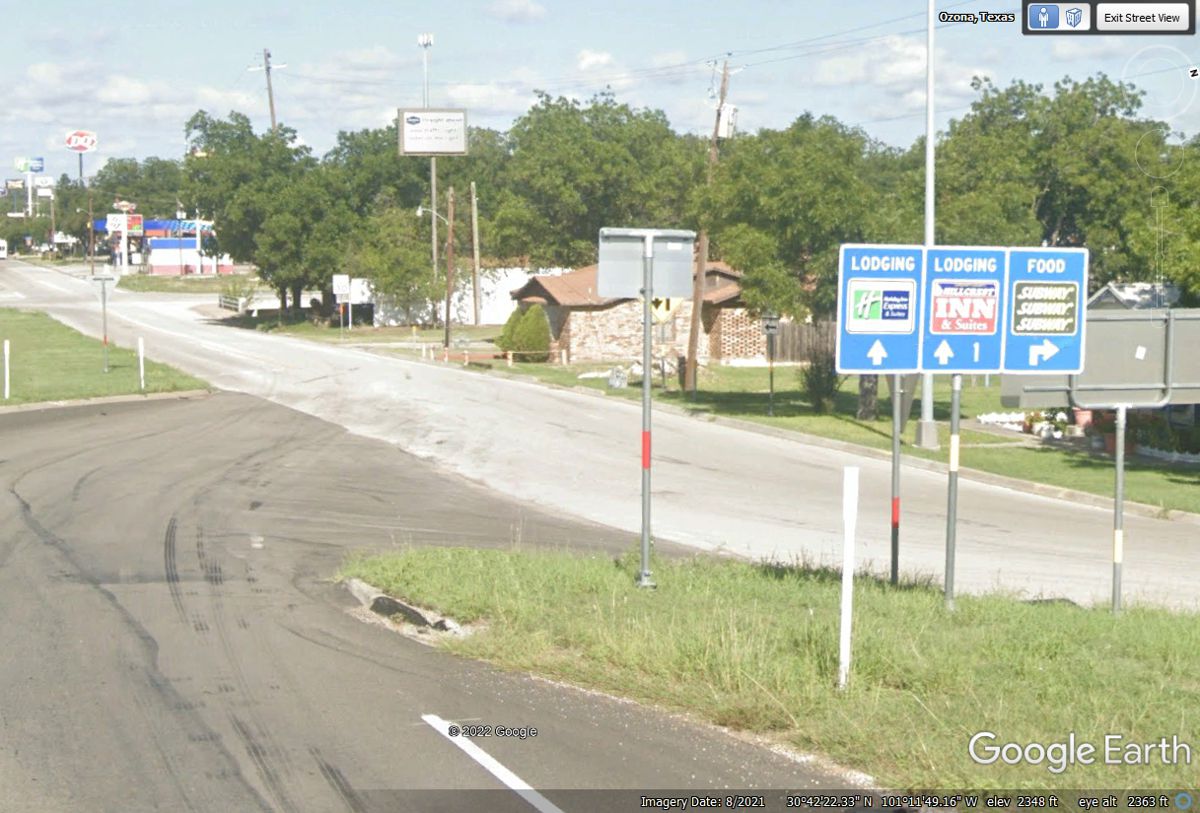 There is no route sign here. The sign pointing to Sterling City is the only indication there is a state highway here. Turn right at the light before you get to the Holiday Inn Express. The Subway is located just north of the Sunoco gas station in the second block north from here.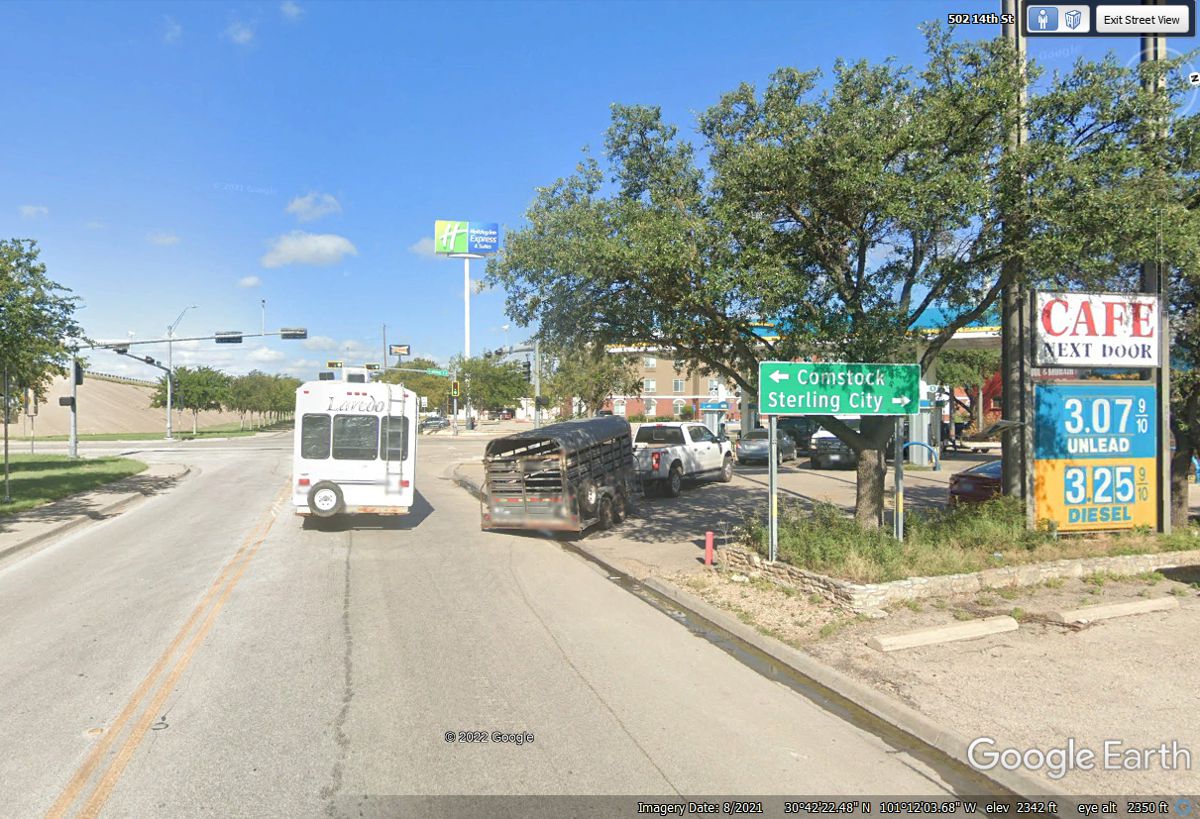 There is the Sunoco station ahead on the left just north of the Holiday Inn Express.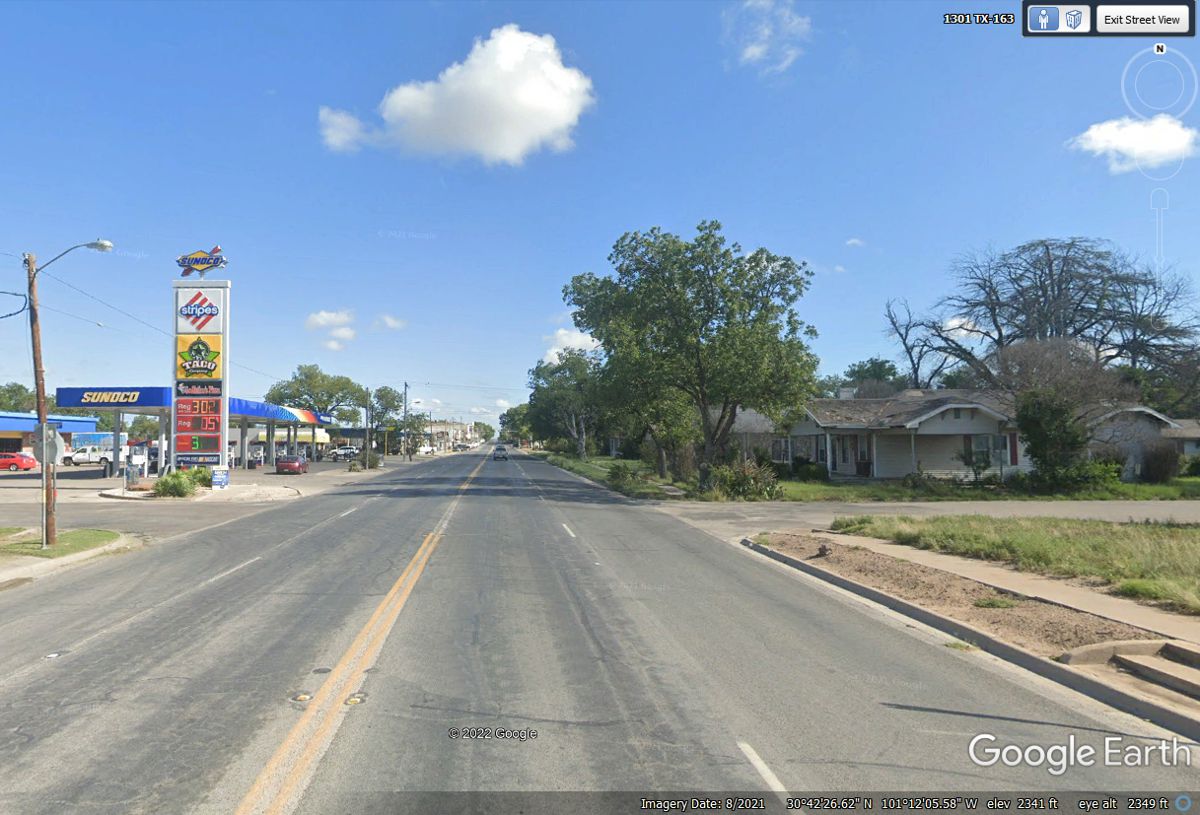 Here is the Subway on the north side of the Sunoco station. I filled the fuel tank there before we got back on I-10 heading west again.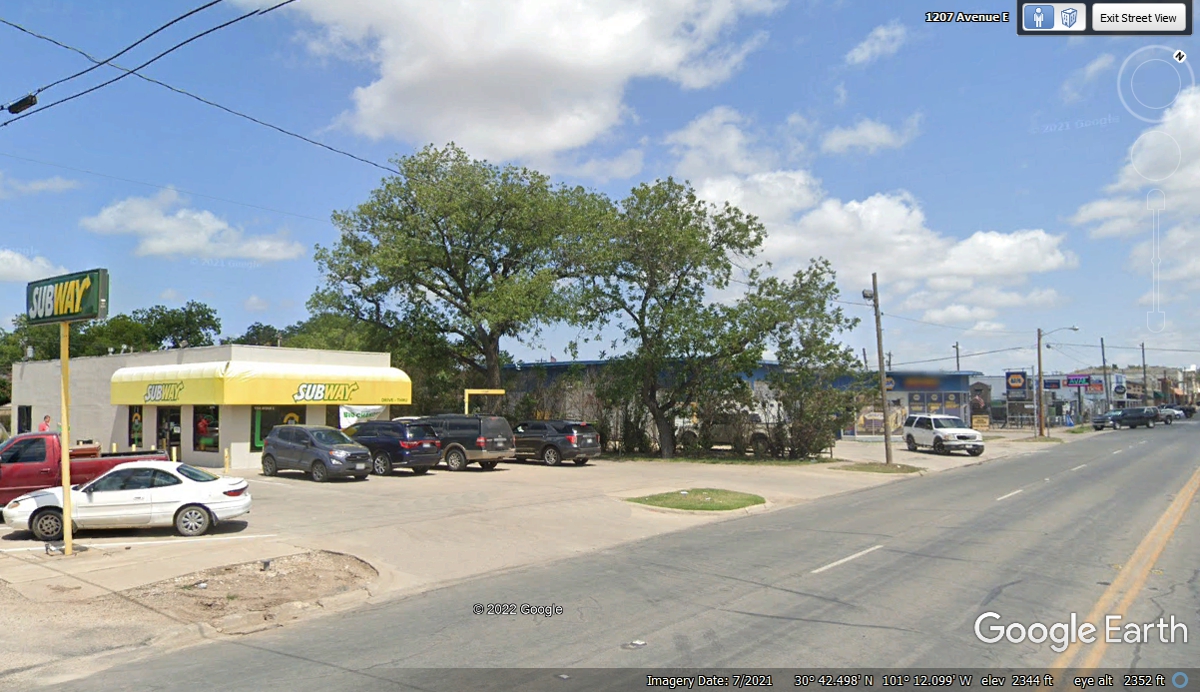 Get back on I-10 West by going back to the Holiday Inn Express and turn right on the frontage road. Fort Stockton is our next destination to change routes 108 miles west on I-10,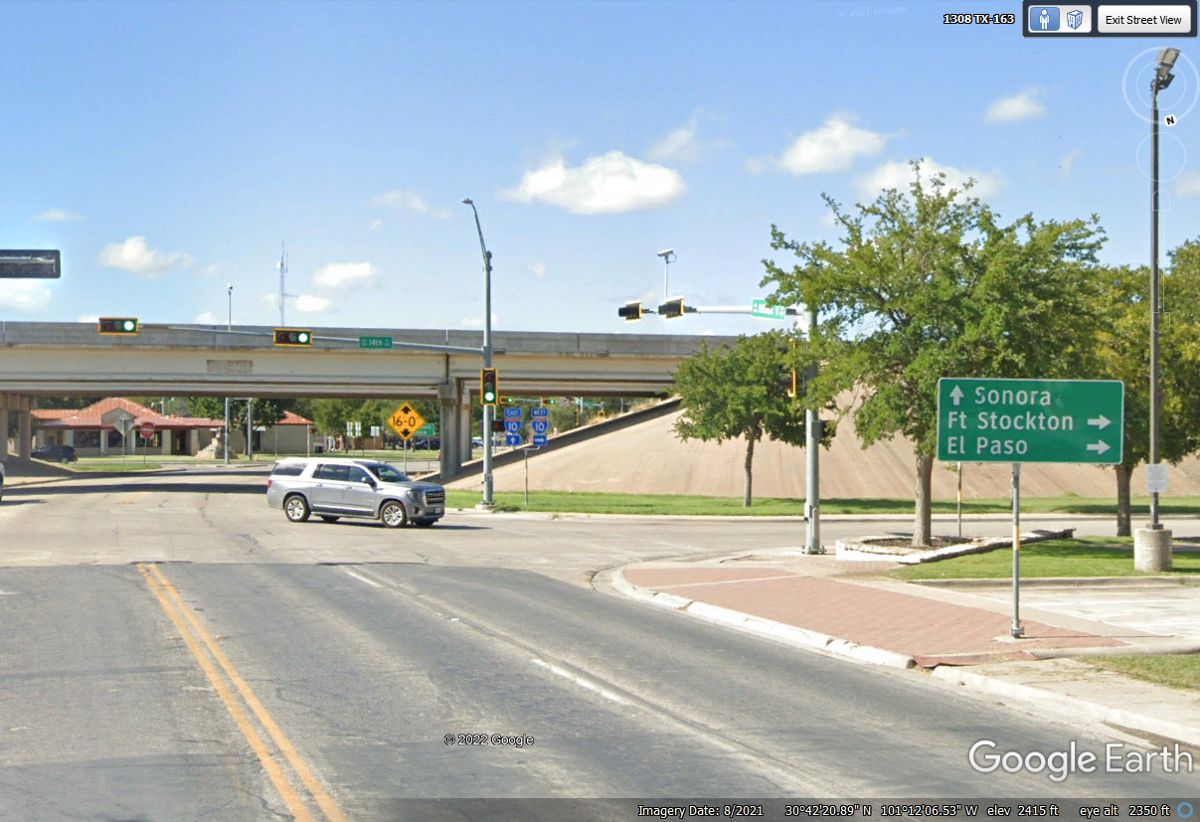 US 285 at exit 257 on the northwest side of Stockton leads to Carlsbad, New Mexico for our next motel. Pecos is 161 miles from here.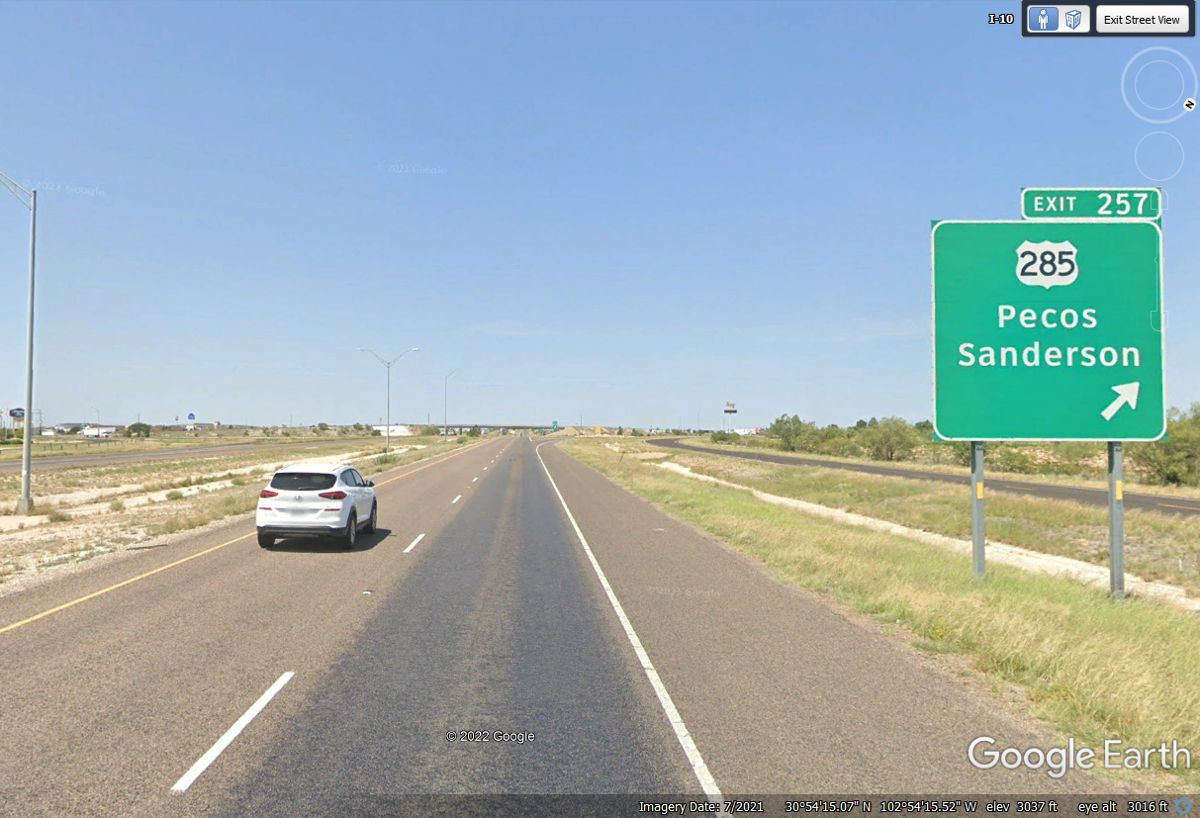 This is where we leave I-10 behind leaving Stockton and start using US 285 going to Pecos, Texas and then up to Carlsbad, New Mexico where our day will end.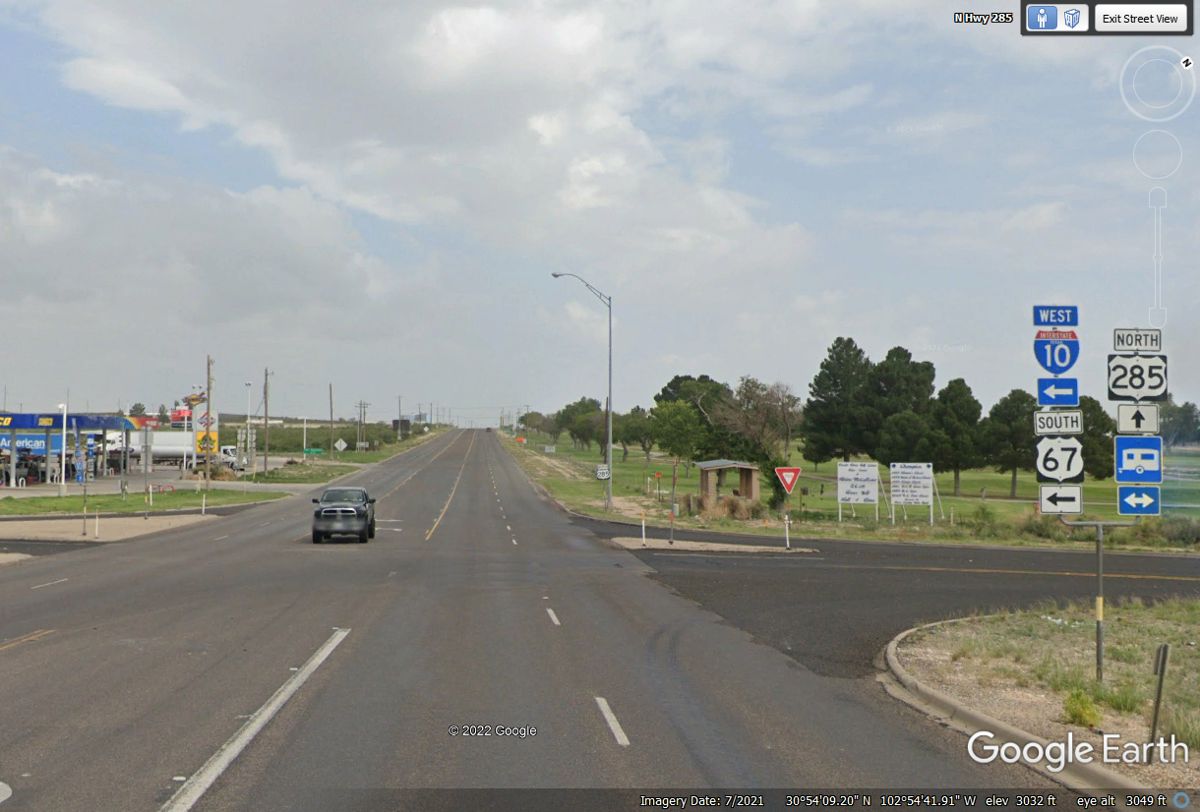 This is the first speed limit sign on US 285 leaving Fort Stockton showing 65 MPH at the botton right corner of this Google Earth image.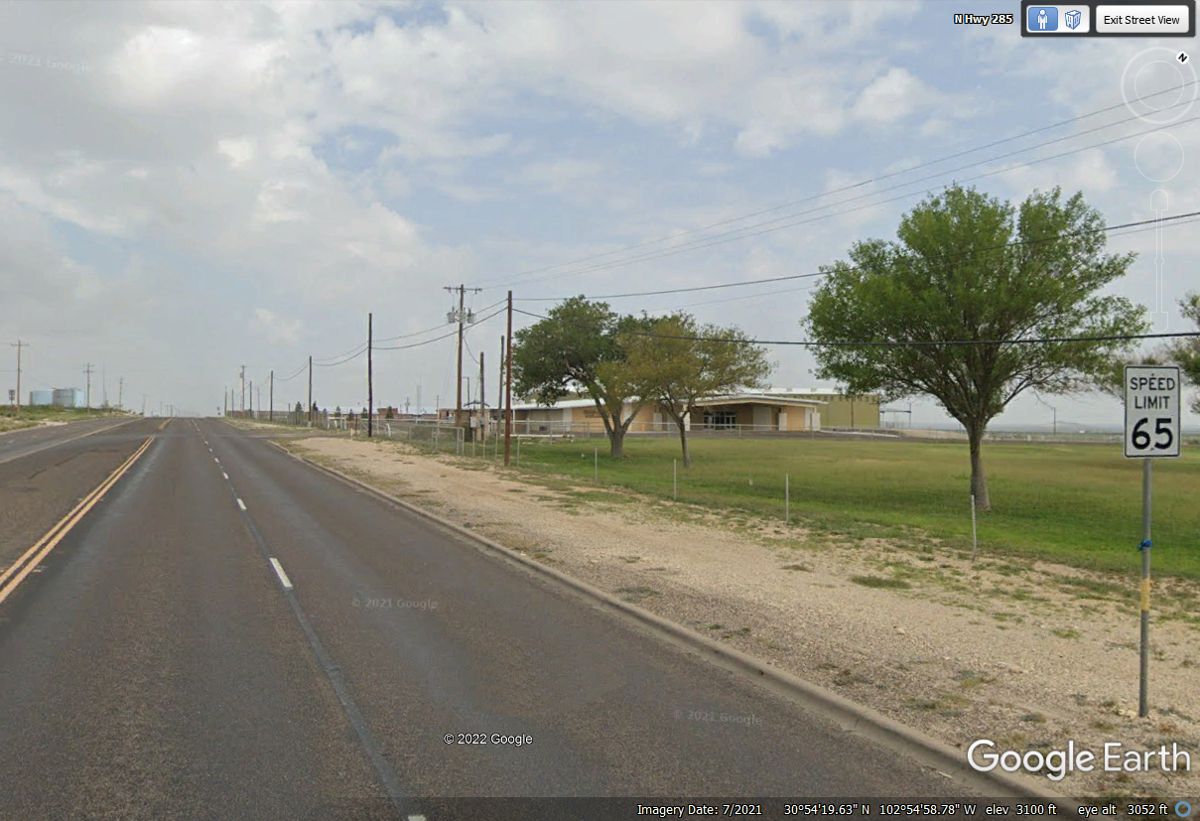 The further we get away from town and congested areas, the speed limit increases to 75 MPH. This is a typical Texas open road highway that is NOT an interstate route. The four lanes provide for slower traffic in the lane at the RIGHT side of the road. I have seen WIDE farm equipment using both lanes. There are some areas ahead on this route where irrigation wheels are in farming areas out here in surrounding desert areas.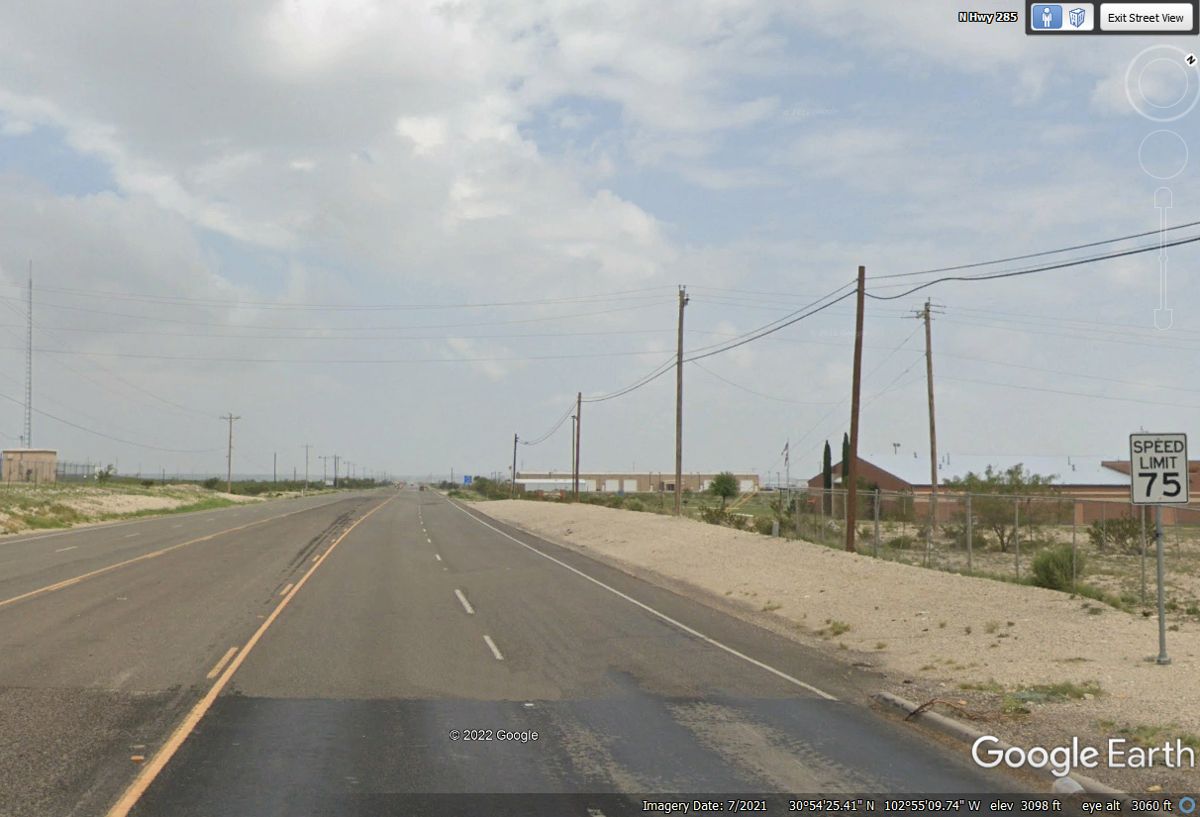 There are thousands of these oil well pumps in this part of Texas. All those power poles go to pump locations to keep the electric pump motors running.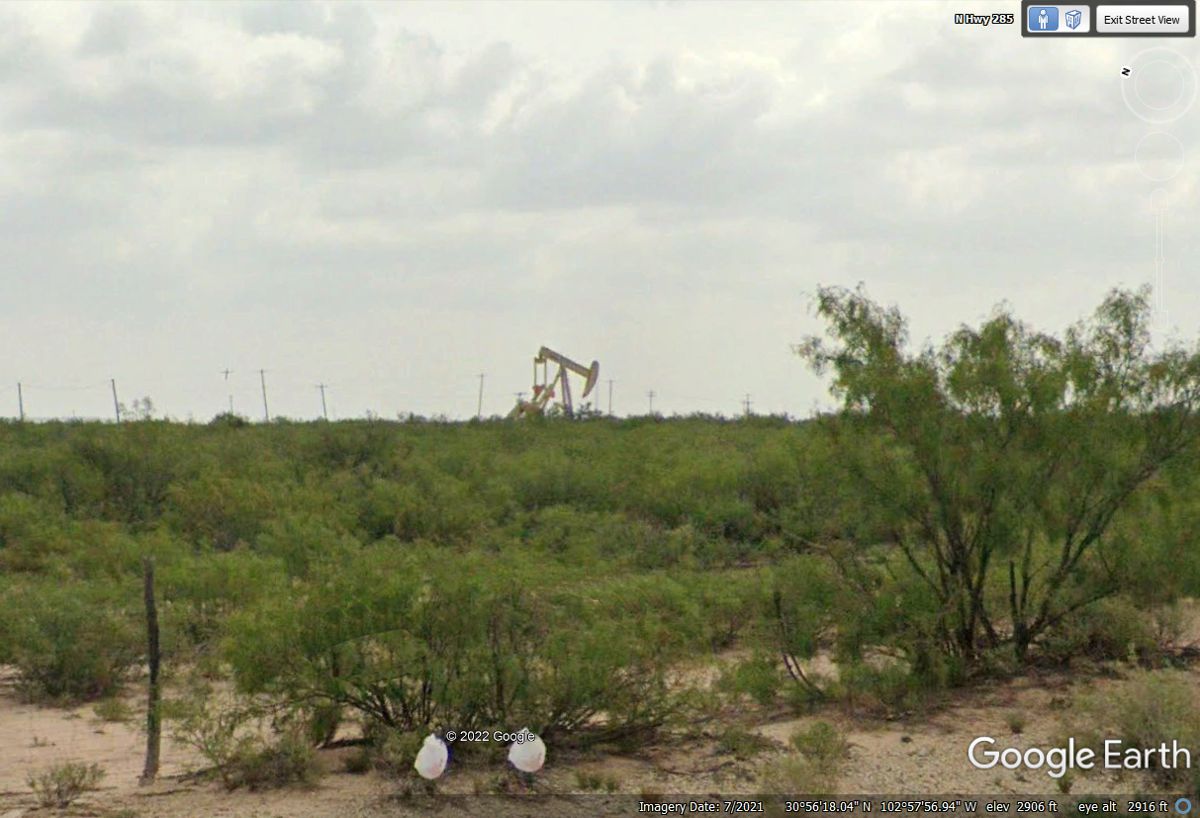 The smaller tanks receive crude oil from the individual oil well pumps. That oil is moved to the big Pipeline Tank, then on the long pipelines to refineries to become auto fuel, diesel, and jet fuel for the airlines and US military aircraft.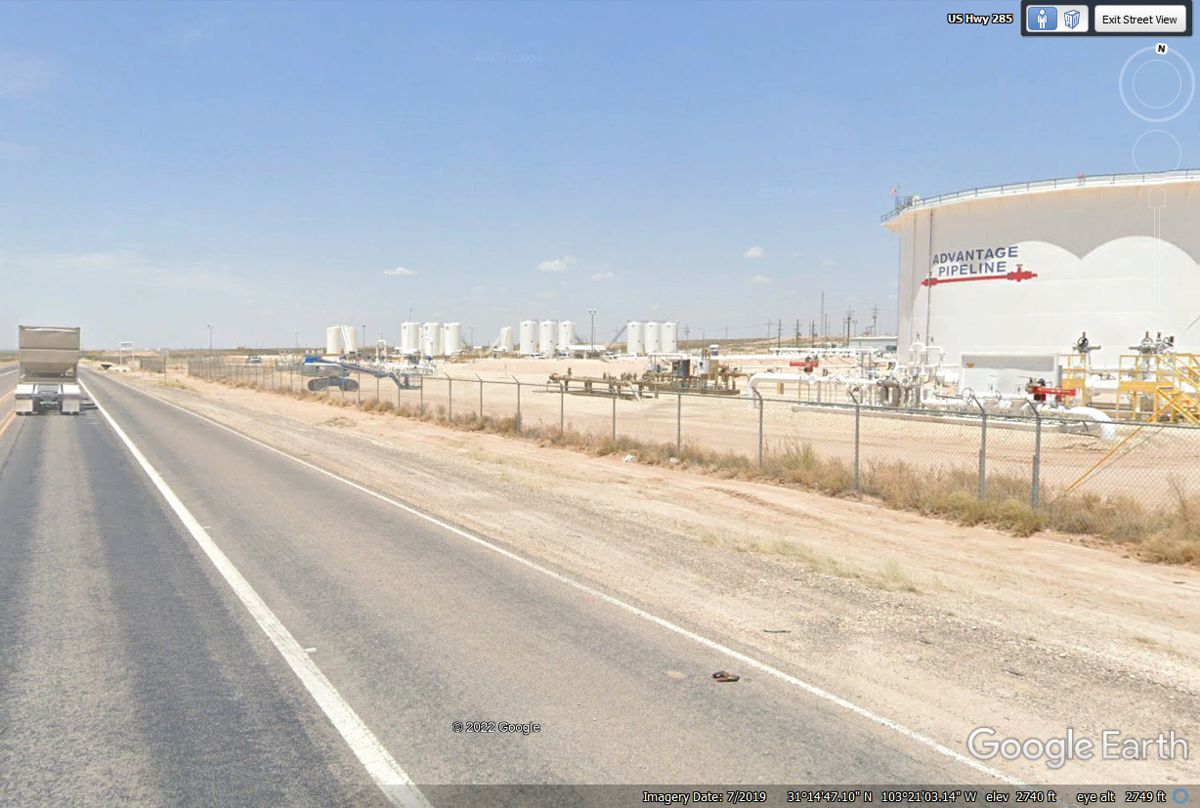 This part of US 285 has one lonely highway sign pointing in the direction of a small community north of this first overpass since leaving Interstate 10 about 11 miles behind. That place is a name I have never heard of until now: Coyanosa, Texas. The Texas Farm Road number is 1776 and invokes the faint images of the founding fathers of our country. The shadow of a street lamp reminds us that a traveler at night can find the way home. I looked up the little town and found a Facebook Page about it which has postings from oil rig workers.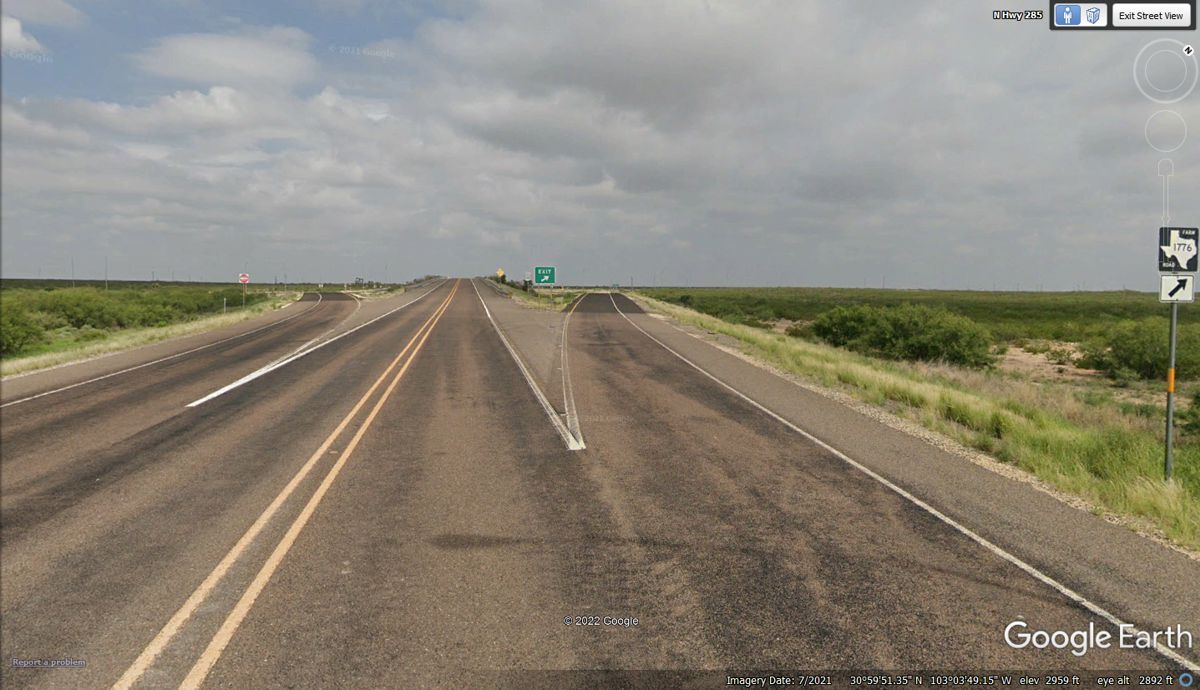 From the top of the overpass, one can see there are a number of street lights illuminating the approach to this intersection. This view is looking north on FM 1776.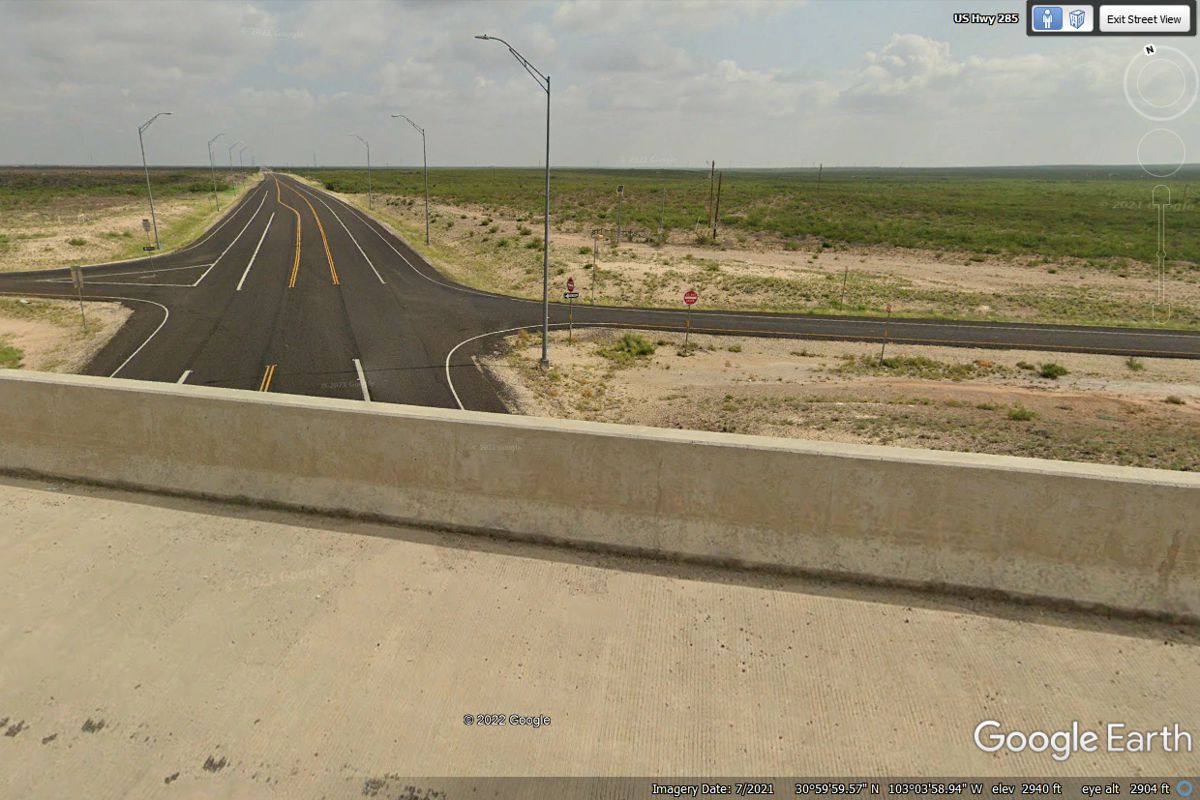 Looking south on FM 1776 reveals similar equipment in this oil field we passed on US 285.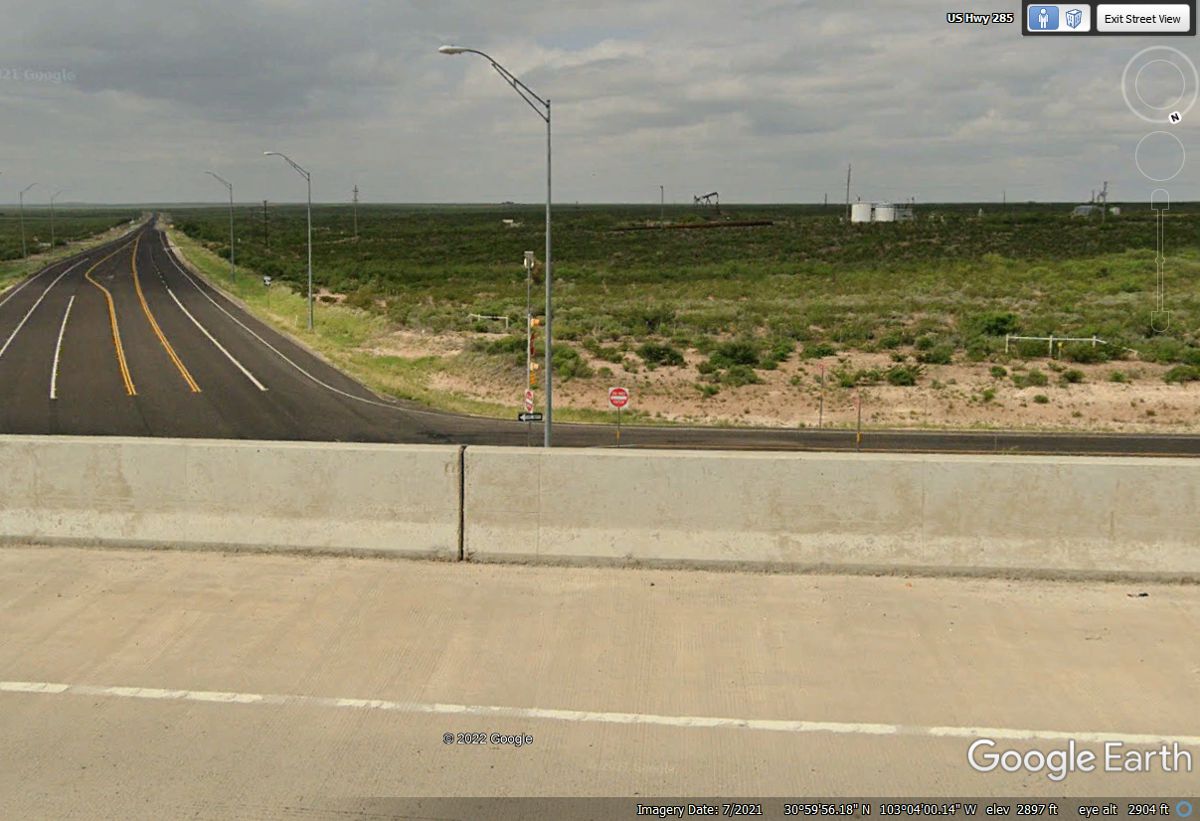 Looking ahead US 285 will reach the town of Pecos, Texas about 40 miles northwest from here.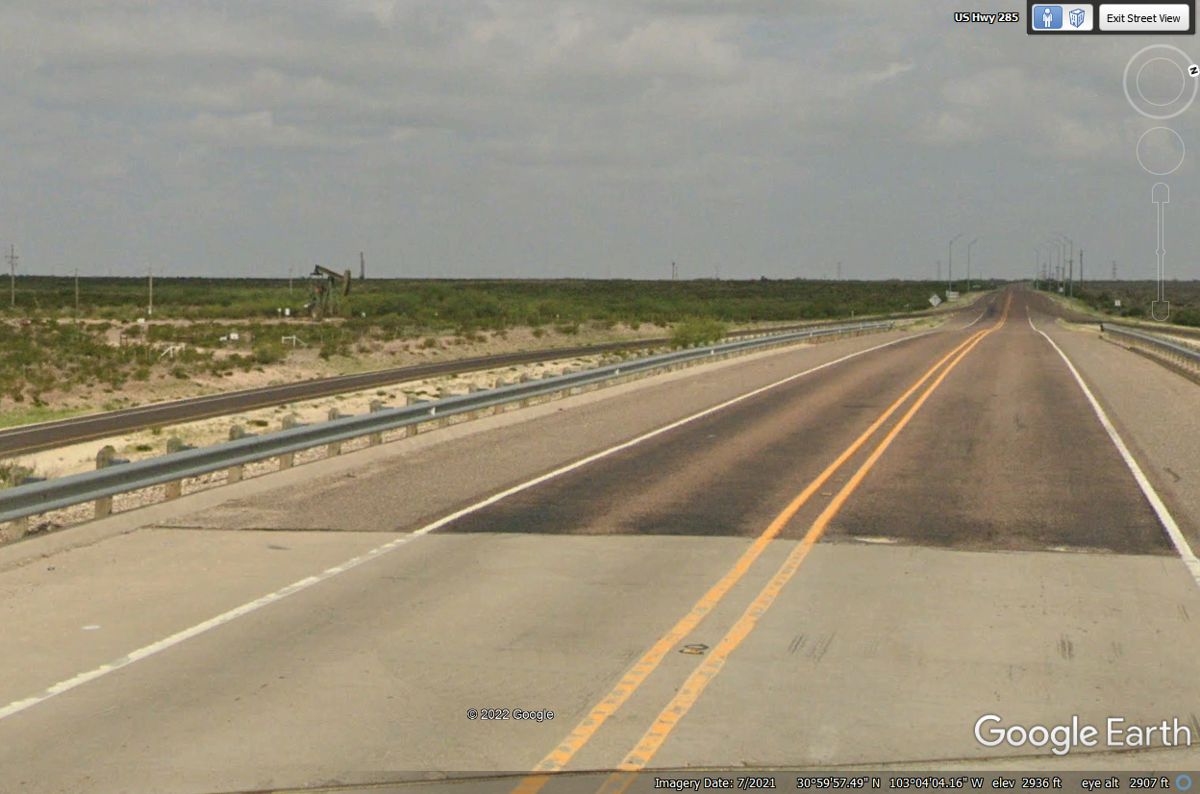 This image from 53 miles over the Earth reveals a large oil field south and east from Pecos, Texas. All those white lines are access roads to oil well pump locations in a grid arrangement.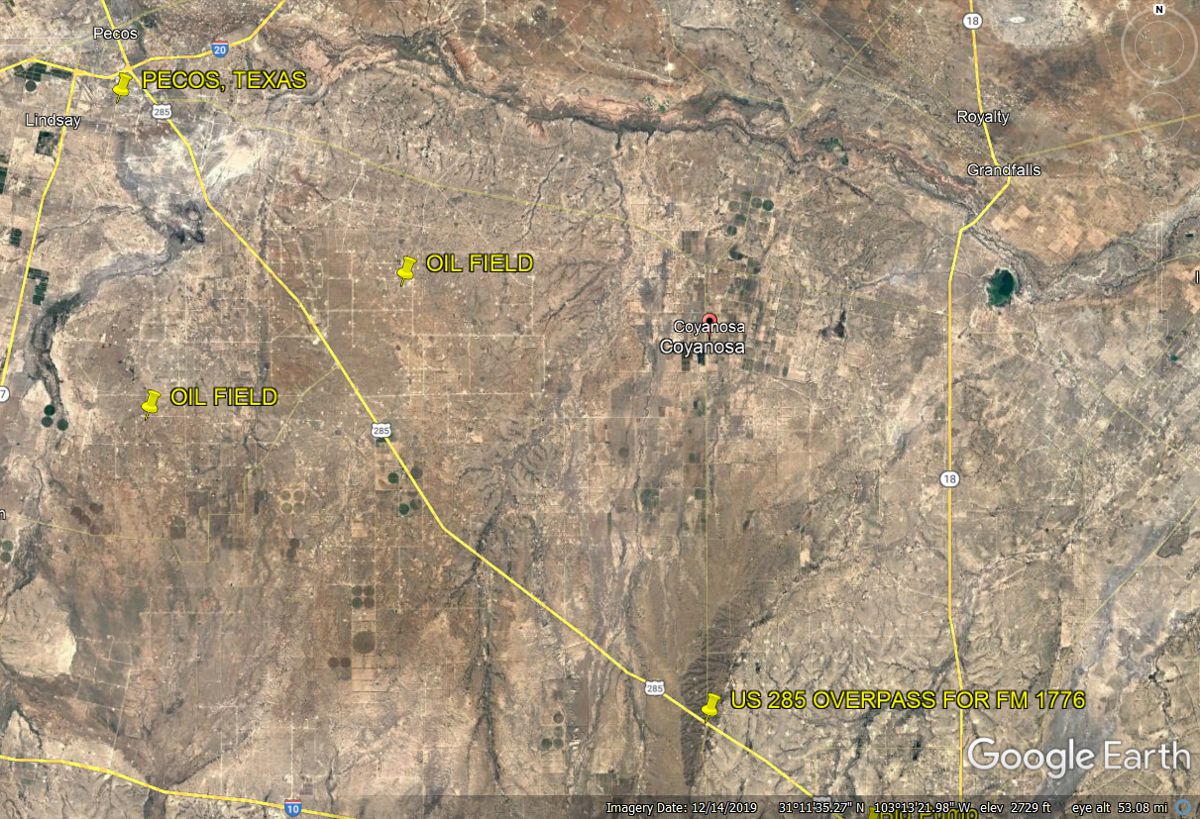 Back down at ground level the green irrigation crop circles seen in the image above are seen next to US 285 on the south or LEFT side of the highway as we proceed toward Pecos, TX.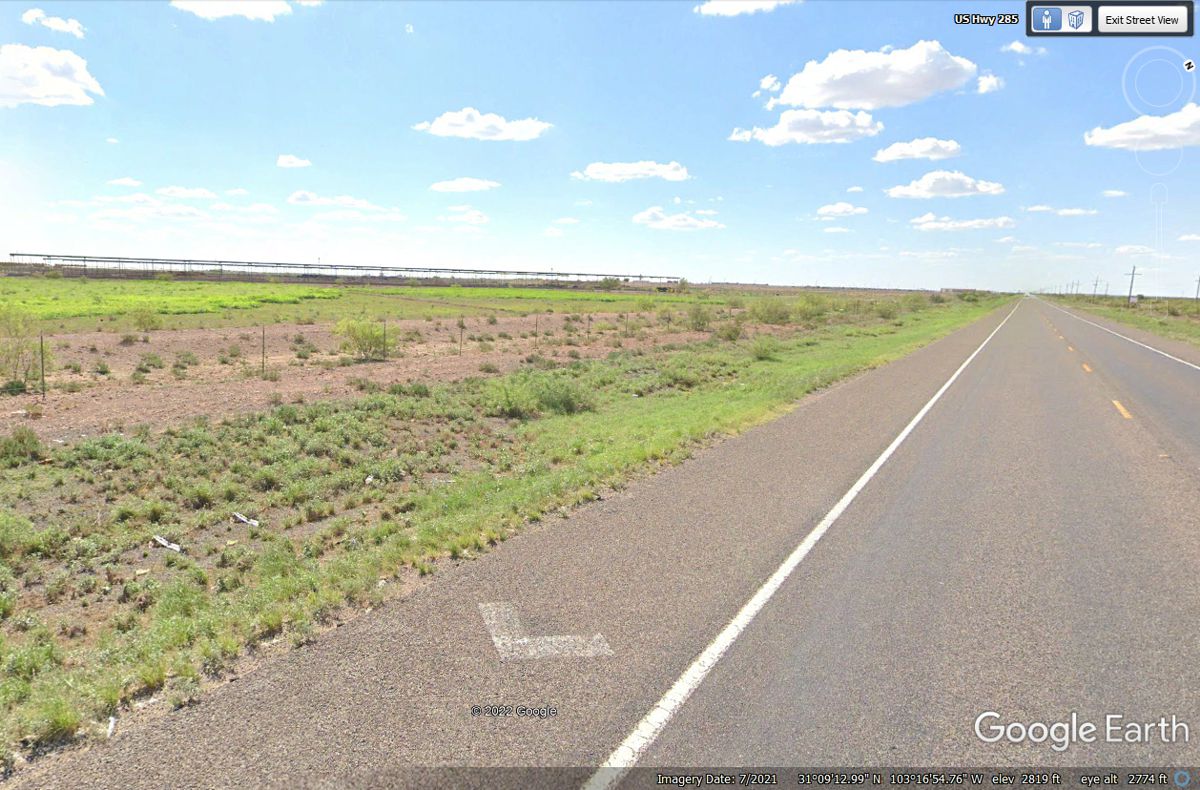 Pecos, Texas should be a fuel stop as we head to Carlsbad, New Mexico. Linda's Chevy is showing 30 Miles Per Gallon on the computer display. We did not stop here for fuel. This Valero station is located near midtown on US 285 on the westbound side of the street in Pecos.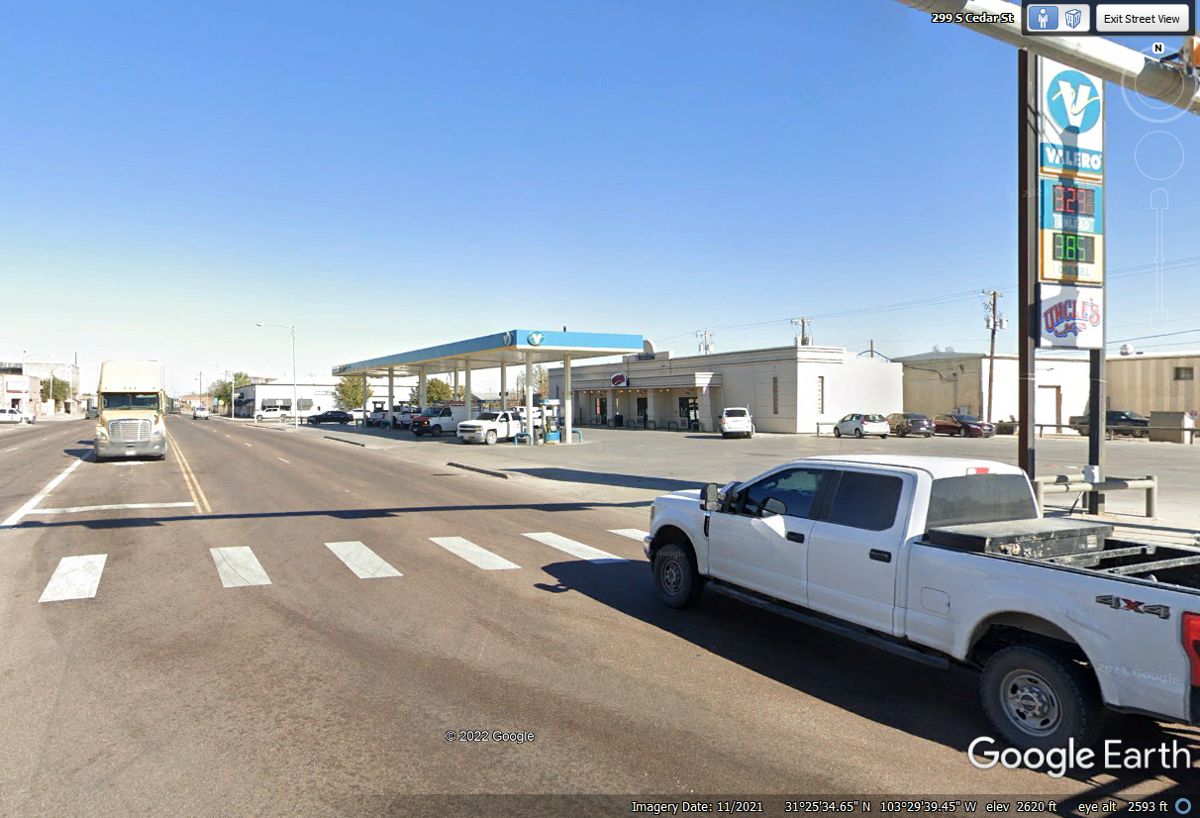 There is plenty of road construction leaving Pecos on US 285 going north to New Mexico. This sign in the construction zone shows Carlsbad, New Mexico is 85 files from here.