May / June 2022 Vacation Day 1 · · PAGE 1.
March 1, 2022: The date at the left is when I started to build these web pages on my computer as part of the planning for the summer vacation. Our vacation for May and June 2022 will take us on a big WESTERN TOUR from Kissimmee, Florida to most of the western states. We are not going to the big cities of Southern California, but we will be seeing the sights of Central California and much more along the way west.
May 23, 2022: The first day of travel in late May takes us north to Interstate 10, then west to Tallahassee, Florida.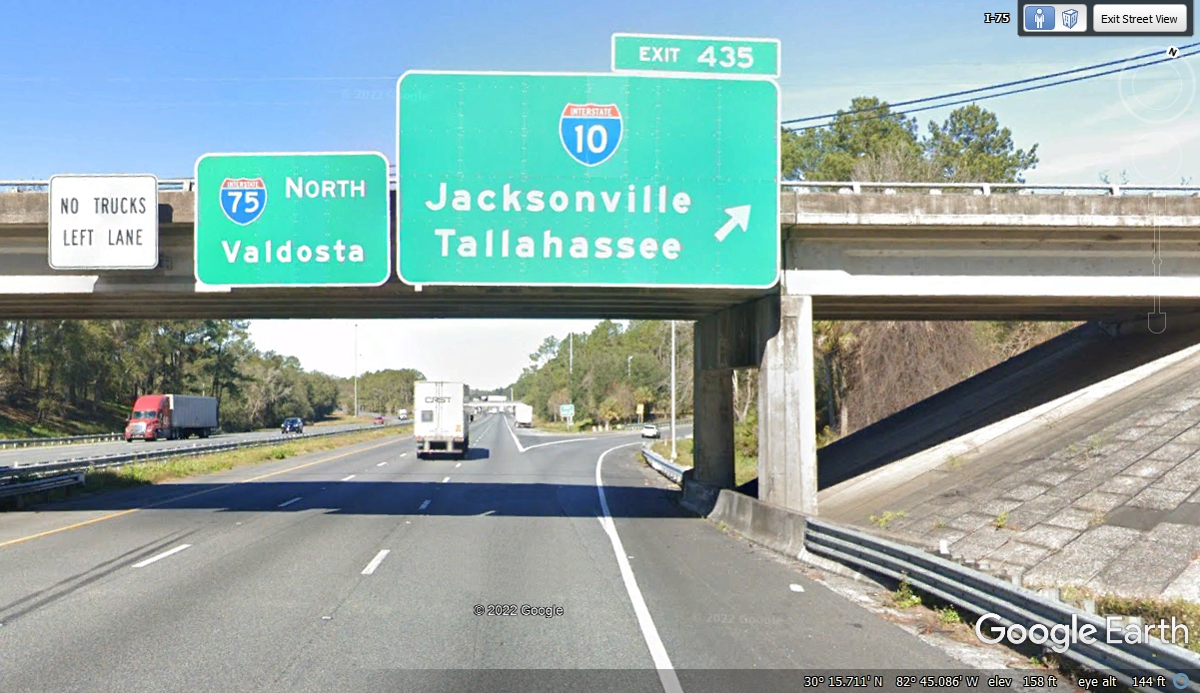 Lunch today is in Tallahassee at this Wendy's on US 319 just north of an Interstate-10 exit.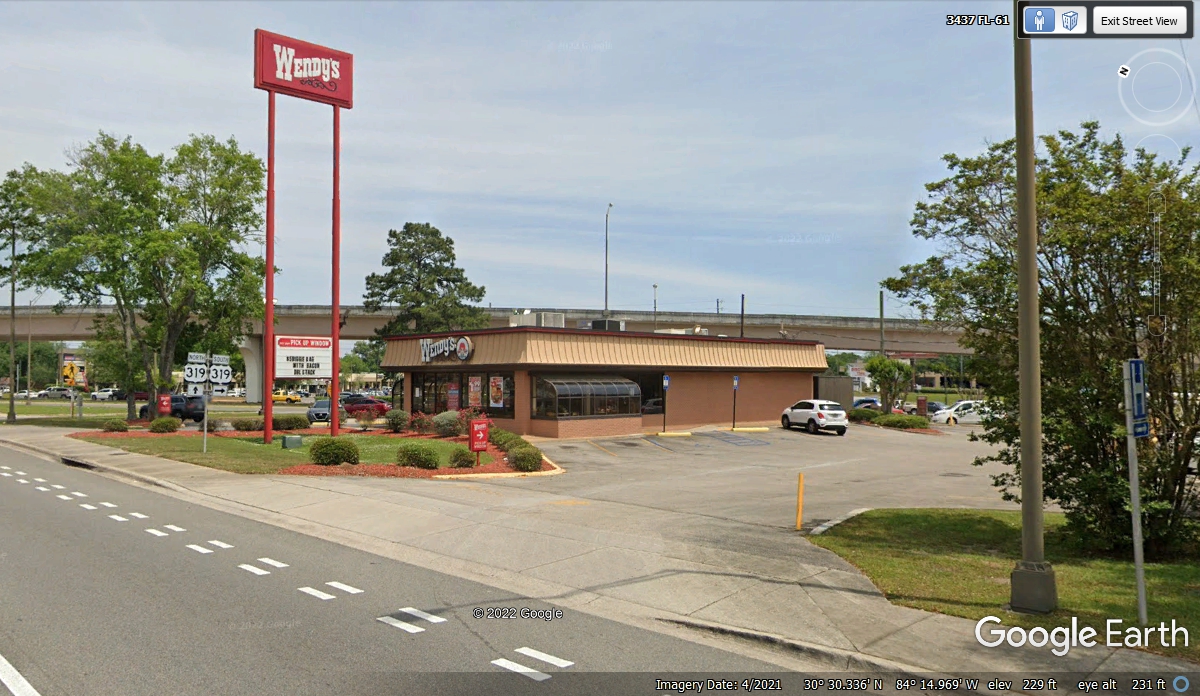 Florida counties west of the Apalachicola River are in the Central Time Zone as indicated by this sign on the bridge crossing that river. I have driven past this sign many times starting in 1990 when I worked for Comcast Cable. This sign has been twisted by high winds making it less visible to drivers passing this way heading west.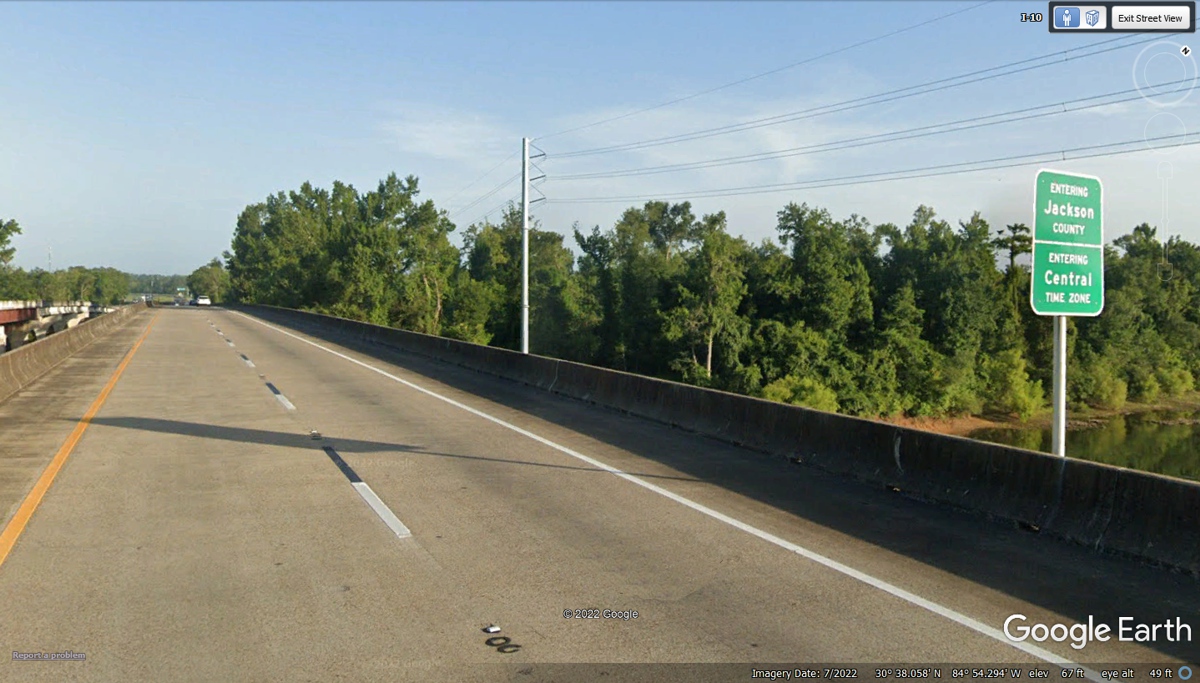 This Wal-Mart fuel stop is located on Florida Route 71 just north of Interstate 10 exit 142. I did not want to stretch the fuel range and possibly run out of gas. I bought 11.547 gallons of gas at $4.219 per gallon and a total of $48.72. There was a light rain shower in this area while we were here. Linda took her dog Chase for a walk while I filled the fuel tank.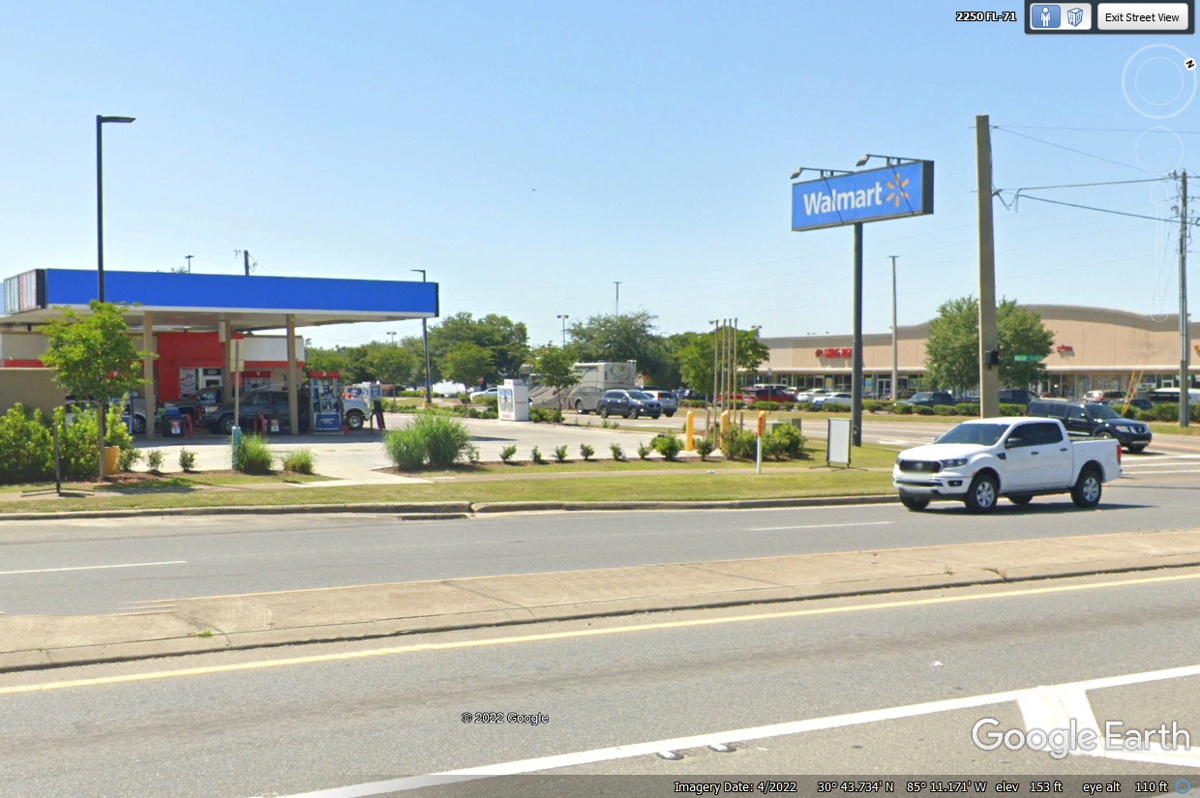 The Alabama State Line is in the middle of the Perdido River on Interstate 10 West of Pensacola, Florida.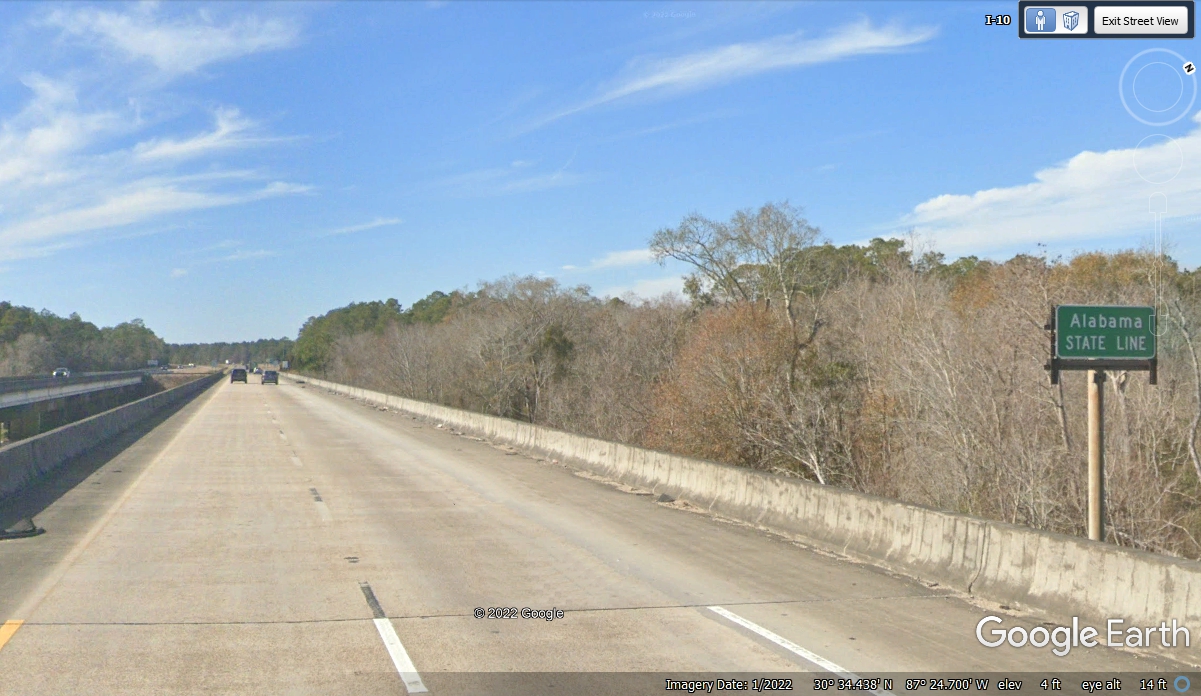 This I-10 mile marker 66 is just past the bridge over the Perdido River. The Alabama welcome center is just ahead beyond the blue sign. The mile marker confirms the distance across this southern part of the state is only 66 miles to the Mississippi state line.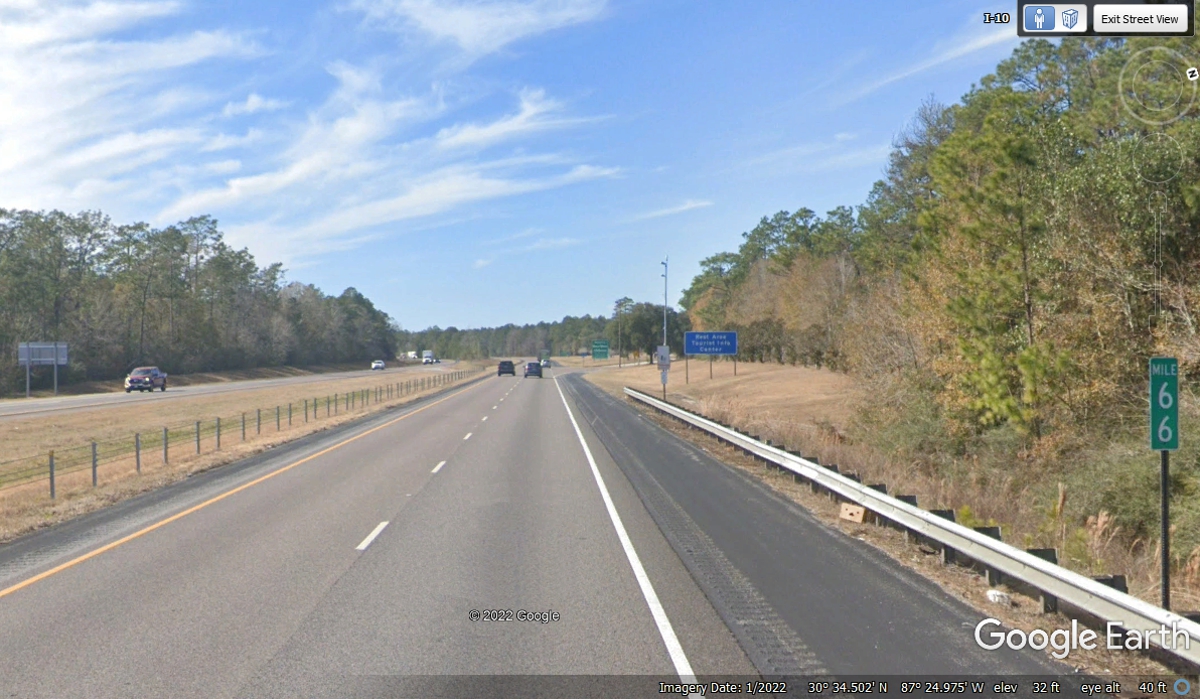 I-10 Exit 49 in Alabama has nearby roads going down to the "Red Neck Riviera" at Gulf Shores and Orange Beach, Alabama.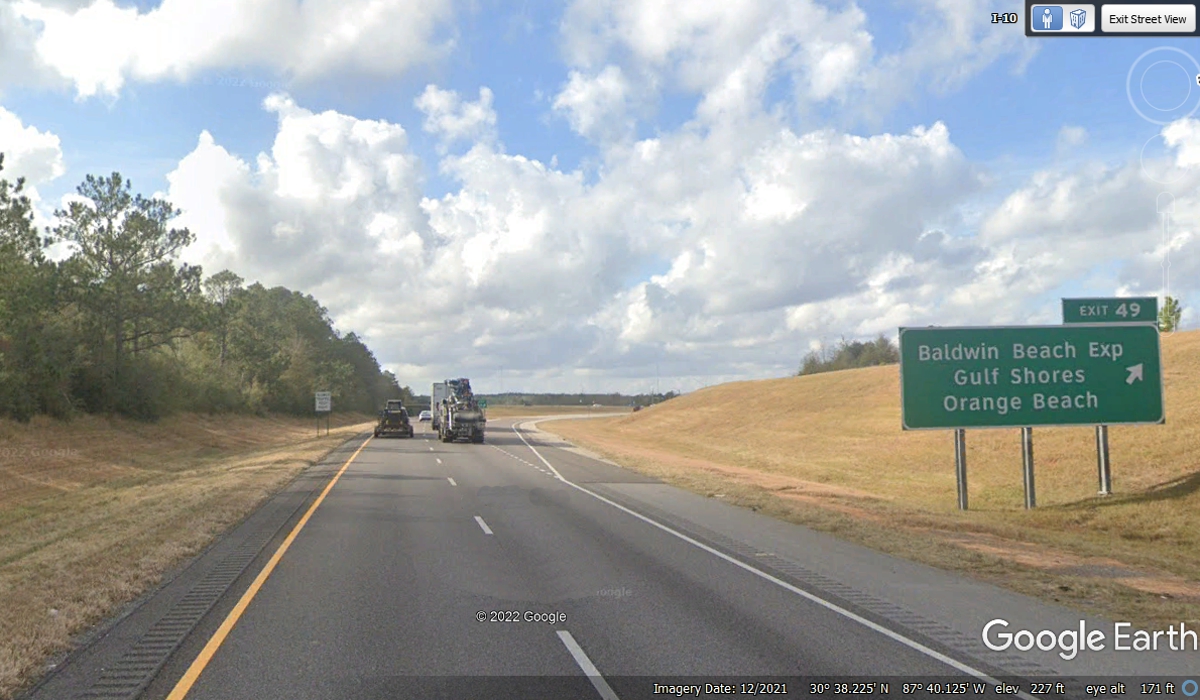 Buc-ee's is a truck stop and auto fuel stop accessed from Exit 49 on the south side of I-10. This is the most gas pumps I have ever seen in one place. The altitude is shown here to be 181 feet above sea level in the GRAY band at the bottom of the image below. Here is some information I found using a Google online search. This location was beyond the range of Linda's Chevy Equinox from home in Kissimmee, Florida. Buc-ee's has 40 locations in Texas, Alabama, Georgia, and Florida. Buc-ee's is planning to enter several new states with new locations in Kentucky, South Carolina, Tennessee, Colorado and Mississippi within the next several years as of Feb 7, 2022.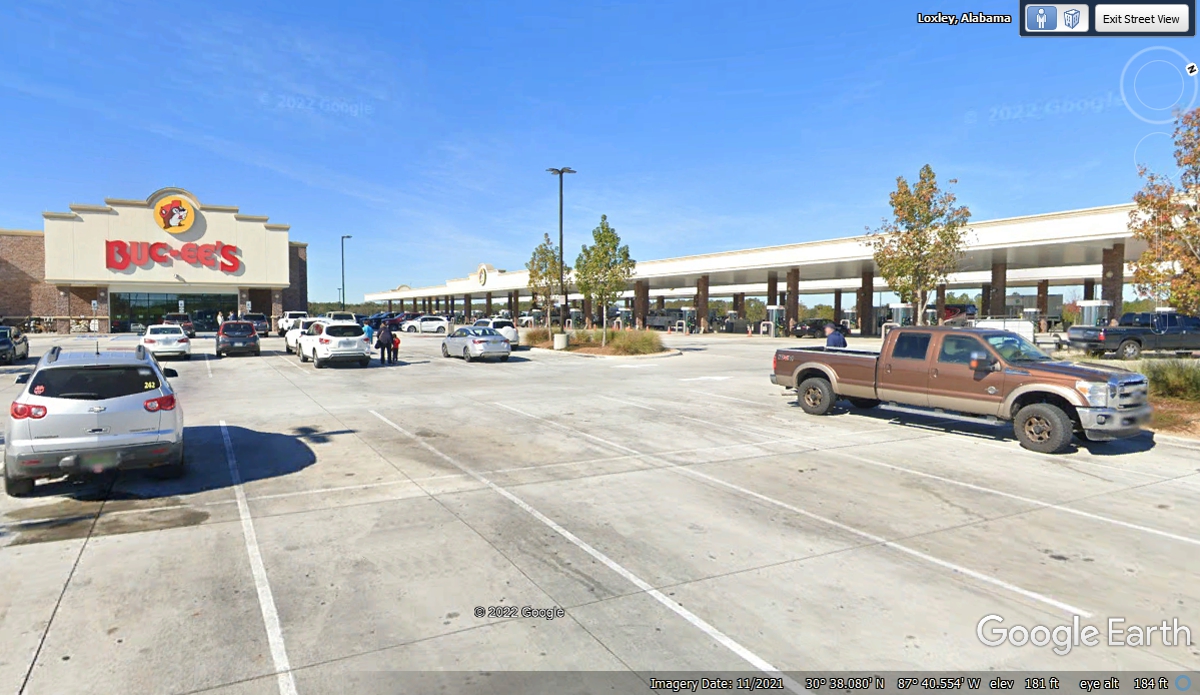 Using exit 38 and turning south will take you to the Zaxby's seen in the image below this one. Linda and I both have a few items on their menu we enjoy.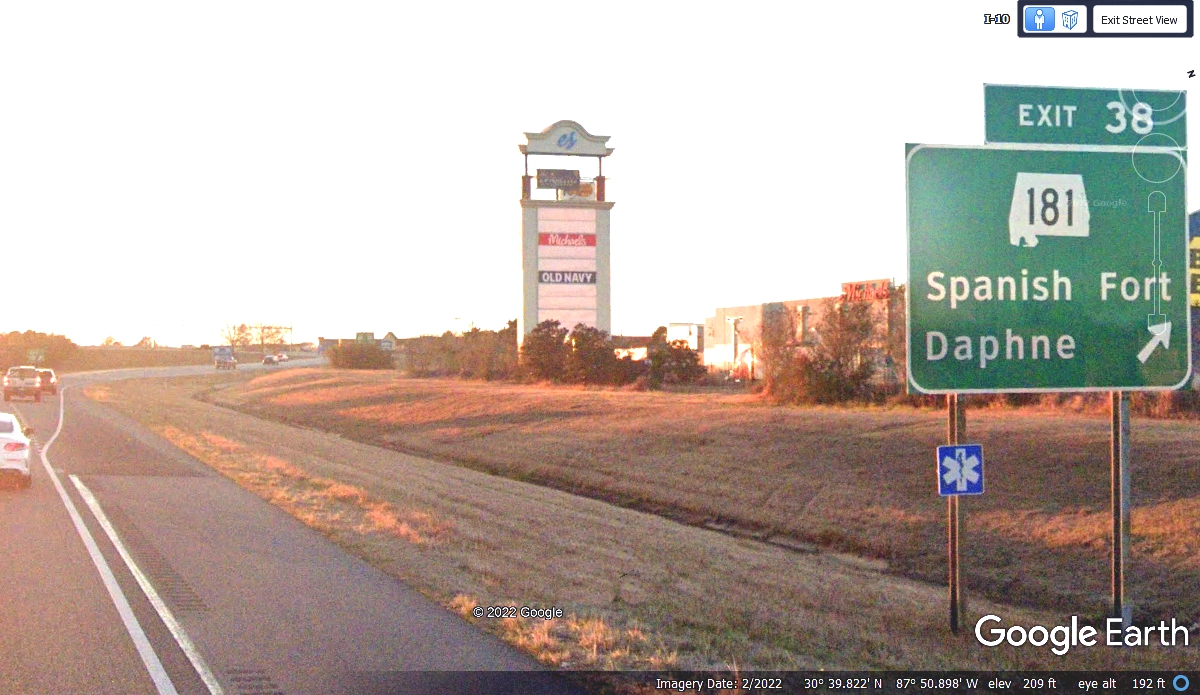 This Zaxby's is located just south of I-10 near Baldwin and north of Loxley, Alabama on state route 181. We did not stop here today, but I wanted to show this image.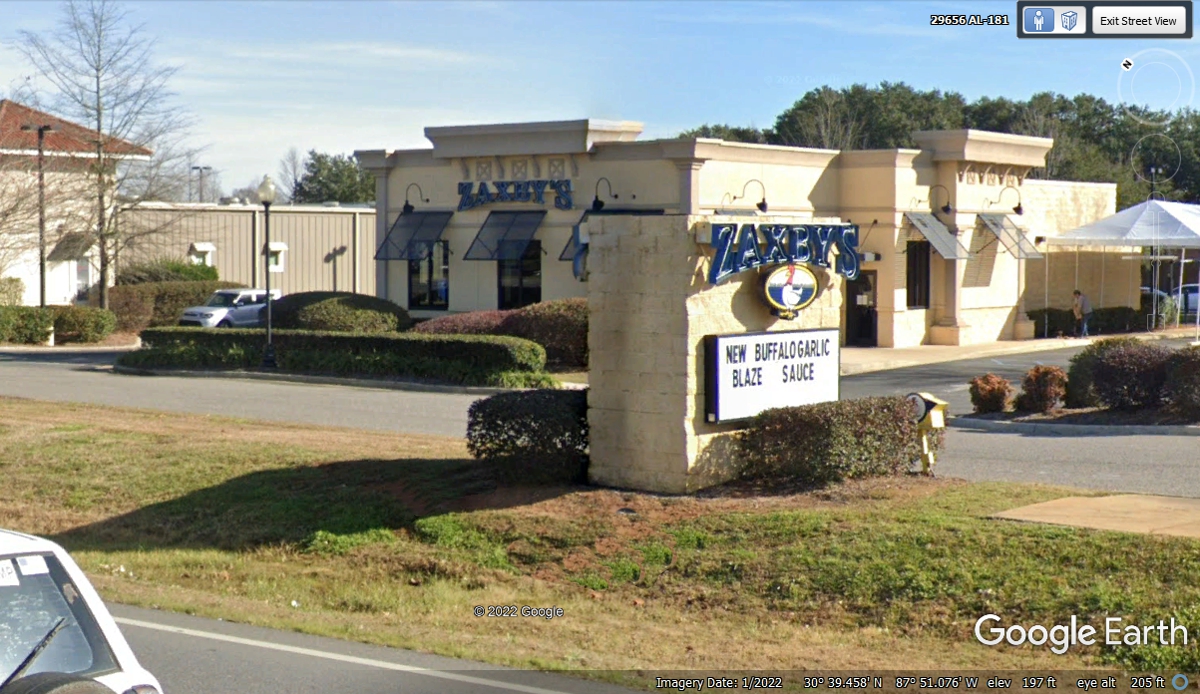 This is the view from the US 90 bridge over I-10 before it crosses Mobile Bay seen here looking West. For those of you not familiar with city name, the sound of it is MOE-BEAL.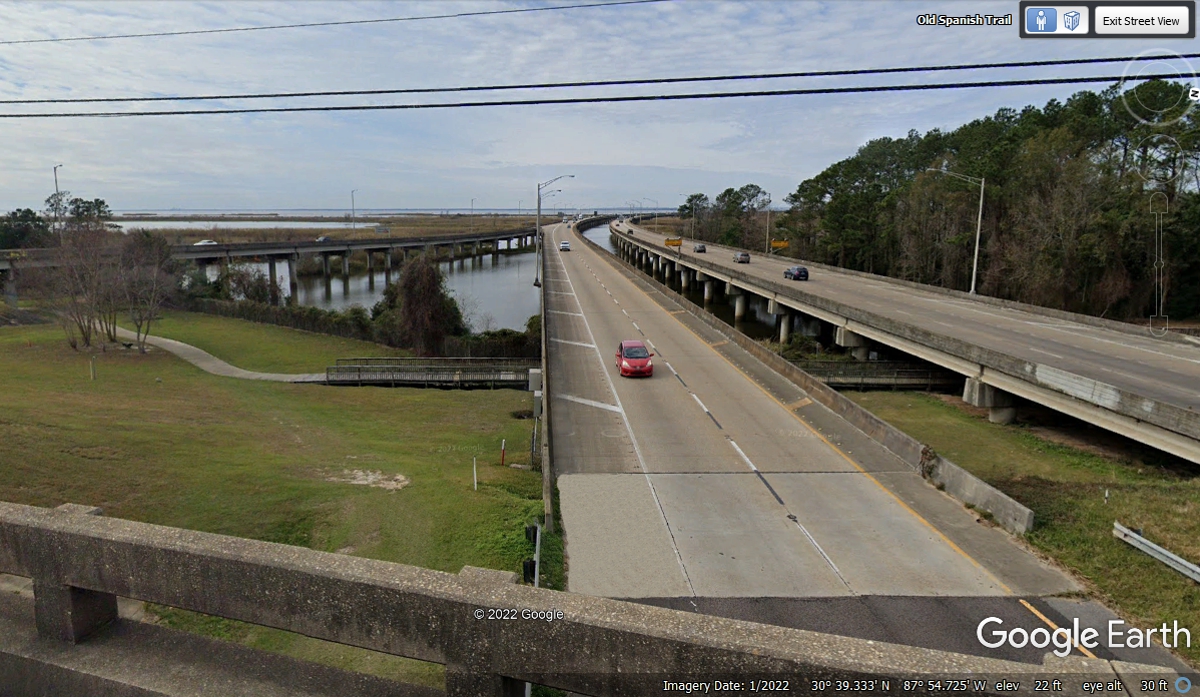 Approaching Mobile, Alabama on the west side of the bay has this view of the USS Alabama Battleship east of the city. It is a museum ship along with other exhibits of a World War II submarine and various aircraft on the field and inside a hangar.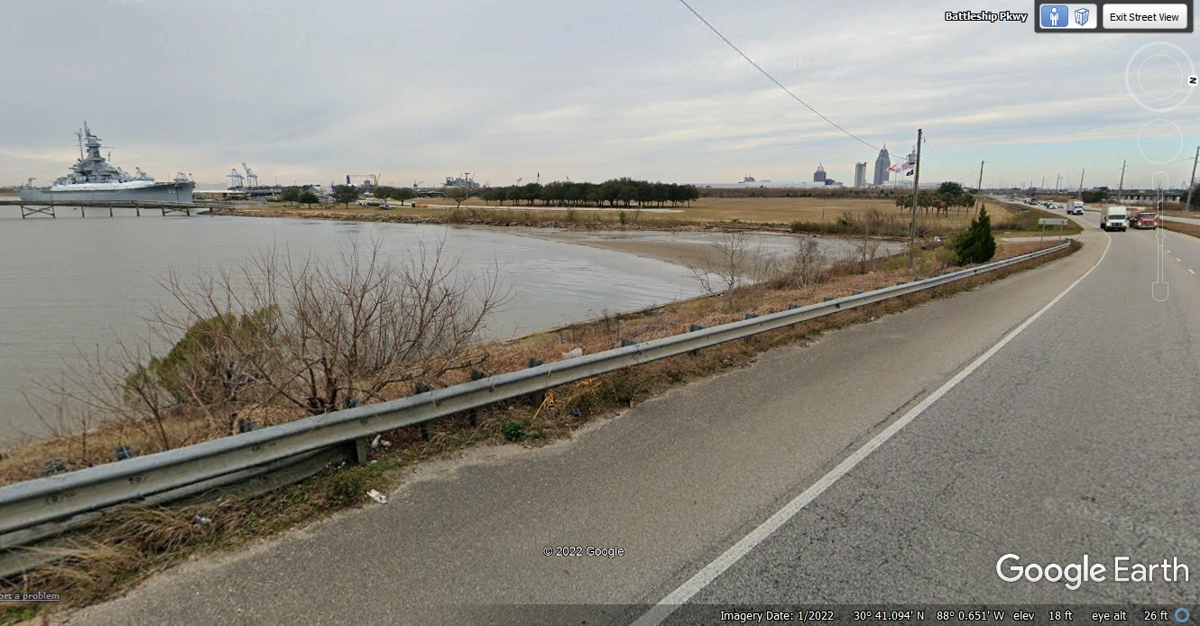 Here is a closer view of the Mobile, Alabama city skyline. Interstate 10 is the quick route across the Mobile metropolitan area heading west.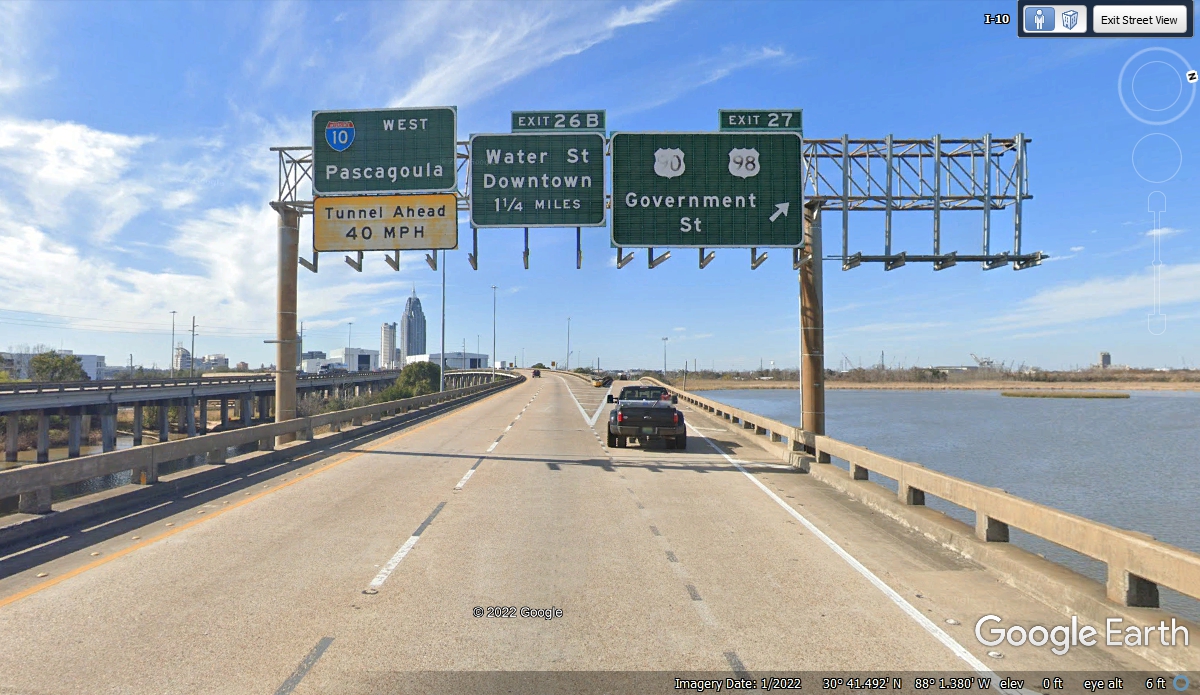 Here is the approach to the westbound tunnel on Interstate 10.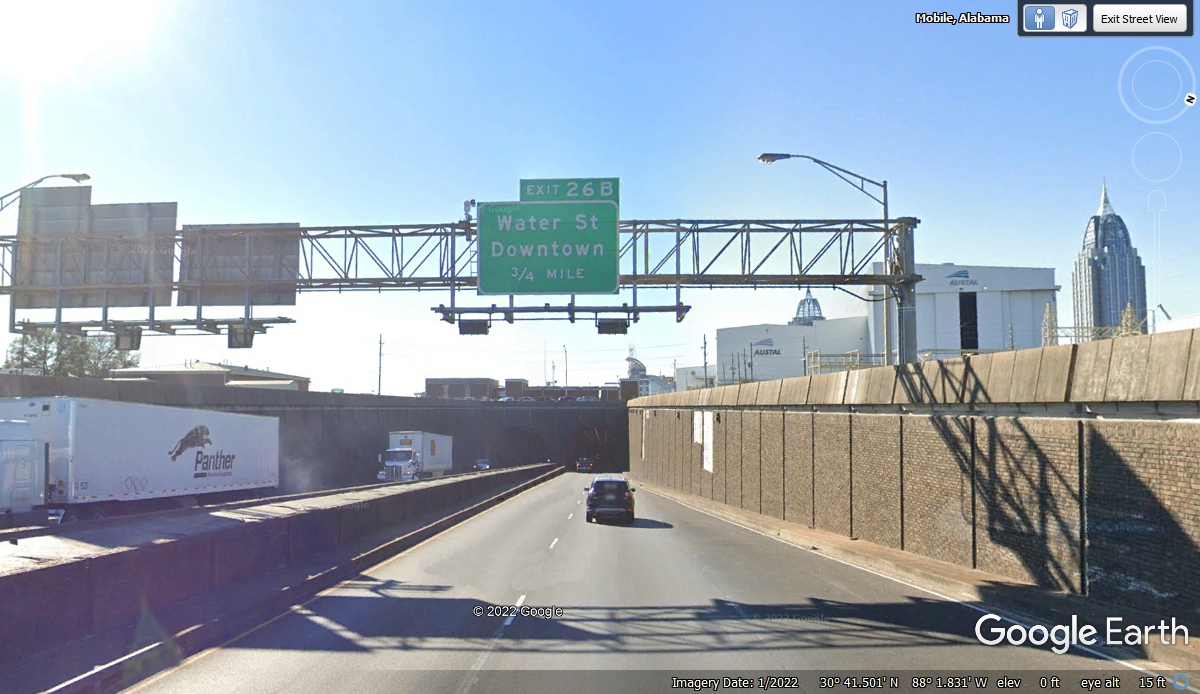 Mobile, Alabama is behind us when we get past I-65 where it ends at I-10 southwest of the city. The Mississippi state line is only 20 miles west from this intersection. The exits are matched to the mile markers with numbers counting down to ZERO going west at the next state line.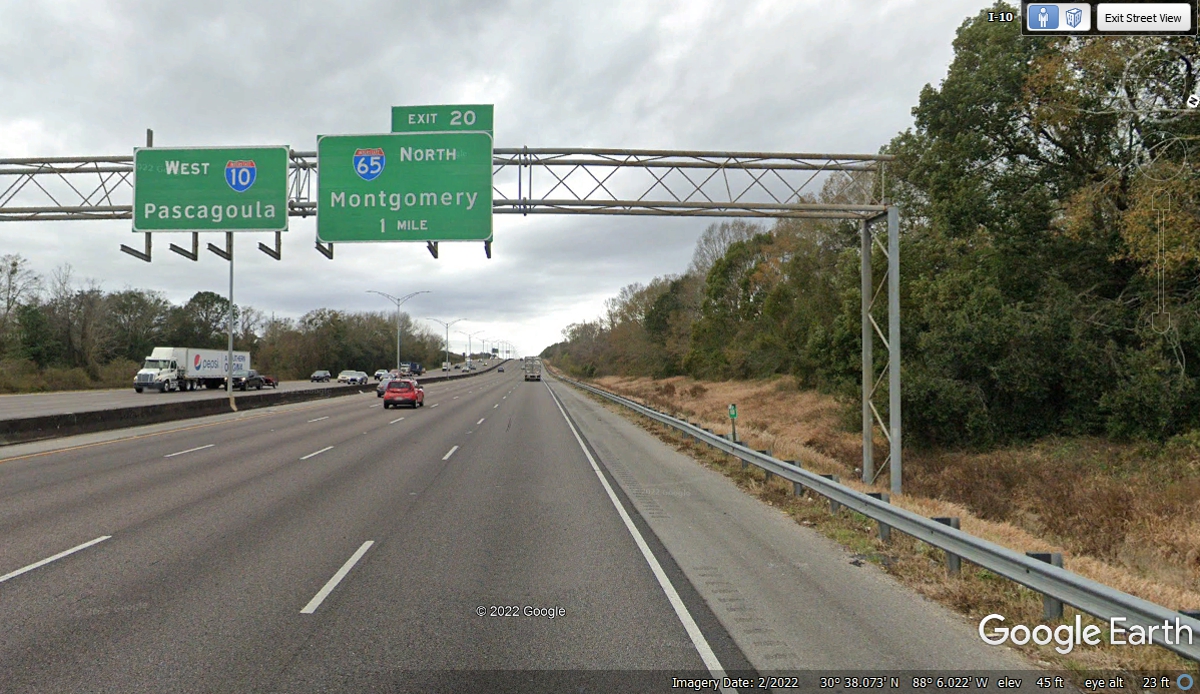 Southwest of Mobile is Tillman's Corner, an area where restaurants and gas stations are just off Interstate 10 and US 90. There are two Red Roof Inn locations in this area and other big name inns.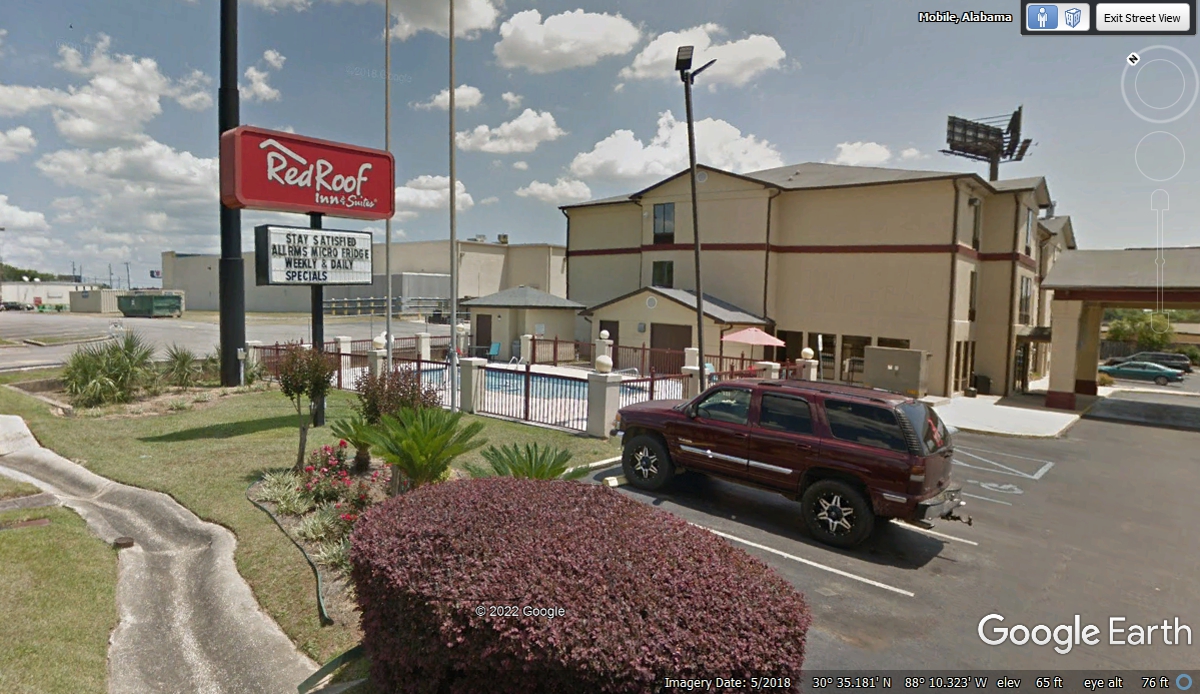 The Mississippi state line in the image below is not that far from the Tillman's Corner area seen in the image above.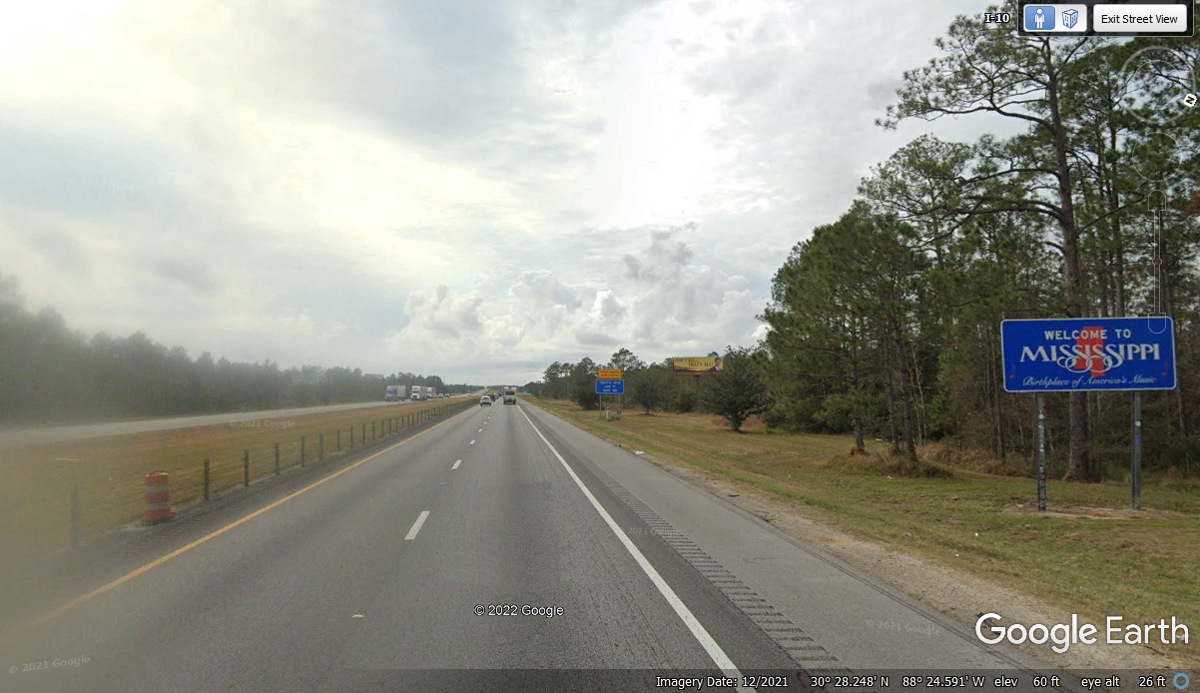 This Best Western motel near Moss Point, Mississippi is a pet friendly motel for our first night on the road. It is located about 1 block south of I-10 near state route 63.