Interstate 75 Going South in Michigan · · PAGE 31.
July 26, 2019: The first exit south of the bridge is for Mackinaw City. It is one of the places to catch a ferry going to Mackinac Island for a day tour. The hotels in this town do not have the high prices of those on the island.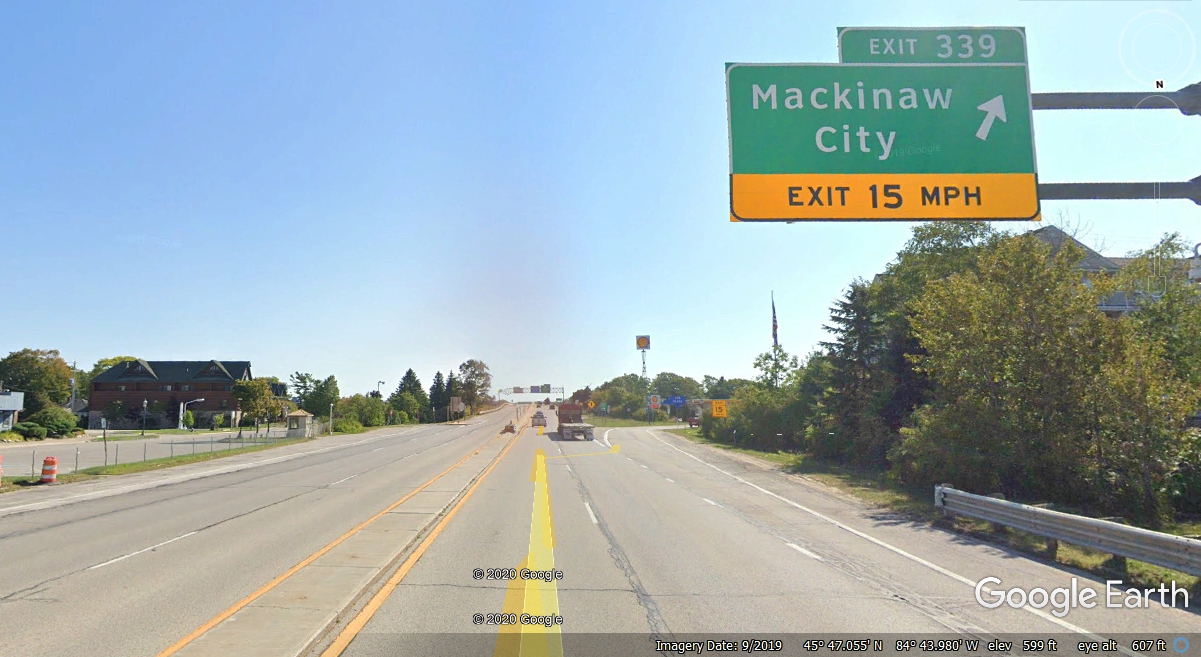 The next exit offers a scenic route going southeast along the northeast coast of Michigan with sights of Lake Huron, the Great Lake on the East side of Michigan.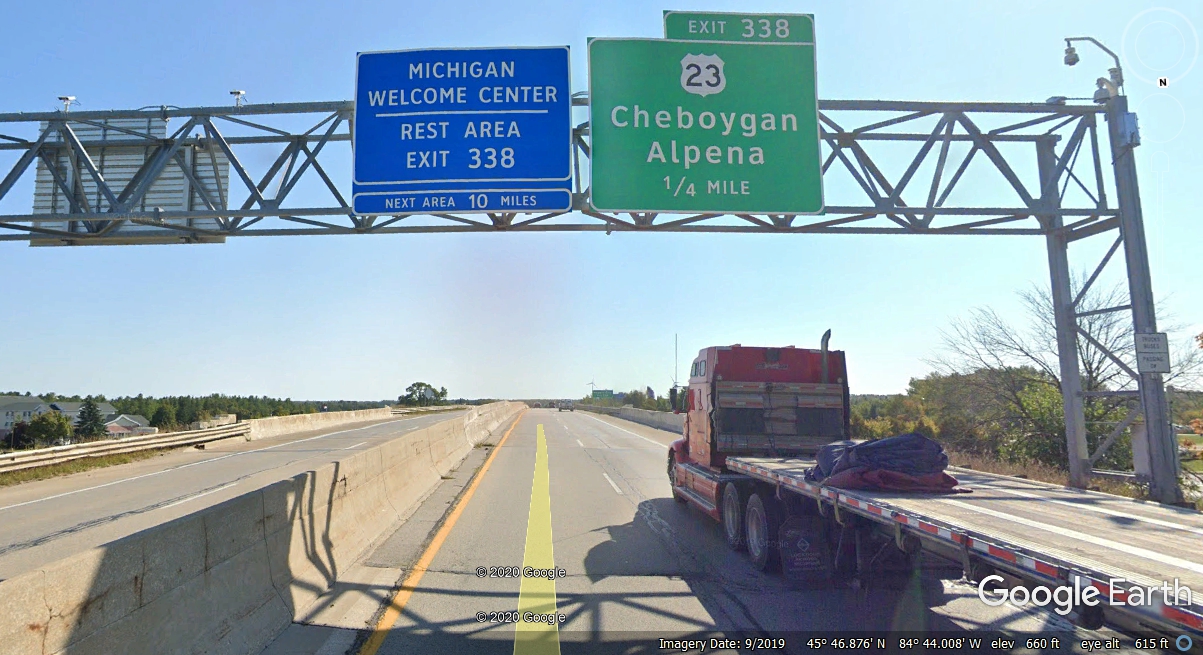 We traveled down I-75 to exit 282 to stop for lunch. We were glad to see this Big Boy restaurant here at Gaylord, Michigan at 1:35 PM. The salad bar and the sides were very good here. We departed the Big Boy restaurant in Manistique, Michigan at 11:02 AM up on US 2 where it was too early to have lunch. This location worked out very good as there was not a big crowd in the dining room when we arrived here. It was 2:44 PM when we pulled out of the parking lot. The Verizon office is just next door to the restaurant to the left in this photo.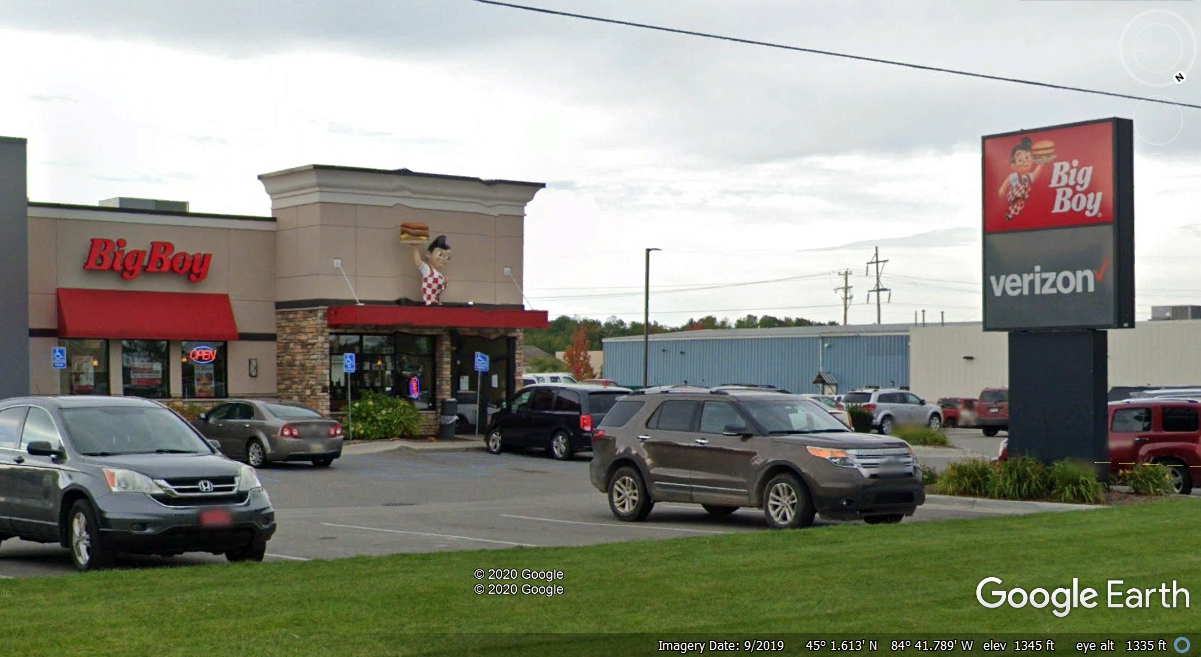 Our next stop was at I-75 exit 212 to get fuel. When we got off the ramp and turned north toward the town of West Branch, Michigan we found the usual fast food places and down at the bottom left corner of this photo is a BLUE Wal-Mart sign.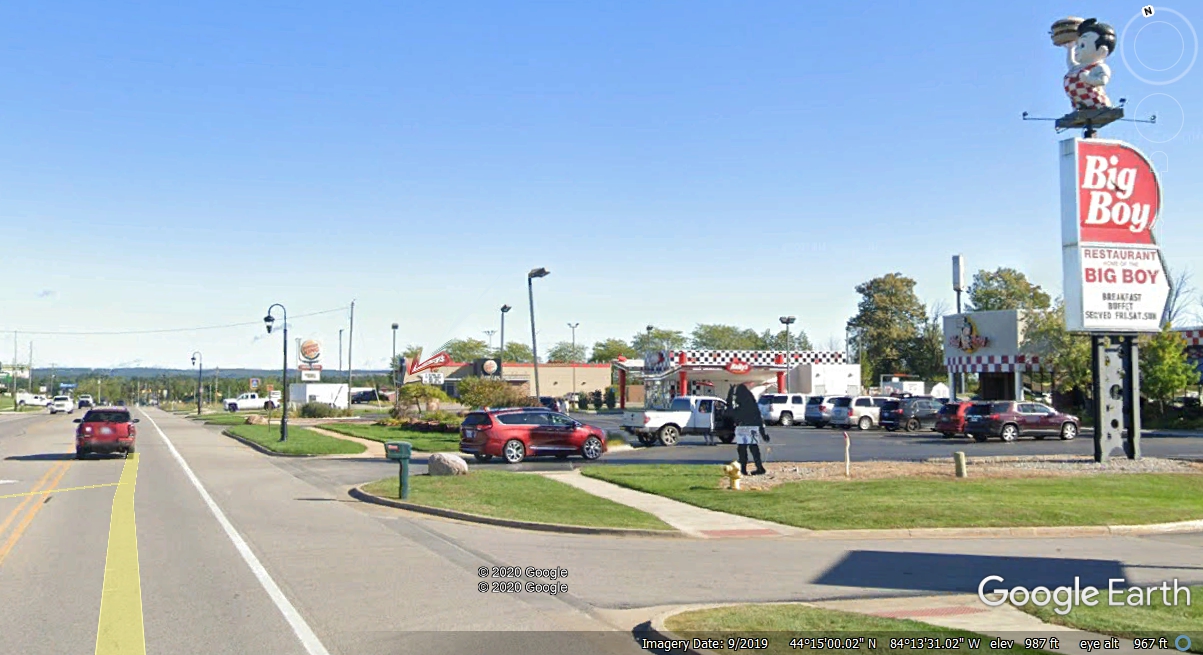 I was surprised to see the Google Earth camera vehicle had pulled into the Wal-Mart parking lot and his trail ended here at the gas pumps. This is where we got fuel after coming from Baraga, Michigan yesterday with an overnight stay at Escanaba, Michigan. That fuel took us across most of the upper peninsula today for a total distance of 407 miles to this location. We pulled up to the fuel pump at 3:49 PM and departed at 4:02 PM. You can see the shadow of the camera head from the Google vehicle at the bottom of this image.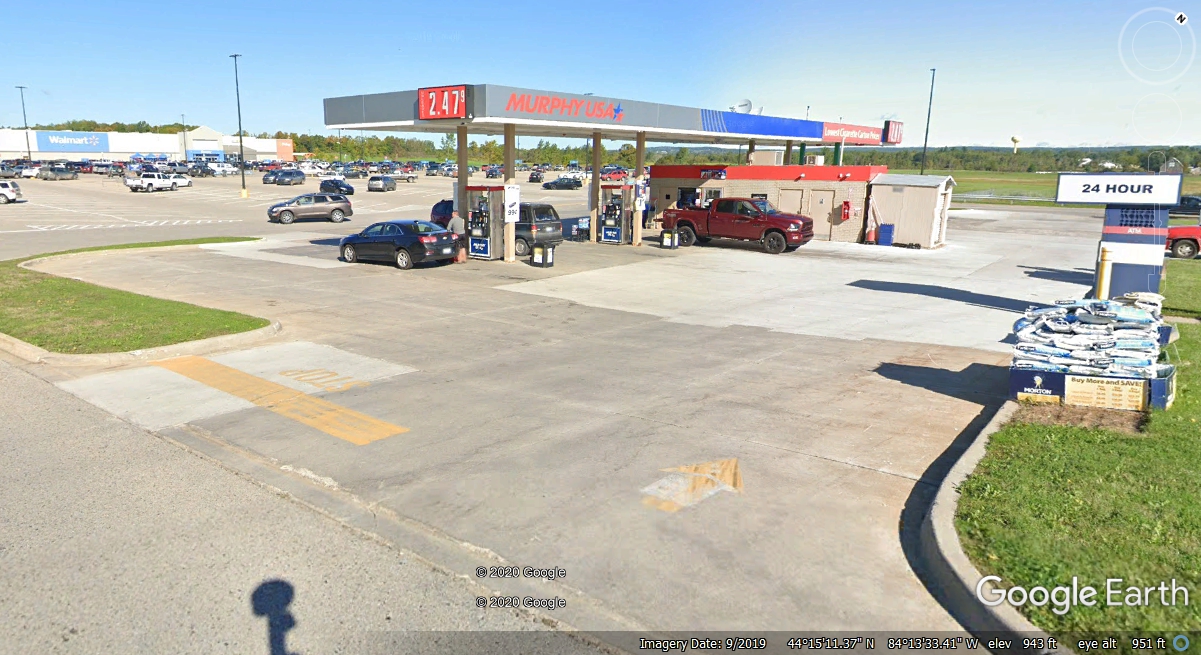 We have driven 150 miles down the middle of Michigan since we saw the US 23 marker leaving I-75 at exit 338 for a trip down the East side of Michigan along the shore of Lake Huron. That route was 199 miles to get to this point here at exit 188. We are only 24 miles south of our fuel stop seen in the image above.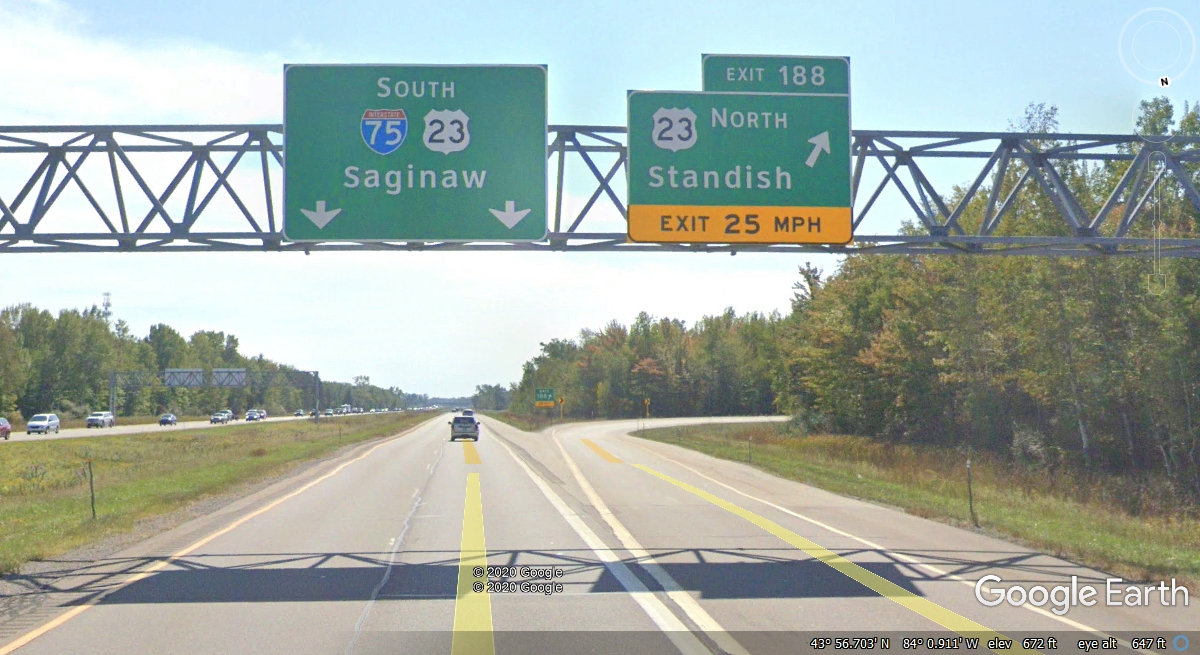 Traffic was moving very well as we passed Flint, Michigan preparing to bypass Detroit on US 23 south to Ohio.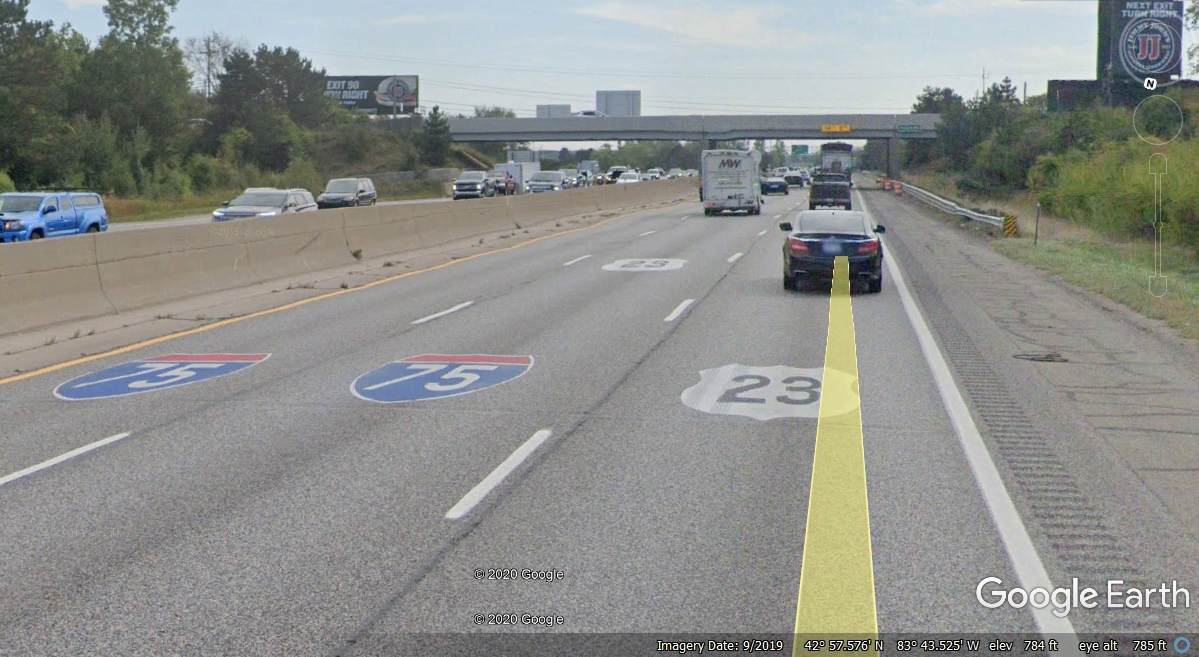 This is the big split going south to avoid downtown Detroit using US 23 well to the west of the big city! I-75 turns southeast here as you will see in the next image below.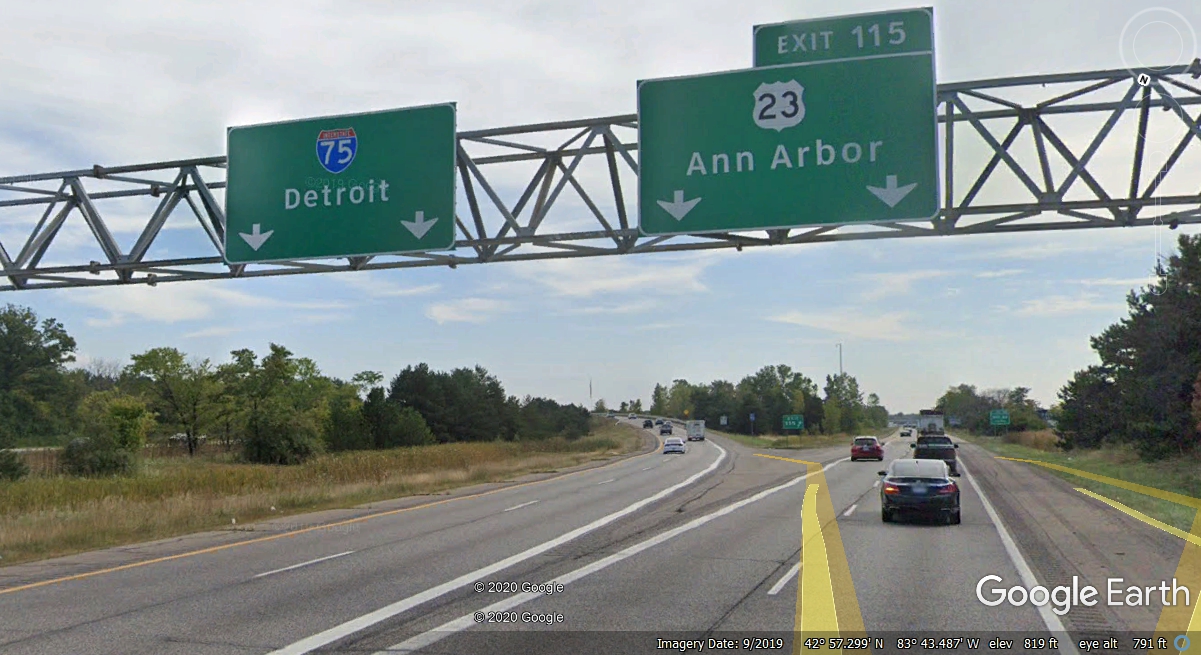 We ran into a traffic jam about 2 miles south of the i-75 / US 23 split that took 11 minutes to go 1.7 miles shown below with a RED LINE on US 23. GPS data of speed and time gave me the exact location where the FIVE O-CLOCK traffic caught up with us on this day.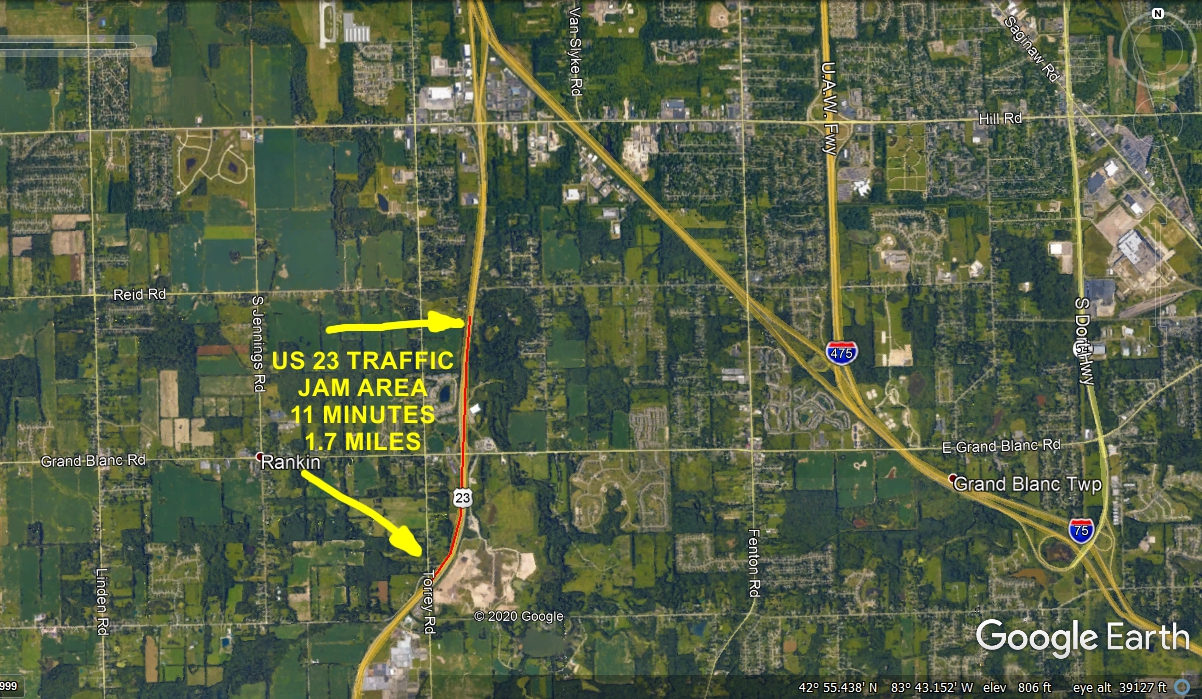 We entered the RED line area seen above at 5:24 PM with heavy traffic that required 11 minutes to get past the jam area in a path that measured 1.7 miles long. Of course, the Google Earth camera vehicle did not have a traffic jam on the day it covered this route. That big hill looks like a retired land fill.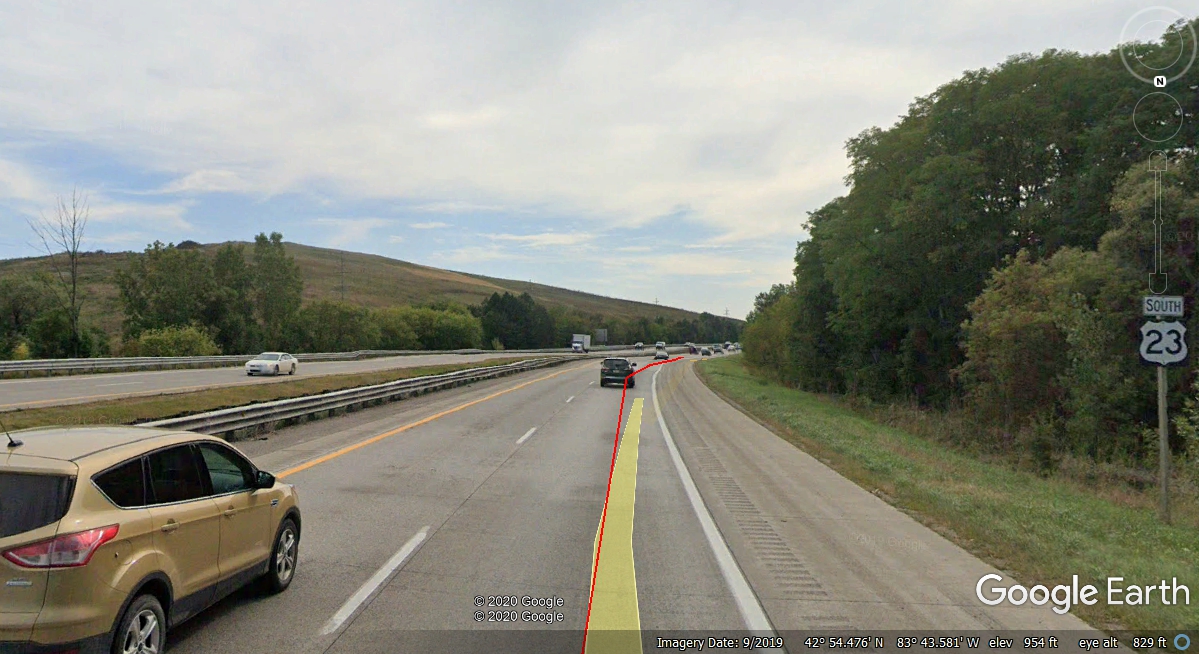 Here is an aerial view of the same curve and landfill from April 23, 2019 before it was closed around three months before we passed this way.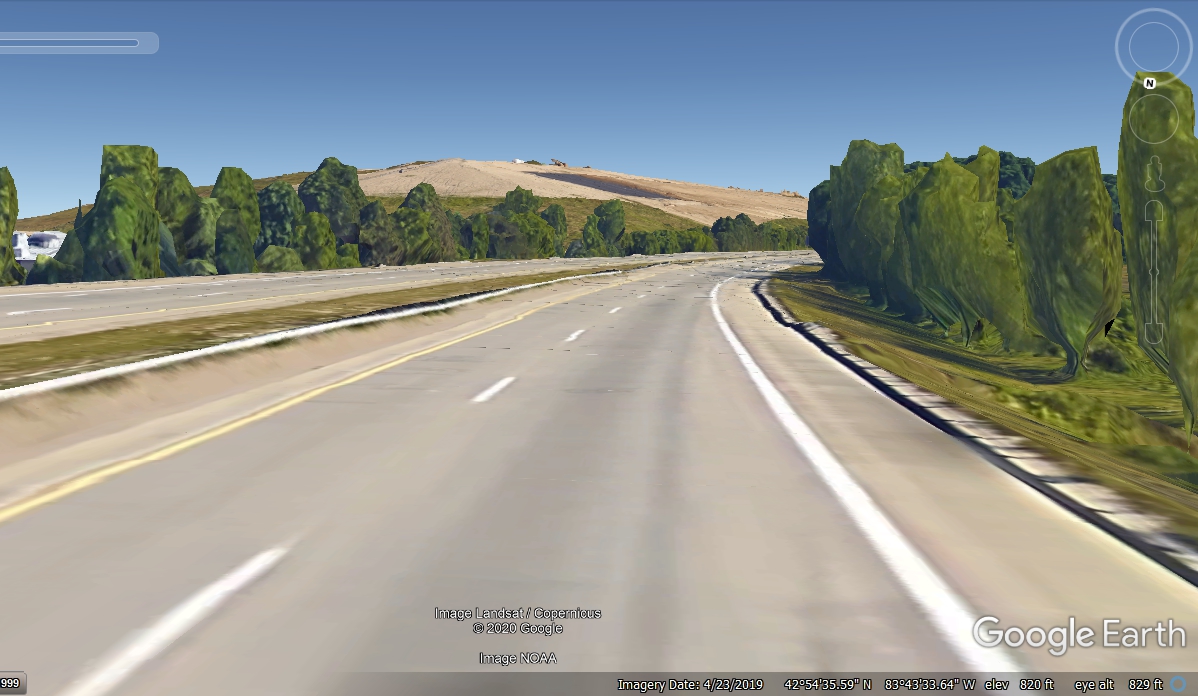 The next major exit is down at mile marker 45 on US 23 to bypass Ann Arbor on the East side of town. This US 23 path takes us no closer than 33 miles from I-75 going through downtown Detroit and all that traffic. Ann Arbor is a college town and we do NOT want to go there either.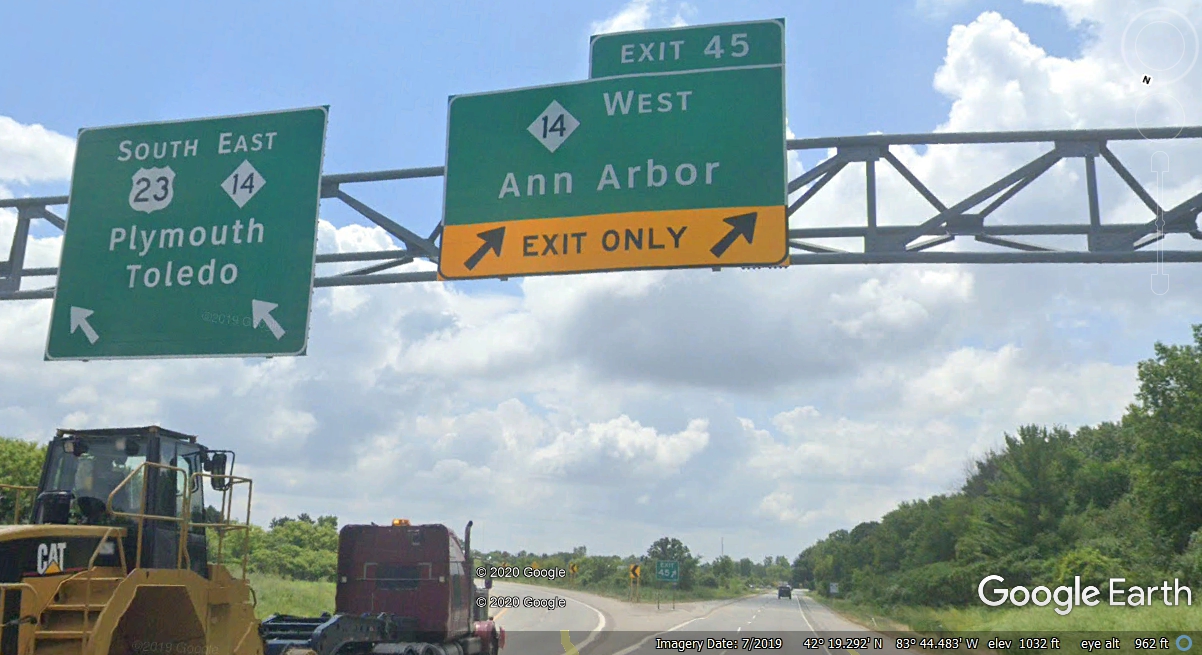 We reached this point at 6:15 PM as we turn once again to the south toward Ohio. The compass in the circle shows N on the left side pointing NORTH, so we are going EAST.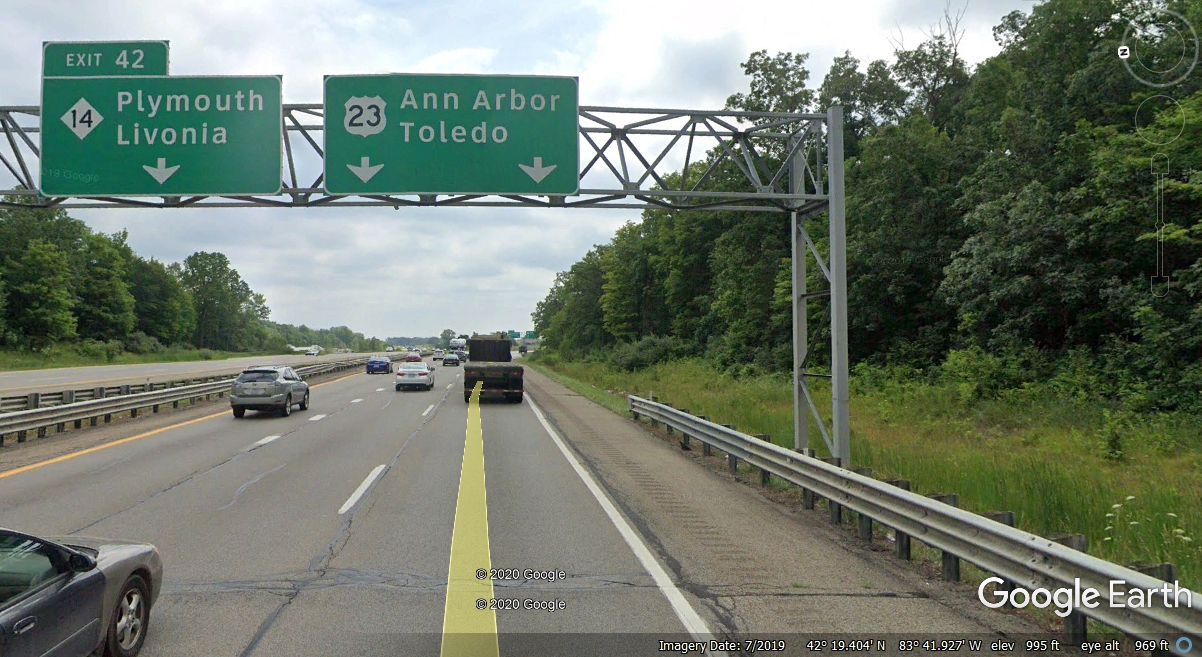 We said goodbye to Michigan at 6:49 PM as we enter Ohio. We started this day at 8:45 AM when we left the motel in Escanaba, Michigan. We still have 159 miles to go to our hotel for this evening near Wright Patterson Air Force Base just north of Dayton, Ohio.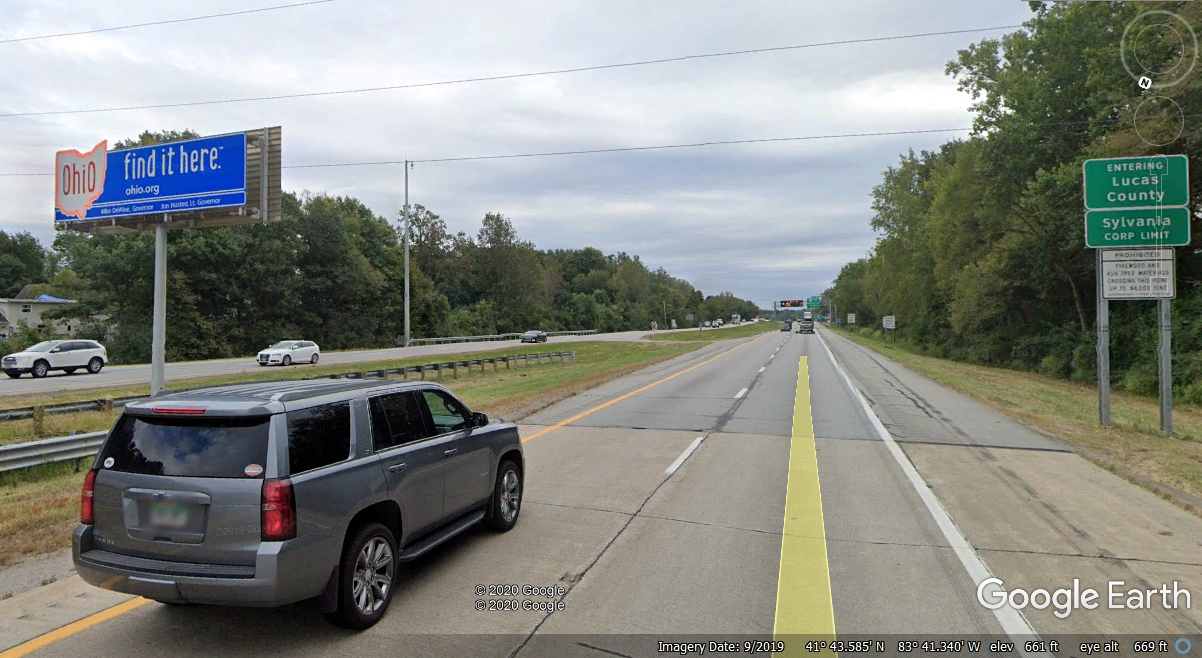 This exit from US 23 tells us that if we continued on US 23, the Kentucky State Line is 232 miles from here at Portsmouth, Ohio. We are not going that way or that far tonight.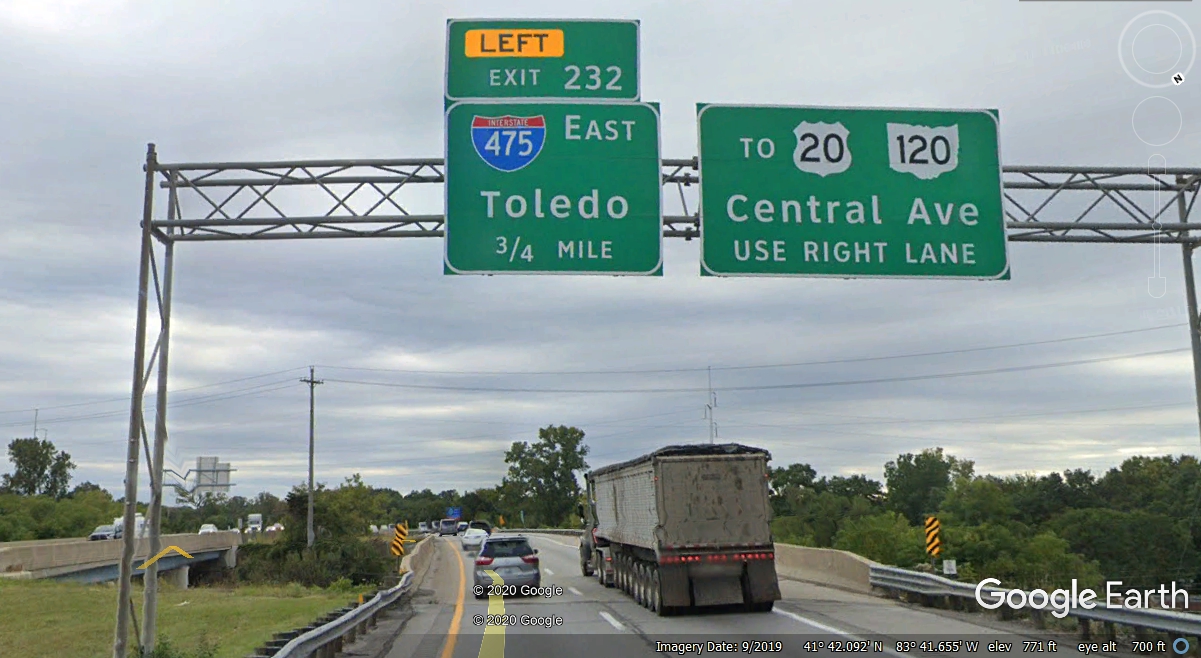 US 23 joins I-475 at the northwest corner of the bypass around Toledo, Ohio. From this point, the distance to I-75 south from Toledo is 13 miles. Notice how the exit number now matches how far around the I-475 bypass we are at this location.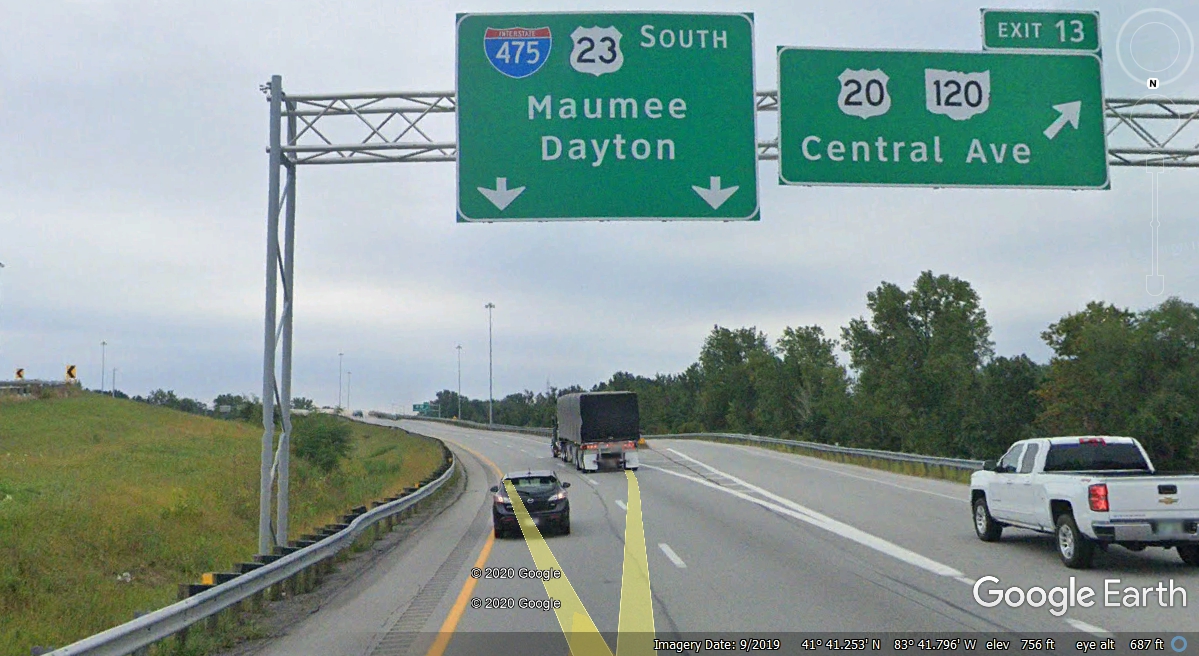 Here is another major intersection that puts us back on I-75 South after missing some really BIG Cities on our way to the adventures we will have tomorrow. But we still have to get to Fairfield, Ohio for our hotel tonight starting here via EXIT 1A.