Much More than OSHKOSH 2019 Vacation · · PAGE 1.
Editors note: It is just after 6:30 PM on August 22, 2019 as I begin publishing this page. As always, the dates in BLUE on these pages will show the day of the photos and the story behind those photos. Be patient, like the trip to Alaska reporting, this will take a few days to get the 300+ photos prepared for all of you to make the trip with me to Oshkosh for AirVenture 2019 and the OTHER stops along the way to OSH and BEYOND. All photo time stamps are reported on Eastern Time.
Warner Robins US Air Force Museum
July 19, 2019: This day starts a nine-day road trip, not a flight in my Van's RV-9A Enterprise. This vacation tour is my first one with my domestic partner, Linda Muddiman. We have known each other since I started flying radio-controlled models in 1978. This is a trip in her Chevy Equinox since it has about half the mileage on it as my car. I installed my GPS antenna and my Garmin 296 yesterday for this morning's departure. The first GPS data point is stamped at 8:48:28 AM Eastern Time. After some last minute checks, the car moved out of her driveway at 8:53:56 AM. We got on the Florida Turnpike at 9 AM heading north for Interstate 75 northbound turning north there at 9:54 AM. (The Google Earth photo car used the same northbound entry lane we took this morning.) This is a route I have traveled many times in my career in the CATV and Satellite industry since 1971. Today, I have a very good friend to help the miles pass quickly.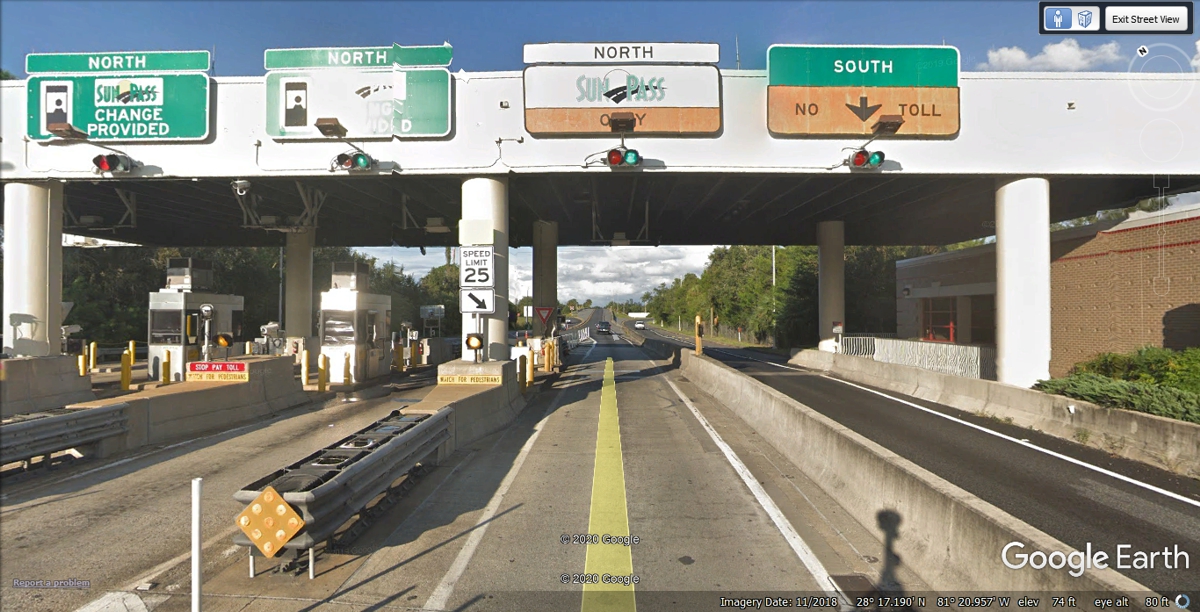 It was 12 noon when we stopped in Valdosta, Georgia for fuel at Murphy Express. (This is another place the Google Earth Photo Car also visited.) The lunch stop was at a Subway located in the nearby Wal-Mart. Linda had a salad and I had my usual cold cut combo heated up with provolone cheese. We were on our way north again around 1:24 PM.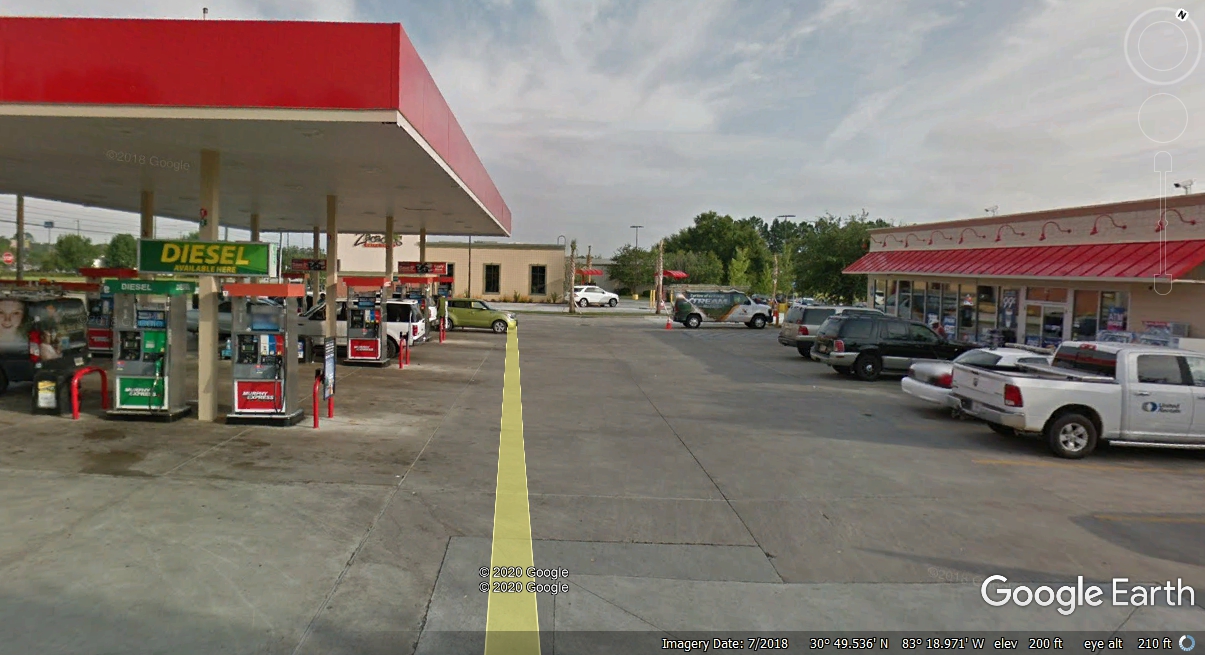 I know you are asking where are OUR pictures. Here they come as we arrived at the Warner Robins Air Force Museum at 3:33 PM. I looked at the time stamp from her camera and realized the clock in her camera was not showing the correct time. Well, that is one less thing to bore you in our road trip. She took this photo as soon as she got out of the car. That is a B-1 bomber with an A-10 Wart Hog nearby.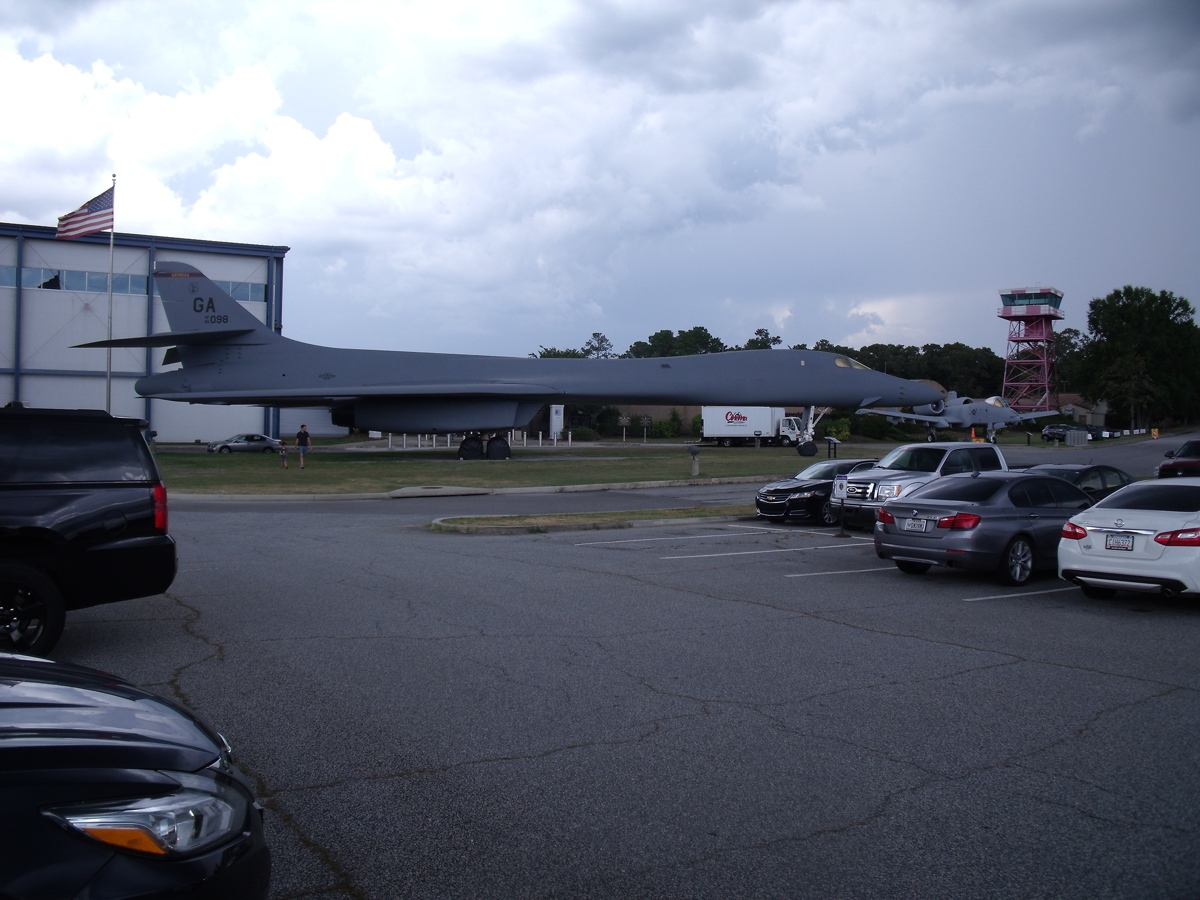 This is a photo I took of the other side of that B-1 when I visited this museum briefly on December 11, 2011. The nose art reads Midnight Train to Georgia. I must report that on this July 19 visit today, this side of the airplane has been repainted and the nose art is not there anymore.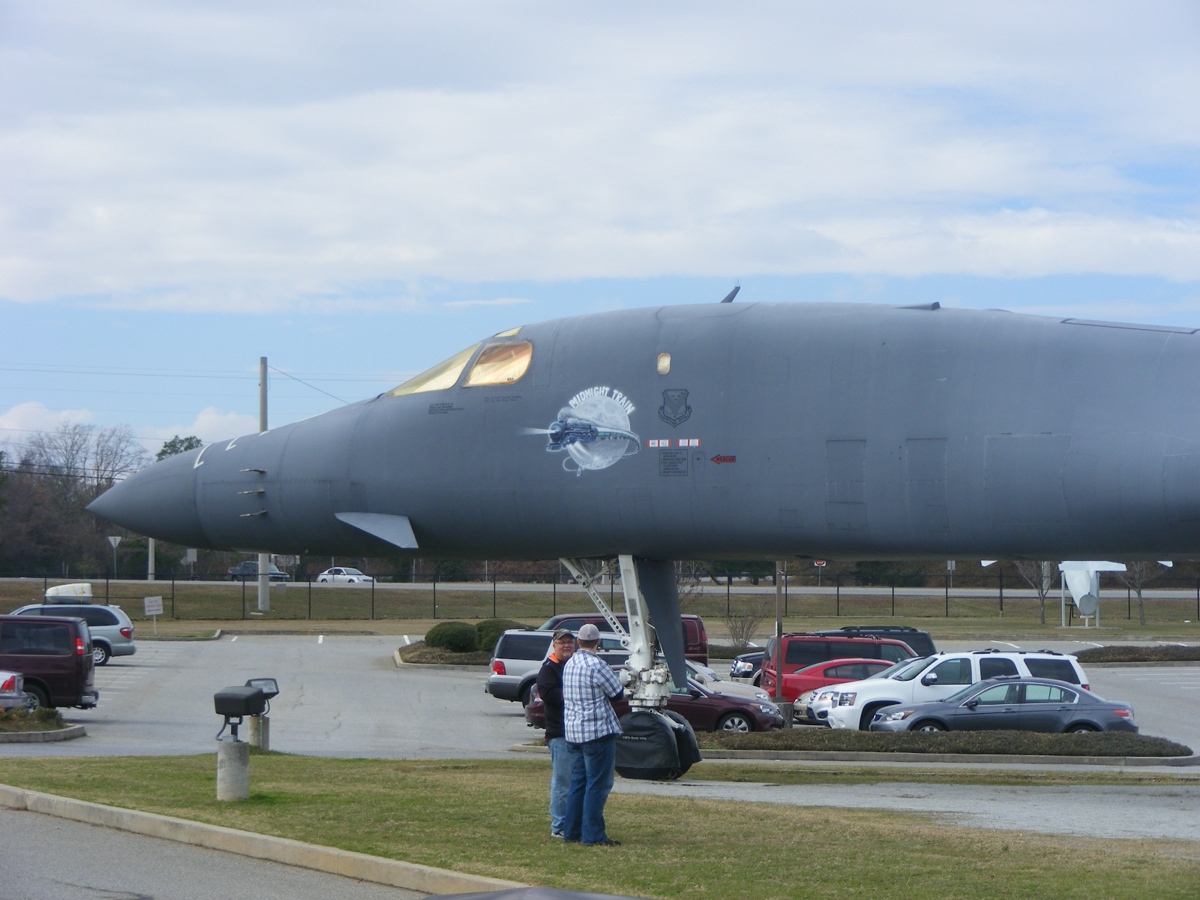 Back to day ONE of the road trip on July 19, 2019 with more photos. Linda was taking photos of more than just airplanes. I realized she had never been to a USAF museum. This one in Warner Robins is the second largest USAF museum. She will get to see the largest one next week in Ohio.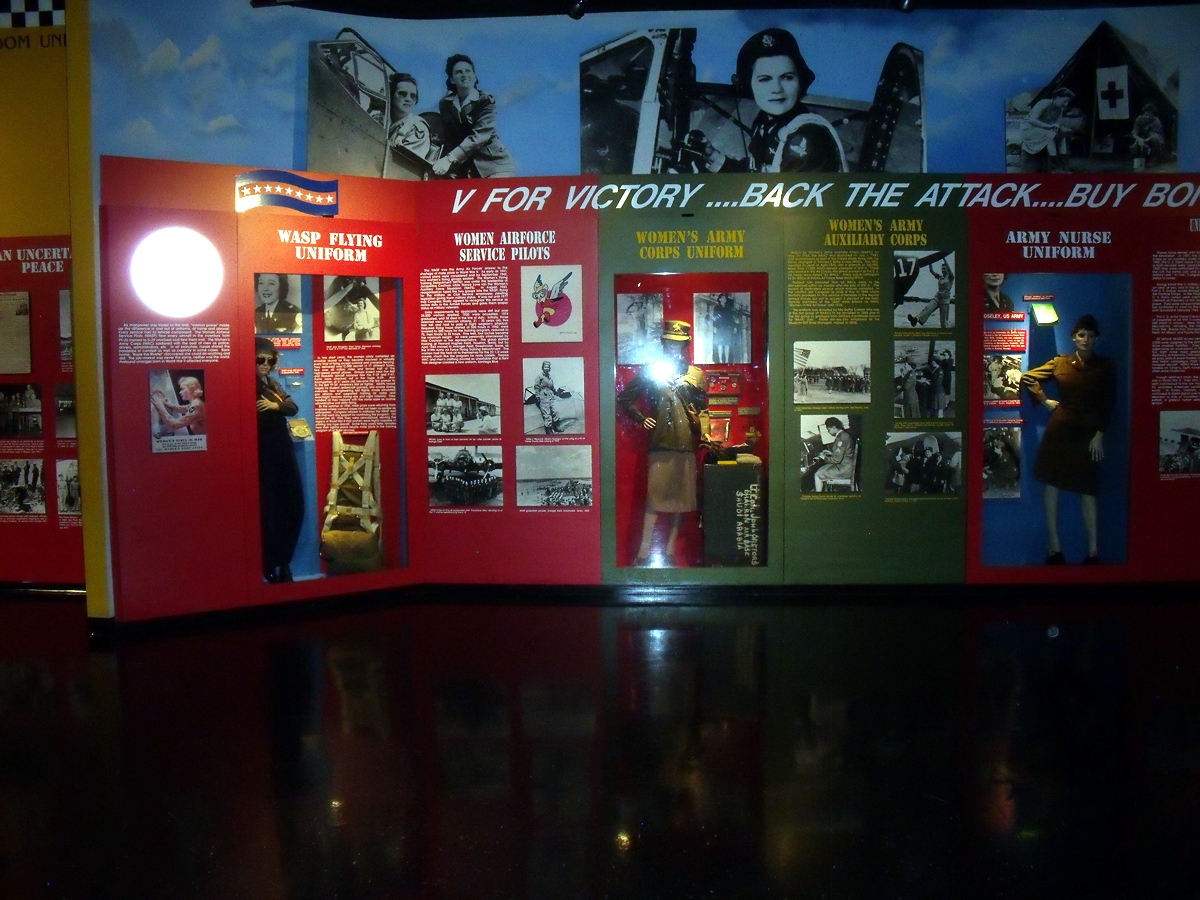 This exhibit has big band music from the 1940's playing.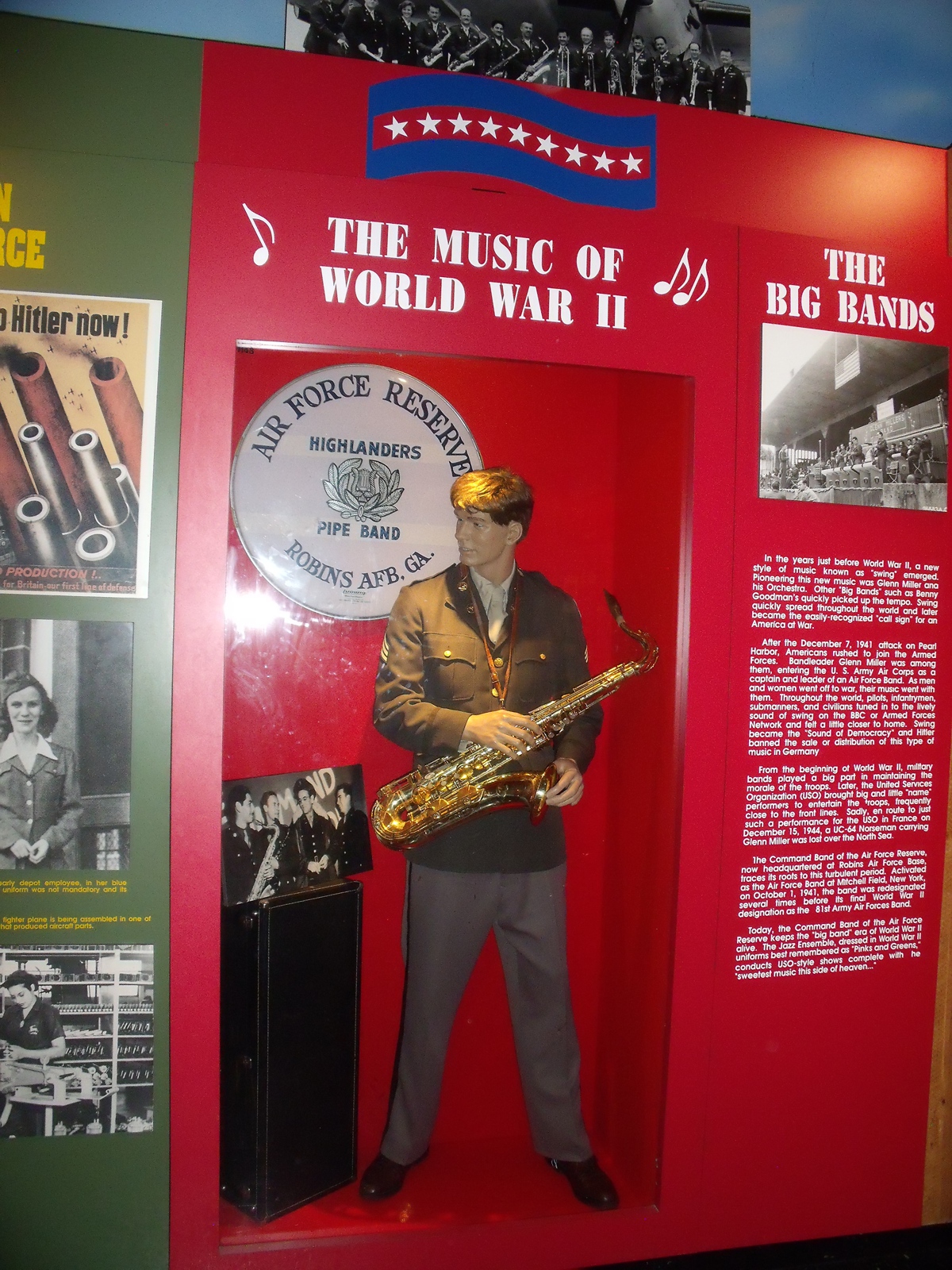 I am coaching her about taking photos at an angle to minimize the flash from her camera bouncing back washing out part of the picture.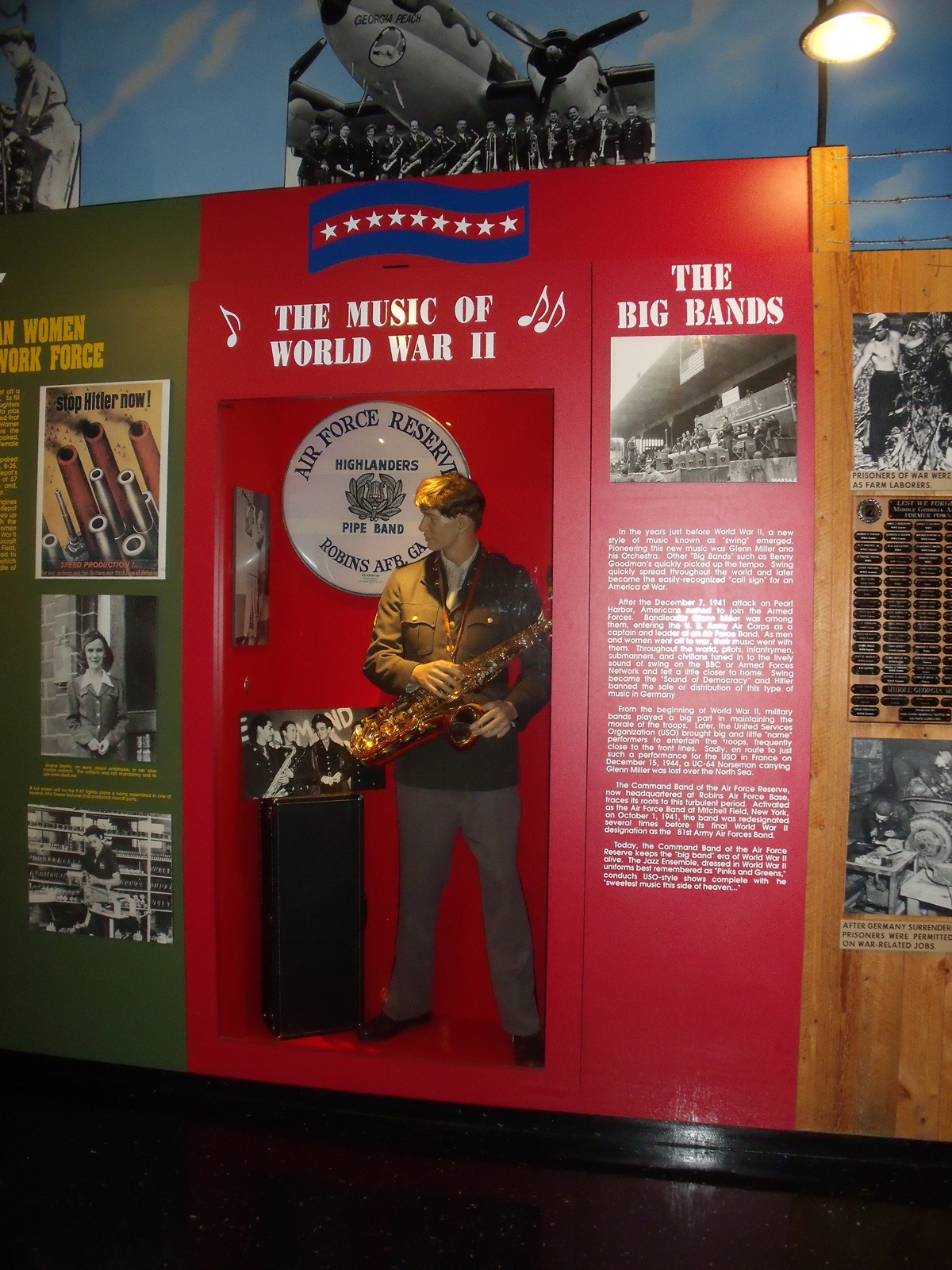 The more photos she makes, the better she gets at it. I did some minor adjustments in processing photos to fit these web pages.

She is learning about the various aircraft on display that were not well known fighters and bombers.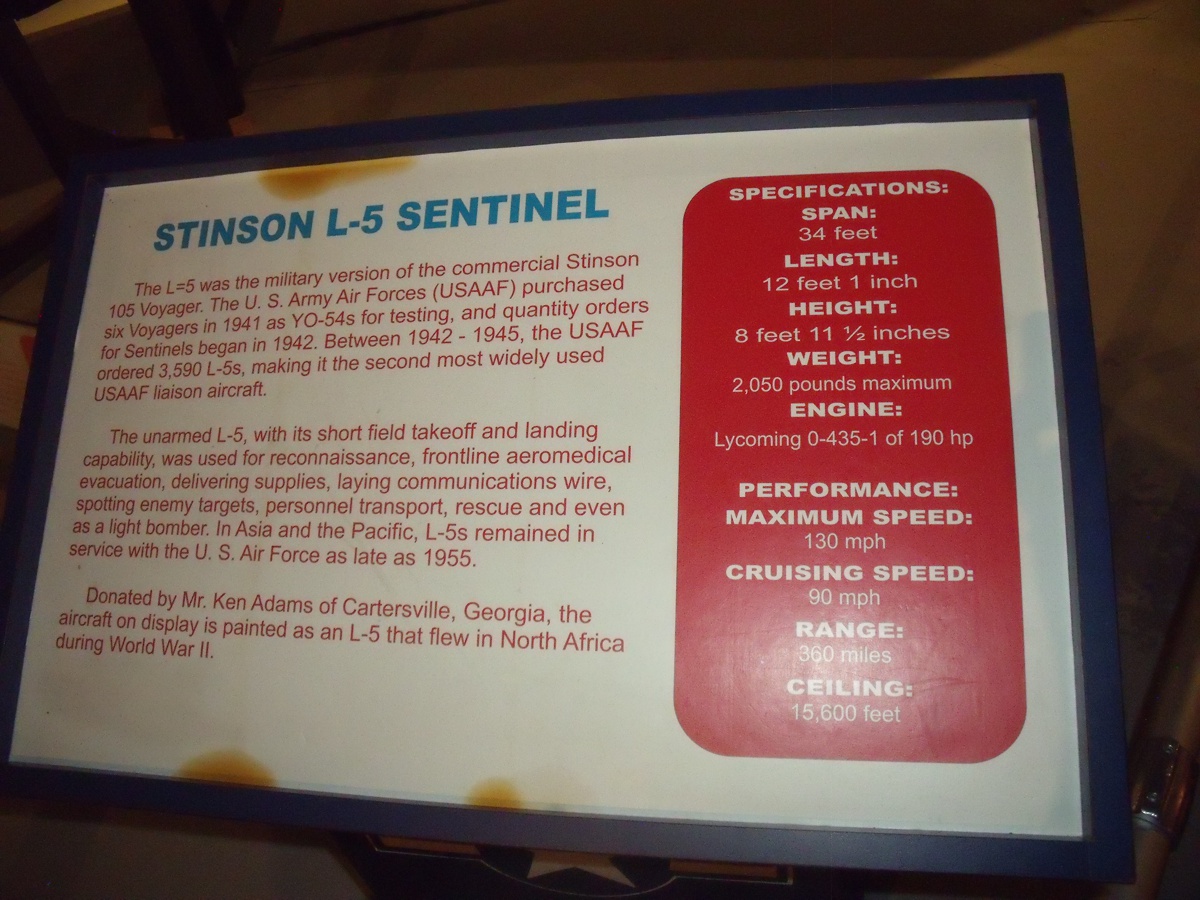 Each new exhibit gives her some understanding of the people behind the planes in each war of the 20th Century.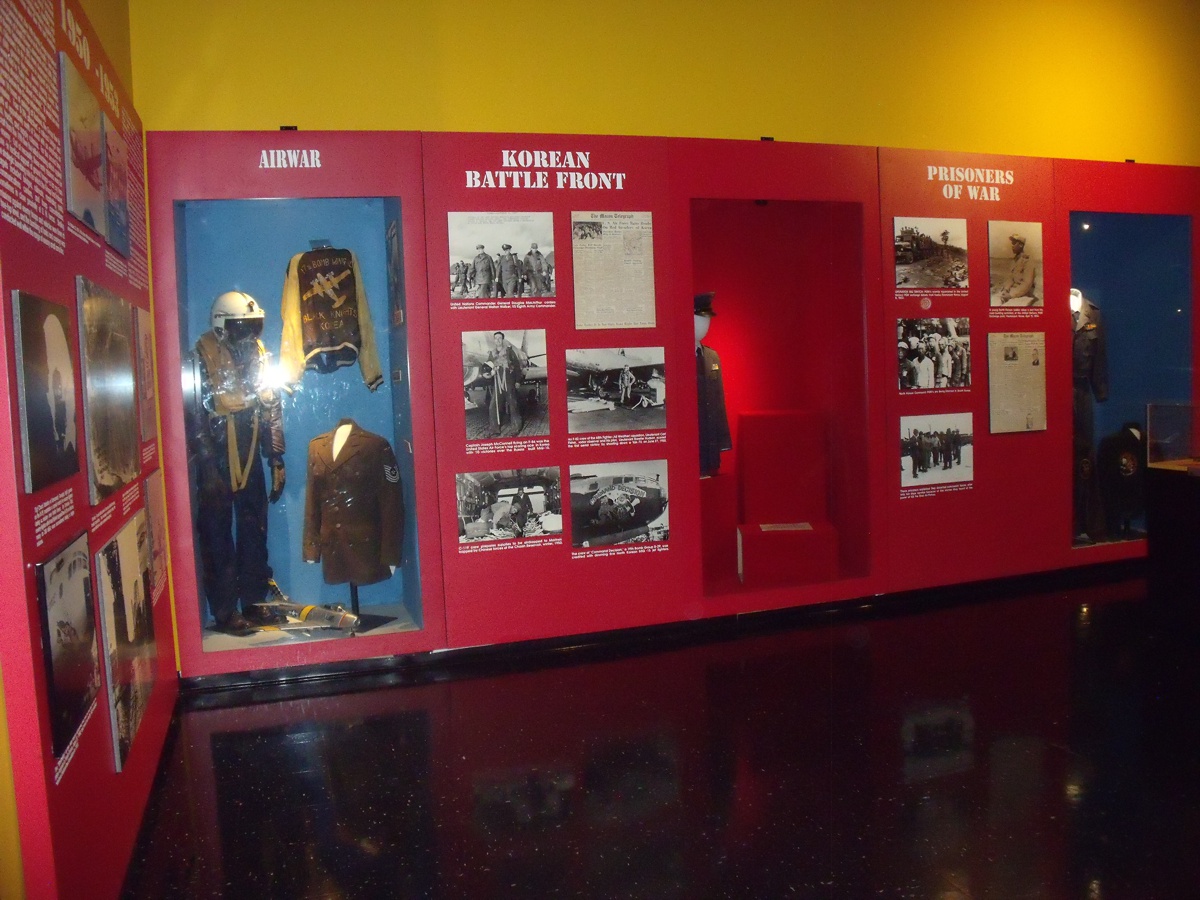 I wondered what this sign was all about before I processed the next photo below this one.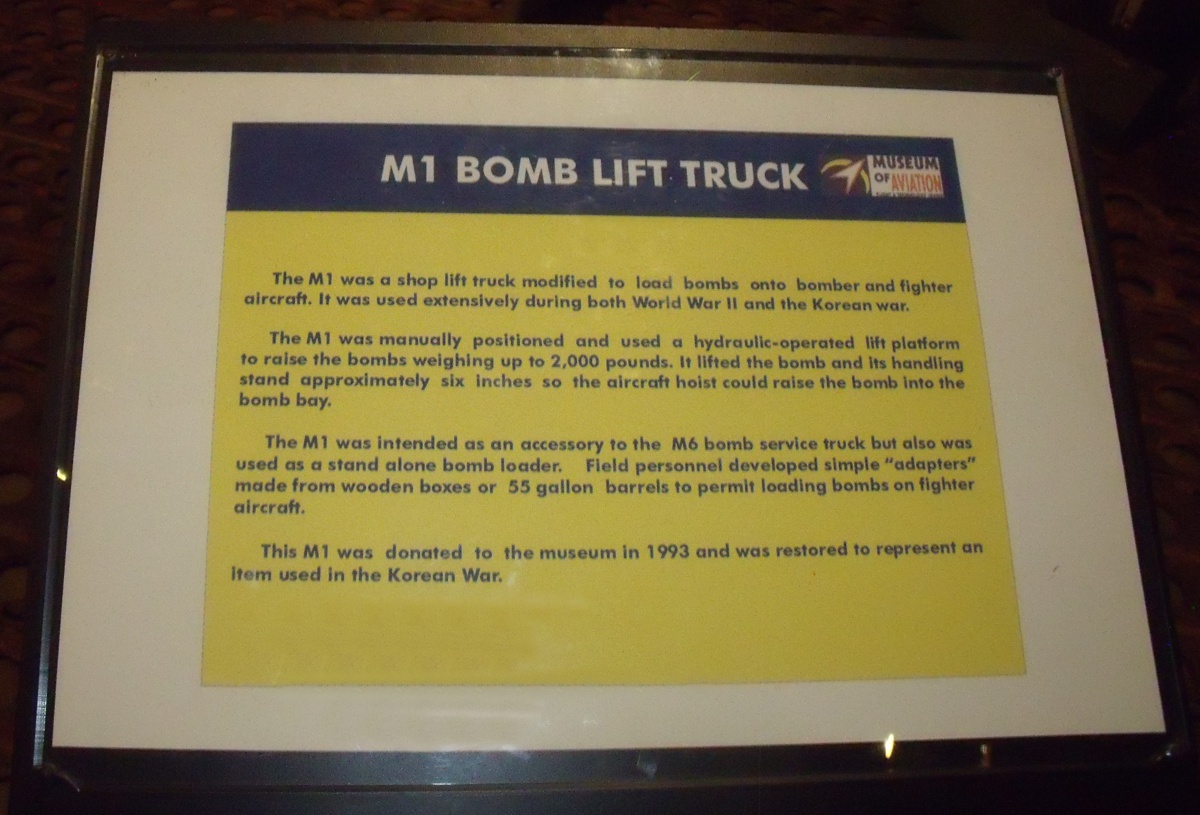 I was focused on this F-84 jet fighter and finally saw something in the shadows that was described in the photo above.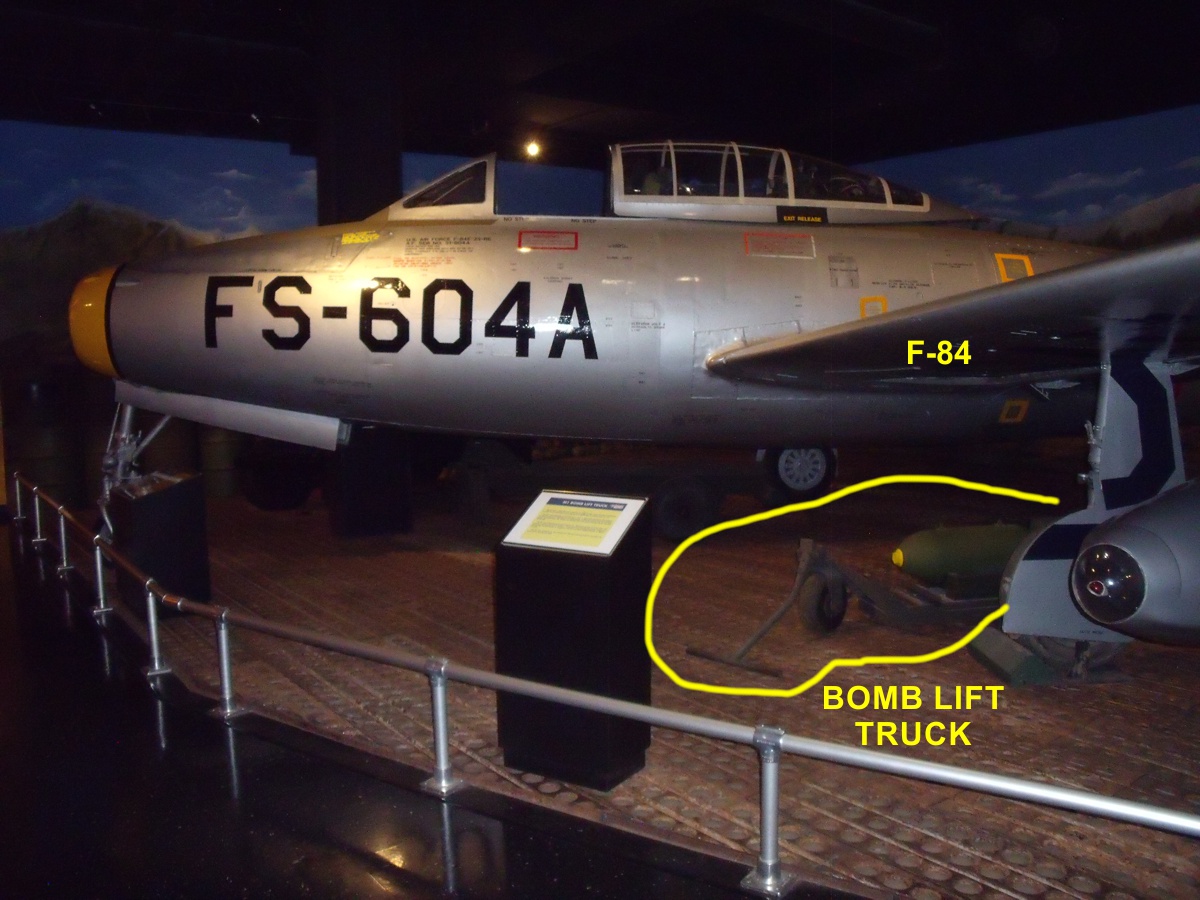 World War II had many US Army Air Corps units in all theaters of the war. The US Air Force was not established as a separate branch of the military until 1947, two years after WWII.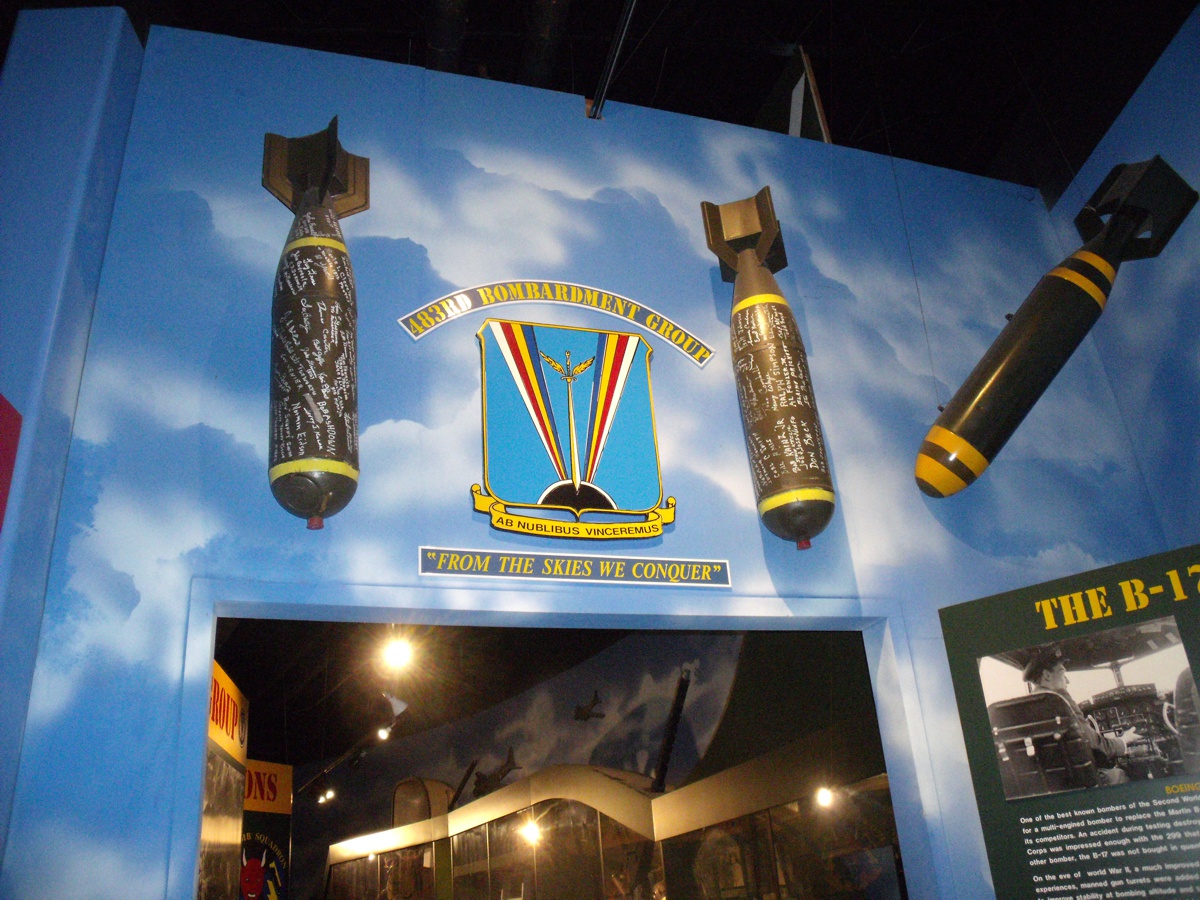 These insulated leather jackets are shown for different units and their aircraft types.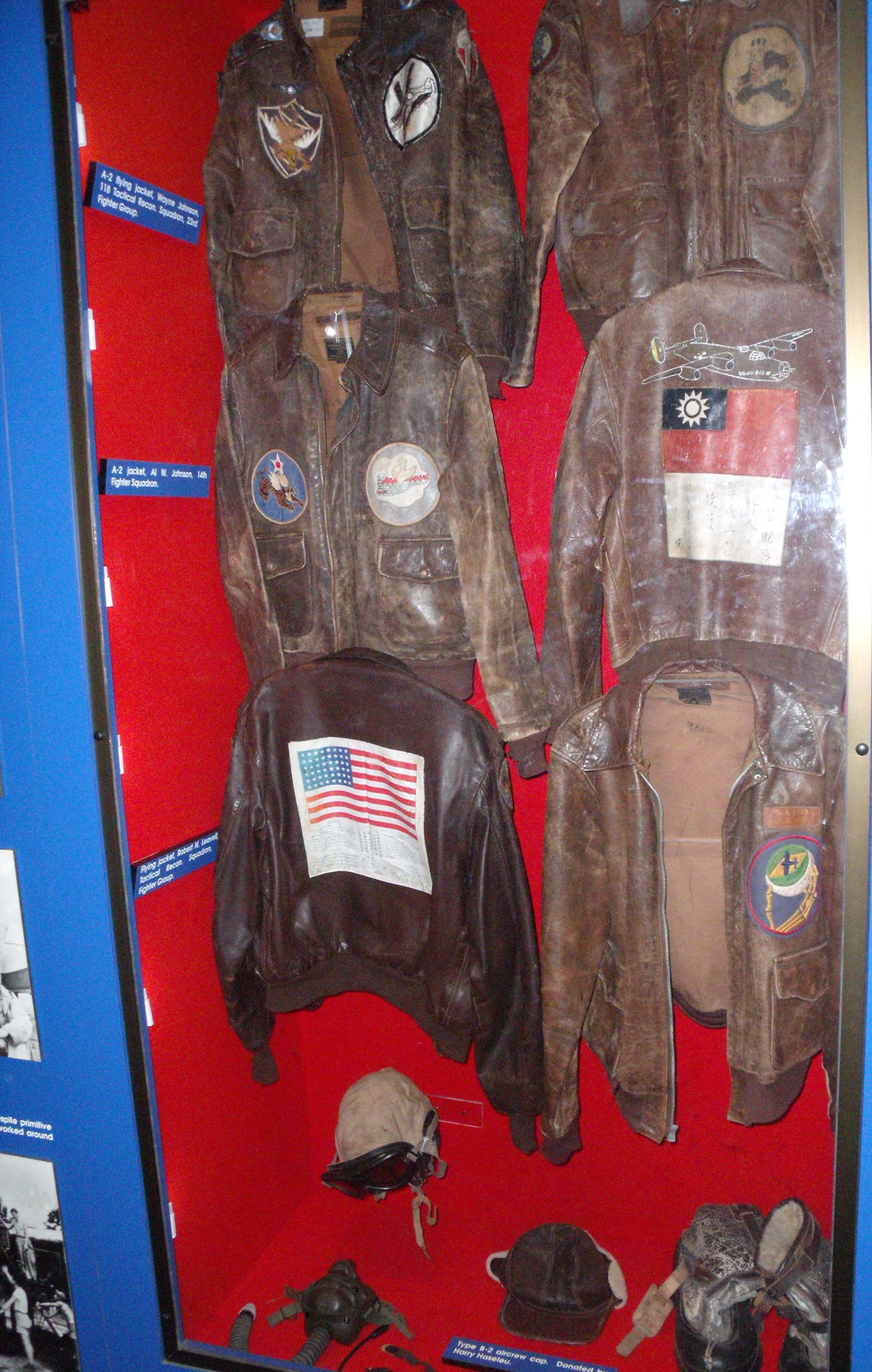 This exhibit featured the Curtis P-40 used by the Flying Tigers in China before the Japanese bombed Pearl Harbor when war was declared on Japan, Germany, and Italy to bring America into the Second World War with the allies.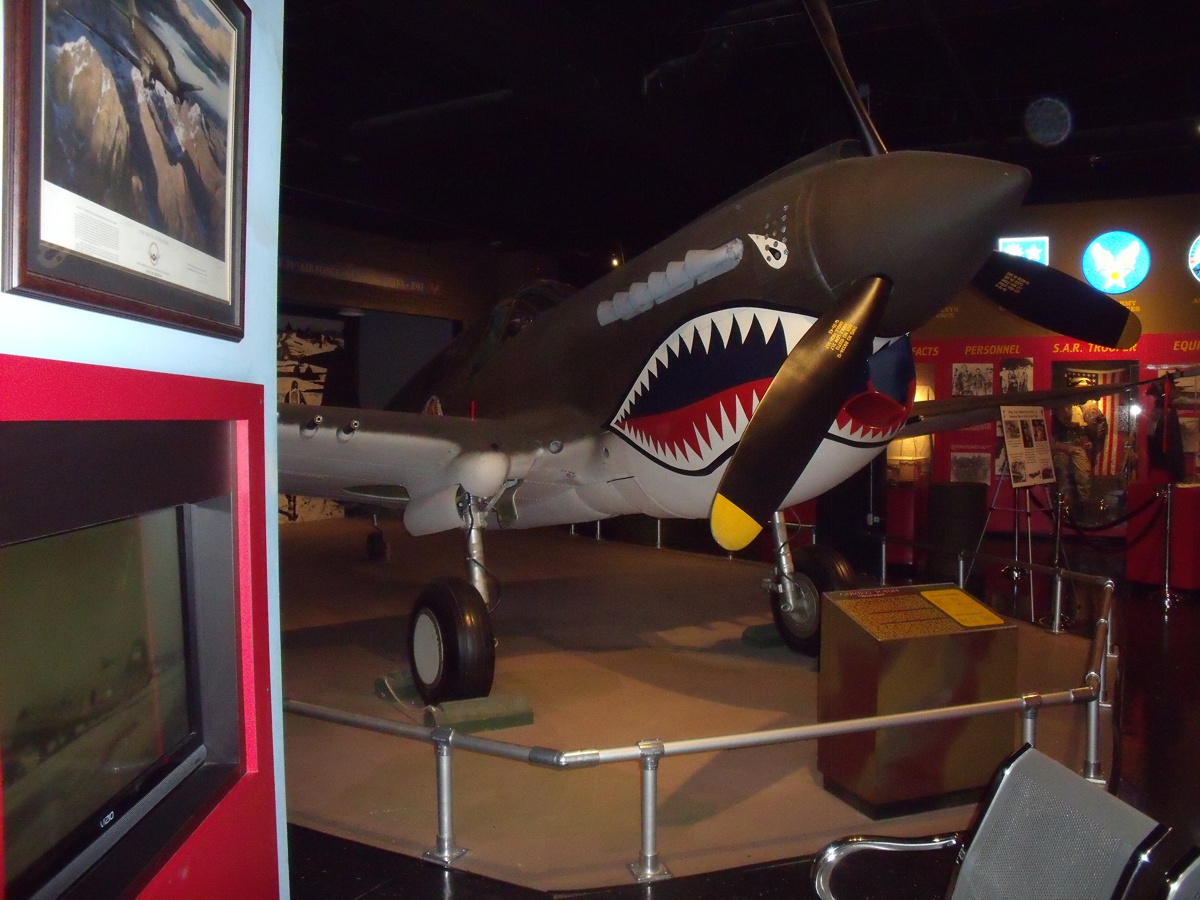 Some of the exhibits feature things that did not always appear in the news reels in the movie theaters during the war. Search and Rescue (S. A. R.) was a job for brave pilots and crews looking for downed air crews, sometimes behind enemy lines.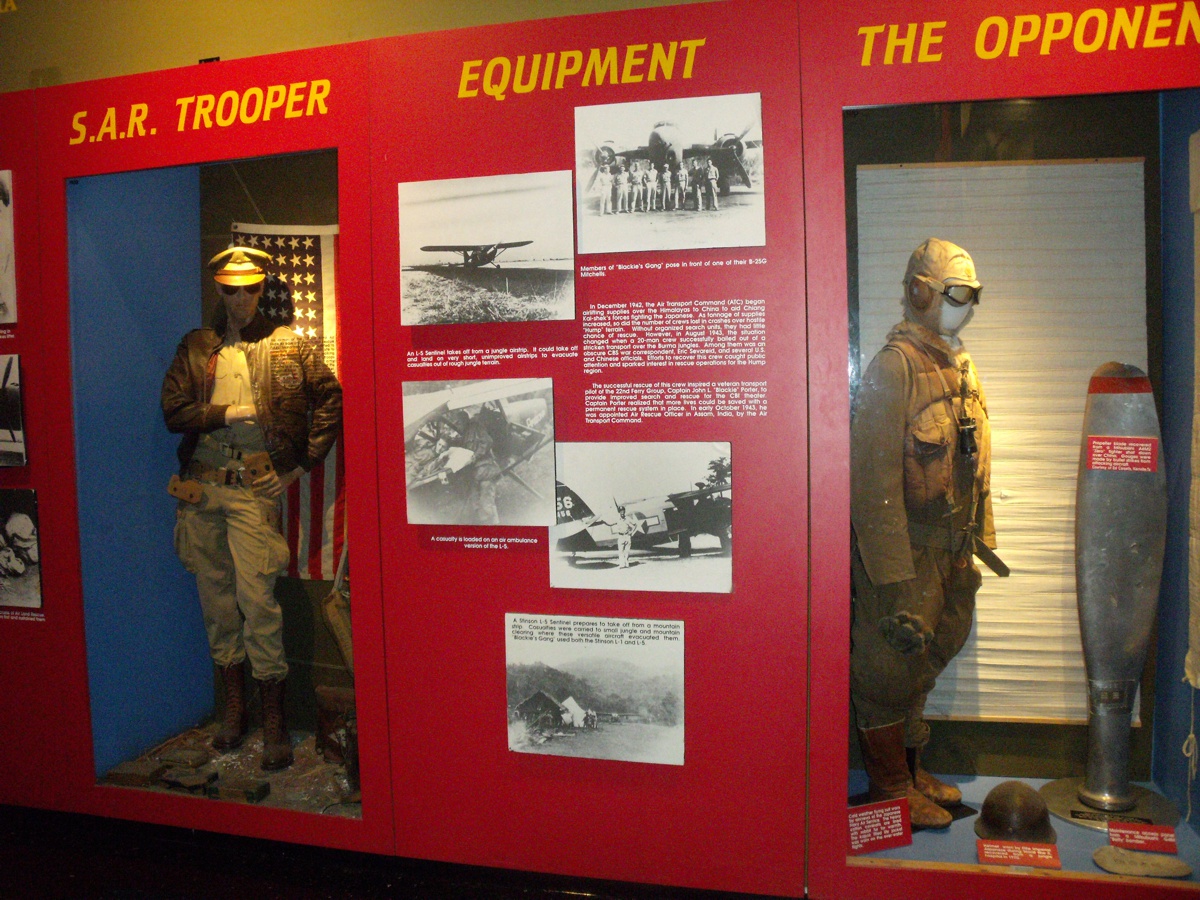 More details of daily life of the men in service during WWII. Some of our younger folks reading this page may not know that the letters WWII stands for World War 2 with roman numerals "II" for a count of two is used here. Some of the veterans of that war would say "Dubya Dubya Two" which is abbreviated as WWII.