May / June 2022 Vacation Day 3 · · PAGE 5.
May 25, 2022: This page continues the ride down US 79 toward Round Rock, Texas. With Taylor, TX behind us, it is about 14 miles from this location to Round Rock. A railroad is running parallel to US 79 as seen on the left side of this image below.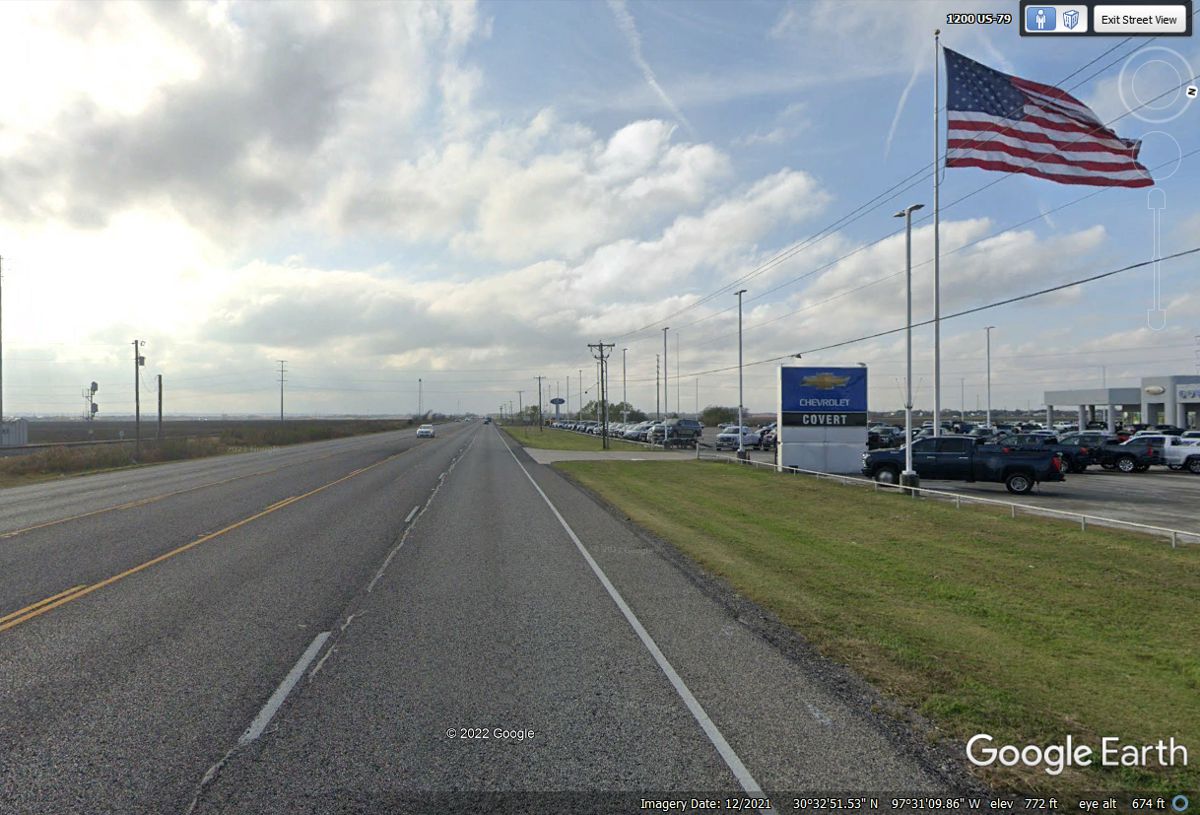 About half way from Taylor to Round Rock is this place named Hutto, TX on US 79 with classic old buildings on East Street, which appears to be the "main street" for local business.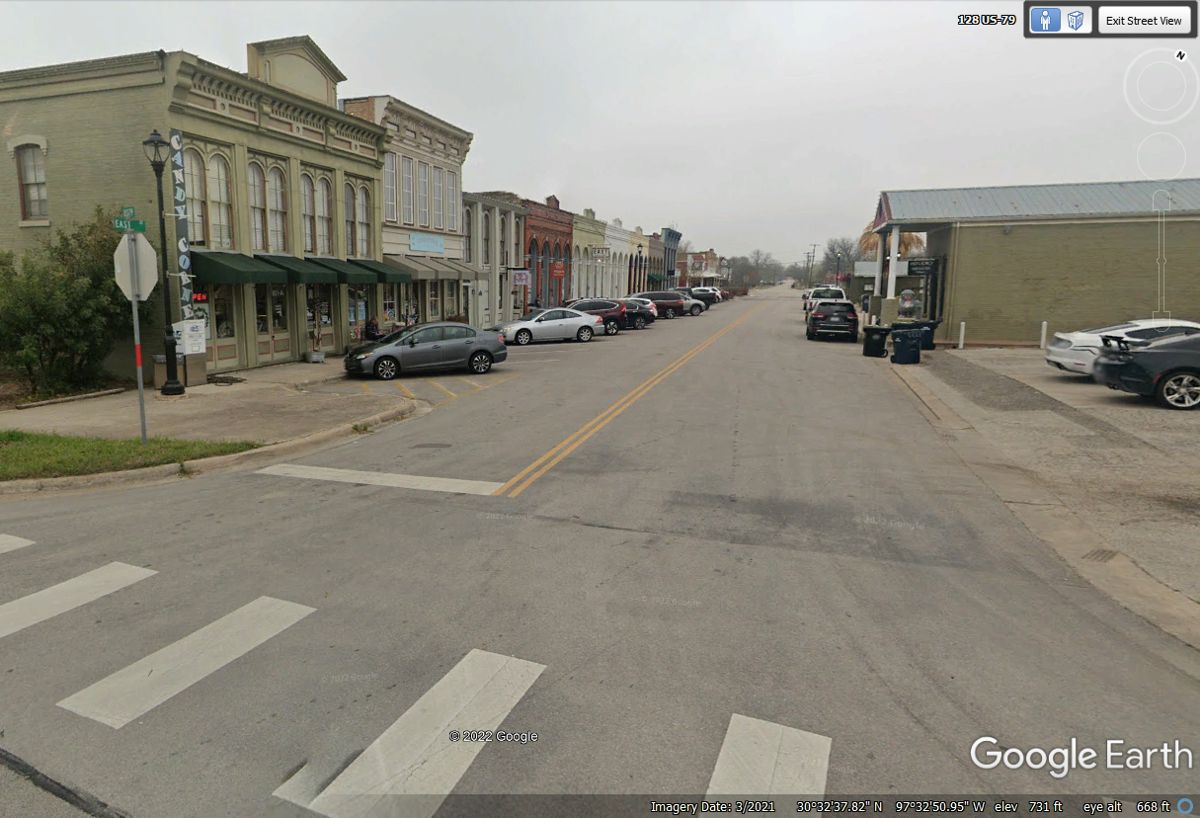 This toll road was built a few years ago to reach the bedroom communities north of Austin, Texas. The highway signs also show that a U-Turn was built into this major intersection.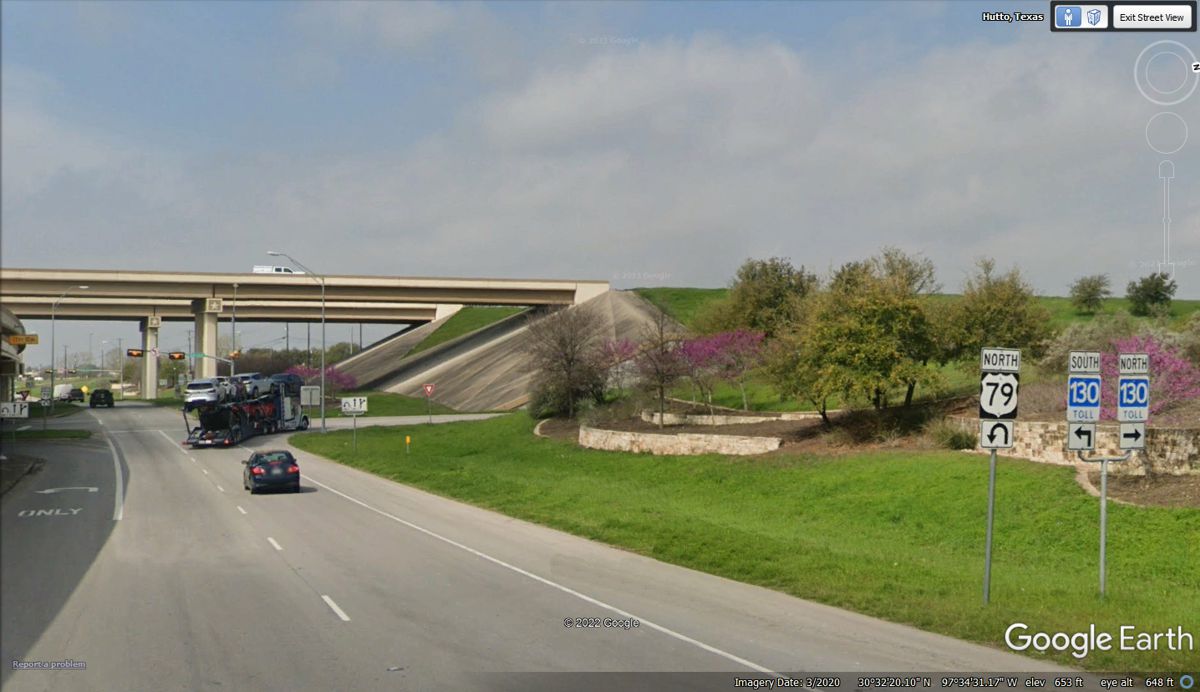 Here is the big picture of the Austin, Texas area shown with NORTH at the right side of this image from Google Earth. The Texas route 130 toll road bypass is on the EAST side of all the communities of the metropolitan area. The speed limit on that road is 80 MPH. The southern end of route 130 is near the Austin/Bergstrom International airport. The northern end of route 130 terminates at Interstate 35 near the RIGHT side of this photo.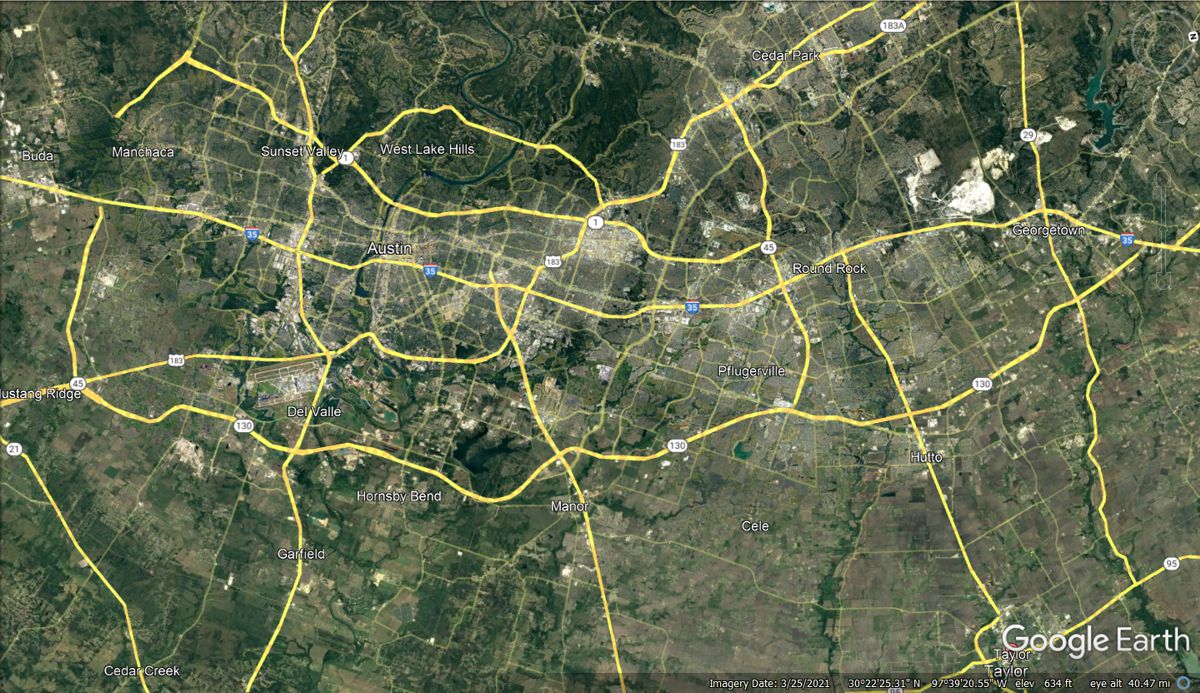 This is the END of US 79 at this junction with I-35 in Round Rock, Texas.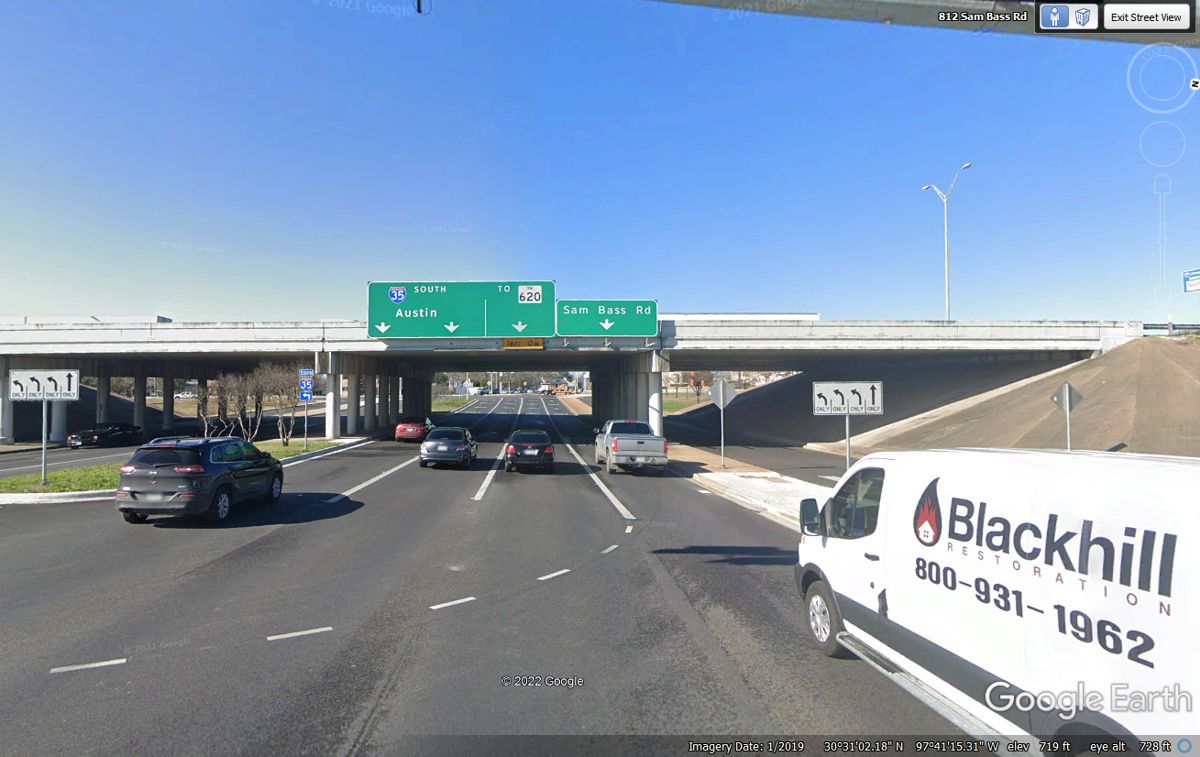 Round Rock is the home town of Dell Computers. Their home office and visitor center is seen in this image. This road is not far from my son's home. We use this road often when I am in town for a visit.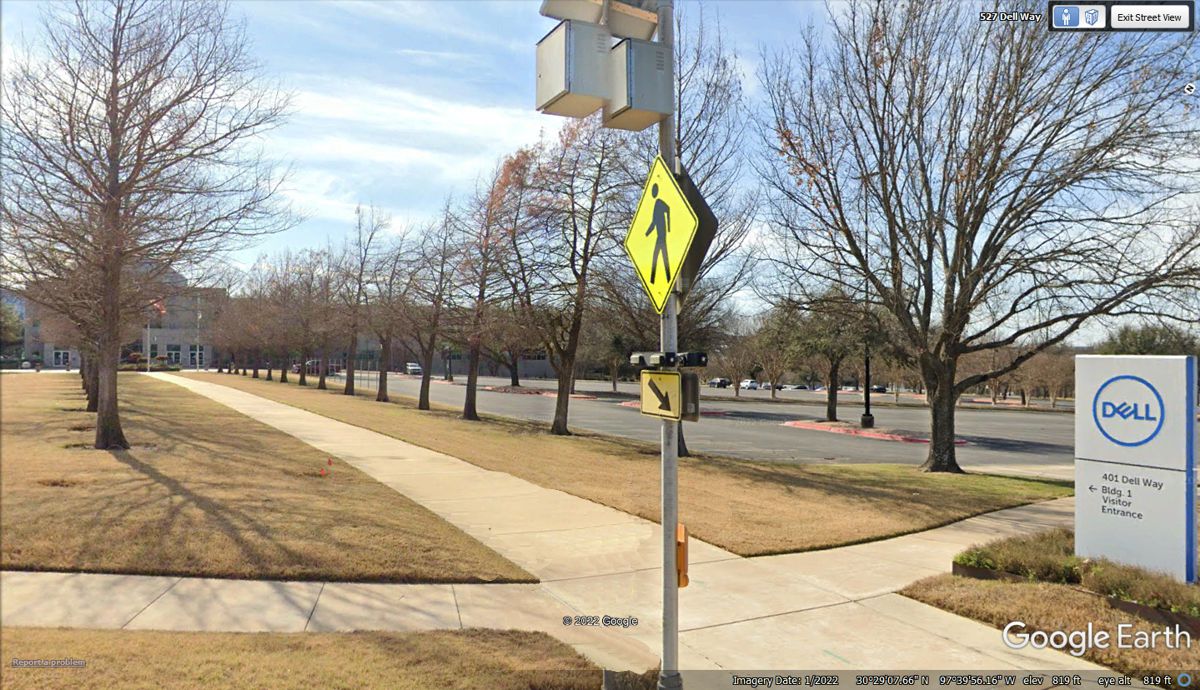 Dell Way connects to Greenlawn Blvd a few blocks north of where my son lives.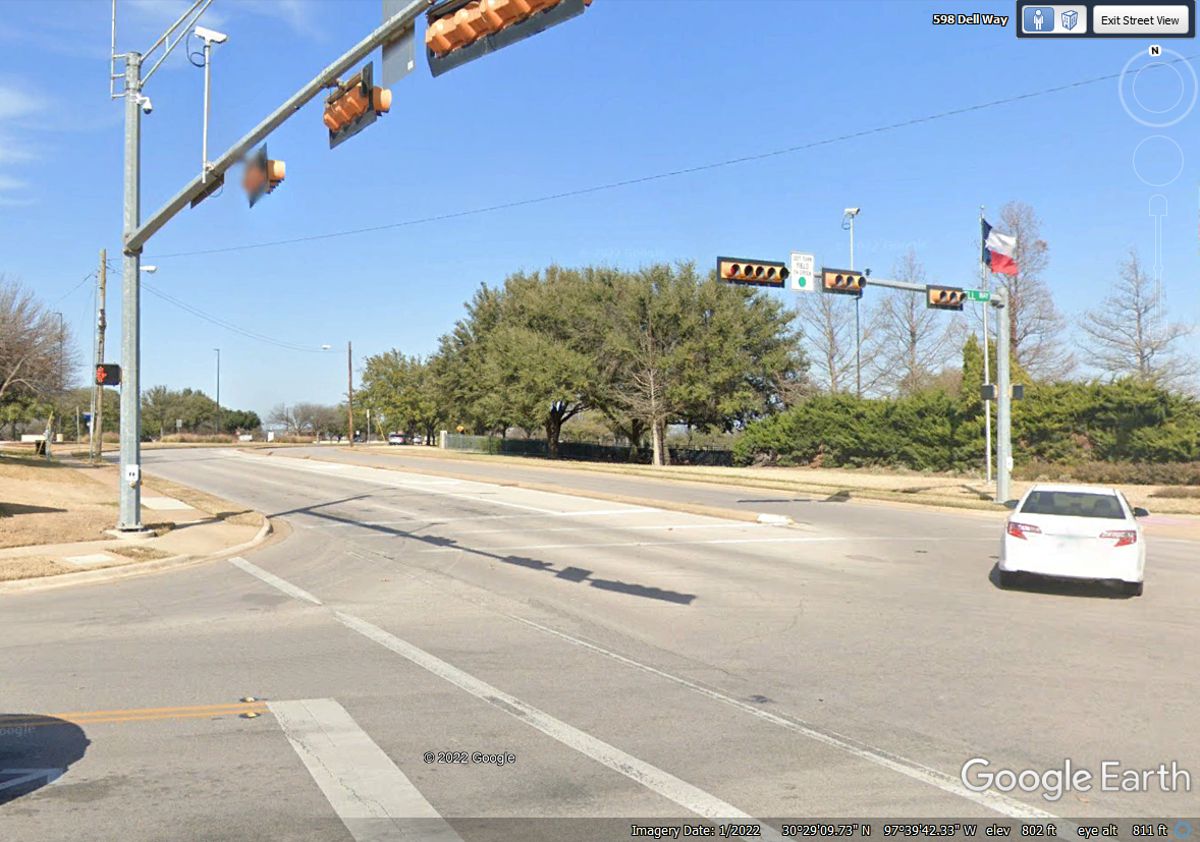 This is our destination for DAY 3 in Round Rock, Texas where my son lives with his wife and their son. We arrived here before the end of day 3. We visited my son, his mother (my first wife), my grandson, and his mother for a few hours. Linda's dog Chase was well behaved with my son's dachshund. Linda and I stayed at a pet friendly Red Roof Inn on an I-35 frontage road nearby.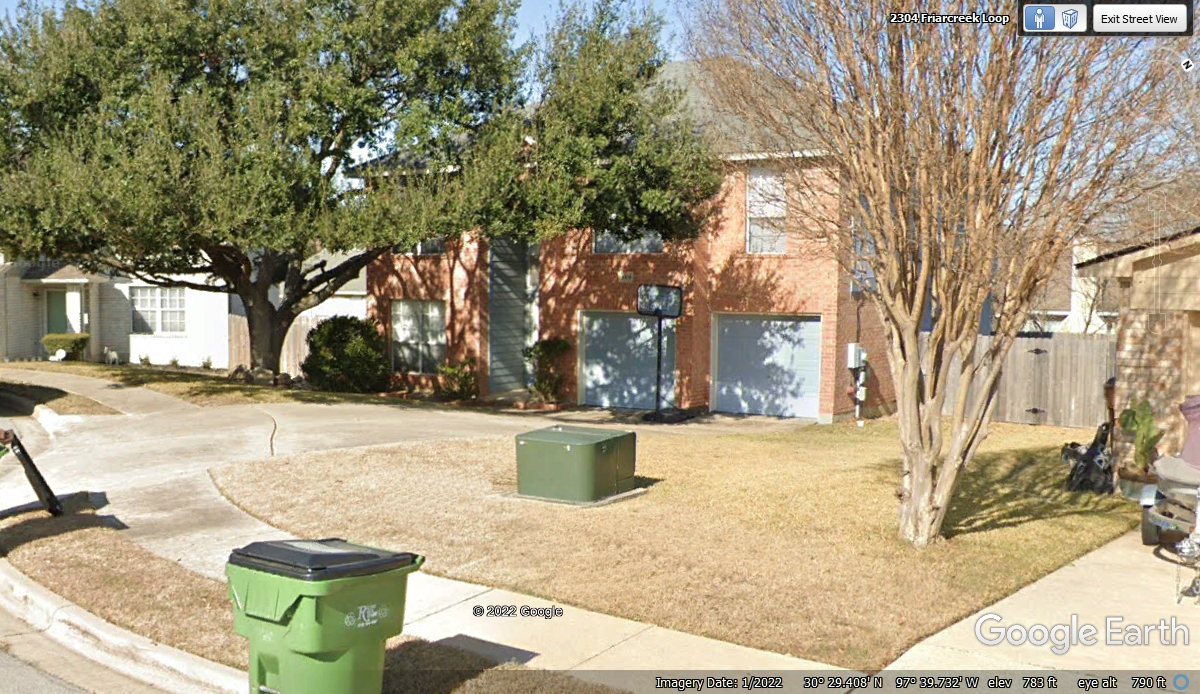 Here is the motel for tonight that is Pet Friendly for Chase and rate via Bring Fido was good.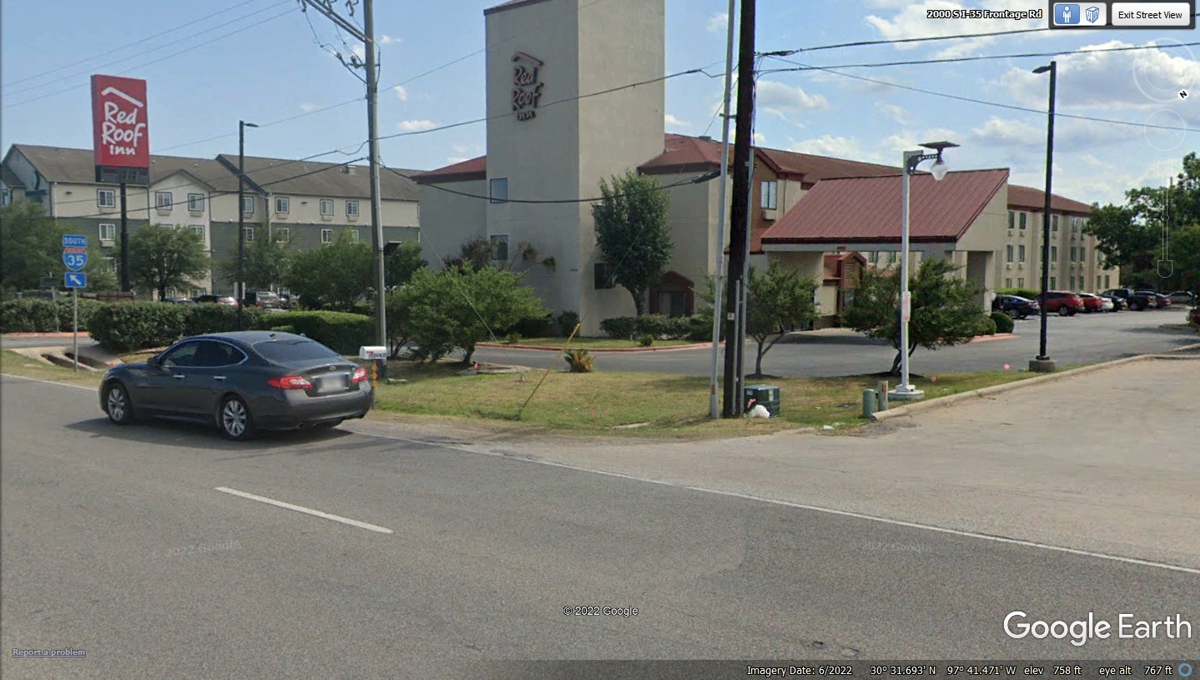 May / June 2022 Vacation Day 4
May 26, 2022: This exit from Interstate 35 south of Austin is where we get back on our tour going west on US 290 today.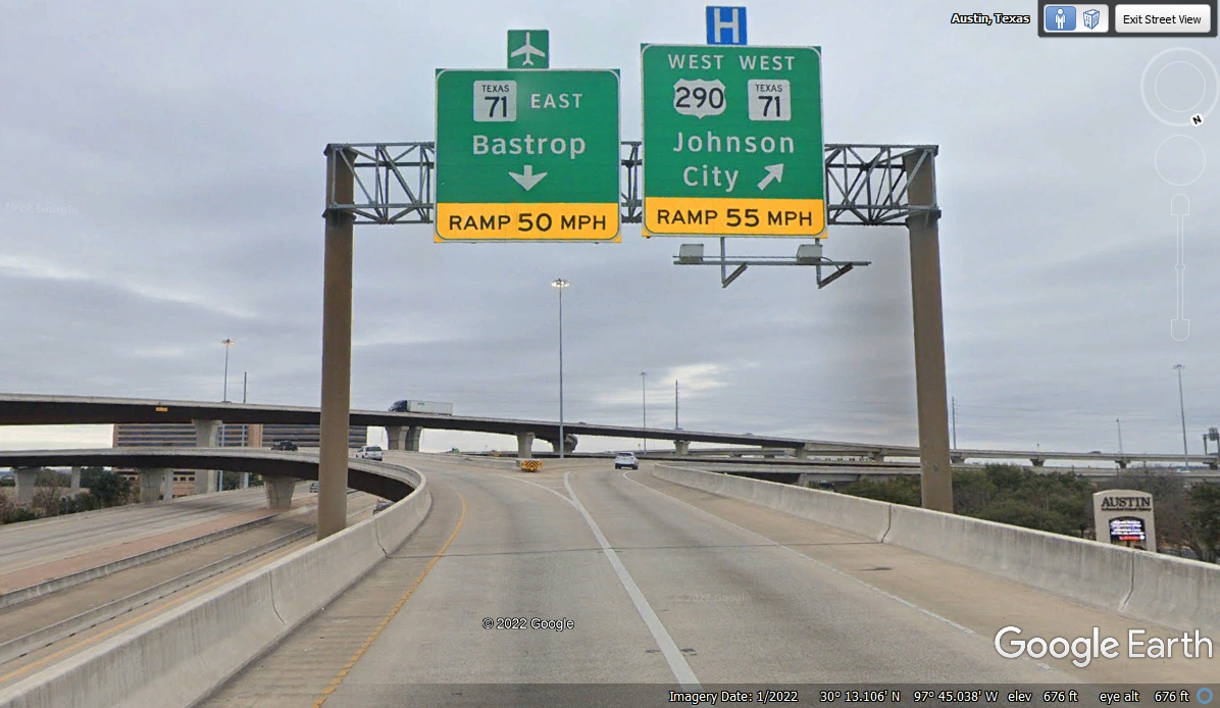 This image is leaving the Austin area heading out west into more open country. We found a lot of new road construction when we reached this area.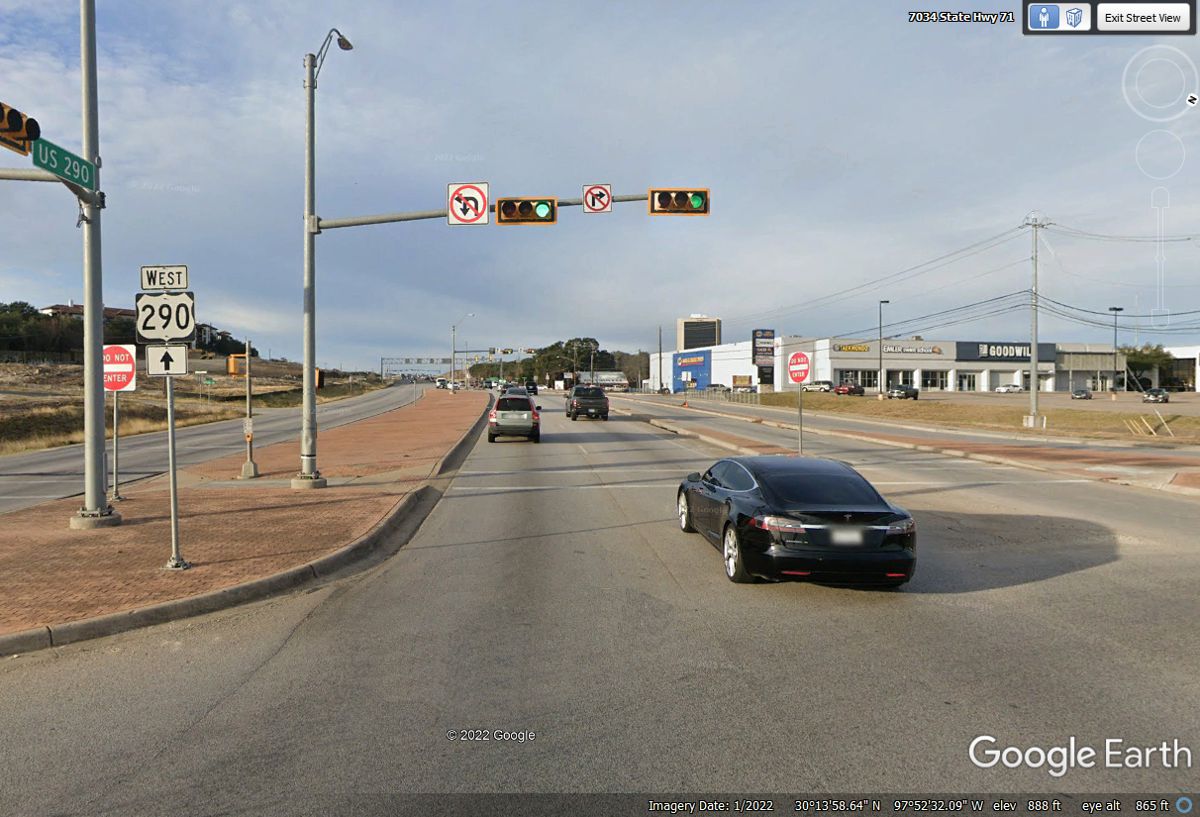 This intersection is where US 290 and US 281 join to go north to Johnson City about 40 miles west from I-35 on the south side of Austin, TX.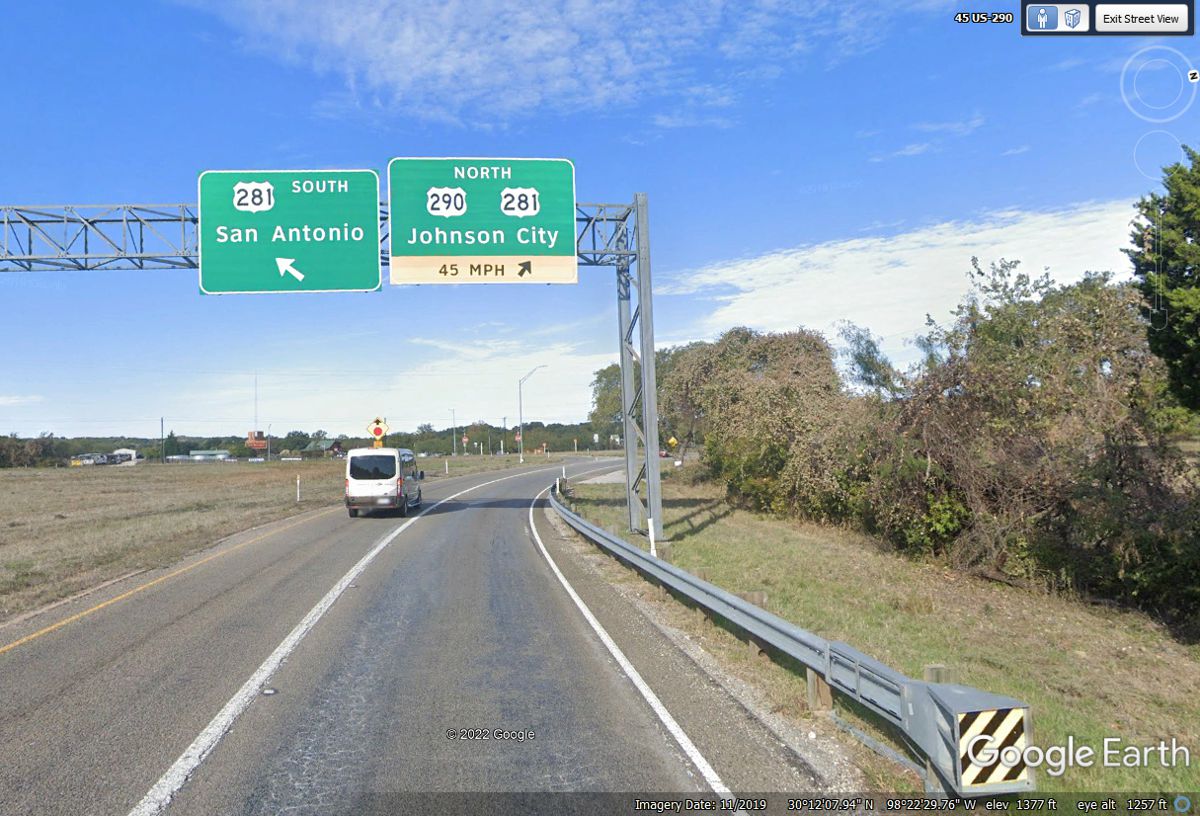 This left turn is where US 290 heads west just over FIVE miles north of the junction seen in the image above. We say goodbye to US 181 as our path west is via US 290 today.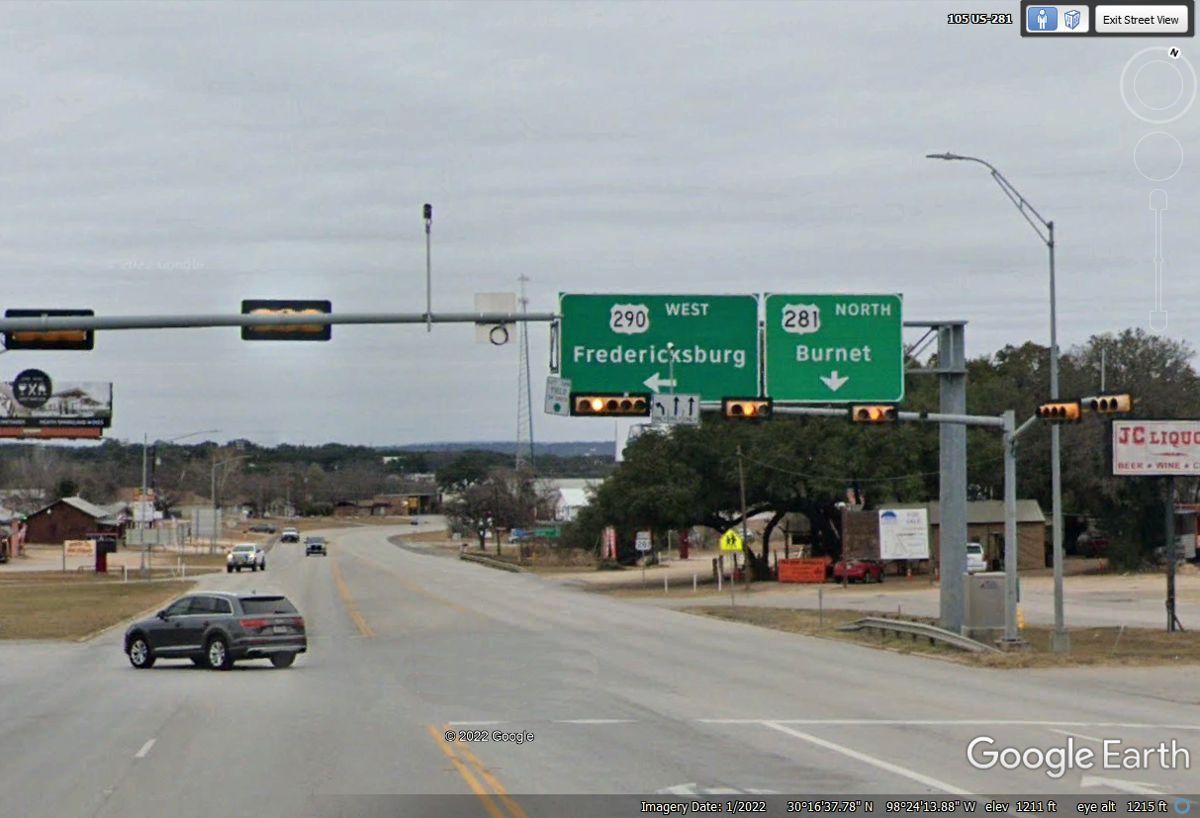 Driving west on US 290 in the town of Johnson City reveals this LBJ National Historical Park is up ahead on the LEFT. It is an old house one block south of here maintained by the US park service since it is where LBJ grew up in this town.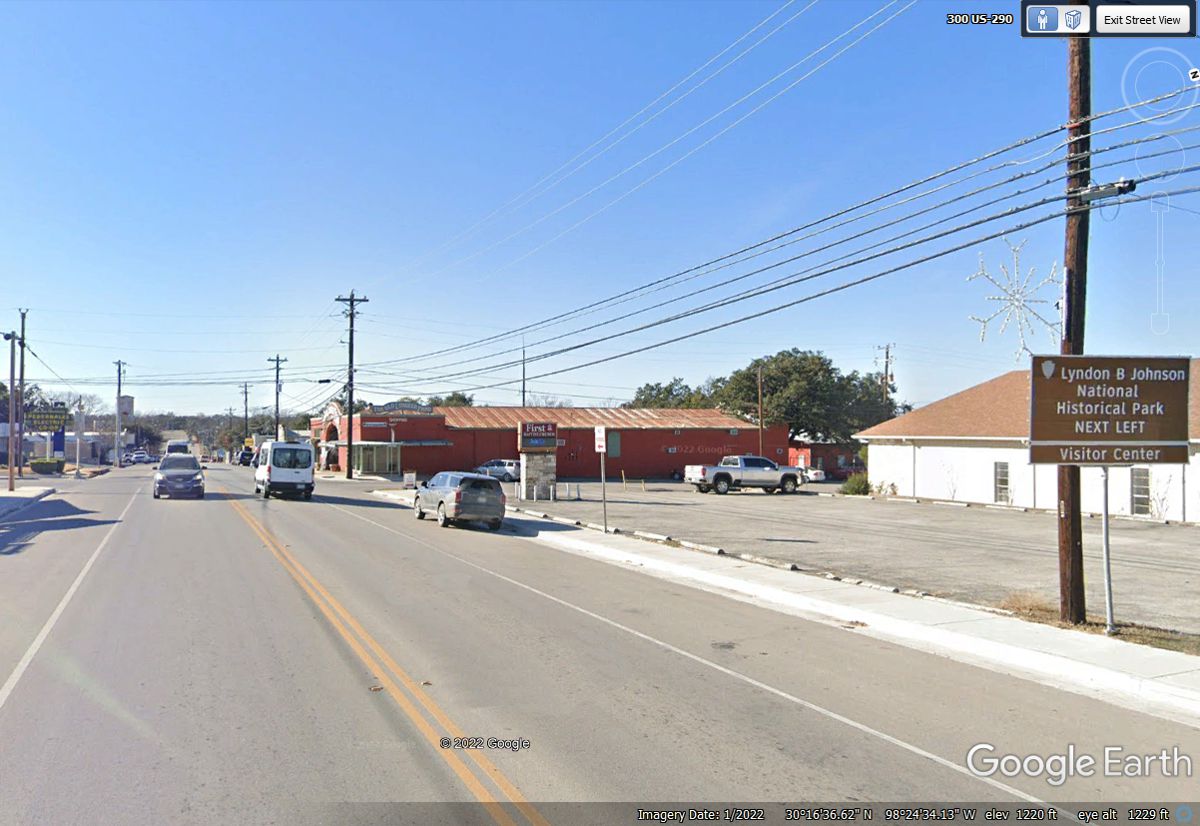 Here is the entrance to the LBJ Ranch in Texas on US 290 about 13 miles west of Johnson City, TX. Linda had been here a number of years ago when she visited family in Texas.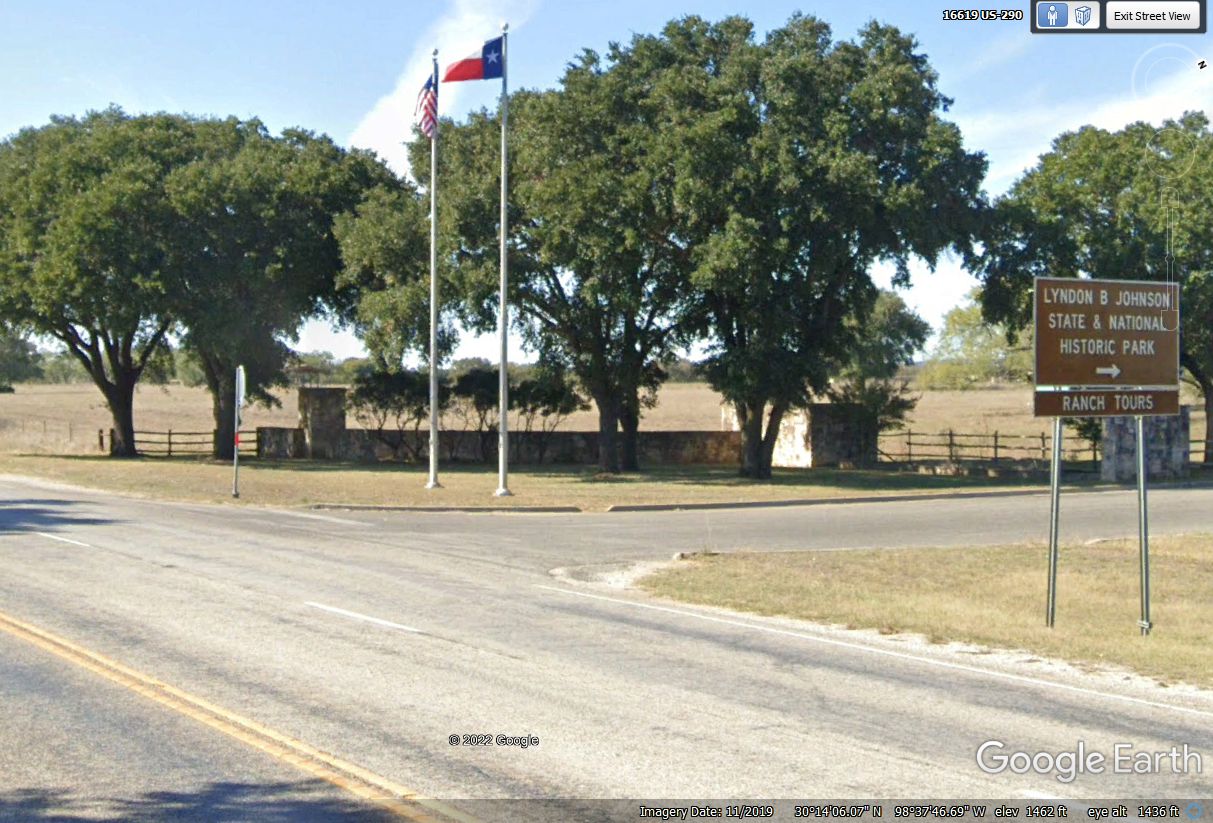 About 15 miles after passing the LBJ Ranch on US 290, this Wal-Mart is hidden from highway view on the East side of Fredericksburg, Texas behind a stand of trees. I was using Google Earth to see the commercial business locations. I had to "drive" the Google camera vehicle up a side street where customers would enter the Wal-Mart parking lot. US 290 is just to the left of this image. We stopped here today to purchase some items including a gallon jug of spring water that lasted for most of our trip.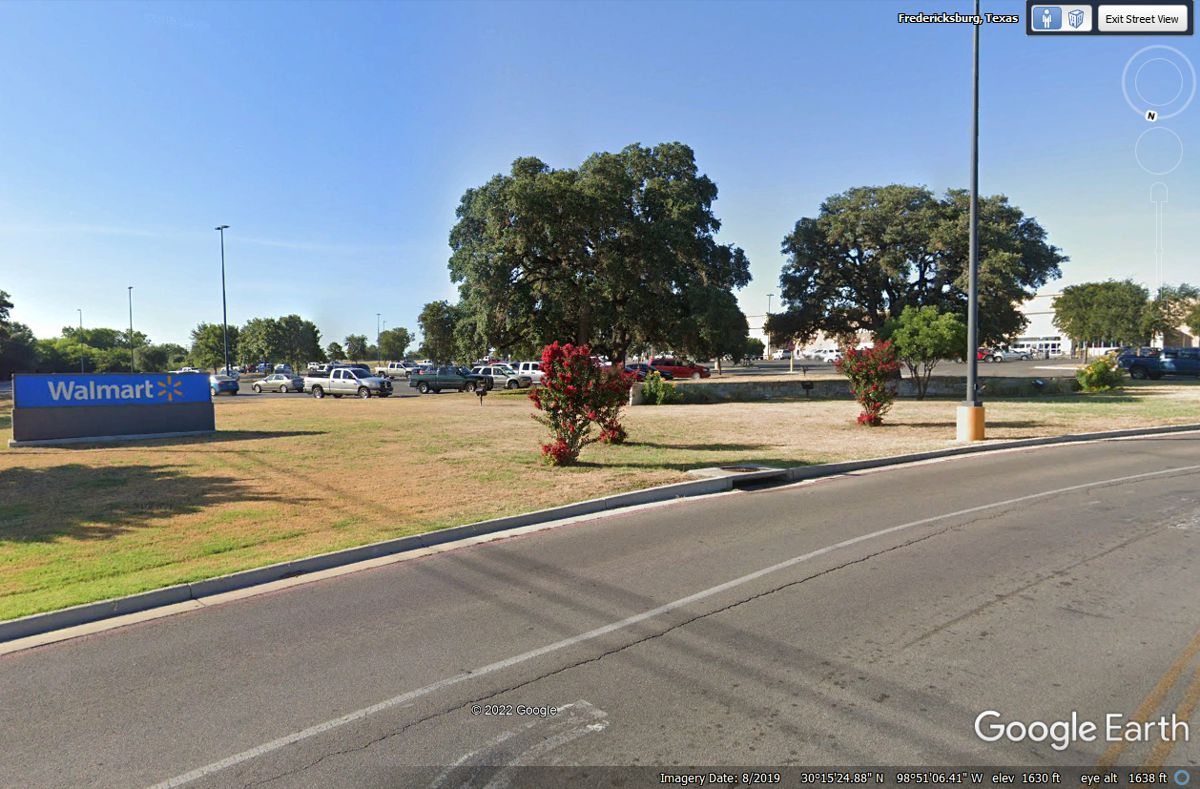 Fredericksburg, Texas is the home town of Admiral Chester Nimitz, the commander of the Pacific Fleet in World War 2. There is a museum located here.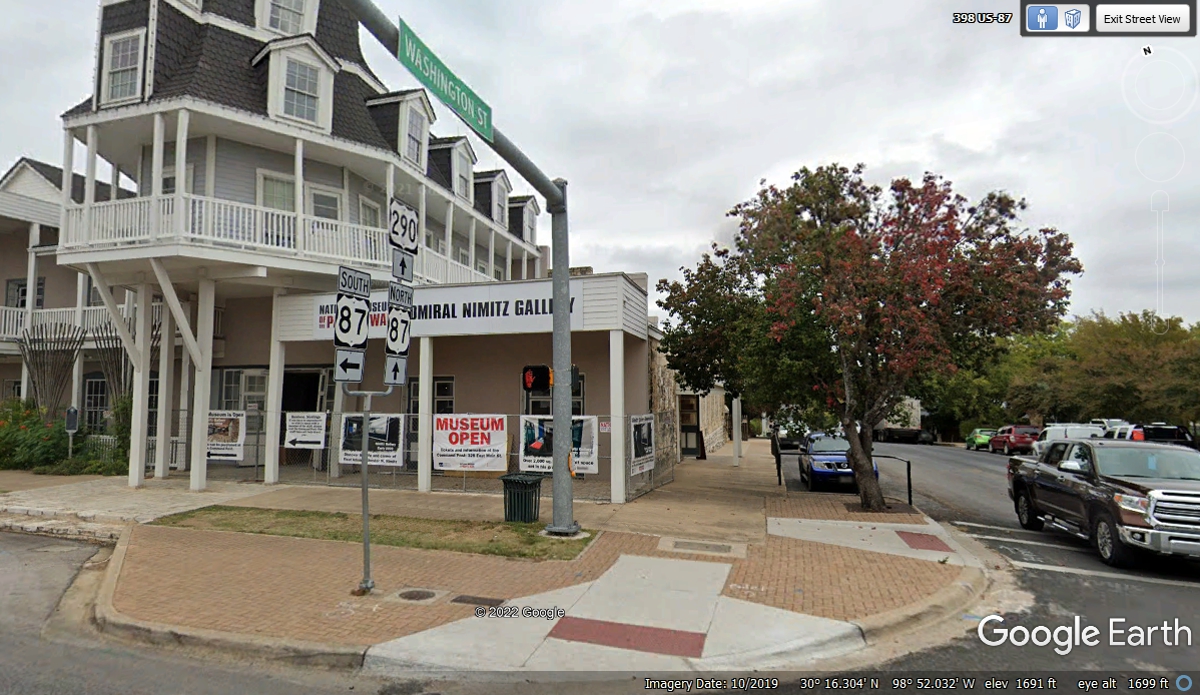 Here is another view looking East on US 290.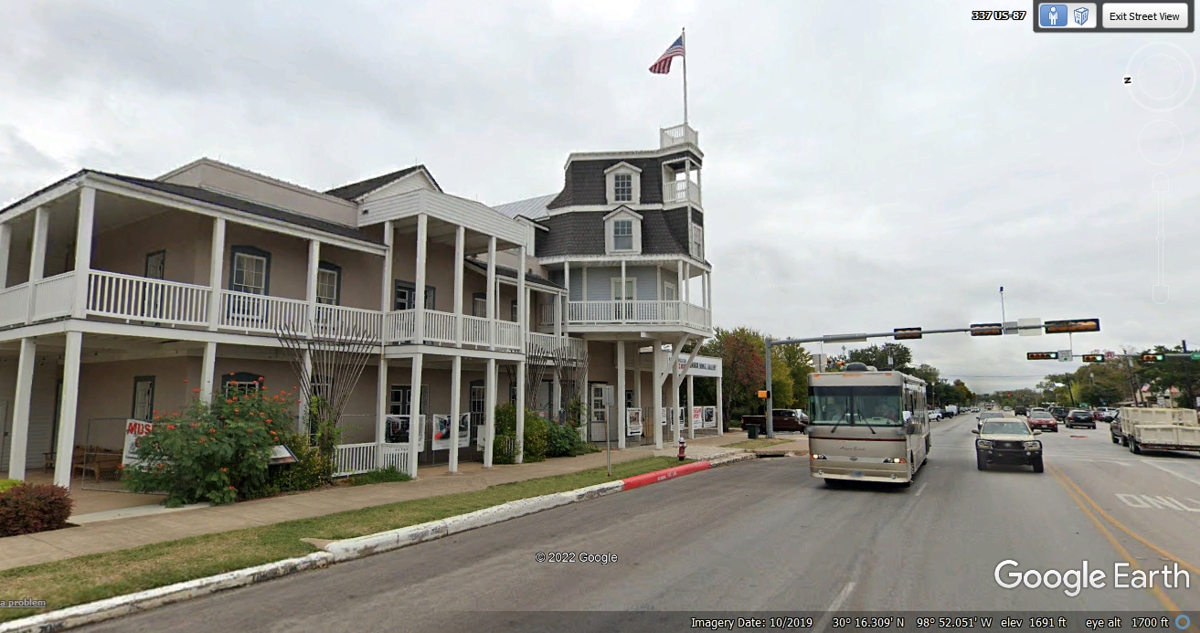 Part of a World War 2 submarine is on display on the north side of the museum building. There is a PT boat inside the building in one of the exhibit rooms. The landscape seen here simulates rolling waves at sea.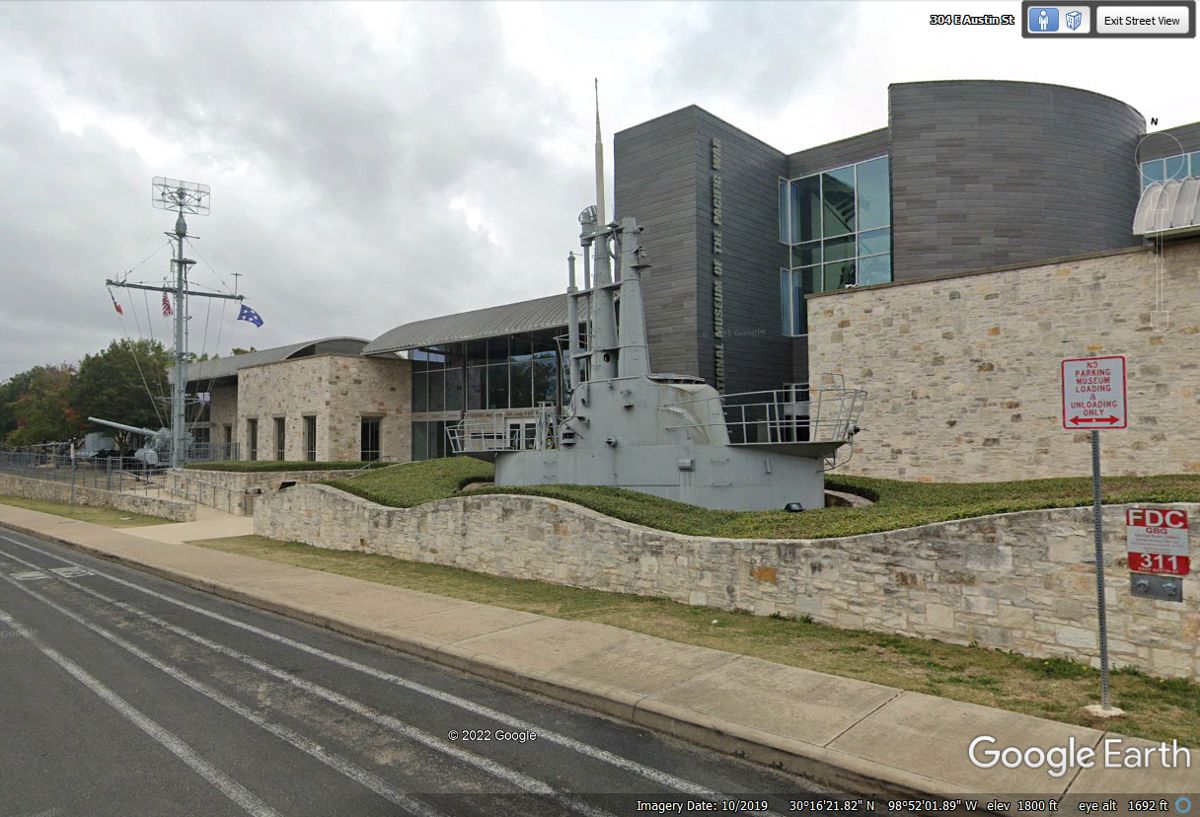 Looking West from the Nimitz museum reveals a typical small town Main Street with all its store fronts and on-street parking with four lanes for traffic.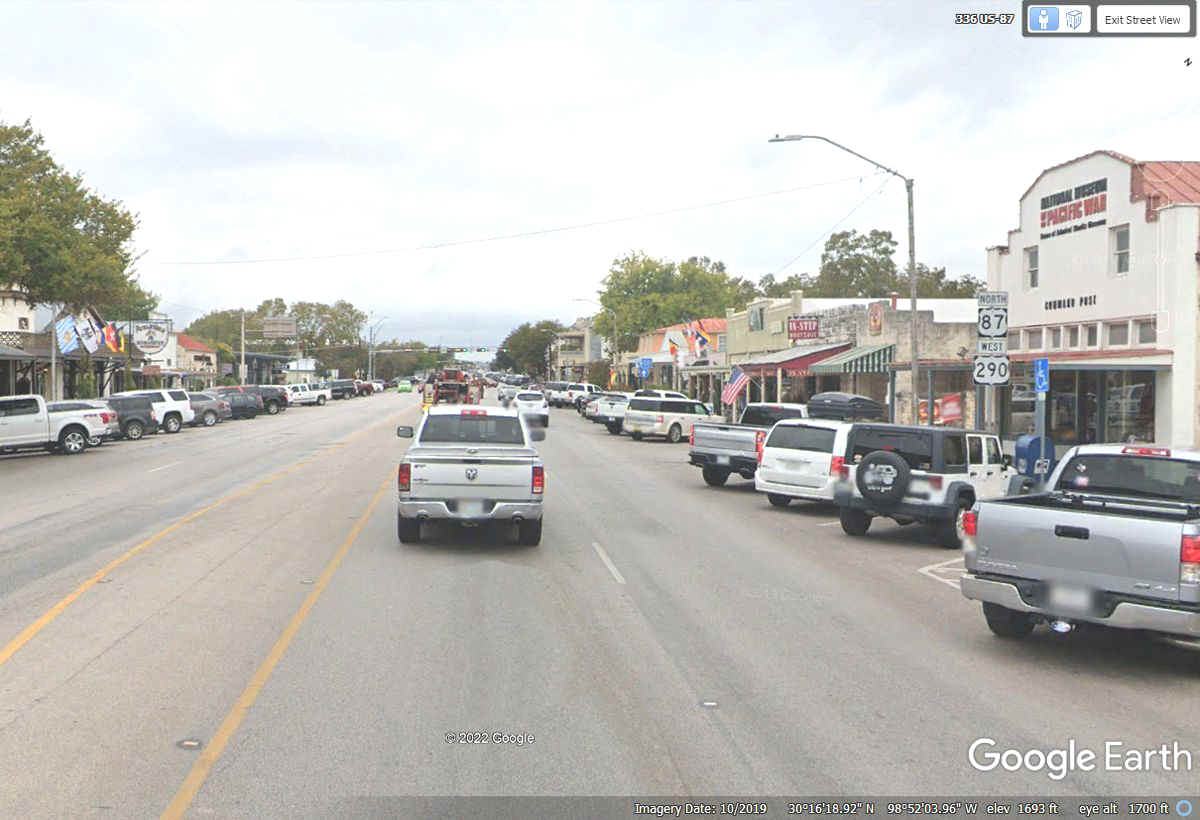 At the west end of town, US 290 and US 87 go their separate ways. There is a bit of history here at the Bavarian Inn that is from the German immigrants who came to Central Texas. They came to Texas in the 1800's and settled in Galveston, San Antonio and small towns from the Gulf of Mexico to the Texas Hill country. The area seen in these images is part of the hill country.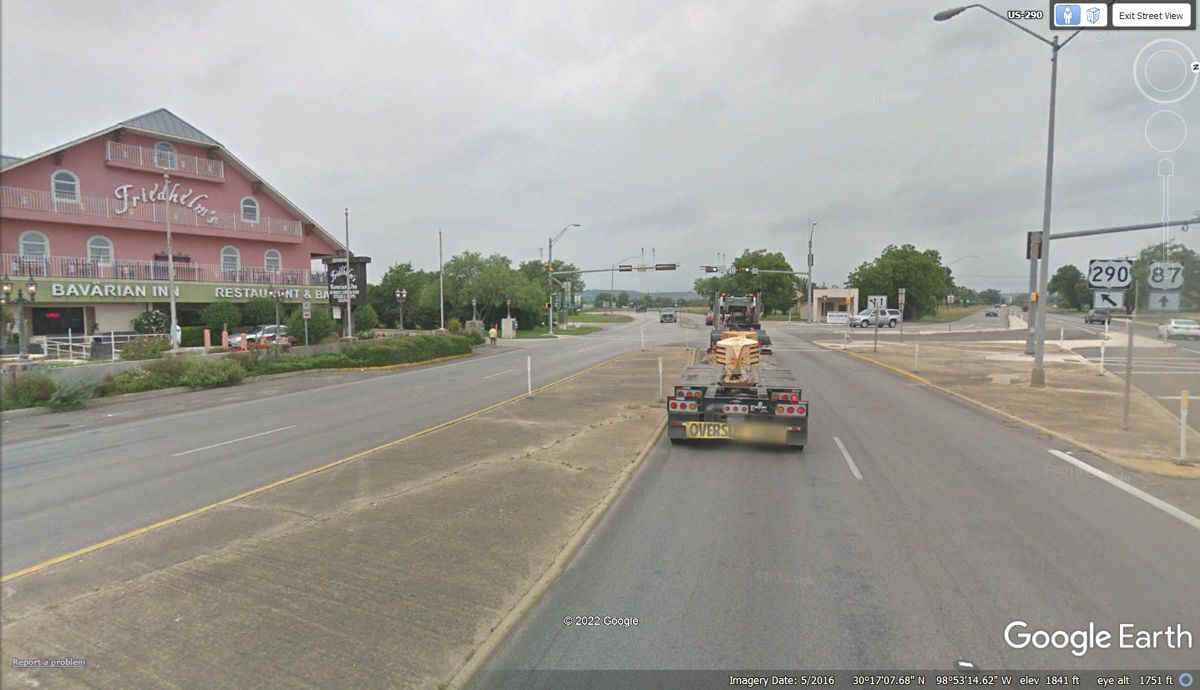 This view looking west at the horizon on US 290 a few miles west of the image above shows why they call this area "Hill Country".