My Life Changed in 2019 · · Linda PAGE 1.
July 15, 2020: This beginning of this page was first published on my web page 448. I have placed it in this section which is about her home and some of the changes I have seen since she became my life partner.
April 5, 2019: This lady became my friend in 1978 when I was learning to fly Radio-Controlled model airplanes. Her husband at that time was my flight instructor. They divorced in 1999 and she has not had a serious man in her life until we renewed our friendship this year. She invited me to a karaoke night at the Drunken Parrot Saloon in Saint Cloud, Florida on February 14, 2019. This photo was taken on April 5, 2019 in her home. Her dog is a 20-pound Yorkie-mix named Chase.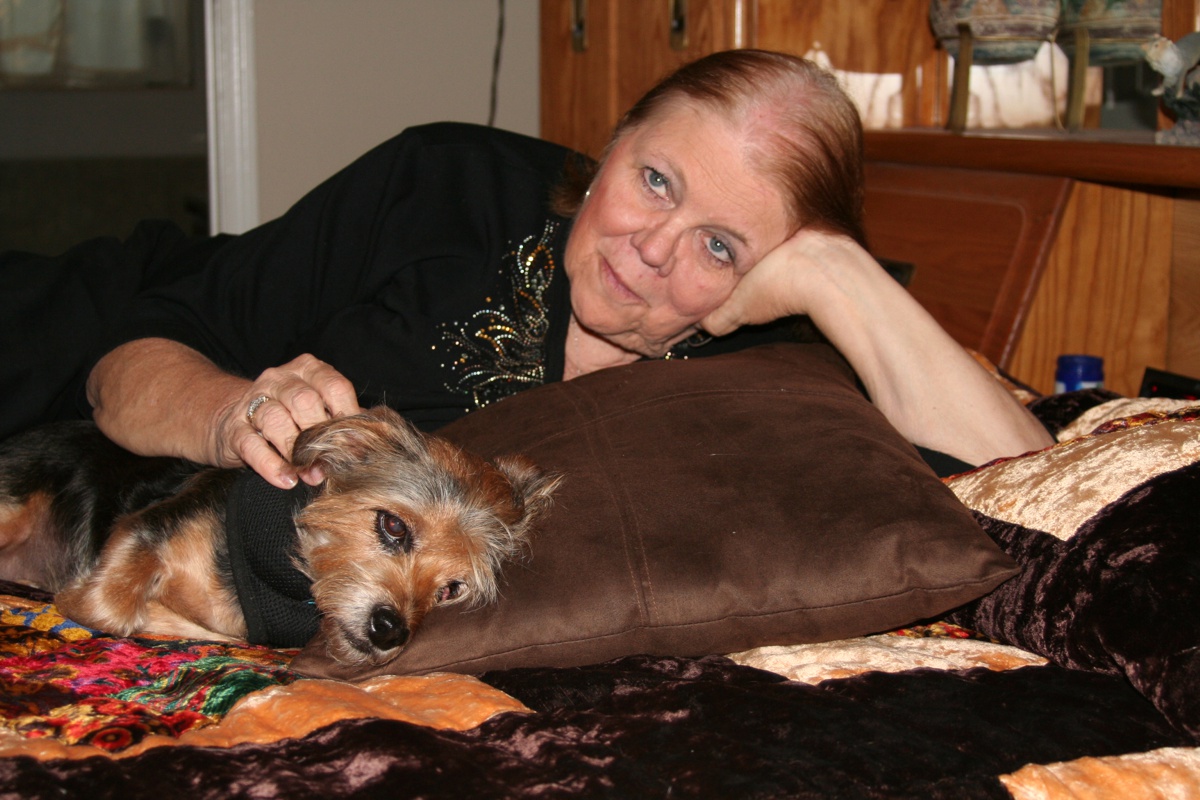 Linda was only 17 years of age when she first entered the contest to be the Queen of the Silver Spurs Rodeo here in Kissimmee, Florida in 1972, six years before we first met.

1972 placed in TOP TEN

1973 Winner
Linda tried out for the Rodeo Queen twice. The younger Linda in the red dress was in the top TEN contestants. The long prom dress was part of the winning formula for her the following year.

The lady I know today is seen below with that same big smile and a loving heart. We spend a lot of time together doing everyday things. I was cleaning out a slow drain in one of the bathroom sinks this morning as her domestic partner.

The photo above was taken one morning when she was washing dishes in the kitchen sink. This lady puts a smile on my face just by being in the room. I sing love songs to her on the nights we go to Karaoke at local clubs in this area. The 1957 Elvis Presley movie "Loving You" theme song is well within my vocal range and is a favorite of Elvis fans on karaoke nights.
This is what a winner looks like! Now, she is my winner for sure. Her crown is on the front of a black cowboy hat that hides part of the letters in the background.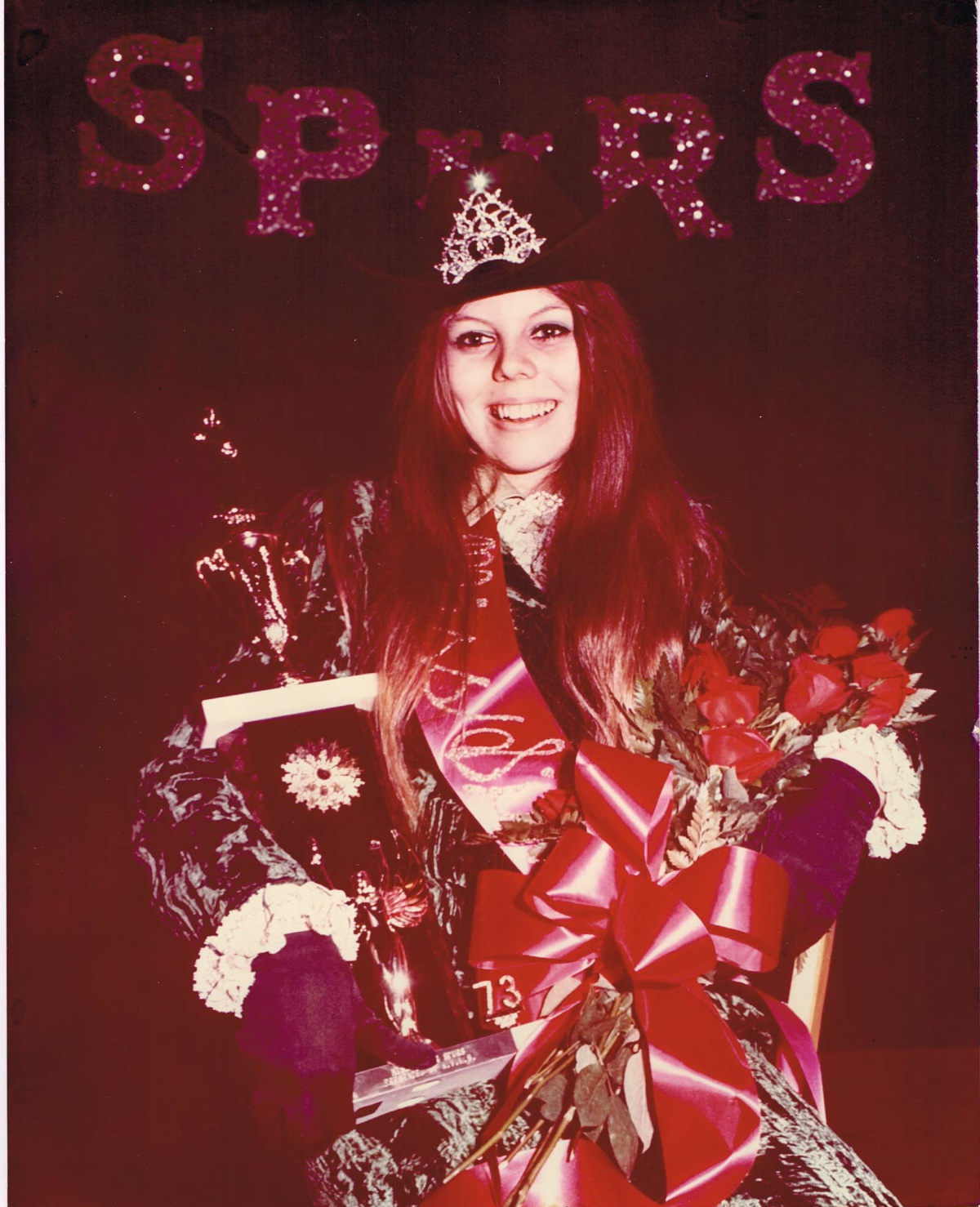 Here are the two finalists with the 1973 Queen of the Silver Spurs Rodeo. The hat has a rhinestone crown on it. The Queen and her father are seen in the photo on the right below.
Here is a photo I took with my phone on our first date, February 14, 2019 taken at the Drunken Parrot Saloon during Karaoke night. Before this night, we had not seen each other since August 20, 2006 when I was traveling from Tennessee to Florida on a business trip. I had created a waypoint in my GPS-296 for the home she had at that time. The photo on the right was taken on November 29, 2019 when we were at lunch at one of our favorite restaurants in the Kissimmee area. Yes, she agreed to let her natural hair color be revealed. I was pleased to proclaim her as my Platinum Blonde.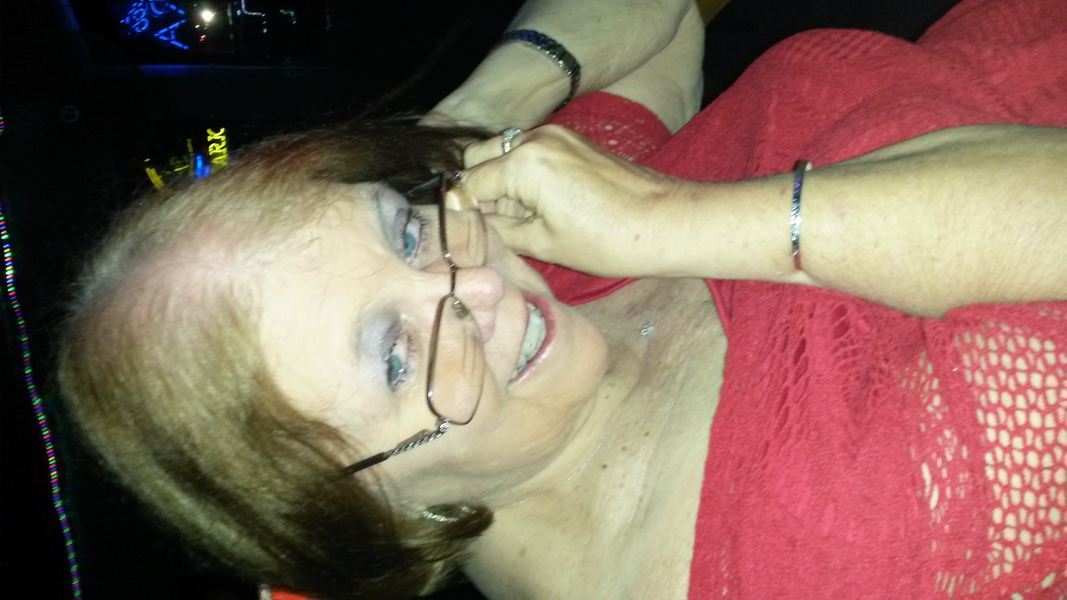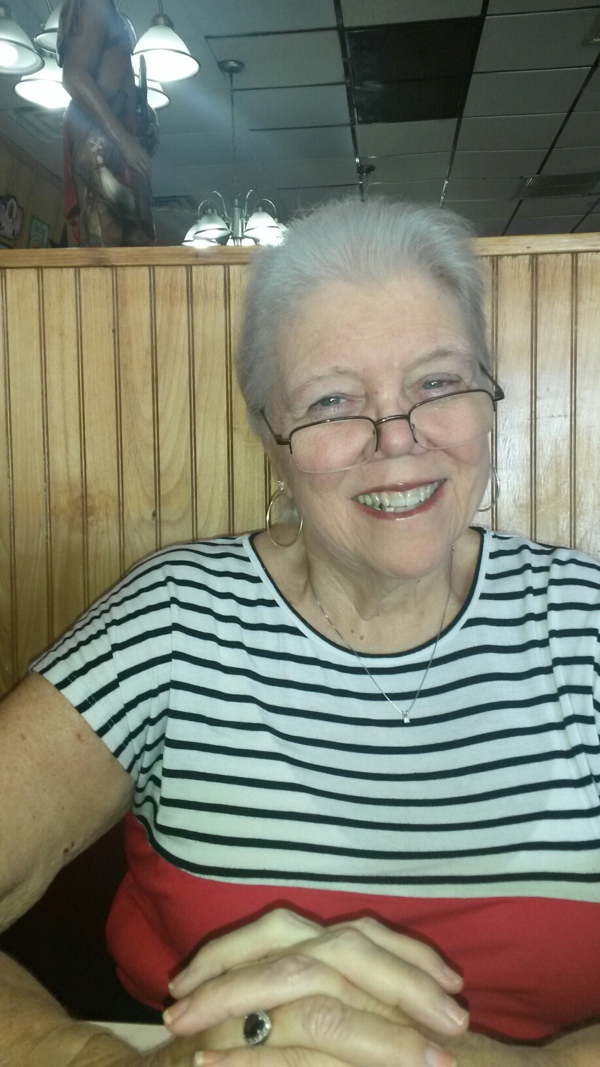 A weekend visit from Linda's daughter.
August 17, 2019: This weekend had a short visit by her daughter Jessica who came down from Atlanta to visit mom and some of her friends who live in central Florida.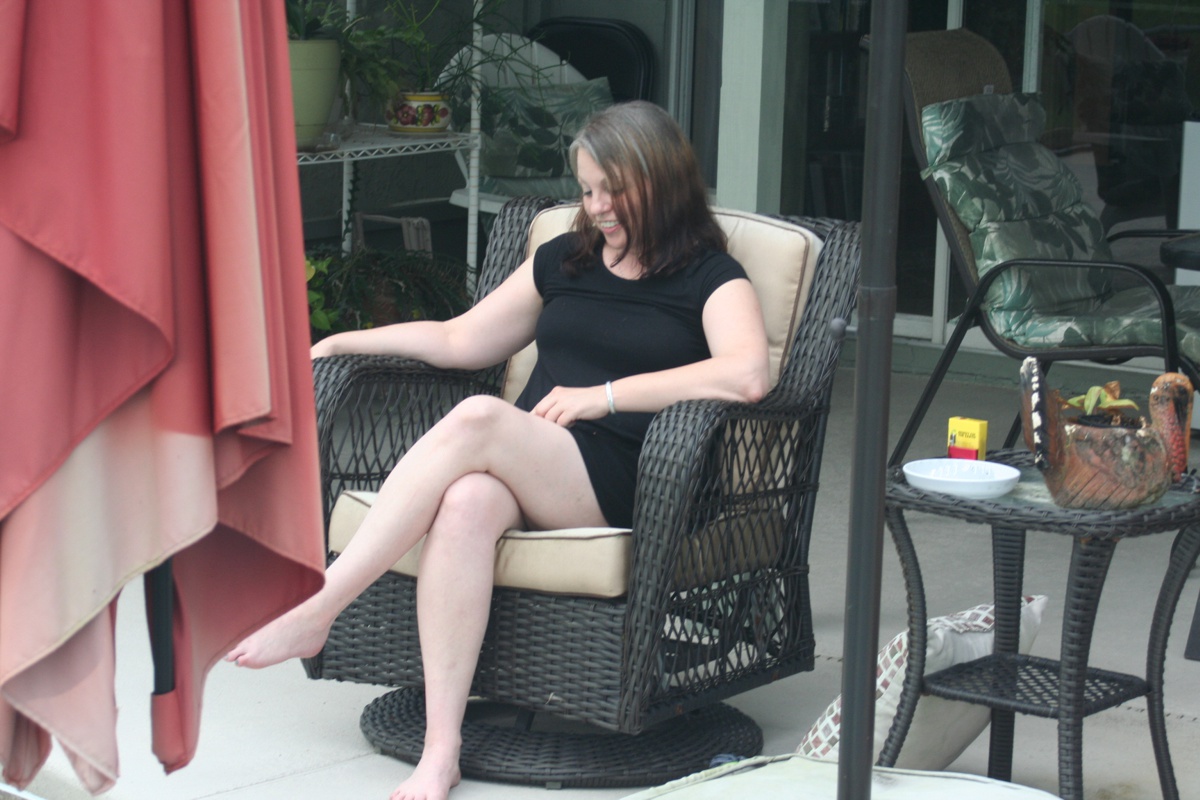 They both love being on the patio / pool deck in the screen room outside.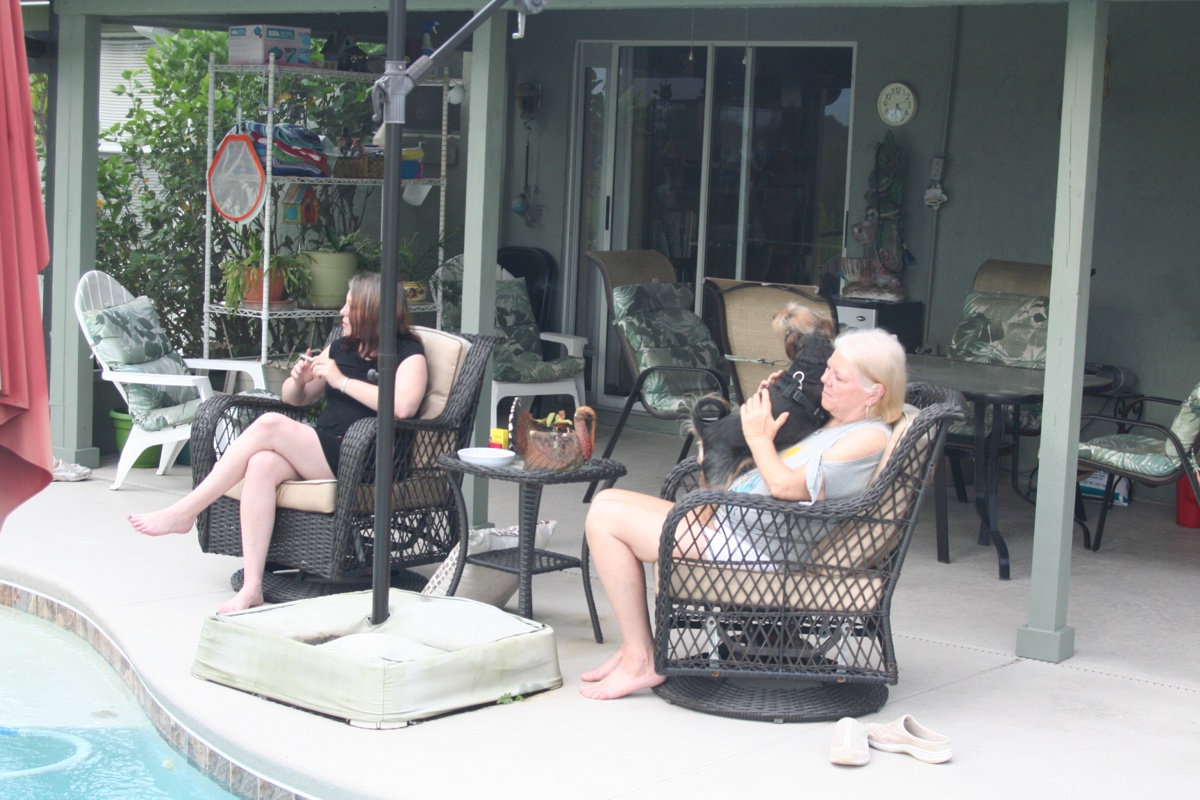 Linda's dog Chase loves to be part of the social gathering.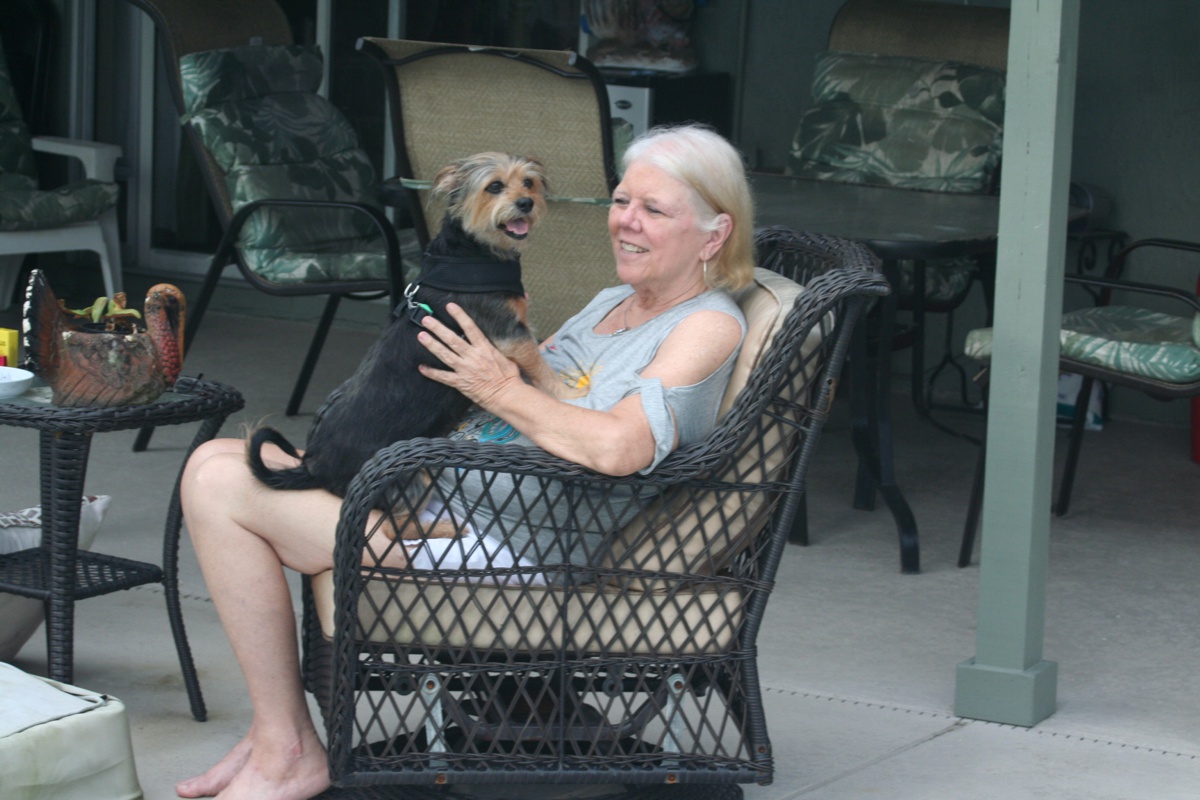 I wanted to include this photo when Linda went to visit her daughter in the spring of 2019. As always, her dog "Chase" loves to be with her. His sister "Star" is from the same litter and wanted to be in the photo as well.