A Photo Flight of Solar Power Panels and more · · PAGE 455.
May 2, 2020: Today was my first flight since March 1, 2020. It is also the first flight since I put new fuel lube on my fuel caps O-rings. No blue fuel stains were found on the wings after my flight. I will check them again after I fill up the fuel tanks.
That four-lane highway down there is US 192 and US 441 just west of the little village of Holopaw, Florida. It is located at the blinking yellow light where US 441 comes up from South Florida to join US 192 coming from Melbourne heading west to Kissimmee where US 441 goes north to Orlando and many places north of there all the way up above Knoxville, Tennessee.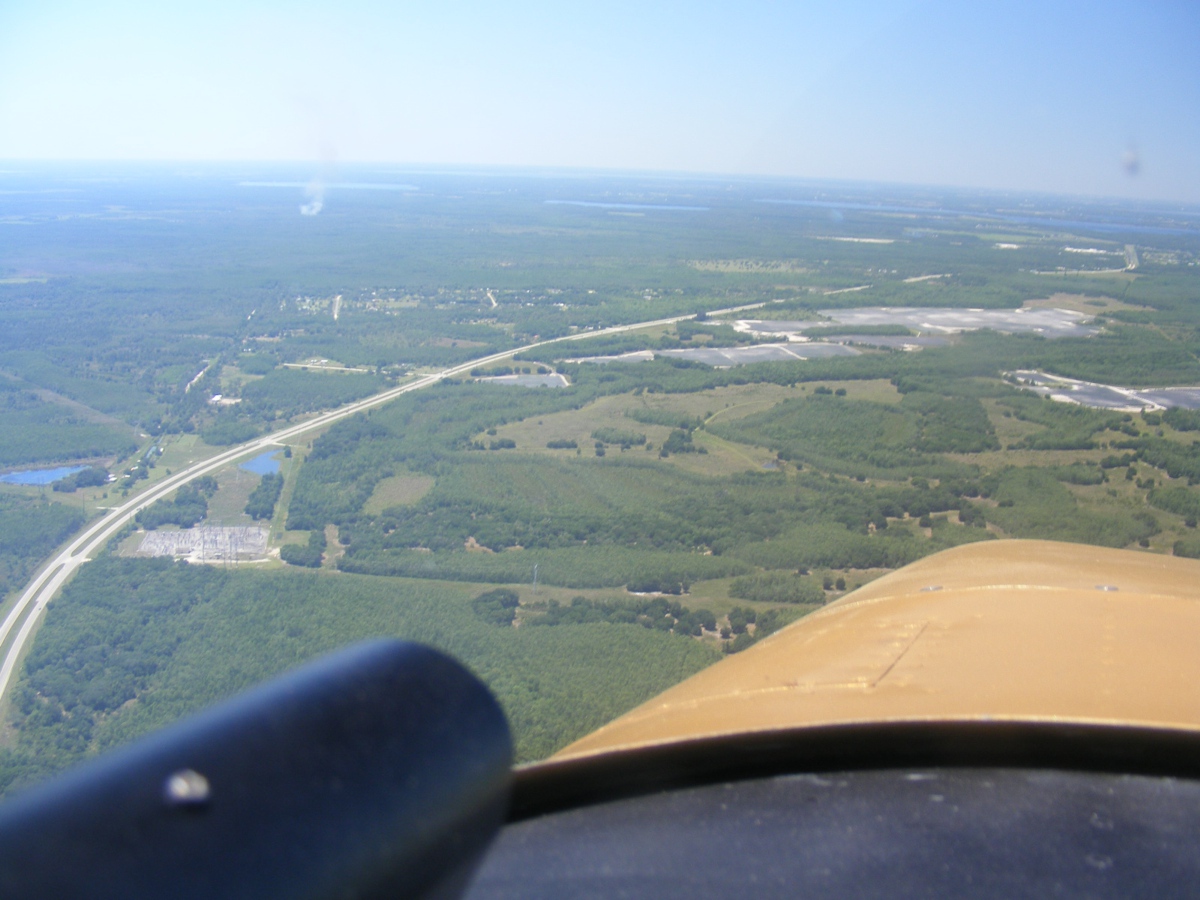 Sorry about the focus problem on this image. It shows an existing high-tension power line crossing the area where the new solar panels are being installed.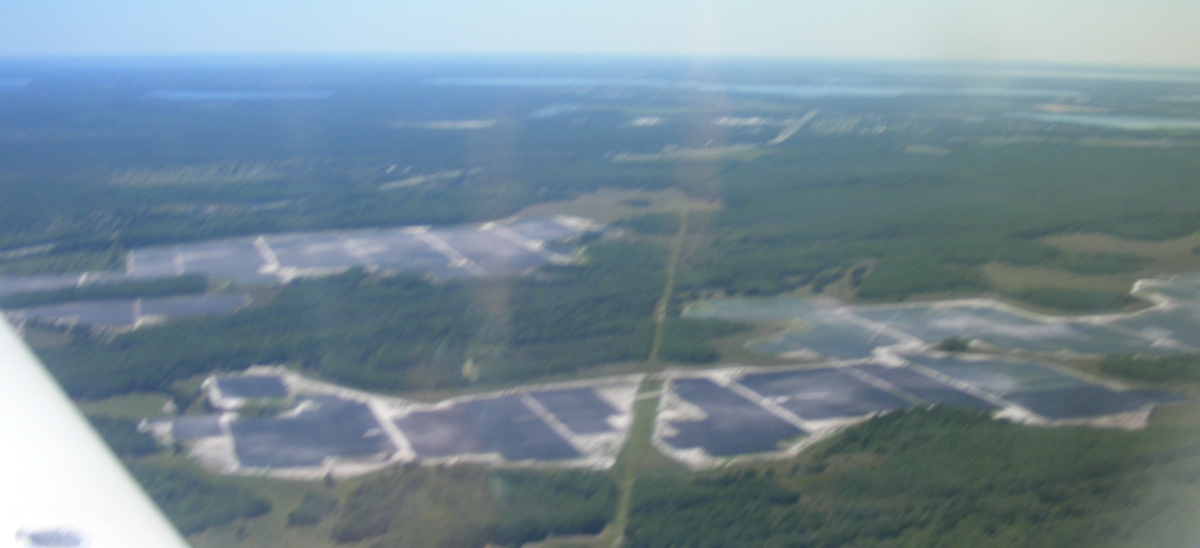 This is a view looking south at both solar panel areas.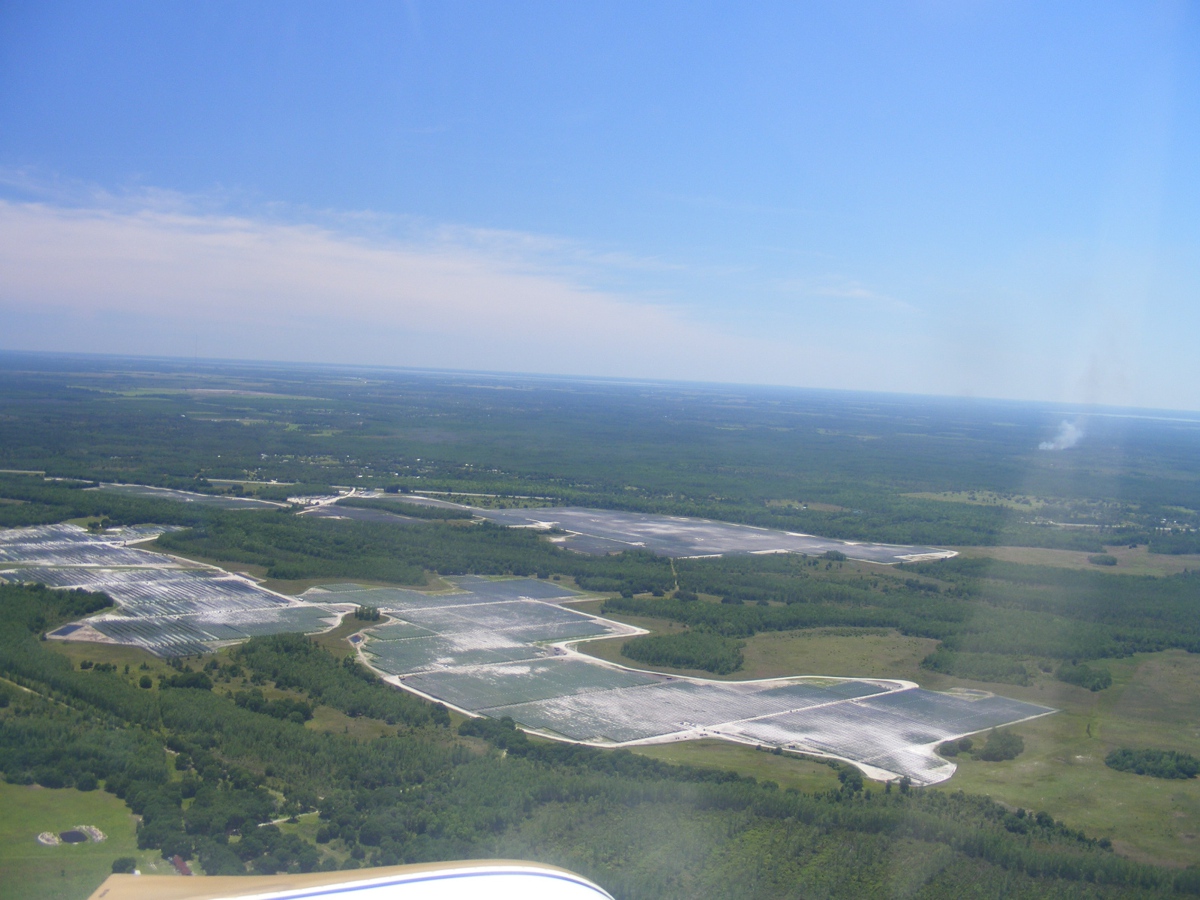 This second view looking south was taken a few seconds later. I made measurements of both areas using Google Earth images to learn the one closer in this photo is about 0.6 miles from north to south. The other solar panel array at the right side of this photo is about 0.5 miles in length.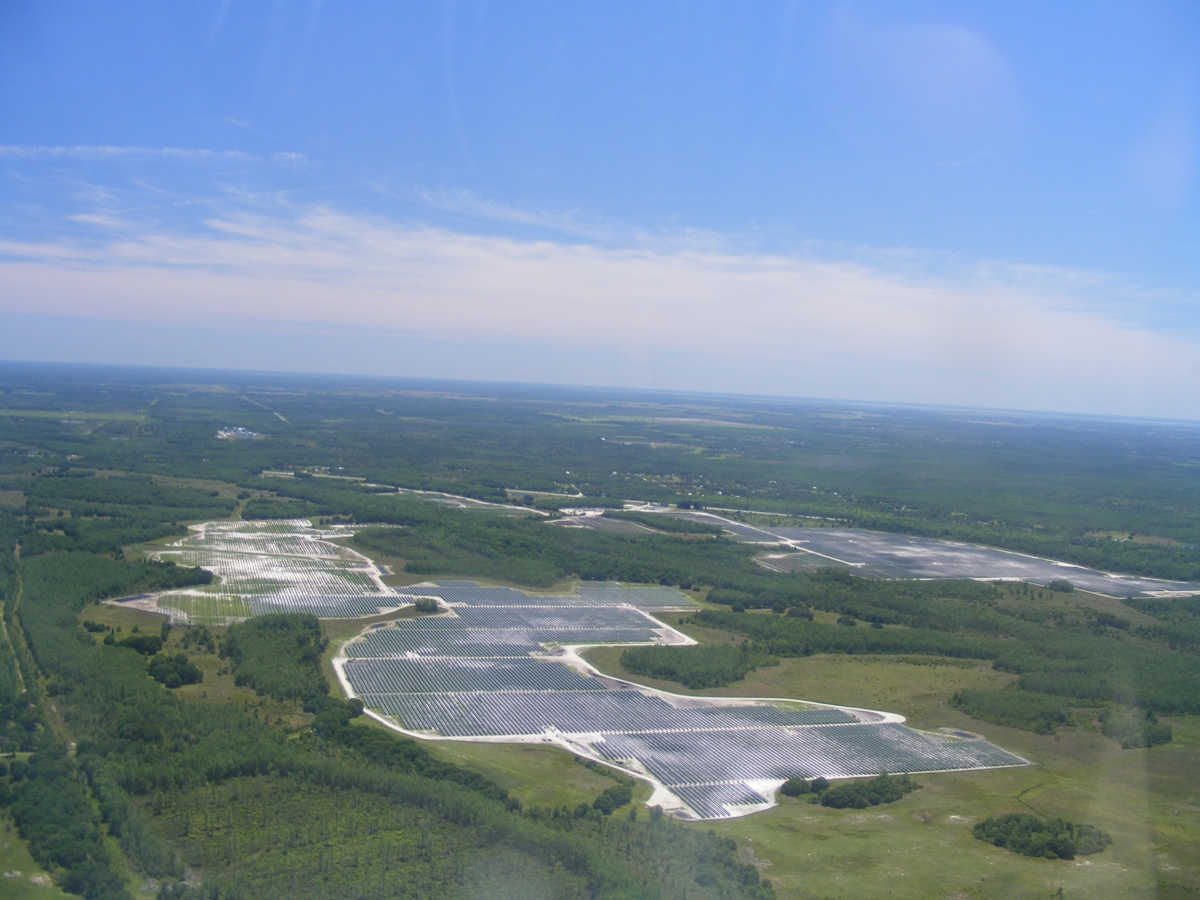 I executed a "turn-around-a point" maneuver about 1,200 feet above a friend's home on the shore of Fish Lake.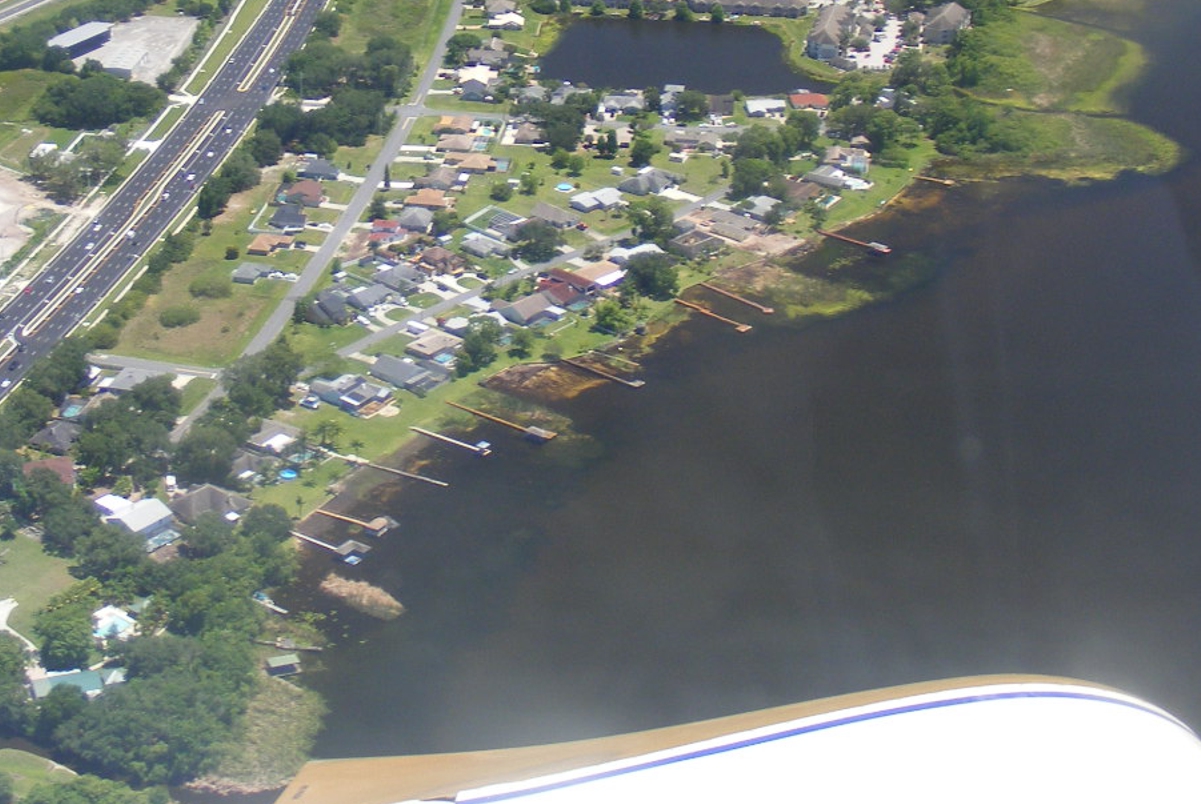 I took a few more photos of the solar panel arrays on the way back toward home base. That is US 441 and US 192 again as I look East with this photo.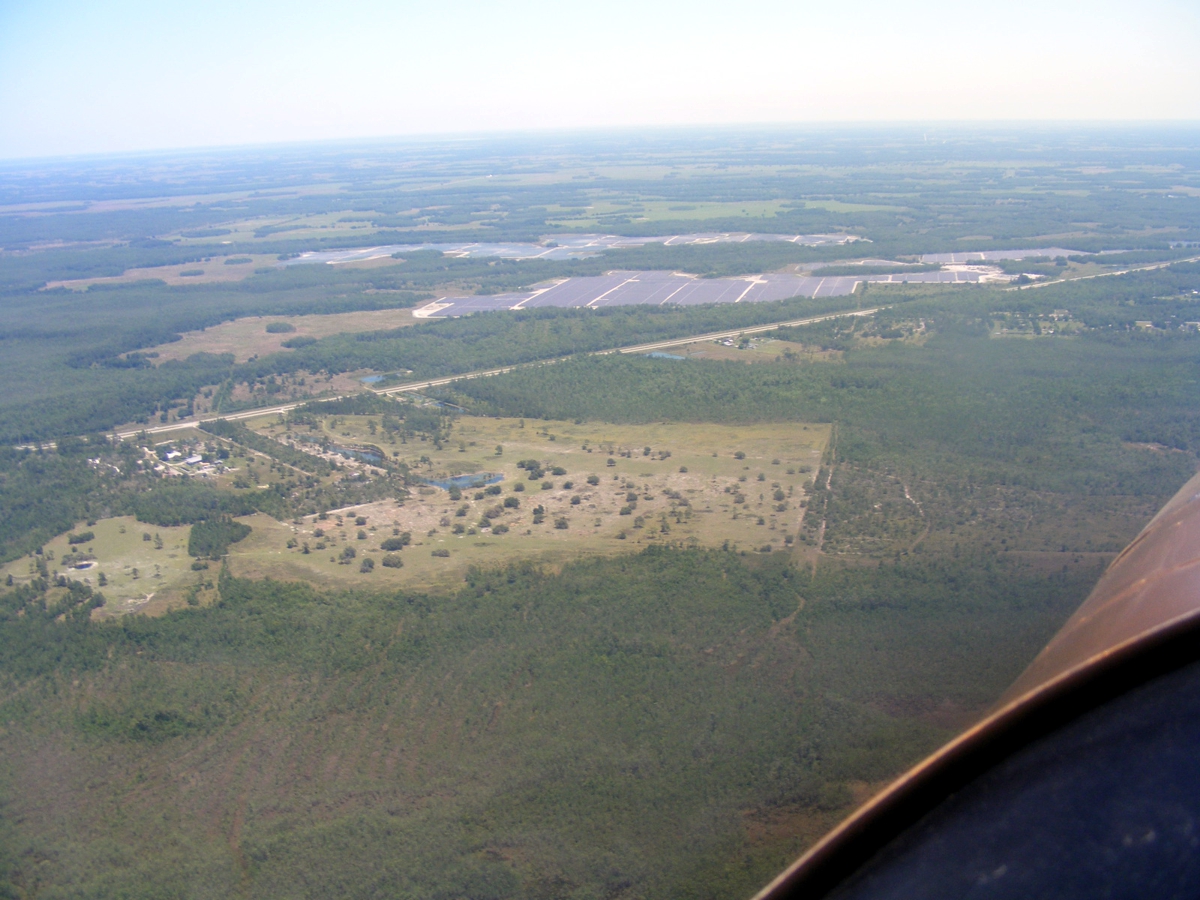 Notice how my camera is aligned with my cowling, not the horizon.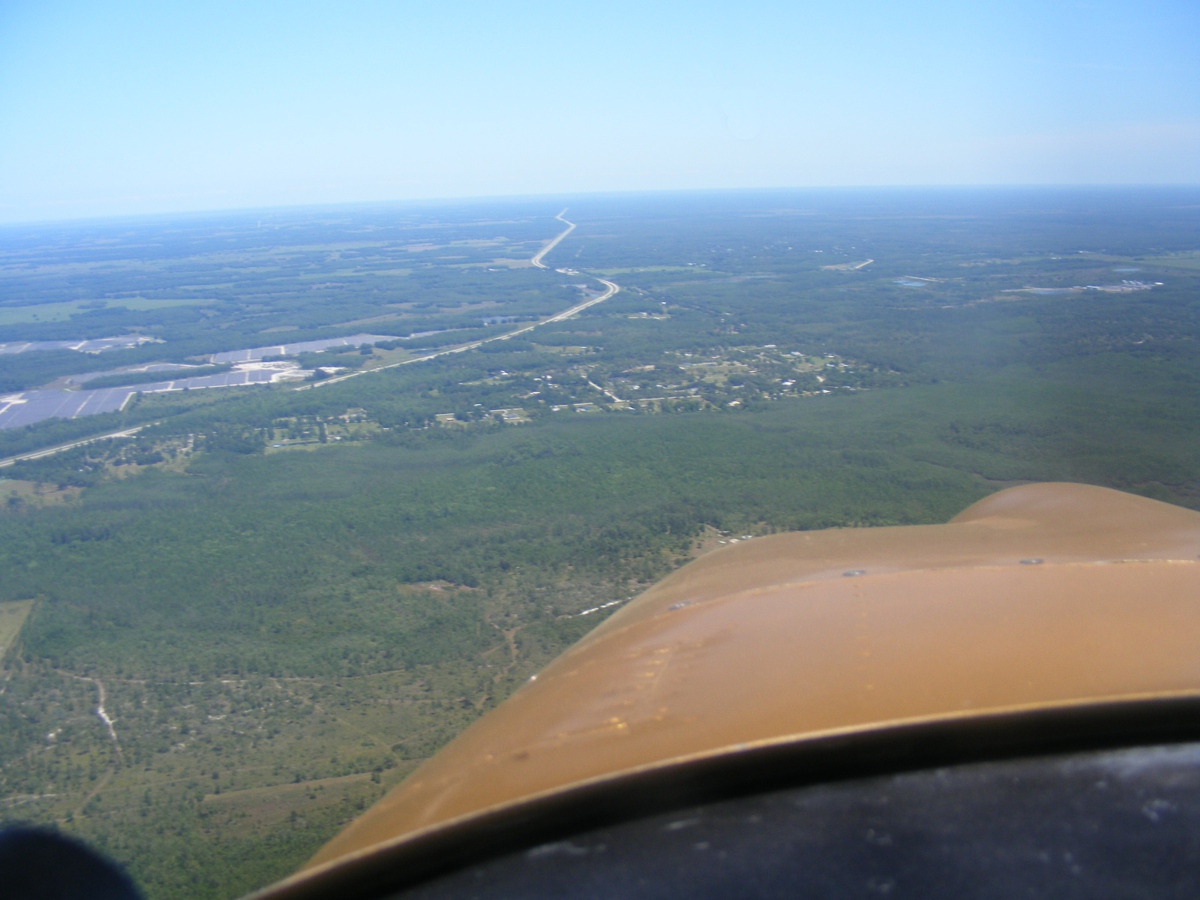 Here is another look at both solar panel arrays looking north in this image.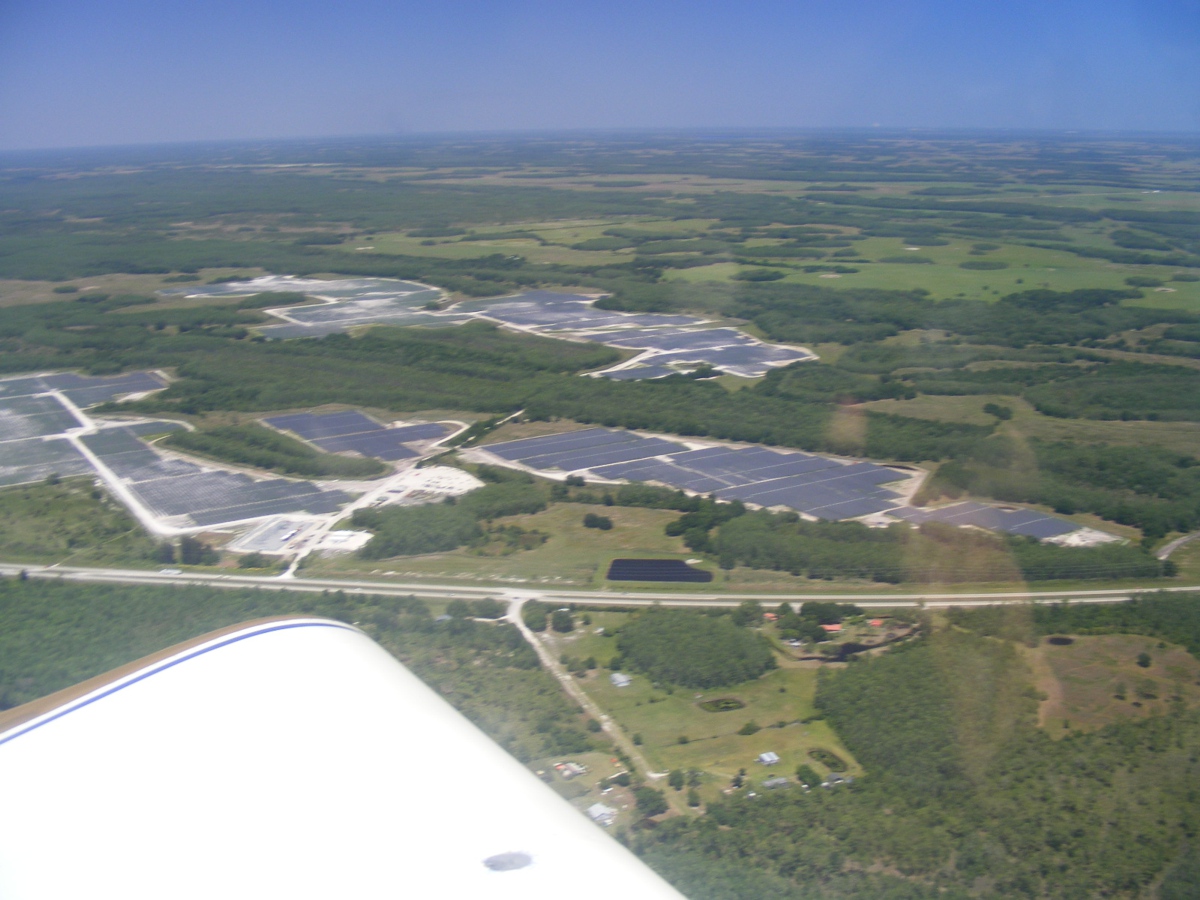 One last photo with a private airport in the back ground north of the solar panel farm. That runway belongs to Mercury Marine at a place called Lake X where they test boats and outboard motors. It has been there since before the 1970's. A couple of my model airplane friends worked there in those days.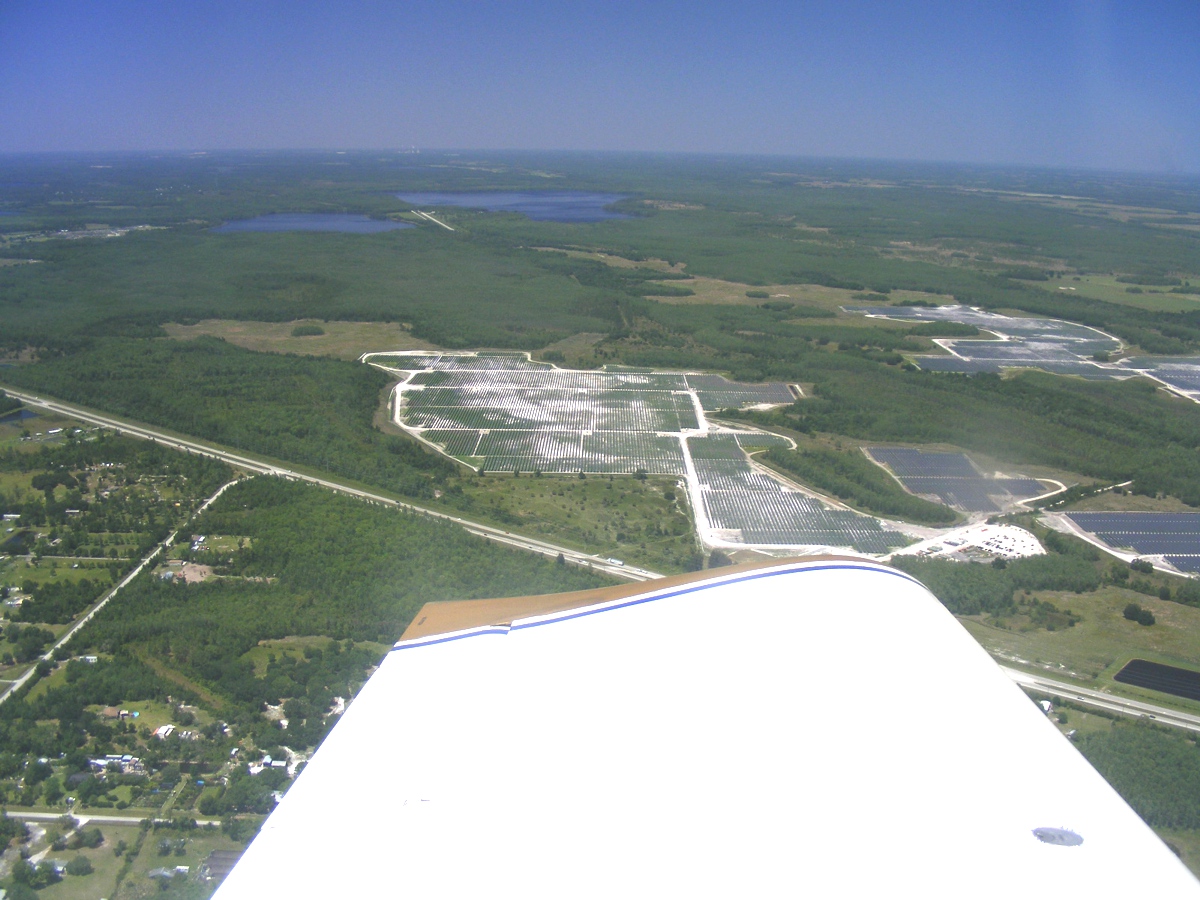 Here is the area photographed today from my airplane. I created the red outlines of the solar power arrays. I used the measurement tool in Google Earth to connect the dots for each RED polygon. They left most of the existing trees in place, while what was grazing land for cattle is now covered with thousands of solar panels.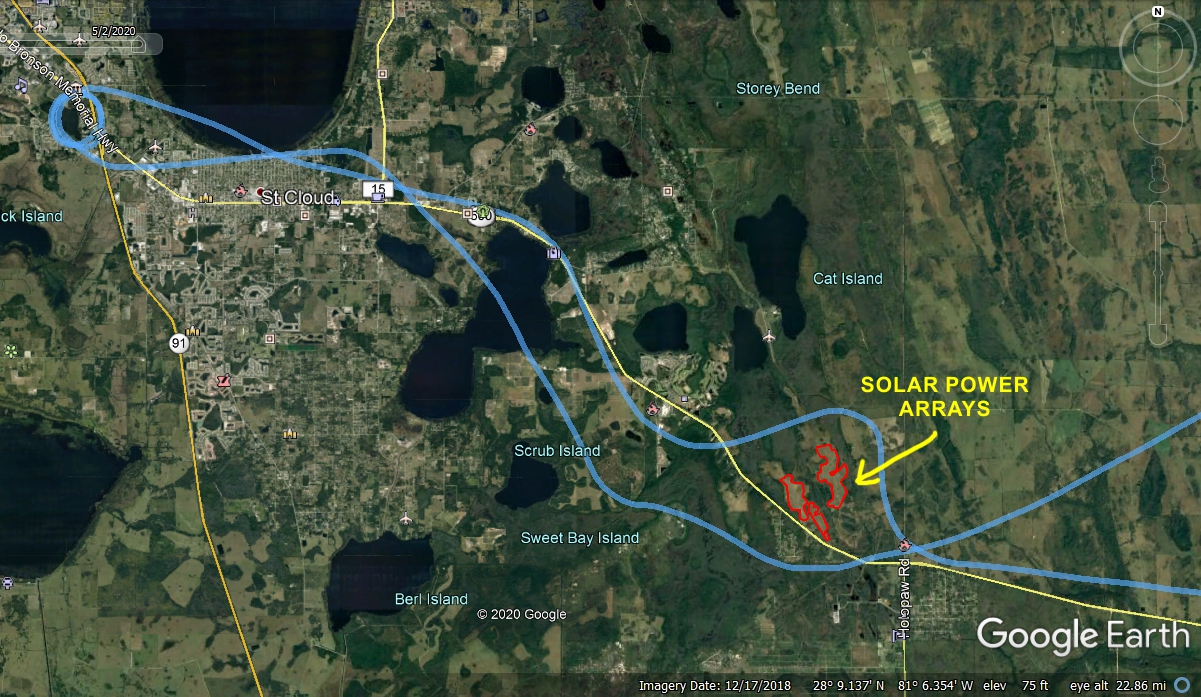 When I am adding photos to a web page, I often put a letter "D" as a place holder until I can put in the comment about the photos. This photo is looking at Melbourne as I return to Brevard County.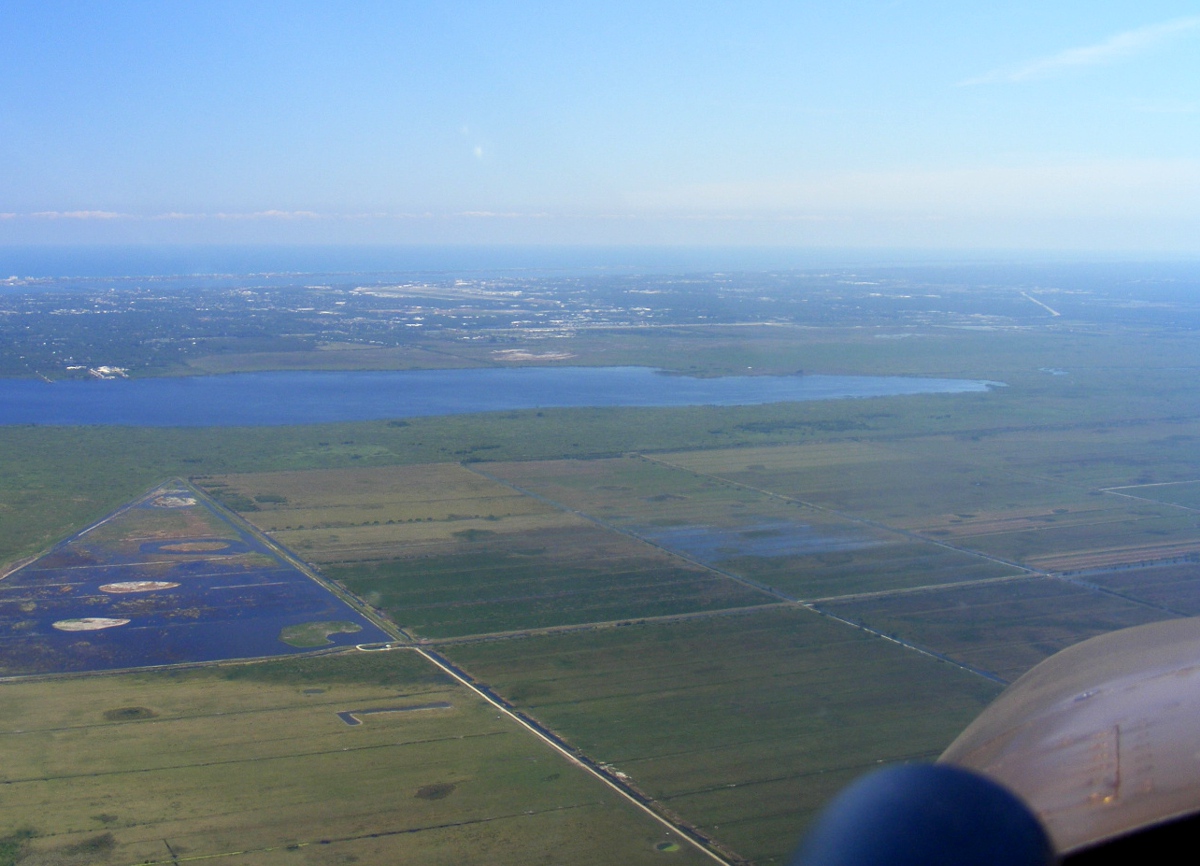 I was on my way back to Rockledge and remembered I needed to make a couple of touch-and-go landings. They are not permitted at Rockledge, so I headed for Valkaria Airport south of Palm Bay, Florida. I just corrected "tough-and-go" which the spell checker would not have noticed. Both T&G landings at Valkaria were OK, but not greasers.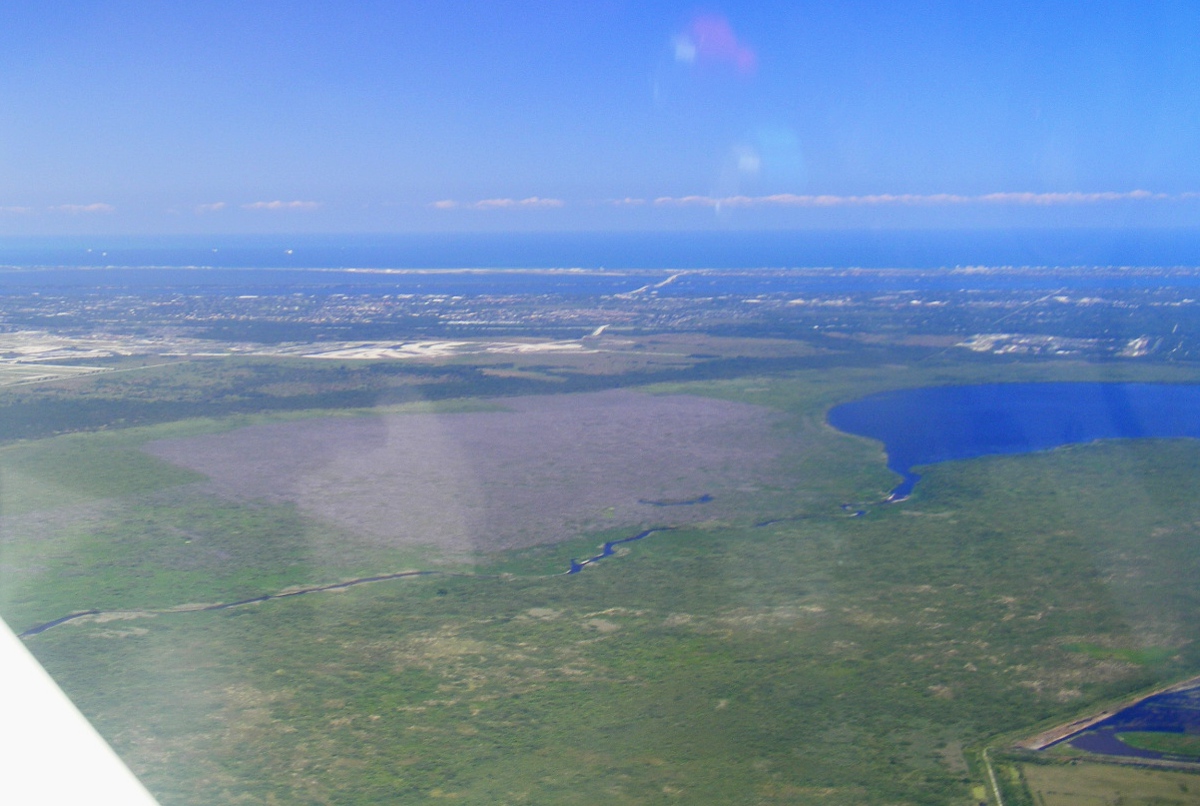 Here is my current air photo of the Golf Course that has turned into a housing development behind the house I rent. Tillman Canal and I-95 are south and west of my place.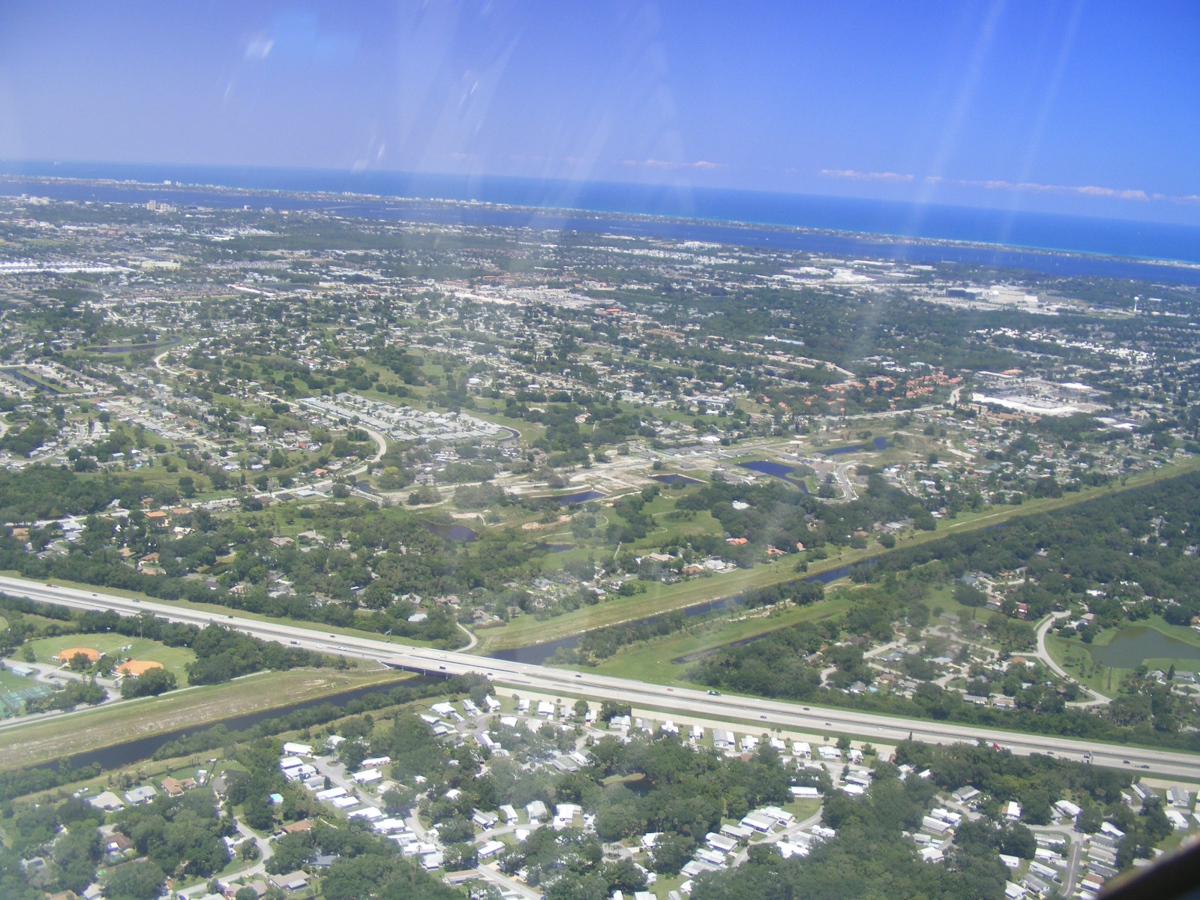 I used my GPS track to set up this Google Earth image of my first approach for a touch-and-go on runway 10 at Valkaria. The image here is from December 2015 and I seem to remember a new taxiway was put in on the south side of runway 10/28. I guess I need to fly over this airport on my next flight and take a photo with my camera.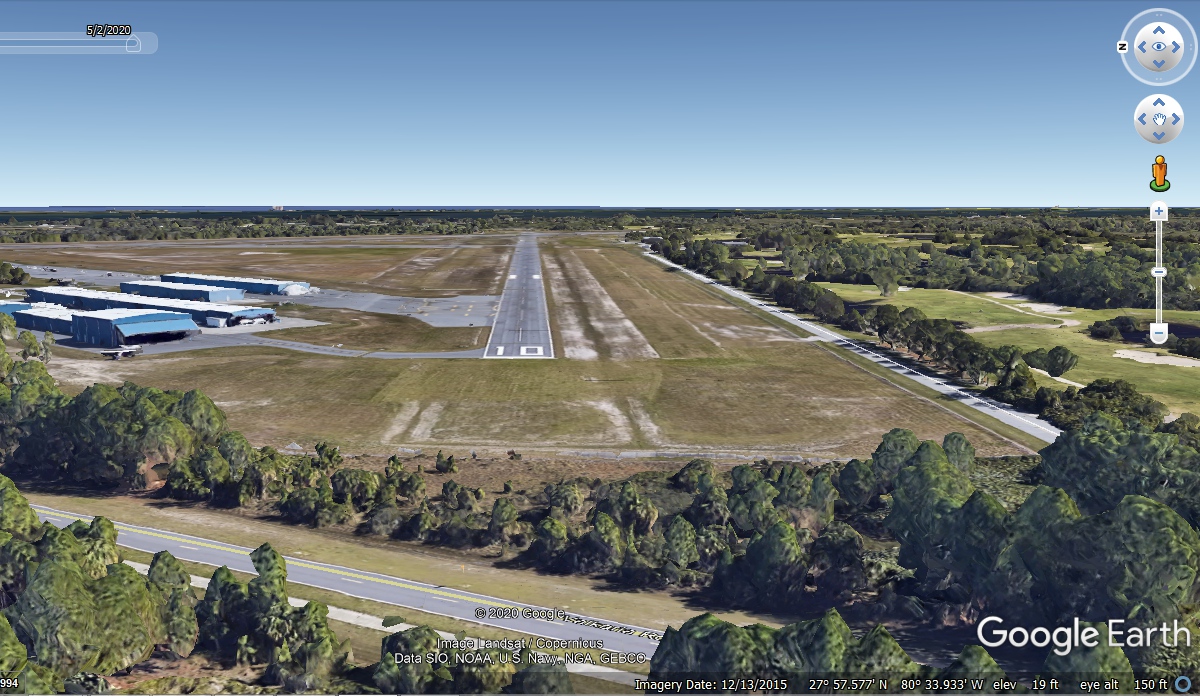 Here is the proof I made two "touch and go" landings at the Valkaria Airport today before heading back to the Rockledge Airport.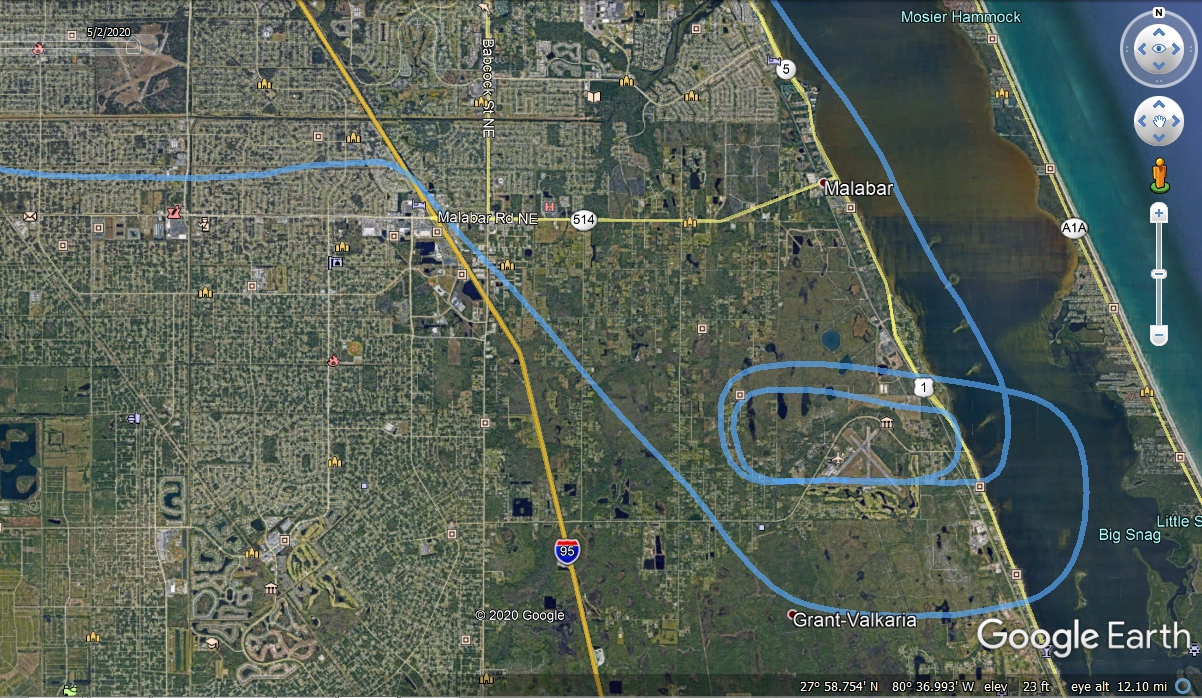 Here is a setup for runway 36 straight-in approach to a private field with no other air traffic in the area. The runway is just to the right of the four-lane road near the center of the photo.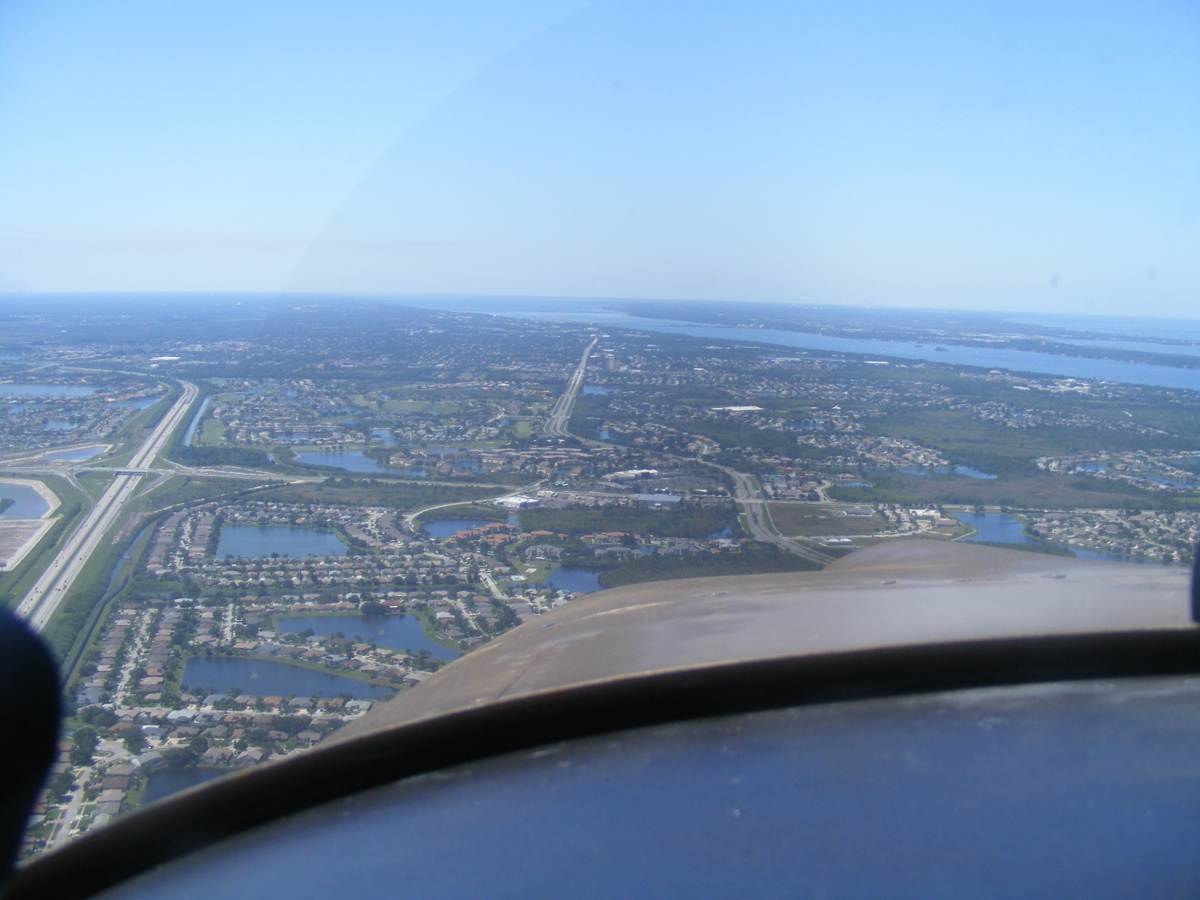 Google Earth Image of Runway 36 approach at Rockledge using actual GPS ground track.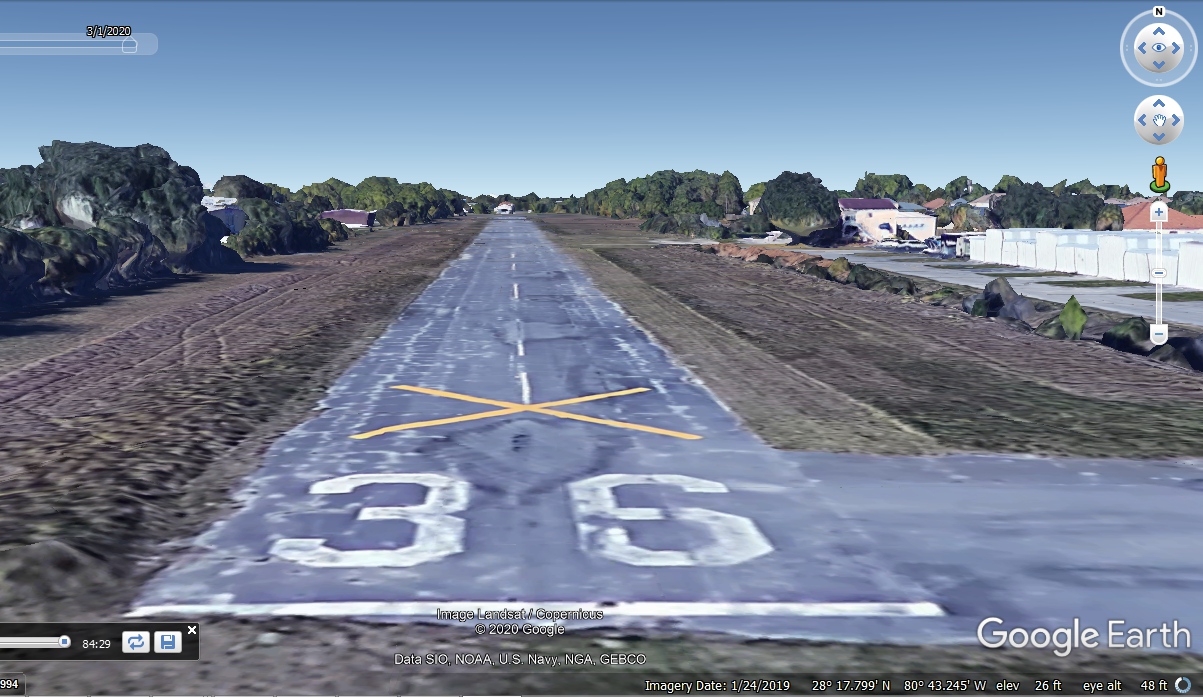 I make it a habit to take a photo of my airplane after most of my flights. The other airplanes in the hangar are what is different most of the time. I was making a final walk around to make sure my battery trickle charger was showing a green light. Before I closed the canopy, I noticed I had left my master switch ON and quickly turned it OFF before closing and locking the canopy.