SPRING 2012 · · PAGE 358.
June 17, 2012: It is Sunday morning as I publish this new page. I had a meeting this week with the folks at the Orlando Convention Center (OCC) who helped me through my cardiac event last year at 9:15 AM on Wednesday, June 15, 2011. If not for their training and efforts on my behalf, you would not be reading this update. I got permission to post these photos, but I will not post their full names for their privacy. This security guard for the OCC is one of several who performed CPR on me until an automatic electronic defibrillator (AED) could be connected to me.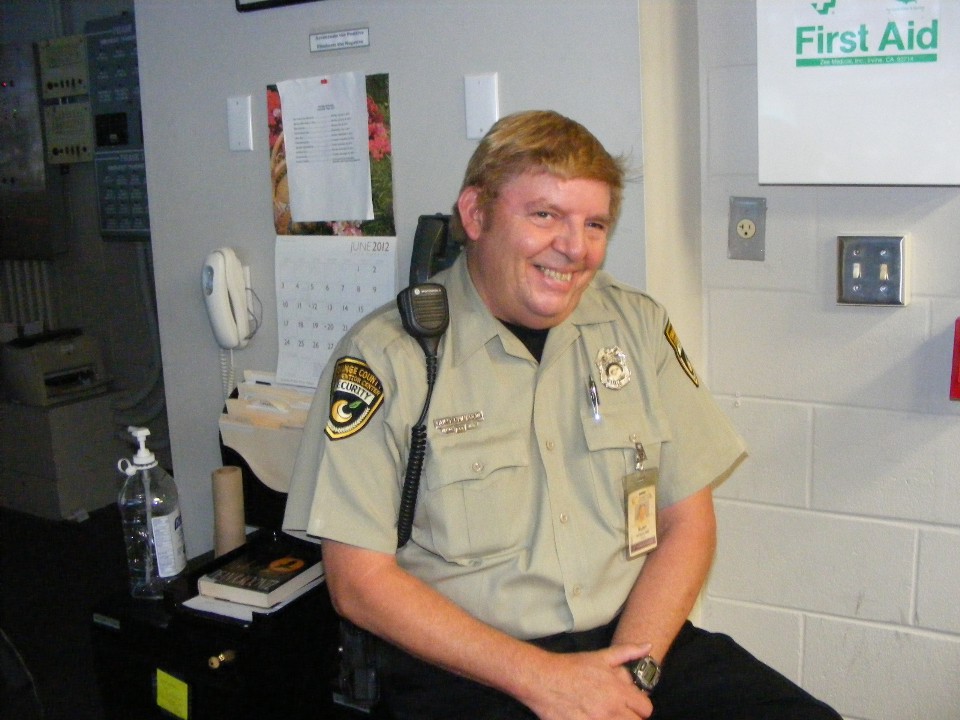 Barbara-Jean brought the AED to the convention floor where three guards kept me going with CPR until she arrived about two minutes after I was incapacitated. She had to come down from two floors above the convention hall. Charles is the head of security for the OCC. He was very much involved in my rescue that day last year.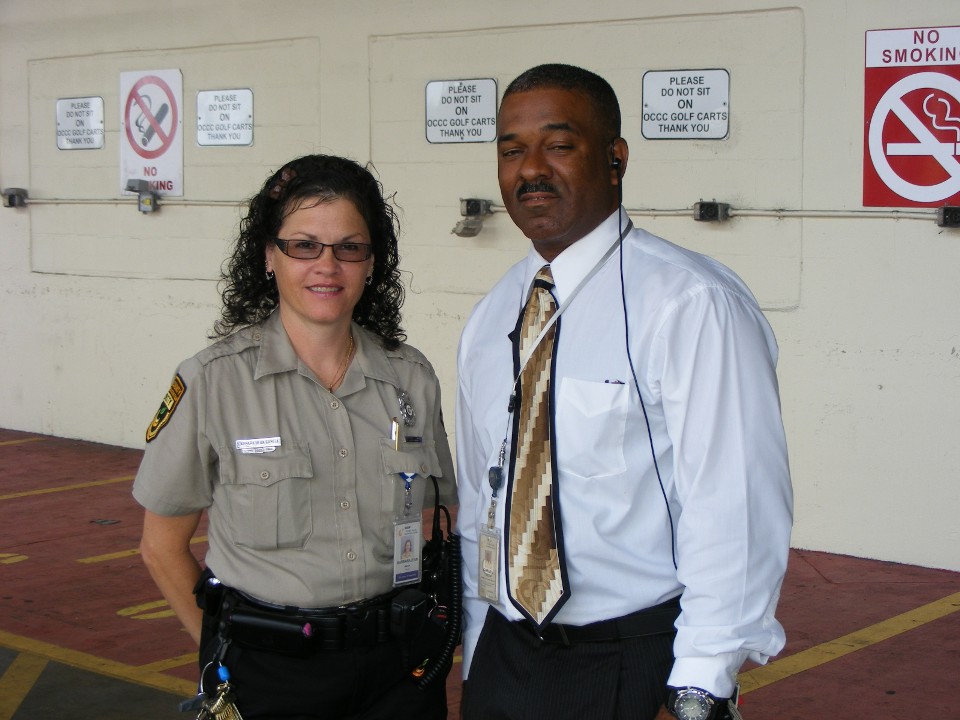 There is always someone in the security dispatch office monitoring events that arise. This very important person coordinated the communications with the staff during my rescue. She made the 911 call to the medics who took over after I had been revived by the OCC security staff.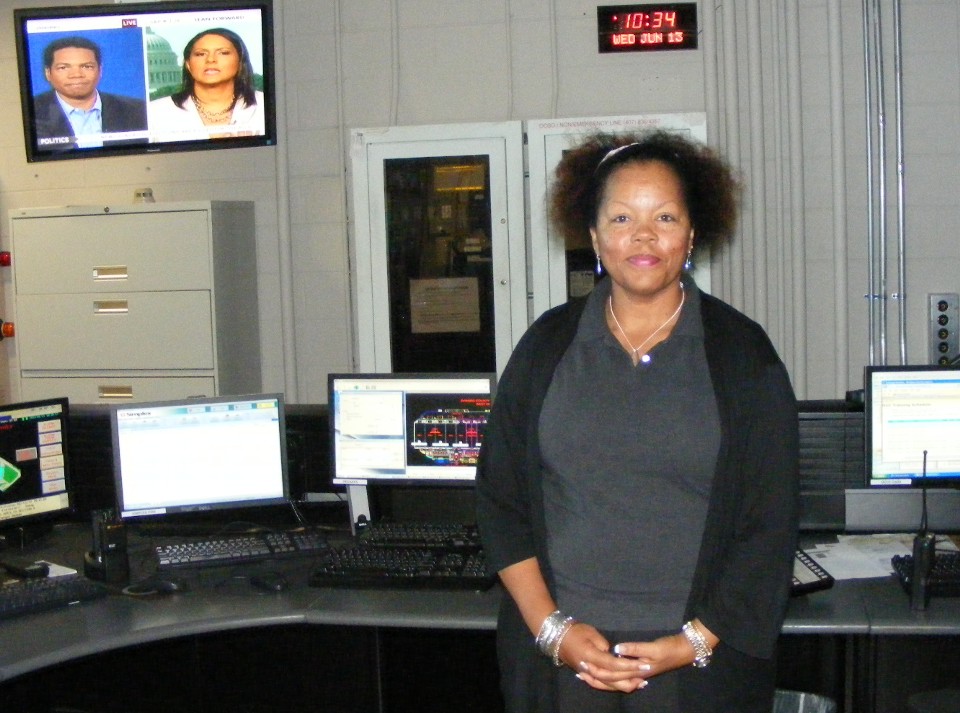 The Orange County deputy in the green uniform was on duty during my event and helped to maintain crowd control while the security people took care of me on the floor less than 30 feet inside the doors of the convention hall. He told me about many similar events he has observed over his career when the defibrillator was used. I am the ONLY person he has seen wake up after the AED was used. I have to give credit to the very quick response and CPR from the security staff. Barbara-Jean told me when she arrived with the AED that my color was blue. She kept me from choking on my tongue and I bit her finger while I was still groggy. When the AED had done its job and I started to come around, she told me I sat up, waved my hand, and said "Hi" to her with a smile. ALL these things were not part of my memory from that day. I really did not recall anything until I was inside the ambulance with the two medics who took me to Doctor Phillips Hospital near the convention center. I asked what had happened to me. The medic sitting next to me in the ambulance told me I had joined the "one percent club" of people who survived a cardiac arrest. That day last year was the first time I had heard what the deputy told me again this week.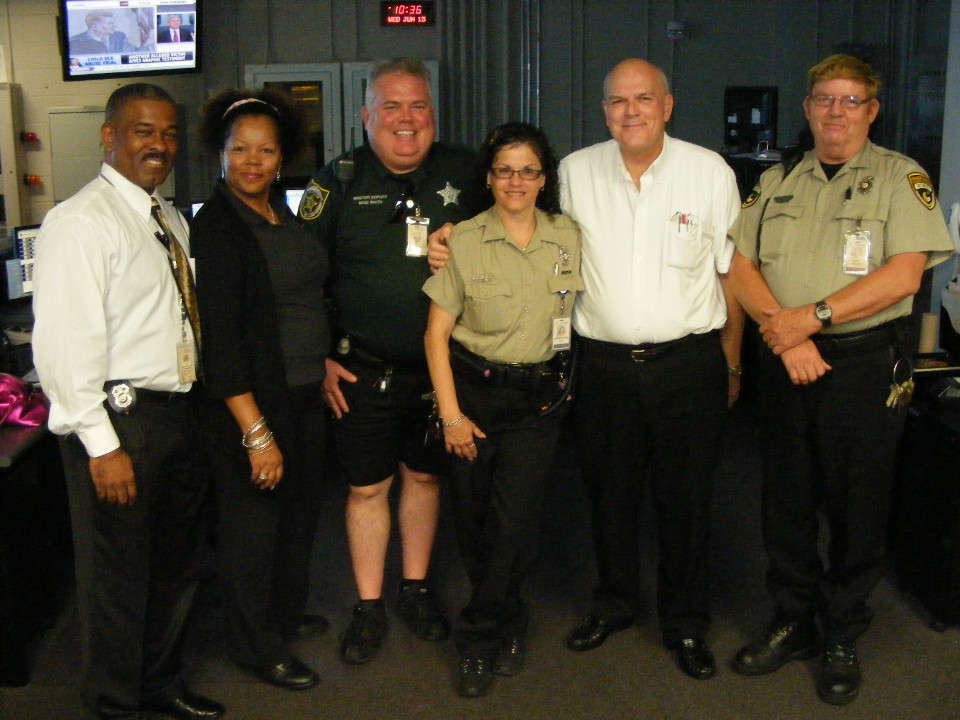 That group photo above was taken by the OCC public relations office as well. My visit as a survivor will be a story in the next OCC newsletter. I have asked to receive a copy when it is published. I gave all these folks one of my airplane web site business cards to give them a sense of who I am other than "the patient who survived" with their much needed help in my time of need.
I had been looking at this lady from the time I walked up the ramp to the security office. She was one of three people to greet me as I walked in from the parking lot. As I was leaving, I asked her to remove her glasses for this photo. The reason was to see her natural appearance. Her facial features are very similar to my mother in her younger years. I sent an email with the photo below to my sister the day I met these folks. The text of my email did not contain the word mother. I just said "Call me when you have looked at the attached photo." When I spoke to her later that day to ask her what she thought, my sister said "She looks like our mother!"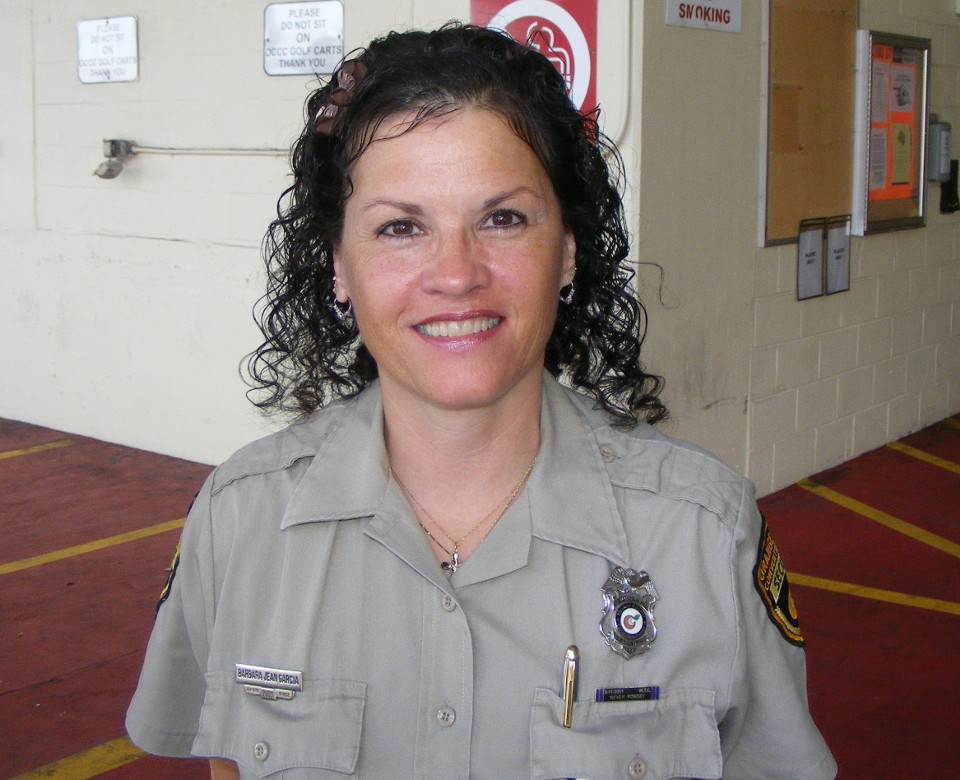 October 8, 2012: I finally had a chance to get into my old family photos and found this high-school photo of my mother as a teenager. She looked like that well into her 30's. The hair style tells you the photo below was from the early 1940's. She was age 22 when I was born in 1947.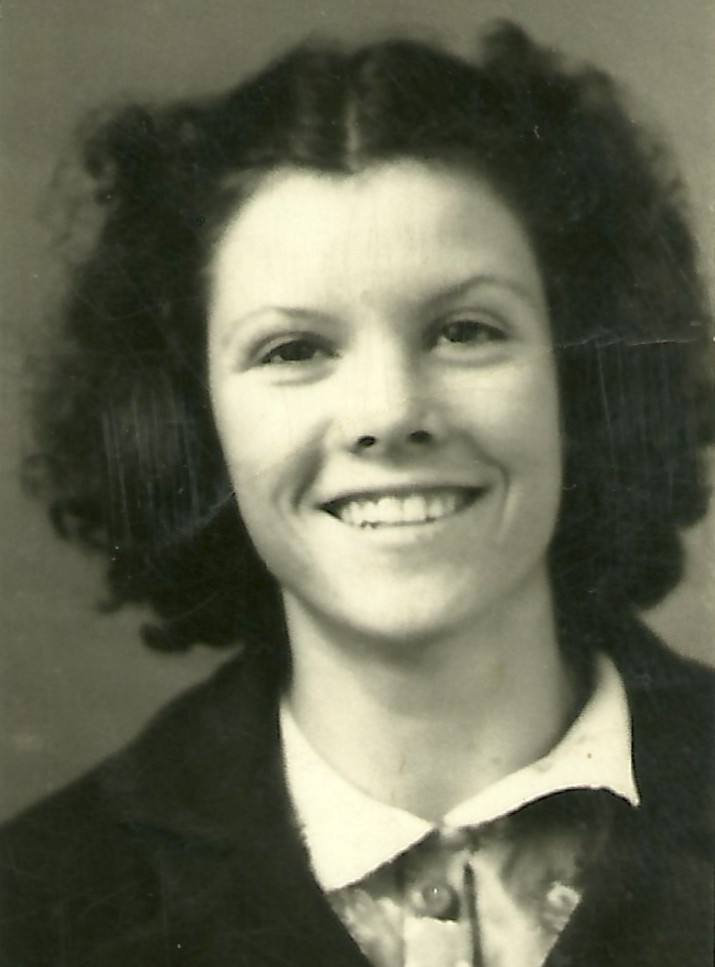 As for the final good news of the week of June 17, 2012 - - the mail on Friday had a letter from the FAA medical branch. My flight privileges have been restored. The weather for next weekend is looking good for the next flights of the "Enterprise" to Florida. I will post the details next weekend if the weather is good for the flight. I went by the Rockledge Airport yesterday and was given the access code for the steel hangar where my plane will be sheltered.
SUMMER BEGINS - 2012
June 23, 2012: "Since when can weather men predict the weather?" Those are some of the choice words spoken by Doctor Emmett Brown from the "Back to the Future" movies. When you Google his character, there are plenty of memorable quotes from all three of the movies. I like the quote from the third movie when he says "Actually, I'm a student of all sciences" to the love of his life, 1885 school teacher "Clara Clayton" played by Mary Steenburgen. I can relate to his statement since I have made my living manipulating the electromagnetic spectrum (radio waves & TV signals) via cable television networks, satellite uplinks and downlinks, and using modulated laser signals over fiber optic cables.
This past Wednesday, June 20, 2012 was when I planned to rent a car that evening and take a ride to Chattanooga early on Thursday. The plan was to get my airplane and head back to Florida on Friday or Saturday based on the best weather forecasts. When I turned on the weather channel Wednesday morning, and the local News 13 weather here in Central Florida, they talked about the terrible thunderstorms and rain expected this weekend. Most of that was related to a low-pressure area in the Gulf of Mexico that was expected to come across northern Florida and south Georgia. That low is stalled out there even as I publish this update. There were a few rain showers on Friday, but they were widely scattered and typical of Florida weather that I dealt with when I first got my pilot's license in the 1990's here in Florida. I did not know my presence here could alter the weather over such a wide area.
Without a doubt, if I had driven to Tennessee for the aircraft mission, the weather would have been the worst across north Florida and south Georgia in years. Who knows, I could have been stuck by lightning and ended up in 1885 in the old west. But then again, flying the "Enterprise" a lightning strike could have jumped me into the 23rd Century! So much for movie fantasies...
I have things I need to do here in Florida next weekend. My day job will take me back to New York City in July, and possibly to Dallas, Texas near the end of July. It will probably be late in July before the airplane gets moved to Florida. I will keep you posted in these pages.
I also want to send a thank you to one of my fans in Canada who sent me an email in response to my recent web updates of the events from June 15, 2011 and how my life has been different since then. I am better now than before and will be flying again soon.
June 27, 2012: What is that light in the window? My goodness, it is the Sun peeking through the clouds. That tropical storm finally got a name and DUMPED a lot of rain across most of Florida, but not so much here in Melbourne. You may have heard the news about the flooding in North Florida and how part of Interstate highway 10 was closed due to flooding. Some places got over 20 inches of rain in a 24-hour period. I have seen that kind of rain and flooding in Florida before, back in the late 1990's. More later...
July 14, 2012: This Saturday morning was a lot like so many in recent years. I went by the airport to check on my airplane. I have been on the road since July 5 going to Virginia, Pennsylvania, Connecticut, New Jersey, New York City, then back to PA, VA, and then to Tennessee on Friday, July 13, 2012. I ended that day back in East Ridge about a mile from where I was living since May 2001. I went to a restaurant near the motel that I have never tried because I usually cooked at home when I lived here.
On Saturday, I checked my airplane and found the battery at 6 volts and nothing worked when I flipped the avionics master to the on position. I quickly realized the battery charger was not working. I opened up the case and found the final transistor was loose and needed the three pins soldered again to the circuit board. I tested the unit before putting the case back on it. The one-ampere charging mode came on with the RED LED working as normal. I unplugged the connector in the 12-volt accessory socket in the airplane and the GREEN LED came on to show the low trickle charge current needed to light up the green LED on the plug that is normally in the accessory socket. I showed Wendell how to keep an eye on the charger and the DC voltage reading he should see when the battery gets up to a normal charge. I finished cleaning the airplane and headed for Florida just after 12 noon. I made it home to Melbourne at 11 PM.
July 19, 2012: Wendell called me to tell me the charger was now running with the GREEN LED lit and the battery voltage was above 12 volts DC.
July 22, 2012: Sunday is almost gone here in Florida. I went out to see a movie with the wife and had a slow day staying indoors from the heat and humidity. I went by the Rockledge Airport late on Friday to visit with Bill Simmons. My space in the hangar is ready when the weather and my schedule will permit me to bring my RV-9A to Florida.
August 2, 2012: I called Wendell today asking him to check the battery and avionics in my airplane. He called me back to tell me the battery charger LED was green which is the trickle charge mode. All the avionics came on when he turned on the avionics master switch. Now it is up to the weather to cooperate to bring the airplane to Florida.
September 3, 2012: It is the Labor Day holiday here in the USA again. The home page of this web site shows a photo of me and my airplane at the Georgetown, Texas airport on Labor Day 2005. That weekend was the first time my oldest son and private pilot got a chance to fly the airplane. That was a lot different from his longest cross-country experience we had together going to Oshkosh, Wisconsin from Georgetown, Texas in July 2010 for AirVenture. A lot has happened in the past seven years.
The past week saw the tropical storm Isaac become Hurricane Isaac before hitting Louisiana and the Gulf Coast. The remnants of the storm are still being felt as thunder storms move across Alabama into the Chattanooga area. Even on this long weekend, the weather is against me and moving my airplane to Florida. We shall see what the weeks ahead offer in flight opportunities.
September 9, 2012: We had a visitor to Melbourne today. He came by air of course. This airplane lands at a lot of USAF bases. It is recognized by its classic paint scheme and polished metal. It is an older Boeing 747 with a number of upgrades and air-to-air refueling capabilities.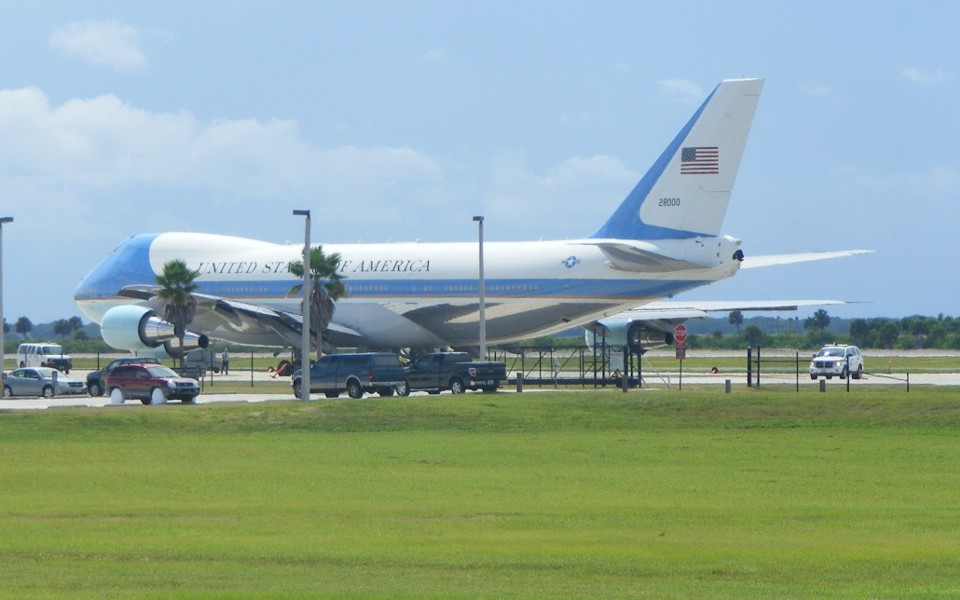 Later that afternoon, it was time to return to home base.