June 2011 and the Weather is Hot · · PAGE 349.
June 4, 2011: (Saturday) - - The long dry spell is over and I am back with something to publish. My last posting was March 11, 2011 about this site being accessible via www.n2prise.com and the original URL www.n2prise.org which is still in service. That change to the server required a complete republish of ALL the files for this web site. That took two separate sessions to get all 600+ pages and photos uploaded again.
Some of you know that I had some minor health issues which were quickly resolved in the course of two weeks in late March 2011. I also had a couple of business trips that kept me on the road after I was "back in the pink" as they say. The first trip had me traveling up to Pennsylvania and New Jersey before the Easter Holiday.
I made some updates in my technical articles section during the "quiet time" since I was not flying my airplane. I also came through the little town of Ringgold, Georgia about five minutes after a tornado hit there on April 27, 2011. There has been plenty of news about that day. It was the same day that Tuscaloosa, Birmingham, and Gadsden, Alabama got hit. Those names made the national news big time. I also saw where a tornado crossed Interstate 75 in Georgia north of Cartersville, probably on the same day. Another swath of trees were cleared on both sides of I-75 down at mile marker 195 on I-75 south of Atlanta.
The second road trip was down Florida in May. I was in Florida about 31 miles south of the shuttle launch site and took a couple of photos of the Shuttle Endeavor during the launch on May 16, 2011. You could hear the sound of those solid rocket boosters delayed by about 2 minutes 30 seconds at my location. I lived near Ocala, Florida in the 1980's and saw both day and night launches of shuttle flights. If you were out in the quiet countryside, you could hear the sound of the shuttle launch about 8 minutes after liftoff about 100 miles away.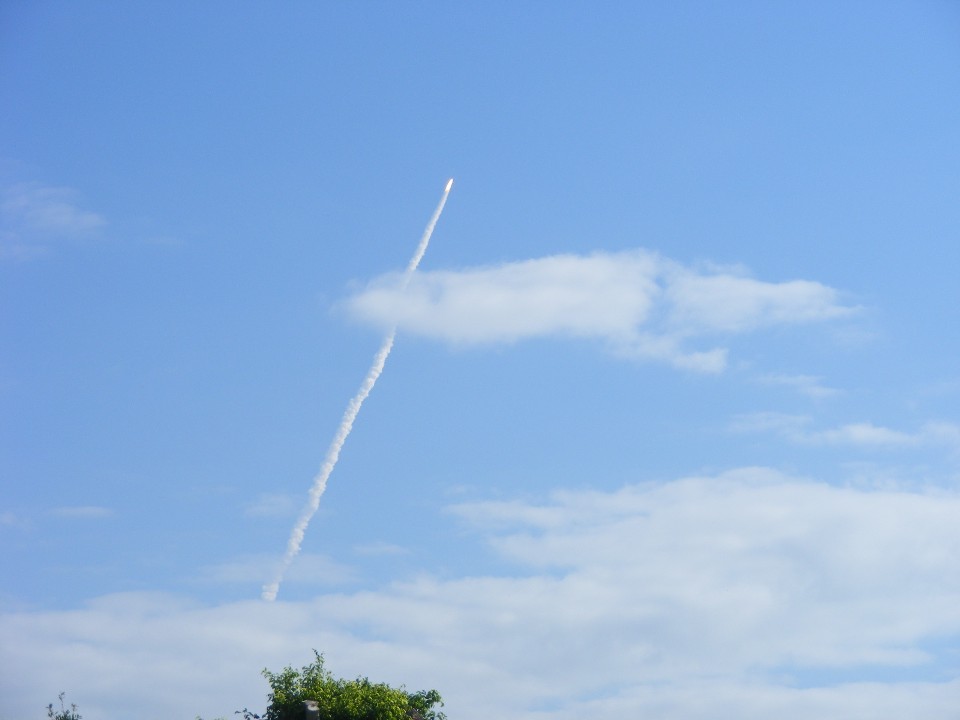 This second photo after the separation of the solid rocket boosters shows how much wind shear there was at the different altitudes in the atmosphere during the launch.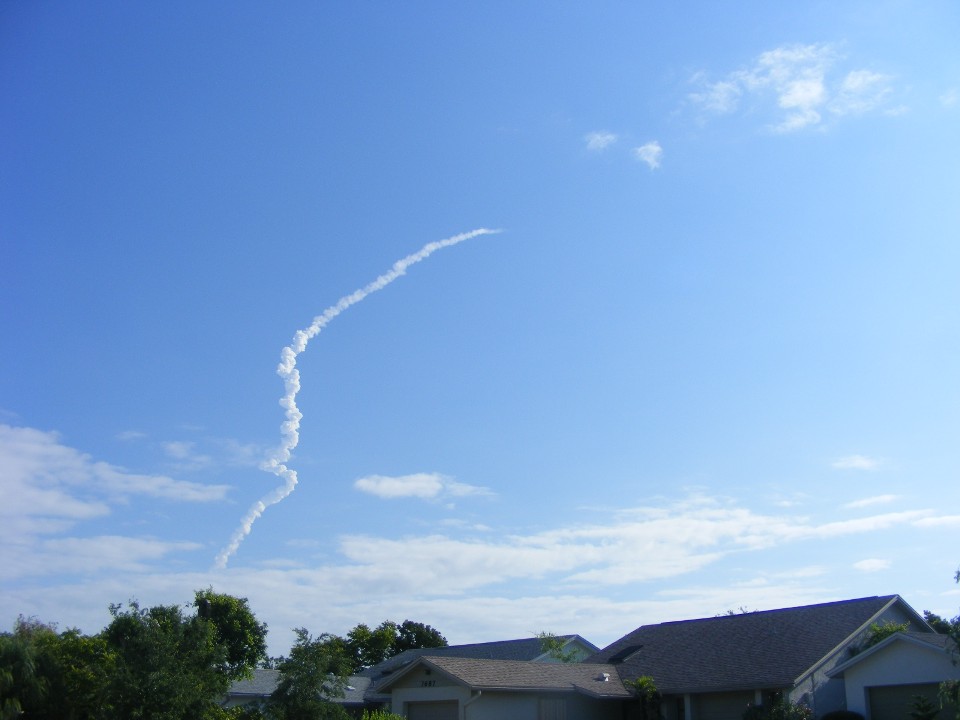 My return from Florida was on Sunday, May 29, 2011 on a holiday weekend here in the USA. I was pleasantly surprised at the moderate level of traffic on the interstate highways. I went by the hangar on Memorial Day (May 30) to clean the airplane and check on the battery minder status. While I was away in May, Wendell called me when he bought a couple of cases of aviation oil at a very good price considering the price of a barrel of oil at this time. I asked him to buy two cases for me. I stopped by the hangar this morning to pay him for the oil. The usual group of friends were there for the Saturday morning bull session. They were shocked at how clean my car was. I had to run it through the car wash after returning from Florida. The love bugs were in season down there. They show up in the spring and the fall every year "flying united" to propagate the species. A lot of them get hit by cars, but enough survive to keep them coming back every year.
I called my CFII today to arrange my BFR flight review. The high temperatures have been between 94 to 100 degrees this past week. We agreed that we will meet at the airport right at sunrise to take advantage of early morning temps in the 70's for the flight. The air should be calm and suitable to practice an ILS approach at Dalton, Georgia (KDNN). I will post again after the flight, which could be this week. I should have a couple of photos to post.
My airplane will pass the sixth anniversary of the first flight (June 9, 2005) in the week ahead. The next milestone is the annual inspection and maintenance in July 2011.
June 12, 2011: This is being published from Florida as I have come south on business for this trip. I am attending a trade show later this week in Orlando and one in Tampa next week. I will be heading for home directly from Tampa. Tomorrow (Monday) is office hours as usual with the trip over to Orlando on Tuesday afternoon. The Infocomm tradeshow has exhibit days on Wednesday, Thursday, and Friday this week. This is one of the bigger conventions that moves around the country from year to year. It will be my first time to attend. I will be supporting a couple of our distributors with booths here. The show is about several different types of electronics, not just fiber optics, satellite downlinks, and cable television.
As promised, here is a GPS ground track from my BFR flight review from earlier this past week. There are no photos in flight as I was busy for the entire hour demonstrating my pilot skills for the man in the right seat. Here is what you get when you practice high-banked turns, slow flight, a practice IFR approach, one full-stop landing and taxi-back for a take off, and two simulated engine-out landings at the Dalton, Georgia Airport. This was a flight very early in the morning just after sunrise to beat the heat, etc. The flight was exactly one hour and that brings the Hobbs meter up to a total of 333.9 hours. My pilot log book has been endorsed by the CFII and I am good to keep flying for another two years.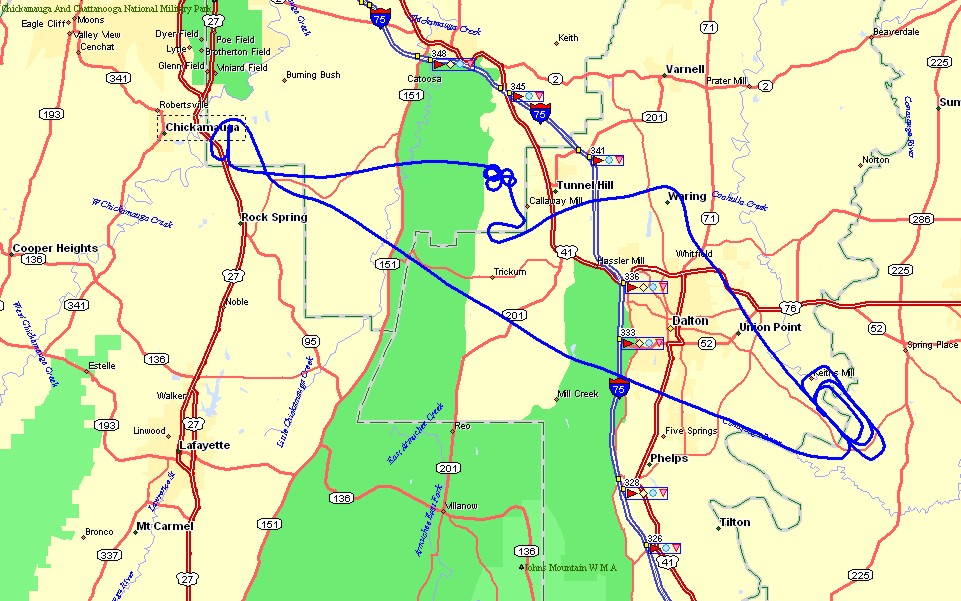 August 14, 2011: Sunday morning is here and I am finally ready to make a big update to this web site. Some of you already know what I am posting next, but more of you do not. I was in Florida to attend the first day of a trade show beginning on the morning of Wednesday, June 15, 2011. The opening of the exhibit hall was punctuated by some excitement as the first convention attendees walked into the exhibit hall. I missed the excitement since I was the focal point of it all. I had a full cardiac arrest due to blocked arteries to my heart. I had no sensation of becoming faint or of falling to the floor in the midst of several hundred people. It was the large number of people around me that insured immediate attention to my medical needs.
When I woke up, I was lying on a gurney in an ambulance just outside the Orlando Convention Center. The medic greeted me with "Welcome back, you just joined the ONE-PERCENT CLUB". I asked what that meant and his reply was "The other 99% did not wake up" from the experience I had just completed. I looked around to see my computer bag and my pants with my wallet out and open as the guy asked me questions to confirm I had taken my medications that morning for blood pressure, etc. He was also assessing my mental condition since it was several minutes during CPR when my heart was not in natural sinus rhythm. They used a defibrillator on me twice to get my heart started again.
The bottom line from the event, there was sufficient oxygen to my heart and brain resulting in no damage. Now the issue was to deal with my blocked cardiac arteries. The ambulance took me to the nearest hospital in an area of SW Orlando known as Doctor Phillips. It was there I was diagnosed by the cardiologist on duty. My status was stable and I was transported by the ambulance crew to the Orlando Regional Medical Center (ORMC) near downtown Orlando and further evaluated for treatment. The only discomfort I was feeling was from the CPR and nothing else. My condition was being treated by drugs to maintain blood circulation to my heart. The decision was made to have four cardiac artery bypass grafts to get around the plaque blockages. Since I was in good condition compared to most patients who come in with my diagnosis, I was not at the top of the list for the surgery. The schedule was for me to get into the O.R. on Friday afternoon, June 17. As it worked out, I was first on the schedule for Saturday morning, June 18.
They said I was sitting up in a chair by Saturday afternoon, talking to the doctor and my family, but I do not recall any of that, probably due to the drugs used on me. My first clear thoughts and awareness were on Sunday morning in the cardiac care unit of ORMC. The heart surgeon came in to see me and I discovered he was also a private pilot. When we discussed my status of zero heart muscle damage, he indicated I would be able to get my medical certificate reissued when I fully recover. This was the news I had been hoping to receive. With full blood flow restored to my heart, he indicated I would be better than I was in the many months before my cardiac arrest.
Two days after the surgery, a cardiologist who specializes in the electrical signals of the heart put me through some tests to confirm whether or not I would need a pacemaker or defibrillator. He tried all his various voltage stimuli to my heart and could not force me from normal sinus rhythm. This was the final confirmation that I had not suffered any muscular damage to my heart. Life will be good again!
I finished up my stay at the hospital doing the usual things of walking the hospital cardiac floor to show the nurses and doctors I could get along by myself for the usual personal hygiene things. I was released from the hospital on Wednesday, June 22. That was the beginning of several weeks of recovery before I would be allowed to return to Chattanooga from Florida on July 23, 2011. I was also on duty for my day job taking customer service calls and answering emails online during those weeks in Florida.
It felt good to be back on the road toward my place on July 23rd. I was pleasantly surprised by my short two-hour sessions on the road and how a short walk at the rest areas or a nearby Super Walmart in the cool air was making the ride home less of an issue than I had expected. The flow of traffic was good with only one area of congested traffic south of Atlanta.
I checked in with my primary care physician and aviation medical examiner on Tuesday, July 26 to give him the 23-page report on my treatment in Florida and the current medications I am taking. He finally got past the formalities of updating my medical history in his computerized records and said to me "You know you are grounded". My reply was "I knew that when I woke up in the first ambulance on June 15".
My son Edward sent me an email regarding an article published in the AOPA magazine about regaining a medical certificate after cardiac treatment. I had a print out of the article and showed it to my doctor. One of the key points in the article was the high percentage of pilots who qualify to fly again by following all the guidelines from the AOPA medical staff for submitting a waiver request to the FAA medical staff.
My next step is coming up in the next couple of weeks when I have my first appointment with a cardiologist here in Chattanooga. I am motivated by the desire to fly again and to insure that I am in better shape to do it safely. I have lost just over 20 pounds from my pre-cardiac event body. The weight loss is due to portion control and lean dietary choices.
As for my airplane, it is also grounded until I can do the annual inspection and maintenance. I am waiting for cooler weather and my upper body strength to get better. I can get help from one or two of the local pilots to do the maintenance.
I have also been getting much-needed maintenance to my old Cadillac. It had been parked in my garage for seven weeks and did not pass the emissions testing needed to renew my Tennessee license plate. It needed three new oxygen sensors and compliance with a GM service bulletin from March 1997 before it was ready to pass the test. It also needed a couple of new tires and some suspension work which will be done tomorrow, August 15, 2011 by a friend of Wendell's who owns a garage specializing in undercarriage alignment and repairs.
Now you know what has been happening in the past two months and why I have been remiss in my web updates to these pages. Normal life is returning after my cardiac experiences in June and July. There is one more thing to know about ORMC and my family history. My mom also had quadruple bypass surgery in that same Orlando hospital in the late 1970's. She lived until 2004 and did not die from heart-related problems at age 79. I expect to be a pilot for many years to come. Watch these pages for the details going forward as my "RESET BUTTON" on life had been engaged.
August 21, 2011: Another weekend and time to update the web site again. I have some photos that need to be published. Here are are two photos taken June 11, 2011 when I had lunch with an old friend of mine from my satellite days in the 1980's. Robert Smith and his wife were leaving Ocala for a road trip out west as I was driving down to Florida on that Saturday. We ended up meeting at Lake City, Florida for lunch before he and his wife headed west on Interstate highway 10. This is my last FAT picture when I tipped the scales at 247 pounds. My weight today, August 21 is just under 228 pounds.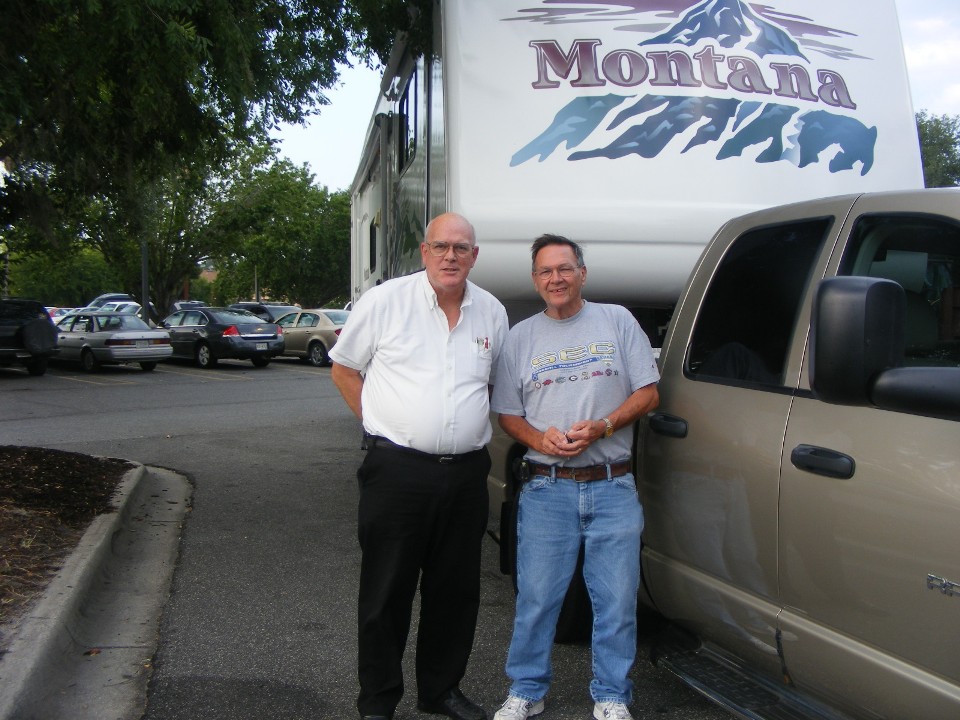 His wife Marilyn waves to me as she looked back in the mirror and I took this photo of their departure.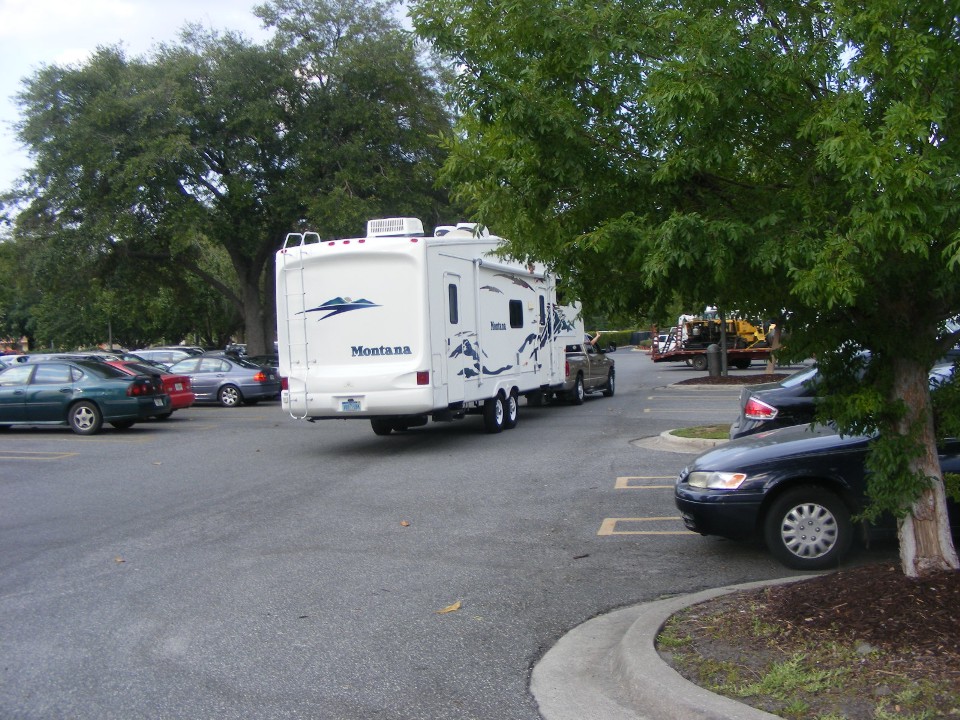 Here is a photo of the right rear "knuckle" as GM calls it on my old Cadillac during the repairs earlier this week. The red polypropylene bushings have replaced the expensive parts normally installed by the dealer. There was a big savings here and my smooth ride and stability have returned. Both rear axles/wheel bearings are also being replaced. A four-wheel alignment will be done when the repairs are completed.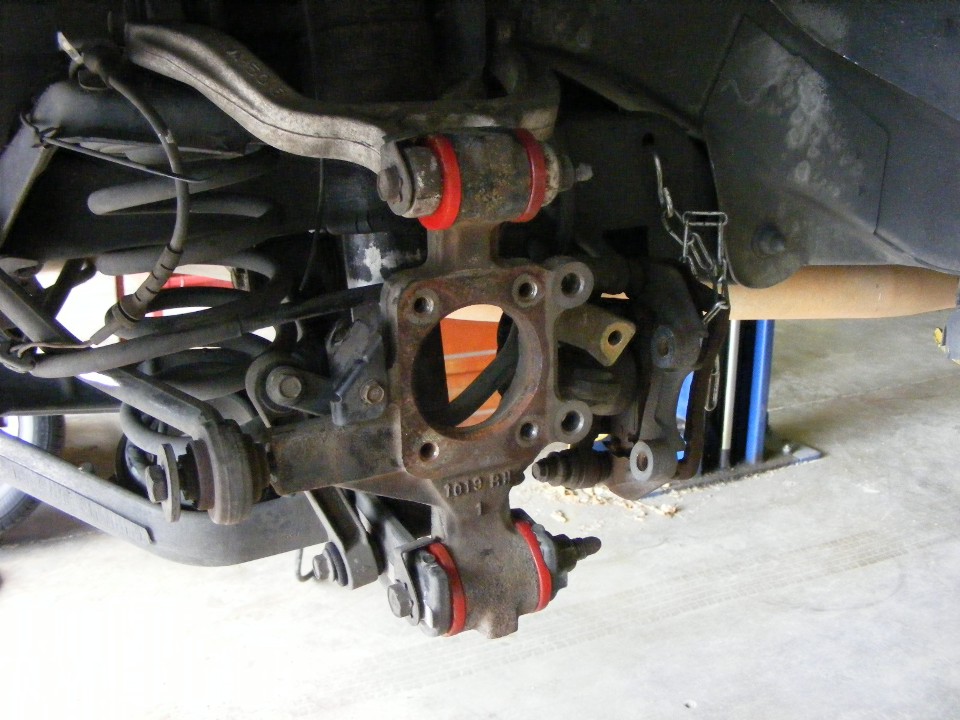 There are two pieces of this RED upper bushing pressed into the "knuckle" where the factory bushings were installed.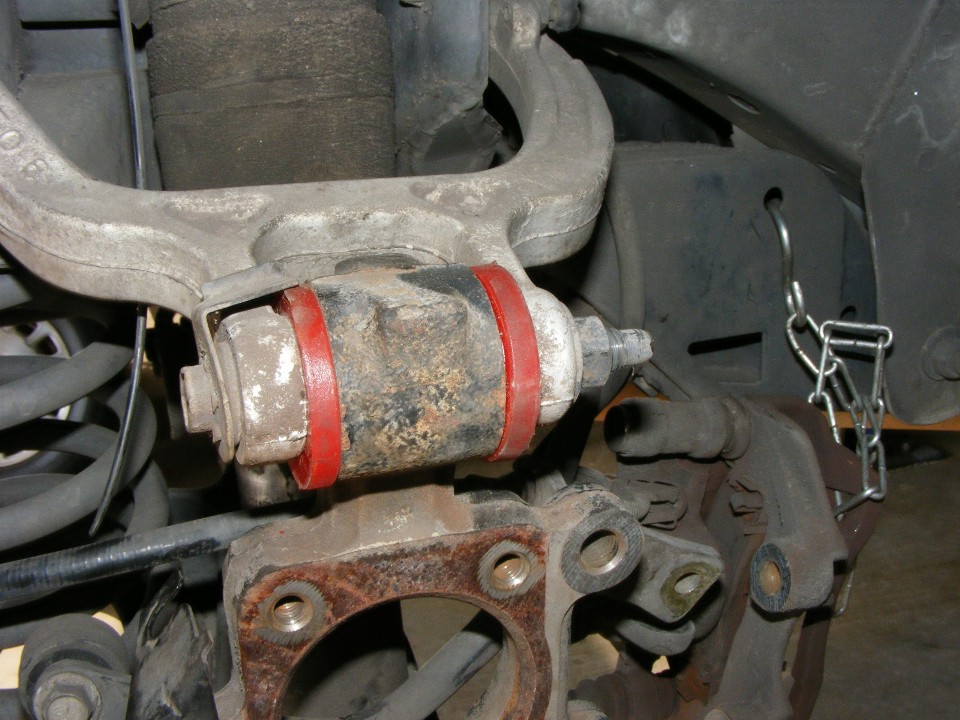 Here is the left rear wheel location awaiting the return of the knuckle with new bushings to be re-attached to the control arms.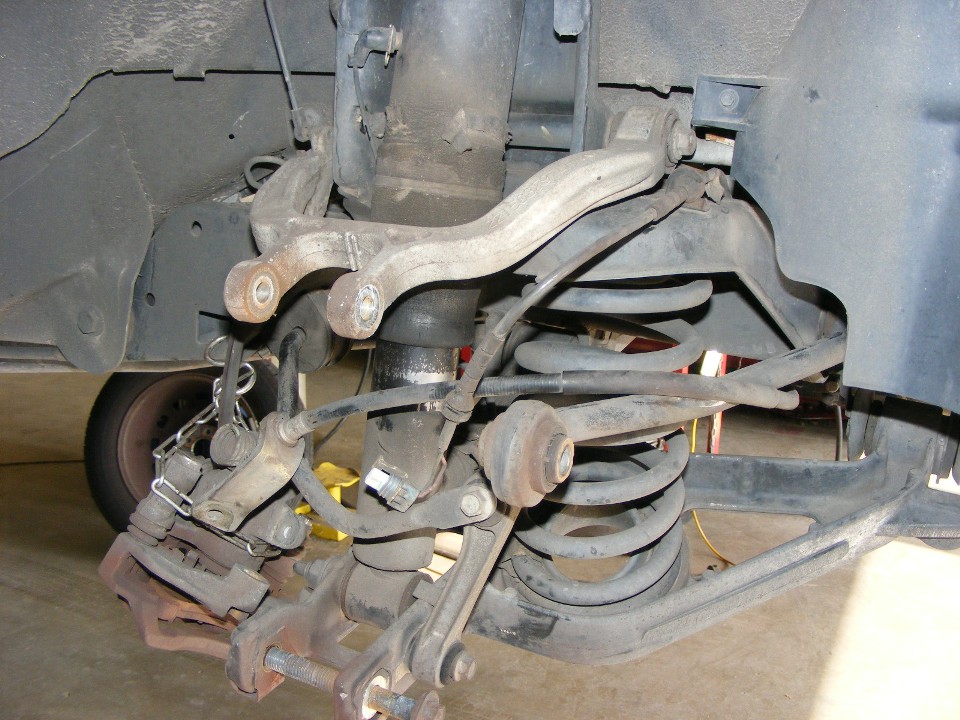 At the end of this past week, an old friend who is retired from the cable television industry asked me to check out this piece of test equipment. He is planning to sell the unit. This photo is the display screen of an HP-8591C spectrum analyzer showing the internal calibration signal after completion of the CALIBRATE routine. This is amazing since the machine has not been operated in over five years. The last factory calibration of the unit was in the year 2000. As the unit warmed up over an hour, the entire display centered itself on the face of the CRT display tube. All the automated specialized testing sub-routines for CATV signals appeared to work just fine.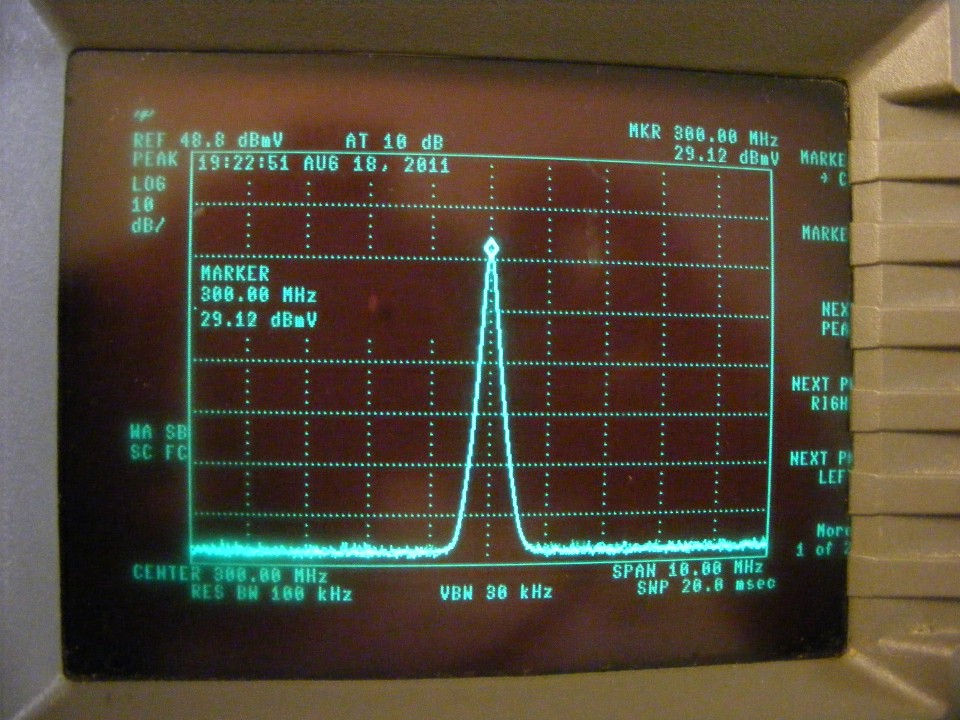 September 5, 2011: It is the annual Labor Day Holiday in the USA, which always falls on a Monday to give folks the last three-day weekend of the summer. There is a steady rain falling from the tropical storm named LEE making its way up from the Gulf of Mexico across this part of the southeastern United States. It is a good day to stay indoors and work on this web site and do some other computer work.
As for anything to note from the last week, I got out of the house last Wednesday evening, August 31 to clean up the wings on my airplane. It gets mud droppings on it, probably from dirt daubers building nests in the peak of the hangar. That aluminum dome in the lower left corner of the photo is the spinner on the Aeronca Champ.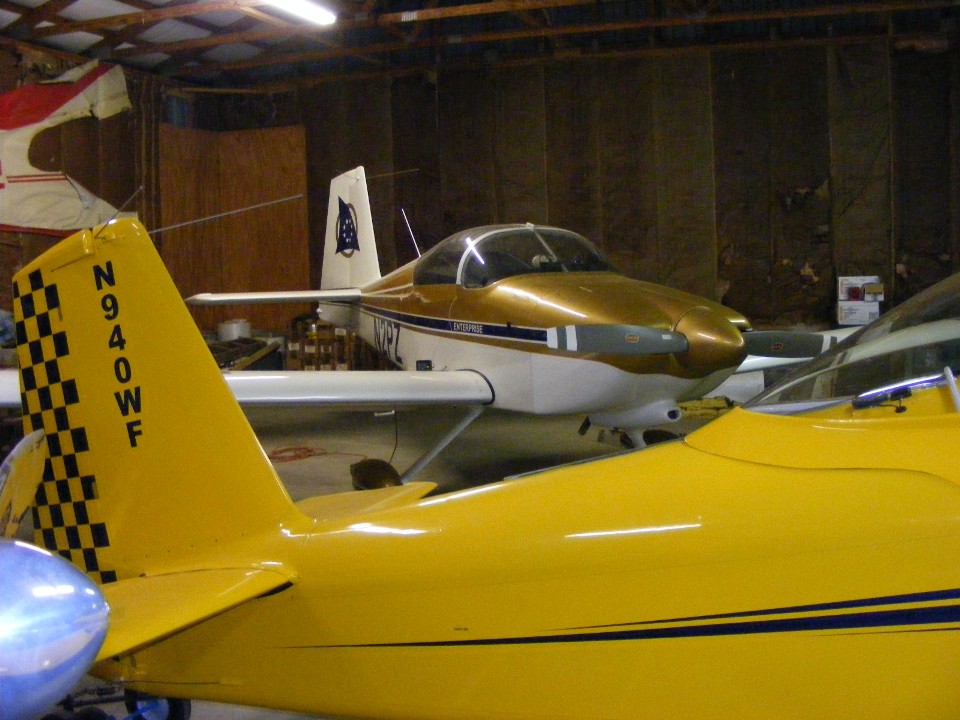 On Thursday, September 1st, I went to my interview with the staff for my cardiac rehab which starts soon. I demonstrated my 3-liter lung capacity and they took my vital signs. I had a chance to tour their exercise gym and the area where I will start out in the section with the heart monitors. I have already lost 20 pounds since June 15th. I hope to make another 20 pounds in the next few months. My goal is to develop my muscle mass and get down in the 200-210 pound weight range. That was my weight when I was in the US Army at the age of 21 when I went to Korea.
Saturday morning was the usual meeting with the gang at Wendell's hangar with lunch at a nearby restaurant afterward. There were more questions about my current medical status from the members who have recovered from their cardiac issues, and are also in rehab. Our retired airline pilot in the group asked me about my status and gave me a story about one of his old friends who had regained his first class medical after heart issues and rehabilitation, then went back to flying the airline routes. It was just one more reason to assure me I can get back to unrestricted flying status.
September 11, 2011: This Sunday was my first road trip to Florida with my boss to call on some of or our customers. I had no problem driving the rental car all the way down to Stuart, Florida. We made our sales calls on Monday, Tuesday, and Wednesday and made it home from Orlando on Wednesday night. I had no problems driving that long trip from Orlando to Chattanooga. I went to my second cardiac rehab exercise session on Friday, September 16, 2011.