2010 Wrap Up, et cetera · · PAGE 345.
January 10, 2010: I have to first catch up with some new photos just sent to me TODAY, January 10, 2011. Ken Boyd is an RV-9A builder and pilot who was coming to see me and my airplane at Oshkosh AirVenture 2010 on the day of my departure. He took these three photos is high-resolution that I have cropped and resized to fit the format of this web site. In this first of the three photos, my son Edward and I are sitting in the airplane with the engine idling as we wait for our motorcycle escort to the main taxiway for takeoff on runway 18R. You can see our attention is focused inside the cockpit as we consult the NOTAM to set up the radio frequencies and get the GPS departure route up and running.

This second shot is before we close up the canopy for the ride out of homebuilt camping. Ah, the joy of a sliding canopy! Edward looks toward our photographer for these photos, Ken Boyd from New Bremen, Ohio. He is also an RV-9A builder who will soon be moving his airplane to KAXV, also known as Neil Armstrong Airport near Wapakoneta, Ohio.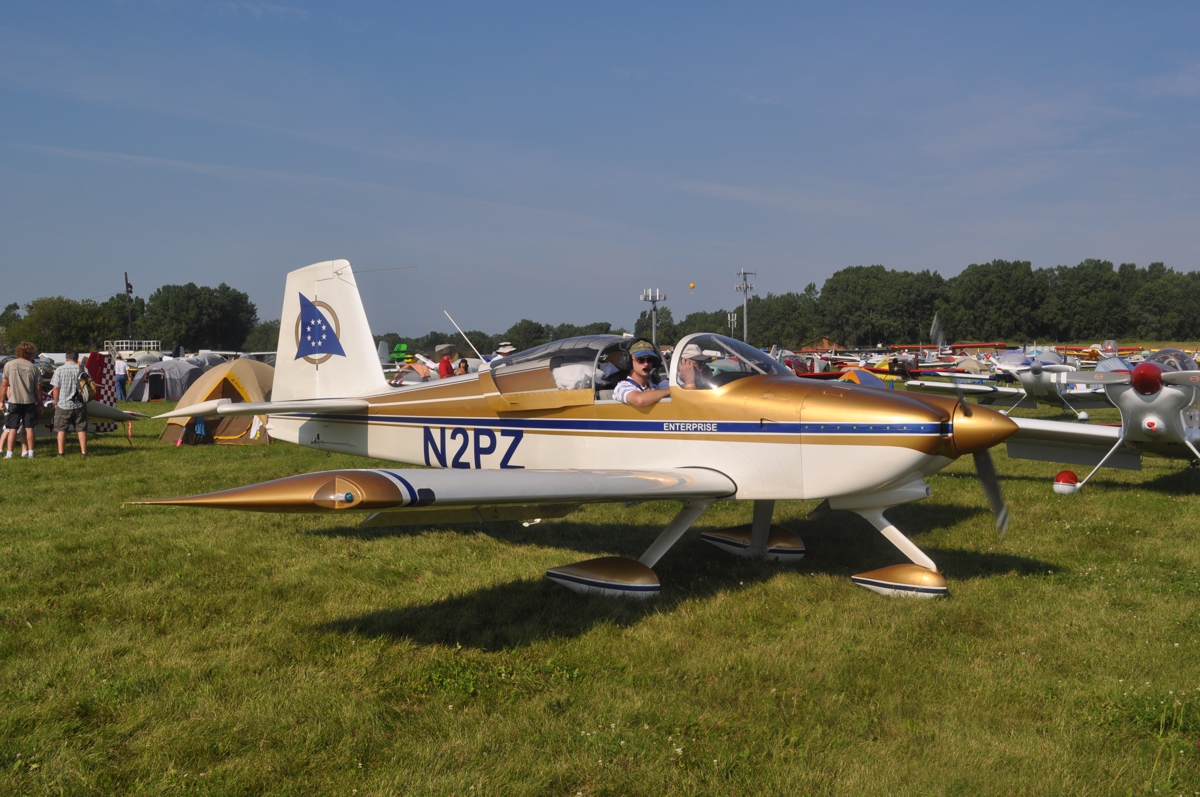 My thanks to Ken for these photos to add to my Oshkosh 2010 experience! I hope to see you and have some conversations when next we meet!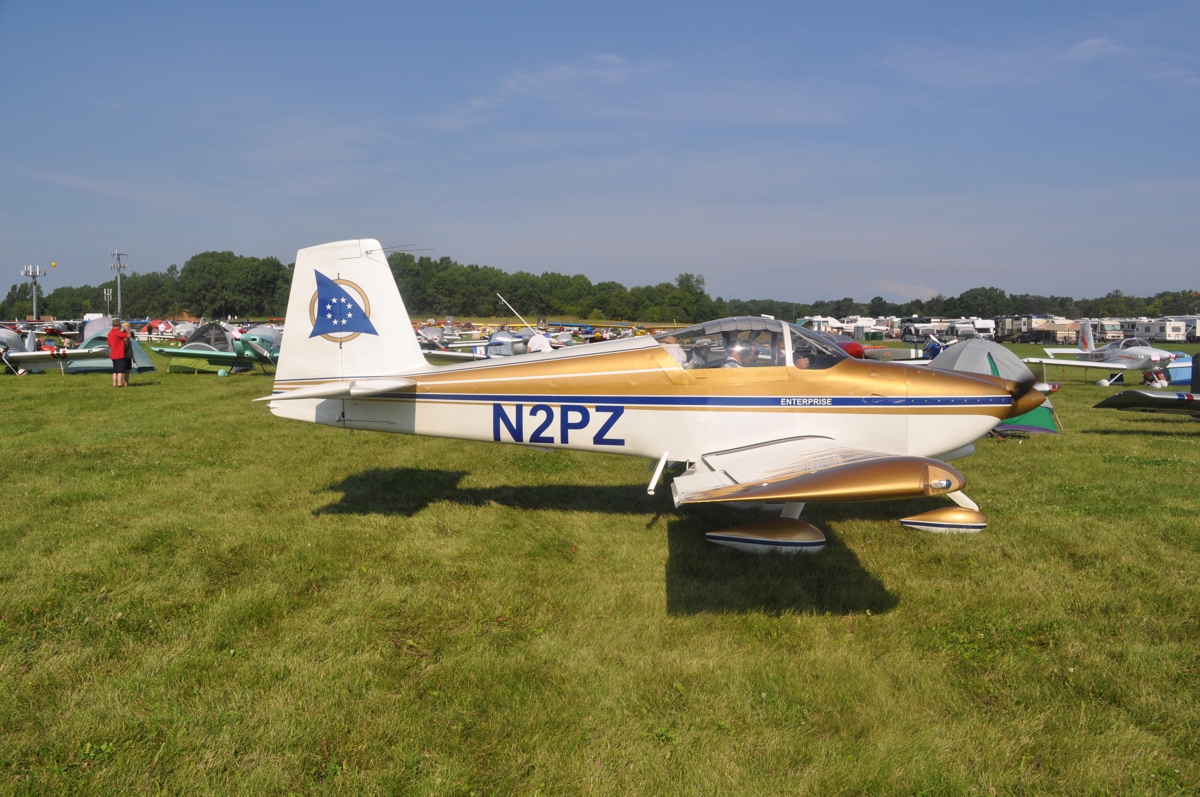 With the three new photos above, I can see that I need to also post these on the appropriate page in my Oshkosh 2010 section of this web site. For now, they only appear here as part of the end of year story.
December 2010 in Florida
Now to continue with the story about my travels to Florida beginning on December 10, 2010 and going until January 2, 2011 when I returned to the Chattanooga area. It was a trip that started on Monday in the old Caddy driving through Atlanta and down to Horse Creek Winery near Nashville, Georgia that is operated by an old Dalton High School alumni friend of mine and her husband. This is Andrea Higgins Perry, who graduated with me and about 200 others in the Class of 1965. This is the bottling machine for the wine that also inserts the cork in the bottle. Behind Andrea in the background are many of the wine chillers used in the process of making the various wines they offer.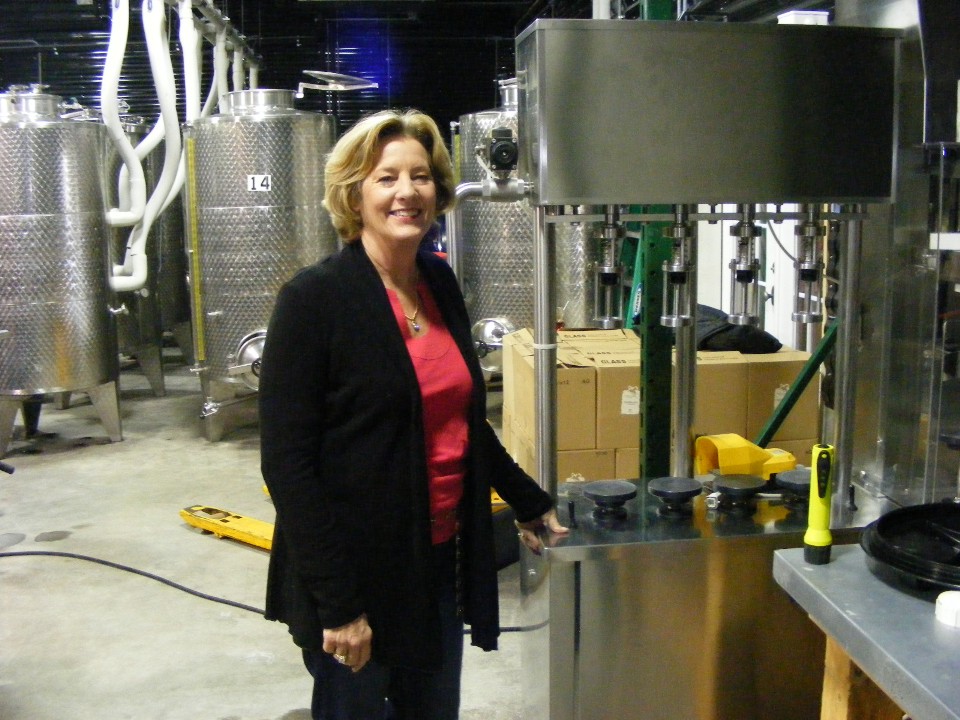 Each of these refrigerated units holds 2,000 liters of wine being processed and blended before bottling.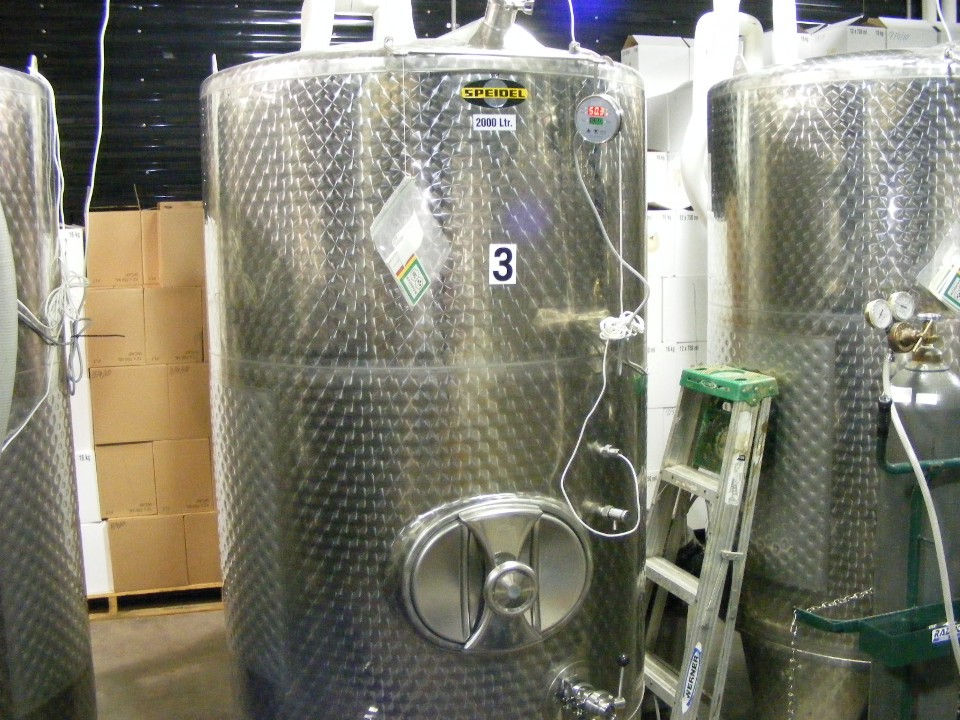 We leave the back room area and come out front to the wine tasting area. Andrea offered me small samples of their wines and I made a choice that suited me just fine. I found out you can make a wine slushy that is really GOOD! The wine glass has their company logo on it.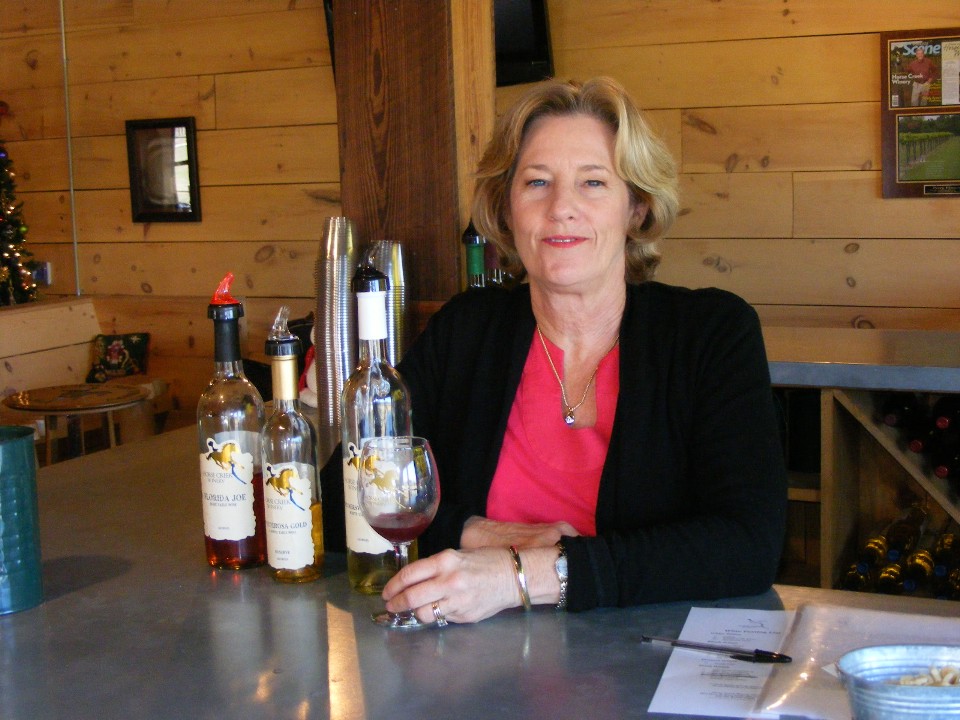 Instead of a mirror behind the bar, this colorful lighted mural is imported from Europe. My company cell phone on the bar says it all about my day job. I have it turned on and with me five days a week, every week, especially when I am on the road. It rang when I was walking out the door to my car with a customer calling me needing technical help with his Olson Technology fiber optic equipment (my day job).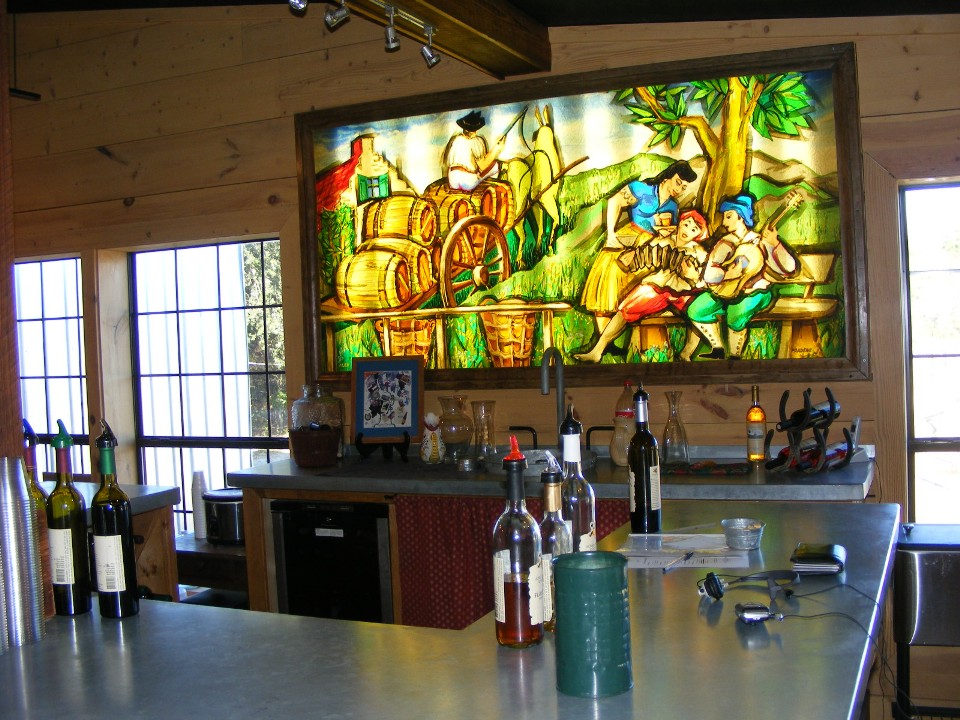 Andrea got a bottle of the wine I chose and wrapped up my wine glass for me before my departure. This was a good rest stop between Atlanta and Florida, not too far off Interstate highway 75 near Adel, Georgia. Two other travelers are checking out with their order as I take this last photo.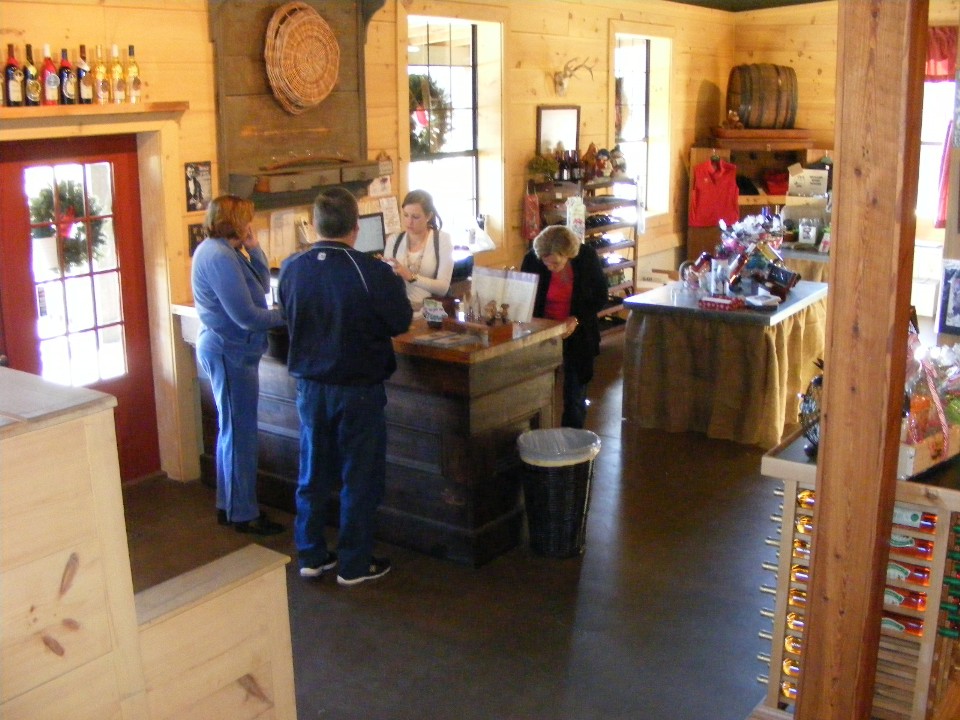 I tried out a new route to Florida (for me) after leaving the winery near Nashville, Georgia. I love to explore Georgia back roads and get away from the interstate highways when I can afford the time and there is new scenery out the windshield. This afternoon, the route took me across Georgia state route 168 from Nashville toward Homerville, Georgia. It was a different route for me toward Jacksonville, Florida where I would continue south on Interstate 95 arriving at my destination after 9 PM on this Monday evening.
My day job can be done anywhere I have an internet connection and my company cell phone can receive its signals. The Christmas holiday period is always slow for business. During the three weeks I was in Florida, I visited my dental hygienist for a cleaning. My wife had a chance to see her mother again and we had lunch at Houston's restaurant in Pompano Beach, Florida on the weekend of December 18-19. As for the Christmas weekend, we visited her daughter and grandson in Jacksonville, Florida. For that visit, I have some photos to share on the next page of a little boy and his trains.