Spring 2010 · · PAGE 333.
May 16, 2010: The weather since my last posting on April 24th has been against me getting any flights in or around this area. The weekends have either been rained out or we had a beautiful day with high gusting winds which made takeoffs and landings unsafe. Then there is the upgrade of my computer with a new drive and operating system that was fit into a weekend with bad weather. I did not get everything moved to the new hard drive and working correctly until I had invested two days. I still have one old database I have to get unlocked on the new disk drive.
As for the next couple of weeks, I may get a weekend with acceptable weather and some flying time with friends to work in my favor. We shall see. Since my last posting, the 100-year floods that occurred in Nashville were on the news for the world to see. Chattanooga seems to dodge that kind of disaster with what the local weather man calls the "The Chattanooga Split" where inclement weather seems to miss this valley most of the time. With the Cumberland Mountain Plateau northwest of the city, much of the rain and storms coming from the northwest lose their punch when they pass over this portion of the Tennessee River Valley. Not so for most storms coming up from the south and southwest. They literally follow the valley contours up to this area. Here is a photo I took back on March 20, 2010 to give you an idea. These ridges are between Lookout Mountain behind me in this photo, and Fort Mountain which is to the EAST from this location, across the valley where Dalton and Chatsworth, Georgia are located.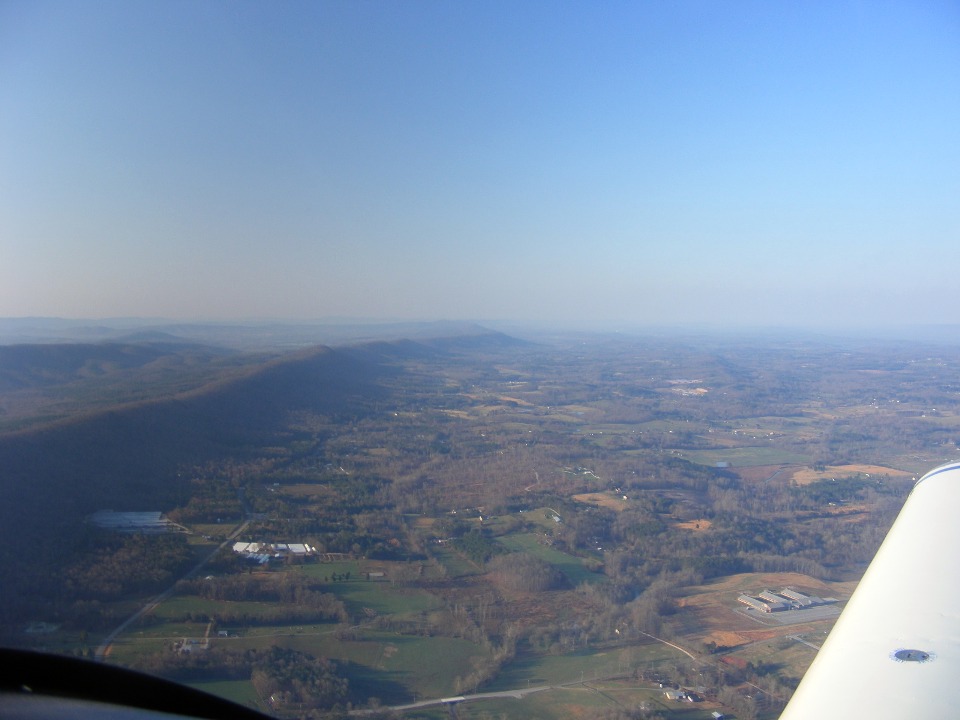 This photo I took January 31, 2009 of Lookout Mountain looking toward the EAST tells the tale of the valleys aligned somewhat north and south between the mountains. That is the Tennessee River at its southernmost excursion around Moccasin Bend adjacent to Chattanooga at the left side of the photo. Weather making clouds blowing across the mountains tend to lose their moisture before reaching Chattanooga. If the weather is coming up parallel to the mountains from the SW, we get wet, big time.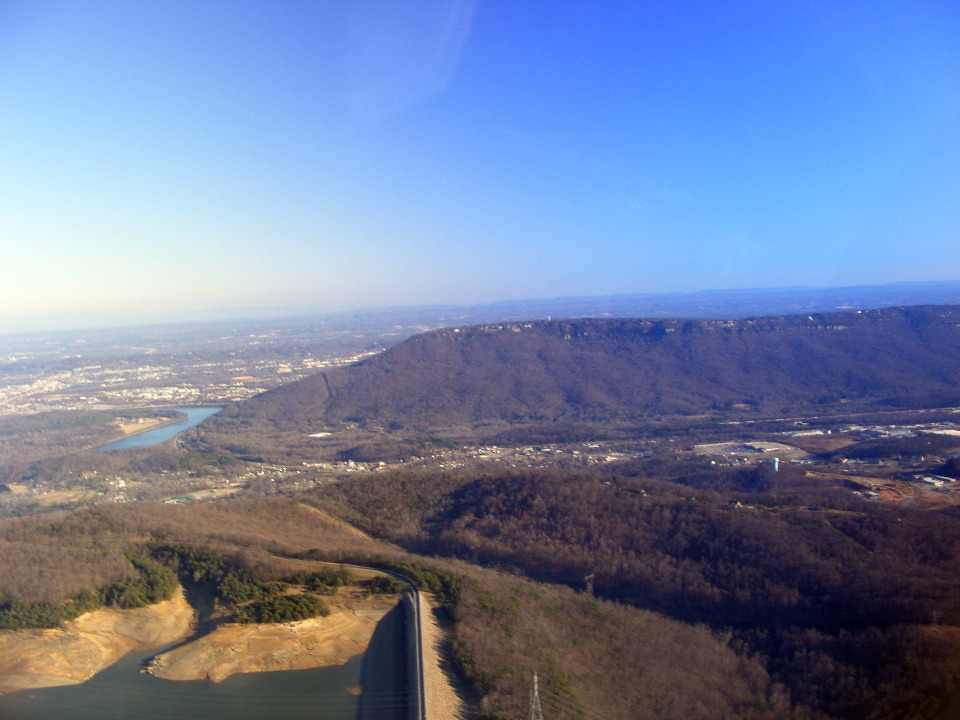 Enough of my rants, the computer is working well again with some new programs that would not support Windows 2000 Pro, my old operating system on this laptop since it was new. Now we can start getting back to business as usual on my day job and this web site maintenance and reporting of the flights of "Enterprise" around this region and the country.
May 18, 2010: The computer finished uploading the web site completely, again! I just wish I new how to migrate the original web files to a new hard drive without Front Page thinking it has to publish the whole thing to the web server again.
May 22, 2010: It is Saturday and the usual chores and visits to the hangar, etc. Wendell's other friends were there, but he had gone to a class reunion function by the time I stopped by there. I worked on the computer a bit more today to finish personalizing it to my wishes. I am satisfied the web site is working and have taken down the message from the "What's New" part of my home page. All the links to web pages and counters in the web site appear to be working just fine.
When I awoke this morning and looked outside, a low overcast was not conducive to VFR flight before lunch. By the time I bought a few groceries and headed home around 1 PM, the heat and humidity had settle in as the clouds lifted enough to make flying a good experience. Tomorrow is supposed to be a sunny day with a high of 91 degrees F expected. It is 7 PM on Saturday evening and it is 84 degrees outside.
June 12, 2010: It has been a few weeks since I have updated this web site. I have been busy away from home and did not think to keep you guys posted. I would have updated these pages on May 29th, but found myself making a trip to Florida to visit friends and family. The family part was when my son, his wife, and my grandson from Texas were in the Disney World area of Central Florida. I had dinner with them on their first full day of a two-week vacation to Florida. I have posted a few pictures in my FAMILY SECTION of this web site.
I also received an email to travel to the company home office in California for the week of June 6-10, 2010. The travel day westbound was Sunday June 6th with a 5:30 AM departure from Orlando since I was in the area visiting with my son as mentioned above. The ride to Atlanta was typical with a connection to Salt Lake City, then my first flight on a CRJ-700 to San Jose. I had a window seat on that one, but did not have my camera in hand to take any photos of the Great Salt Lake, etc. I was dozing a bit on that flight to San Jose, California. By the time I got moving on the ground there, I met up with a co-worker from the Knoxville, Tennessee area and we headed for Sonora, California, 130 miles to the east.
It was good to see the folks at the home office who support my sales and engineering efforts. I had not been there since 2007. The meetings went well with my Thursday 3 PM (Pacific Time) departure back toward "Silicon Valley" with three of us in the car. We passed by the road to Railtown state park which is where a number of western movies have been filmed. If you liked "Back to the Future part 3", this is where the steam train scenes were filmed. This is a California State Park near Jamestown, California, just off California state route 108. I can tell the next time I head that way, I will reserve some time to see this place and nearby Yosemite National Park. Here is the link to RAILTOWN to give you more information about that popular tourist location. http://www.parks.ca.gov/?page_id=491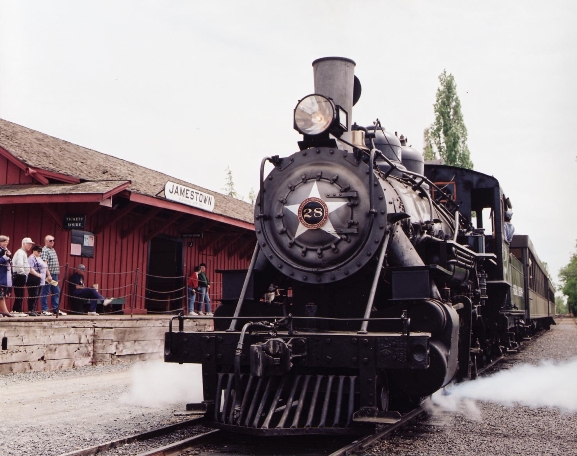 We dropped off one of our trio at a hotel in Modesto. He had an early commuter flight from there to San Francisco International Airport where he would continue his journey back to Virginia. The evening traffic jams were mostly going the other way until we got close to our destination. My GPS 296 was loaded with the local street maps and allowed us to get on surface streets for the last two miles. As luck would have it, we came down a street in Milpitas, California with big names like Cisco, Google, and Creative on the buildings we passed.
My friend from Knoxville caught the "red eye" flight from San Jose to Atlanta and on to Knoxville I dropped him off in front of the old terminal where Delta Airlines has their gates. The airport is being rebuilt, but Delta won't get to move into the new facilities for another month. My choice to leave early on Friday for a day trip got me up at 3 AM local time. I kept saying to myself "it is 6 AM Eastern Time" but it did not matter. The flight from San Jose to Salt Lake City was not that long. It was made shorter by the conversation I had with the guy next to me. We had a lot in common and had excellent conversation right up to the time we headed for different gates in SLC. My non-stop flight back to Orlando was 4 and half hours and I found myself dozing off in my window seat. The guy in the middle seat next to me was a very kind and BIG, 340-pound arena football player from the Spokane, Washington area. The whole team was on our flight and heading for Orlando for a game on Saturday, June 12th (today as I write this web entry).
This Saturday (today) is my day to relax and get ready for the ride home to the Chattanooga area tomorrow. I took some photos of OLD US 41 when I was coming south two weeks ago. I will get a few more photos on the ride back home tomorrow. These photos are part of my research for a book about US 41 that I hope to publish in the future. It will be about the road less traveled and enjoying the hidden treasures on the old highways while avoiding the traffic and hectic conditions on an interstate super highway. Some of the photos from my 2004 road trip to Oshkosh will be in the book. You can see those via THIS WEB LINK to pages on my web site.
June 20, 2010: Here is another HOT day in the Southland. The temperature is climbing to 95 degrees Fahrenheit today, and time for a web site update of recent activities.
I called Wendell on Thursday morning to see if he was ready to leave for the Aeronca Champ annual gathering in Ohio that morning. He was waiting for the fog to lift at the air field. He will fly up to the Dayton, Tennessee airport to meet two other Champs flying from Jasper, Georgia. A third person from Jasper will be driving his car since the Champs won't fly much more than 70 to 80 MPH. The driver will provide ground transportation for them at Middletown, Ohio -- the destination.
I checked with Wendell on Friday morning while he and the others were at the US Air Force Museum at Wright-Patterson Air Force Base. When I called on Saturday morning, they were on the factory tour of Aeronca, Inc. You will be surprised at what they build today. Follow this web link:
http://www.aeroncainc.com/history.html
I also took some time on Friday to visit the Sikkins Paint dealer in Chattanooga and discovered a pint of my gold paint would cost about $55 for touch up to my airplane. I can see I need to consider other possibilities.
Saturday morning found me cleaning my airplane from the dust and bug droppings from the past few weeks I was away from home. I also sat down with the usual Saturday morning friends who gather when they see the hangar door open. A couple of them were there when I arrived. I opened the warehouse where the coffee machine, chairs, and fans were located. By the time I finished cleaning my airplane and came back to the warehouse, the crowd was fairly complete. The usual Saturday morning discussion of news and politics was well underway as I sat down for about an hour. As lunch time approached, a thunderstorm was also heading our way, so everybody headed out as I locked the warehouse and the hangar door and headed for home and relief from the building heat. Wendell is due back from Ohio on Sunday (today as I write this web page).