Spring 2010 · · PAGE 331.
March 20, 2010: This first day of Spring 2010 continues with a flight back from Perry to Lawrenceville, Georgia. After the photos were taken on the previous page of US 341. I gave Marty a flying tour of where the north end of US 341 stops today at Barnesville, Georgia. As we flew part of the way toward Griffin, I pointed out the historic site of Swint's Pecan Shop in Milner on the old two-lane US 41 as seen in this 2004 photo. This is where the first pecan groves were planted in Georgia. Georgia route 7 continues to Griffin with US 41 before Georgia highway 3 continues to the Tennessee state line with US 41 near my home. Georgia route 3 runs with US 19 south from Griffin to Florida.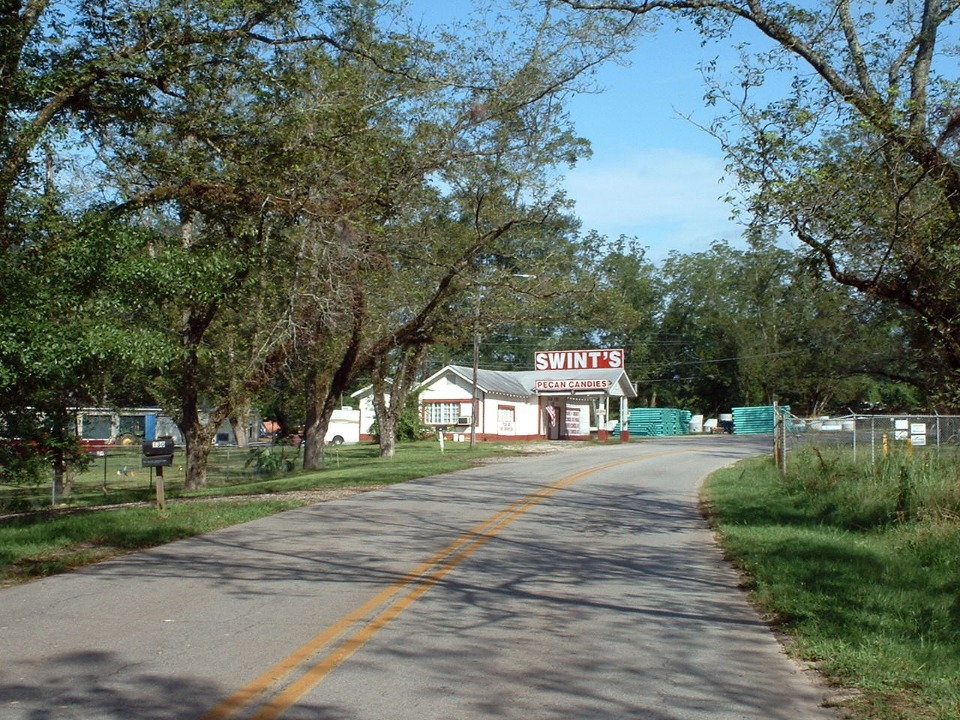 We flew back around the east side of the Atlanta class B air space over the airport for Covington, Georgia. I went by my sister's place south of Dacula, Georgia and circled it one time before landing back at the Lawrenceville Airport. Marty put his coat in the car before we went inside for some refreshment at the Flying Machine Restaurant on the south side of the field on the airport.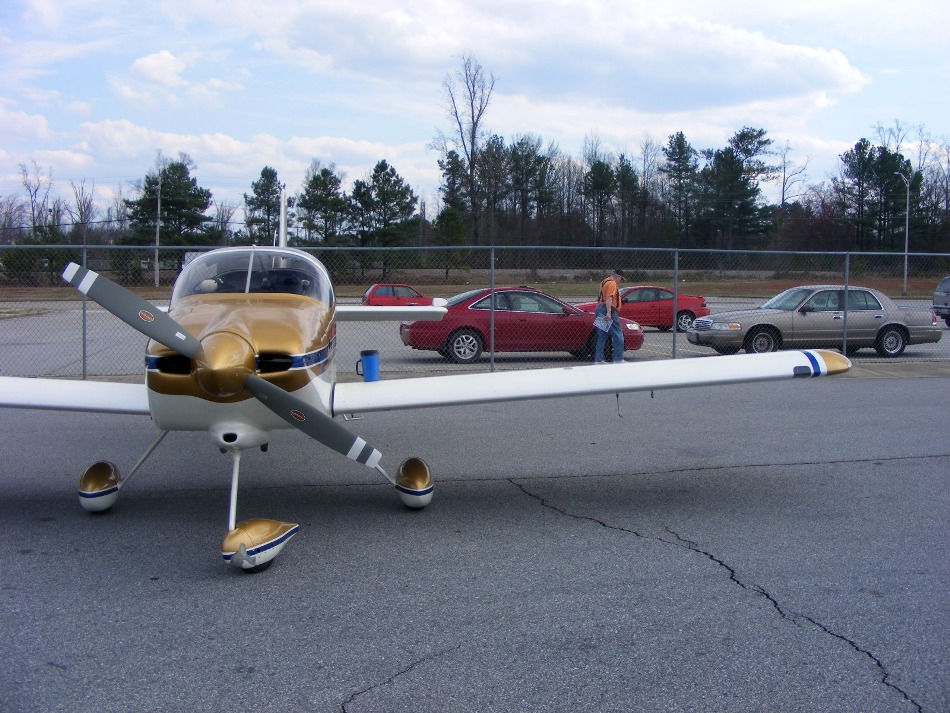 Marty had a cold soft drink and I had a chocolate milk shake made by Amber, our waitress. She has a signature way of making the shake. Try one to learn her secret. They are really delicious!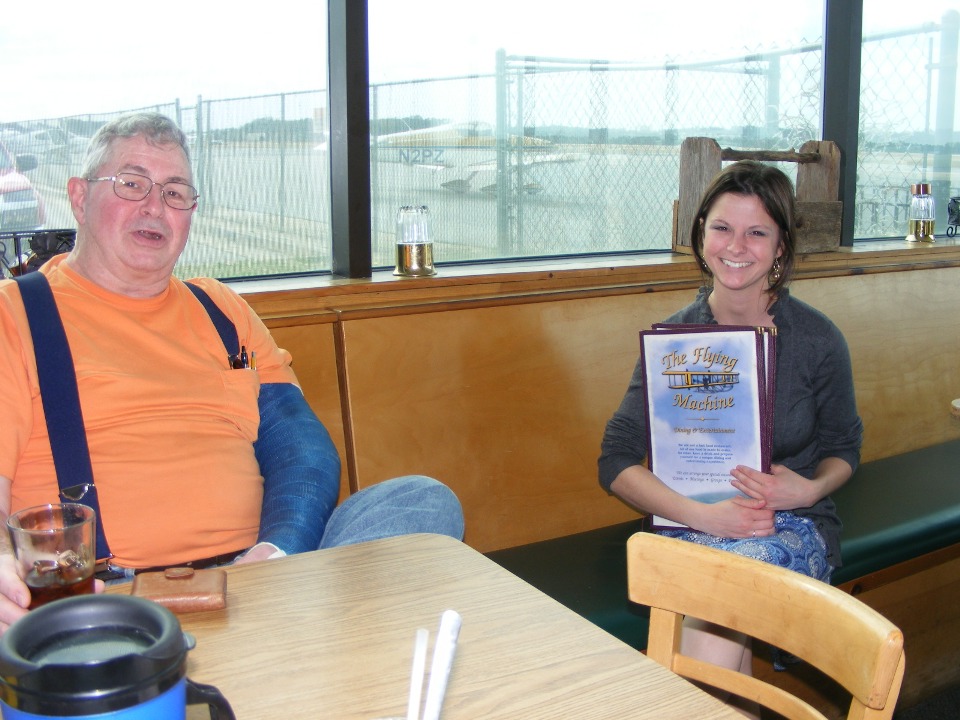 This place is has more than just a view of the flight line which is common to all airport restaurants. These shapely young ladies have been here long before those national TV commercials began featuring fashion mannequins.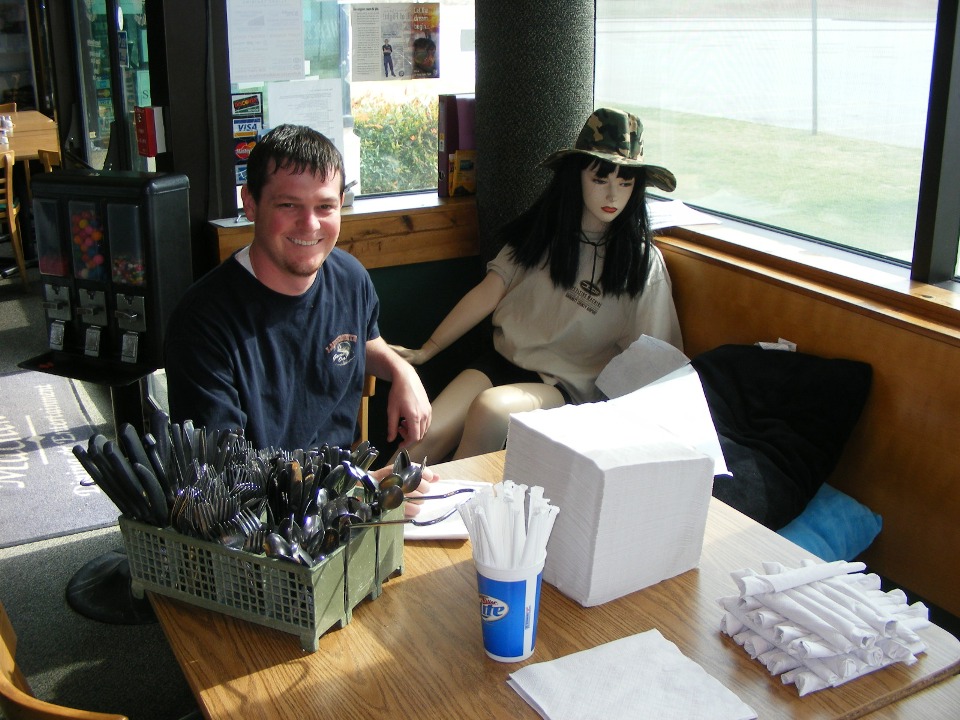 If you like these other models, you may notice they all have price tags on them.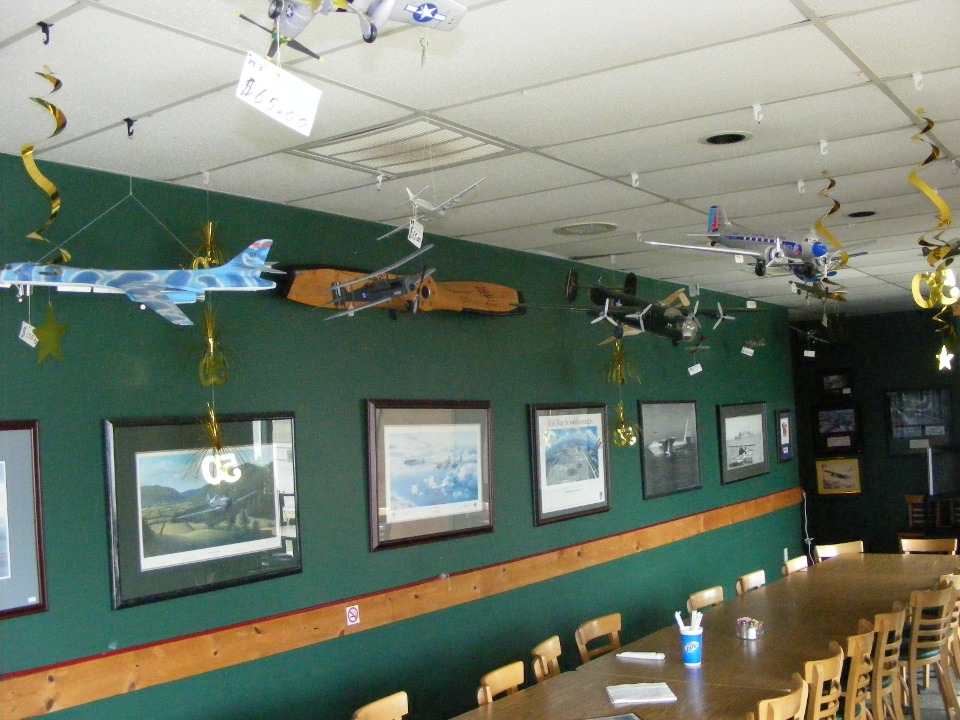 And just when you thought you have seen everything, this tall platinum blonde greets you just inside the men's room. She keeps her eyes down and doesn't peek. Right now, she seems to be bit "short-handed".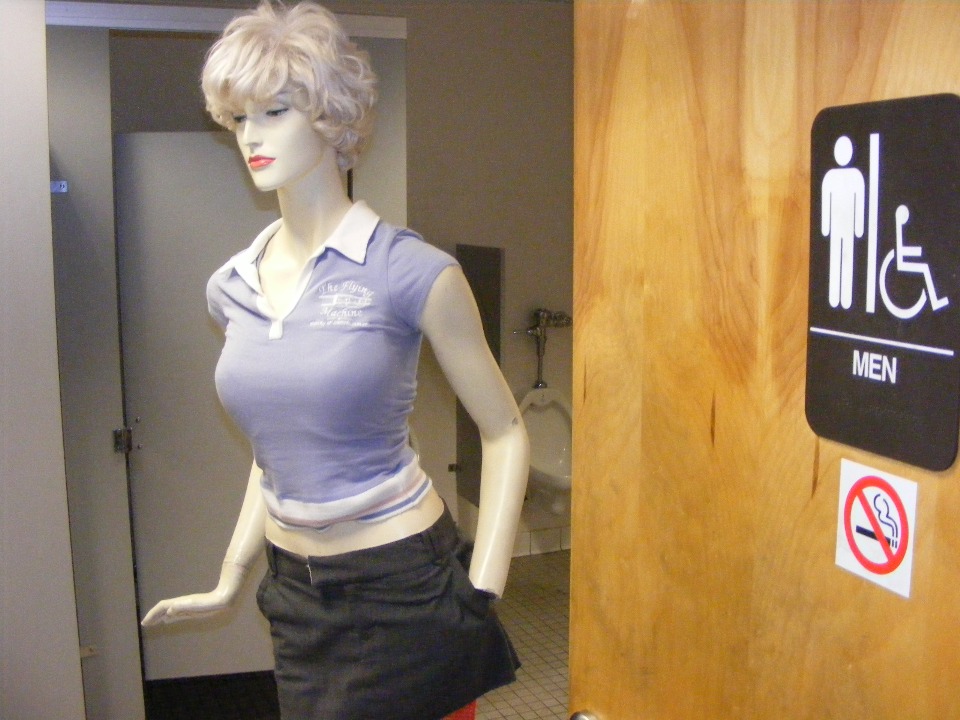 I spoke to the man and woman sitting at the table outside the restaurant. Their grandson was very enthusiastic about the airplanes coming and going all the time. I gave them my web site address to give the boy a better experience when they get home and online. The man in the red T-shirt over heard part of my conversation and also asked me how long it took to build my airplane.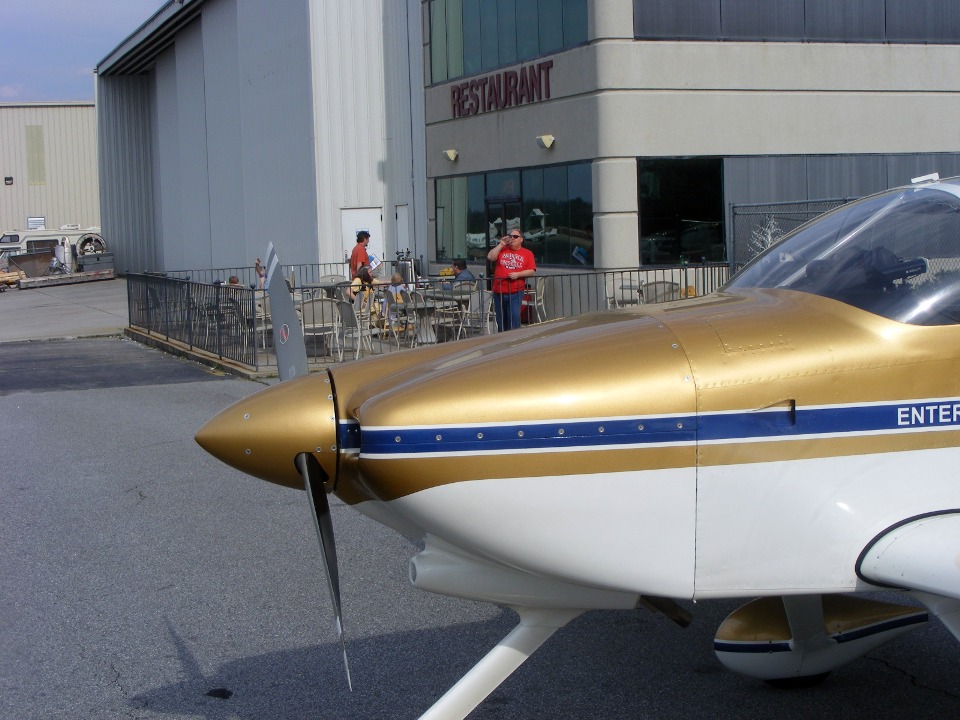 I cranked the engine at 4:55 PM and was home after 6 PM. I took the scenic route across the north side of Atlanta. I even flew two circles around my old college friend's house you met back in my web pages from August 2008. I went over to join up with US 41 at Emerson, Georgia and flew it north to a location just south of Dalton, Georgia - - my home town. At that point I turned west and crossed those ridges I mentioned at the beginning of today's posting. I touched down at Folks field around 5:53 PM. Wendell came out to help me guide my airplane into a good position up front in the hangar. I took this photo at 6:12 PM as I started to pack my car for the ride home.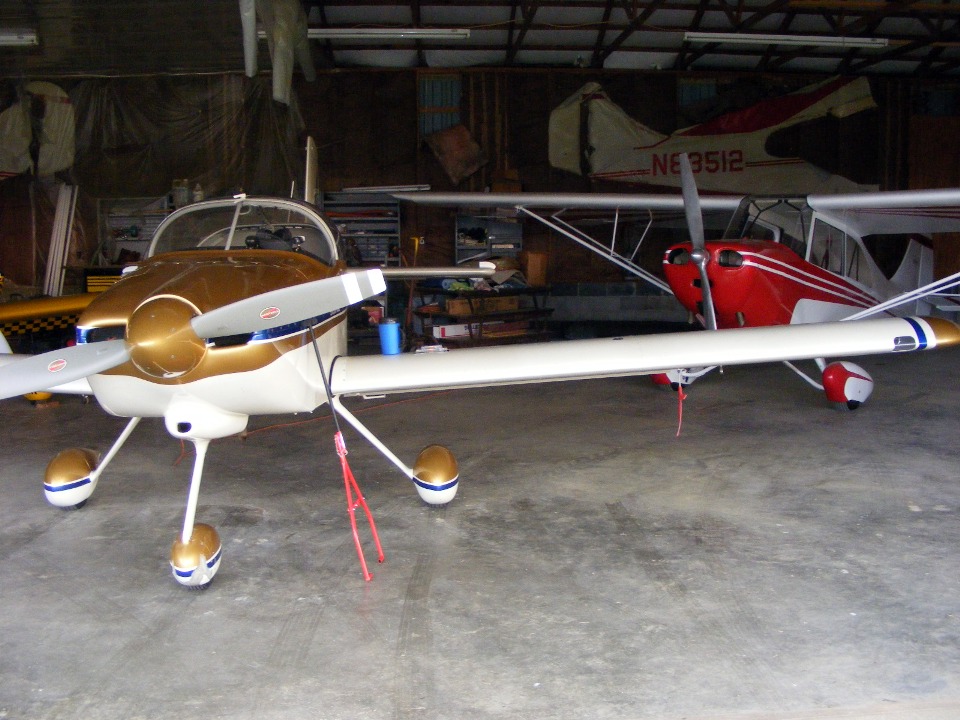 The weather that was perfectly clear over Georgia when I departed this morning became this high cloud cover to the south of the Chattanooga area after 6:30 PM.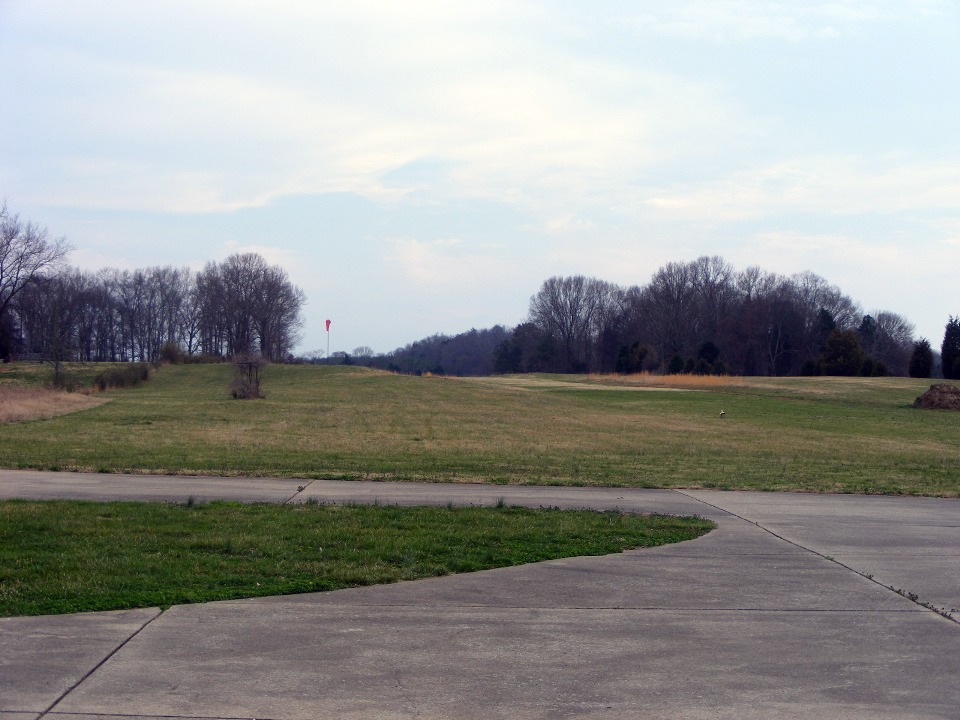 The view to the west and north was not so clear as you can see by this photo taken immediately after the photo just above. The forecast is to expect rain during the night or early Sunday morning.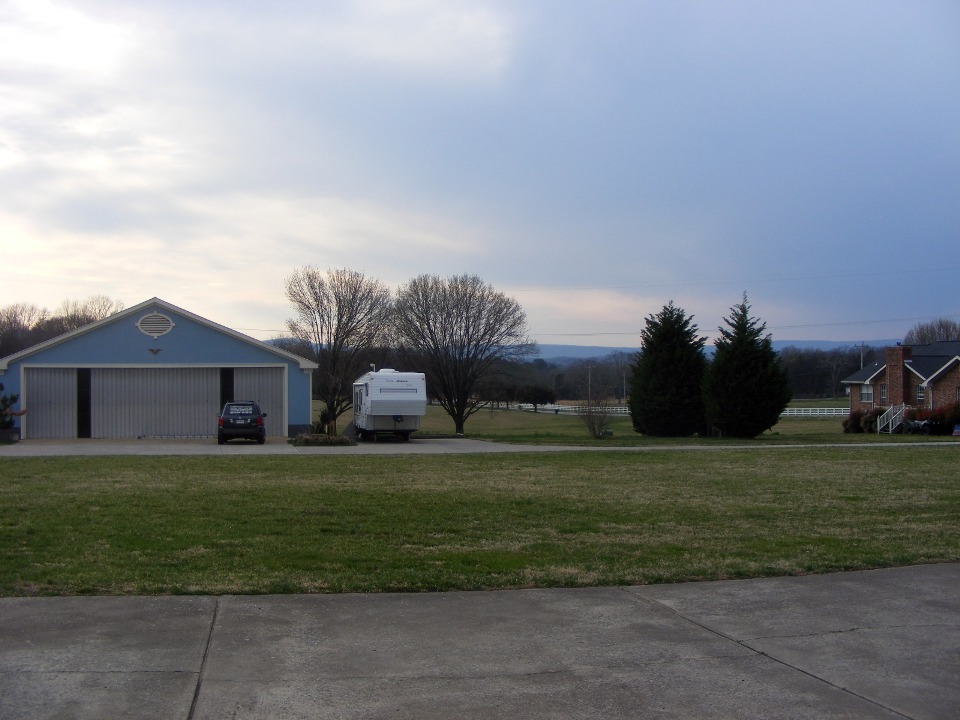 March 21, 2010: I got up this Sunday morning after sleeping "late" until 8:30 AM. I went back to the hangar to clean the bugs off the airplane. I thought about doing some work on the serial cable to my GPS which has an intermittent connection. When the wind turned colder as I finished cleaning the wings, I decided it would be a good day to get this web site published instead of getting cold in the hangar trying to solder tiny wires and encasing the data power plug in epoxy. Here is the GPS map overlay of the 509 miles flown over Georgia on Saturday. The straight line from Folks field toward Lawrenceville bends a bit east of Fairmount when the data stream from the GPS to the autopilot was interupted by an intermittent connection. I flew the airplane by hand and Marty also got to fly during the remainder of the day. The Hobbs meter added 4.3 hours today and a good time was had by all involved.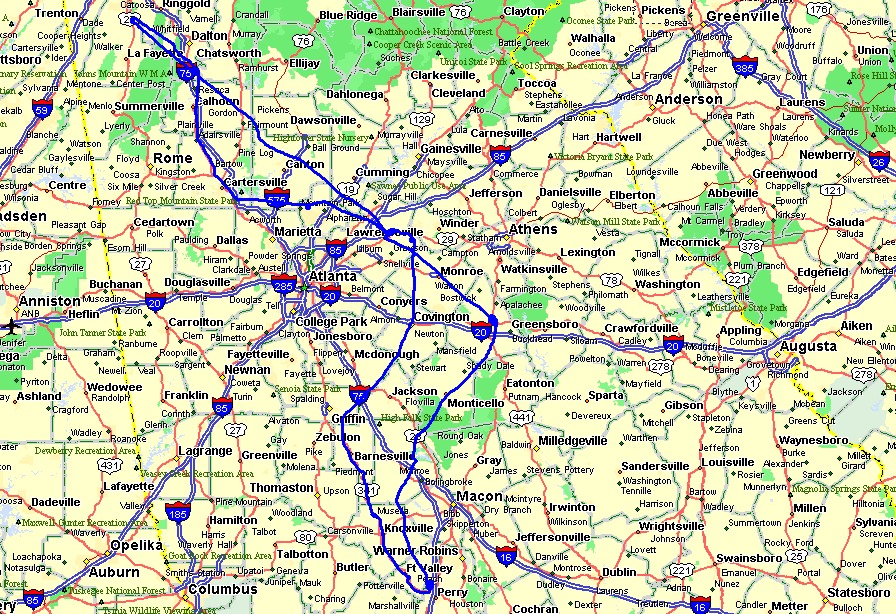 The rain was later than forecast, finally coming after 6 PM today. It is now just after 11 PM as I complete this entry.