October 2009 · · PAGE 311.
October 3, 2009: The flight back to Lawrenceville from Alabama was good. We were on the ground for a very short time. I retrieved the house keys out of Marty's car before we departed toward Rutherford County Airport in North Carolina. It is a border county with South Carolina, due north of Spartanburg, SC. This photo shows the bigger Appalachian Mountains in North Georgia and Western North Carolina on the horizon looking north from our route. This photo was also processed for contrast. I was listening to Atlanta Center and heard the controller advise another airplane about me. I was not using flight following, but he did give my altitude correctly and the fact that I was climbing. I called him and got a radar transponder code for the remainder of this flight. We cleared the other airplane by 2,000 feet as he passed under us from left to right.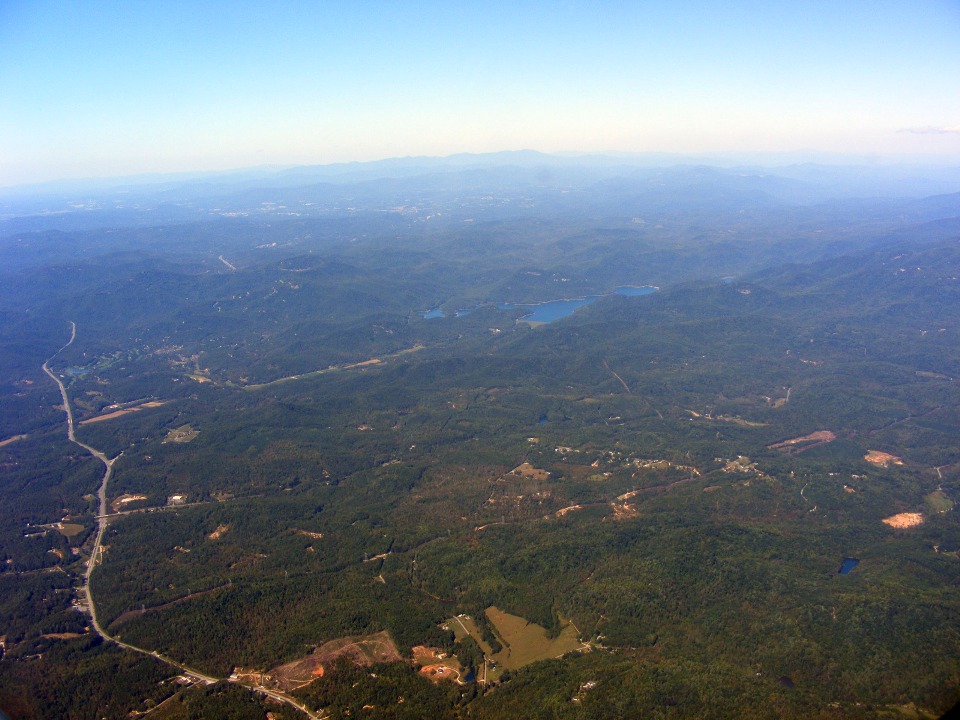 I had again climbed to 5,500 MSL when we departed Lawrenceville on our northeasterly course. We got into those 30 MPH tail winds and made good time toward the Rutherford County Airport. As we got closer to the mountains, the tailwinds went higher and our ground speed was slowing down before we started our descent. The route was 153 statute miles, which we covered in 57 minutes from takeoff to landing and engine stop on the ramp. We were handed off to Greer Approach as we crossed into South Carolina. Those controllers handle the Class C airspace around the Greenville-Spartanburg Airport (KGSP). I used their services when I flew into the Greenville Downtown Airport a couple of years ago.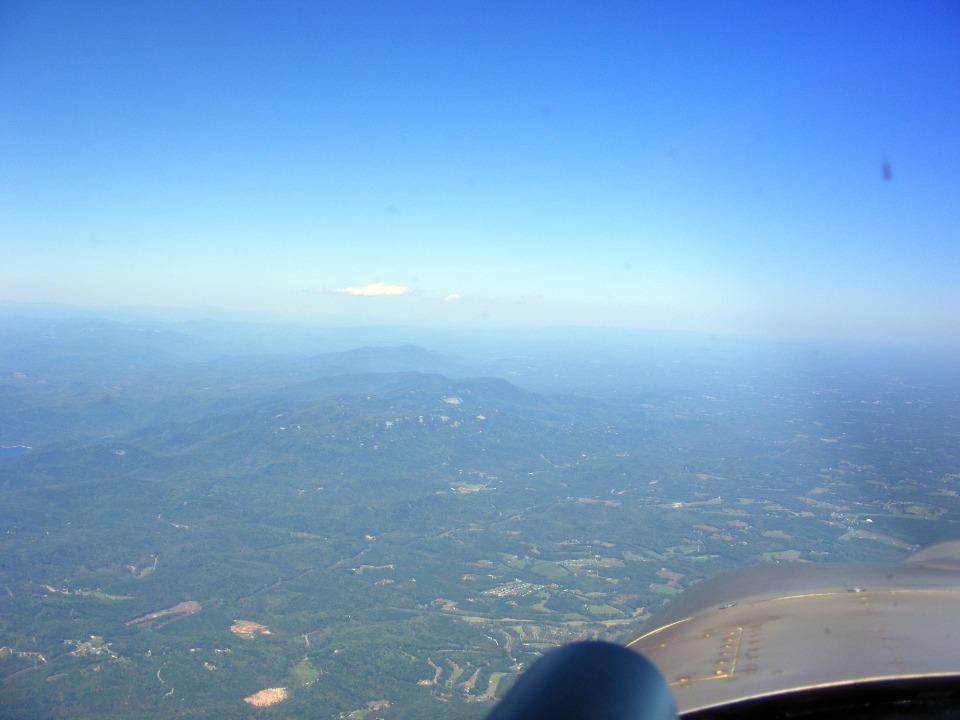 Here is the view looking southeast toward Greenville, South Carolina.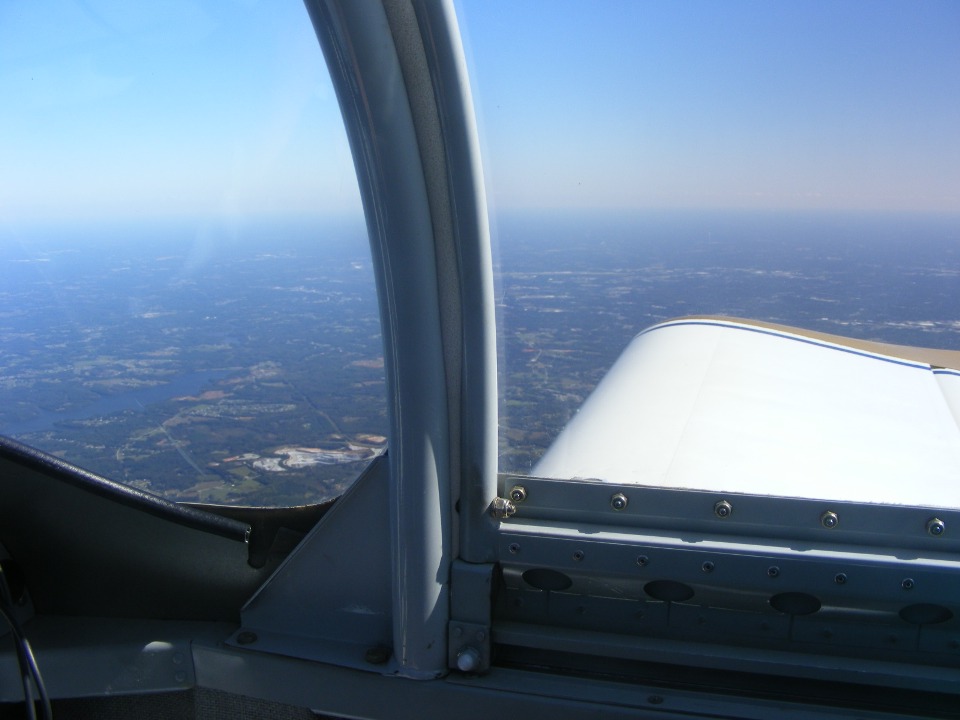 As long as I was taking photos in that direction, I figured I would get one of Marty in the right seat. I took this photo at 2:52 PM Eastern Time. I had to hold the camera on top of the instrument panel and guess at the correct direction to point the camera.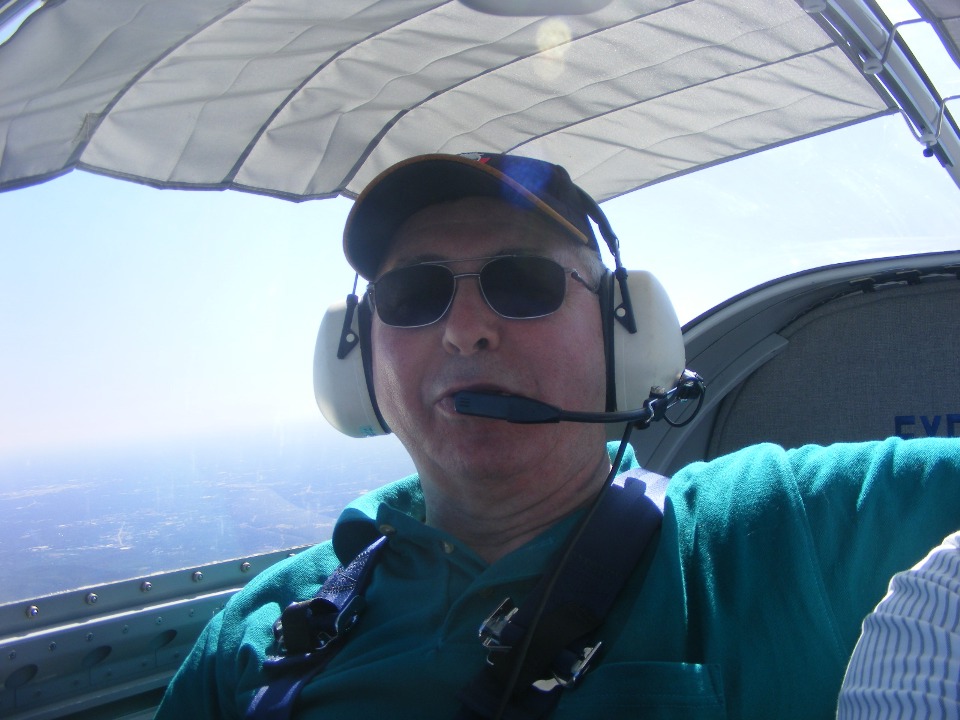 Here is the required photo on the ramp at Rutherford County Airport. The tie-down ropes are secure as we await the arrival of Marty's cousin. The FBO is behind me in shadow, so I did not take a photo looking in that direction. The new BLUE CUP has a long way to go before it becomes as well known as my original, now retired, RED CUP.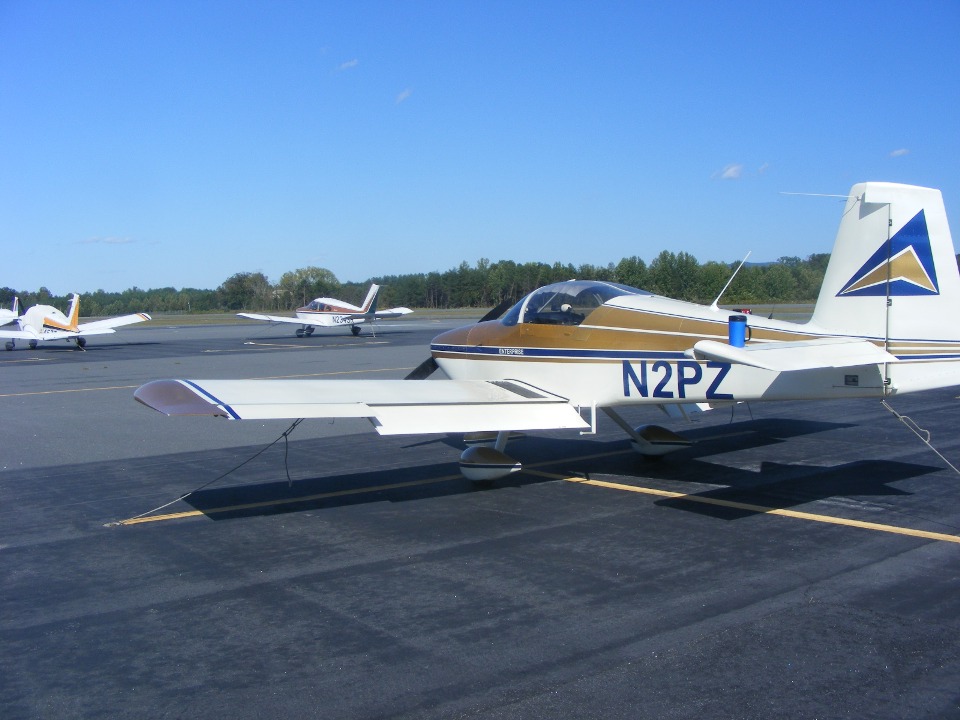 Marty's cousin Kay came out to meet us and drove us to the house. Marty went inside to take care of things while Kay and I waited in the car at the house to talk a bit about my airplane. I gave her one of my cards with the web site address on it. She enjoys ballroom dancing and talked about the last time she was dressed to the "nines" for a competition. When we got back to the airport, I got her to come out to see the airplane. I showed her the instrument panel and gave her a look through the lightening holes in the ribs of the horizontal stabilizer. Marty took this photo with his camera.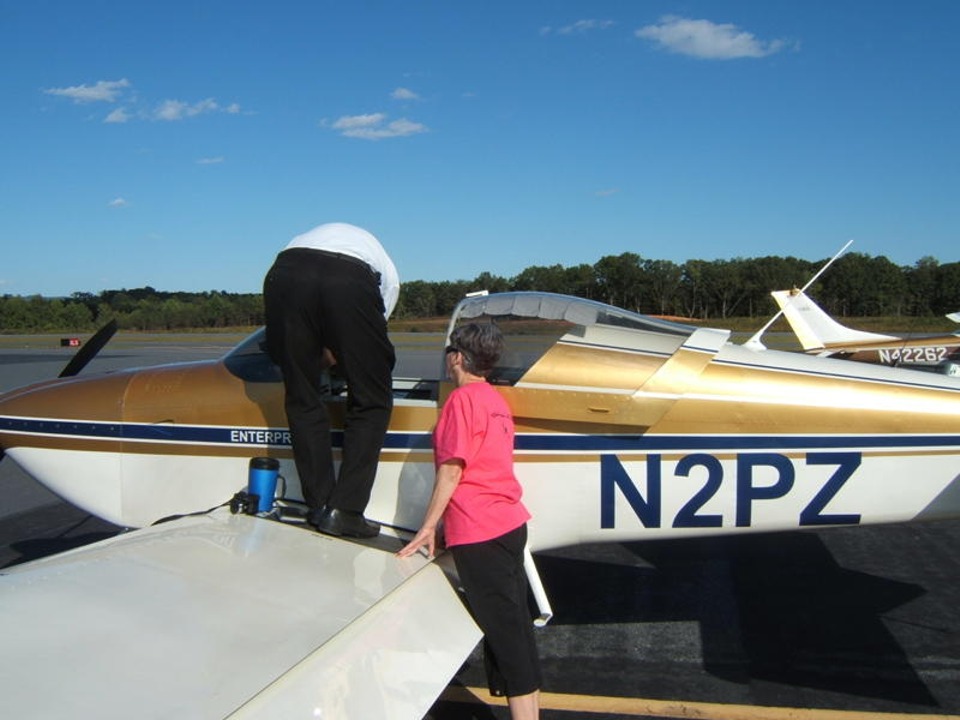 Marty took this posed photo after I finished the instrument panel discussion with Kay.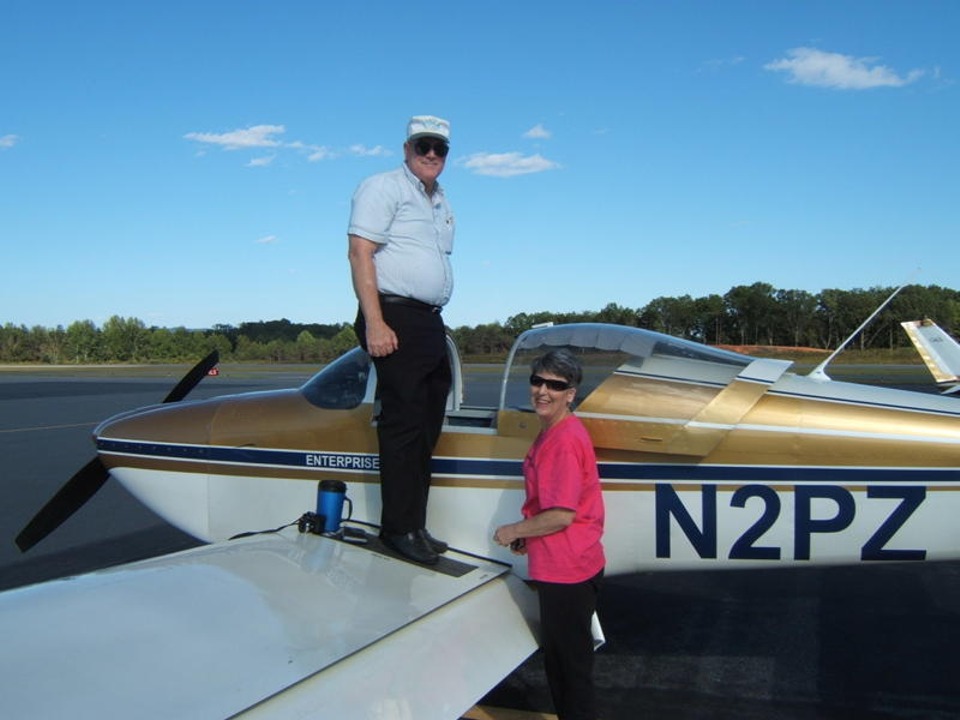 Marty commented on the fact that I have different tail art on both sides of the vertical stabilizer. I explained the symbolism of the "circle of stars" to Kay and my love of all things "Star Trek" and how it affected my choices when building and painting my personal "Enterprise."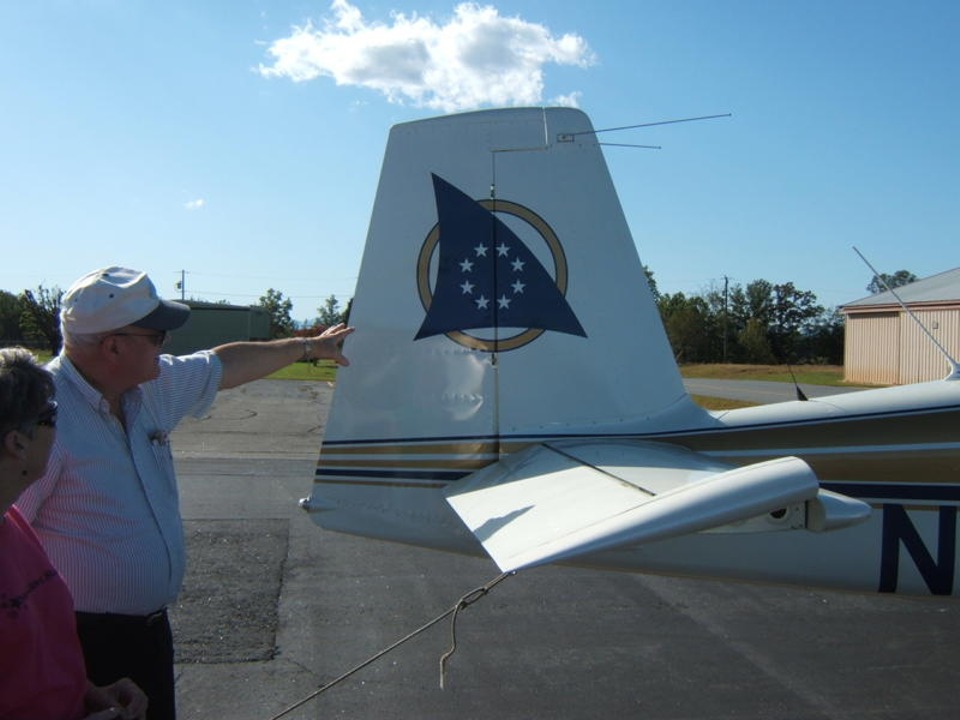 This photo is time stamped at 4:26 PM just before we loaded up and headed for home. I checked the remaining fuel during the runup and found only 9 gallons remaining. I had checked the fuel prices in the area on the computer in the FBO when we first landed. The lowest price was only 61 miles away at the Pickens County Airport. We had seen it earlier.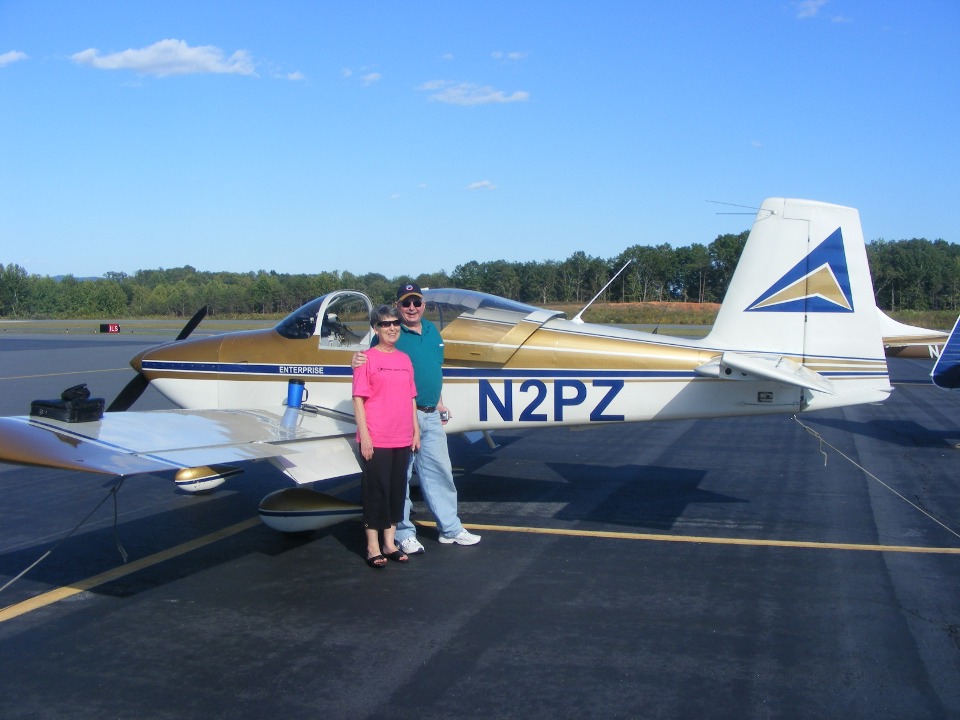 When we landed at Pickens County(KLQK), we discovered the self-serve pumps were out of order due to no communications with the credit card company. The fuel truck was brought out and we were given the self-serve price by Trad Julian, the airport attendant. He asked me about the slick finish on the top of the wings and how I did that. I answered with my use of "Lemon Pledge" furniture polish or its generic equivalent from Walmart. I gave him a good report on www.airnav.com when I got back home. I also gave him one of my airplane cards and told him about my Oshkosh videos and the Alaska trip story. This photo in front of their new terminal building was taken at 5:32 PM just before departure. Sunset back at Folks Field was indicated on my GPS for 7:23 PM this day. I told Marty we had to get a move on to get me home before dark.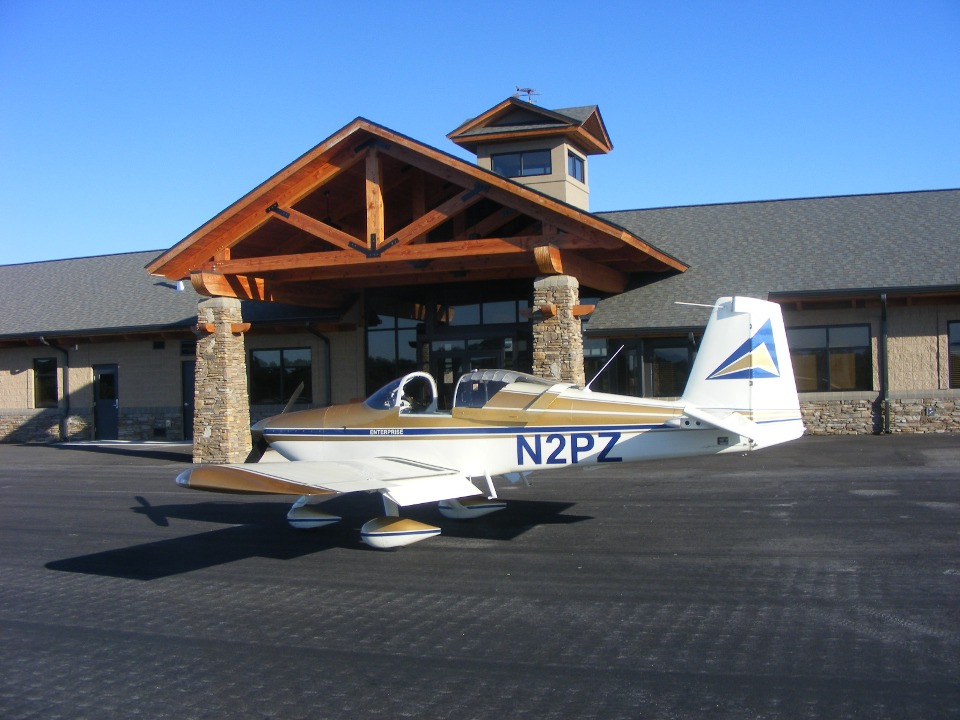 We got back to the Lawrenceville Airport around 6:25 PM. Marty got out and I handed him his coat and bag. I called Wendell to let him know when to expect me back at the field. He was sweeping out the hangar. Just as Marty headed out the gate behind my airplane, I heard someone call my name. It was William Huch, who had sent me an email a few weeks ago asking about the Sherwin-Williams self-etching primer I used inside the airplane. He had been studying my web site for information that will help him as he builds a Ran's S-12. He and his wife looked at the airplane for a few minutes. She thought it was "so beautiful." I pulled out the aircraft log book and showed him the Sikkens paint numbers of the colors I used. I did ask him to take a couple of photos of me sitting in my airplane since I did not get out at this stop. I liked this photo the best, taken at 6:33 PM. The hat brim is pulled low to keep the sun out of my eyes. I gave him one of my airplane cards and had to cut short our conversation at 6:45 PM to get going for home.