FIFTH Saturday EAA Chapter 890 Fly-in · · PAGE 266.
August 30, 2008: The fifth Saturday of those months that have them, is the date for a Fly-in Breakfast sponsored by the local EAA chapter at Fort Payne, Alabama. It is also an early morning social gathering for pilots in the Tri-State area near Chattanooga, NW Georgia, and NE Alabama. Wendell and Rich Nadig flew down to the airport together, while I went for a little sight-seeing flight of my own. When I took that ride in my car two weeks ago (August 16th) I drove down to Mentone, Alabama and then back up the Lookout Valley following US 11 and some parallel country roads to see some "out of the way" sights for the first time. Today, I flew that route in reverse down the valley. I climbed up to about the same height as the bluffs of Lookout Mountain and then flew north along the East side of the mountain. When I reached the northern point of the mountain, I turned through the pass cut by the Tennessee River and flew down the valley on the West side. This flight did not enter the Chattanooga Class C airspace.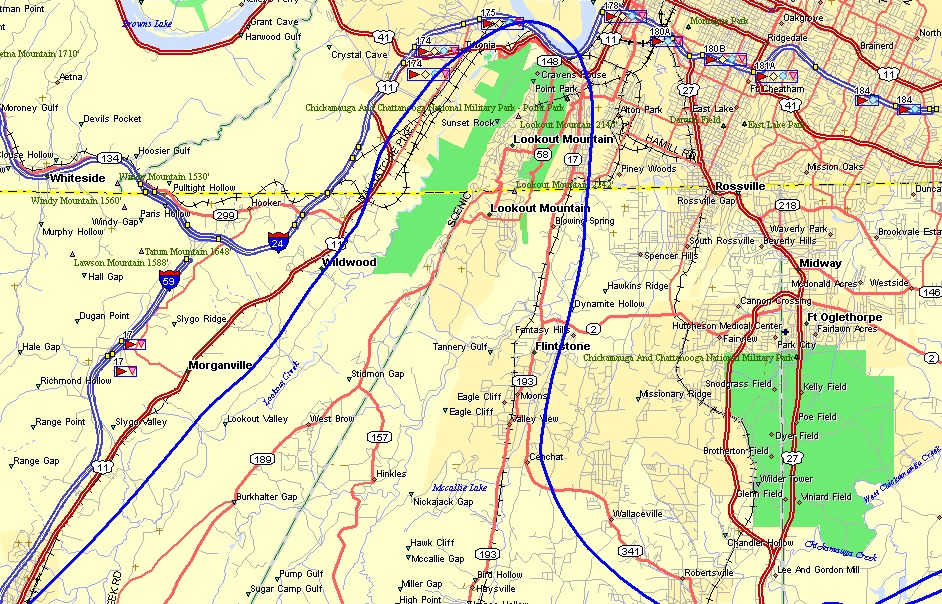 When I got down to Mentone, Alabama, I circled the Mentone Springs Hotel and took this aerial shot.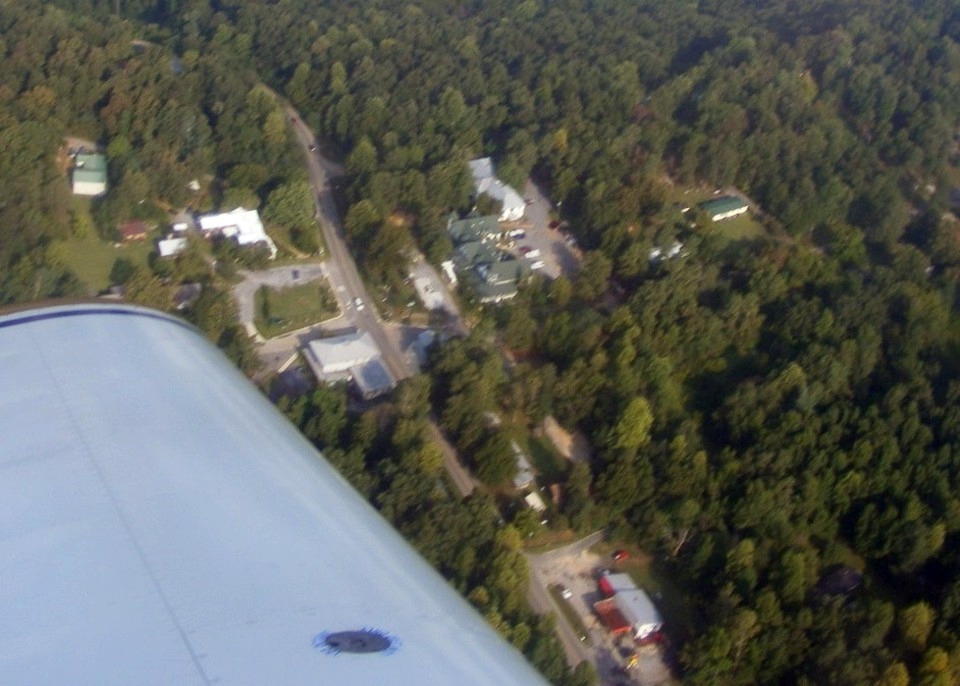 I took this photo two weeks ago when I was there in my car.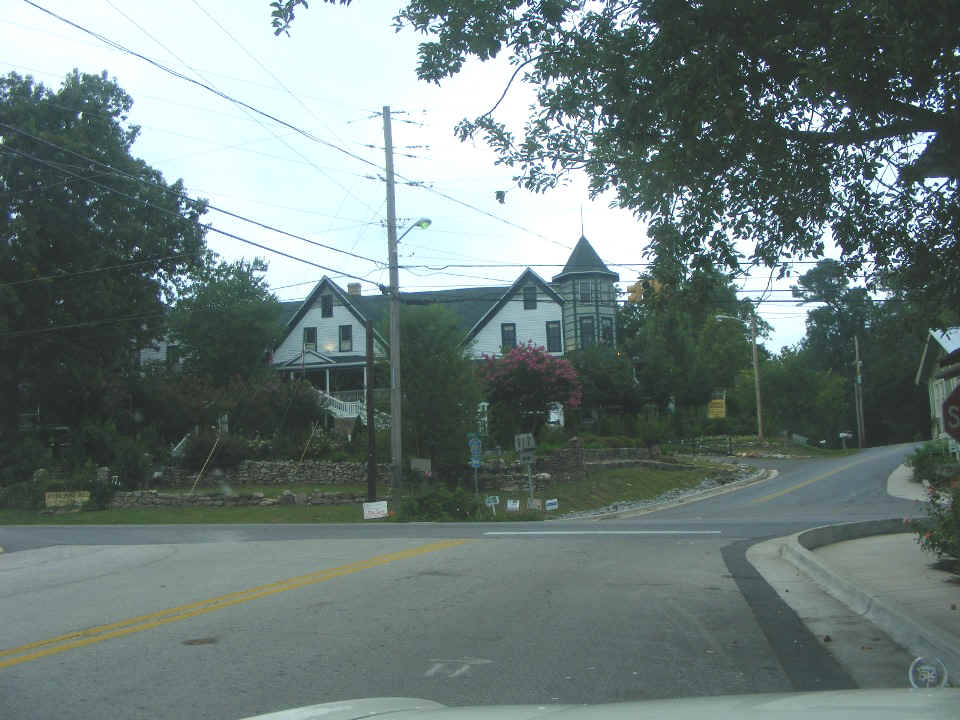 Here is a photo from their web site. It was a small photo that I resampled to make it twice as big.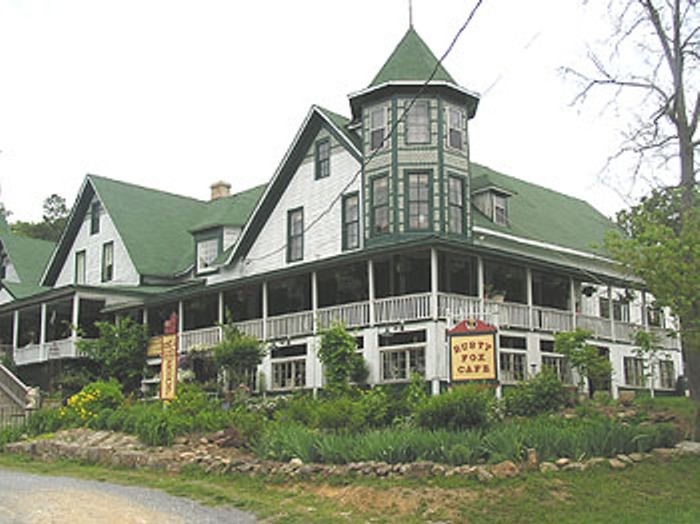 This is my ground track as I flew over the hotel. I was not sure I was going to get a usable picture in the early morning haze. There were clouds down in the valley west of the town. I took my aerial photo on the second pass from a vantage point above and EAST of the hotel. That yellow line at the right of the photo is the Georgia state line.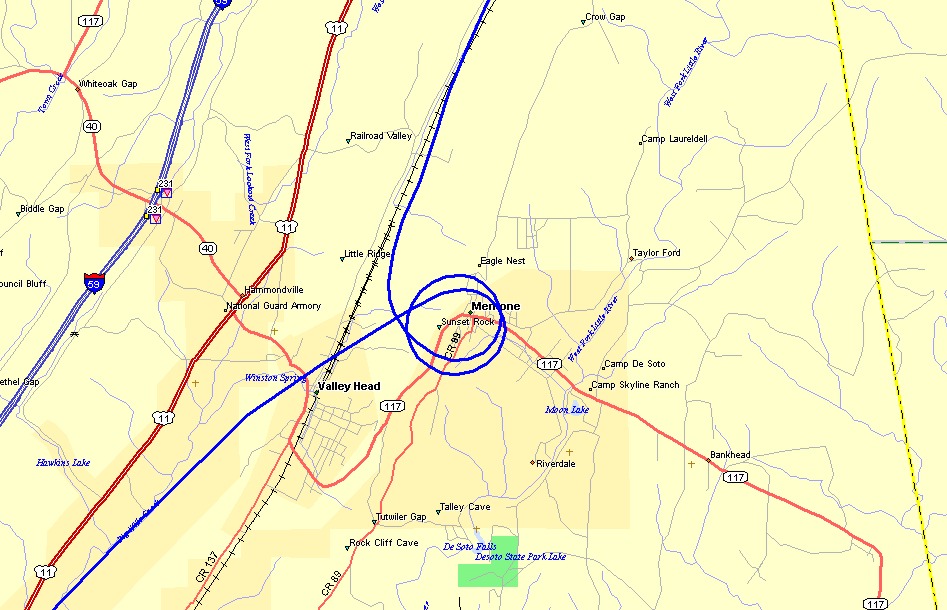 It was a very short flight down to the Fort Payne airport (4A9). Wendell met up with a friend and fellow RV-8 builder/pilot from Cartersville, Georgia (wearing the orange shirt). They were both answering questions about Van's RV-8 airplanes to these other two pilots.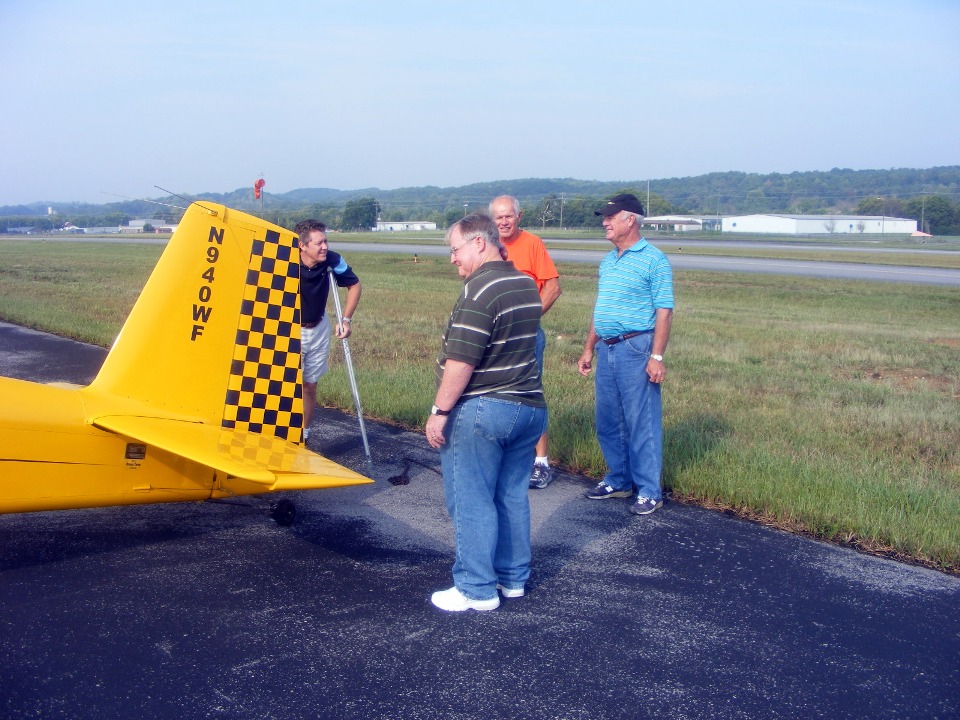 Rich Nadig had to get back to Collegedale and left early with his Mazda rotary-powered RV-3B. He had stopped at Wendell's earlier in the morning when we were waiting for a clear weather report to get into Fort Payne.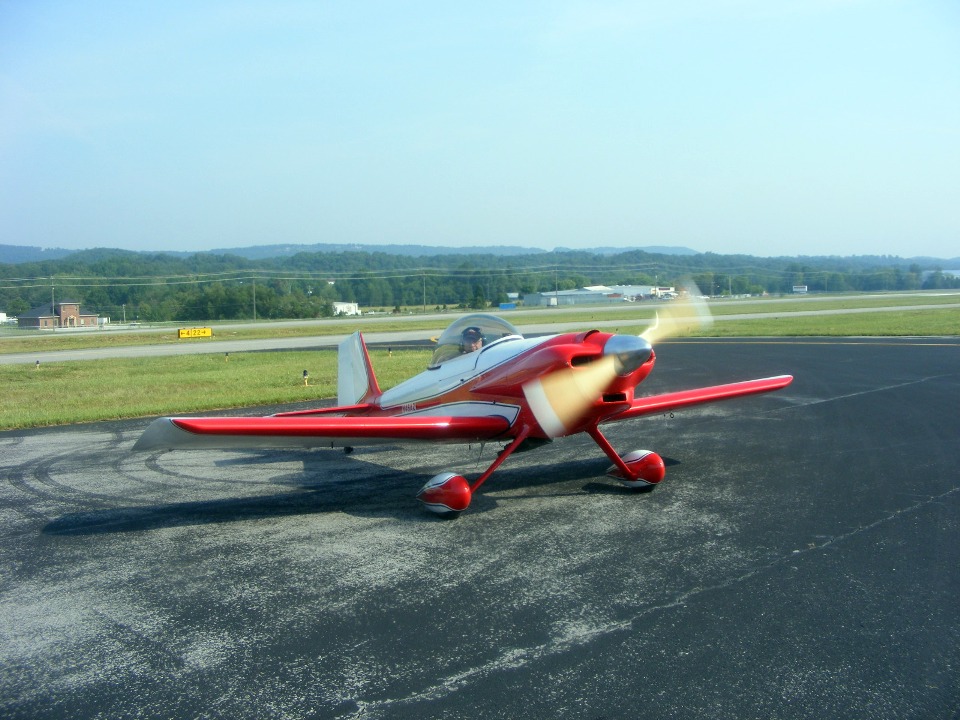 The newest airplane on the ramp is the RV-8 built by John Myers. He has just over 12 hours on the Hobbs meter. I have some web pages of photos showing this airplane under construction when Wendell and I visited his Flying M airfield in January 2006. He has adapted a P-51 paint scheme and added some personal touches to pay tribute to his native-American ancestry.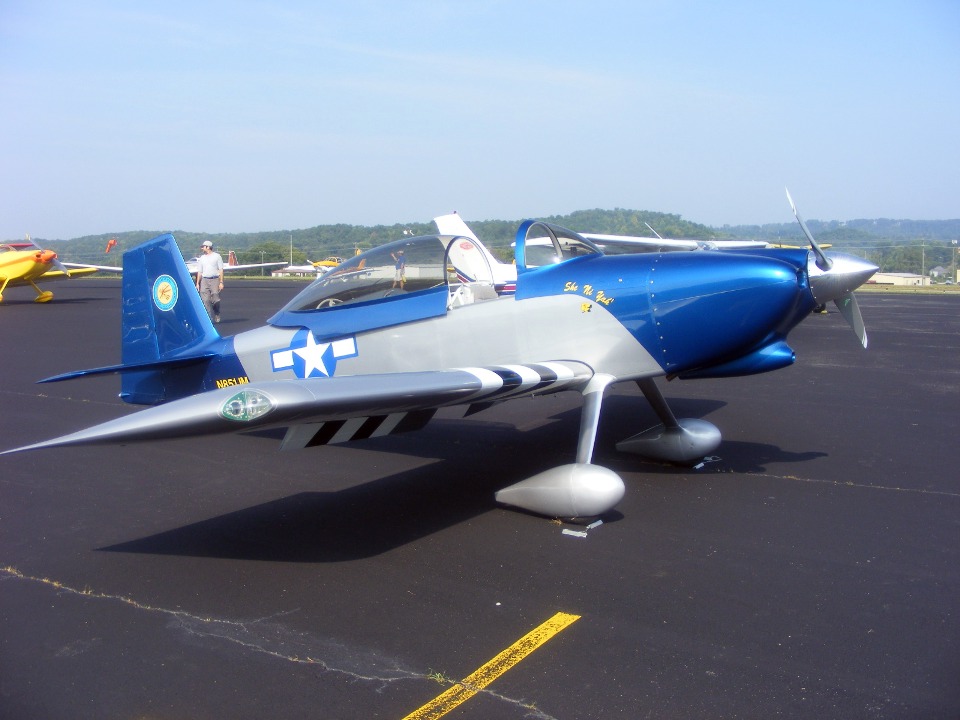 Here is a close up of the tail art honoring the Chocktaw Indian Nation.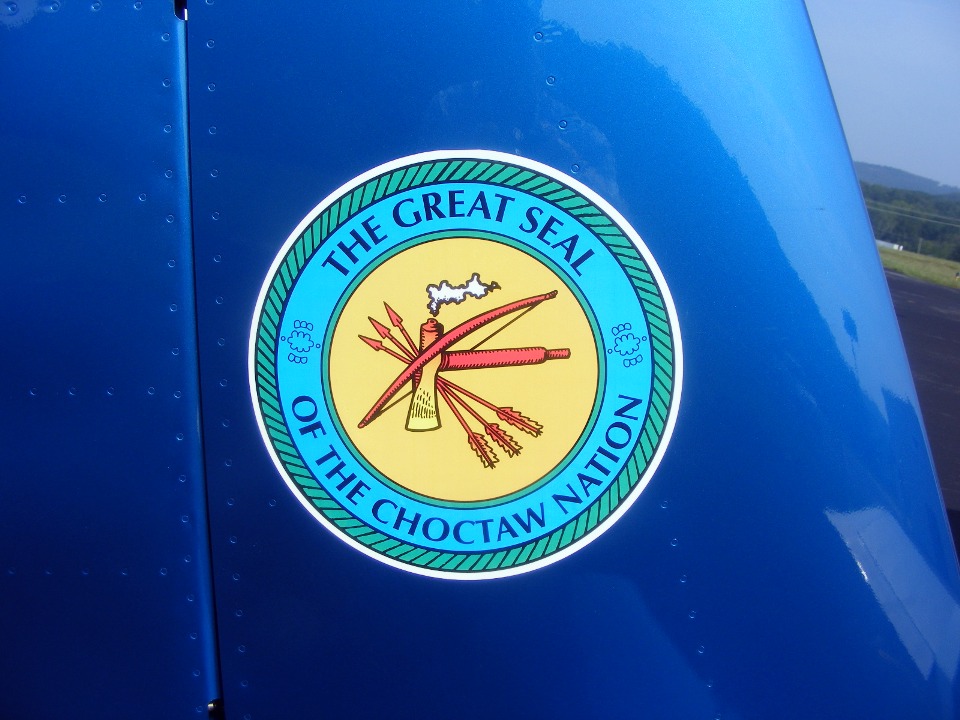 I made this shot to get his N-number for the record. Only after I uploaded the photo to my computer did I see that John was pointing out some feature of the airplane to someone on the other side of the fuselage. Look closely for the feet and a blue hat as they are kneeling down and almost out of sight completely.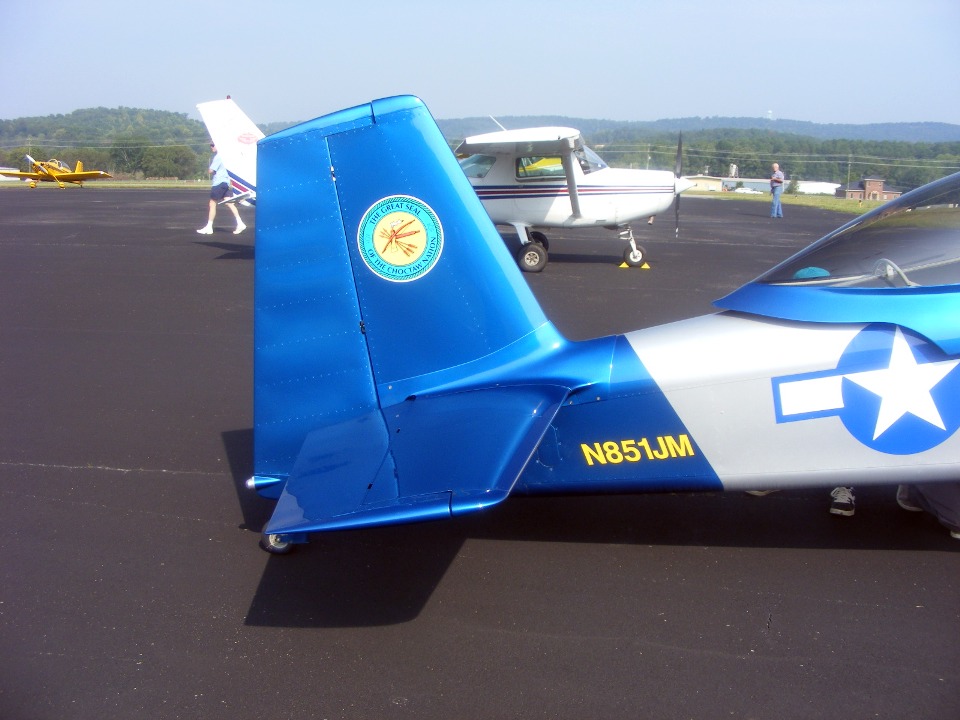 If you looked at the link above to John's earlier pages on my web site, you have seen his instrument panel. Here it is, fully functional.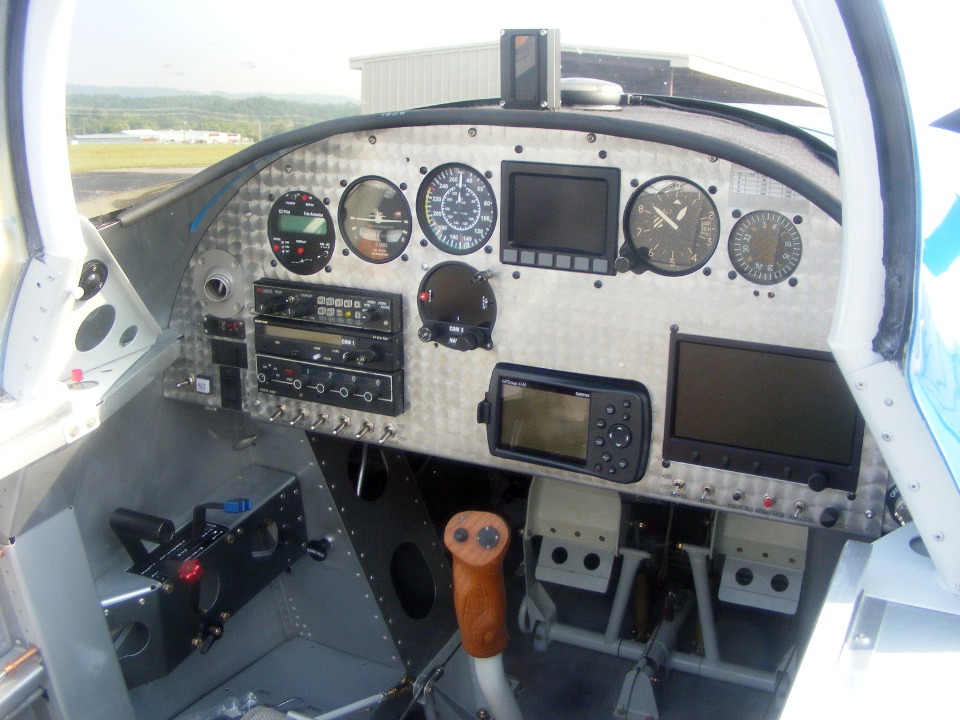 Here is an excerpt from the EAA Chapter 890 web page about John's first flight of his airplane. These are John's own words about the airplane: "Doug Carter did a wonderful job on the paint," writes John. "I chose the paint scheme to honor my Uncles that flew in WWII and we named it to honor my Choctaw heritage. The name is She Ni Yah' which means "Forest Flower" or "Chahta Rose" in Choctaw. She Ni Yah' was my great-great-great-grandmother's name." (My personal thoughts: Indeed we are a country of many cultures, native-Americans, and immigrants from the time of the first European settlers.)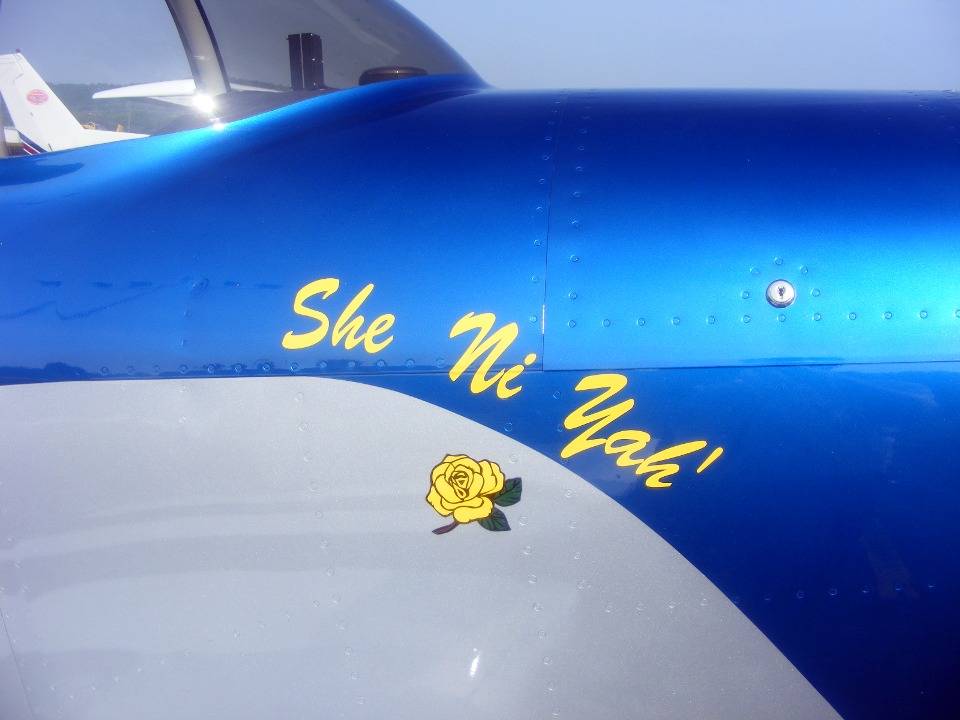 When it was time to head out of Fort Payne, I considered flying up to Shelbyville, Tennessee to get fuel and then realized I would not save enough on the lower cost of fuel to offset the extra miles I would be flying. The map overview of today's total flight path shows it all right up to the point I made my decision to head back to Collegedale to fill the fuel tanks and pick up a new Atlanta sectional chart that came out two days ago.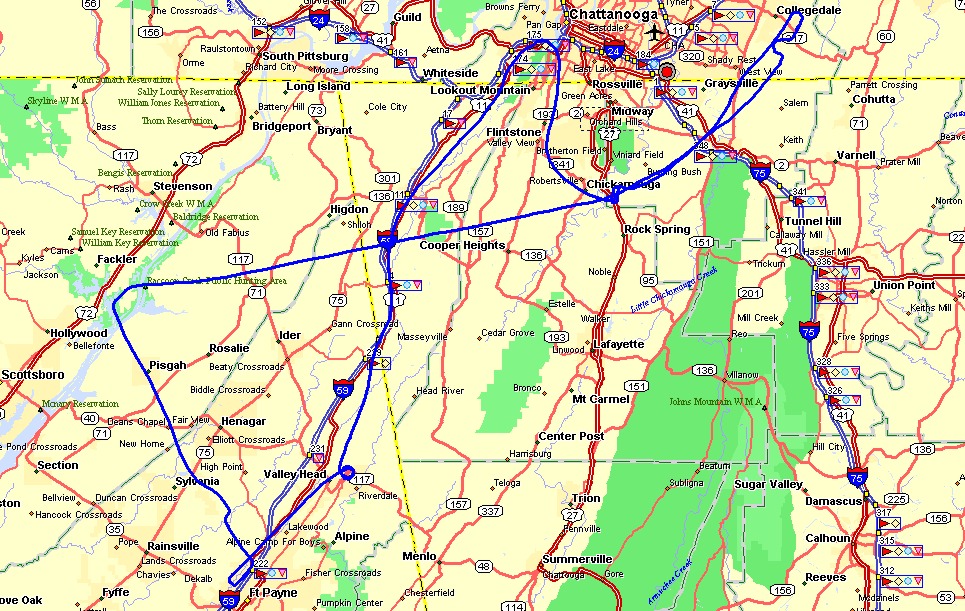 There was one pilot there wearing a Piper Aircraft Museum shirt. When I saw that shirt, I asked him if he had ever seen an RV "Comanche" and he said no of course. We walked over to my airplane and he got a kick out of seeing how I had adapted that classic paint scheme from 1966 to my RV-9A airframe.
With the long route I flew around the north end of Lookout Mountain, I was able to claim cross-country flying time on the first and second flight segments today. The ride from Collegedale back to Folks Field was a local flight I have made many times. The total of the three short flights today added 1.7 hours to the Hobb's meter of the "Enterprise" for a total time of 256.8 hours since June 2005.