Flying North of Atlanta · · PAGE 262.
August 17, 2008: The weather was indeed better this Sunday than it was yesterday. I called my friend Dale near Atlanta at 8:58 AM to tell him I was ready for takeoff. We planned to meet at McCollum Field (KRYY) near Kennesaw, Georgia at 10 AM. I noticed the weather below me changing from the clear conditions near Chattanooga to hazy conditions as I got closer to my destination. I had programmed a GPS route that would take me over two private air fields that occasionally have fly-ins I have seen posted on the web. The first one is called Riverside and is located eight miles northeast of the Rome, Georgia airport. I circled the grass strip one time and did not try to take a photo. The runway there is parallel to the Oostanaula River, originally named by the Cherokee Indians when they lived in this area of Georgia. The second private airport is named Rhodes just north of Taylorsville, Georgia. My map program does not have the airport symbol for Rhodes. When I turned East toward McCollum Field, I was listening to the control tower frequency and heard several airplanes coming and going. I met one of them passing by me above and to my right about a quarter of mile. I had all my lights on in the haze and waggled my wings. I got no responding waggle from the Cessna heading west. He may not have seen me.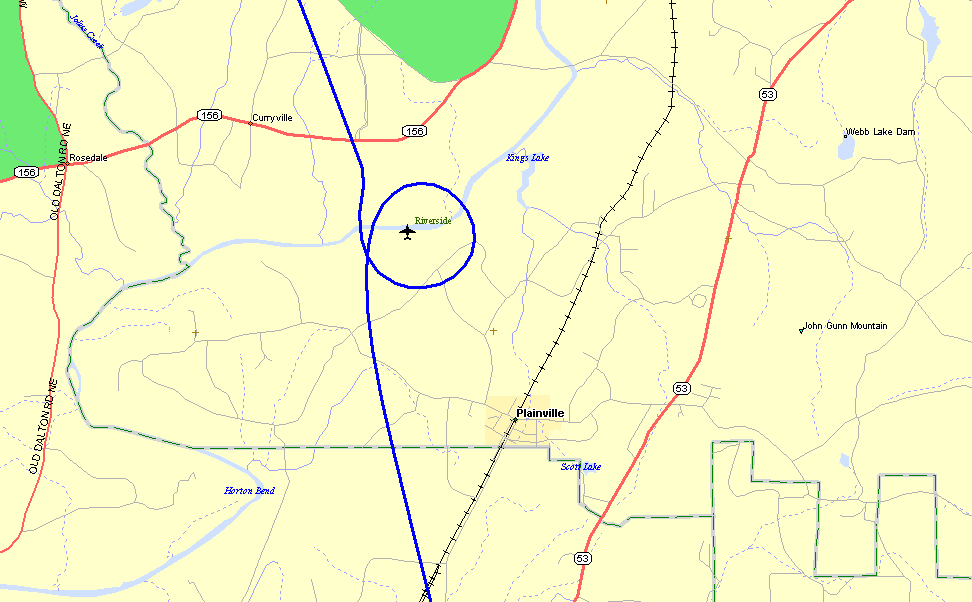 I called my friend again at 9:45 AM after I landed and parked at Northside Aviation. He had to stop for auto fuel and would be arriving on time at 10 AM. When he arrived he started taking photos of the airplane. The following set of photos are from his camera, not mine. Thanks, Dale!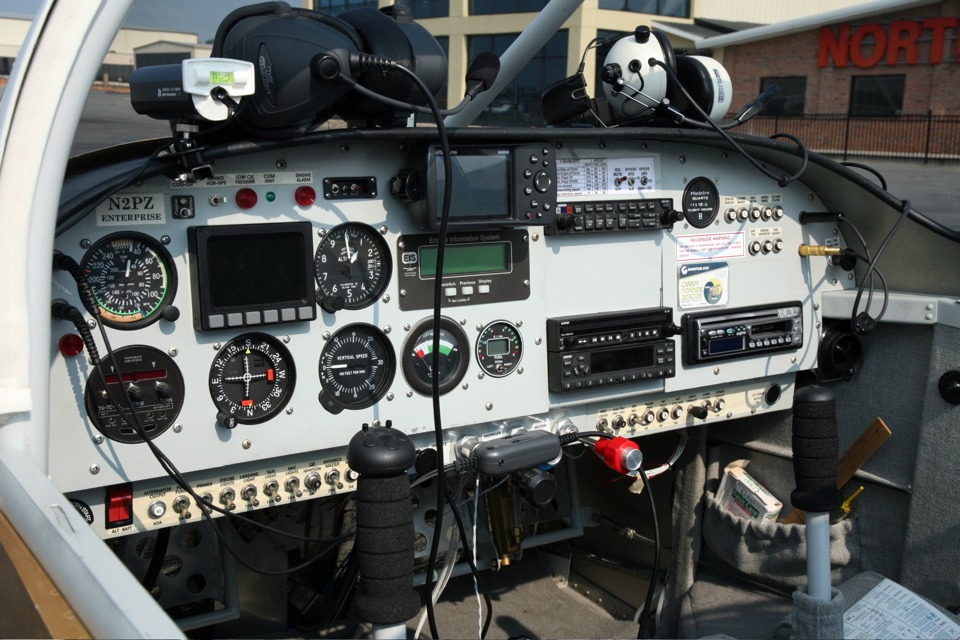 The McCollum Airport official "DOG" was on patrol and always checks out the newcomers. He was friendly, but not over anxious. He was well-mannered. A Cessna 421 owner and pilot came over to have a look at my RV-9A. I answered his questions while Dale took photos.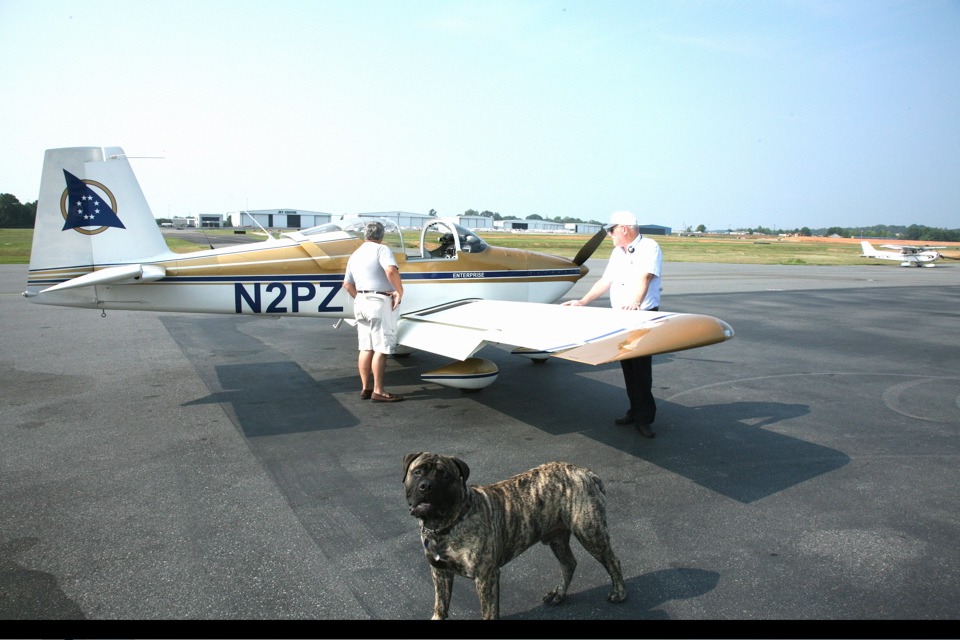 You can see in the background that McCollum Field is a busy general aviation airport with a mix of jet and piston airplanes. The discussion between us pilots is all about cruising speeds, altitudes, and fuel economy. He is not Chief Engineer, Montgomery Scott - but his resemblance to actor James Doohan is something I failed to notice when we were having this chat on the flight line. I wonder if he was attracted to my airplane because of its name "Enterprise" on the side? (That headphone around my neck is connected to my cell phone.)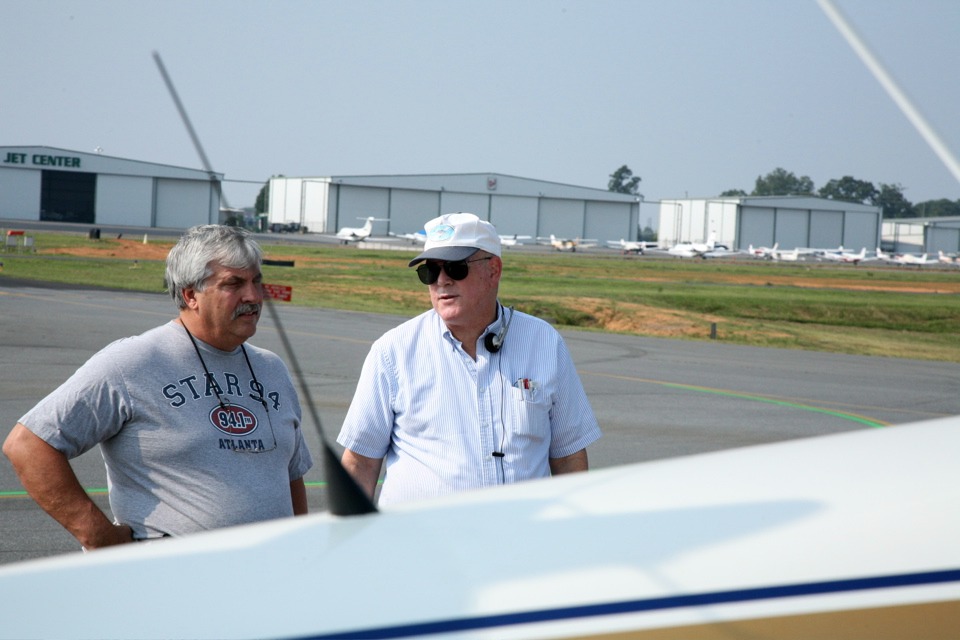 Dale turned his camera around from his vantage point to show the buildings near my temporary parking spot. The folks at Northside Aviation are very helpful. This is the second time I have been here in two weeks. They remembered me from my previous visit. The restaurant has a two-level dining room and a reasonably priced menu for an on-airport restaurant. They also have valet parking in the back for customers who arrive by car.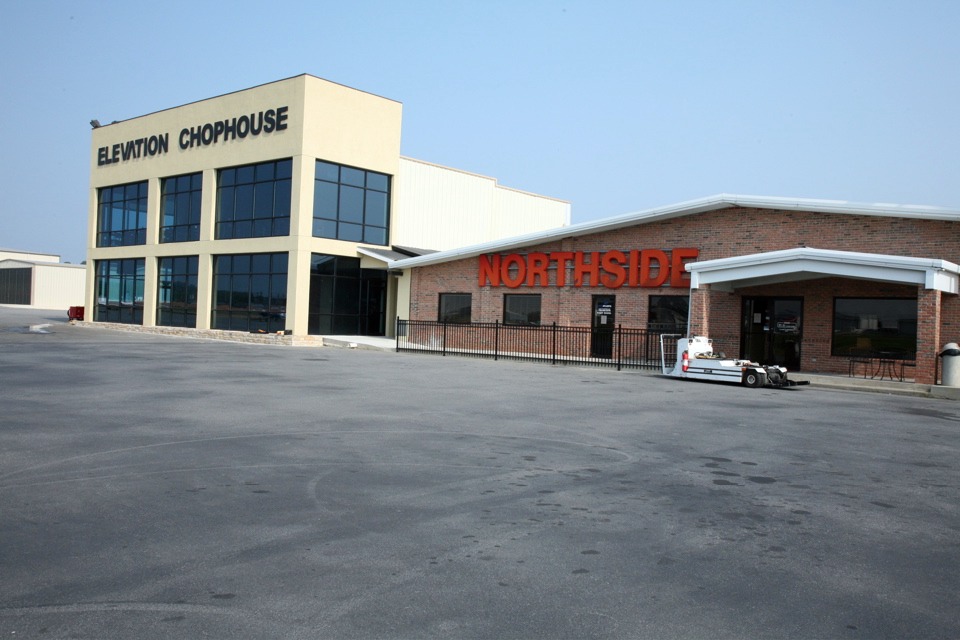 I had shown Dale how to safely mount up on the wing walk and asked him to wait until I was aboard to get him seated securely. He snapped this photo while I was about to step up on the wing walk on my side.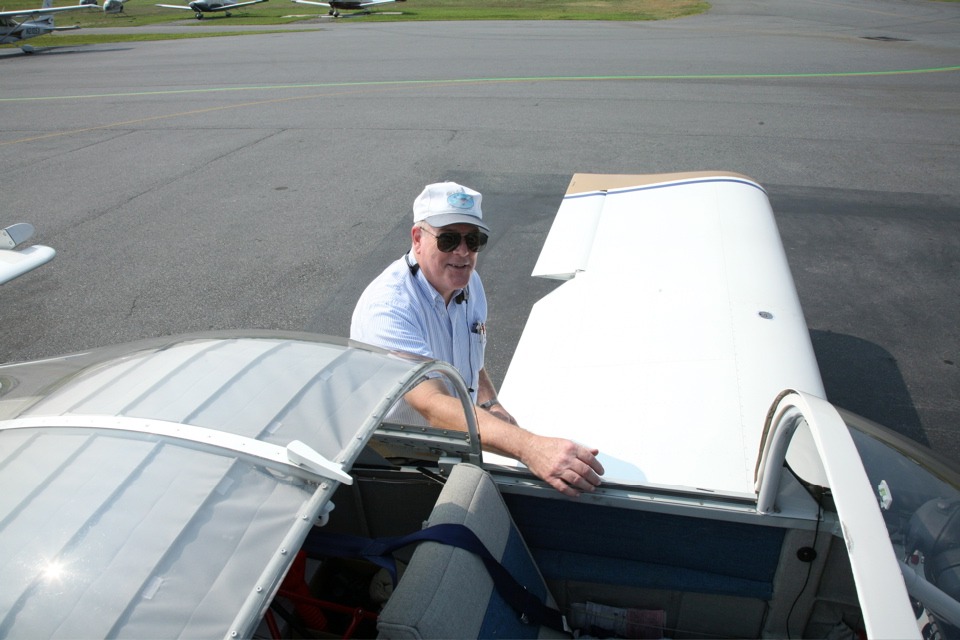 After I had him secured, I offered to take his photo sitting in the right seat. His camera does a really nice job compared to mine. The Waco biplane in the background came back from a tourist flight while we were getting ready to depart. It was parked there when I arrived earlier in the morning. The delay in our departure for taking photos and talking to the other pilot worked in our favor to let some of the morning haze burn off as the temperature was rising.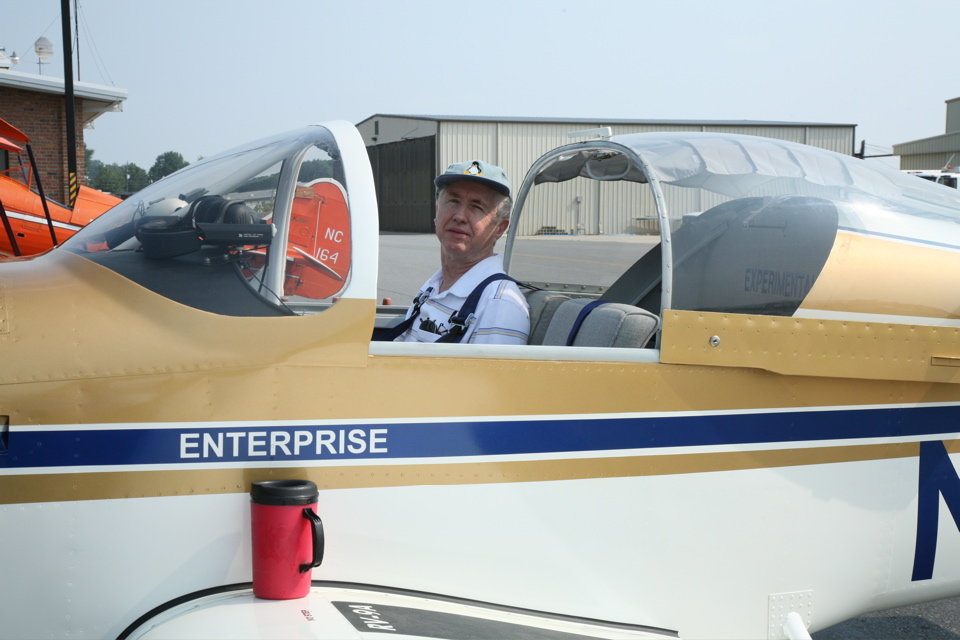 The FAA required passenger warning label got Dale's attention when he started looking over my instrument panel. I really have to change that GPS 196 panel label to read "GPS 296" to match my current equipment.