May I Help You? · · PAGE 255.
May 20, 2008: What can I say about the title for this page? It is the month of MAY after all. The weather did something interesting today - HAIL! ICE pellets from pea-sized to dime-sized pelted the roof of my townhouse and I grabbed my camera to take a couple of pictures from my front door.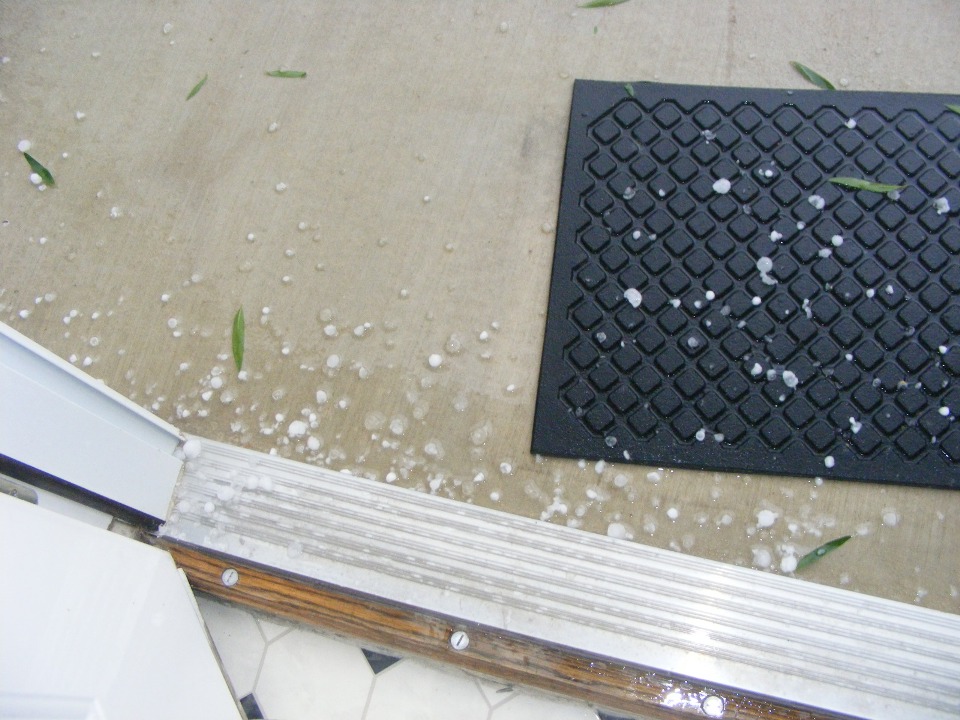 It was rather warm outside, so they did not last very long at all.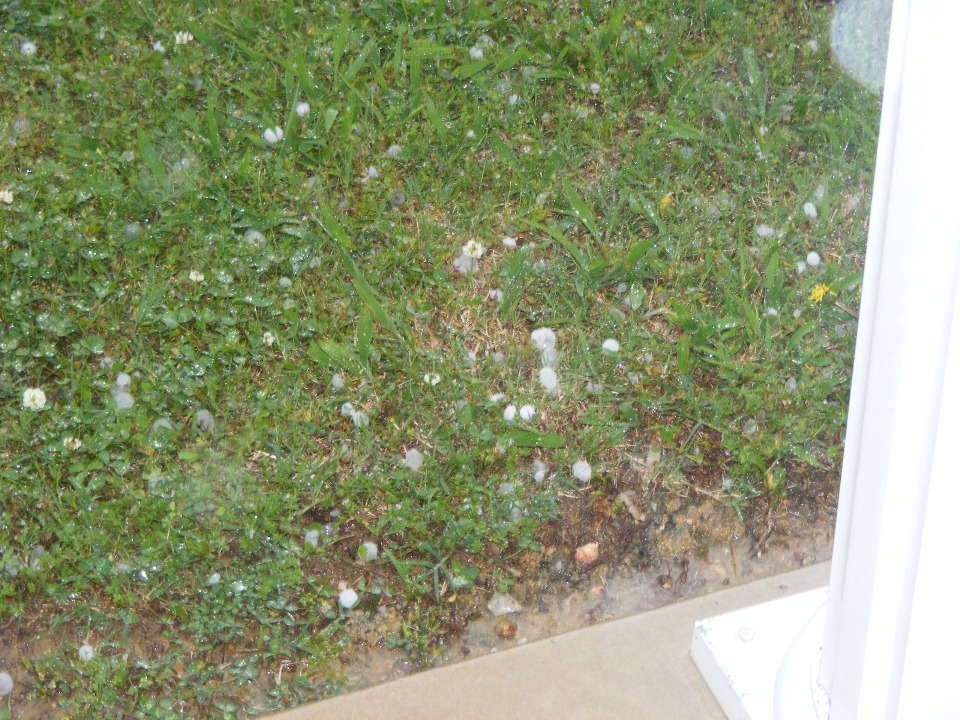 May 28, 2008: There has been zero airplane activity until this Wednesday evening when I went over to work with Wendell to resolve an electrical issue he discovered in a recent flight. He was coming back late in the day from a flight and turned on the NAV lights to check them out as he was nearing home. When he flipped on the switch, both fuel gauges read ZERO fuel. He turned off the switch and the gauges came back to normal. I had an idea of what was happening, I just had to find where in the wiring harness the problem was located. I finally found a cold solder joint on the ground wire from the two fuel gauges inside one of the 25-pin DBM connectors that allow removal of the instrument panel. The loose wire was touching the adjacent pin inside the "plastic shell" that protects the wires of the connector. It did not take long to get out my soldering iron and resolve the cold joint and the fuel gauges were again rock steady no matter what lights were turned on.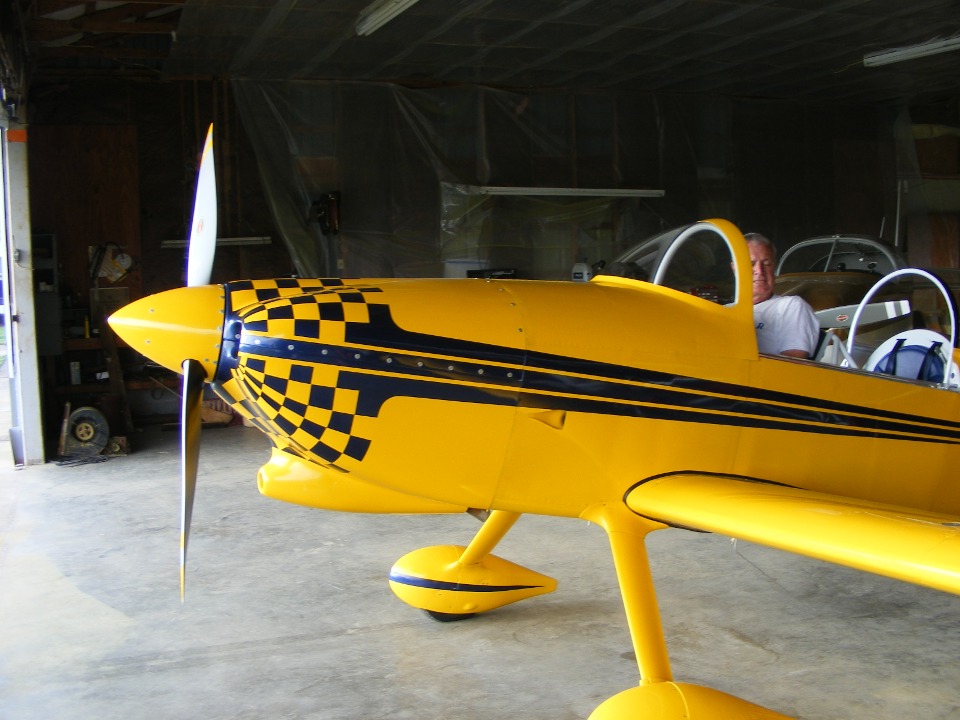 One other thing that happened over the Memorial Day holiday weekend, Wendell got his painter to come over a put two additional blue stripes down both sides of the fuselage. He seems happier about the paint scheme now.
How to Spend a Birthday - Flying of Course!
May 31, 2008: It is birthday number 61 for me today. I think about number 58 and my first-class airline ride to Portland, Oregon for RV transition training with Mike Seager that occurred on June 1 & 2, 2005. Today's celebration was to get in my airplane and fly down to Fort Payne, Alabama (4A9) for the EAA fly-in breakfast and to see a few old RV friends and pilots. Wendell and I were waiting at the hangar from about 7:45 AM this morning. The plan was for an 8 AM departure. I had checked the weather and there was ground fog in the valley down at our destination. I had called the automated weather observation system (AWOS) at that airport and heard the computer voice reporting ceiling 100 feet and 1/4-mile visibility. Wendell was also checking via his cell phone. A few minutes past 8 AM (Eastern Time) we heard an airplane coming over and lining up to land here. It was Jeff Johnson from Cartersville, Georgia flying an RV-4. He has come to see Wendell recently to ask about the RV-8 since Jeff is building one similar to Wendell's RV-8. It seems that Jeff had flown over the fogged-in field at Fort Payne, then came up to check the weather here and decided to land to wait for the weather to clear back at Fort Payne. A call to the AWOS finally gave a good report at 9 AM and we all launched for the 20-minute ride down to Fort Payne. I had the video camera running for the entire flight down to 4A9 and got some air-to-air video that needs to be processed for web access.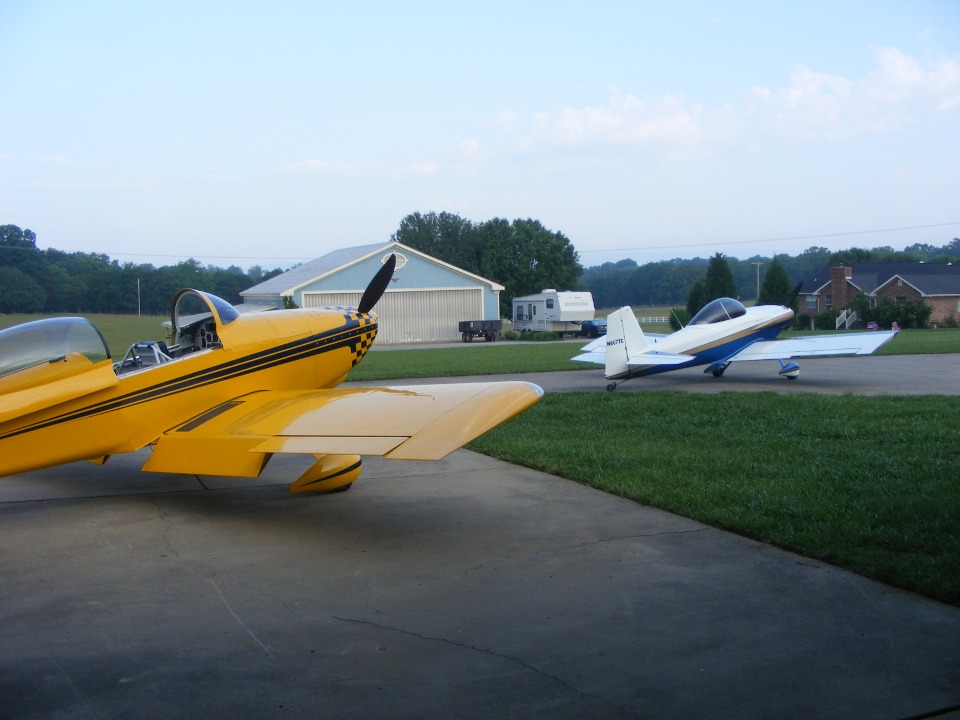 I took a few photos on the ramp of the pilots who were interested in Wendell's "new" RV-8.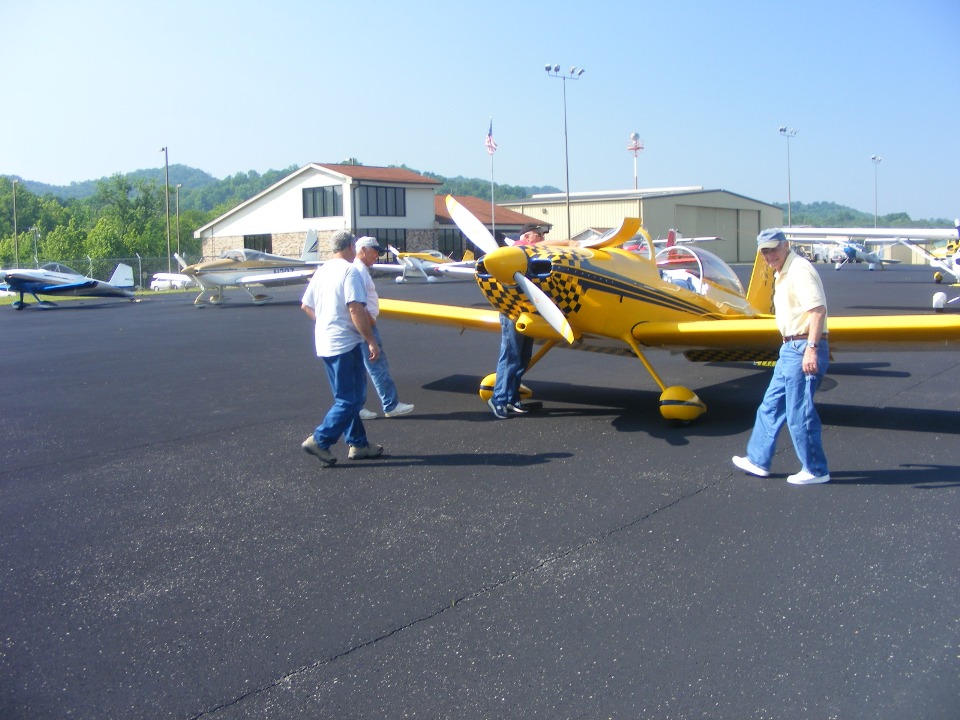 Bob Butler had come over for the pancake breakfast this morning. I snapped this photo as he headed for home, back to Decatur, Alabama. Bob was part of flight of four RV-s coming home from Oshkosh 2006 when the weather was bad from Saint Louis to Michigan. We flew parallel to that front all the way over to Missouri before turning southeast for home that day.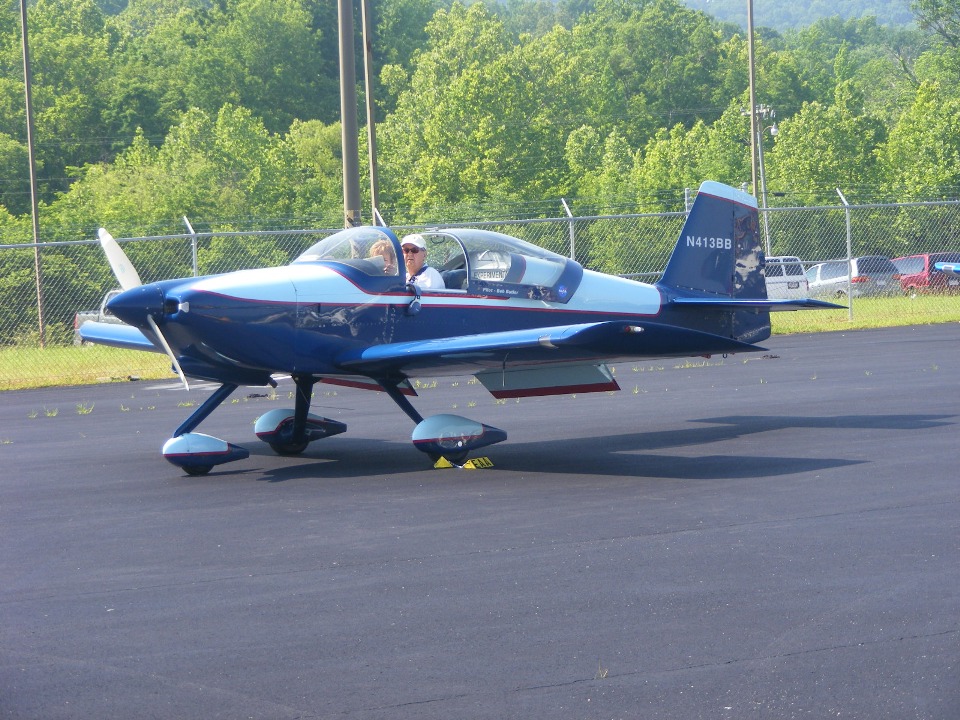 David Edgemon is building an RV-8 at his home workshop near Huntsville, Alabama. He is asking Wendell about some features inside the forward baggage compartment. The avionics access door is the focus of this conversation.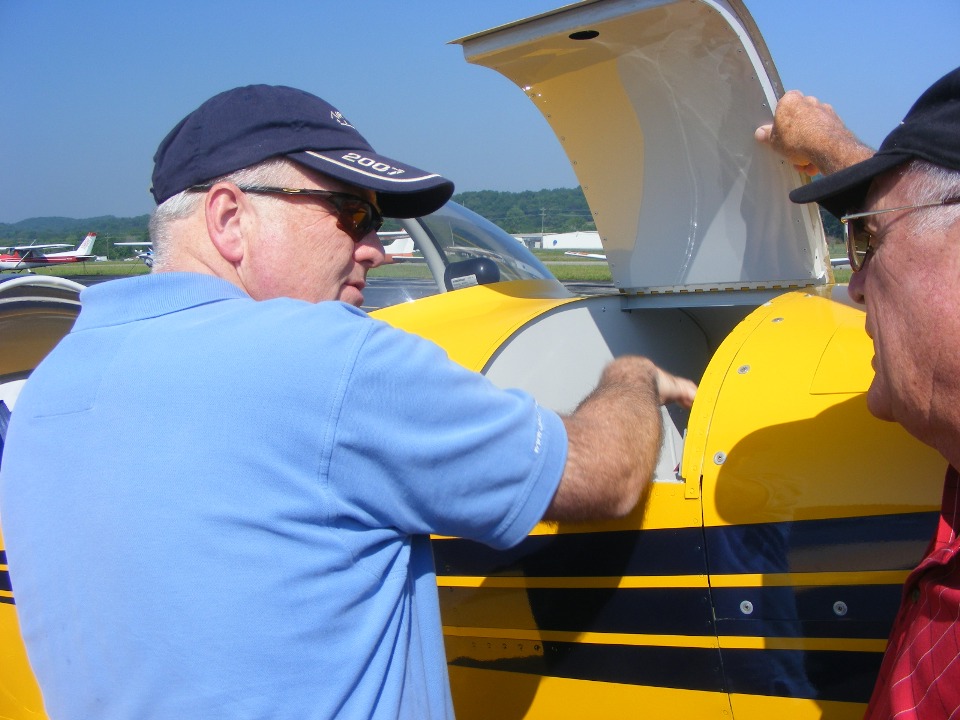 John Myers came up with his wife this morning via car when the airport was fogged-in zero-zero by his assessment. The pilot on the left is Jeff Johnson. The pilot on the right is Ron Noles, a friend of Wendell's who flew down to Fort Payne in the back seat of Wendell's RV-8.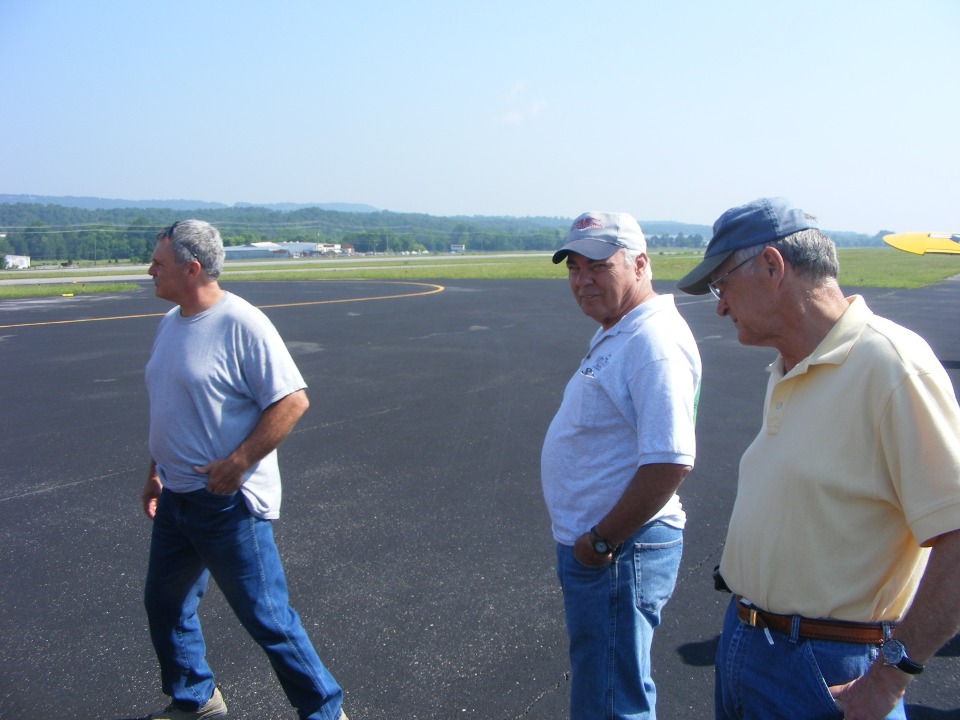 David Edgemon was also one of the pilots who flew over Fort Payne when the fog covered the field. He headed back over to the Guntersville airport for a few practice landings until the fog cleared here at Fort Payne. He had gotten new information for his project and was also headed back to his home field at Moontown Airport, on the East side of Huntsville.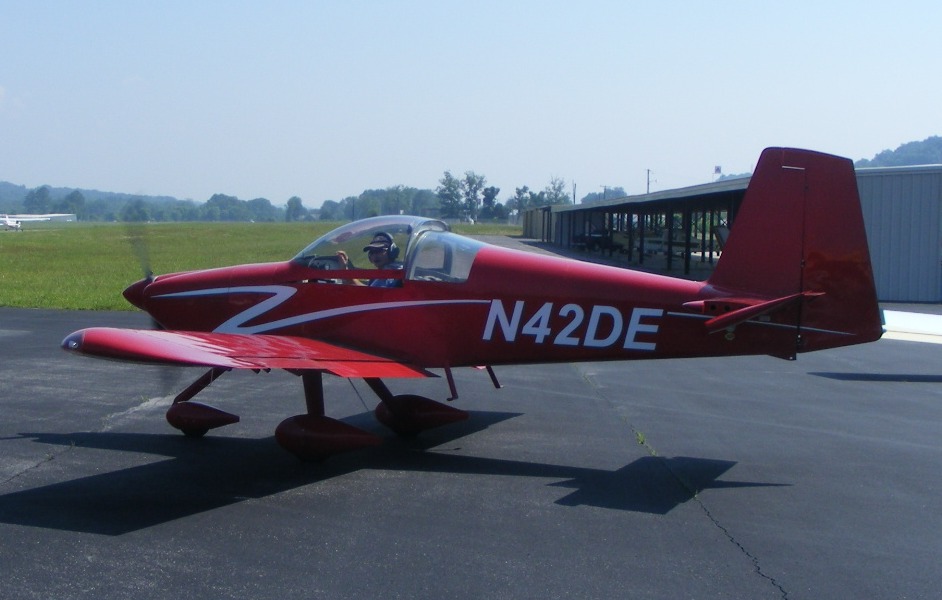 Wendell continues to tell the story to anyone who wants to know how it was built.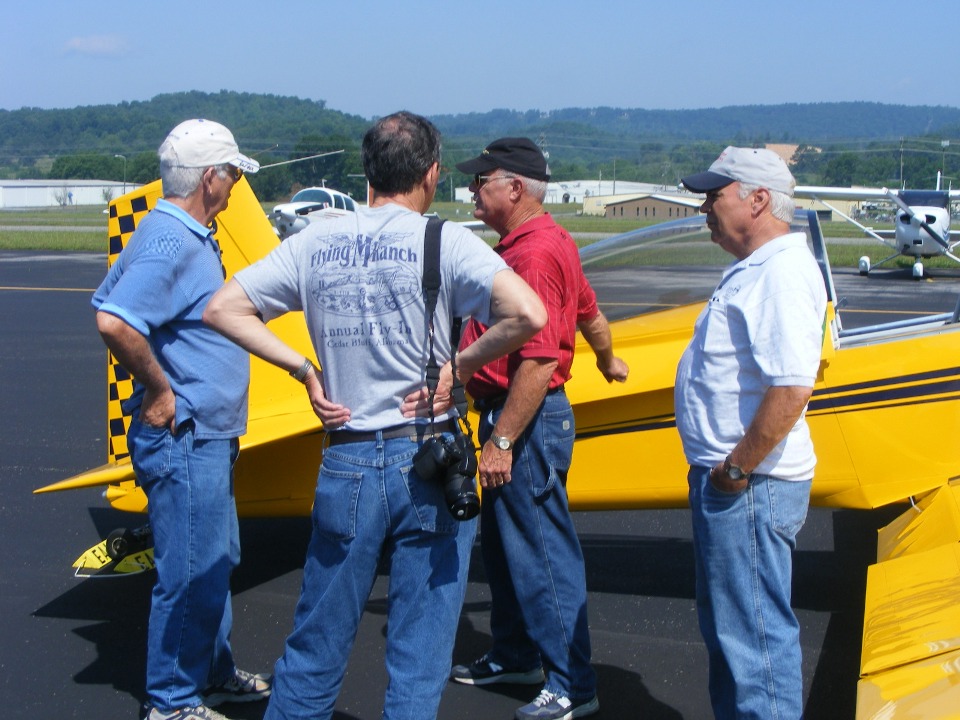 Here is the one digital still camera shot I got of both the other airplanes on the ride home. It was a bit more bumpy and made taking photos more difficult.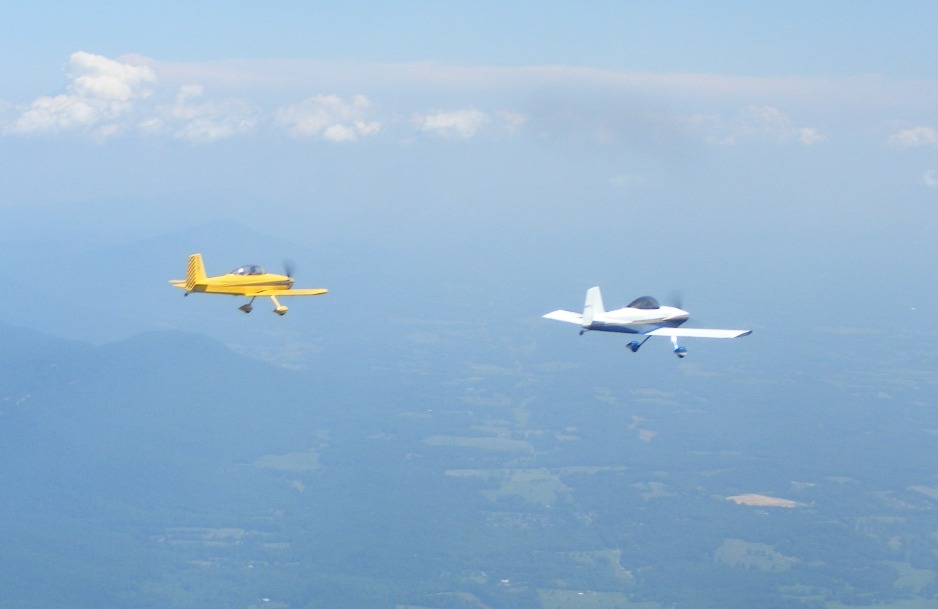 I stayed around the hangar to get the bugs cleaned off the airplane. I also helped Wendell diagnose an exhaust gas temperature probe on the number three cylinder header pipe which appears to be failing. The electrical connections seem to be secure, but the thermocouple may be going bad. Jeff Johnson reported an experience he had with a bad probe.
The news from Van's Aircraft: My nose gear fork in on its way and is due to arrive on Thursday, June 5th. I had the shipping addressed changed about a week ago when I started to fill in my business travel calendar. It turns out that I will be away from home on June 5th.