Looking Ahead to 2006 · · PAGE 200.
December 28, 2005: As of 10:30 AM this morning, I am watching the weather forecasts for the Southeast to determine if I will be able to spend the New Year's weekend down in Florida. My old boss called to tell me he is hoping to get back into flying soon. He has had some problems with his eyes, but that has been fixed and he is excited about getting his pilot's license again. If all goes well, I could be half way to Florida by this time tomorrow and then my friend will get his first ride in my new airplane.
I have been considering other career possibilities in case my first choice does not work out. I hope to stay in the industry that has served me well for the past 34+ years. I have other skills that could find me working in radio/television jobs, or possibly with a local defense industry small business. We shall see as January comes and businesses get started on their "non-holiday" schedules. NEW YEARS bring NEW POSSIBILITIES!
FLYING to South Florida for New Year's Weekend
December 30, 2005: I write this text on December 31, 2005. I put yesterday's date to start this posting since all the photos are about the flight I made yesterday. The last day of the year is here and I am in sunny south Florida with old friends to see and things to do. The flight south was postponed from Thursday until Friday due to bad weather. The sky was overcast when I awoke yesterday. The ceilings were high enough to get over the ridges to the valley where the Collegedale Airport is located. I decided I would rather depart with full fuel tanks to allow more options if the weather along the way required a change in my flight plan. I took this photo at 9:36 AM after getting fuel. I took off around 9:50 AM and was heading SE toward some broken cloud areas. I had noticed some thin spots in the cloud cover while enroute to Collegedale from Wendell's grass air strip. After departing Collegedale, some of those thin spots now had rays of sunlight streaming down to the ground. One of those spots was my way up to a short session of VFR on top as I left the mountains of home behind.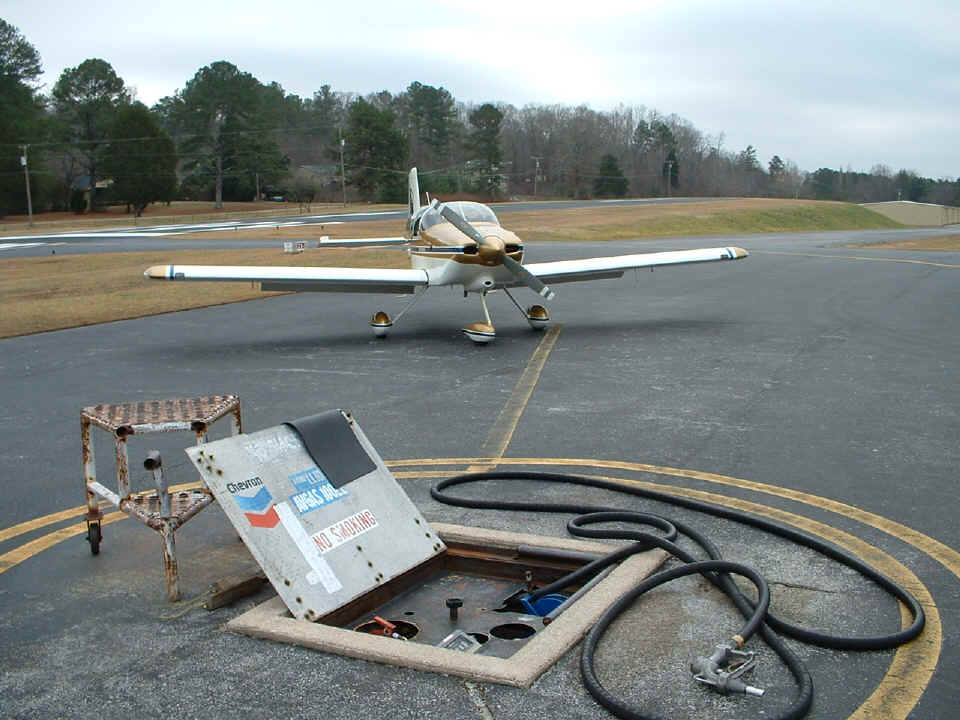 I want to apologize for not taking any photos of the mountains sticking up out of the low-hanging overcast layer near home. I was busy getting the airplane on-course and climbing to my early cruising altitude of 11,500 feet MSL. I had a 20 to 25 MPH tailwind during this flight segment. I was looking down at the mountains and noticed that the clouds dissipated near the western face of Fort Mountain near Chatsworth, Georgia. I was much happier to have found a hole in the overcast to pop-up on top when I was still in the valley north of Dalton, Georgia (my home town). There were no clouds beyond the mountains, just haze.
The wing-leveler tracked the GPS course from 3M3 to Winder, Georgia (KWDR). Winder is far enough to the East side of the Atlanta Class B airspace so as to allow me free roaming and to stay clear of the airliners coming down into the Atlanta Airport. I did see a string of airliners coming in about the time I was approaching Interstate 85 about 40 miles northeast of Atlanta. I noticed that the first two were at my altitude. The next three were higher and were staying up there since the controllers obviously saw I was a few miles to the West and would be crossing their flight path. I did not hear any conversation on the Atlanta Center frequency I was monitoring. They may have already been talking to Atlanta Approach. By the time I got to their ground track location, all of them had gone past. I did not encounter any wake turbulence from the last two higher airliners.
After turning to my new heading over Winder toward Alma, Georgia (KAMG), I climbed to 13,500 feet MSL for the rest of the trip down south. The tailwinds dropped to about 15 MPH on my new course heading. This photo shows the hazy conditions that went up to around 9,000 feet. I wish I had a good digital camera that would accept a polarizing filter. That reflected glare would not be in this photo with the filter in front of the camera lens. My polarized sunglasses keep this kind of reflection out of my eyes.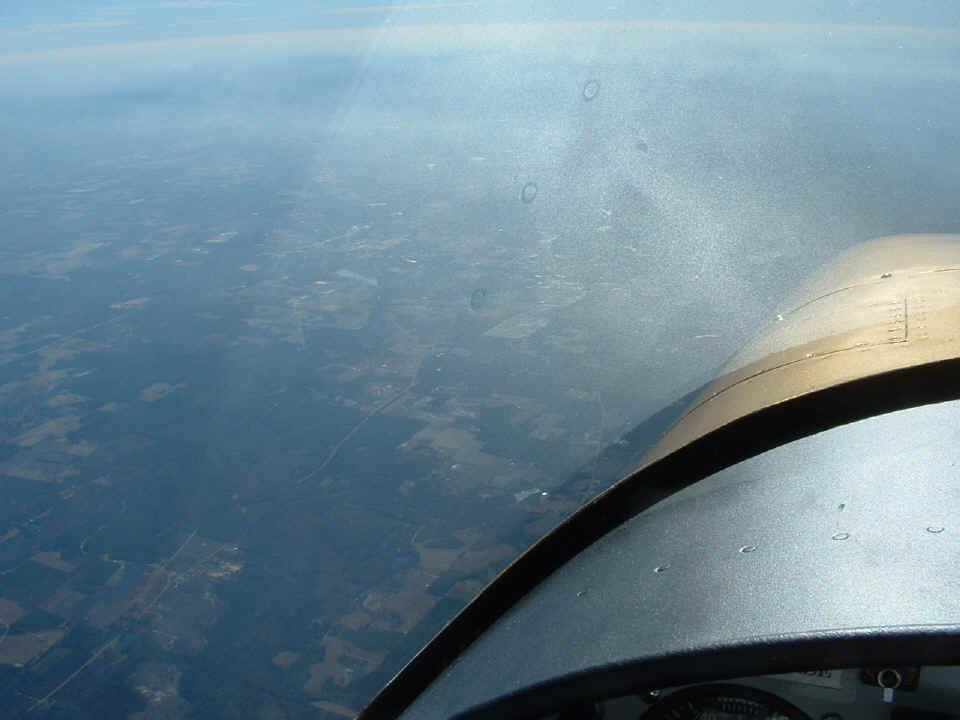 This view looking to the East over Central Georgia gives another perspective of the cloud conditions and the smooth VFR flight I was having.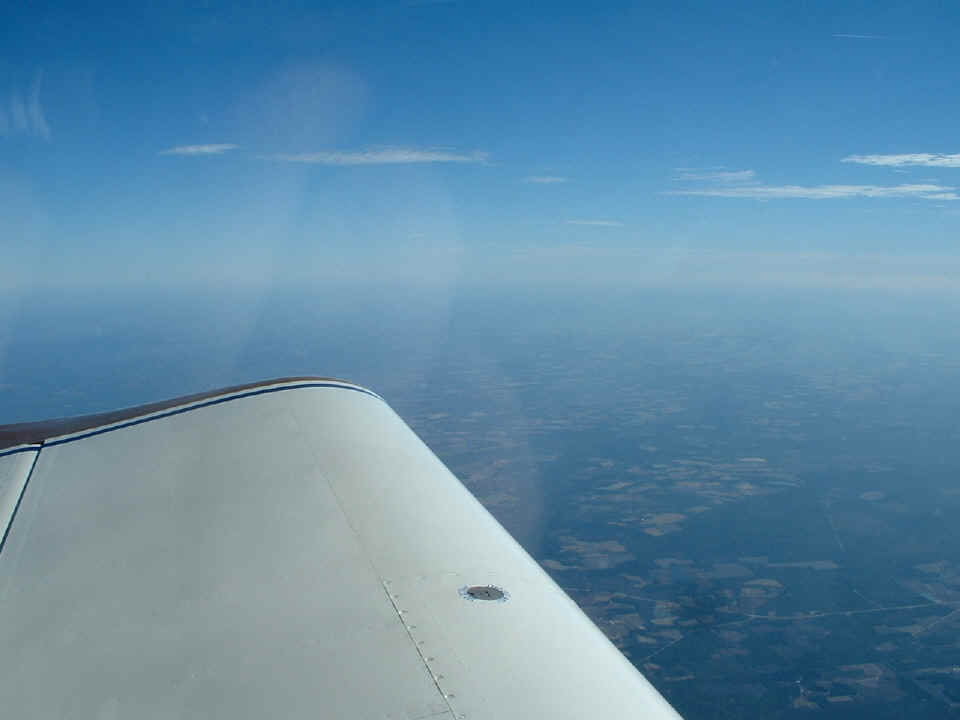 I took this photo immediately after the two above to have a look ahead. What appears as an cloud layer below me near the horizon from this angle was just more haze when I flew over it later. I watched Dublin, Georgia pass below the airplane as Macon was visible off my right wing in the distance. Many miles of Georgia rolled by at 185 MPH GPS ground speed. I really have to clean that wind shield inside before I head back home. I suppose that I will have to spray the compass case with some flat black paint to minimize the reflections as well.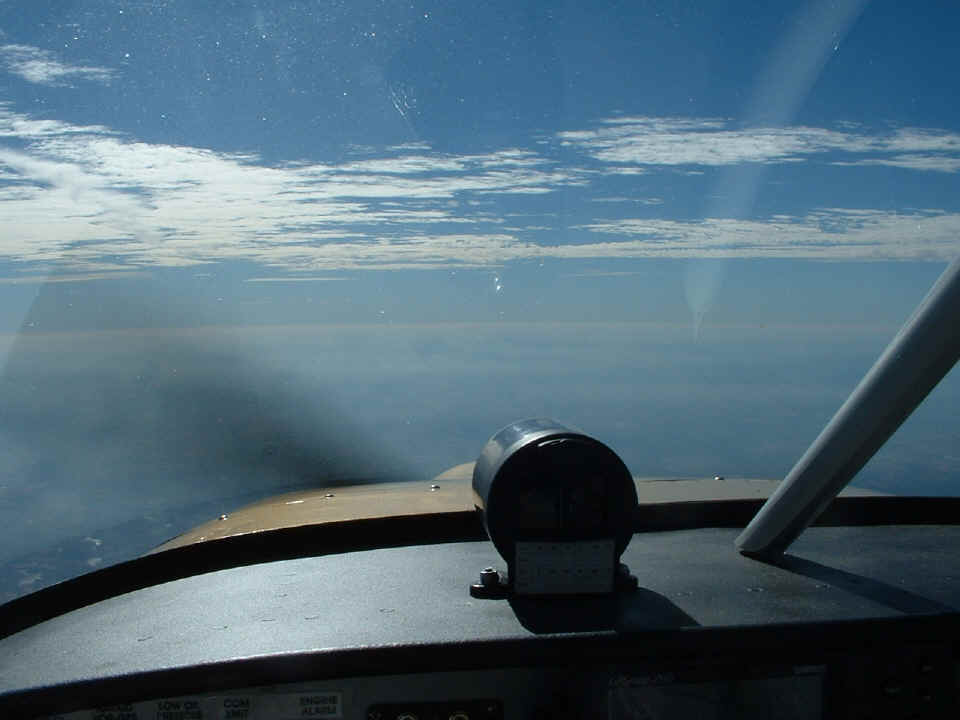 I flew past Jacksonville, Florida around noon time and opened up my turkey, ham, and cheese sandwich for lunch. I had called my friend Monte just before engine start back at Collegedale to let him know I would not be able to meet him for lunch today at Stuart, Florida. Here is how Jacksonville looked from 13,500 feet as I cruised past Jacksonville Naval Air Station visible at the bottom of this photo. There are three bridges across the Saint Johns River at the downtown area. The Atlantic Ocean is in the distance. The bridge that is closest to my vantage point is the Fuller-Warren Bridge with Interstate 95 crossing it. At the left end of that bridge is where Interstate 10 begins/ends at I-95. I-10 goes all the way across the country to Santa Monica, California. The first time I flew across I-10 was when I went to LOE5 back in October near El Paso, Texas.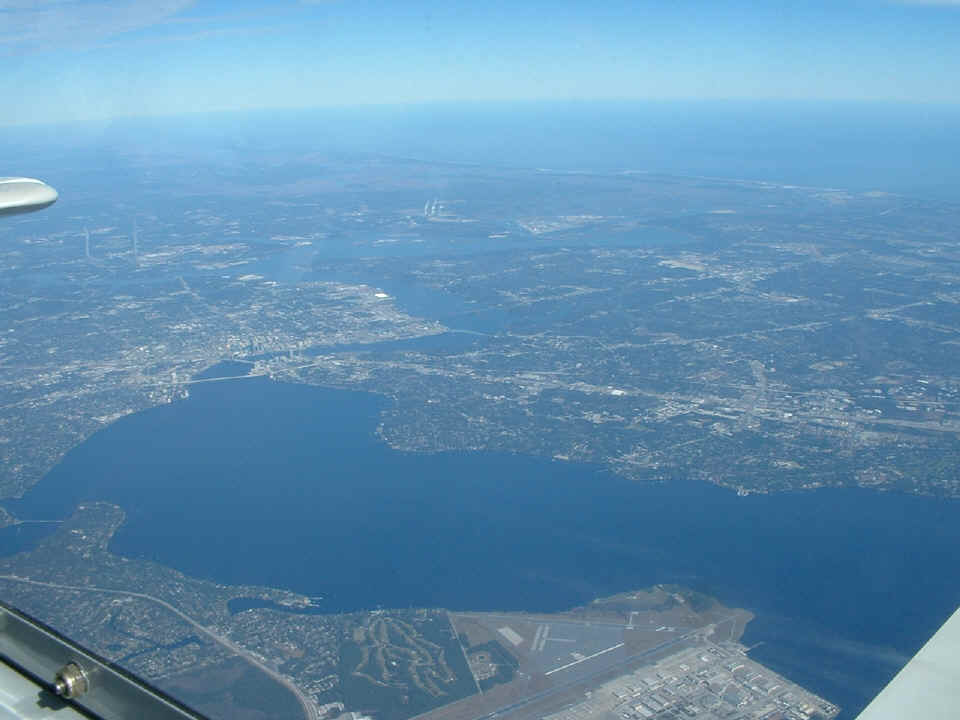 Here is a better view of the Naval Air Station. A trivia note for you: The Saint Johns River is one of the few in the USA that flows NORTH.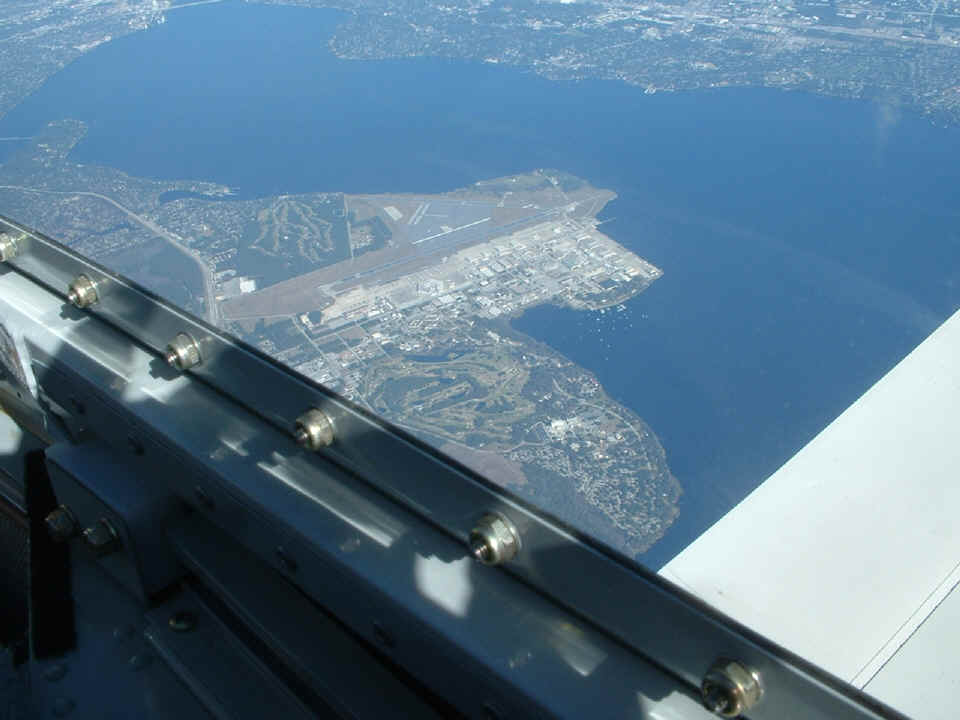 There are plenty of airports down this side of Florida. Here is Ormond Beach (KOMN) at the wing and Daytona Beach (KDAB) near the right side of the photo. The Halifax River is the intracoastal waterway here at Daytona. It is plainly visible between the barrier islands and the mainland. And to give the punch line: Daytona Beach is the "World's Most Famous Beach".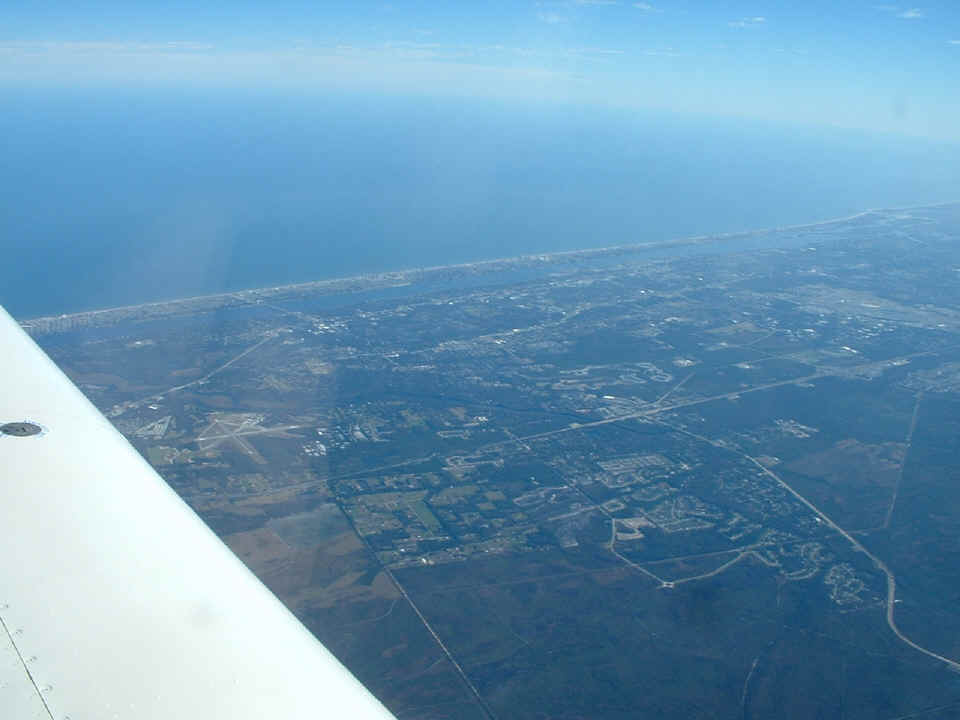 This is a better view of the Daytona Beach Airport and adjacent Daytona International Raceway. The rectangular "lake" inside the speedway is the source of the fill dirt used to create the 31-degree high-banked turns of the 2.5-mile tri-oval speedway.