N2PRISE News and Information · · PAGE 194.
November 5, 2005: The purpose of this web site has been to share information and photos of my project with other Van's Aircraft builders and those folks thinking about building an airplane. Another RV builder has been writing to me via email for some time now and I have pointed him to my various web pages that were specific to his questions. That RV-9A builder is Matthew Brandes and his web site is found at this web address: http://www.n523rv.com. Matthew is working on his engine baffle kit and asked me about the fit of the two aft baffle plates for cylinders 3 and 4. I replied to Matthew today with links to all the pages I found in the Firewall Forward, Wiring, and Finishing portion of this web site. If anyone else needs a quick link to those pages, here is the text of the message I sent to Matthew in the email today.
Here are all the pages I could find showing photos of the baffle kit installed on the engine.
http://www.n2prise.org/rv9a064.htm
You may see something of interest on page 64. Look at all the photos carefully, then compare that with what you see on page 66 as noted below.
http://www.n2prise.org/rv9a066.htm
Pay attention to the SIXTH photo on page 66. Look behind the red high-voltage coil at the back baffle on the LEFT side of the photo behind cylinder #3. The corner where it overlaps the back baffle from behind cylinder #4 has been trimmed to clear the center seam of the two halves of the engine crank case. Then look at the pictures below the November 19, 2004 header.
http://www.n2prise.org/rv9a067.htm
Look at the 8th picture on page 67. I know the page is about wiring, but there is a photo that may give you a better idea of the final alignment of both back baffle plates.
http://www.n2prise.org/rv9a068.htm Check the last two photos on page 68.
http://www.n2prise.org/rv9a070.htm Look at the first picture on page 70.
http://www.n2prise.org/rv9a072.htm First picture on page 72.
http://www.n2prise.org/rv9a073.htm Check out page 73 also for several pix.
http://www.n2prise.org/rv9a074.htm More pictures on page 74.
http://www.n2prise.org/rv9a076.htm Still more on 76.
http://www.n2prise.org/rv9a084.htm See the 7th picture on page 84. It gives a new perspective where the two rear baffle pages are joined behind my high-voltage coils.
November 7, 2005: I had a recent order to Aircraft Spruce & Specialty for some oil filters and included a pair of fuel placard decals designed to go around the fuel tank filler caps. Each decal actually consisted of two peel & stick labels. The large one was designed to be applied around the ring of rivets that hold the filler neck in the tank skin. It was too big and ugly and I put that part away immediately. The inner part of the decal was too small to remove the center section and fit around the fuel caps. I cut away the center and outer printed circles leaving only the desired text from the smaller vinyl decals. The radius of the lettering was too small to fit correctly. This required me to cut the words apart to allow them to fit properly. The seams from those cuts are visible in the close-up photo below. Now all I have to do is confirm these trimmed-down labels will still be there after a flight at 180 MPH or more.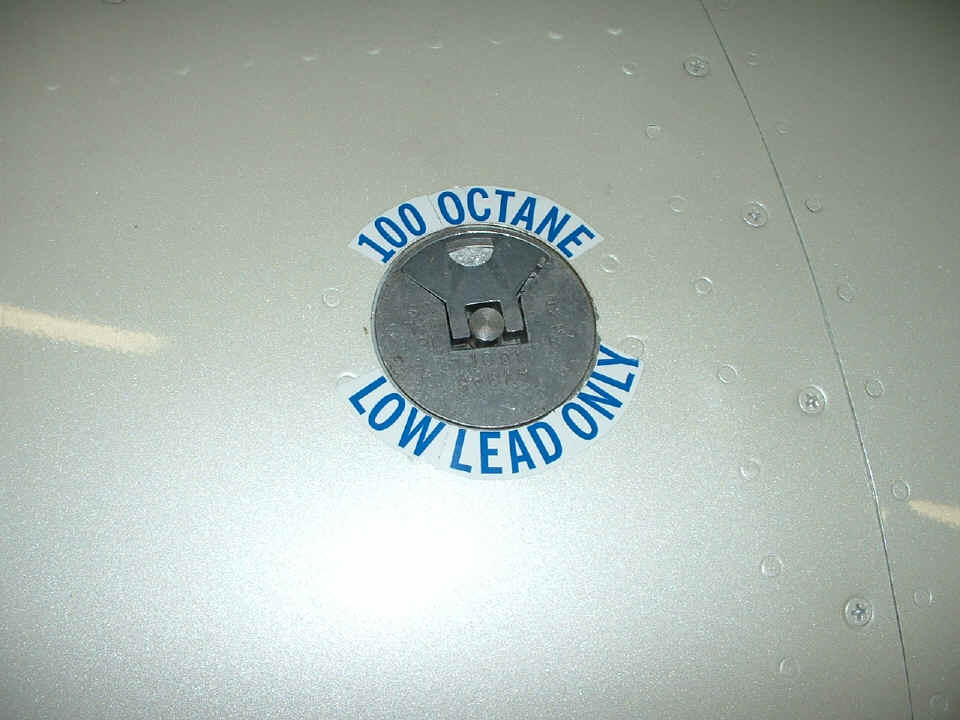 November 11, 2005: I headed off for Florida today and here are the two owners of the grass strip, Wendell Folks and Jim Nation, to see me off at 9:30 AM. I took this shot just after my engine run-up and before take off from the north end of the runway.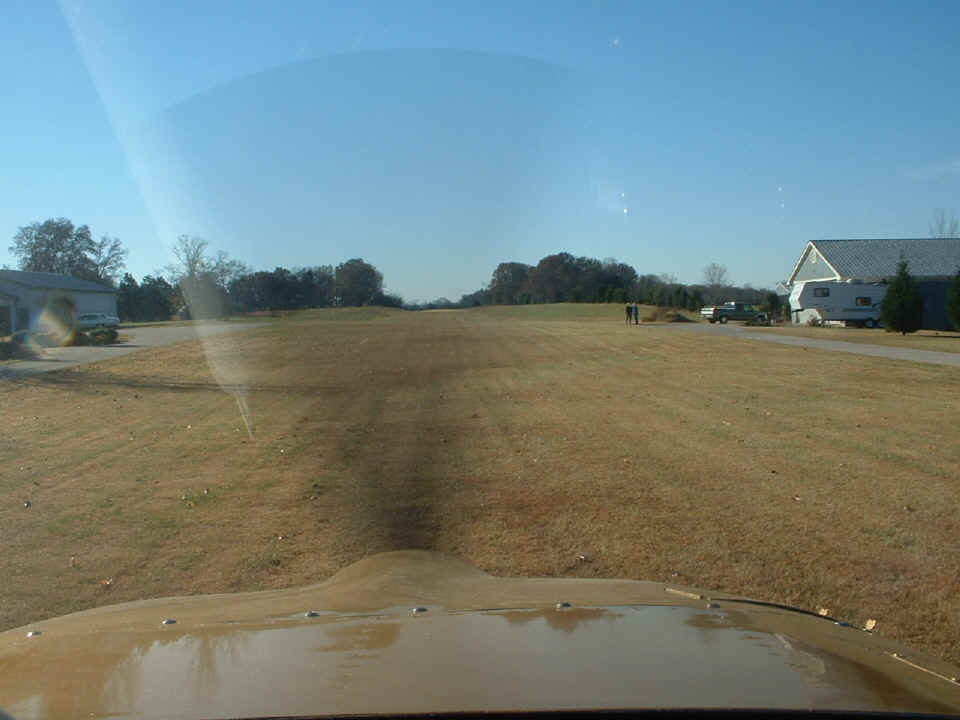 This photo of the LaGrange, Georgia airport was taken about 45 minutes after departure from my home field (10 miles south of Chattanooga). I am up at 12,500 feet MSL and getting a good tail wind of more than 25 MPH.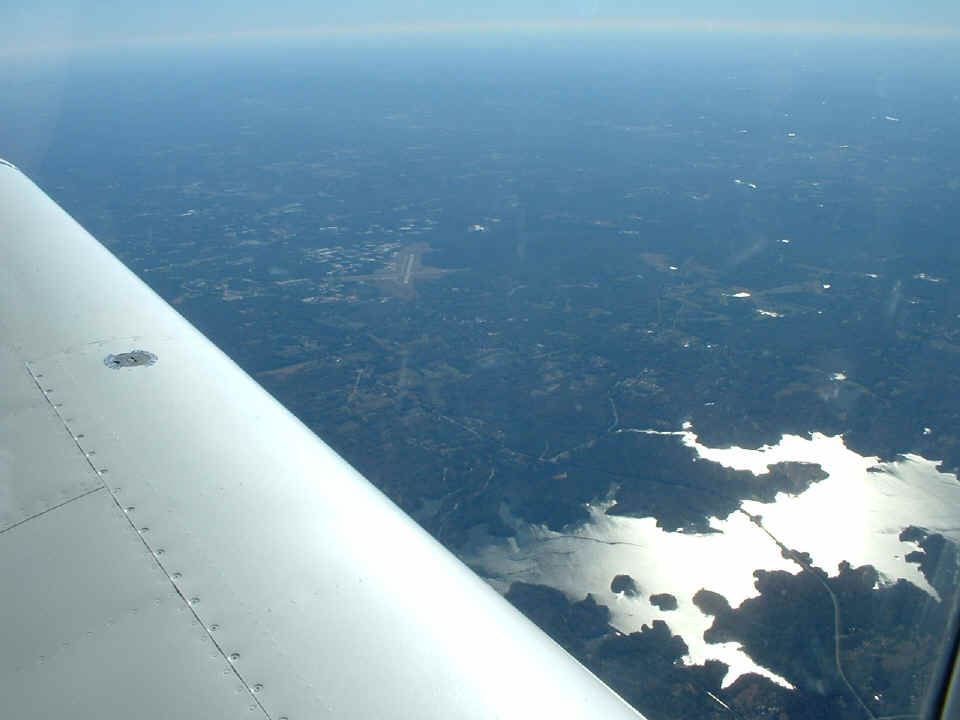 It was only 15 minutes later that Columbus, Georgia came into view. That is the Chattahoochee River down there. Columbus is on the far side of the river. Phenix City, Alabama is on this side of the river. I am flying around the west side of the Class C airspace and the restricted airspace around Fort Benning and the Lawson Army Airfield. My altitude is now 13,500 MSL and the tailwind is around 30 MPH! I love a free ride!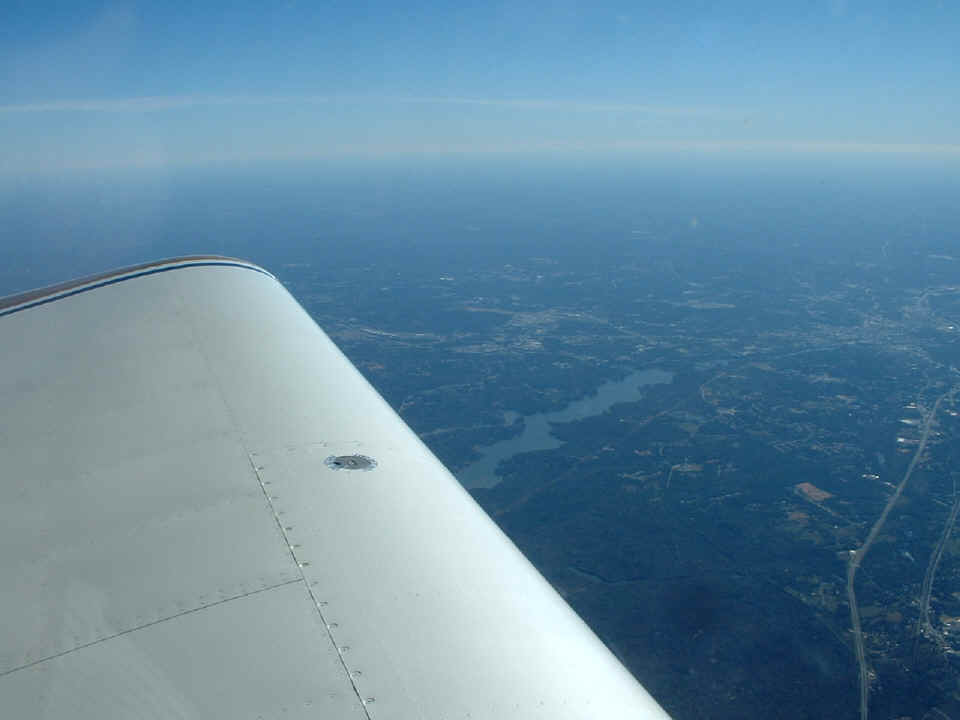 Speaking of Lawson AAF, here it is just eight miles to the East of my location.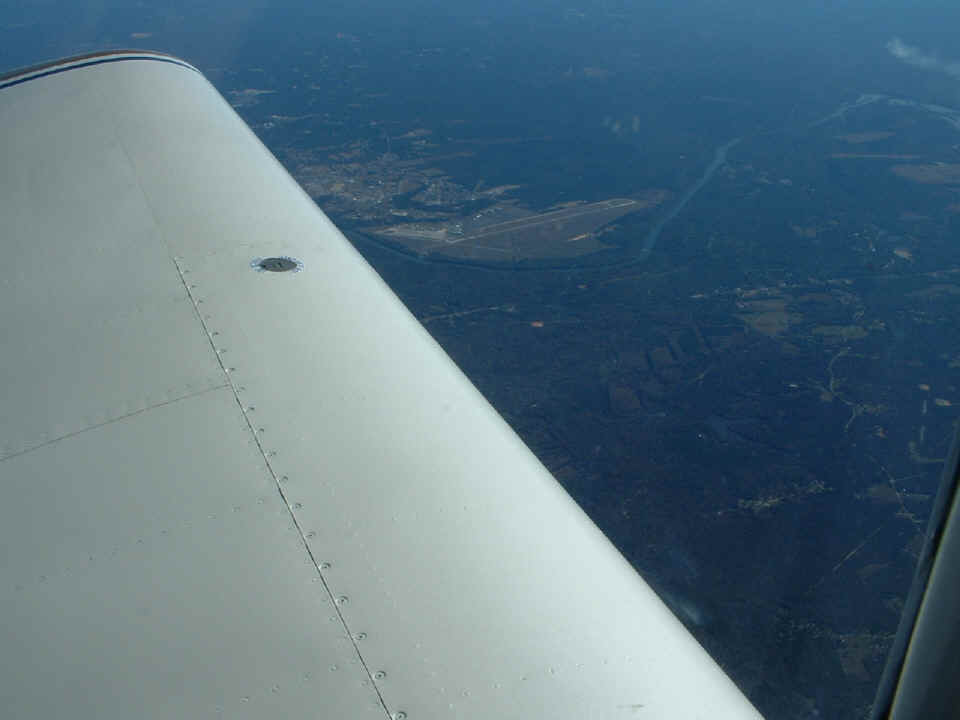 Here is a final look over the shoulder to the Northeast at Columbus.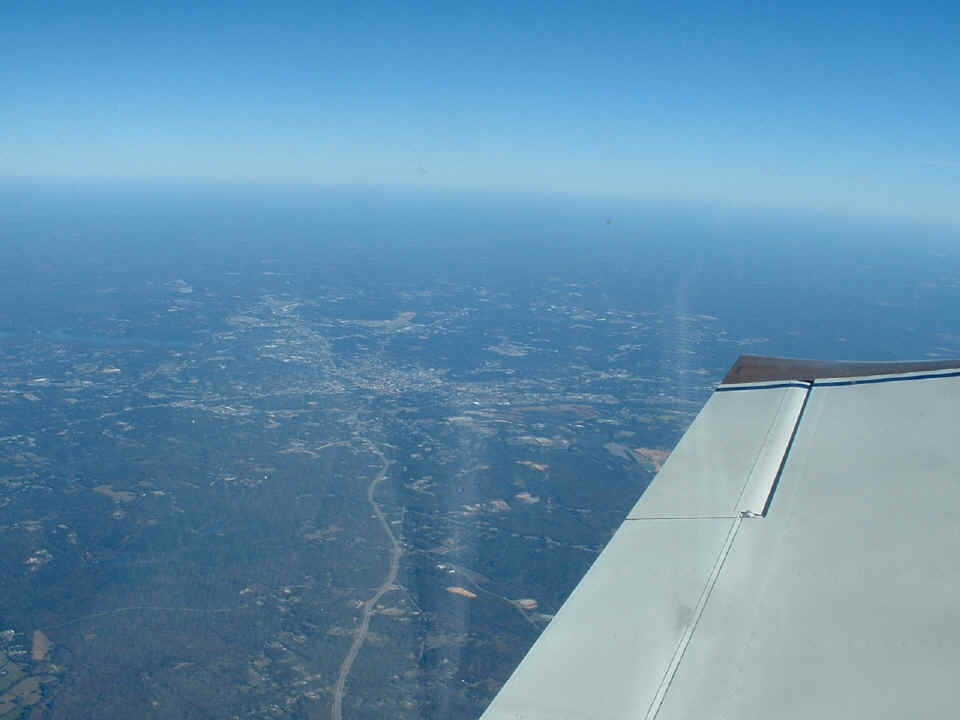 After doing a zig-zag around the restricted airspace and the MOA's, I flew over the home field of Larry Westbrook, then headed directly for the Greenville VOR in Florida. Albany and Valdosta, Georgia passed by the left side of the airplane as I headed to the southeast. Interstate 10 passed under the wings and Perry, Florida passed off the right wing a short time later. I turned near Cross City on a direct heading for Ocala and began my decent. It was just after 12 noon when I shut the engine down with the Hobbs showing 127.3 hours. The elapsed time today was 2.7 hours on this first leg of today's trip. I took this shot on the ramp at Ocala before heading into the restaurant for lunch.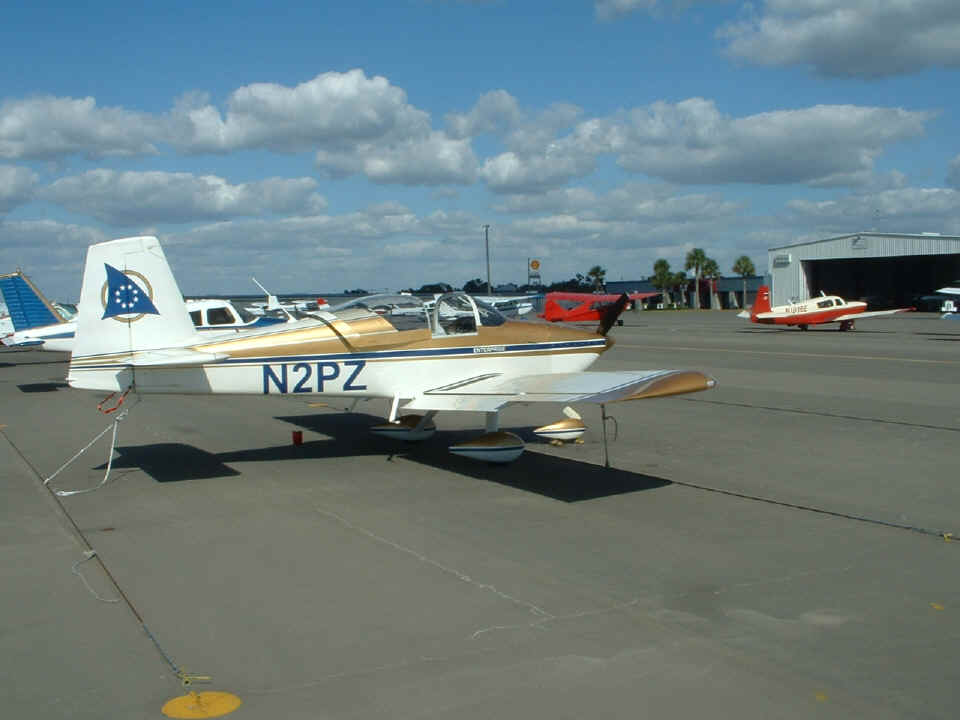 After lunch, it was a short flight south to Zephyrhills, Florida for some low-cost AVGAS, then on to my destination, Kissimmee for my overnight tie-down. Sorry, I did not think about taking any photos at Z-hills or Kiss-a-me. I typed it that way because I heard a lady pilot pronounce it that way. She also had a very British accent. The locals all pronounce it as Ki-SIMM-ee. The Hobbs meter now stands at 128.4 hours. The GPS odometer reports 586 statute miles for the flights today. I will update the site tomorrow if I go for a local flight, otherwise it will be after I return home on Sunday to get ahead of the evening rain forecast for Chattanooga.
November 12, 2005: No flying today (Saturday), just getting this web site updated while I am here in Saint Cloud, Florida. My friend is hosting the party tonight and is putting the final touches on the area of his home where friends will gather this evening. I have received an email from another pilot based at Peachtree City, Georgia (KFFC) agreeing that I can stop by on the way home from Florida for a short visit. If the weather works to my advantage, that stop should be possible.
UPDATED on November 14, 2005: I received a DVD with a lot of old scanned color slides from my friend Don Muddiman when I was down there on Saturday, November 12th. I have processed some of those color slides to the appropriate file size to be included in this web site. You will find those photos beginning on my "1980's RC Models" web page.