2005 LOE5 Heading EAST · · PAGE 184.
October 16, 2005: What can I say about Doc Bryant? Here is a single guy who lives a life that is really different. He works with current and former police officers in the security and investigative industry. He works with pyrotechnic entertainment -- professional fireworks. He collects air operated locomotive horns and steam whistles. I met him in 1998 online as one of many flight simulator enthusiasts who appreciated the first flight simulator to have realistic flights models and later, the first 3D-terrain graphics to fly over. That flight simulator was created by Dynamix and sold through Sierra as Pro Pilot and Pro Pilot 99 when it got the 3D-terrain.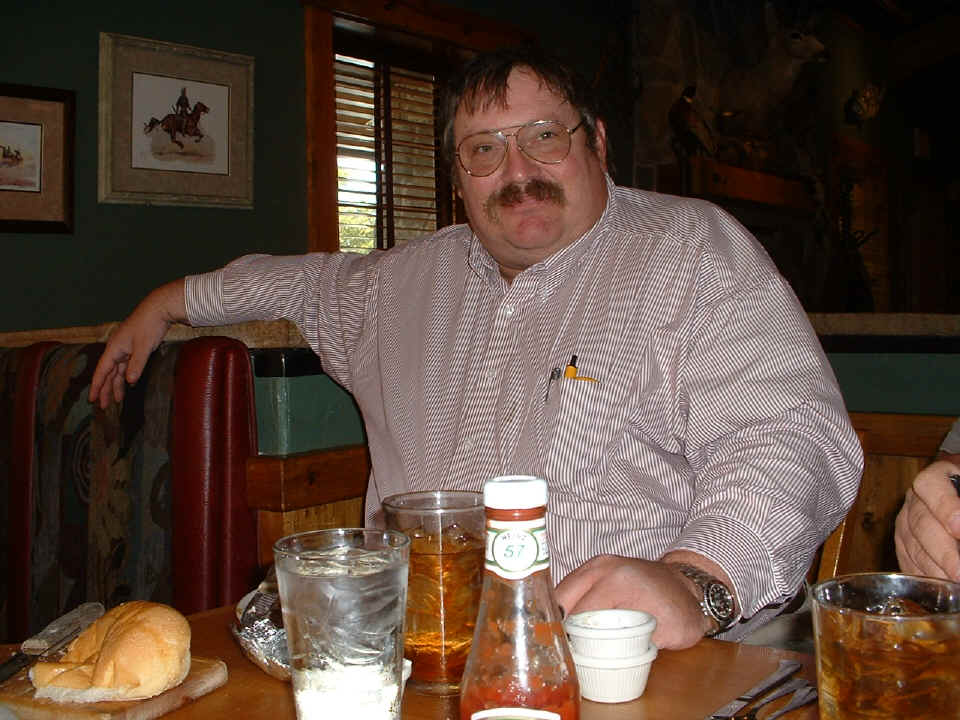 This photo of Doc was taken at a steak house near Midland Air Park. There were five of us for lunch -- me, Doc, Rob Reece (my passenger), and two of Doc's security associates. We all ordered from the luncheon menu expecting a budget-priced meal. When the bill came, the amounts did not agree with the menu. When we confronted the waiter, he reminded us that the luncheon menu is for weekdays, not Sundays. The unlimited salad bar is included on Sundays.
When we got back to the airport, I noticed one of Doc's train horns in the back of his pickup truck. I did not realize that train horns had this many different frequency trumpets! I guess I have to be more observant the next time I get caught at a railroad crossing.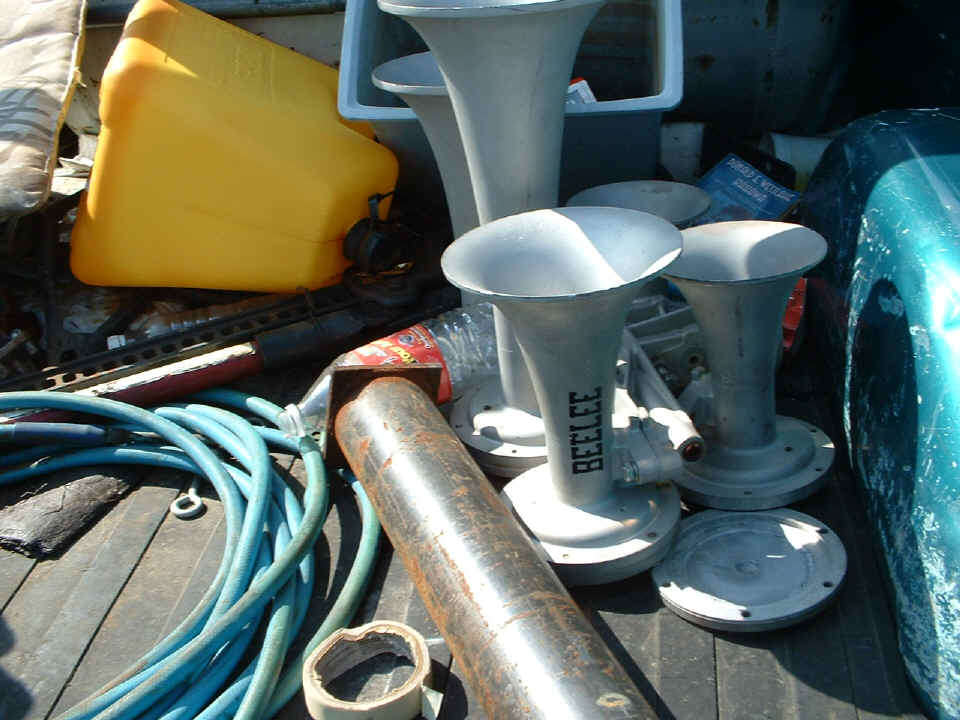 And how many times have you heard a locomotive going through a railroad crossing ringing a bell? Did you know they are AIR OPERATED along with the horns you hear as they approach? Being the collector he is, and that he lives in WEST TEXAS, what would a train loving TEXAN have installed in his pickup truck? You guessed it, a large compressed air tank, an automatic locomotive bell, and occasionally, a locomotive air horn! He has many of them. And just in case you are DEAF and did not HEAR him approaching, he also has YELLOW warning lights on the truck.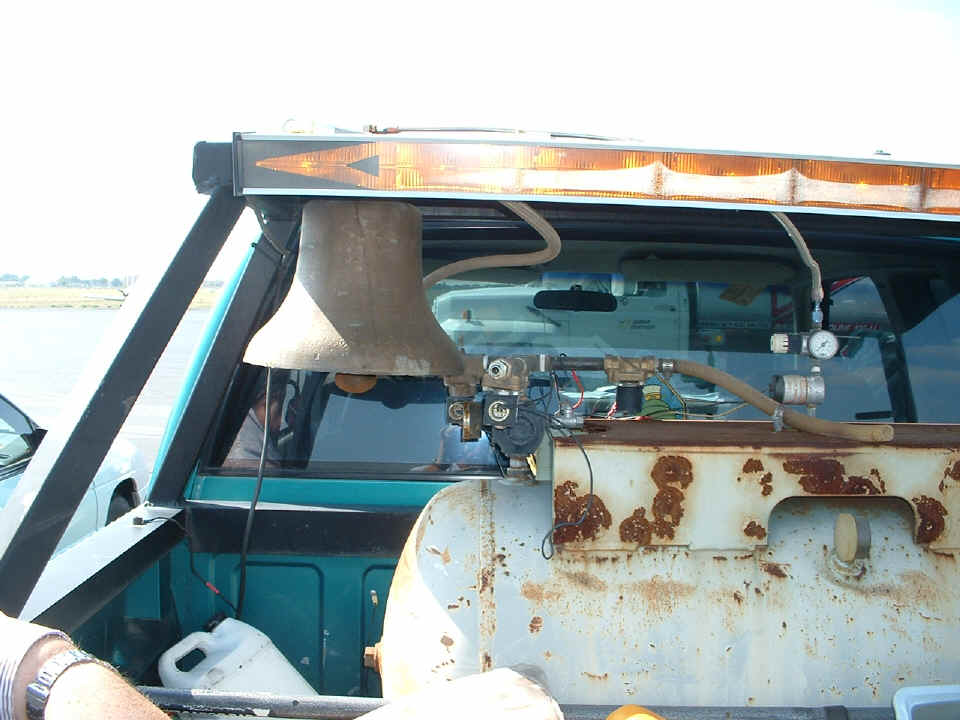 Update on October 25, 2005

Doc posted a picture of his trusty dog Maynard online yesterday. When I first got into the truck to go for lunch, Doc said Maynard was the only other rider in the truck most of the time. He is one good looking dog who has been touted in many online musings from Doc in recent years. I will have to meet this fine animal on a future trip out west.

As for the background item in this picture, you can see one of Doc's locomotive air horns mounted on the truck ready for action. The photo above shows the absence of any operational locomotive horn on the day that I stopped in Midland for lunch with Doc.
Back on the ramp at Midland Air Park, Doc took a series of very high-resolution pictures as I prepared the "Enterprise" for departure. I selected the next three pictures and processed them in Corel Photo Paint down to the size you see here.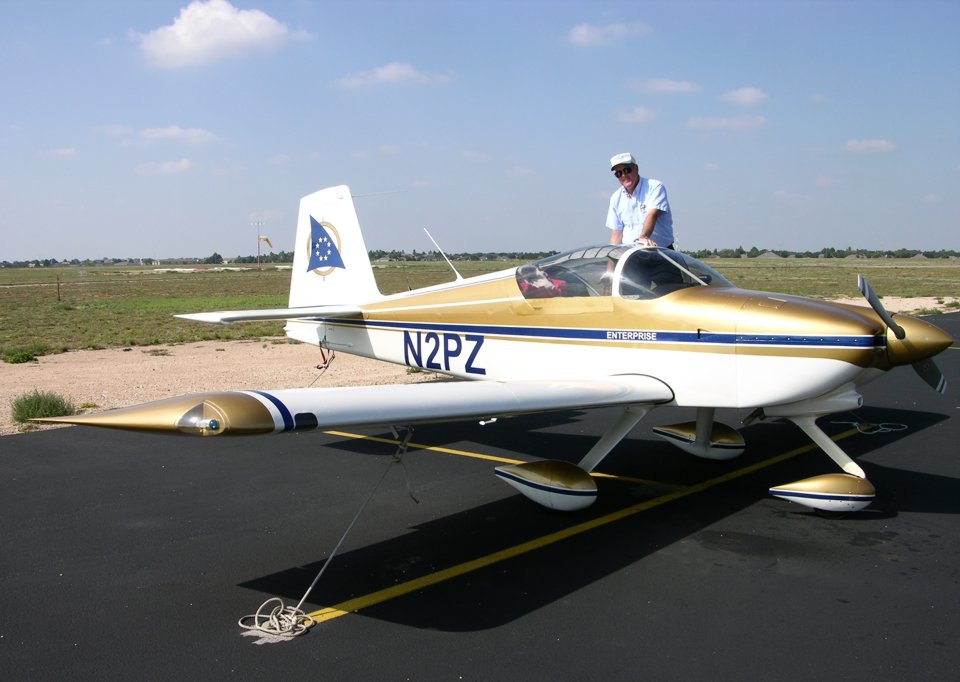 Rob was removing the tie-down ropes from the wings as I untied the tail and pulled out the rudder gust locks.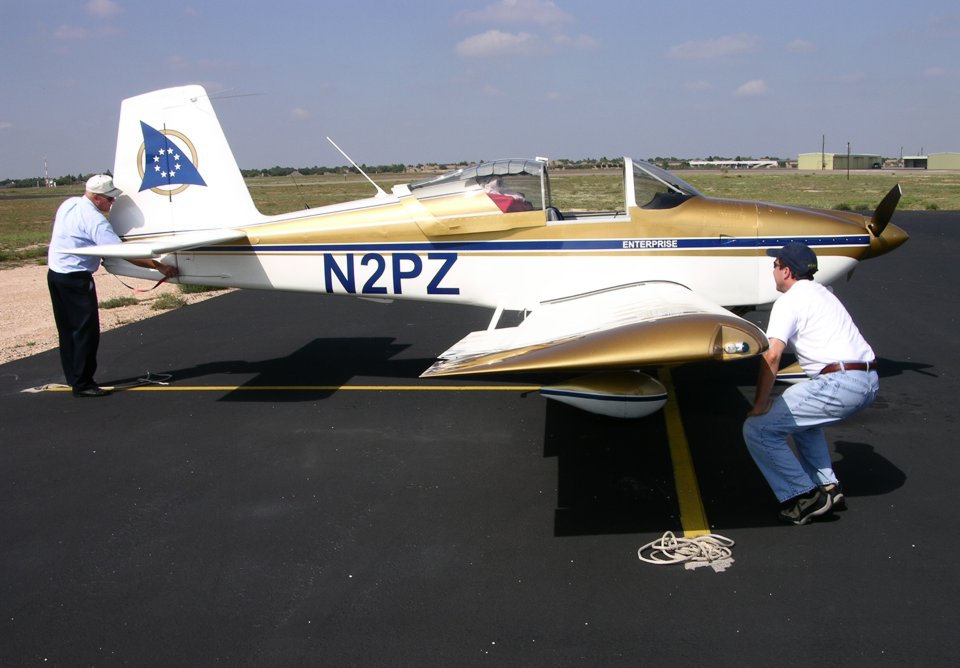 Since engine oil also aids cooling, it is imperative to check the oil level prior to each flight. That green GMC truck parked by the fuel trucks is the "LOCOMOTIVE" simulator that Doc drives on the roads of Texas.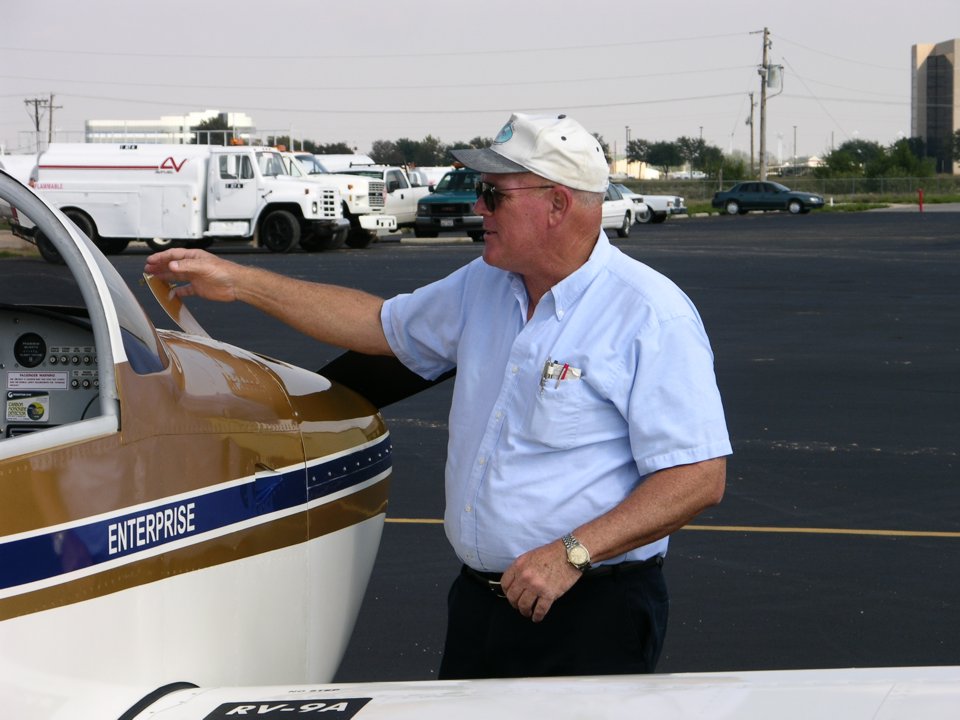 The flight from Midland back to the Fort Worth area was fine with a moderate tail wind. When I landed back at Northwest Regional Airport, the wind was light and out of the south. I landed uphill to the north with no real problems. Rob's truck was parked near Doug Reeves' hangar and it only took a few minutes to get back in the air heading for Hugo, Oklahoma and the end of my flights for today. I called Rodney Wren just prior to take off from Fort Worth and he was pulling up at the airport when I landed. Notice the Cessna Caravan model 208B in the background. I learned more about it the next morning before departing the airport.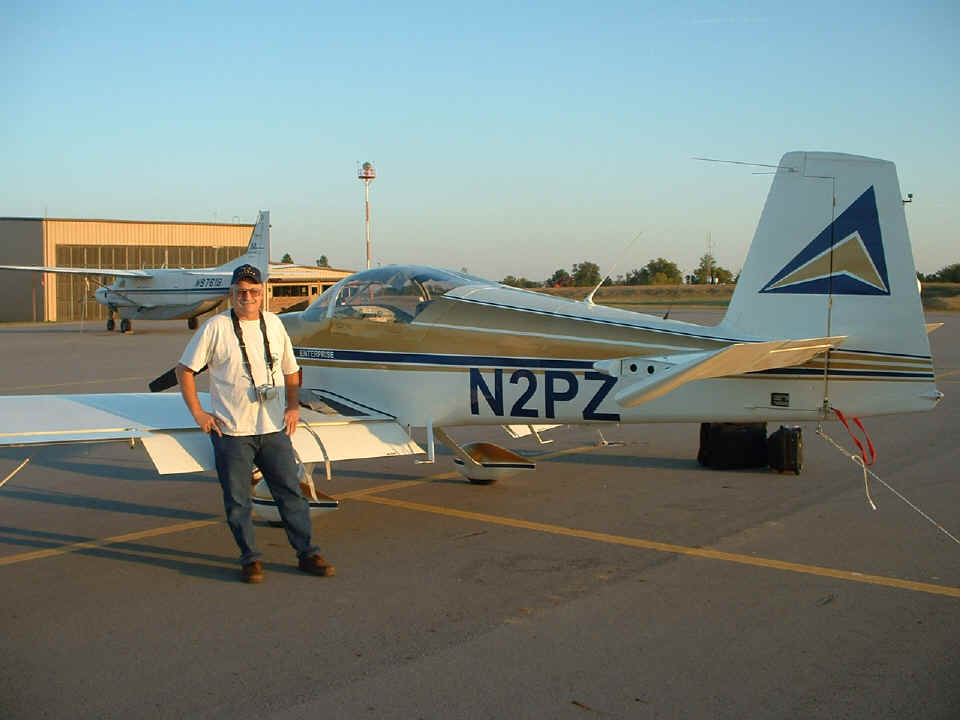 On the way to Rodney's home in Fort Towson, we stopped off at his new home site out in the countryside. He has 40 acres with the foundation for the new house already poured near the center of the 1200' x 1200' acreage. When I looked at the trees bordering his site, I made some suggestions about where he could layout his landing strip to get a longer runway. He could get as much as 1600 feet if he lays it out properly.
I enjoyed the evening in discussions with Rod's son Jimmy, who is advancing his electronic training in college. He was in the Navy on a submarine working in communications. When he mentioned microwave traveling wave tubes he serviced on the submarine, I related the details of my visit to Varian back in my satellite communications days of the 1980's. I had a chance to learn how TWT's are built and aligned during that visit to Varian in the "Silicon Valley" of California.
I also shared the photos of my trip to LOE5 with Rod's entire family, wife Kathy and Jimmy's wife Shawna. Jimmy and Shawna were visiting over the weekend. Rod showed me some photos and a video he made at the airport during my luncheon visit on Thursday, October 13th. He will be sending me a CD-rom with those files via snail mail. He does not have any computer service at home, but has a high-speed connection at his office. After a day of flying for about five hours, it was good to get a good night's rest in a quiet little town in southeastern Oklahoma.