Flight Testing - Page 141.
June 28, 2005: I went down to see Wendell Folks this morning (in my car) to unload all my work tables and air compressor into his shop. Now the only thing to move is the airplane when the 40 hours are done in Tennessee. We got in his Aeronca Champ and flew down to the Lafayette, Georgia airport just a few miles south of Wendell's grass strip. I met with Lyndon Wilson to discuss getting my airplane into his paint shop very soon. I hope that they can get me in and out before Oshkosh so that I can go up there with a finished airplane. I was discussing that with David Edgemon tonight. He is going and will camp out like I was thinking of doing in the Home-Built Camping area.
I flew just over four hours today leaving Collegedale with full tanks and did some cruising in familiar territory first, then heading out to the west side of my test area to a couple of new places. Here are those windmills I talked about from yesterday's flight. They are visible on the right middle section of this photo below. That reflection in the window is my gold plated headphone plug on the panel. You can also make out a reflection of the airspeed indicator.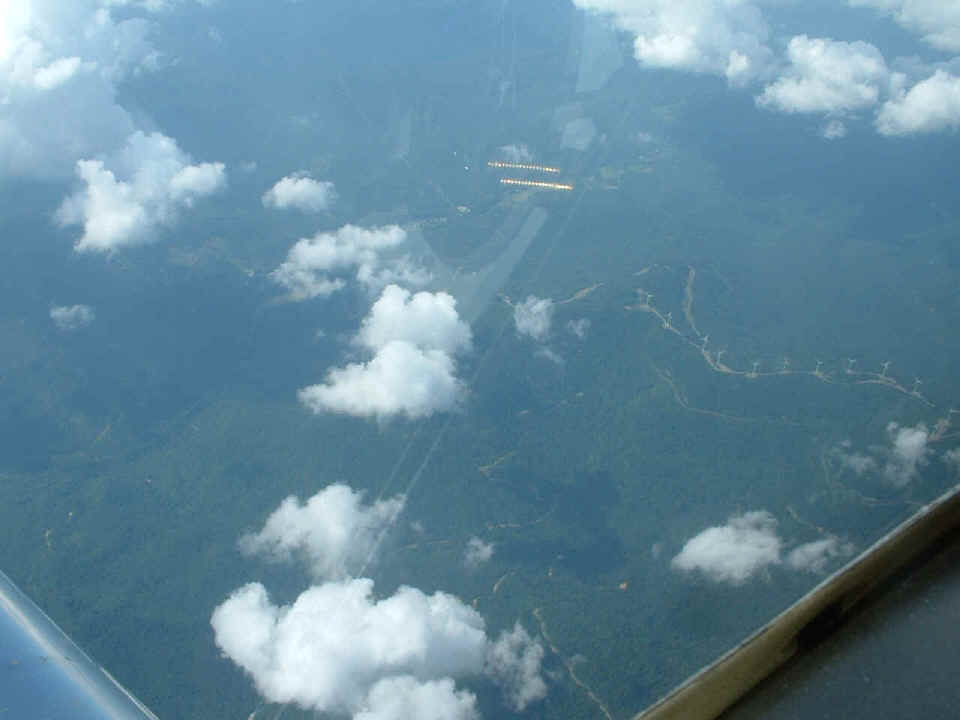 The weather was good up above Knoxville near the Kentucky state line. This is the way things looked at 13,500 feet in great VFR weather. I really loved the 6-gallons per hour fuel burn at 165 MPH true airspeed! I had a tailwind here and the GPS was reporting 180 MPH ground speed. What you don't see is the towering cumulus clouds off my right wing about 30 miles away south of Knoxville. They were expecting rain soon after this was taken. I managed to get almost to the Tri-Cities area before turning around and heading west to get away from the storms.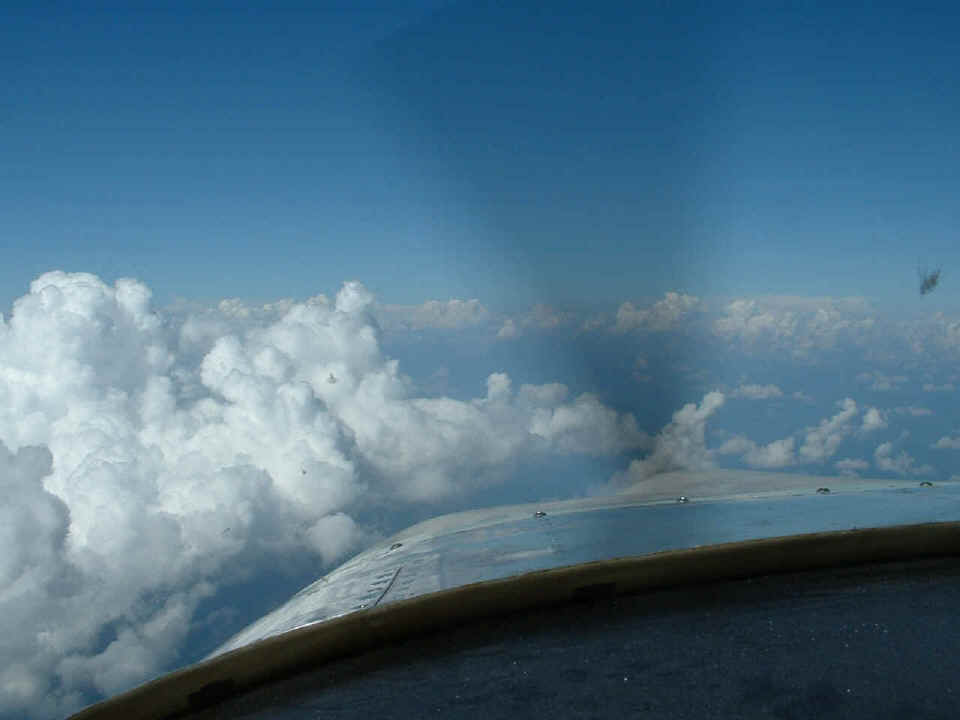 That rock quarry north of Knoxville caught my eye and I snapped a picture of it before it quickly passed beneath my left wing. It was even mentioned in the base map of my GPS 296.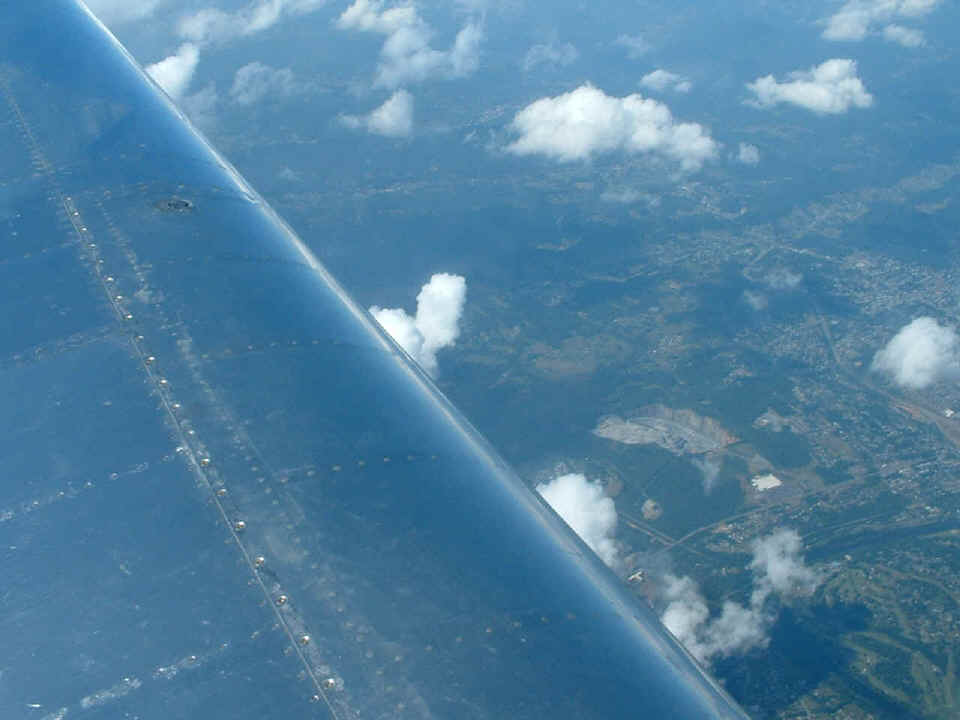 I stopped at Lafayette, Tennessee airport and again found nobody home and the FBO locked up for the evening. I flew the 40+ miles down to Murfreesboro and found the Civil Air Patrol group having a meeting inside the terminal building. One of their senior members and another pilot/builder came out to ask about my RV-9A. This is another of my boundary airports with US 231 just behind this building. I ran inside for a quick break and to put some fresh water in my mug from the water cooler before heading for home.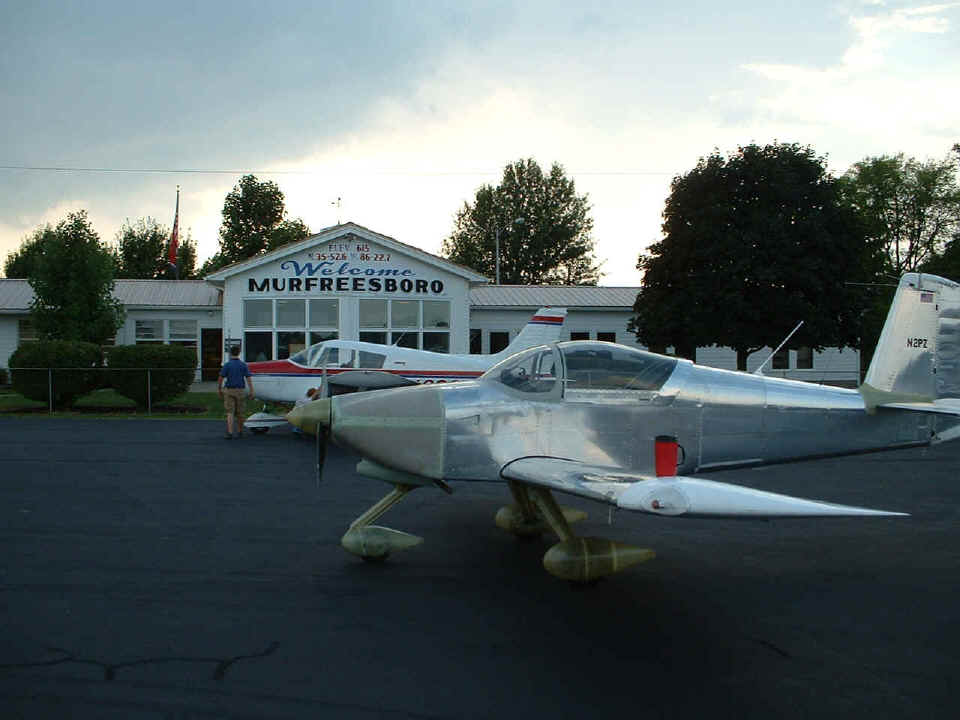 This is one of the towering cumulus clouds I passed on the way back to the Chattanooga area. I did not climb above 7,500 feet on the ride from Murfreesboro to Collegedale.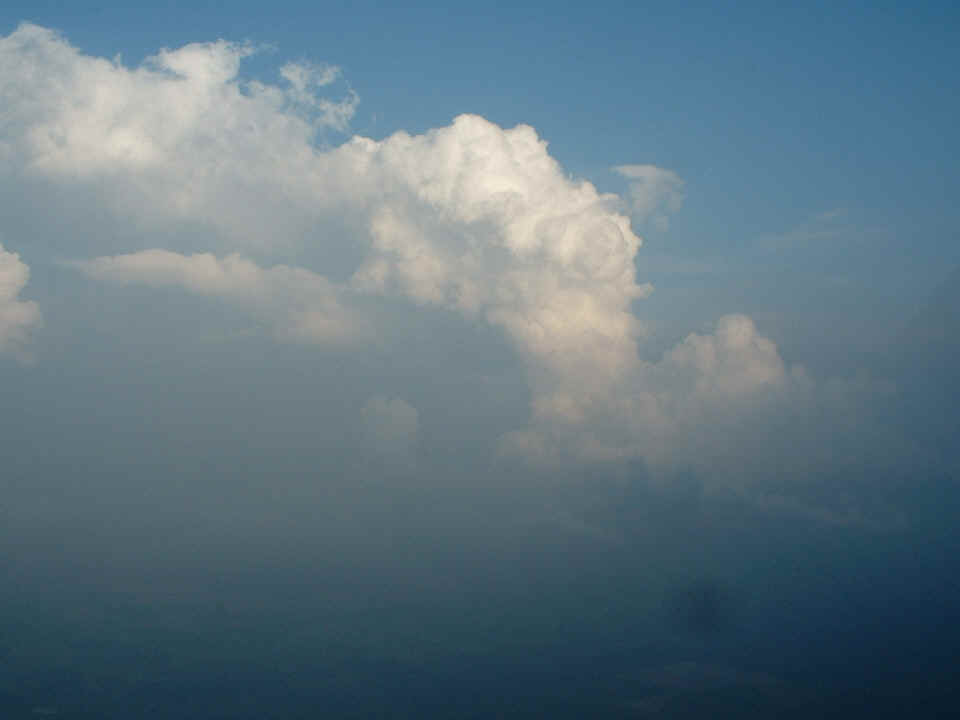 This time I remembered to pull up to the fuel pump before putting the airplane away for the evening. I got back about 45 minutes before sunset.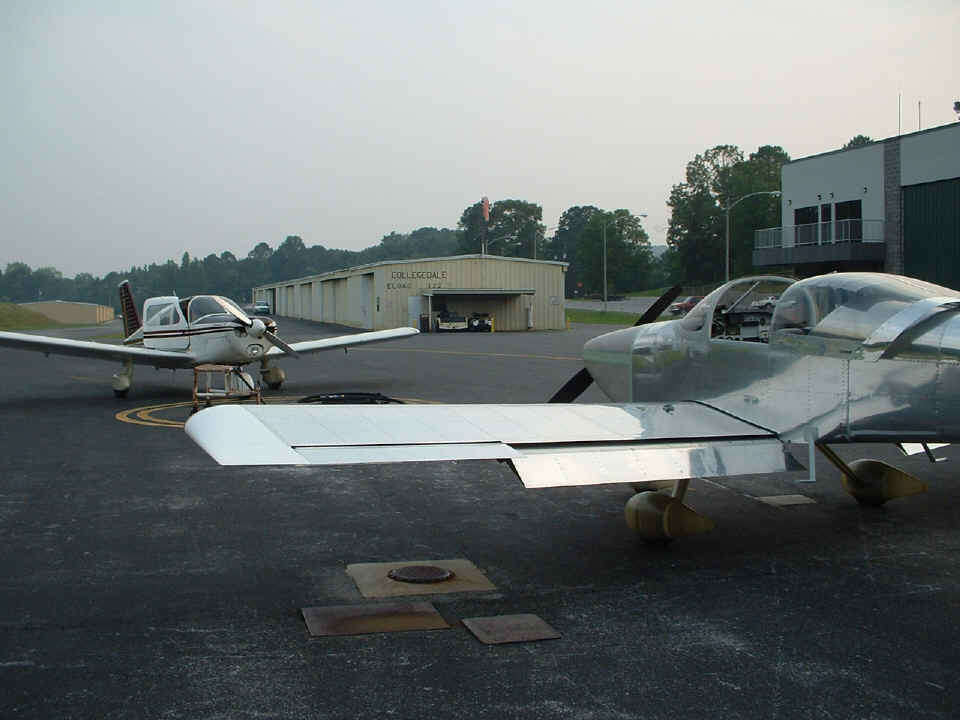 Here is a map of my GPS ground track for the past two days. The total is 828 miles for both days using 32.5 gallons, with four takeoffs and landings. I put in 9.6 gallons to fill both tanks before I departed today, then put in 22.9 gallons to fill them again when I returned to Collegedale. The bigger track is from the 4.1 hours I flew today. The shorter track over Crossville was from yesterday's 1.7 hours of flight time. The landings today were at Lafayette, Murfreesboro, and back at Collegedale, Tennessee. I did not shut down the engine at Lafayette since there was nobody home at the FBO when I stopped there. You can see where Collegdale Airport is located at the point between the double "O's" in Chattanooga on the map below. The power generating wind mills are where the tracks overlap between Kingston and Wartburg. That diversion near Manchester is where I flew south of the towering cumulus cloud in the second picture above this map. The red dot is the location of my home and former "aircraft factory".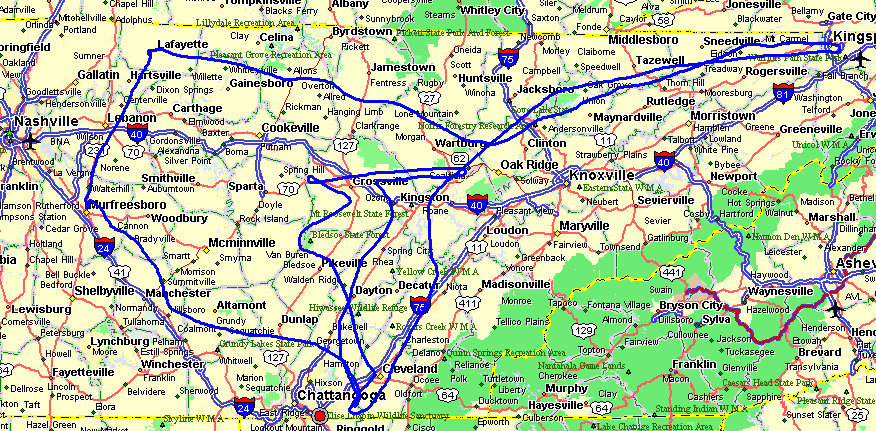 I checked the fuel burned today against the engine monitor fuel flow readings and found less than 2-tenths of a gallon difference. That is close enough for me to be safe since I don't plan to ever let it get below SIX gallons of fuel remaining. At the kind of cruising I have been doing that is ONE hour of reserve, or at full power it is about 45 minutes. The Hobbs Meter is now at 25.8 hours.
Here is a photo I received via email from Chuck Williams. He took it while I was on break inside the terminal at Murfreesboro. He was the other pilot/builder I mentioned above. Chuck is based at Murfreesboro with his company PROFESSIONAL AVIATION SERVICES doing aircraft appraisals. You can reach him via email at cjwaal@msn.com.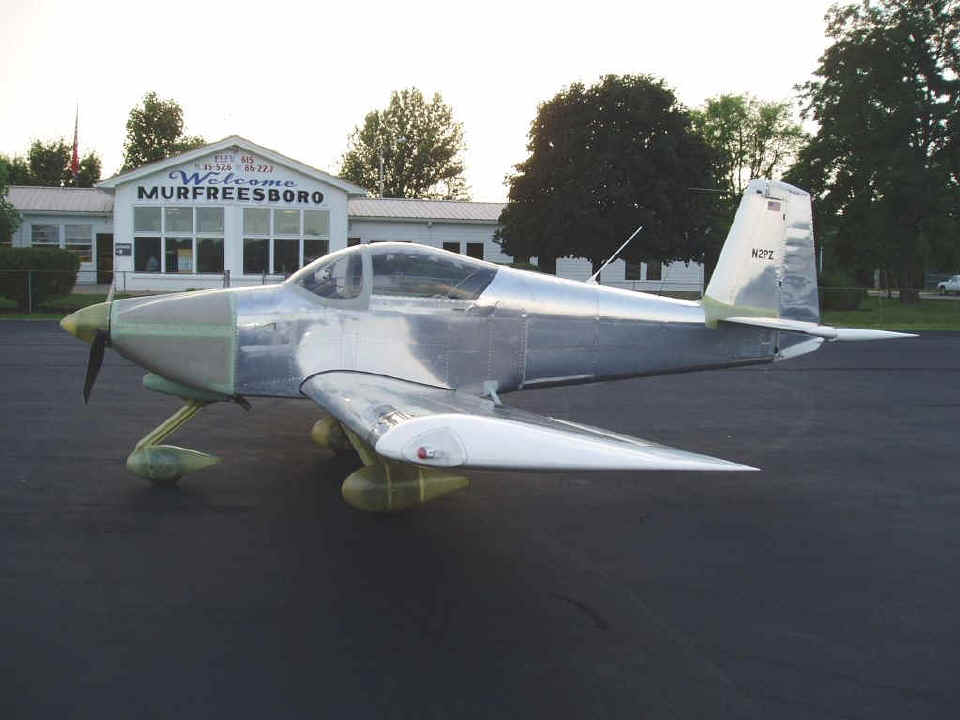 June 29, 2005: This was oil change day. I went up before lunch to warm up the engine. I started by going down to the compass rose and pulled across it with the engine running on all four cardinal headings to calibrate the Dynon remote magnetic sensor. That still does not satisfy me with the results. I got through the broken/scattered cloud layer and had some fun above 4000/4500 feet for about 40 minutes before running back down to Collegedale. After a quick lunch at Wendy's, I changed the oil in the airplane and put the cowl back on it for an afternoon flight up to Johnson County Airport (6A4) before they closed for the day. On the way up there I flew around a residential airpark (Hensley) just East of Greeneville, Tennessee. They have recently extended the paved runway there. The return flight to Collegedale was all about playing with the autopilot in GPS mode. The route home was 6A4, KGKT, 3M3. This route lets me "thread the needle" between Knoxville Class C and the Snowbird MOA. I was the only one in the pattern when I got back to Collegedale. I made my first full-power fly-by about 200 feet above the runway at 190 MPH straight-and-level at 1000 feet MSL. The engine was running at 2300 RPM with 28.5 inches of manifold pressure since the throttle was pushed in all the way to the "wide open" setting! I coasted up to pattern altitude to bleed off that excess airspeed as I passed the south end of the runway then set up for a landing at the north end of the field at 75 MPH on the approach.
You know the drill, when I am busy working on things, I sometimes forget to take any photos. With oil on my hands, I was not about to pick up my digital camera. When I was flying the long trip today, I had my mind on the autopilot operations and how that worked or the two times I circled the Hensley field near Greeneville, TN. More flying tomorrow since the Hobbs now has 29.8 hours on it!