OSHKOSH 2010 · · PAGE 3.
July 23, 2010: The departure from KRFI was quick and easy since no one else was in the pattern. I turned on course for KGTU and climbed into the cooler air above. I have been monitoring air-route traffic control center frequencies all day. When I took this photo, I was listening to Fort Worth Center as they advised aircraft of the thunderstorms near Dallas and Fort Worth. Those clouds in the distance are the tops of those storms. This photo was taken at 5:06 PM EDT above Palestine, Texas. EDIT April 16, 2017: The locals pronounce the name of this town as "Palace-Steen".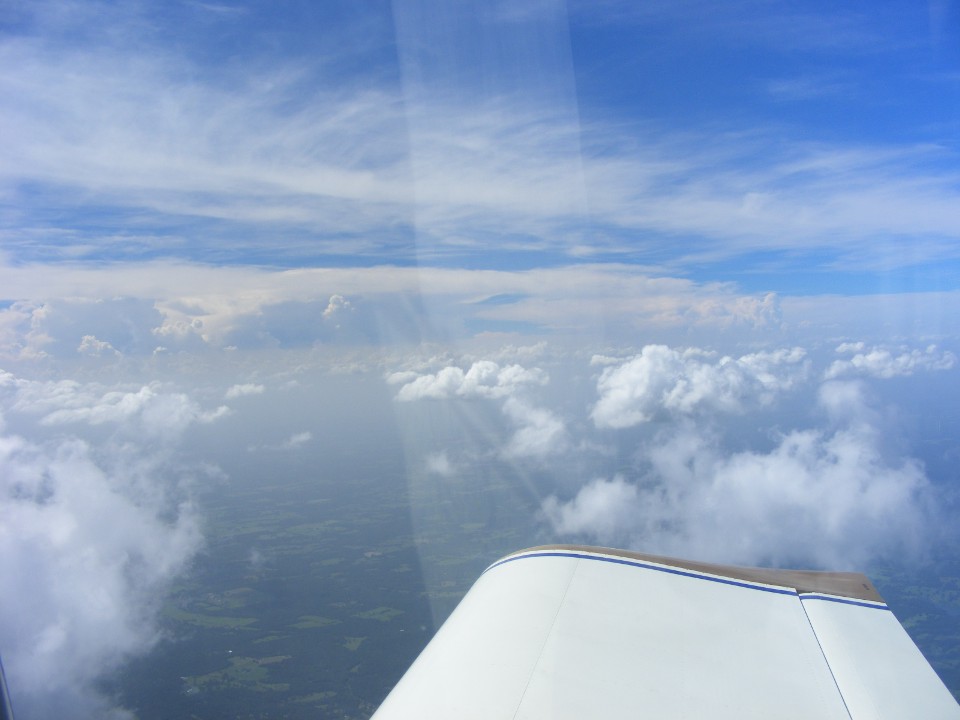 I took this photo just six minutes later looking down at Oakwood, Texas below with US 79 heading into town from the NE. I have driven that highway from its western end at Round Rock, Texas up to Shreveport, Louisiana on previous non-flying visits to see my son and his family.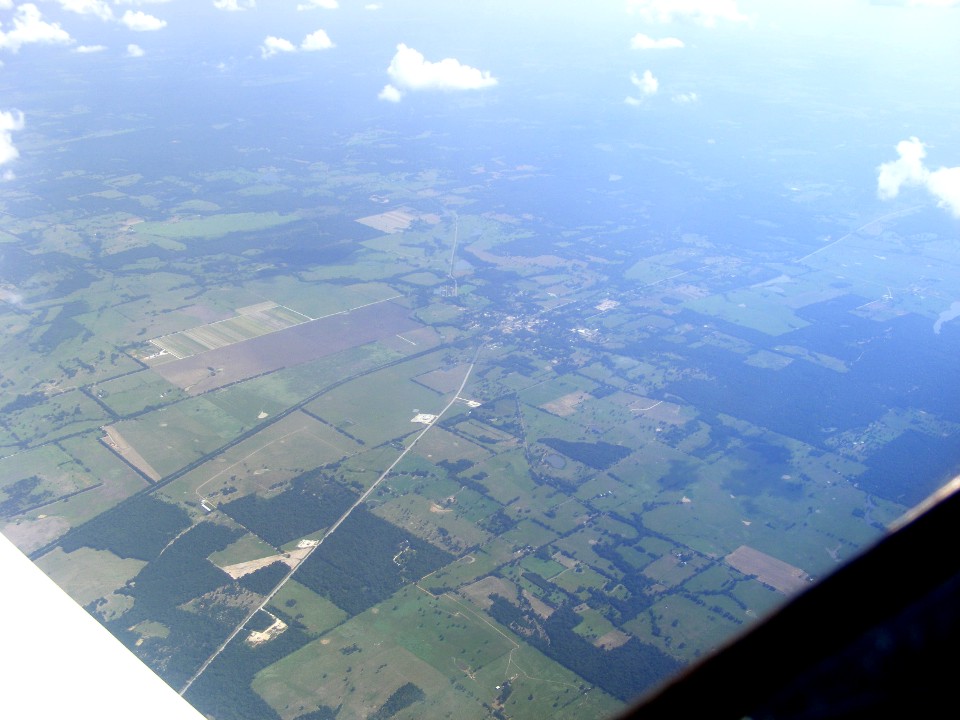 This photo looking south was taken at 5:21 PM not far from Buffalo, Texas. All those white squares on the ground are oil wells.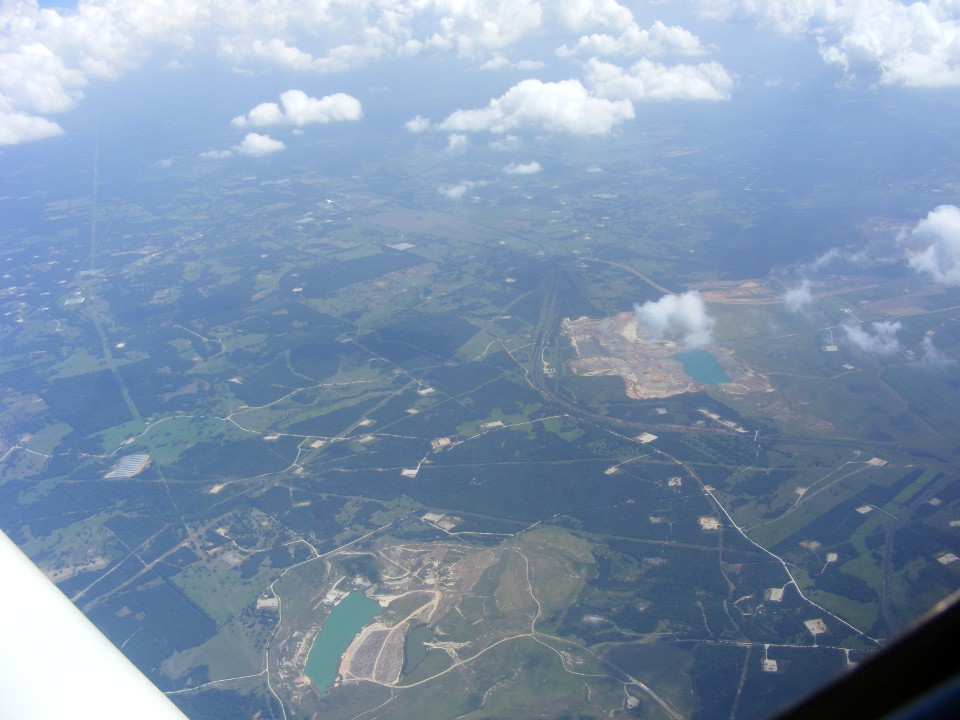 I landed at Georgetown, Texas just a few minutes after 5 PM Central time. This photo is taken on the ramp at 6:21 PM EDT after the airplane is secured except for the final items I am taking with me for an overnight stay with my son and his family. We are heading for dinner at a restaurant to meet his wife and my grandson. The control tower has been here for the past three years. The last time I came here was for Labor Day weekend of 2005. Except for the control tower being added, not much else has changed here.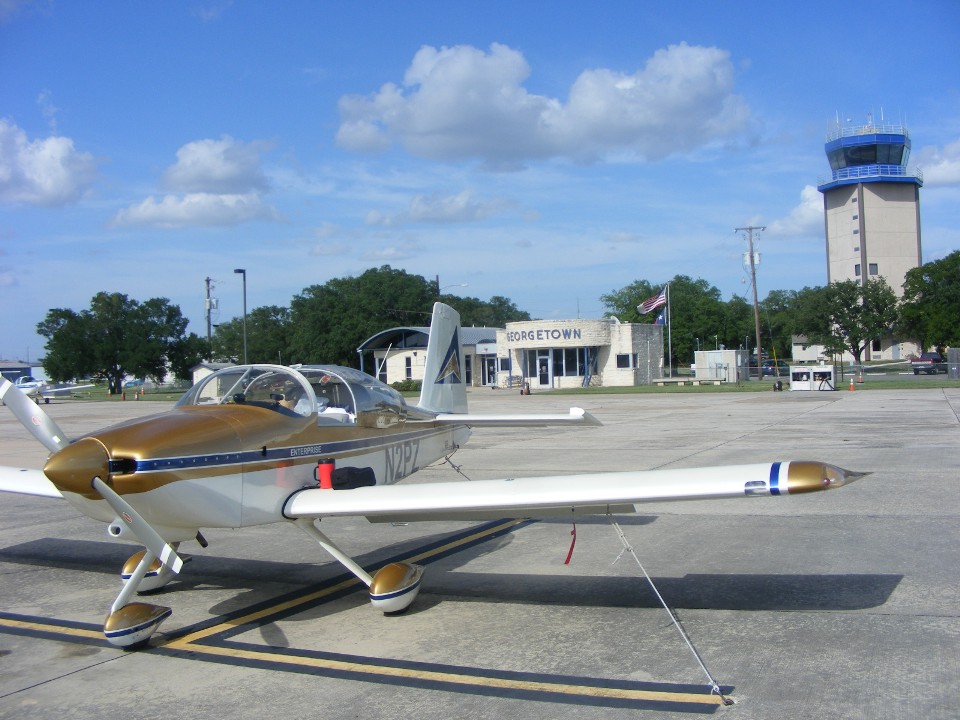 The total mileage for the flights today is 918 miles, adding 6.6 hours to the Hobbs meter, now at 303.9 hours parked here at KGTU. The departure on Saturday morning, July 24th is to retrace the flight path below for more fuel before turning on course to St. Louis and Oshkosh with my son.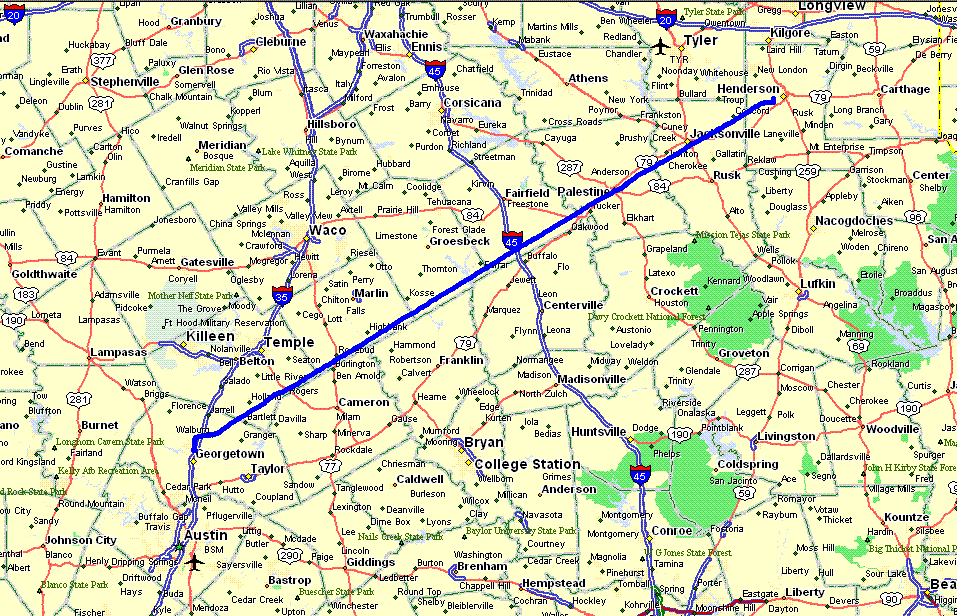 July 24, 2010: My son Edward is excited to get going. The airplane is packed and ready for boarding as I take this photo at 8:26 AM EDT. We are ready to reverse the course above to Rusk County Airport for the first fuel stop of the day.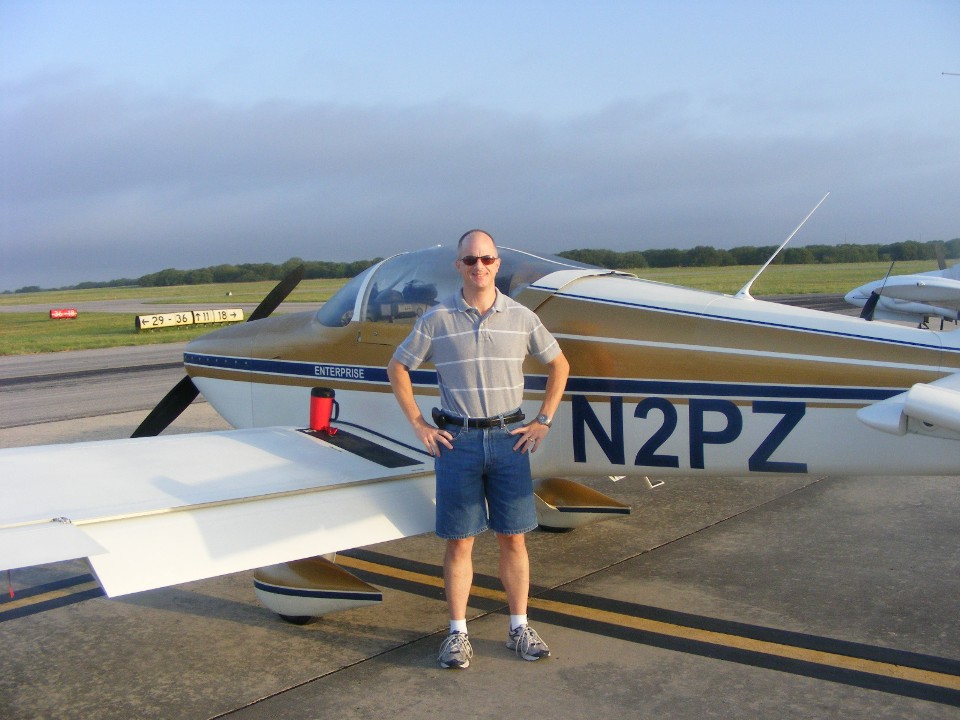 This open-pit mining operation is near Interstate 45 just northwest of Buffalo, Texas.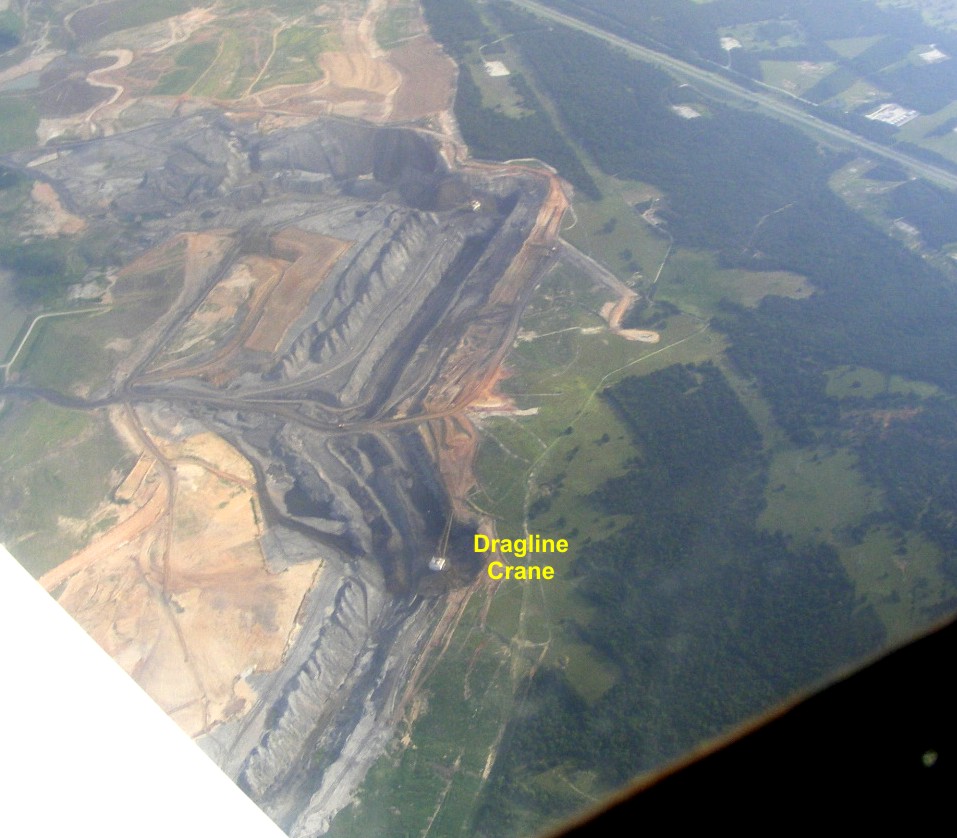 The mine is adjacent to an oil field. All those white spaces are oil well locations.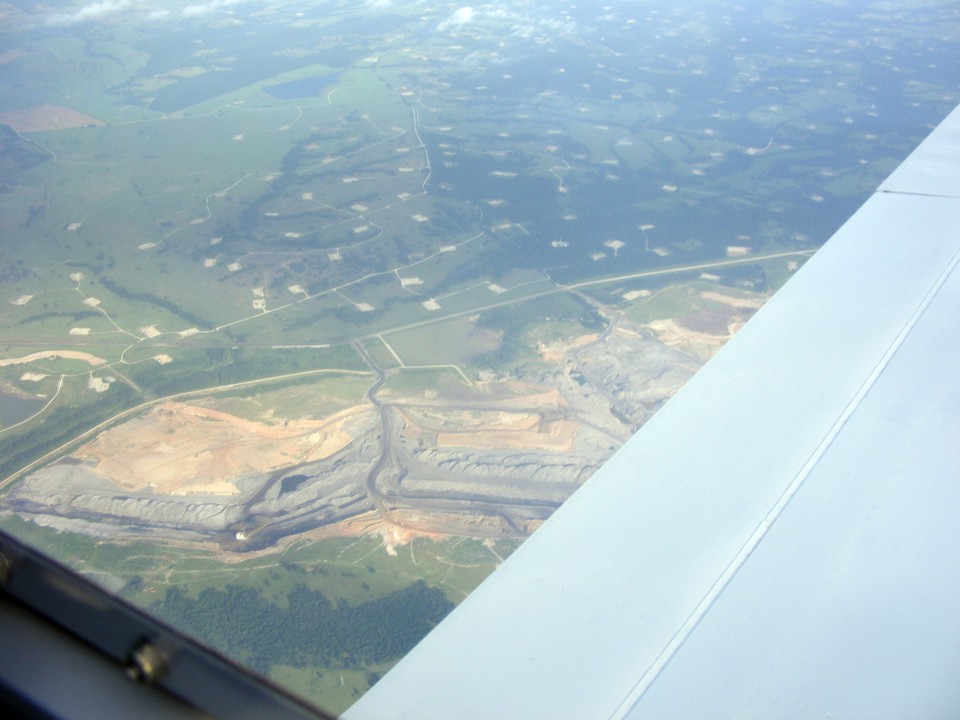 The second fuel stop at Rusk County takes on 19.1 gallons of fuel for the long route north toward St. Louis and Oshkosh. This photo was taken at 10:12 AM EDT with my camera.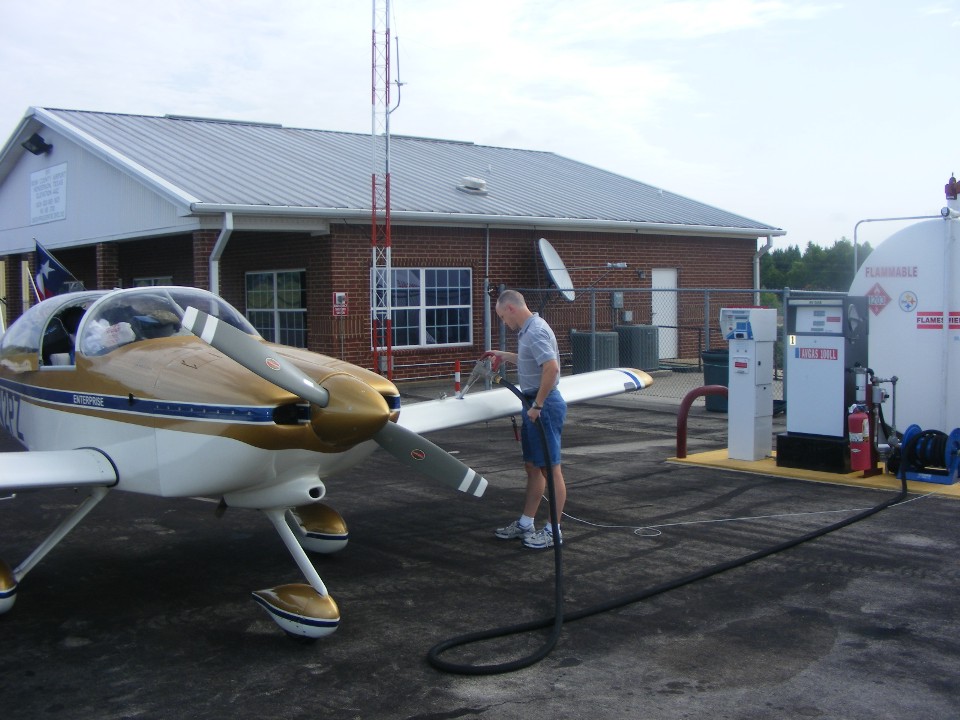 We went inside to check on the weather, get cool and relax for a few minutes after we pulled the airplane away from the fuel pump. There were two other airplanes arriving. We talked to the pilot of the Red & White RV-8A and his passenger. Another pilot friend of theirs came in a few minutes later to form a flight of two headed for Oshkosh. The other plane is a Beechcraft T-34 Bonanza military trainer, now privately owned. Edward took this photo as I was getting ready for departure from Rusk County.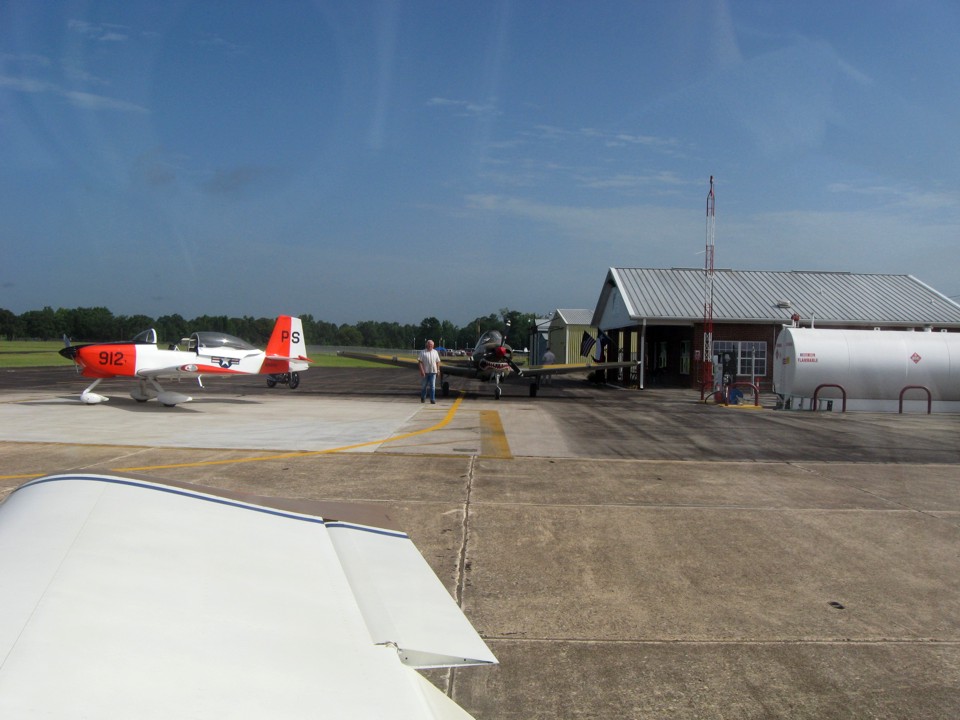 I did not notice Edward taking this photo when I was focused on the next route segment being activated in the GPS 296. Yes, I am looking through the bottom lenses of my bi-focal glasses. At age 63, I need those bi-focals to read the charts and the instruments with the small letters. The time on this photo is 10:40 AM Eastern Time. EDIT added on April 16, 2017: You can see how high above the seat backs we have loaded the baggage area for this airplane camping trip. I am enjoying this review of the trip to Oshkosh AirVenture 2010.