June 2022 Vacation Day 22, Little Rock, Arkansas, Across Mississippi · · PAGE 54.
June 13, 2022: Monday we head toward Memphis, Tennessee to use as much interstate highway as we can in Arkansas and Mississippi where we will go south to a point where we have to use US highways and state routes to get to our motel for tonight in Demopolis, Alabama. Linda has relatives in Demopolis she has not seen for several years. Getting out of Little Rock starts with I-440 East from the on-ramp by the Motel 6 where we stayed last night. We are that close to the exit 3 entrance to I-440 seen in the image below. That car is by that on-ramp to the right side of this image.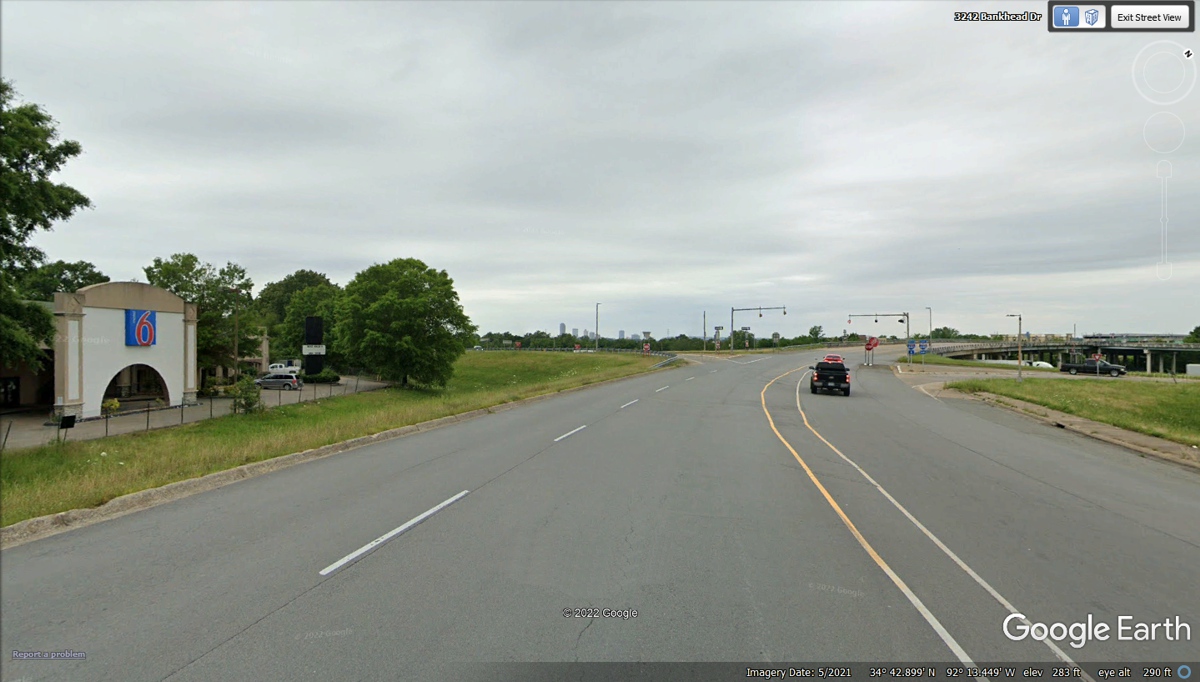 We only went two exits to get fuel at this Valero station at I-440 Exit 5.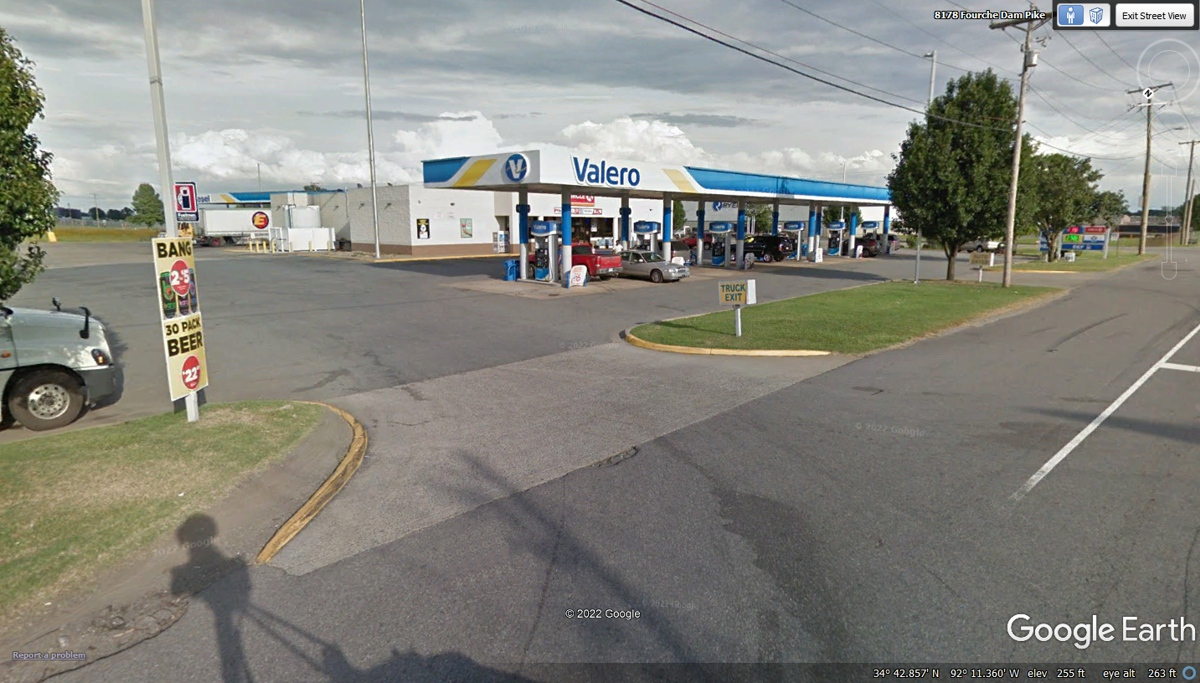 Interstate 440 crosses the Arkansas River to get to I-40 a few miles north of here.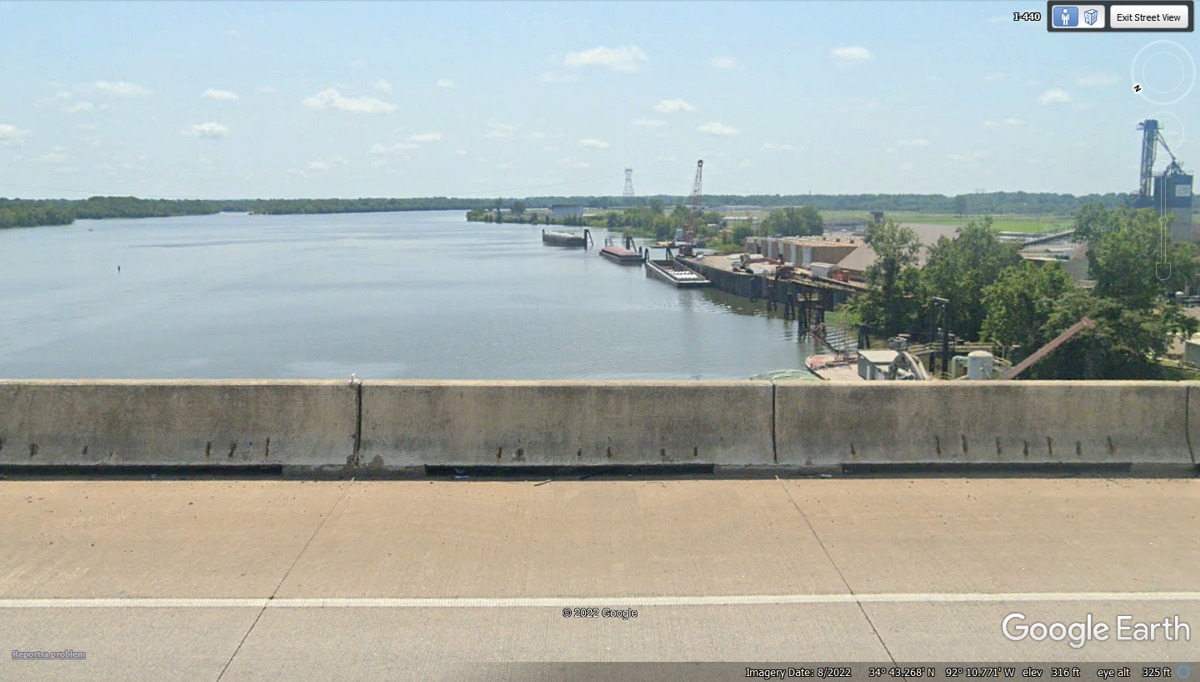 Now we can go faster on the open road of I-40 over to the Mississippi River.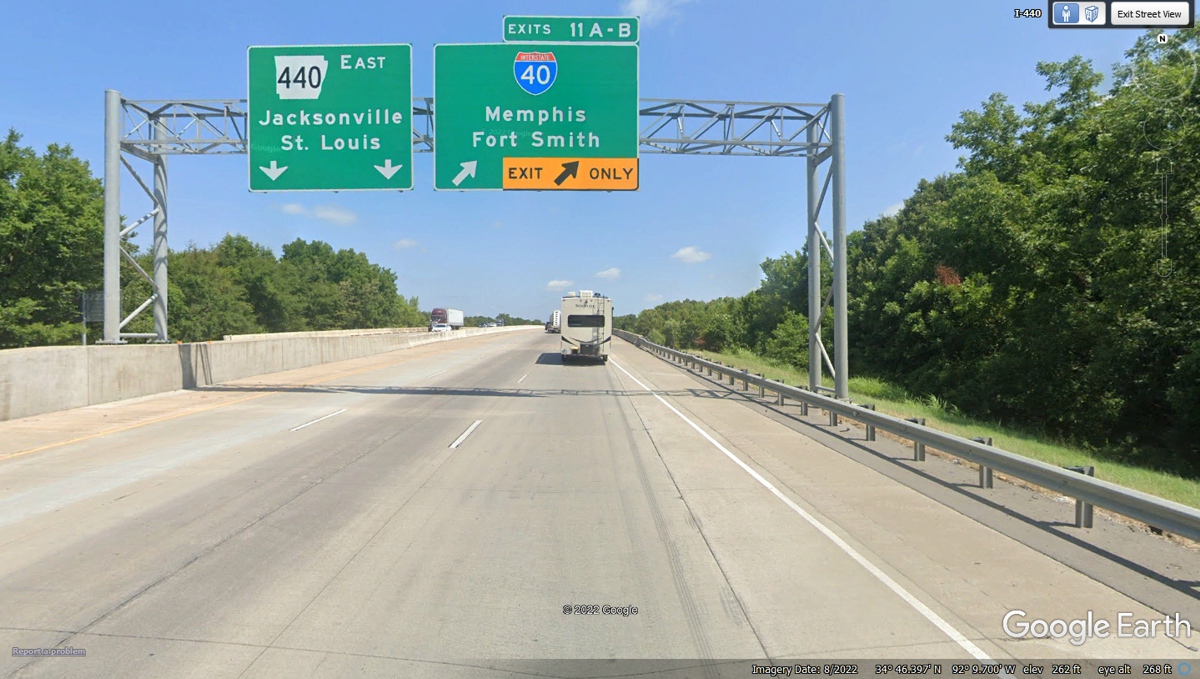 East is our choice today going to Memphis then south on I-55 into Mississippi.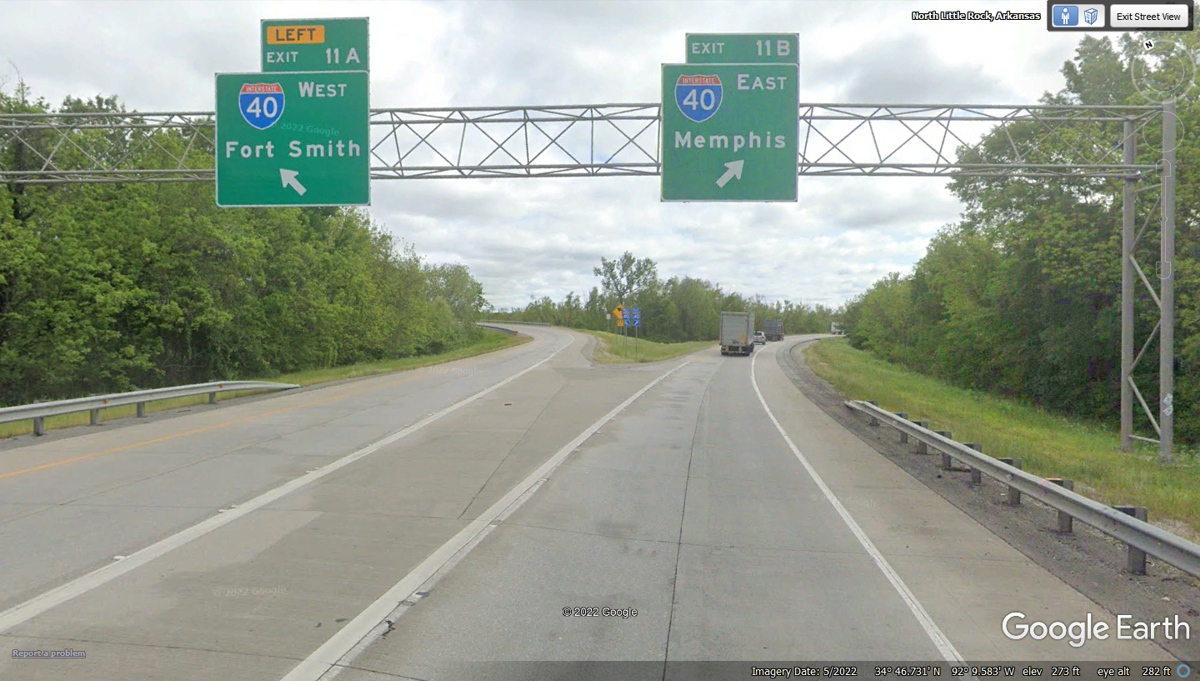 We have now come 218 miles East from where we got on I-40 east of Little Rock. I-55 will join our route as we get to Memphis and go south on I-55 into Mississippi down to US 82. We then travel east to US 45 that will take us further south to use a couple of state routes to get us closer to our destination today in Demopolis, Alabama.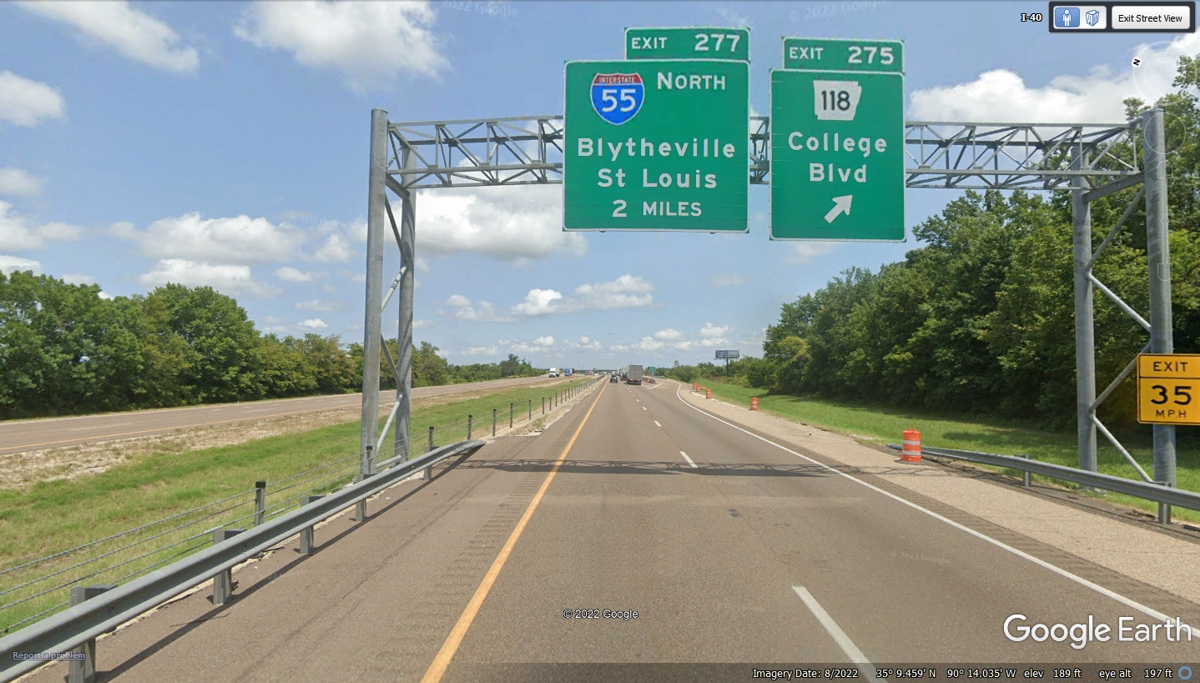 I-40 and I-55 join for a short transition through a busy interstate highway area just west of the Mississippi River.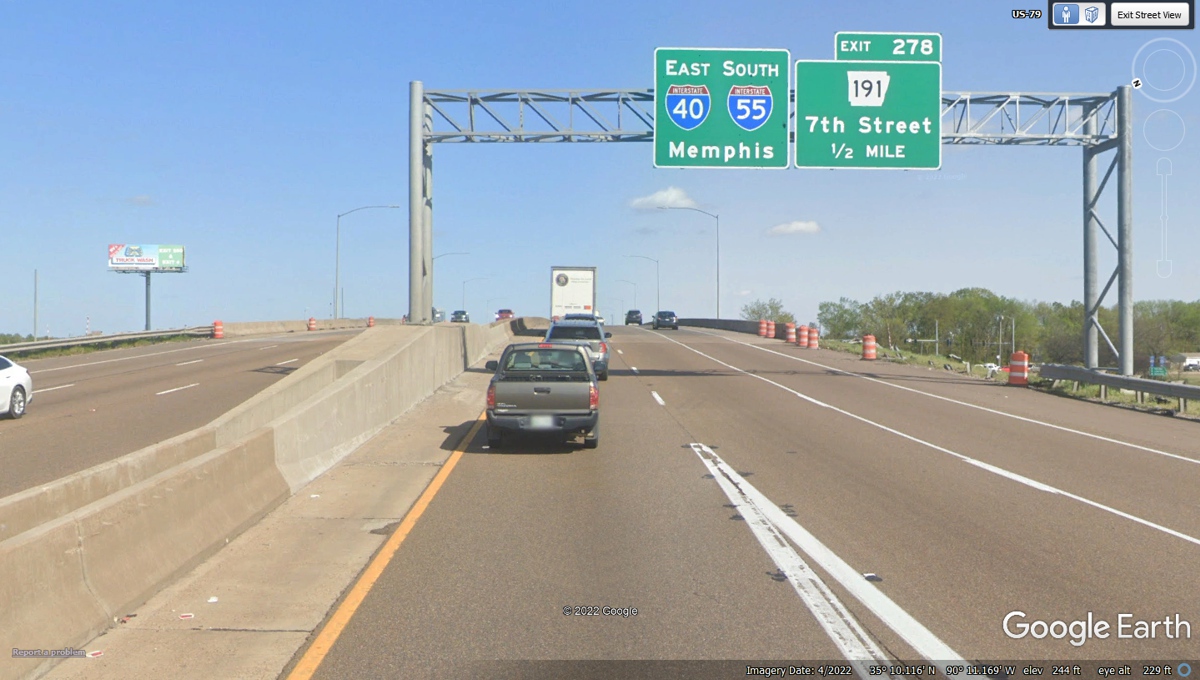 I-40 continues EAST with I-55 going south from exit 279B.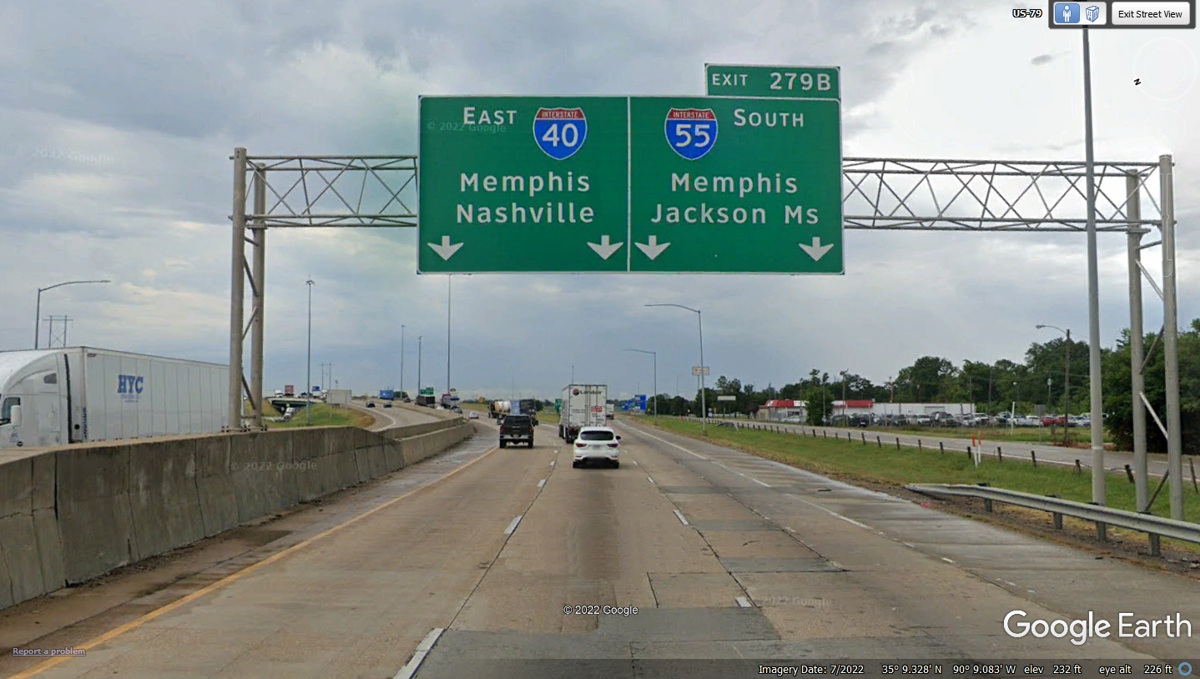 Looking back to Arkansas state line on the Mississippi River bridge for I-55 reveals this big sign and the paint on the pavement showing the state line.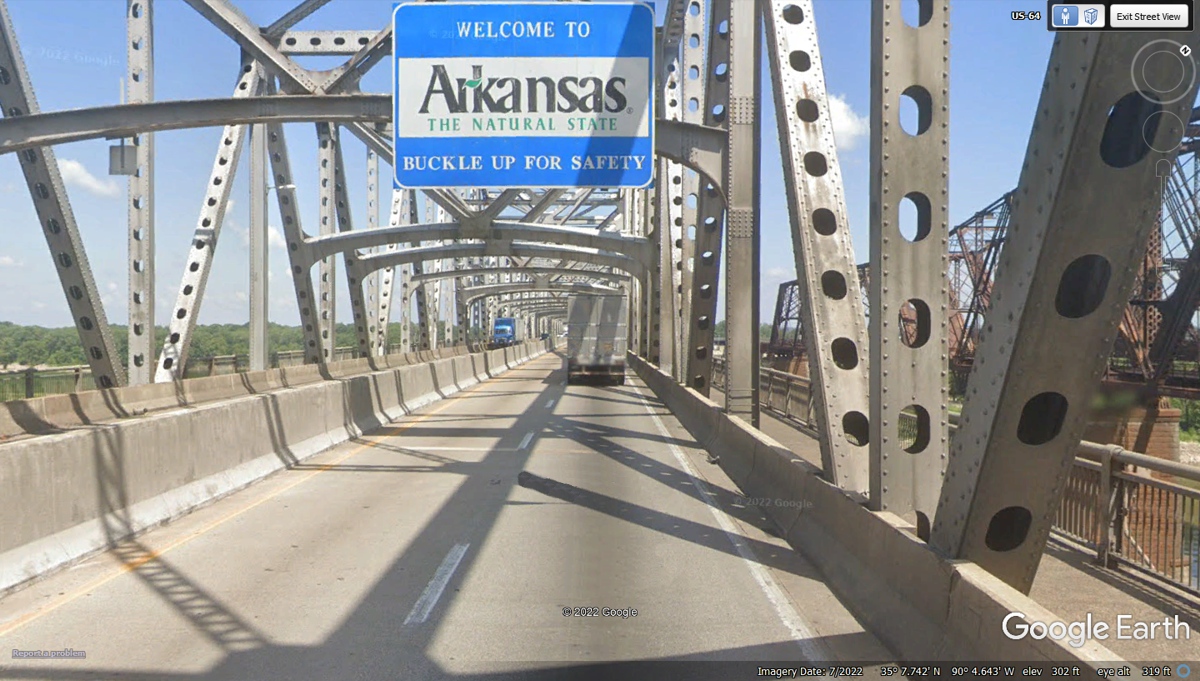 Looking toward Tennessee, this white rectangle painted on the roadway and the 45 MPH speed limit sign abovr is all there is to see in the middle of the Tennessee River. I put the yellow letters on this Google Earth Image. There is a thin white line placed there by Google Earth showing the state line.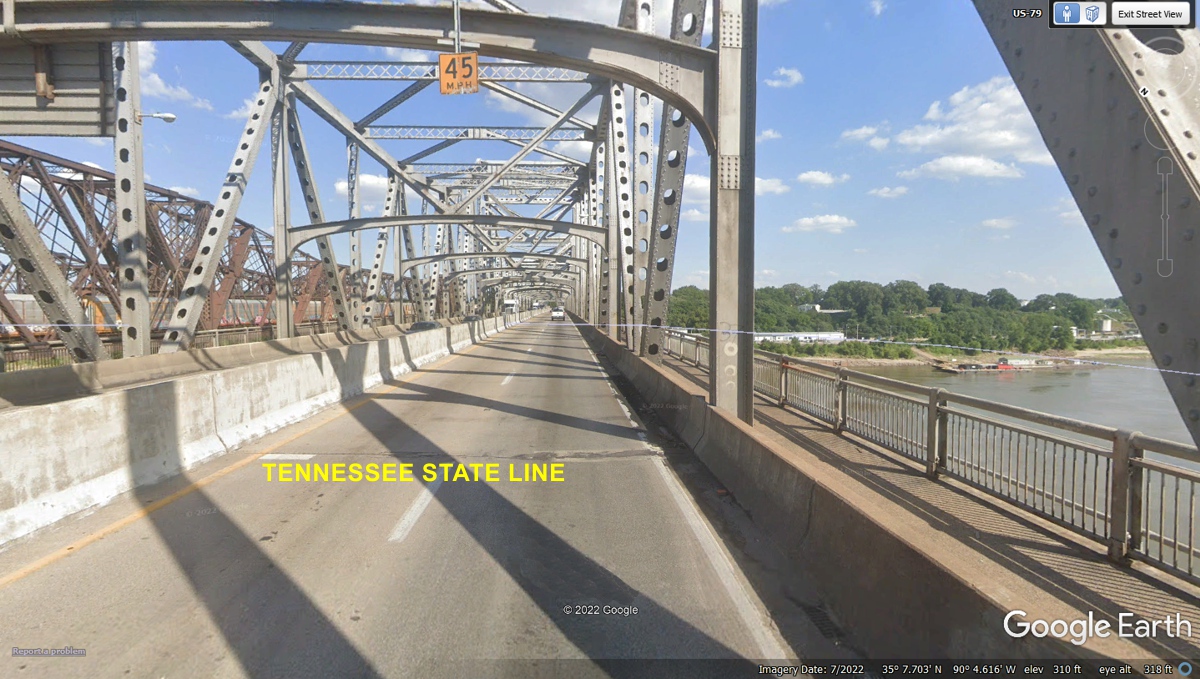 This Tennessee Welcome Sign us just east of the Mississippi River bridge on Interstate 55.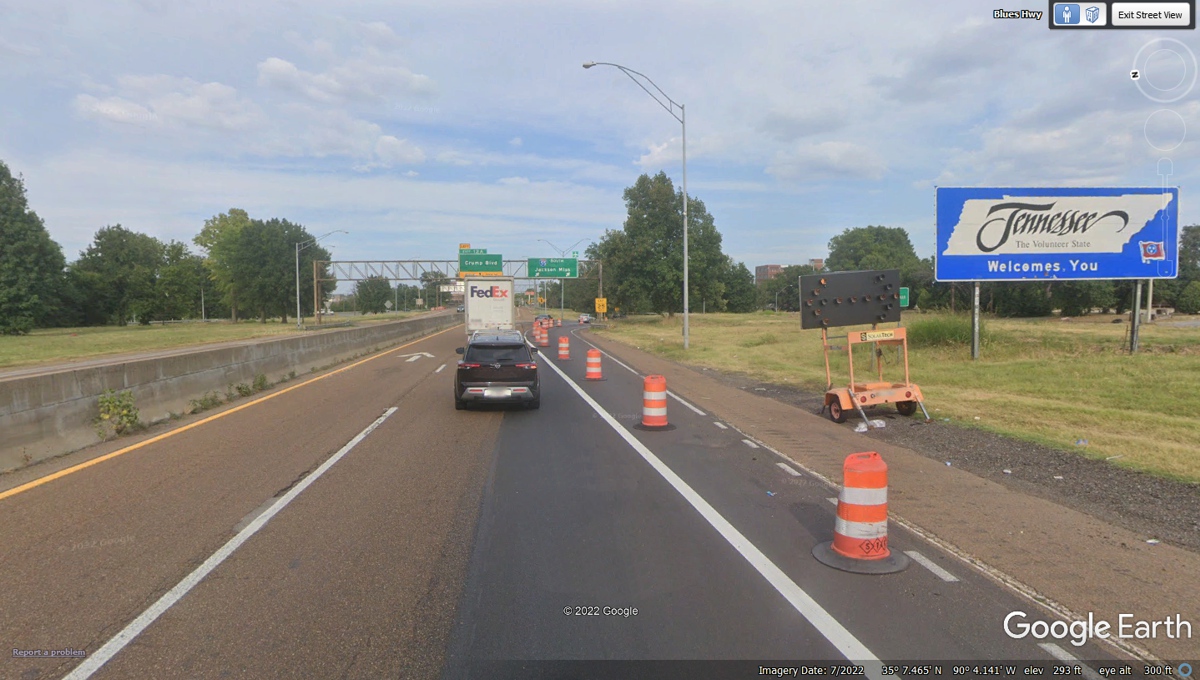 This exit is where all the roads go their separate ways.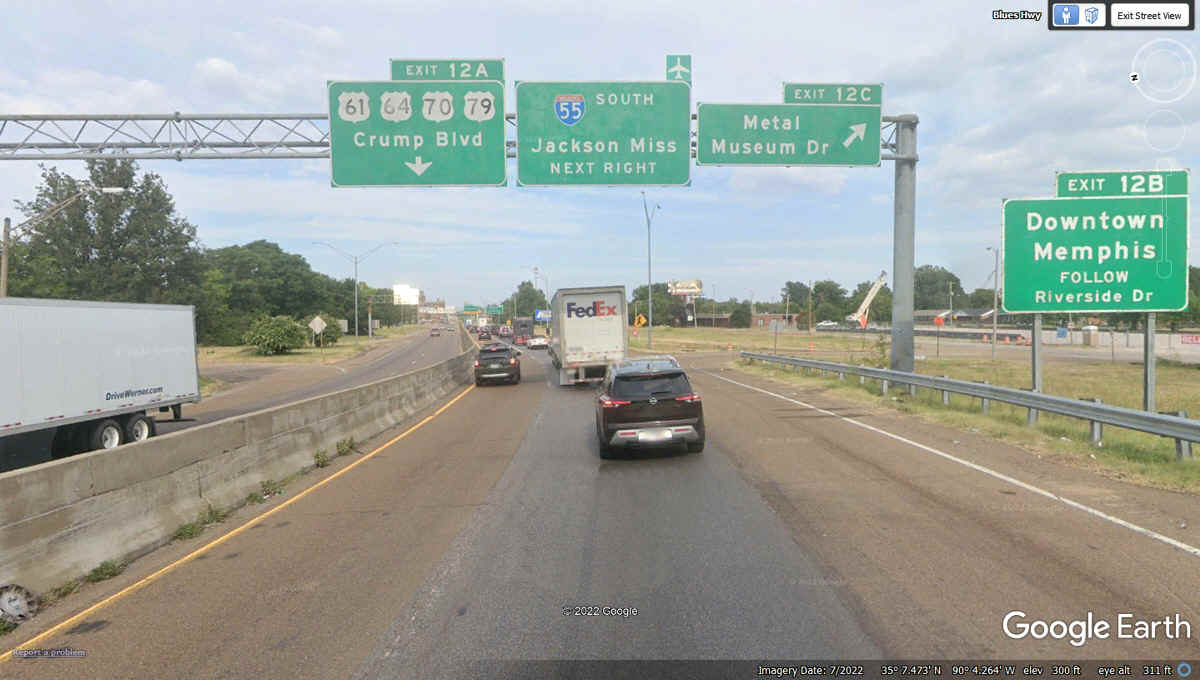 This where I-55 turns south 12 miles from the Mississippi / Tennessee state line.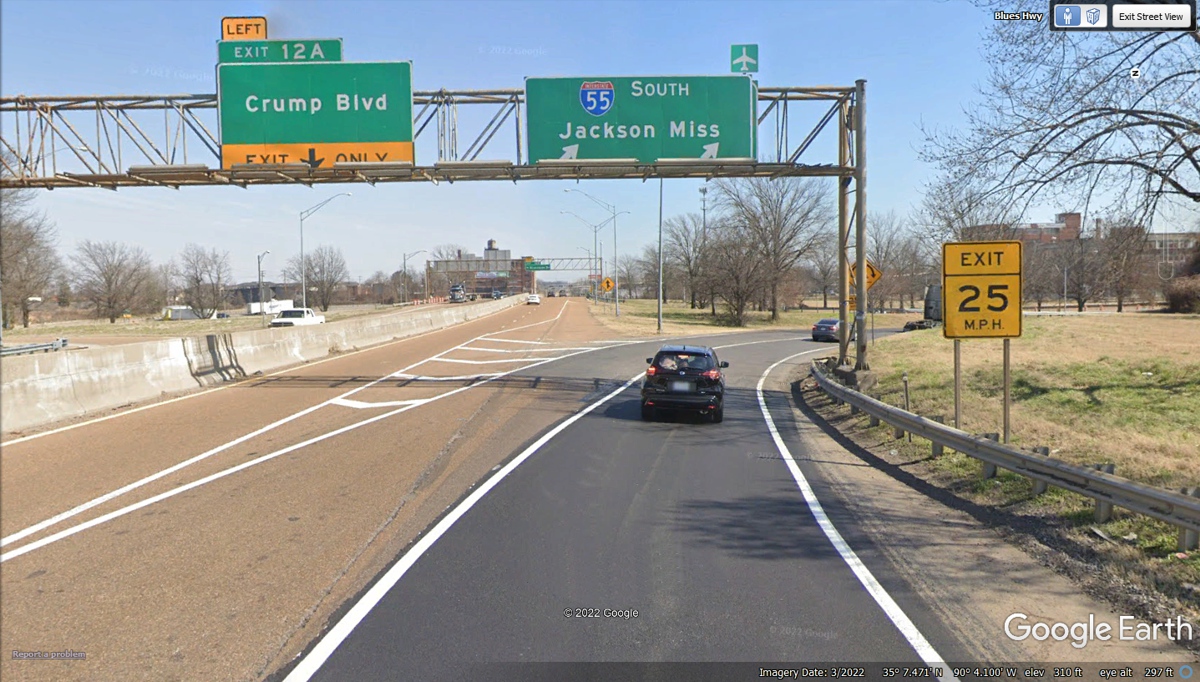 I-55 and US 61 are both going south into Mississippi, but US 61 runs close to the river, whereas I-55 moves a bit farther from the river.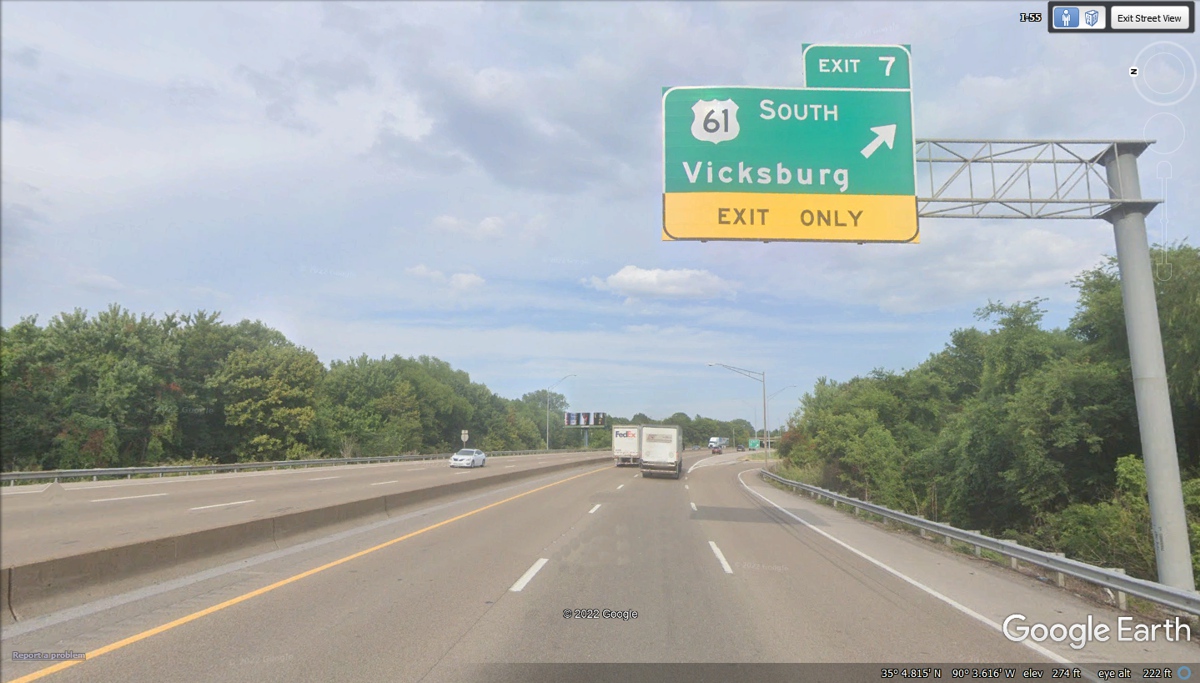 Interstate 55 goes south from the southwest corner of the I-240 Beltway around Memphis.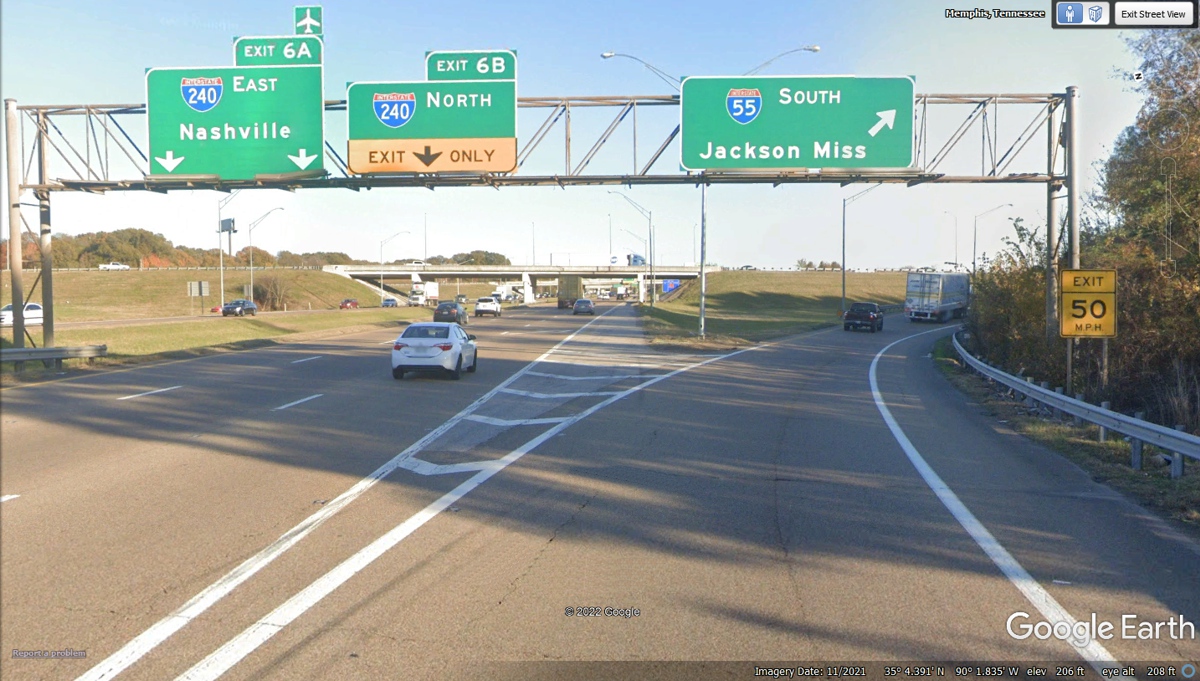 The Google Earth white state line is showing as we approach this overhead road sign informing us Interstate 69 has a segment in Mississippi. Their welcome sign is visible ahead. The exit number indicates the length of Interstate 55 to point where it ends at I-10 west of New Orleans 291 miles from here.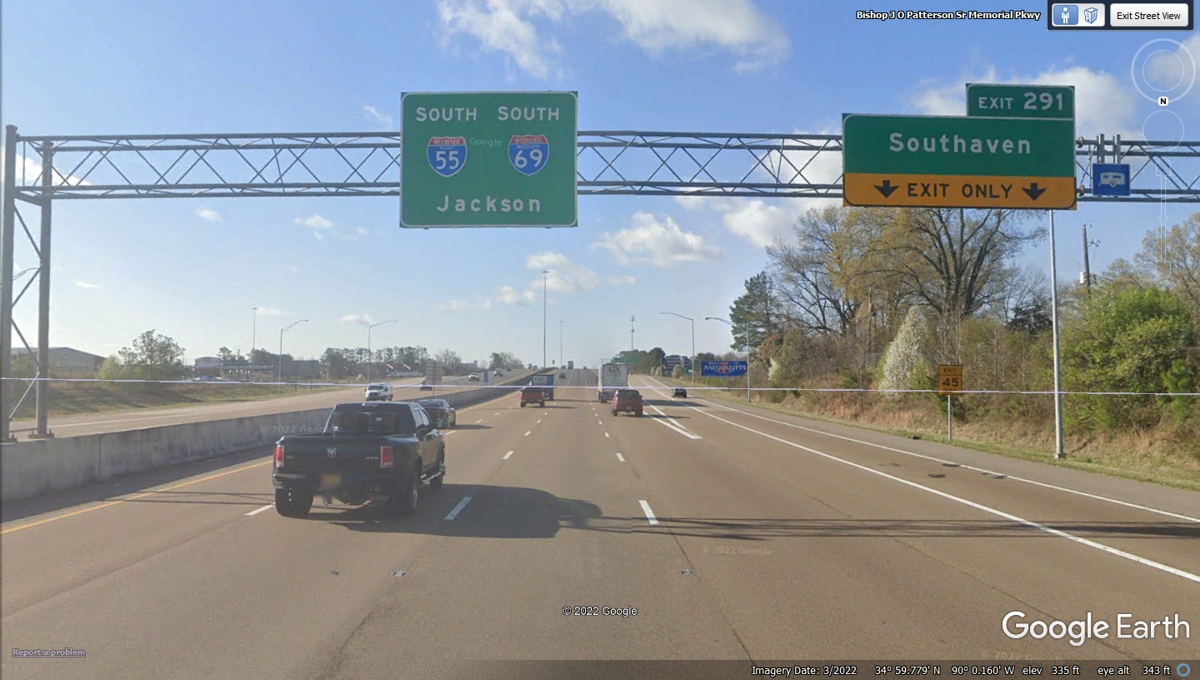 The usual change in pavement at the state line matched with the Mississippi Welcome sign marks the departure from Tennessee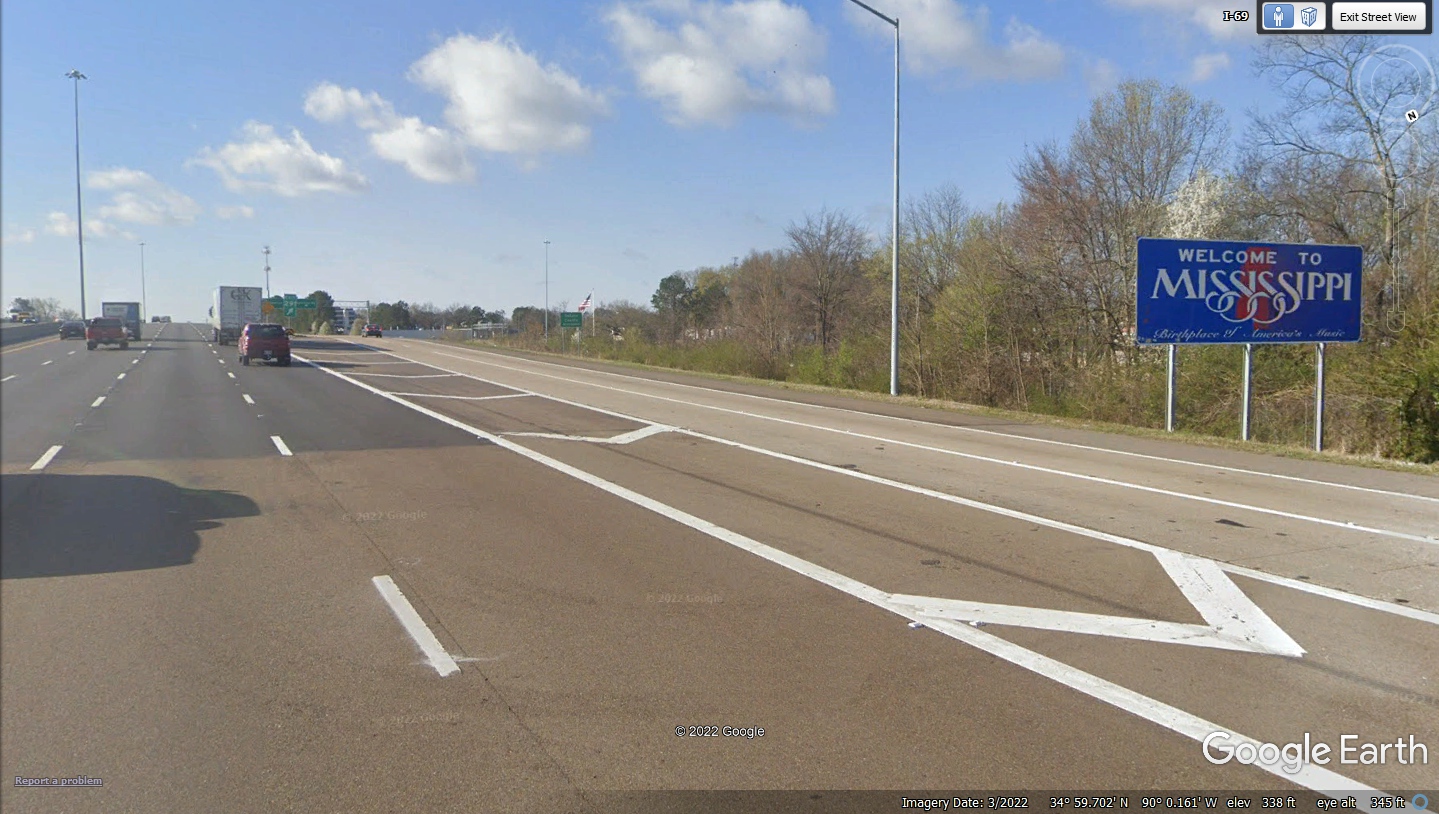 Interstate 69 will eventually go from Port Huron, Michigan at the Canadian border to Mexico at several existing US highway crossing locations in Texas. Tunica, Mississippi has river boat gambling casino barges anchored to the shore and floating in the Mississippi River.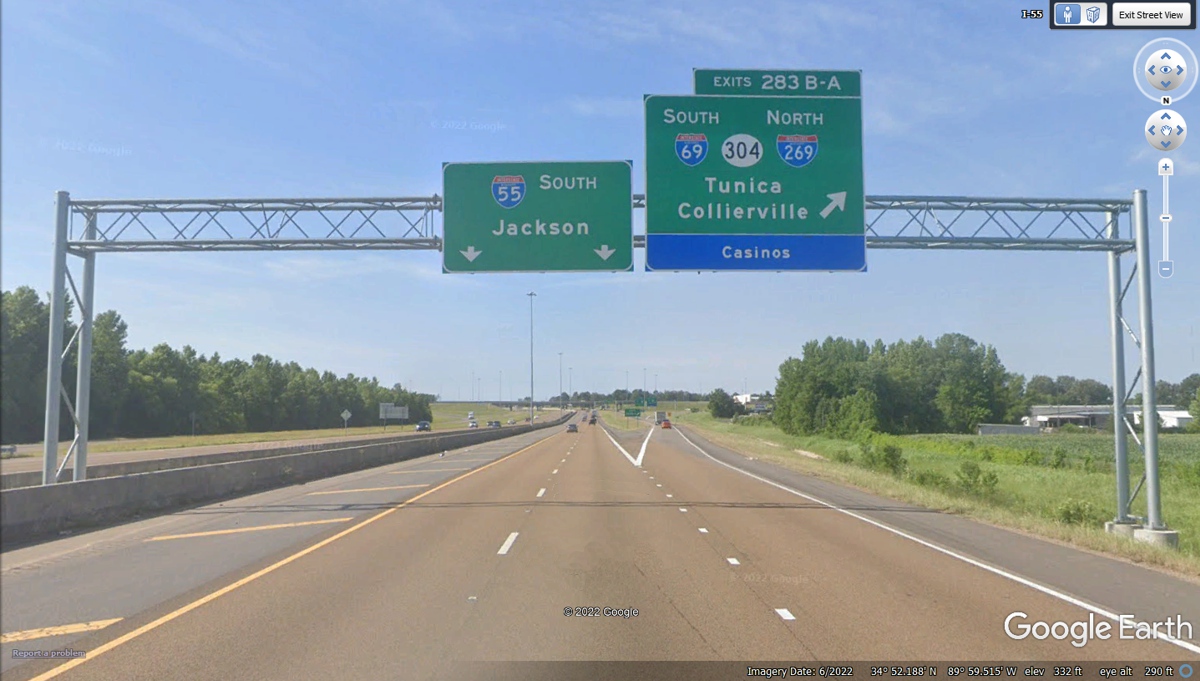 US 278 begins at the Atlantic Ocean on Hilton Head Island, South Carolina with its western end at Clarksdale, Mississippi.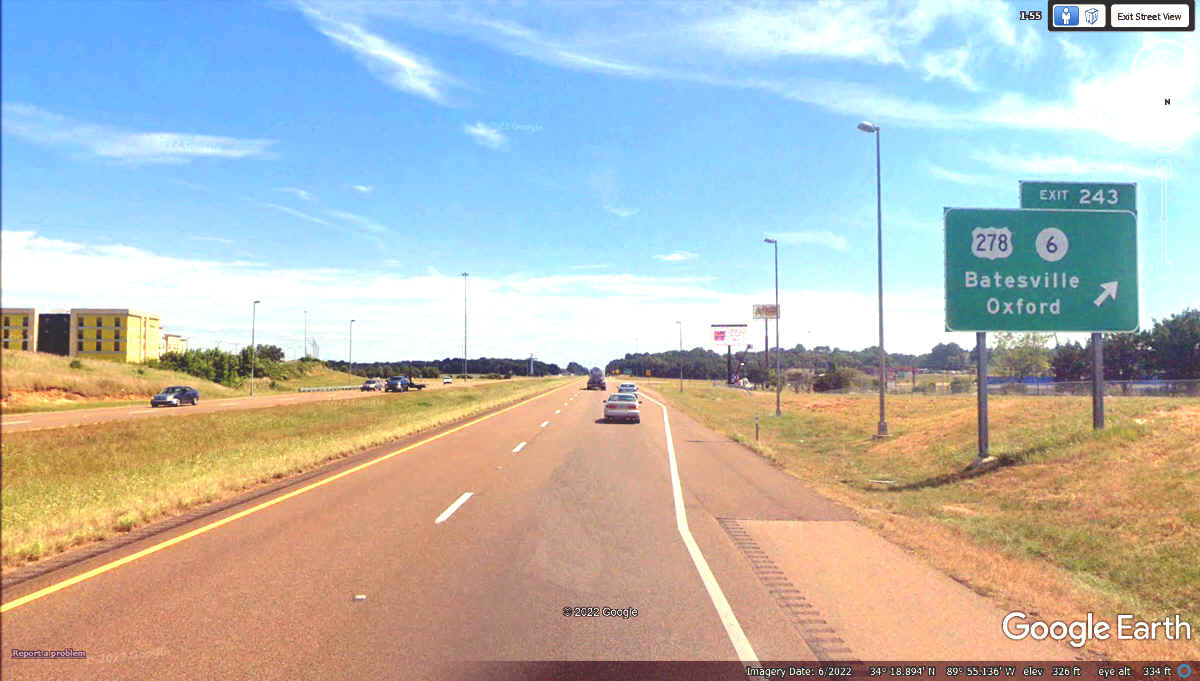 As I approached our exit to join US 82 going East, The sign below was not in its proper location on the approach to the exit. When the Google Earth photo vehicle came this way in April 2022, the sign was laying to the side of the road as seen below. The Mississippi DOT had not yet placed it at the normal location before reaching the actual exit from I-55.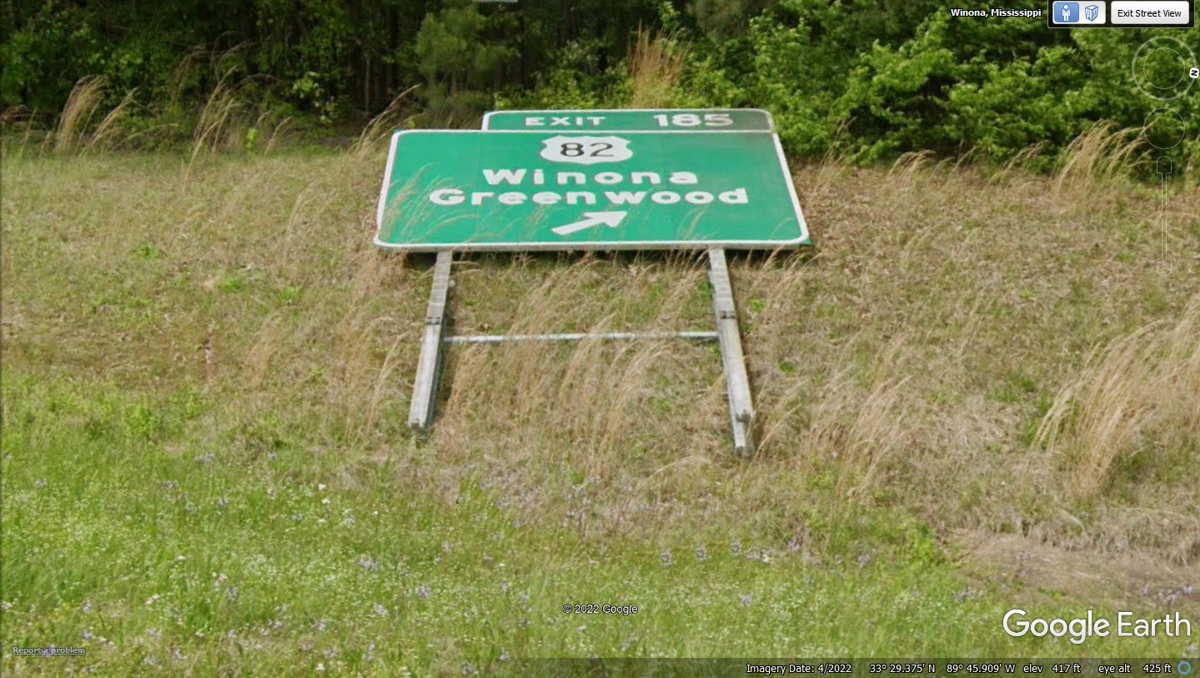 Here is the exit with the sign waiting for the DOT repair.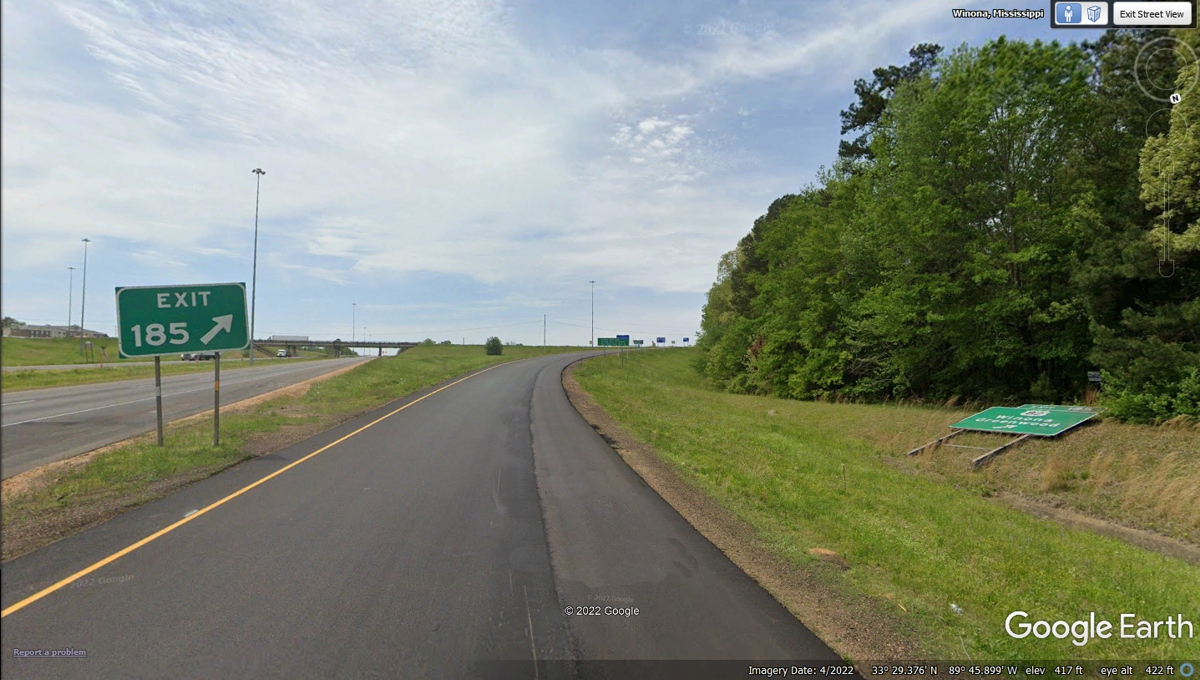 We will be passing by Winona, Mississippi shortly on the NEW US 82 from when I traveled this road in the 1970's. We have about 60 miles to travel East on US 82 until we reach the city of Starkville, Mississippi for lunch and fuel.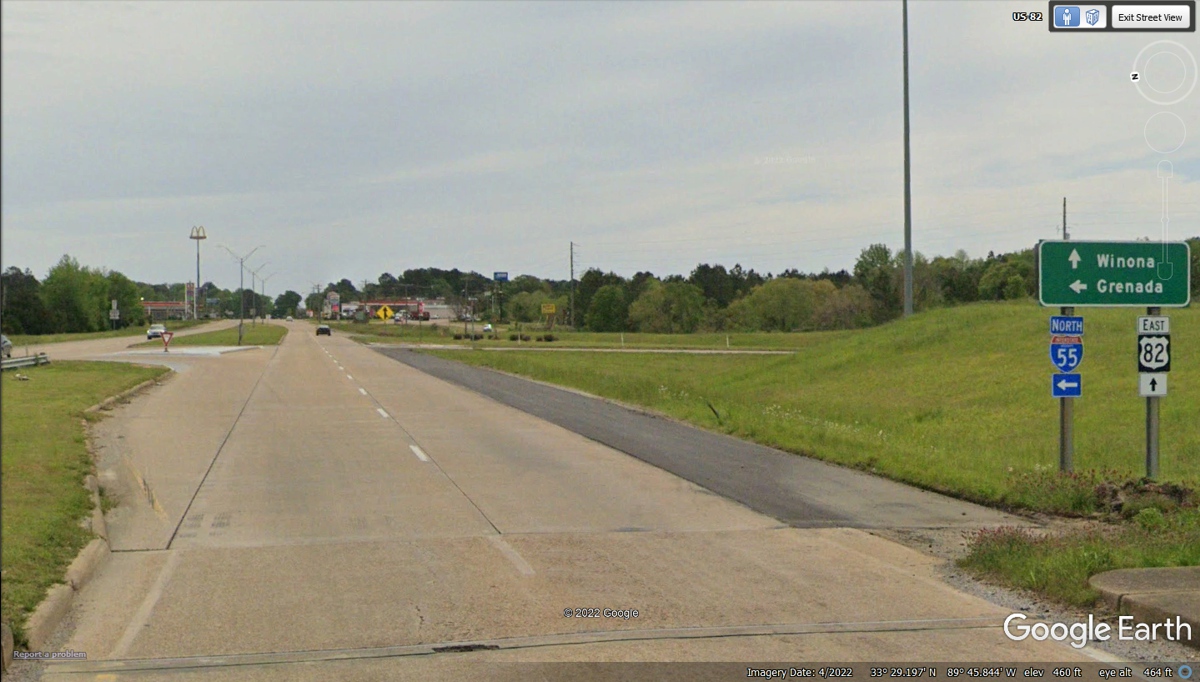 US 82 crosses US 51 that runs north/south parallel to I-55 in this part of Mississippi. US 51 was the prime route before I-55 was built.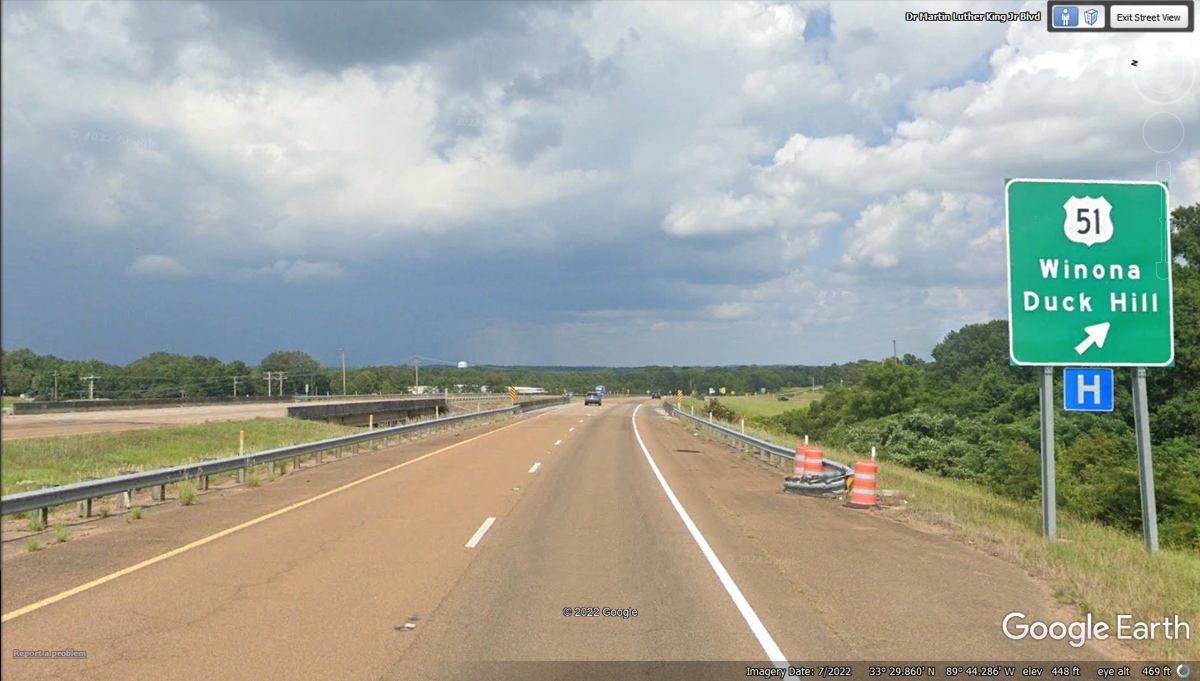 In the mid-1970's my job took me across eight southern states in my company car from the Atlanta area. This highway has been a four-lane divided highway since then crossing Alabama and Mississippi. The road does not have limited access like the interstate highways. This image is from July 2022 showing how well the road has been maintained.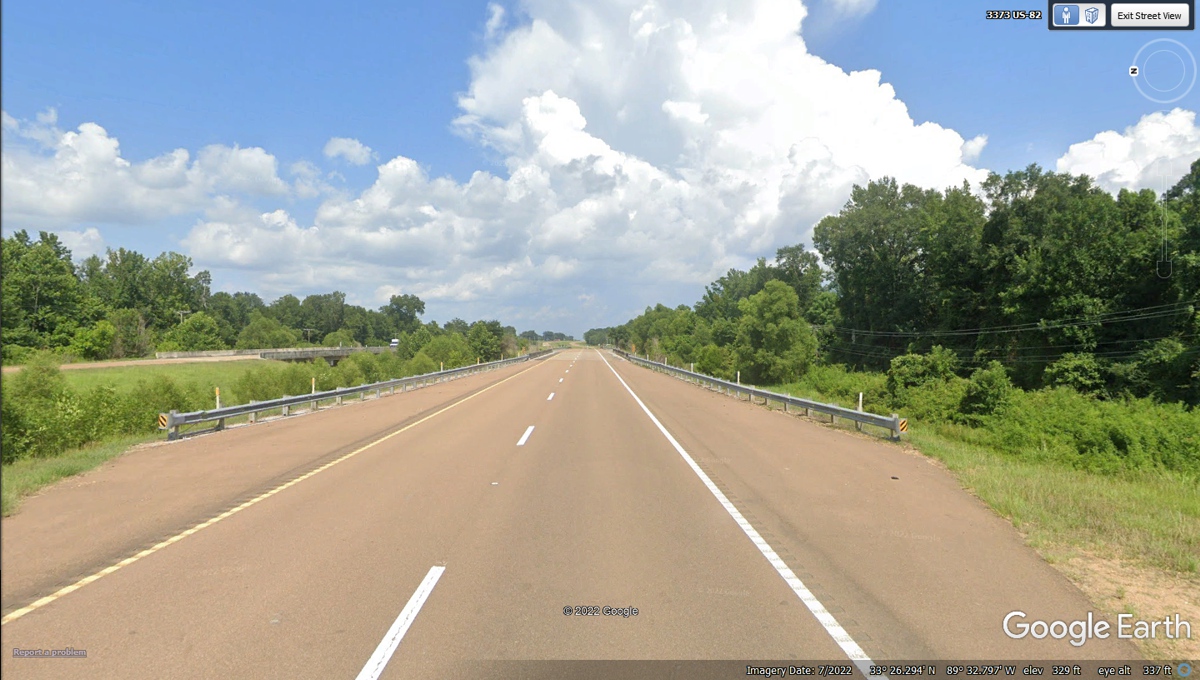 This is our exit to take us into Starkville for lunch. My GPS listed the fast food locations we have been using on this trip.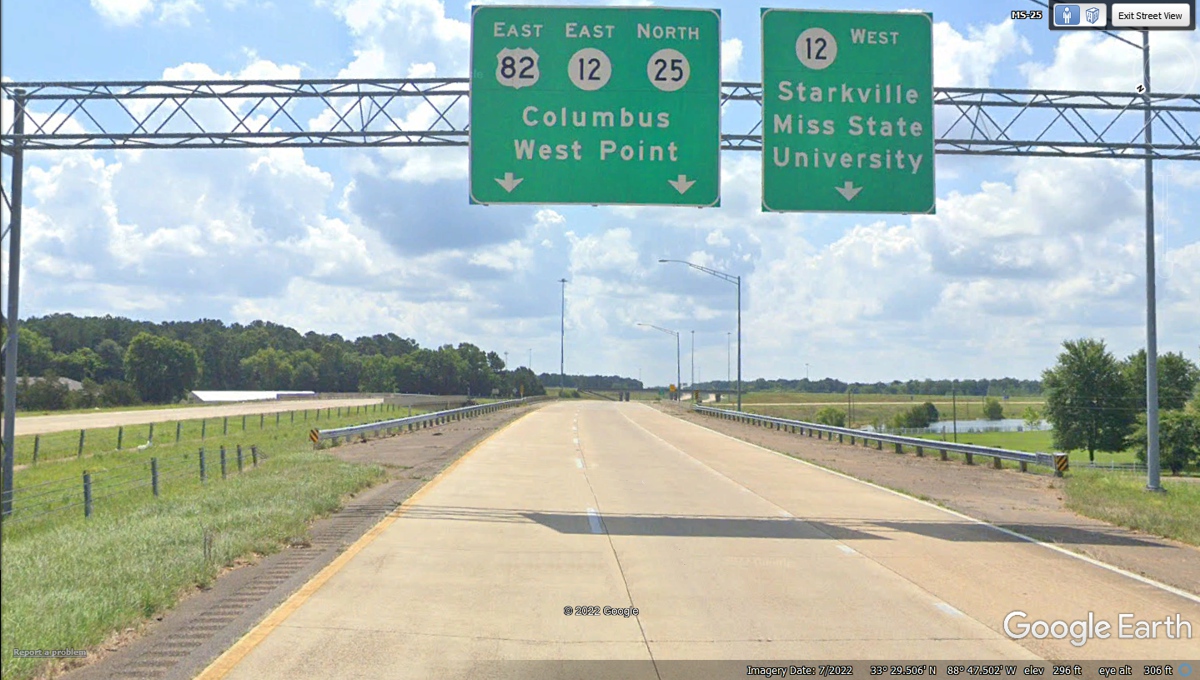 We went looking for Wendy's as our first choice but settled for Burger King when Wendy's was not at the GPS location. We have been to Burger King a couple of times on this trip already.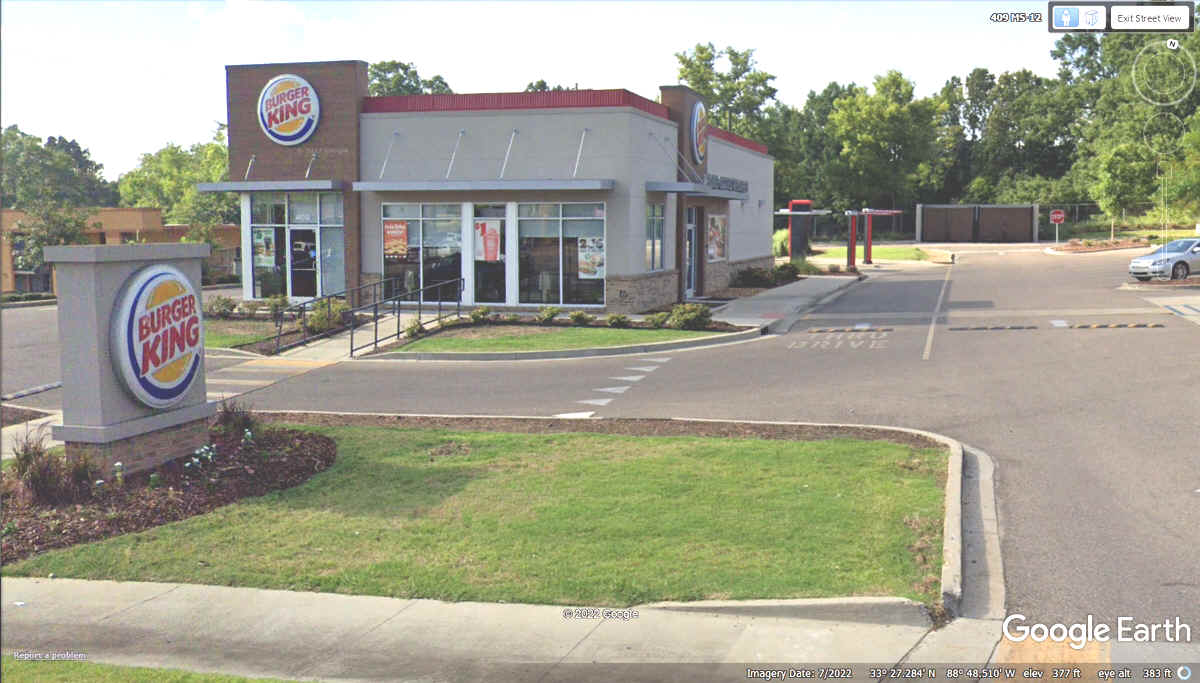 I spotted this Neighborhood Wal-Mart when we got off US 82 going toward town. The fuel prices shown in the image are from March 2020. The price we paid on June 13, 2022 was $4.399 per gallon.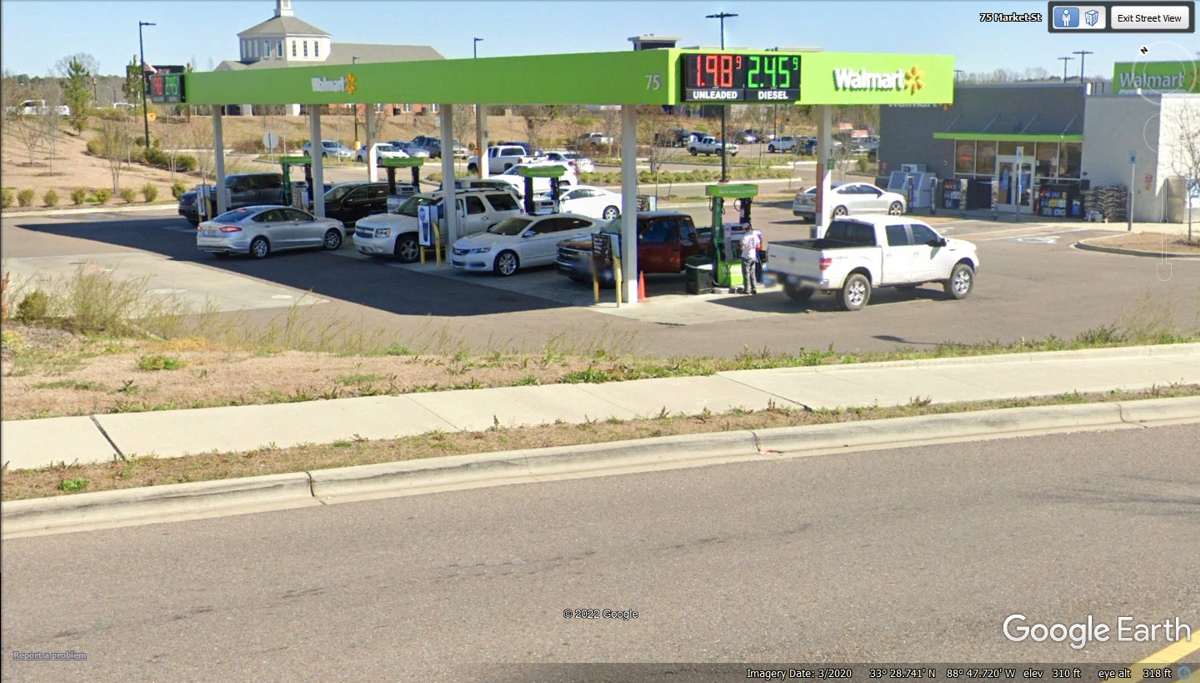 Here is the US 82 Junction north of Starkville. We continue going East for now.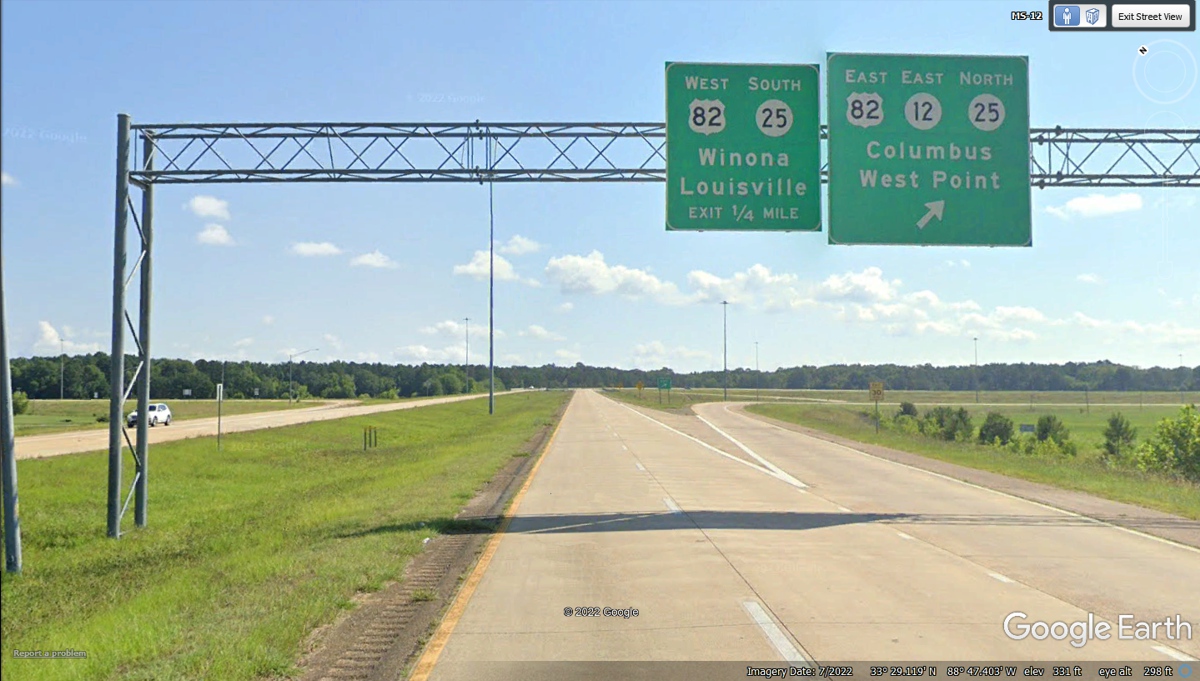 This intersection of US 82 with US 45A is only 8.5 miles East of the junction seen in the image above. We go south on US 45A and US 45 about 69 miles to our next route East.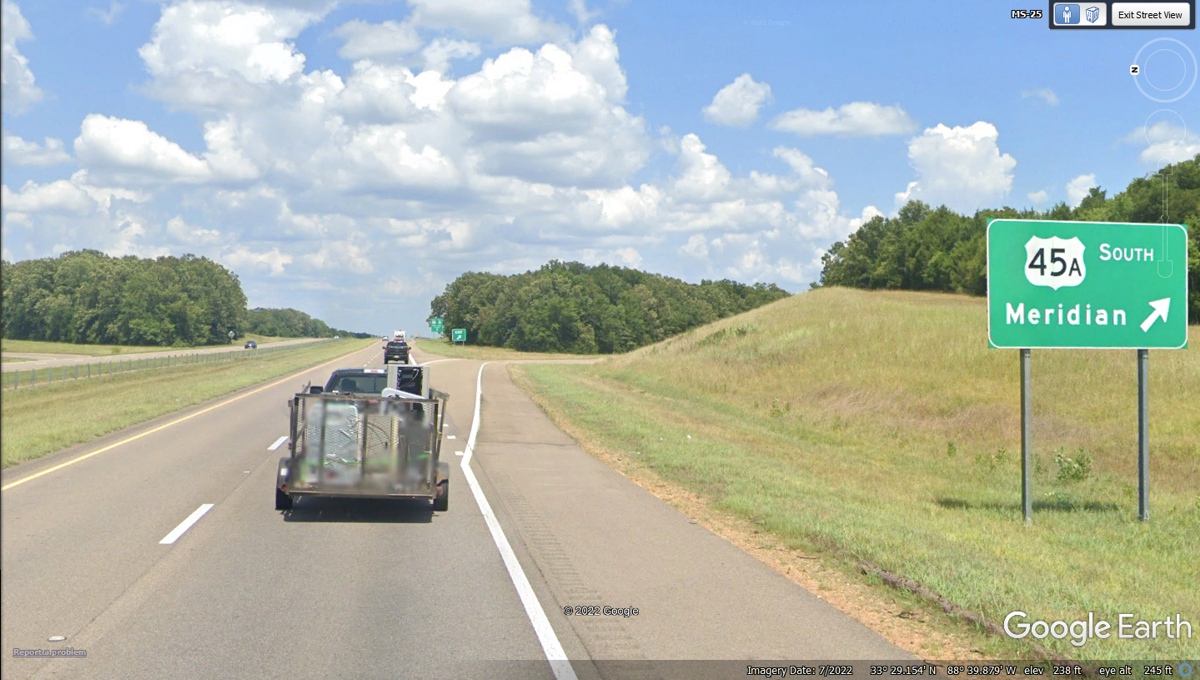 This is the Mississippi state highway 16 that goes a few miles East over to Alabama.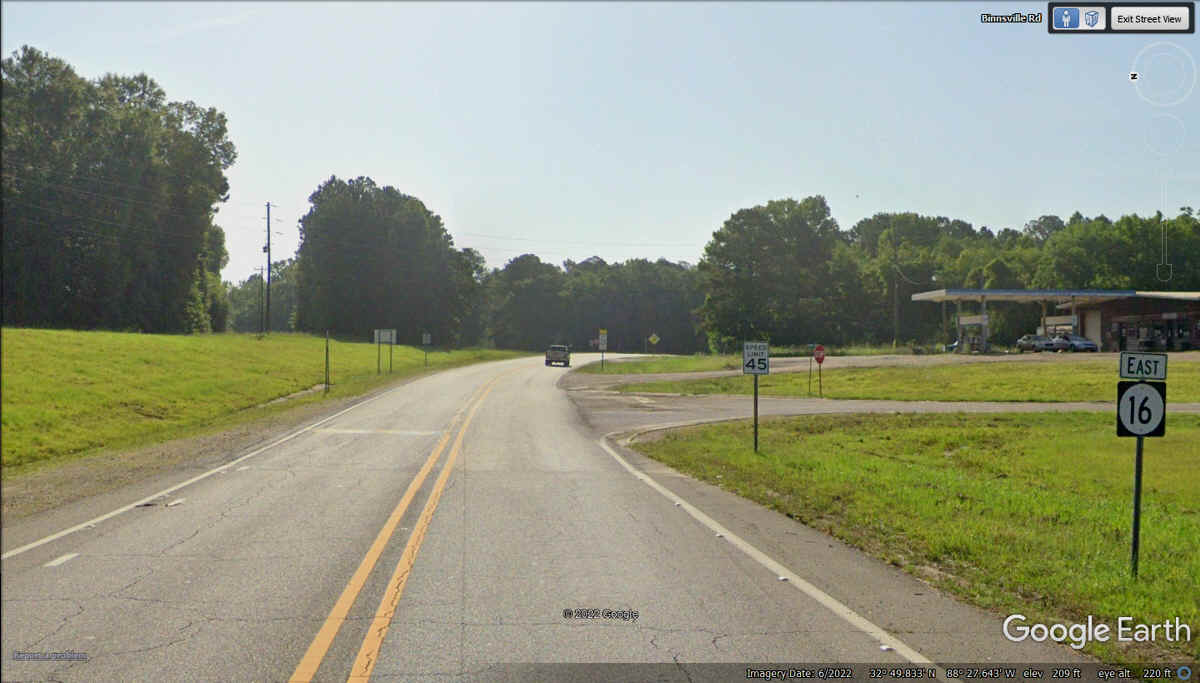 When the pavement changes, it must be a state line. This time it is Mississippi route 16 meeting Sumter County, Alabama county road 30 according to my digital map. There is no state line sign going into Alabama at this place.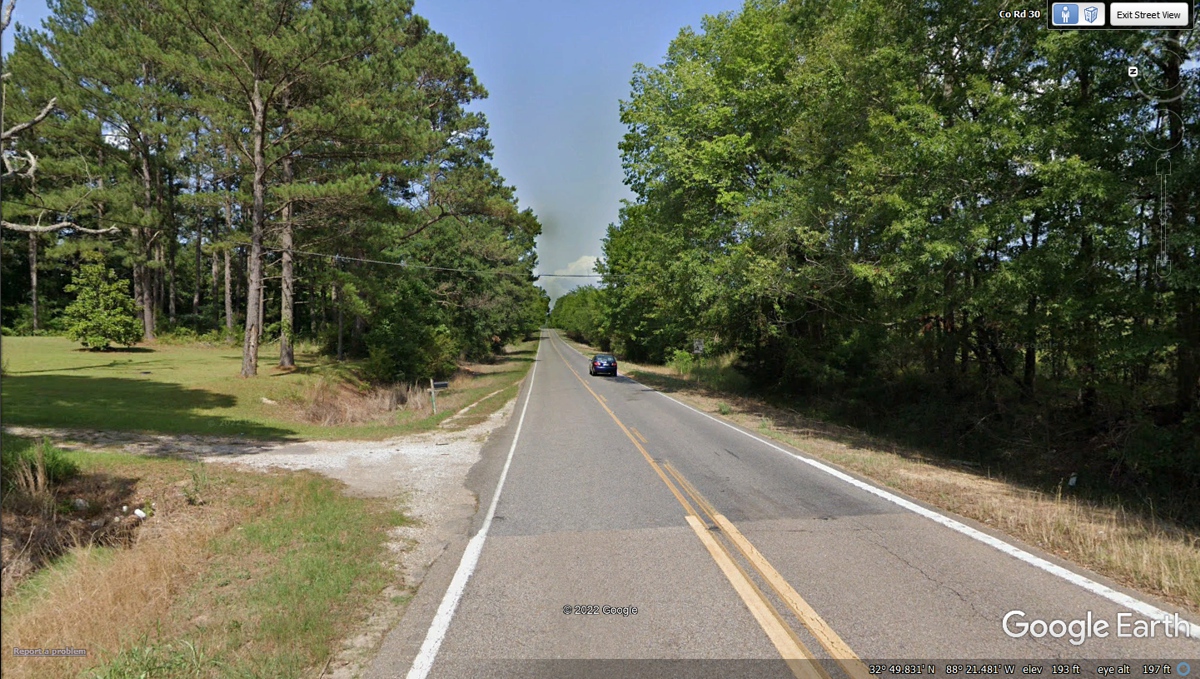 Kemper County, Mississippi is behind us as we head for our destination motel in Demopolis, Alabama.