June 2022 Vacation Day 19, Lunch in Nebraska · · PAGE 49.

June 10, 2022: The folks driving north entering the Wind Cave National Park could possibly see a solitary Bull Bison. The park rangers have placed this sign in an area that should be near the south end of the range where they graze. This solitary male proves the rule. We were going south and I looked north from the Google Earth imaging vehicle at this location.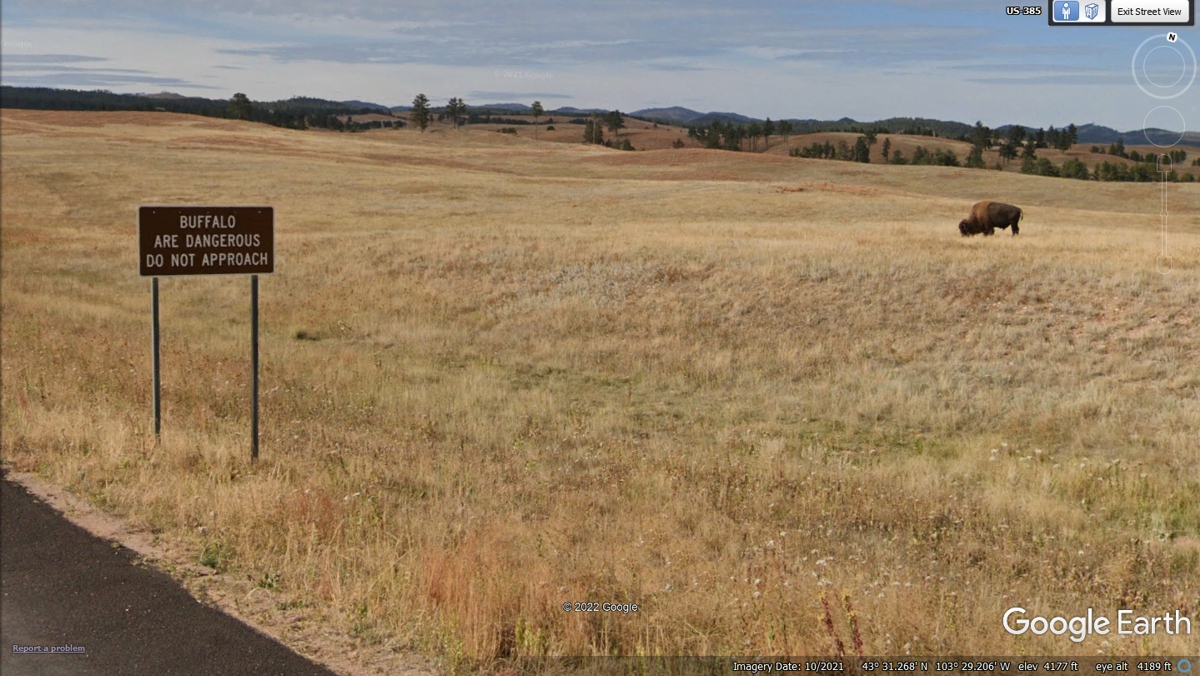 This Cattle Guard and the fences on both sides of the highway suggests this is the south boundary of the national park and the end of Bison free range.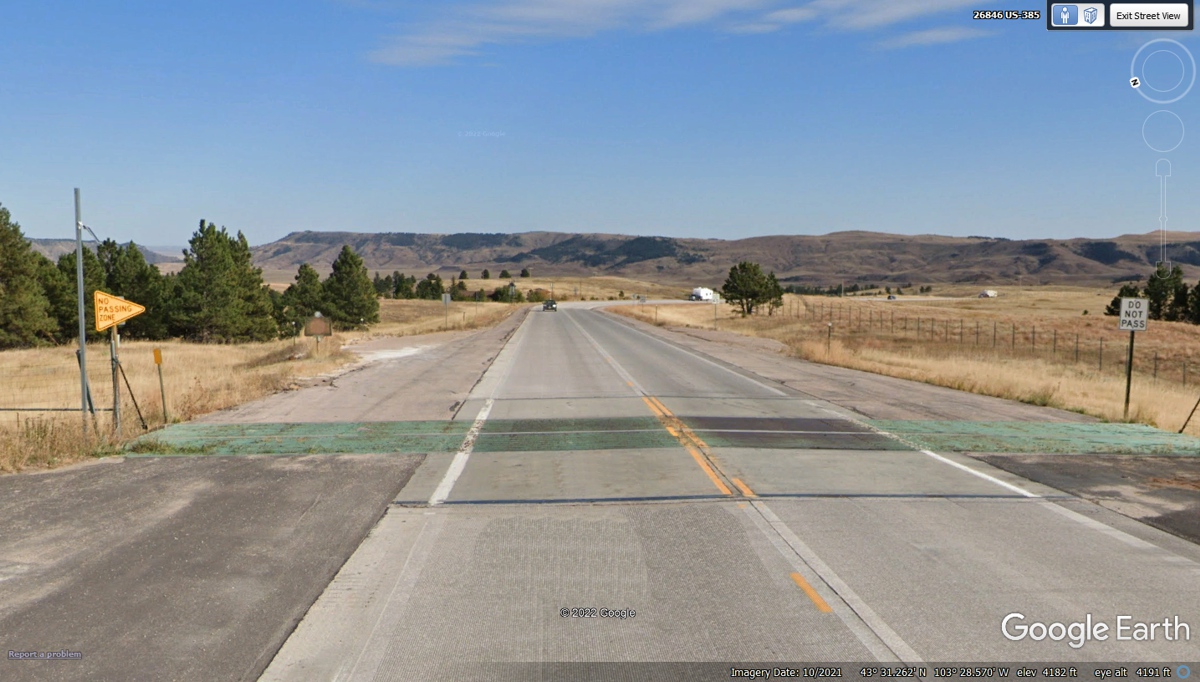 The town of Hot Springs, South Dakota brings us to the normal world again from the isolation of the National Parks.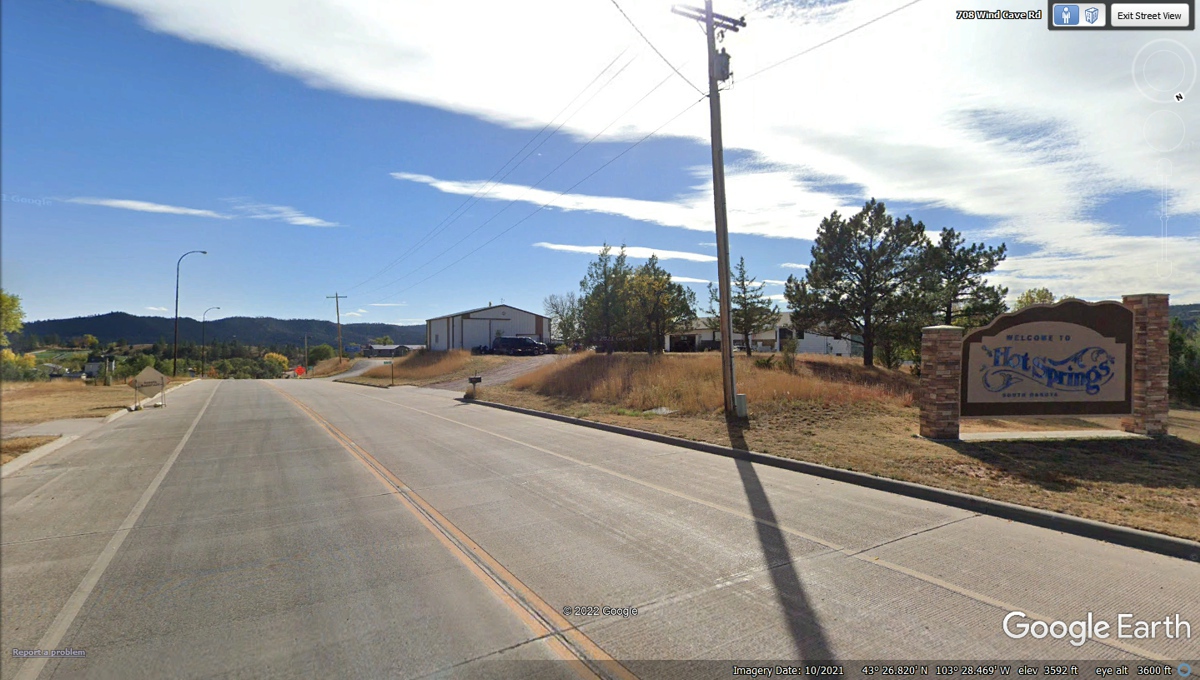 September 18, 2022: I have been adding to the experience of our 23-days of vacation across the Western States of the USA with these images from Google Earth and my memories that they revive. This particular image with it's REAR VIEW came about as I was "flying over" US 385 entering the town of Hot Springs, South Dakota. Looking down reveals the shadows of road signs and other highway markers. This green sign is about the last hour of driving from a well-known national monument through an area where Bison roam free on an open range. This GREEN marker sign reveals the distance to places ahead of Northbound travelers on this highway. I have been commenting about them in the photos above on this web page and previous pages. ALL the web pages in this 2022 vacation are for those of you who may never get the chance to roam around the country to meet the folks who live in these places and see the animals that are protected by the sanctuaries that are national parks.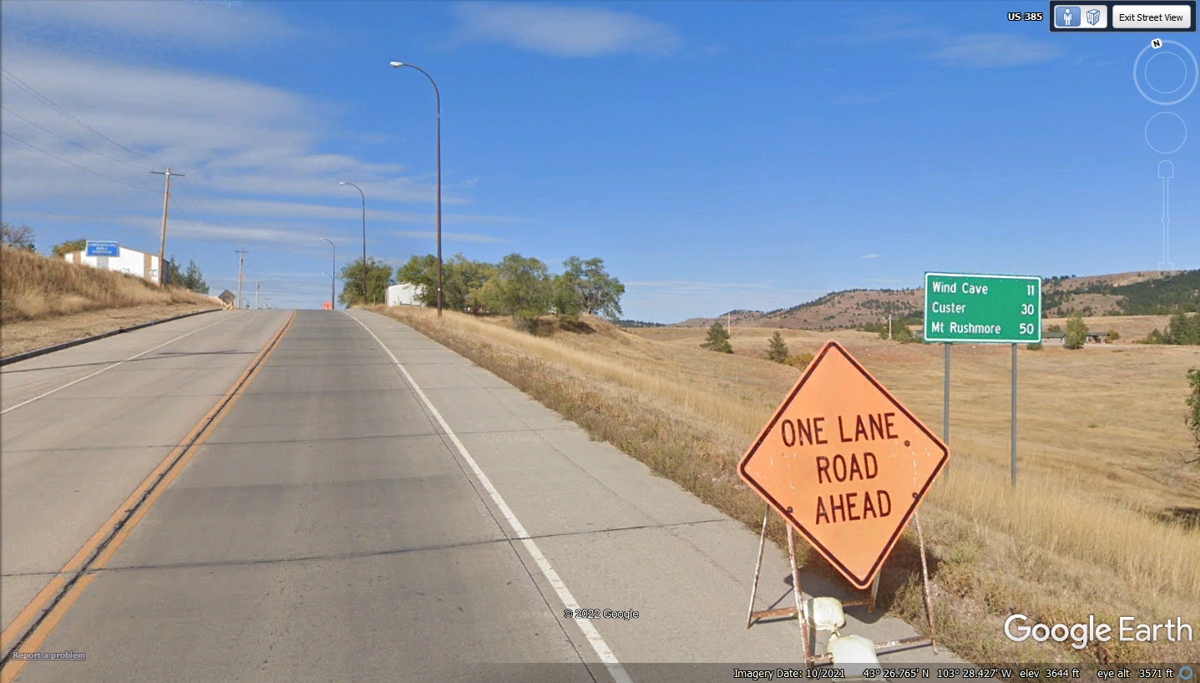 As US 385 enters Hot Springs, SD is has a sweeping right turn with the route sign you see and an historical marker next to it about the town. Thankfully, these information markers are available on the internet with high-resolution images that are easy to read as seen in the images below this one.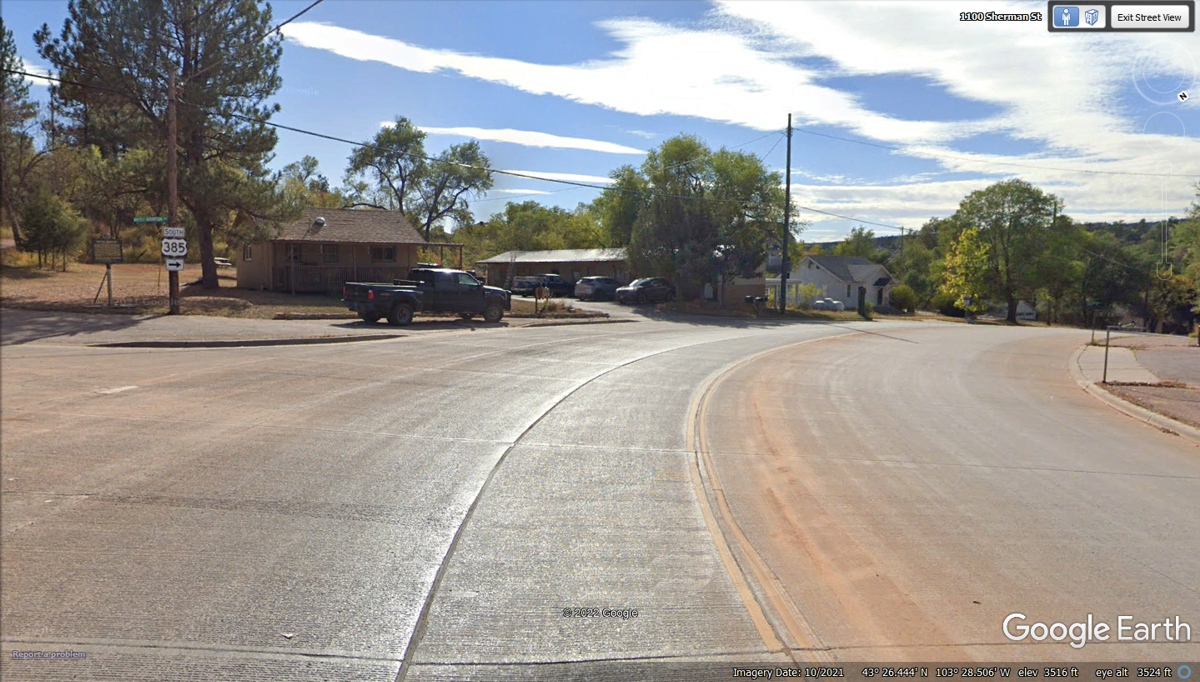 This is the front side of the historical marker about Hot Springs, SD. The back side of this marker is in the next image below this one.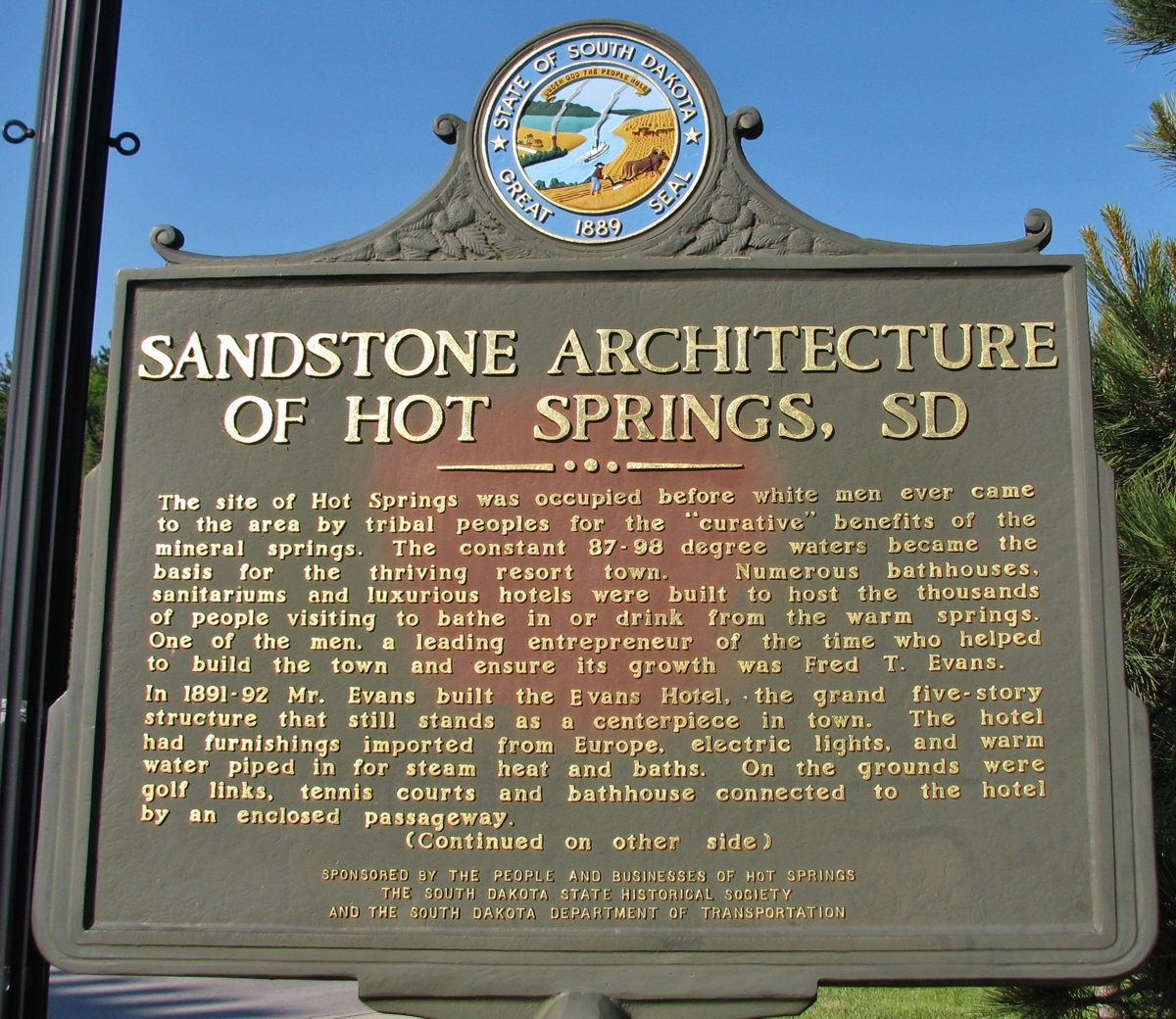 Here is the other side of that marker about the town of Hot Springs, South Dakota.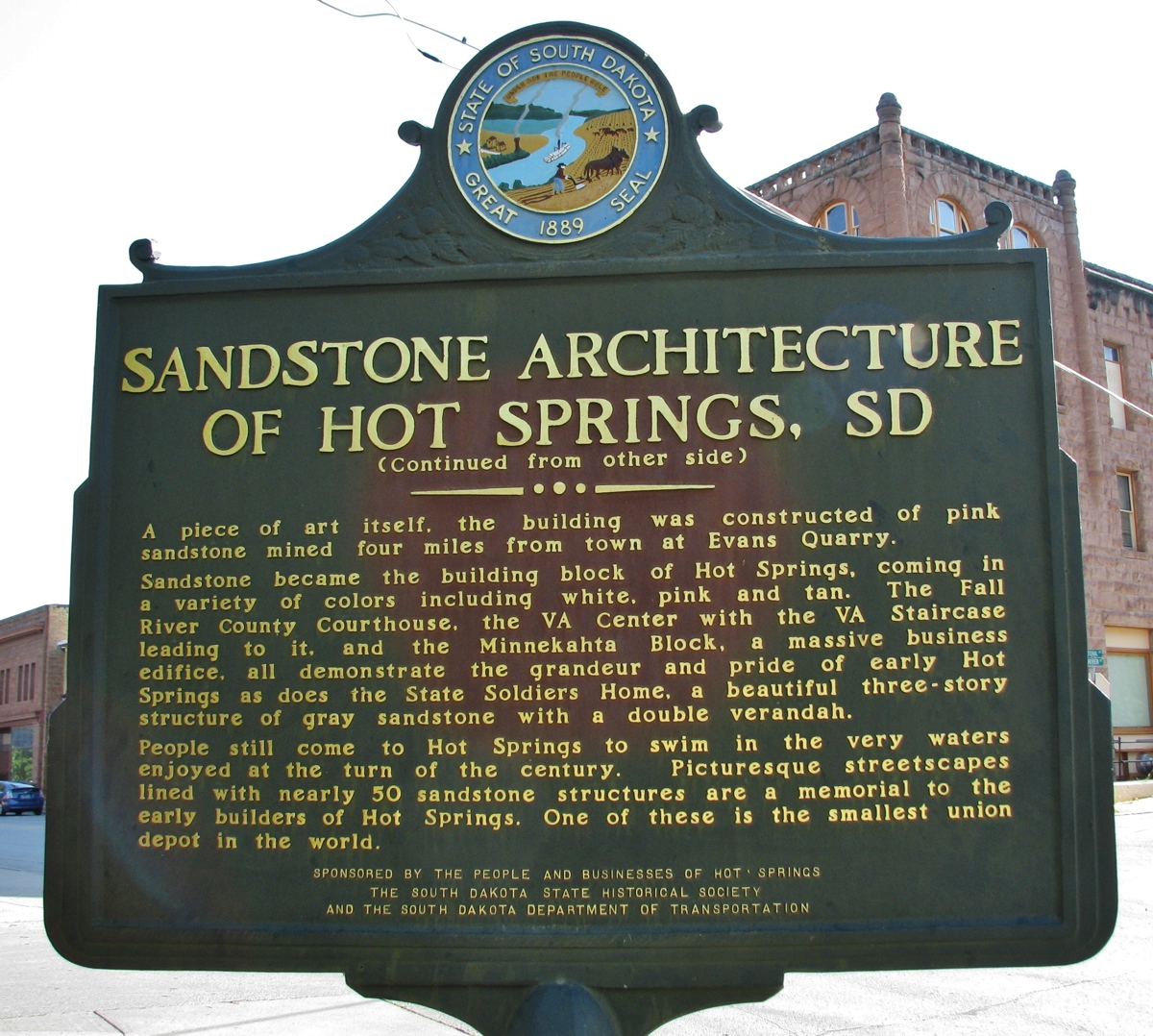 Here is a classic 1957 Pontiac and an older service station that does not sell fuel anymore.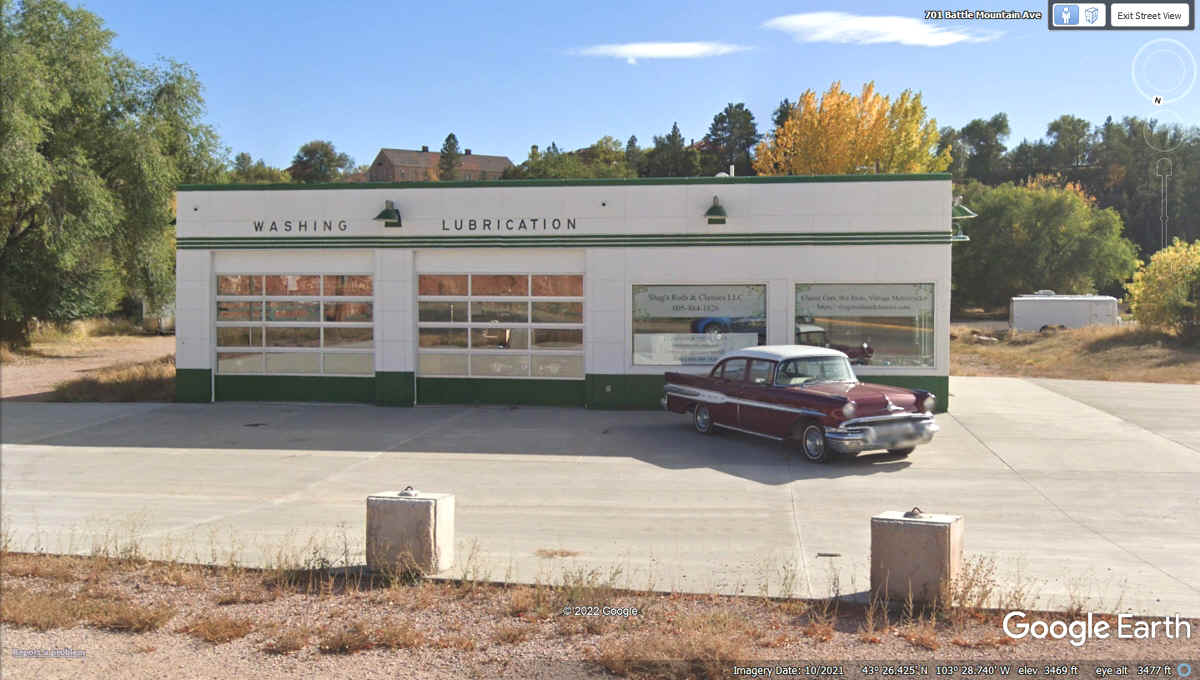 This is River Street in Hot Springs, SD. Fall River runs behind these buildings in front of those big trees on the right side of this photo looking south.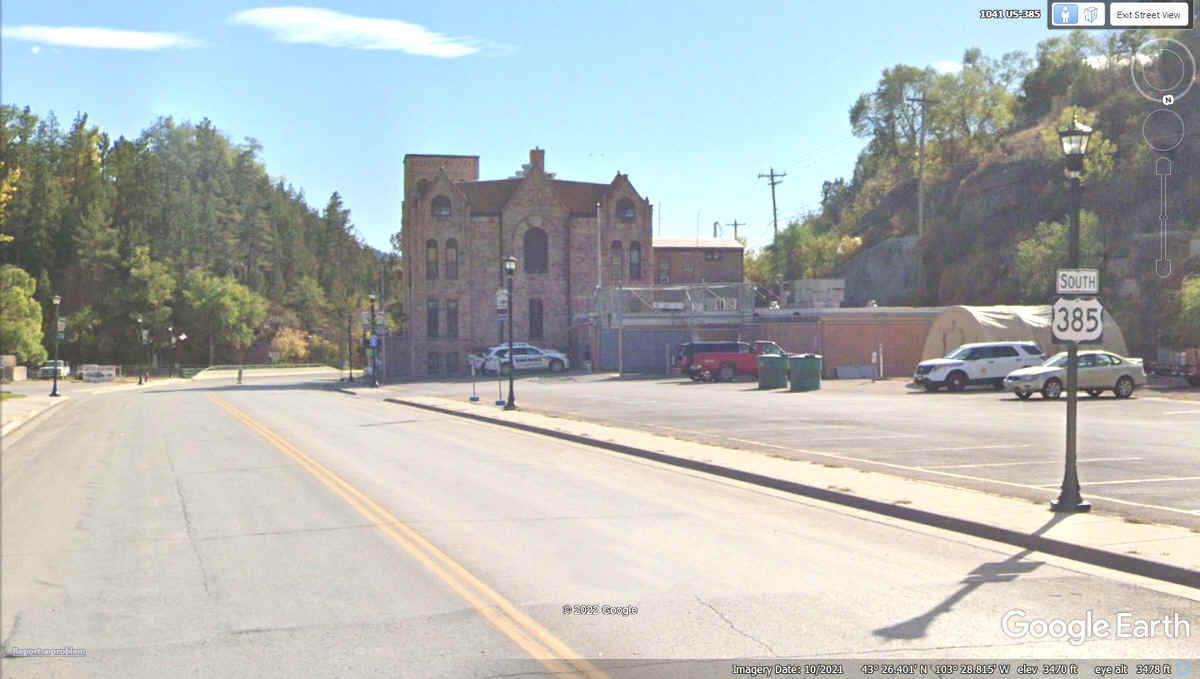 The Fall River County court house is in the right half of this Google Earth image.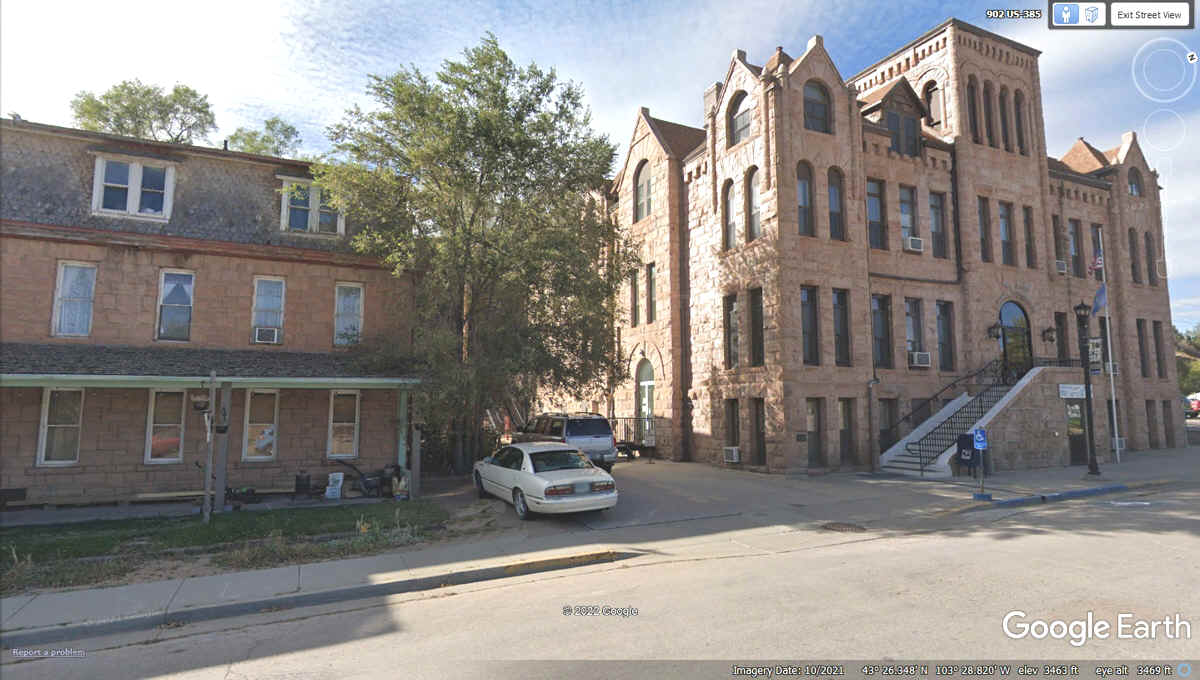 The county is named for the FALL RIVER which flows through the town of Hot Springs as seen by this sign. The bridge is named for a veteran aviator from World War 2 shot down in a B-17 Bomber.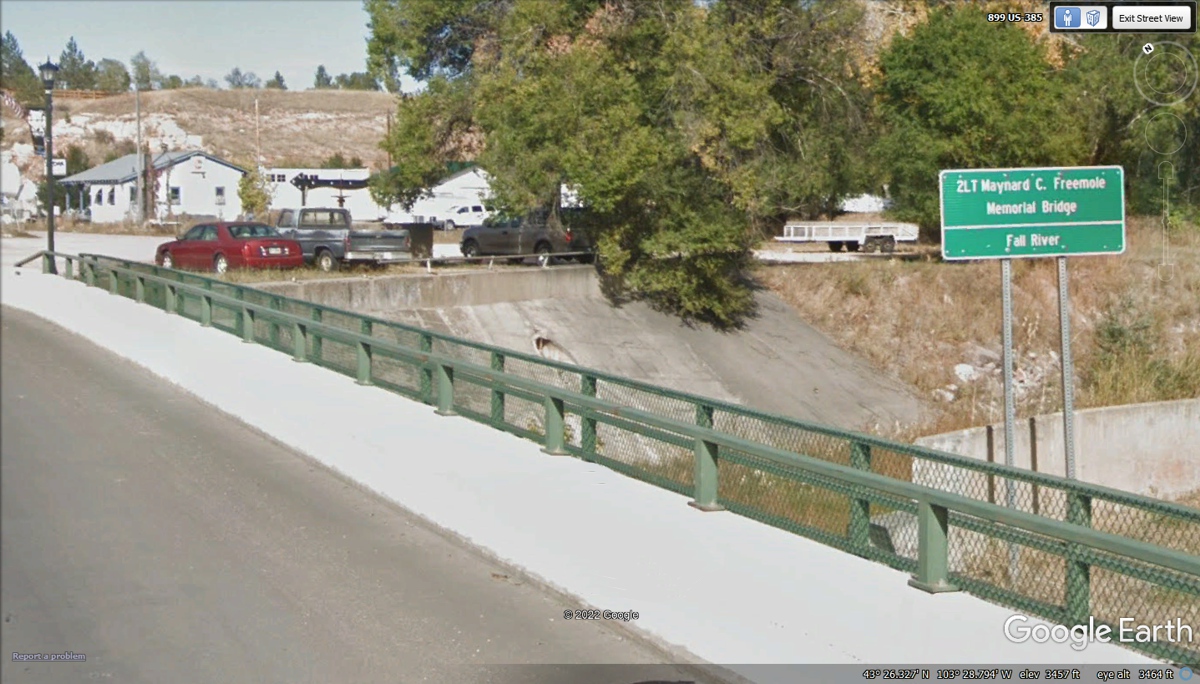 We departed Hot Springs south on US 385 heading for Chadron, Nebraska about 47 miles from here to get lunch before the remainder of this day with a hotel waiting for us in Aurora, Colorado which is a city near Denver. More to see as we head that way.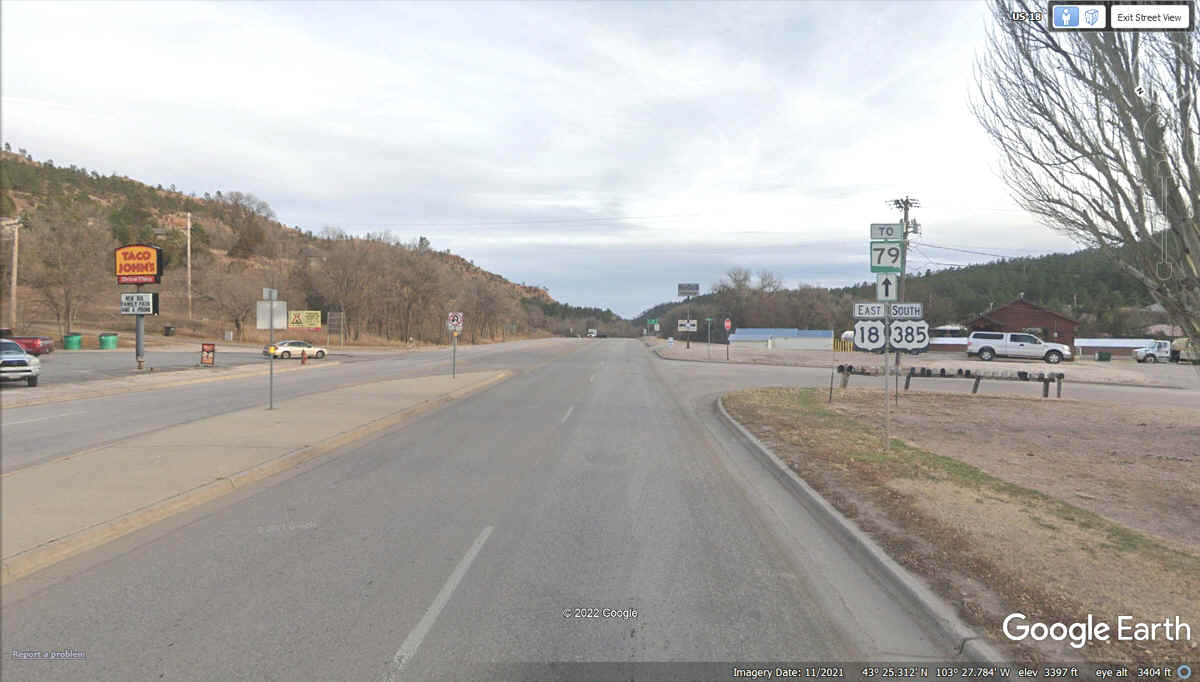 Before we left Mount Rushmore, I mentioned to Linda we could add a new state to our list of places with a minor JOG East to the town of Chadron, Nebraska for lunch. I have been collecting state line sign images on this trip all the way from Florida.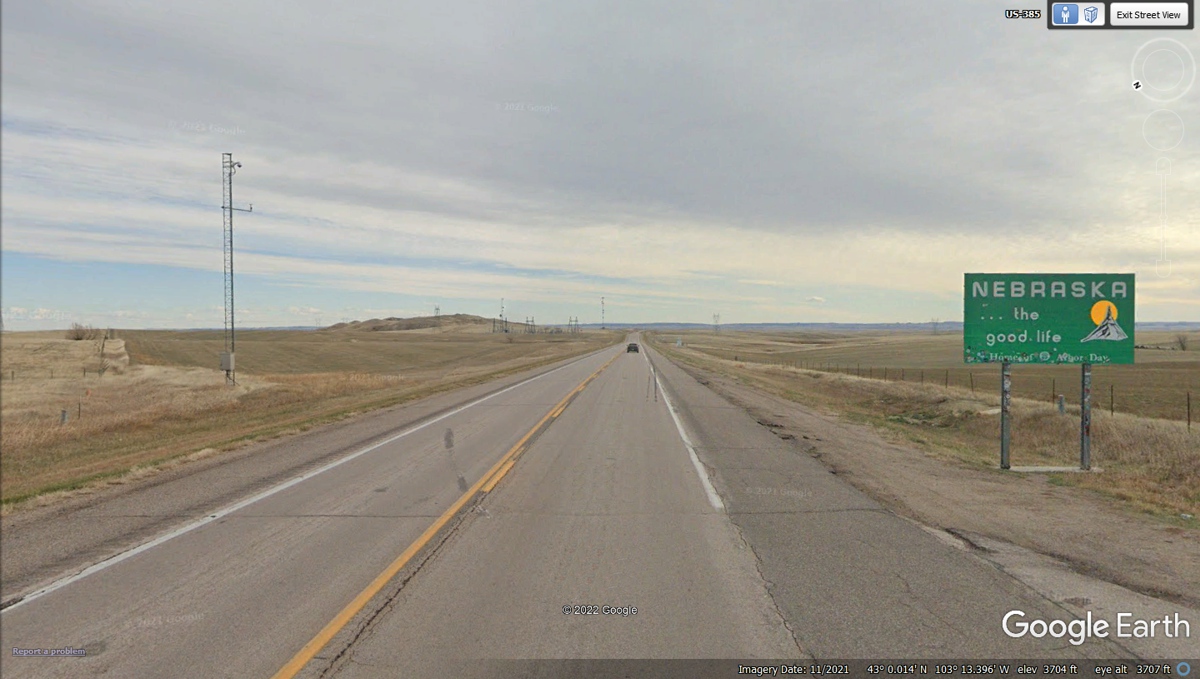 When US 385 gets to the junction of US 20, TURN LEFT and head East to the town of Chadron, Nebraska.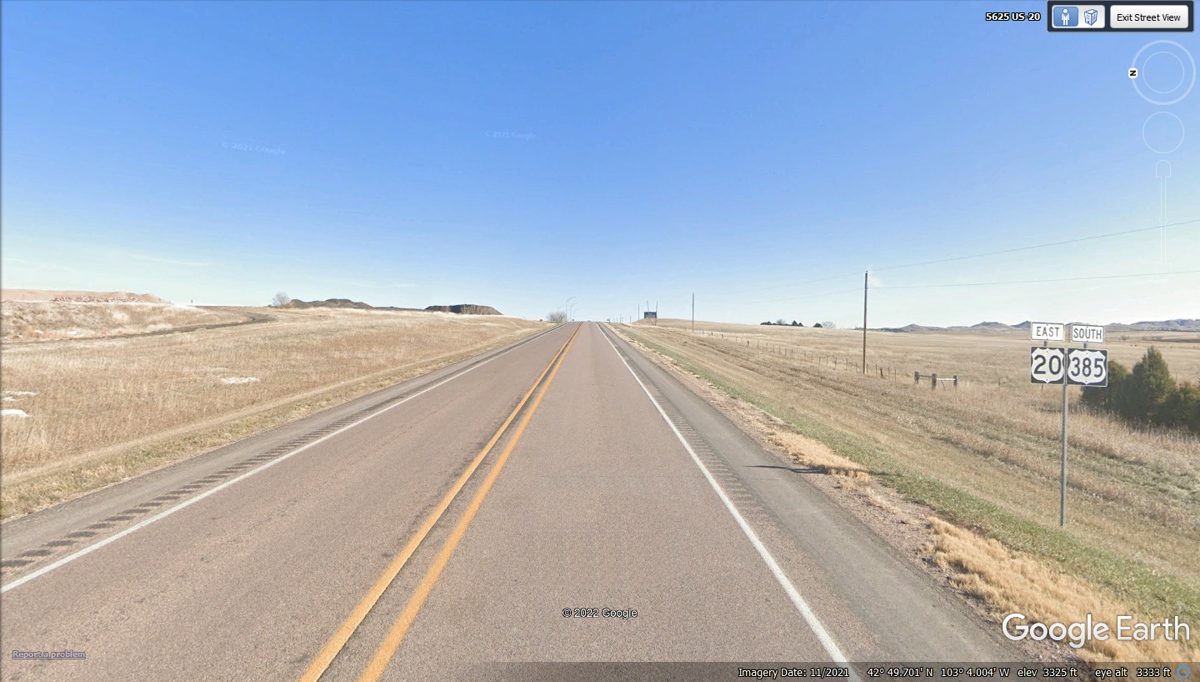 This information sign indicates Chadron is just ahead and Chadron Sate Park is 8 miles south of the next intersection.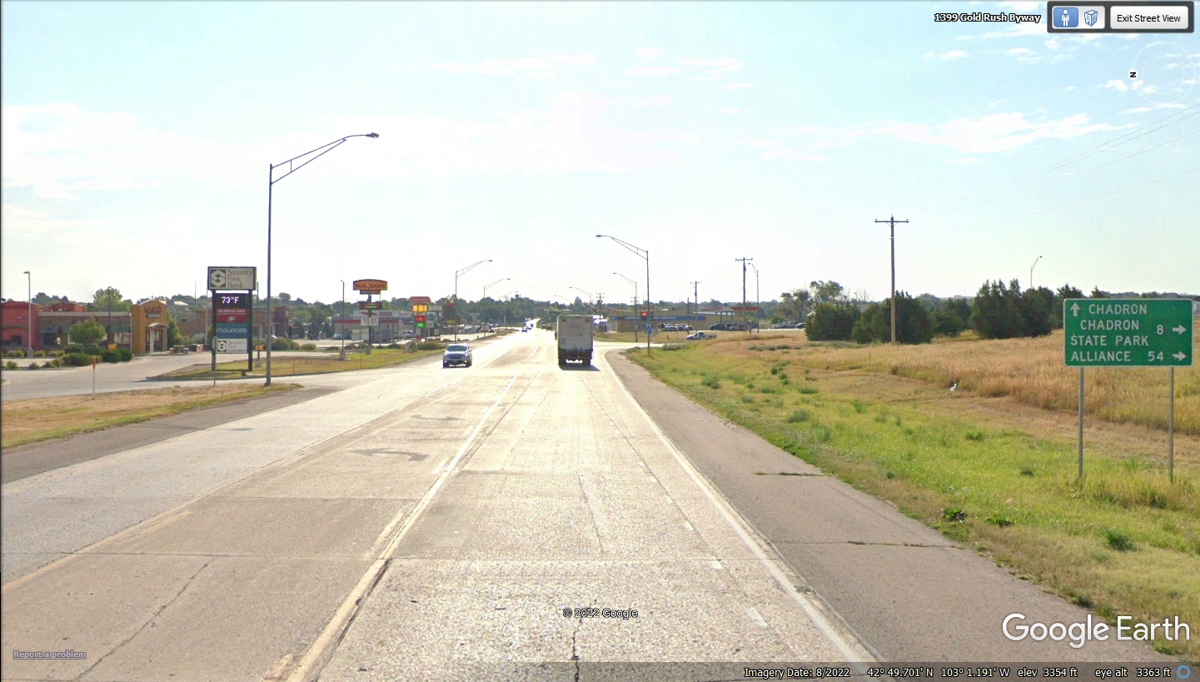 When you drive down US 20 going East and get to Pizza Hut on the left side of the road, Arby's is in the next block past Pizza Hut, also on the left side of US 20. Have your favorite sandwich and pick one of their milk shake flavors. We parked in one of the two empty spaces in the photo below to eat our meals. We found some grass and bushes for Linda's dog Chase to relieve his bladder.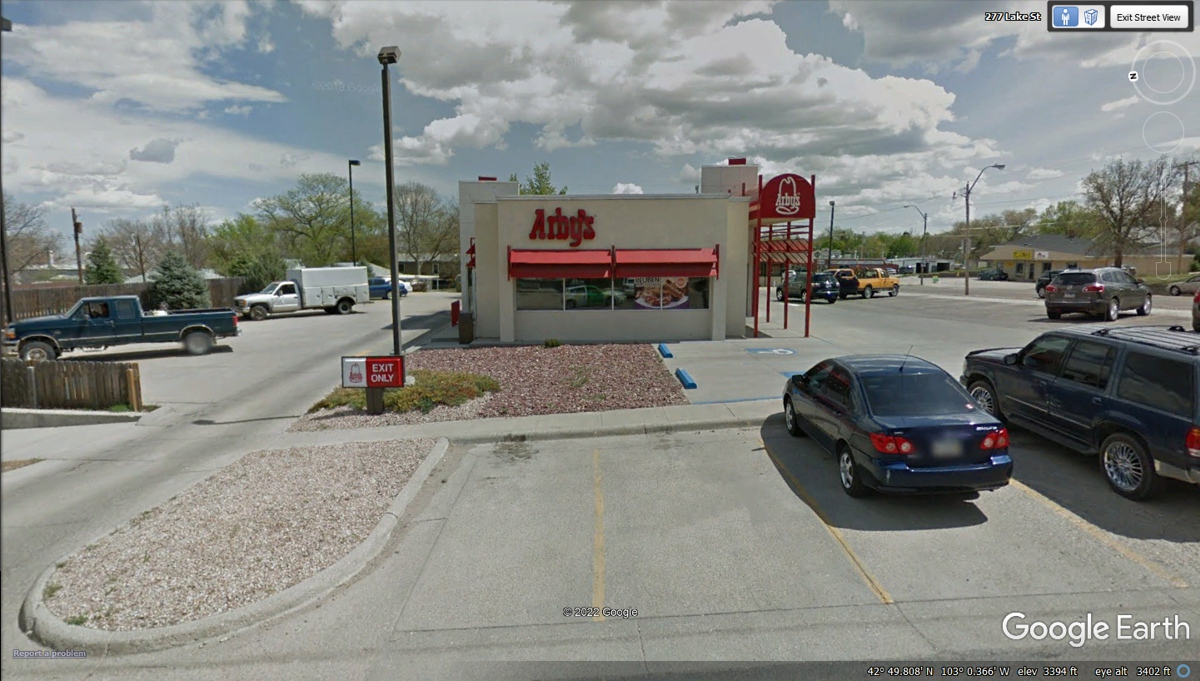 When finished at Arby's, we went west on US 20 going to the local Wal-Mart to get some double-sided adhesive tape to secure one of the deer warning whistles on the front of Linda's Chevy Equinox we are using on this big western trip. We had been driving across I-10 in Texas, New Mexico, and Arizona from May 25 to May 29 with dust storms putting a lot of dust on the car. She wanted to wash the car in a self-service car wash location next door to a Chevron station when we stopped for lunch that day we were heading up I-17 north of Phoenix, AZ. See (Page 17 of this story of the Western Tour.)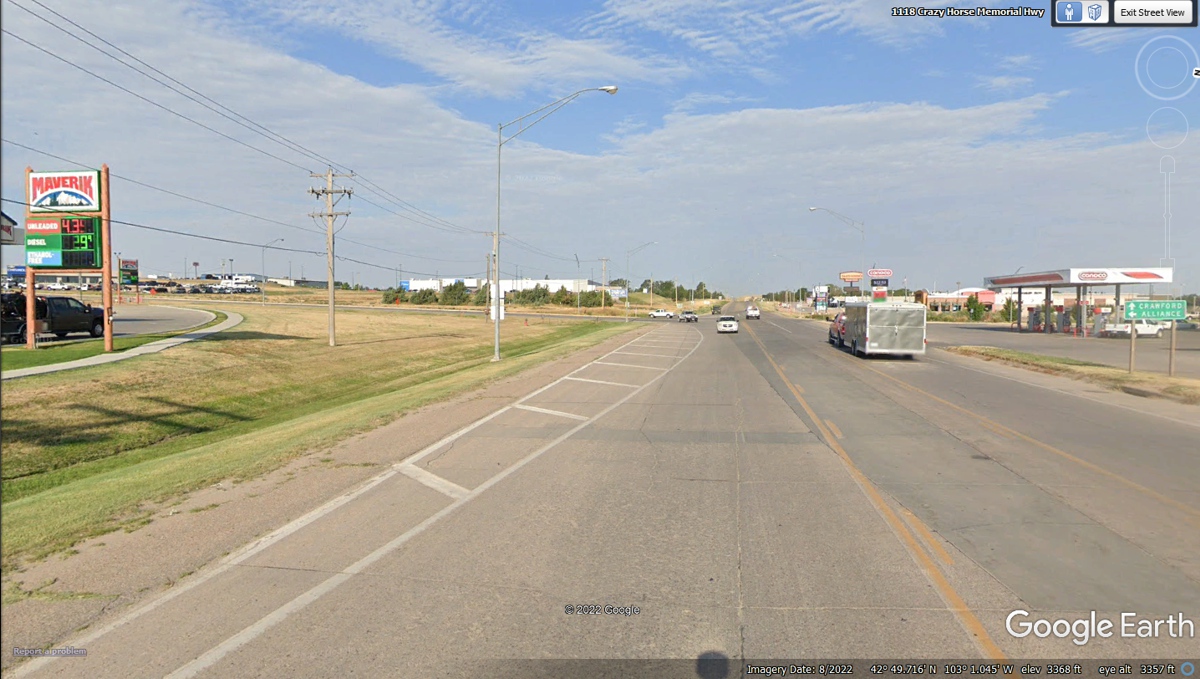 This is US 20 coming into Lusk, Wyoming where we will get fuel and have a rest stop.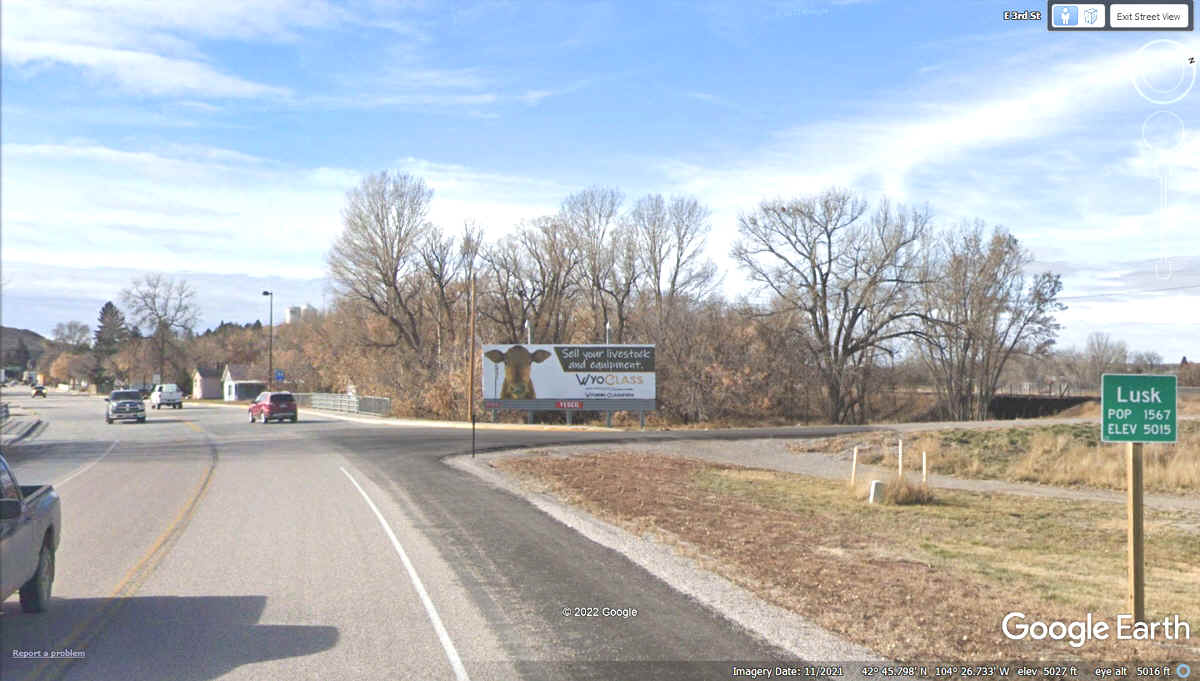 This is the center of the town of Lusk where major US highways come together.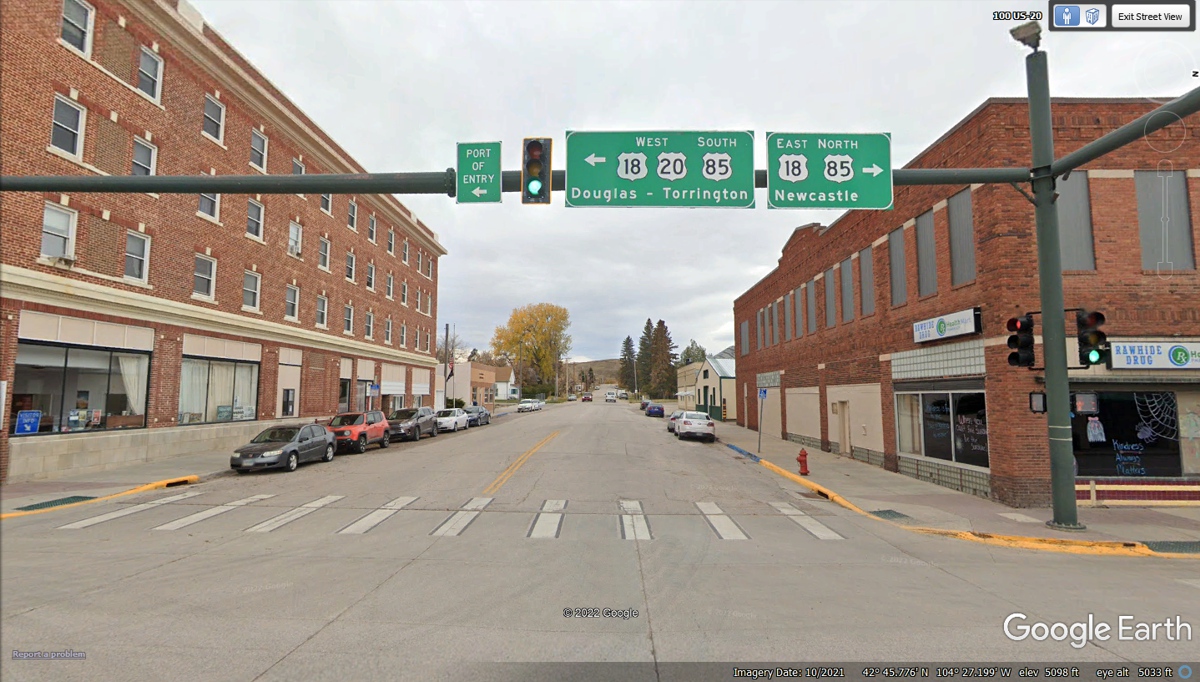 Here is our fuel stop in Lusk, Wyoming before continuing our route south to Laramie, Wyoming and Aurora, Colorado for our motel tonight.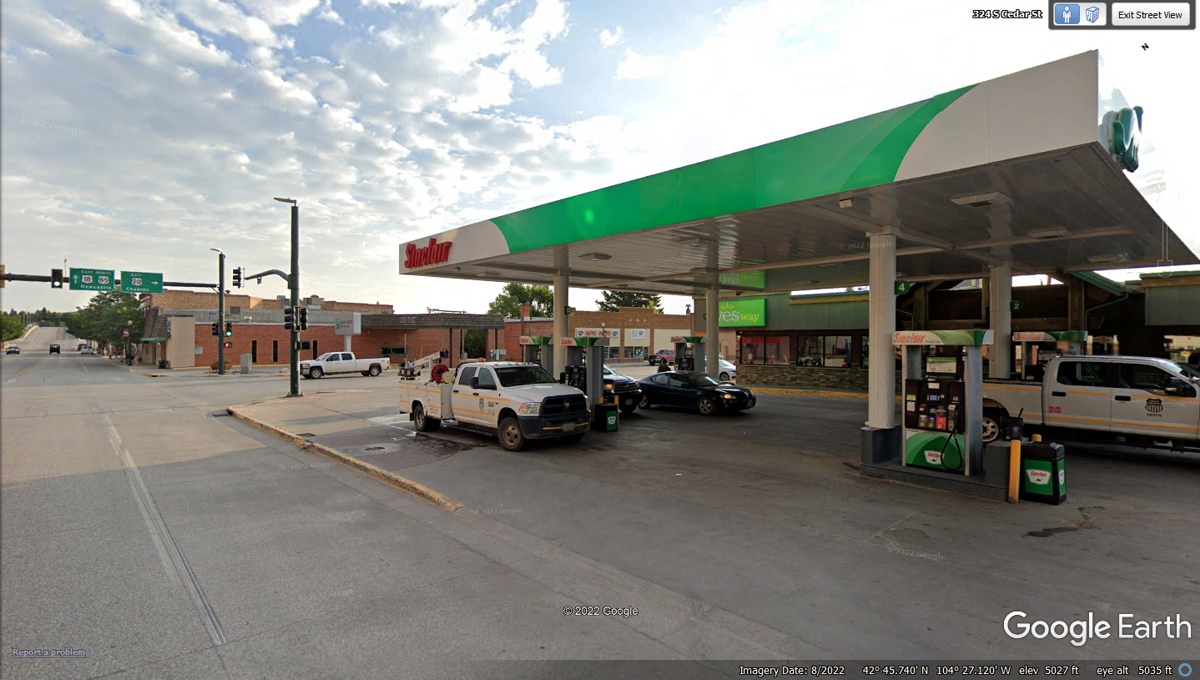 US 18 and US 20 are heading west from Lusk toward Oregon. This would be a modern-day Oregon Trail that is not an interstate highway where the Big Rig freight trucks roam. US 85 is also coming to this intersection heading south from the center of town seen two images above. We follow US 85 to the next town today. That Conestoga Wagon on the building at the intersection is a tribute to the people who went to Oregon in the 1800's.