June 2022 Vacation Day 13, North From California Into Oregon · · PAGE 34.

June 4, 2022: This Oregon mileage sign is less than 1/4 mile from the railroad track where US 97 crosses it leaving the town of Dorris, California going north toward the Oregon State line less than 3 miles from town.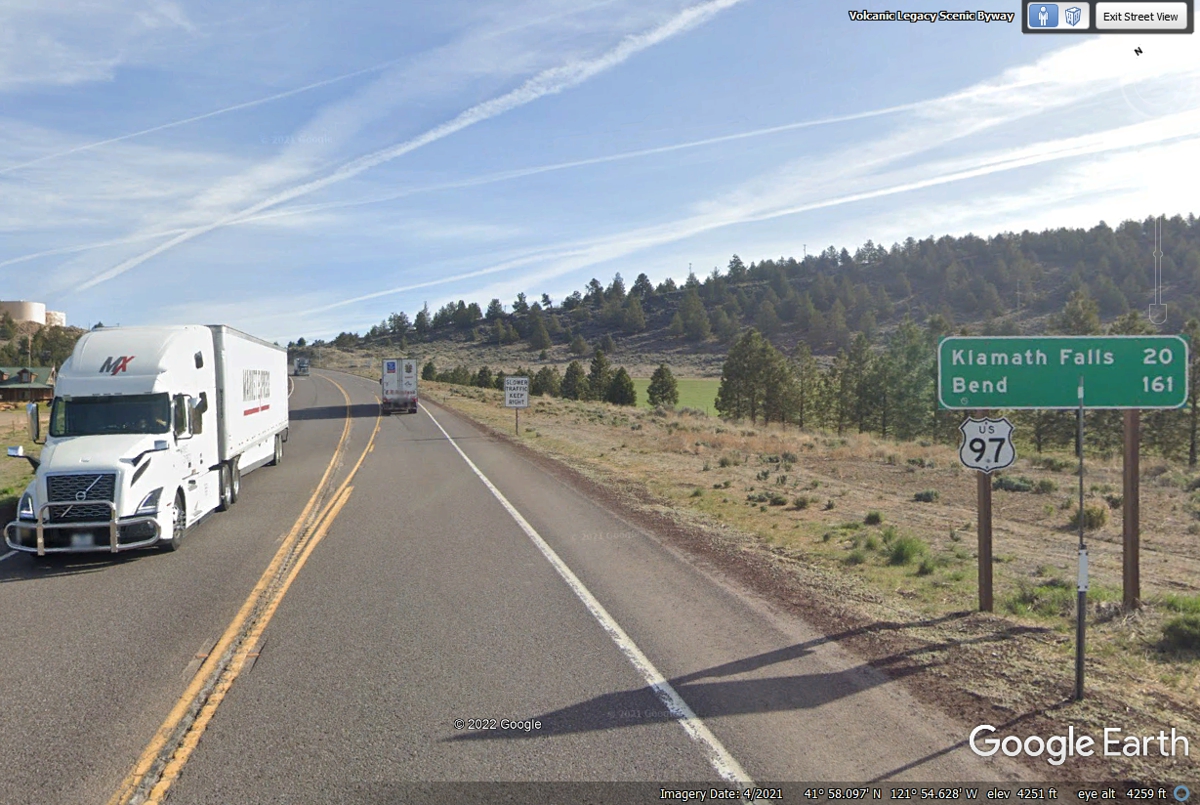 After leaving Dorris, California behind, this view from US 97 is on top of the ridge where the railroad tunnel exits on the north side. The highway is starting down to the next valley with the Oregon State Line less than 3 miles ahead.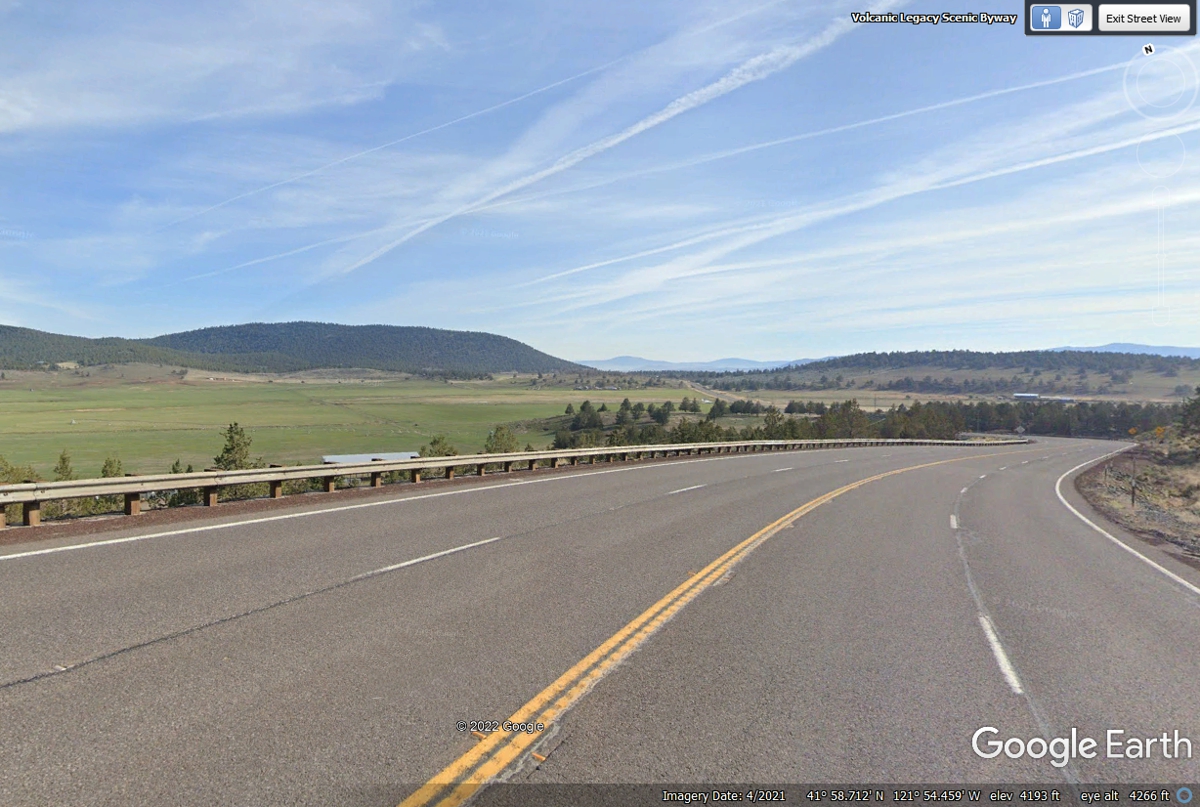 When we crossed into Oregon from California, we noticed there was not a "Welcome" Sign. Looking back in this image below after the change in the asphalt confirmed the state line location. The sign facing north put there by the state of California confirms we are in Oregon.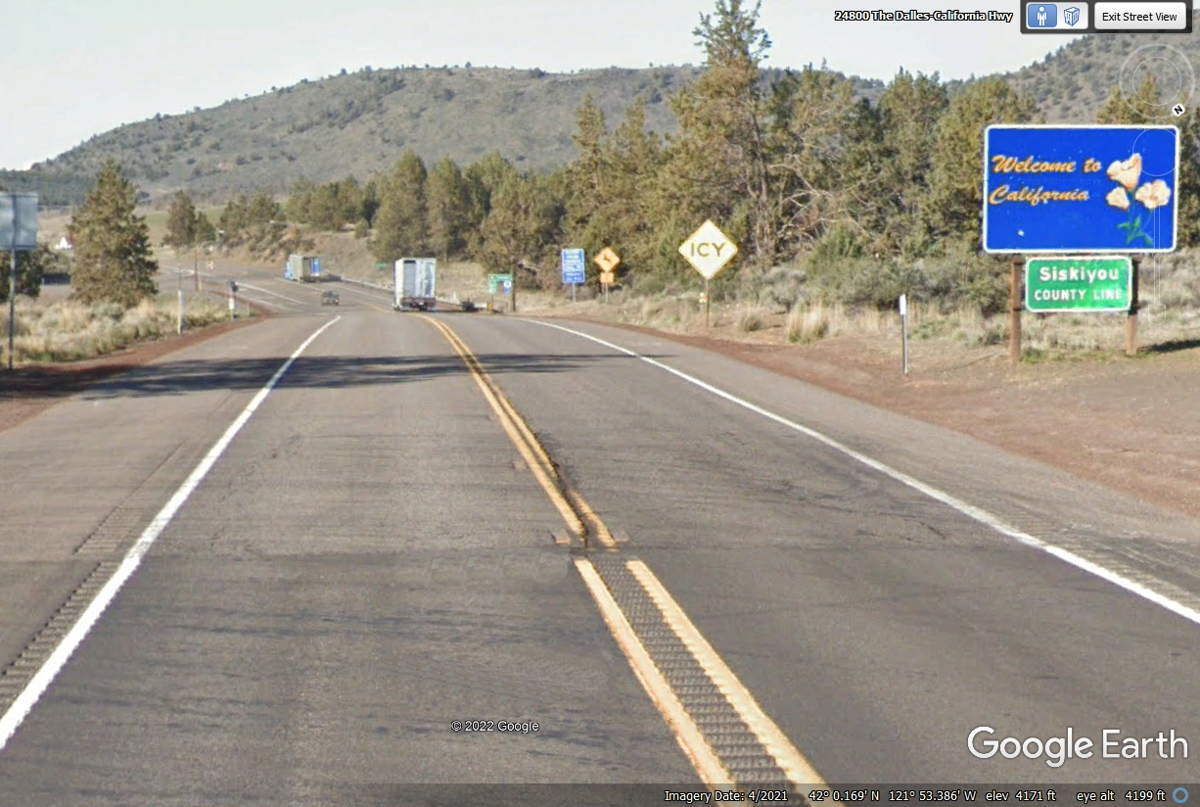 Entering Oregon on US 97 · · PAGE 34.
June 4, 2022: When I was building this web page, I discovered the Oregon Welcome Sign for US 97 Northbound traffic was very well camouflaged as seen in the image below. Driving past this location at 65 MPH rendered the sign "invisible" as I was expecting something more colorful similar to what Utah has on their borders. "OREGON WELCOMES YOU" is visible in this Google Earth image.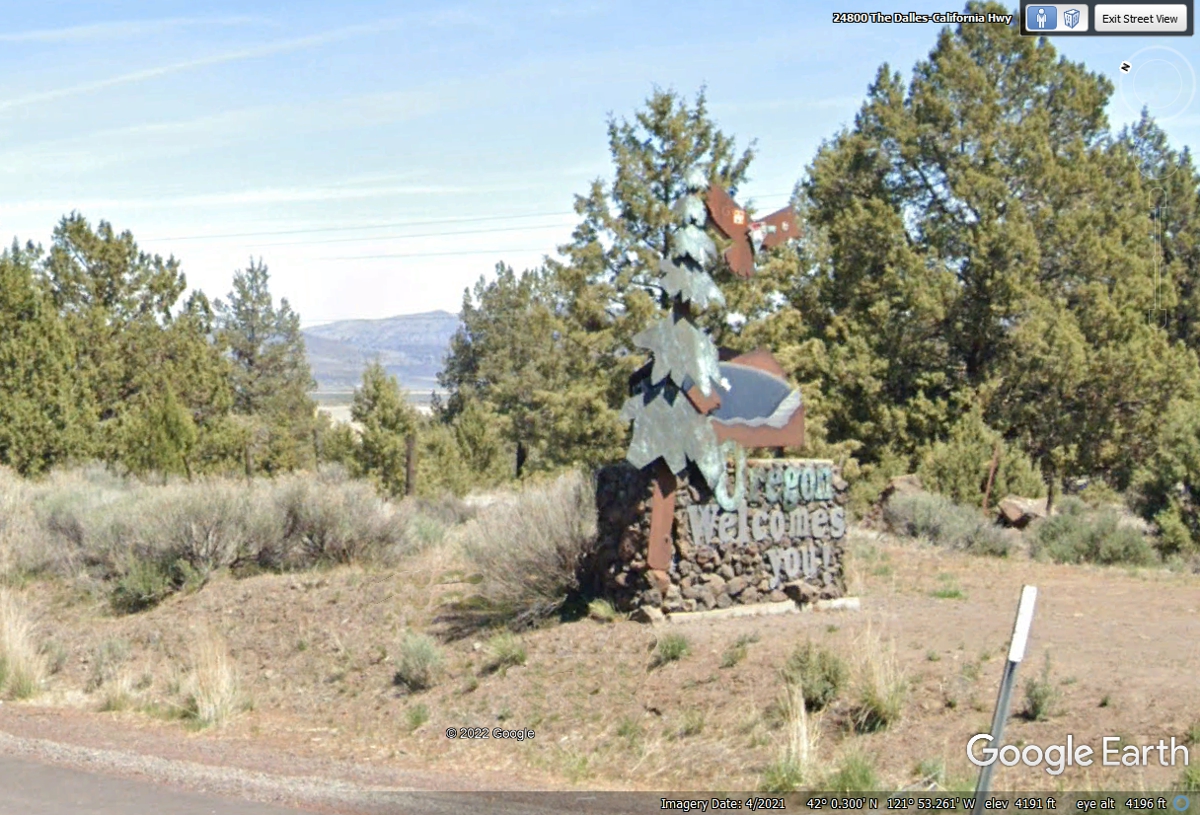 US 97 is the main north-south route through Klamath Falls, Oregon.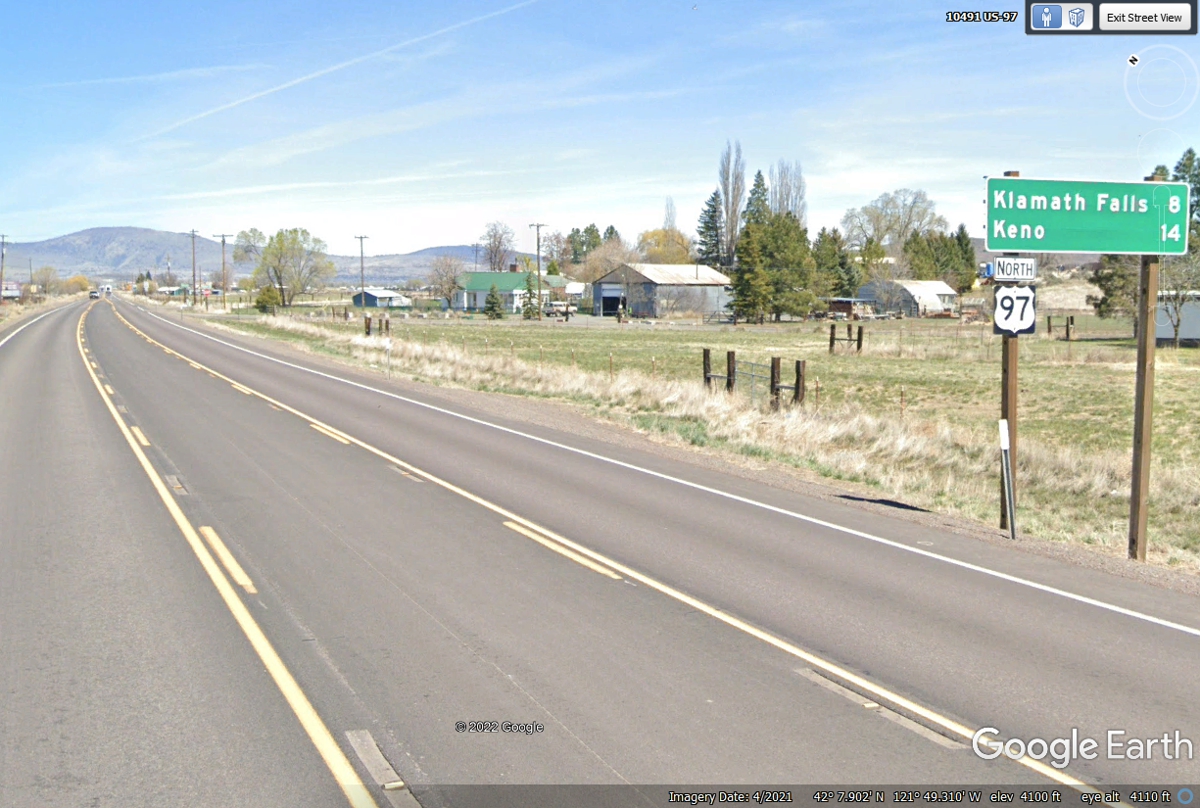 Since it was getting close to lunch time we started looking for a good take out location. We were also looking for a Wal-Mart to get more Gala apples for Linda's daily breakfast. We found a Subway on a main north/south street and a Wal-Mart there also. Linda went in first to build her salad while I sat in the car with Chase. When she came out, I went inside to get my usual foot-long sandwich and pay for both orders. After we had lunch, we went over to Wal-Mart across the parking lot.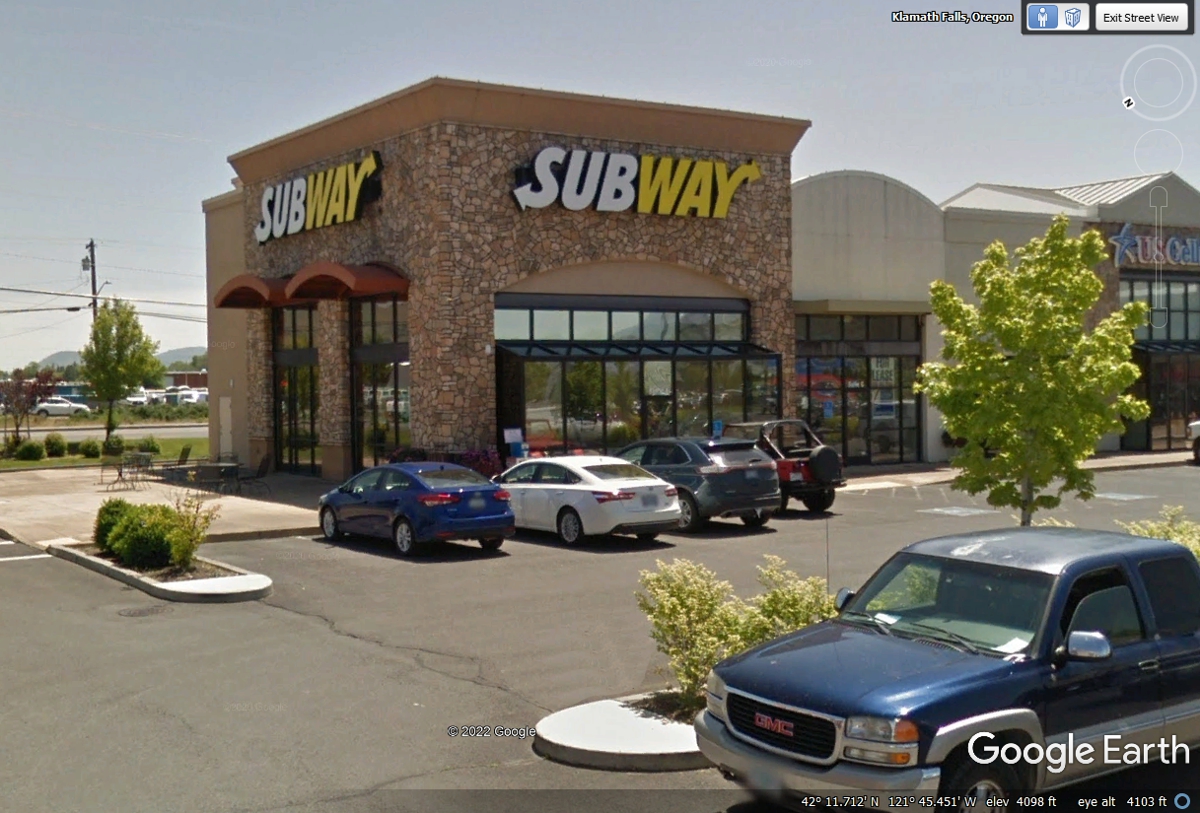 When Linda went into Wal-Mart to get the things she wanted, I kept Chase out by the truck (as she calls it) and let him pee by the bushes.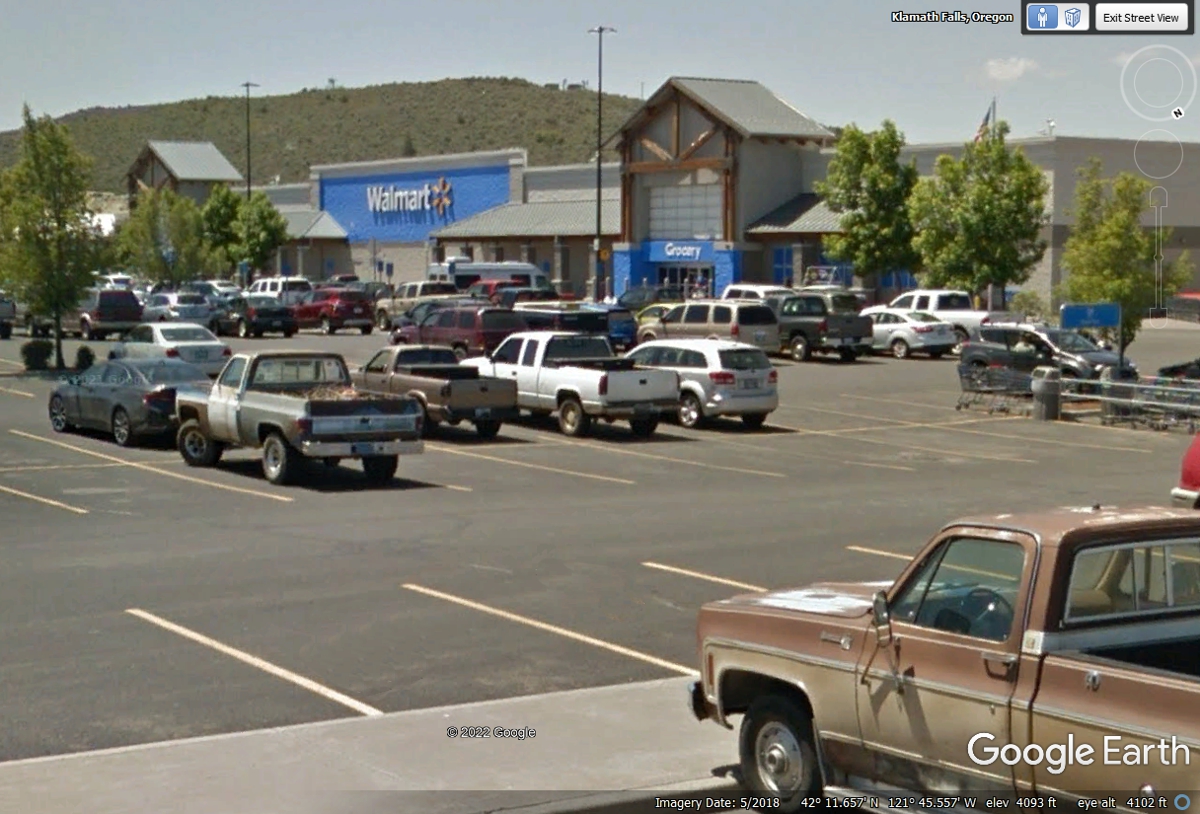 I have been looking at my digital computer map and found US 97 has several paths around and through Klamath Falls. The image below was where we purchased fuel to take us north to the stops I have planned going up to the Portland, Oregon area. The next stop for today is a visit to Crater Lake National Park. The weather here in the city is beautiful similar to what is seen in the image below. That road sign is the beginning of Crater Lake Parkway going north. It is a four-lane route with a 50 MPH speed limit in town since it is on the eastern side of Klamath Falls.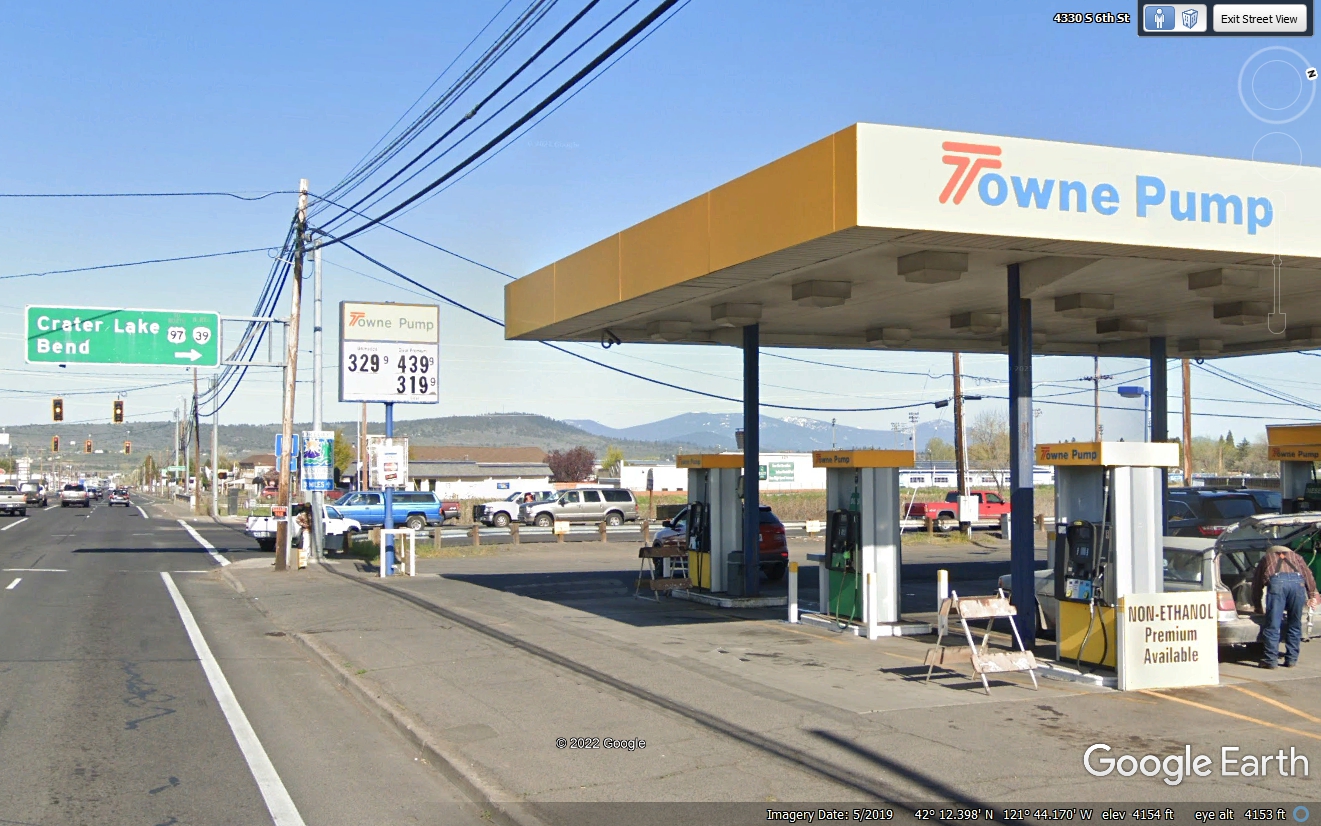 We stopped at this Pilot truck stop before we left town on US 97 for a restroom break for both of us. Chase had his pick of bushes outside the building. We resumed our northbound route.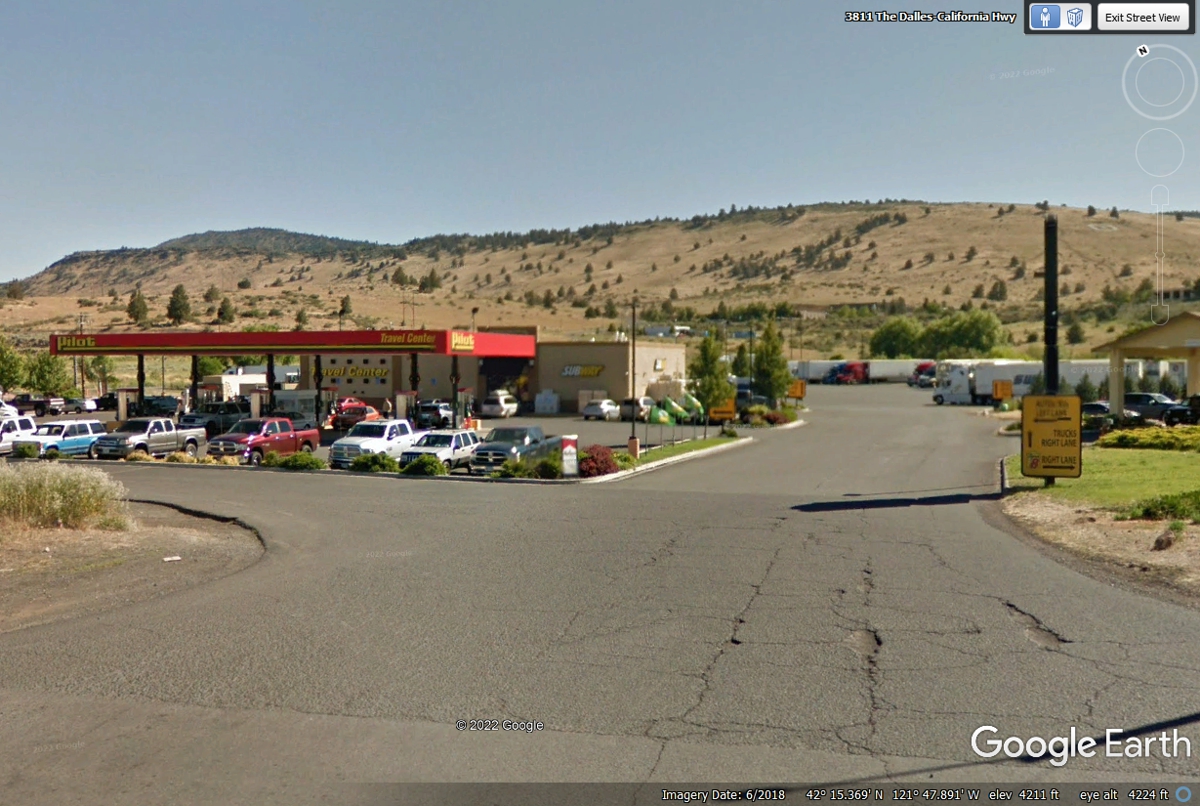 This bend in the shoreline has a railroad track as a levy to keep the water where it belongs in the Upper Klamath Lake as seen in this image about 5 miles north of the Pilot truck stop. The image below shows US 97 with no lines on the road from a recent re-paving job in 2018.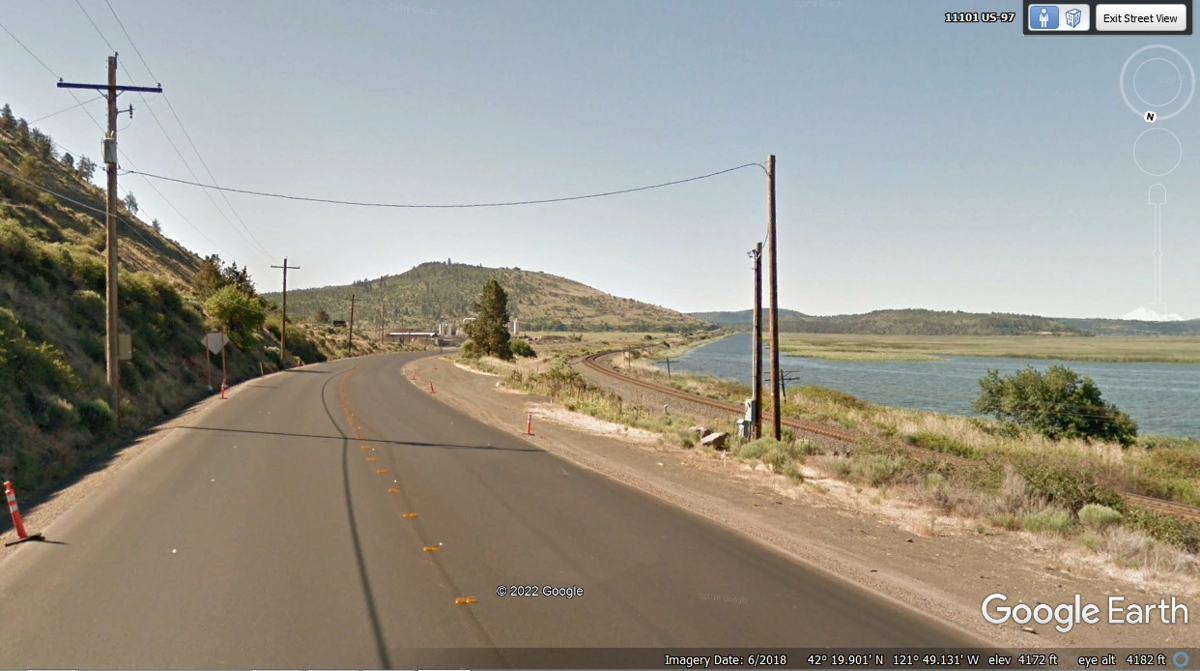 This junction of Oregon route 62 from US 97 will take us toward Crater Lake National Park. We are starting to see some overcast clouds in that direction northwest of here.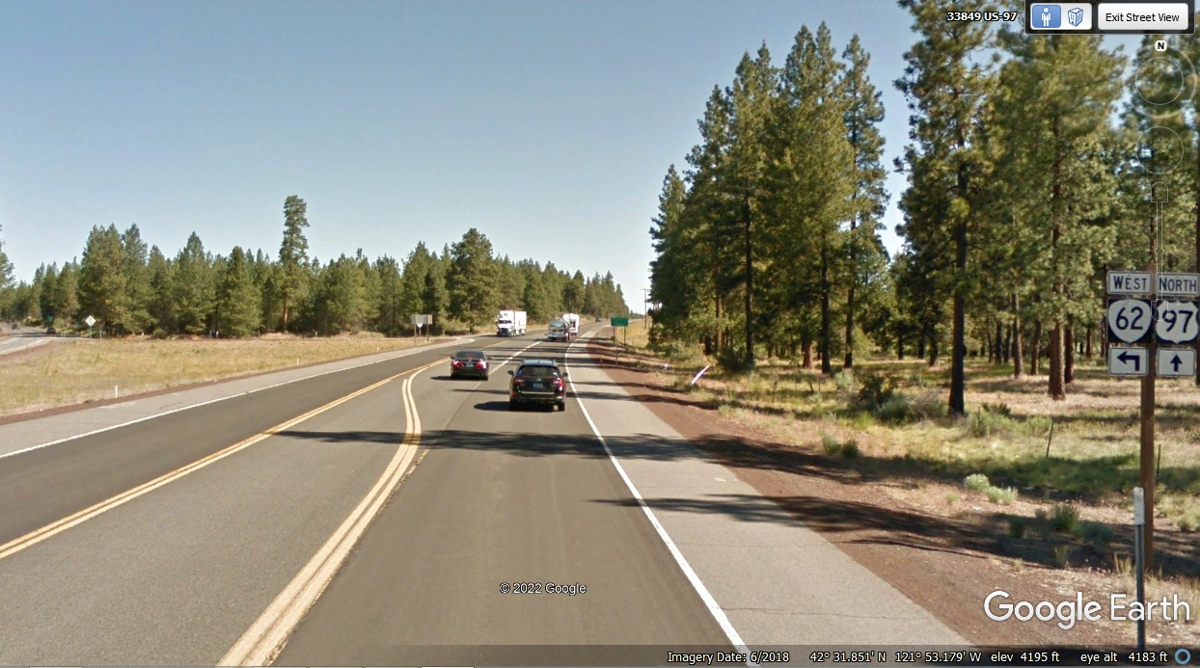 The Oregon state route 62 comes from US 97 to this intersection where the state highway turns right for the remainder of the ride to Crater Lake via the community of Fort Klamath, Oregon.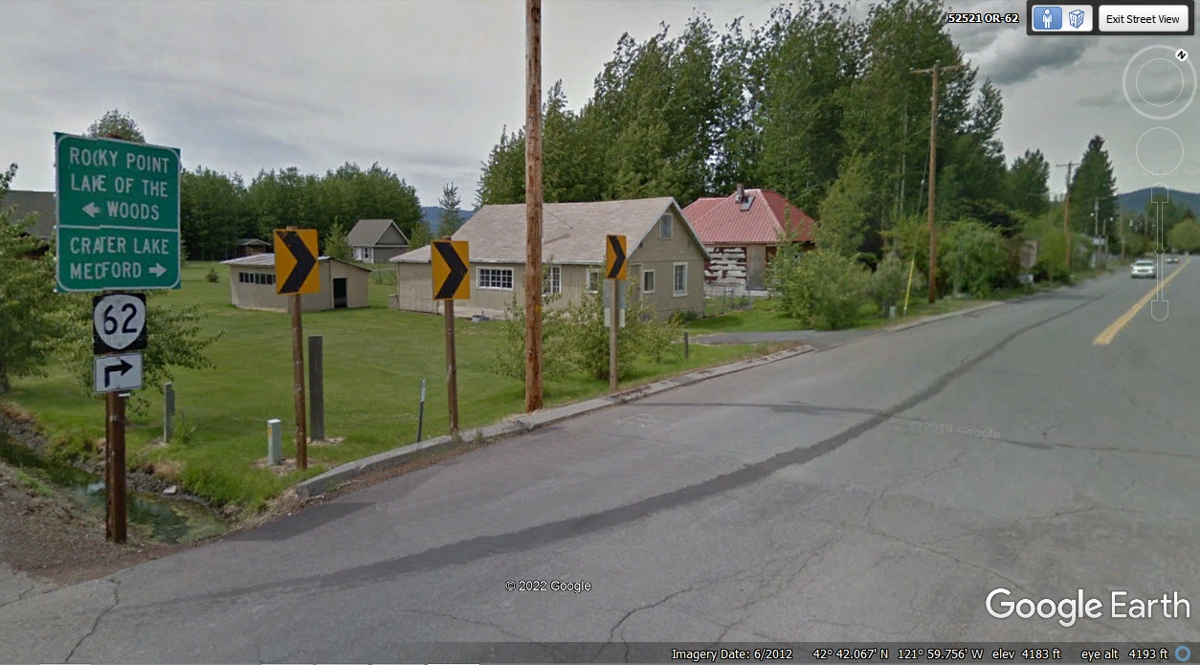 The Fort Klamath General store is not far from the right turn on Oregon route 62.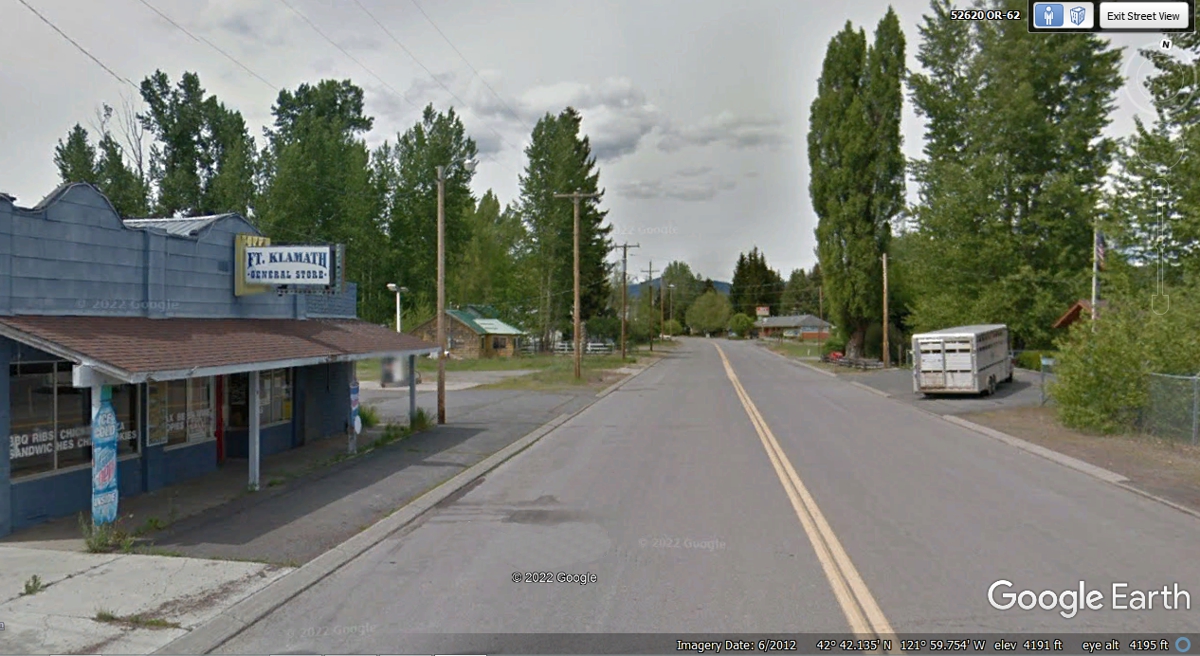 This motel caters to tourists who do not like to remove snow from their vehicles in winter. Each room has an adjacent garage.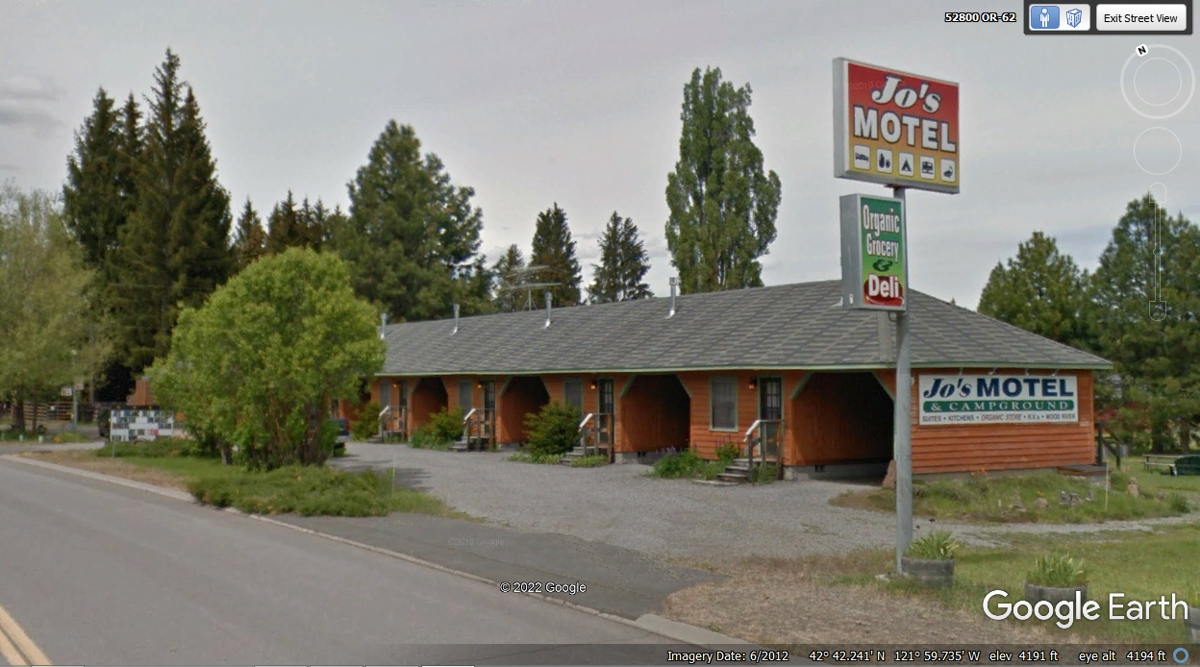 Down at the other end of the motel is the office and more. Read the sign to get the idea of a full service "mom and pop" motel.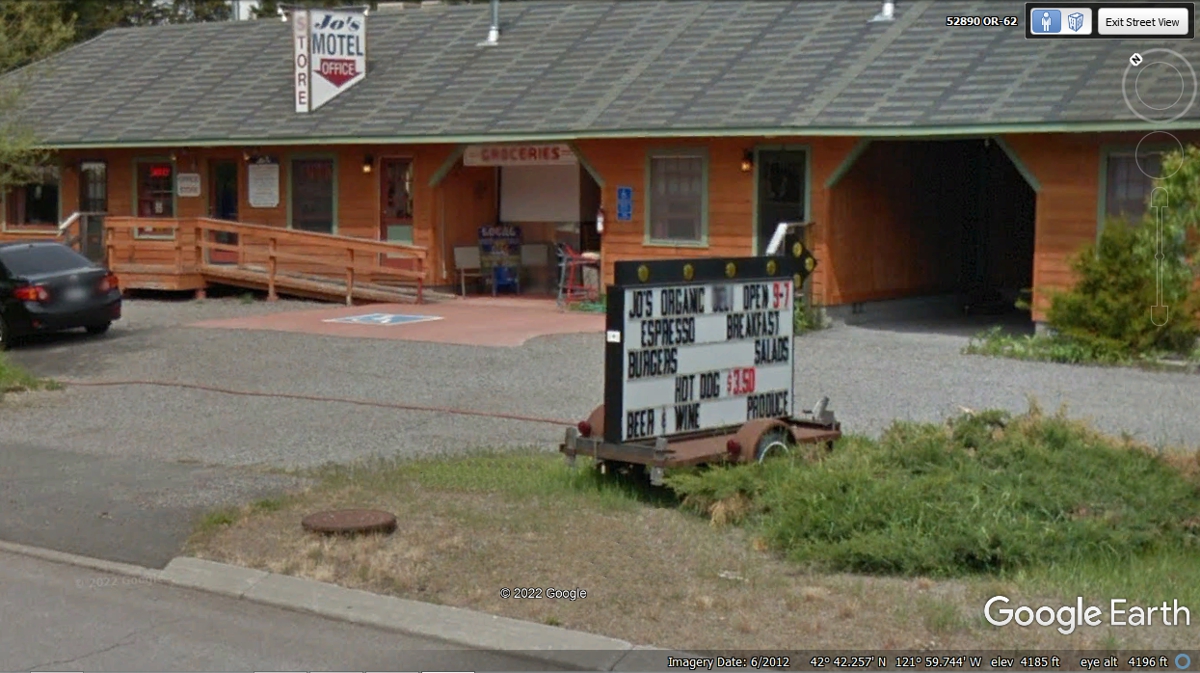 The closer to the National Park on route 62, the higher the elevation, and more possibility of finding SNOW at 5,933 feet above sea level as seen here in June 2012. This is what we saw on our visit on June 4, 2022.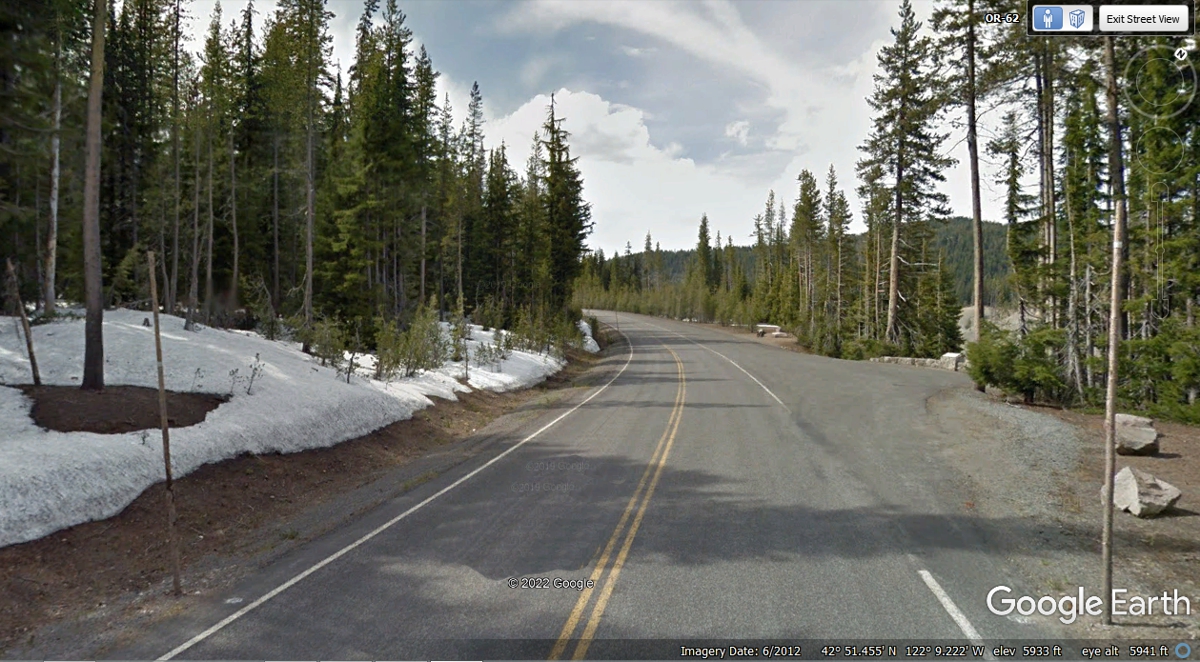 When we came to the entrance of Crater Lake on June 4, 2022, there was light rain and snow flurries. I asked the ranger about the weather at the top and she replied with "visibility zero". We turned around and headed back to US 97 to go north. See the Google Earth images to the top of the mountain for those of you who want to see Crater Lake. The 2007 images do not have good resolution.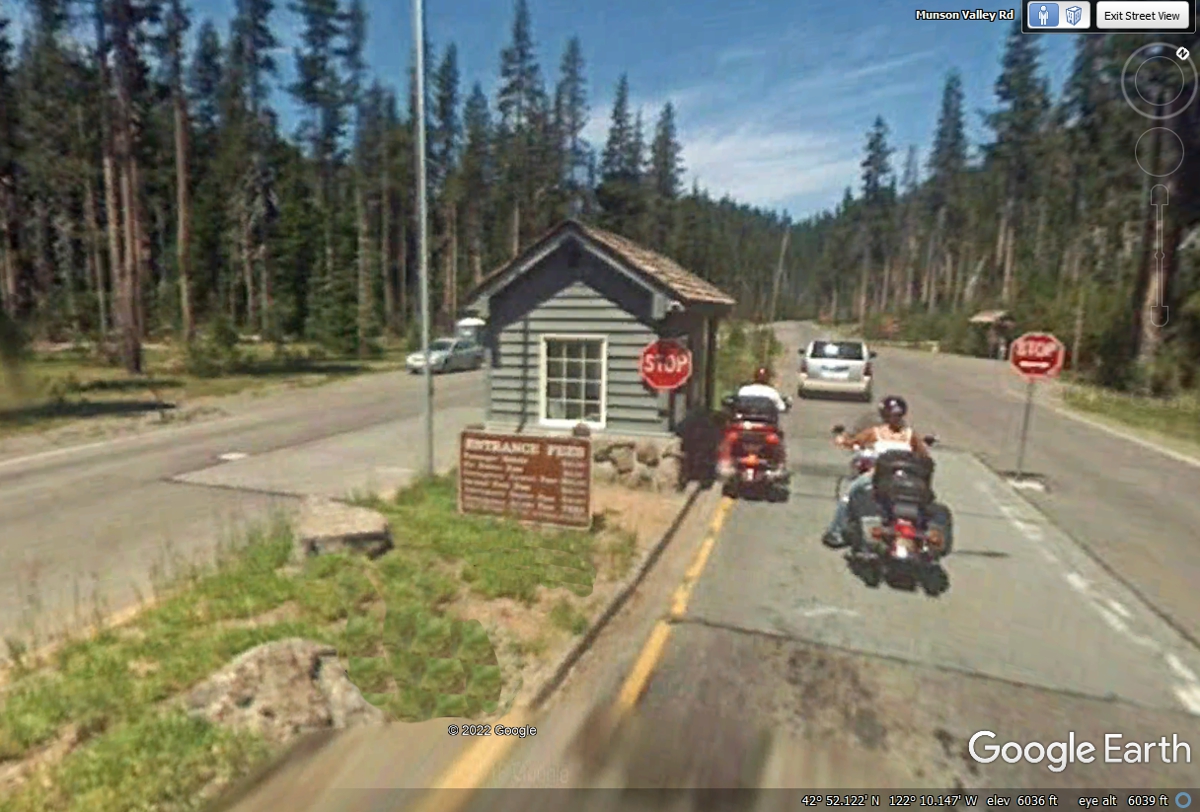 Before we left the park, Linda took this photo where the souvenir shop is located. She came away with a T-shirt of Crater Lake.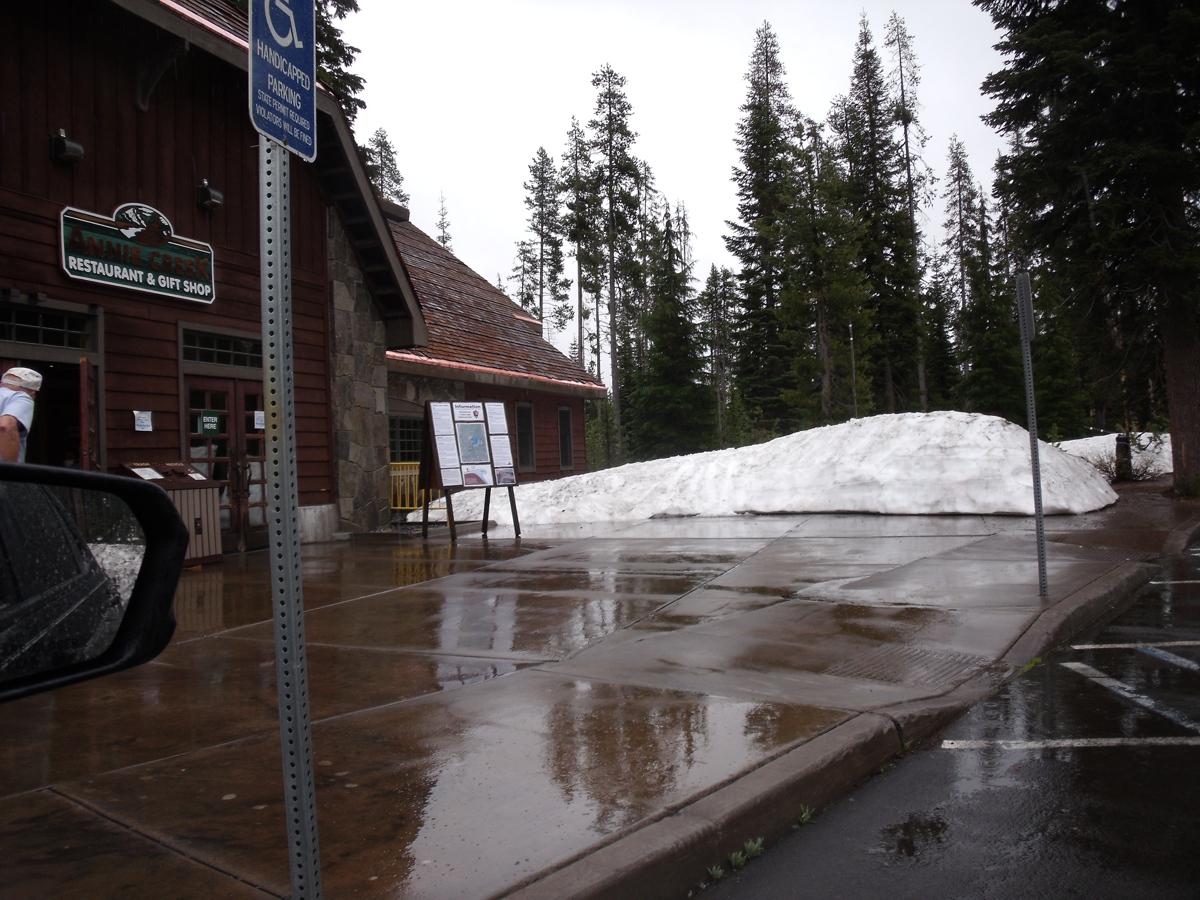 This is the view as we were leaving the parking lot to head back to US 97. A light rain fell as we were departing. We turned left here to go back to US 97.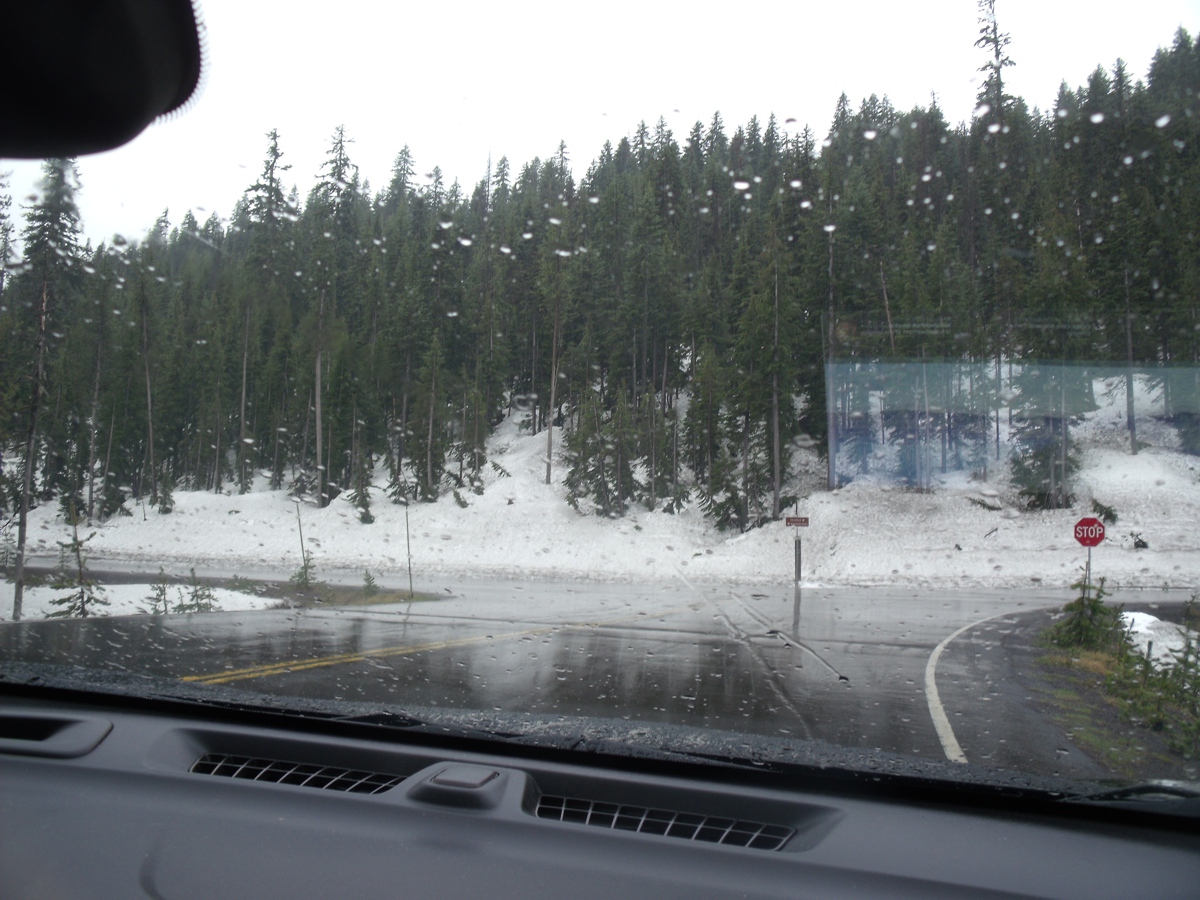 I found this image from the Crater Lake Lodge on a day when fog obscured the lake below.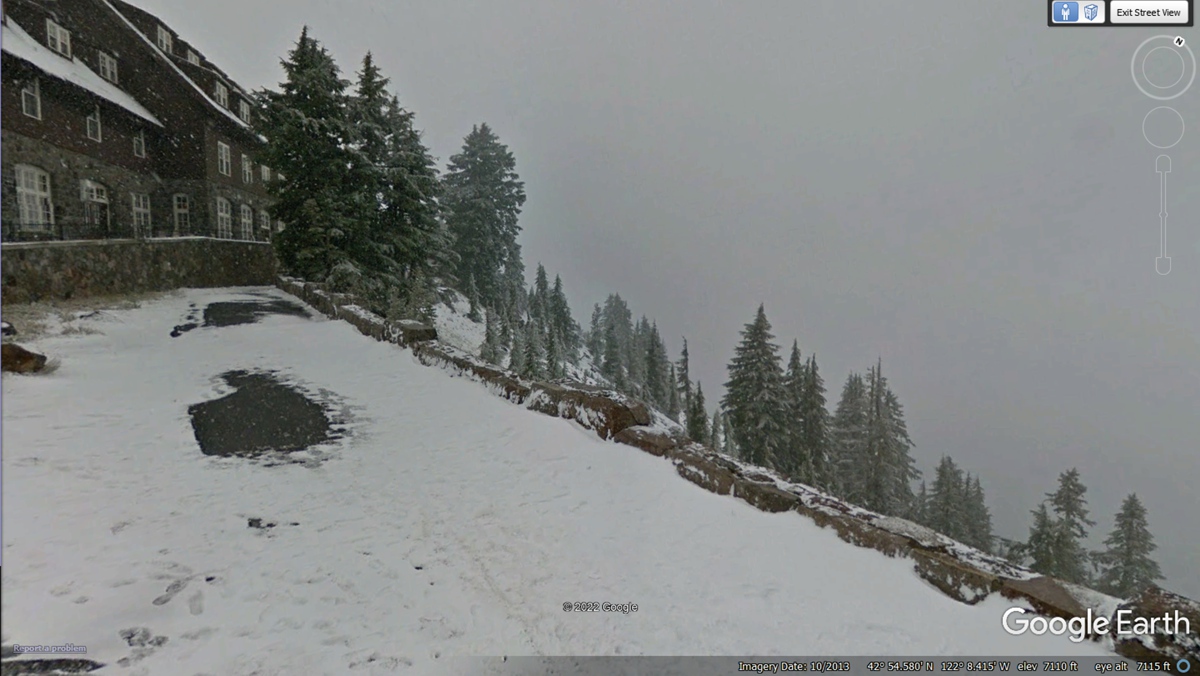 This is what can be seen when the weather is clear.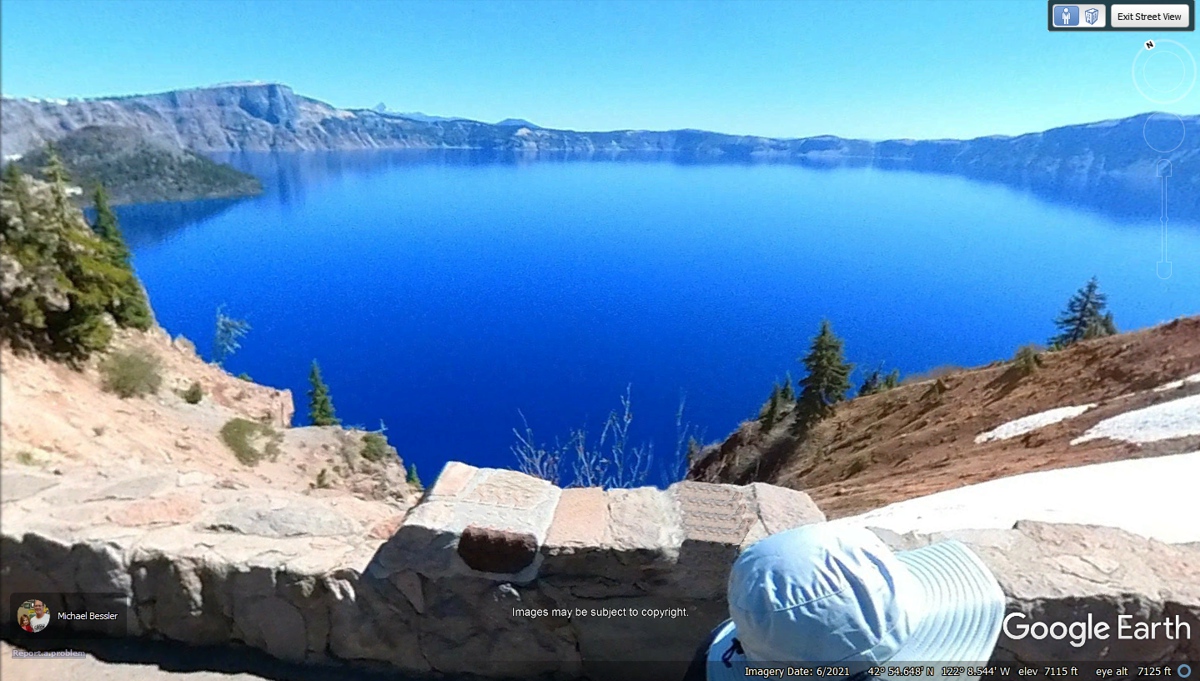 With the stop cancelled at Crater Lake due to bad weather, we got back on US 97 and headed north to Bend, Oregon. US 20 comes in from the East and joins US 97 to go north past the city of Bend, Oregon before it continues WEST.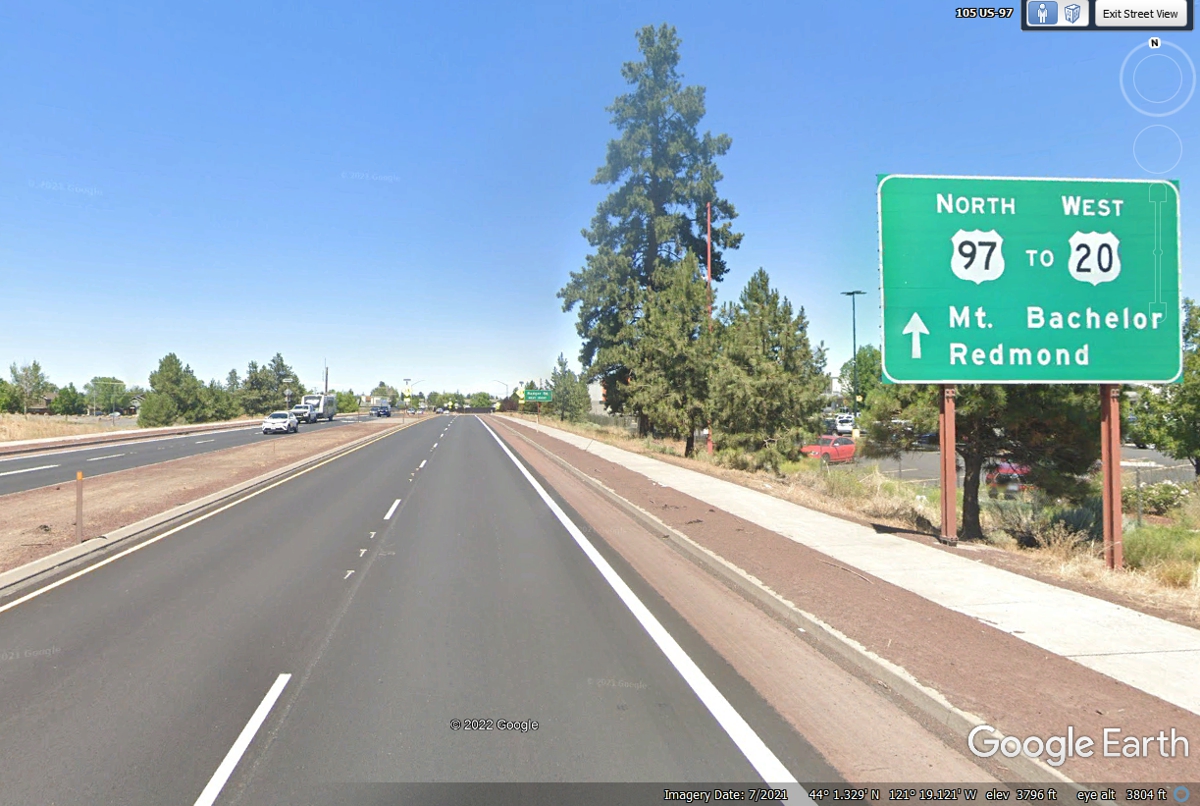 US 97 continues north at this junction where US 20 goes west, which is our route today. Our motel is on an I-5 exit south of Portland. We have some sights to see on US 20 that I have seen when I was on a business trip to this area a few years ago.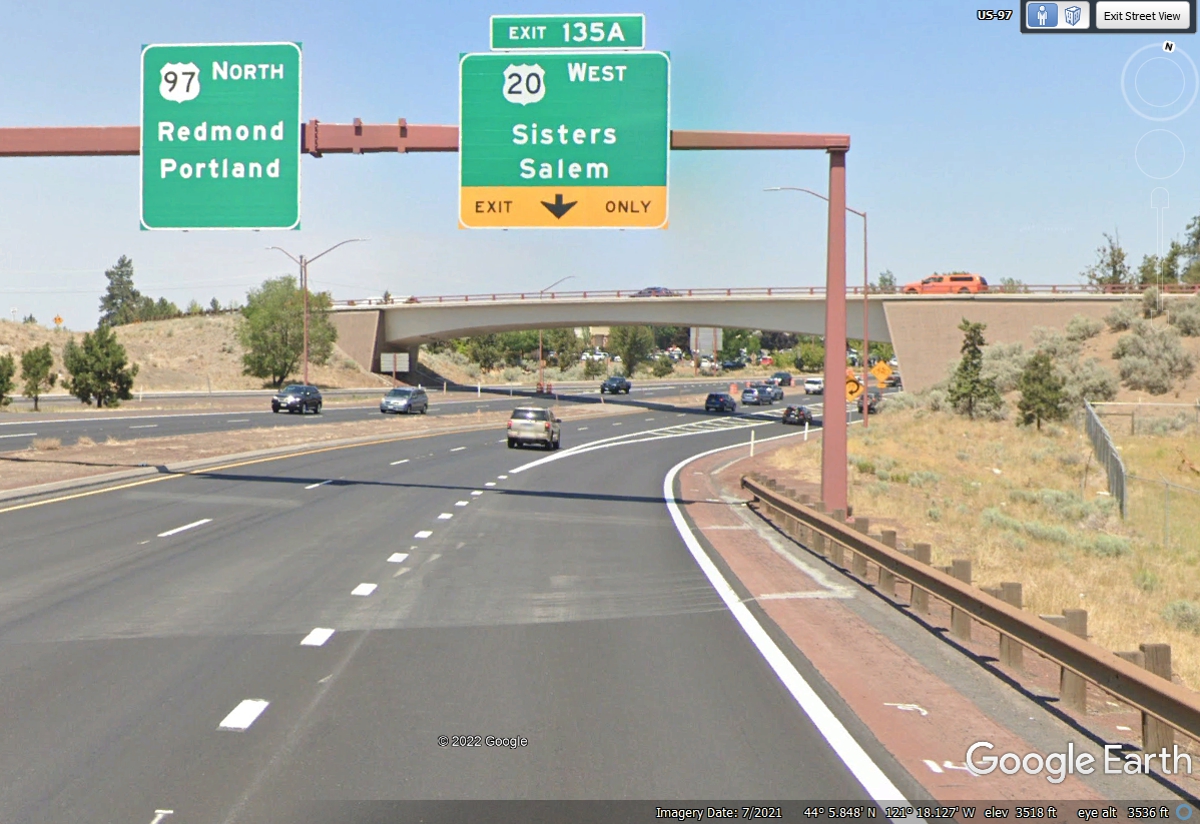 The small town named SISTERS is near three similar-sized extinct volcanoes you will see when we get closer. Salem is the state capitol of Oregon located near Interstate 5.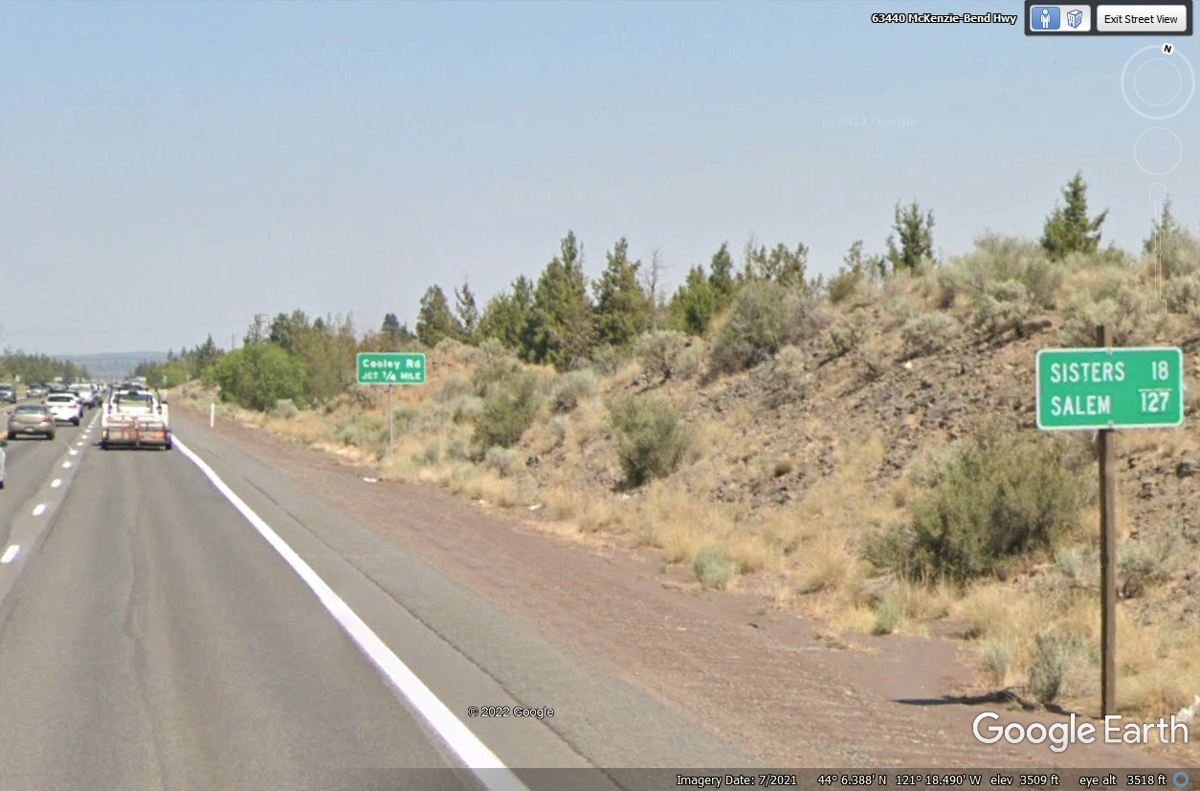 US 20 Artwork; Steel Riders, Dog, and Horses 1.5 miles East of the city of Sisters, named for three extinct volcanoes near the city. The three are partially hidden by the trees in the image below. The elevation here is 3,141 feet above sea level.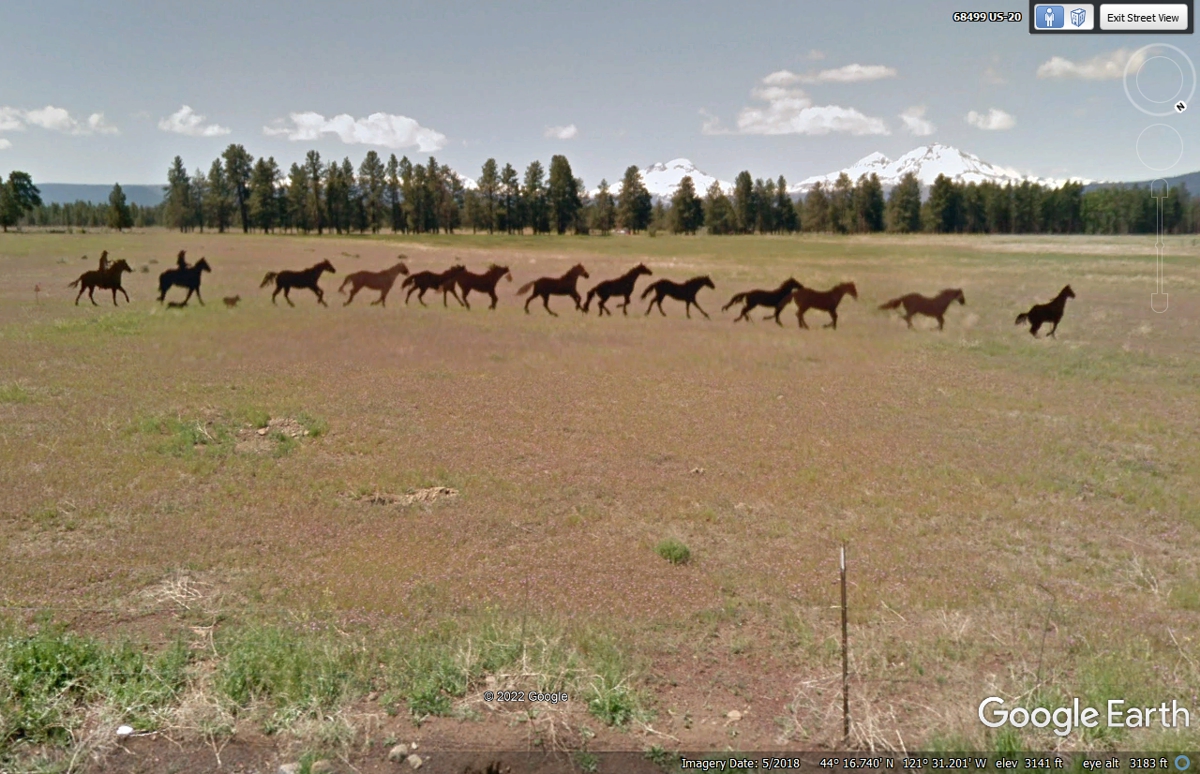 The town of Sisters has an old west theme to draw tourists. Not a bad idea for a city founded in 1946.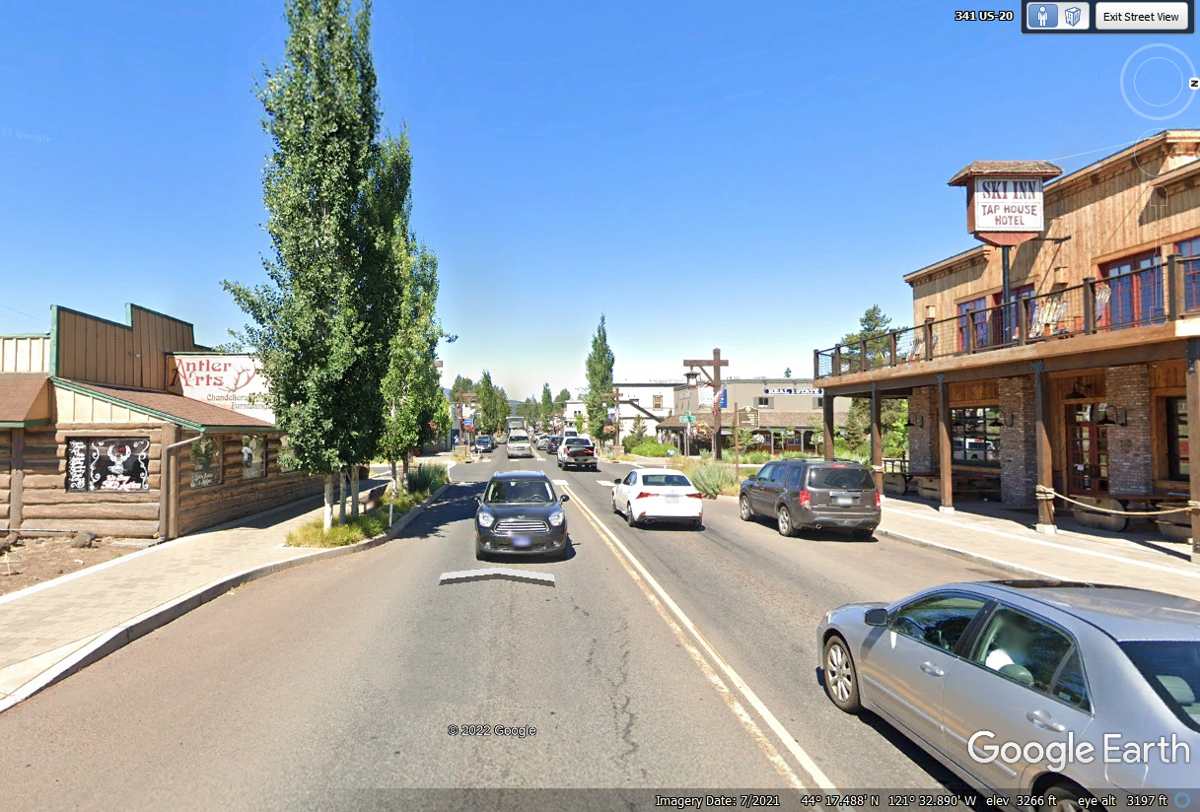 When you see a Ranger Station for a National Forest, it usually means you have left the business district.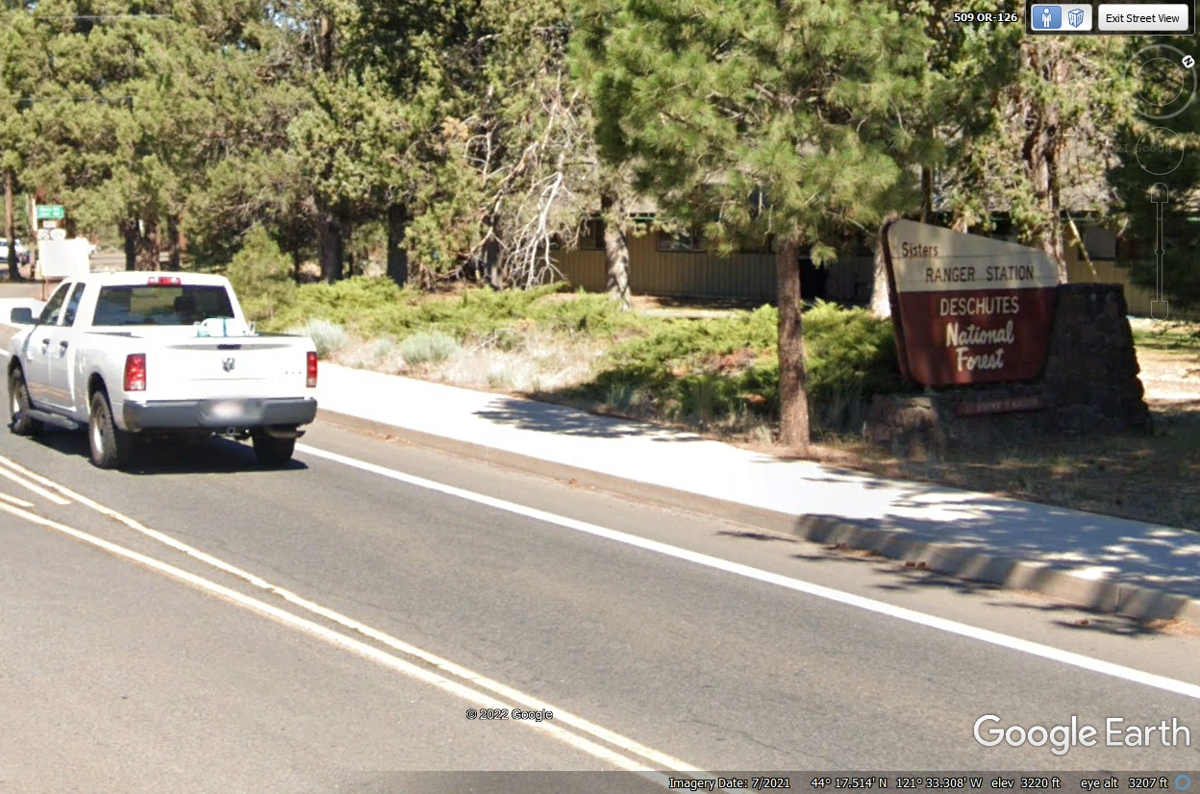 This traffic circle on the northwest side of town sends US 20 on its way west. The elevation here is 3,189 feet.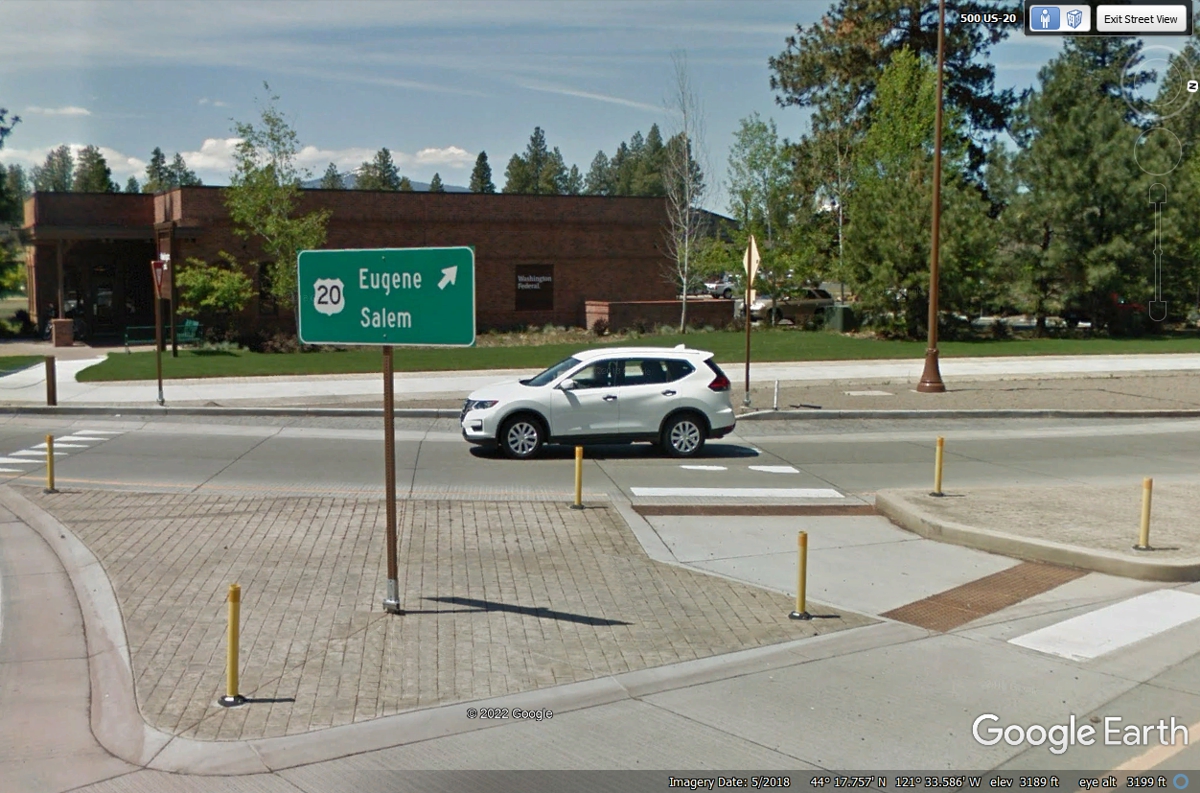 Six miles northwest of the town of Sisters, US 20 comes to the end of the straight highway to miss a mountain by turning west. The elevation here is 3,336 feet.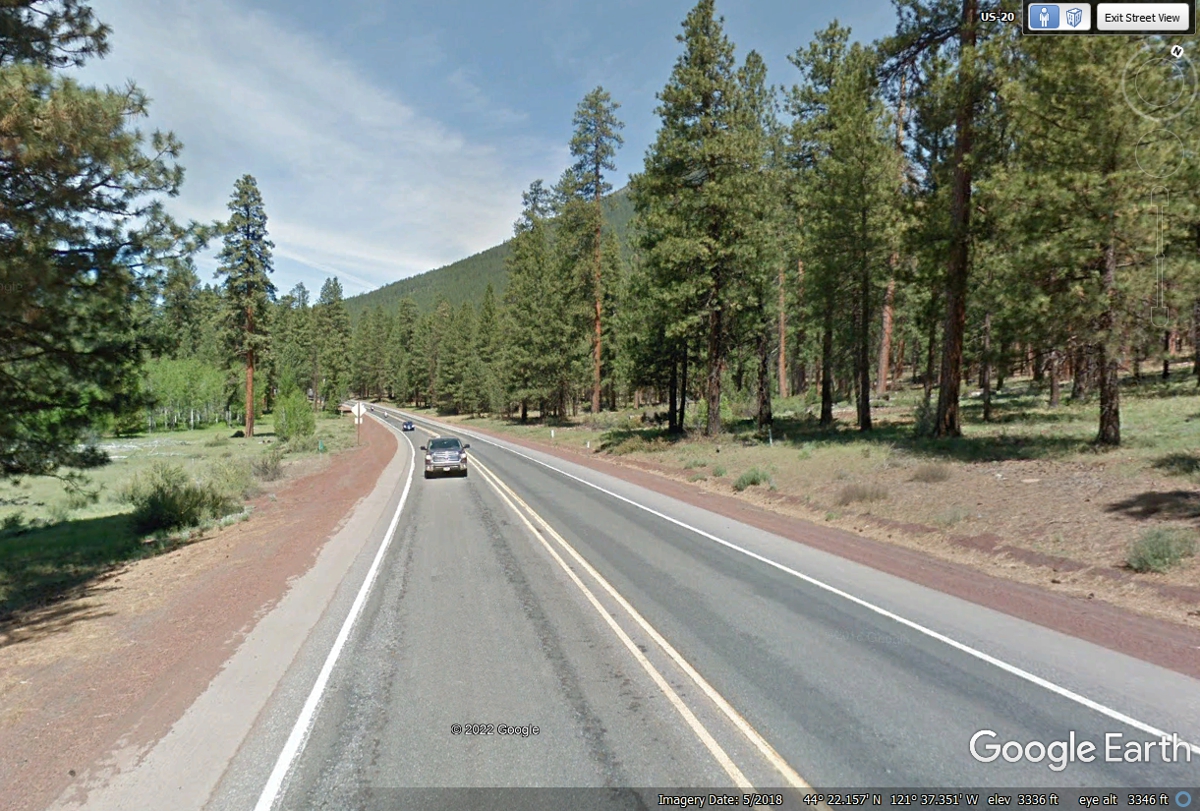 This point on US 20 is close to the Pacific Coast Trail. One of the highest points on this highway at 4,718 feet elevation. There is a ski resort near this location.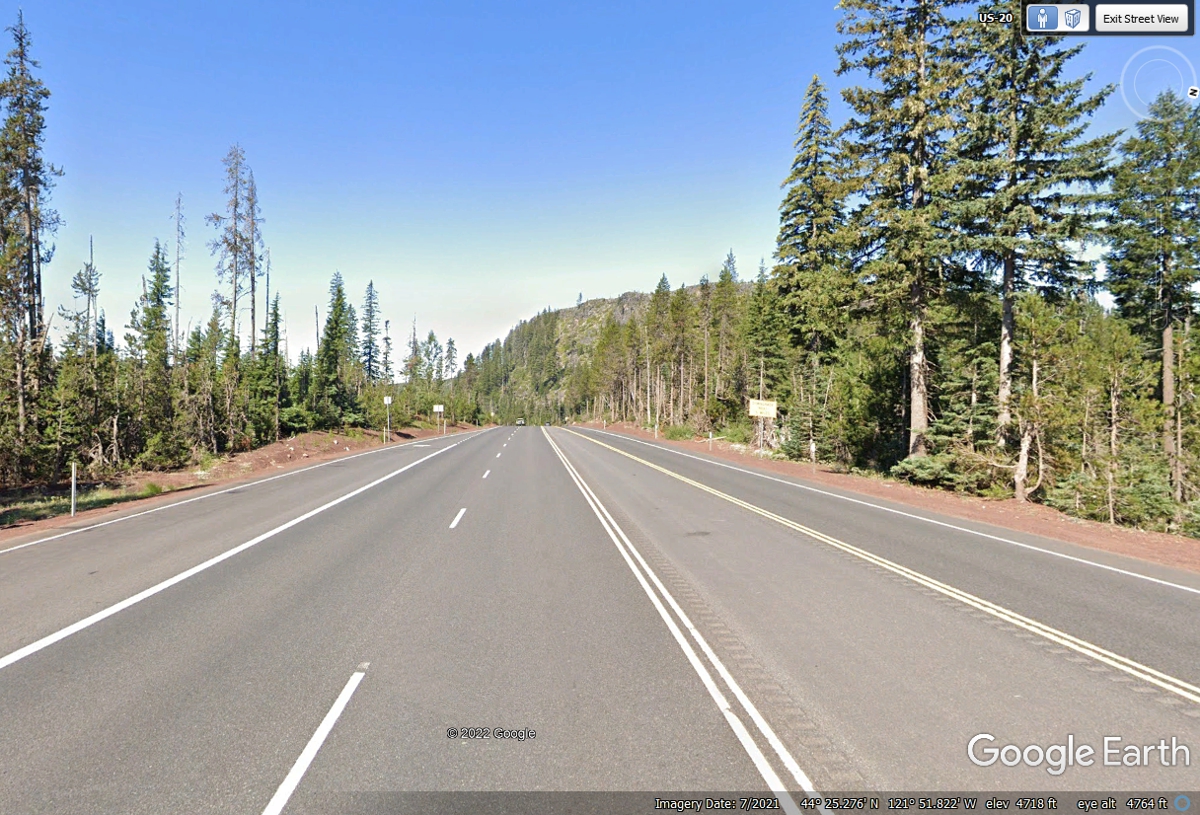 Oregon State route 22 goes to Salem which is about 20 miles north of where US 20 meets Interstate 5.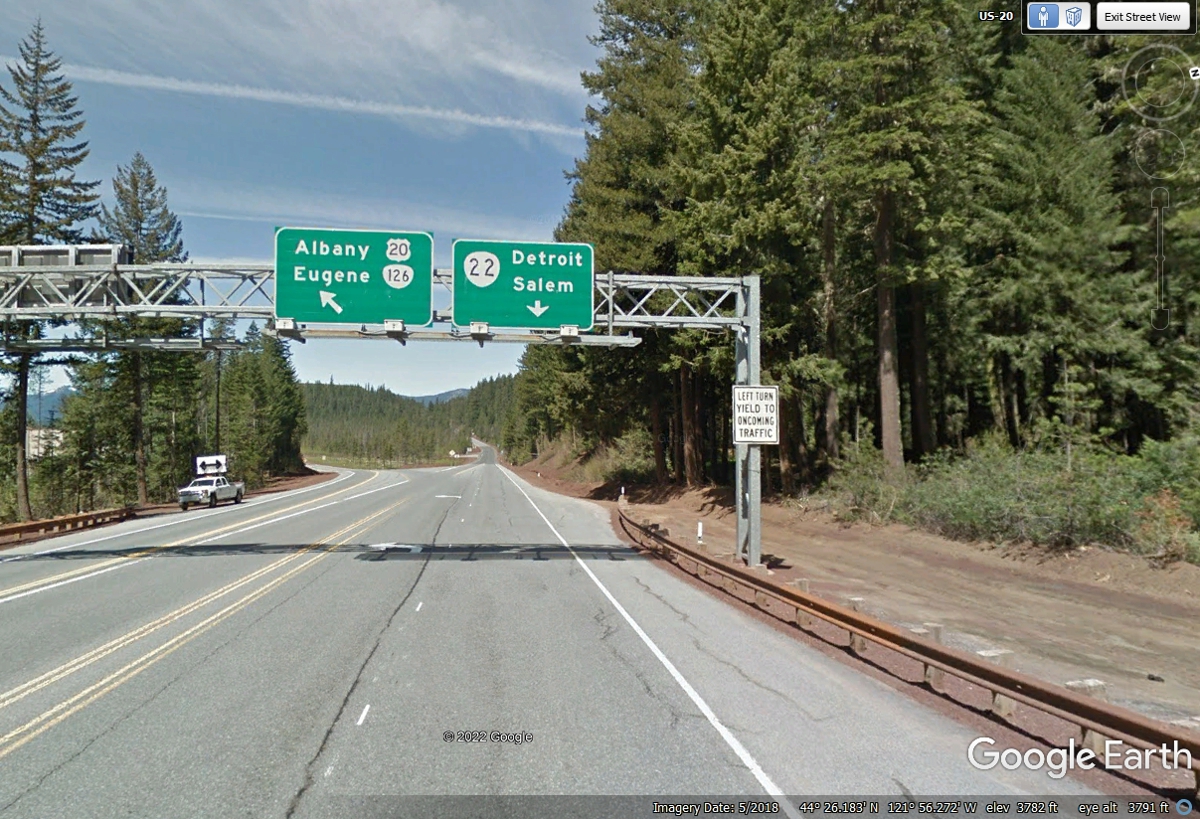 Oregon route 22 crosses the Breitenbush River with about 46 miles remaining to get to Interstate 5 near Salem, Oregon.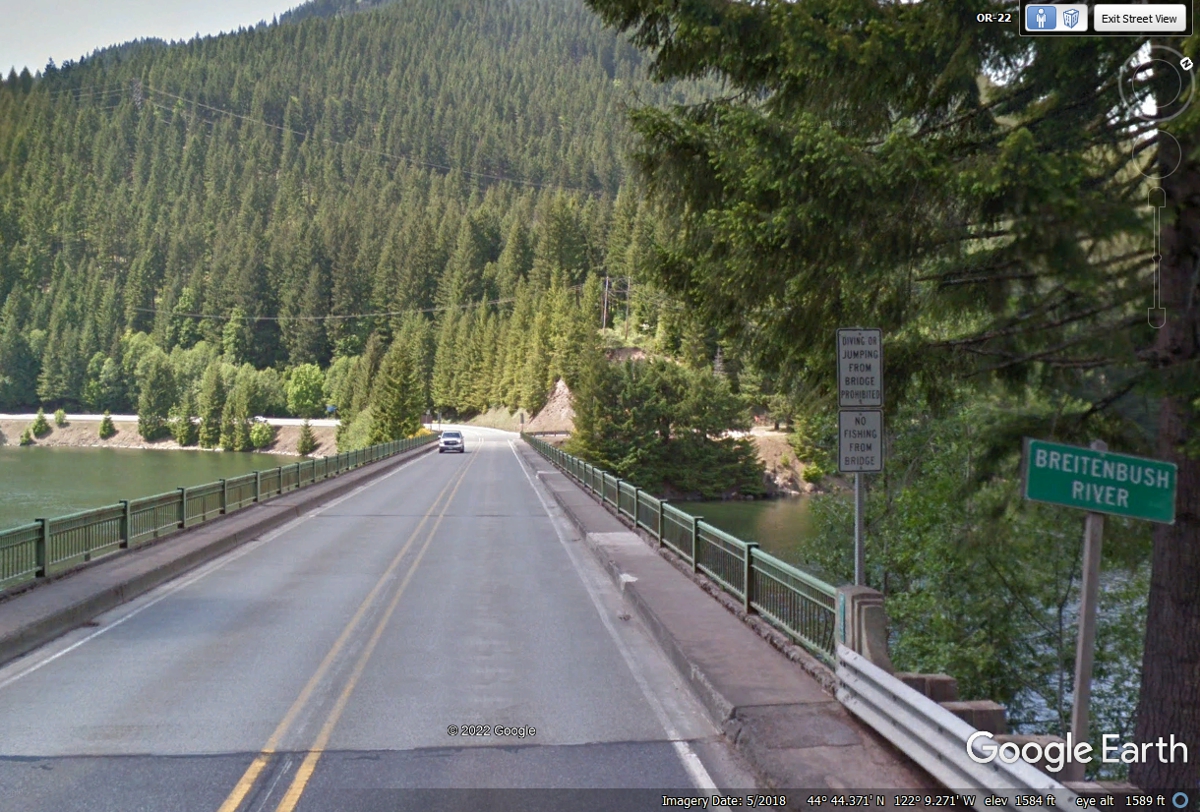 Oregon route 22 runs parallel to the Detroit Lake just downstream from the Breitenbush River. The road is on the north side of the river that is going west at this point.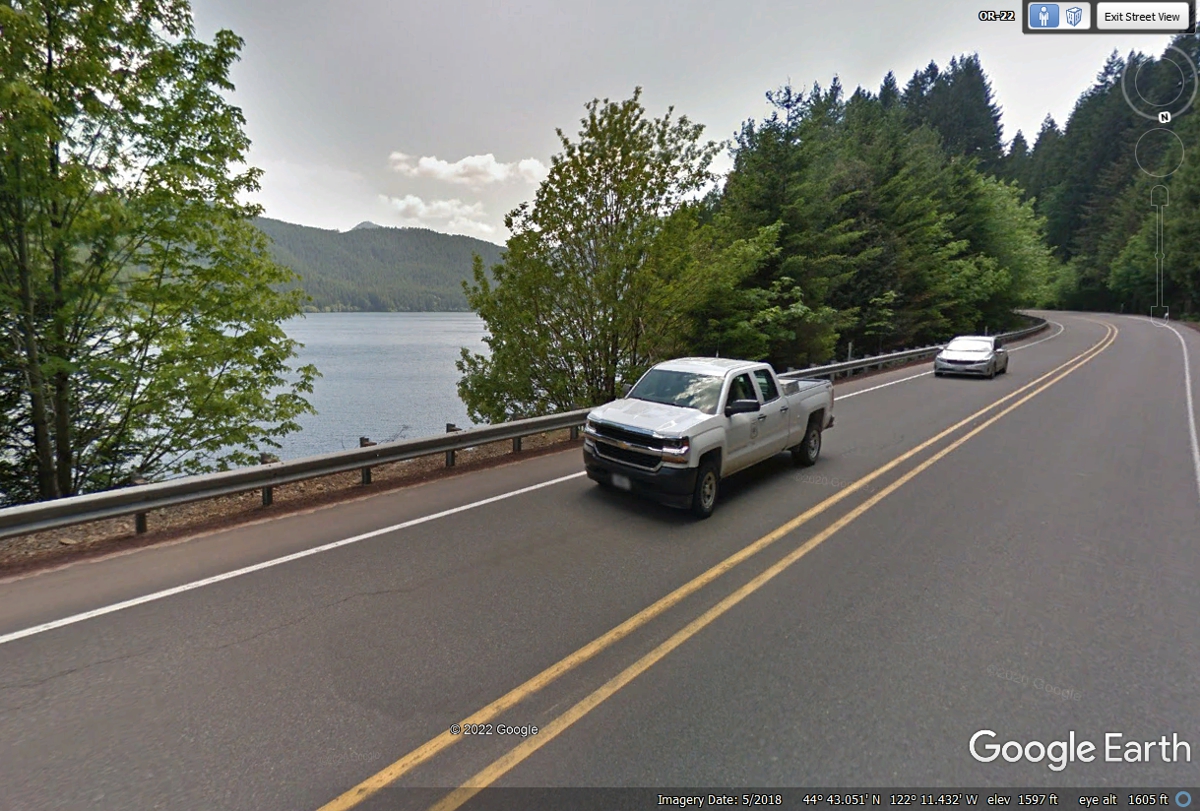 Oregon route 22 has moved away from the river now that is away from canyons on a direct course to I-5 and Salem. The Exit 13 sign says I-5 is only 13 miles from here.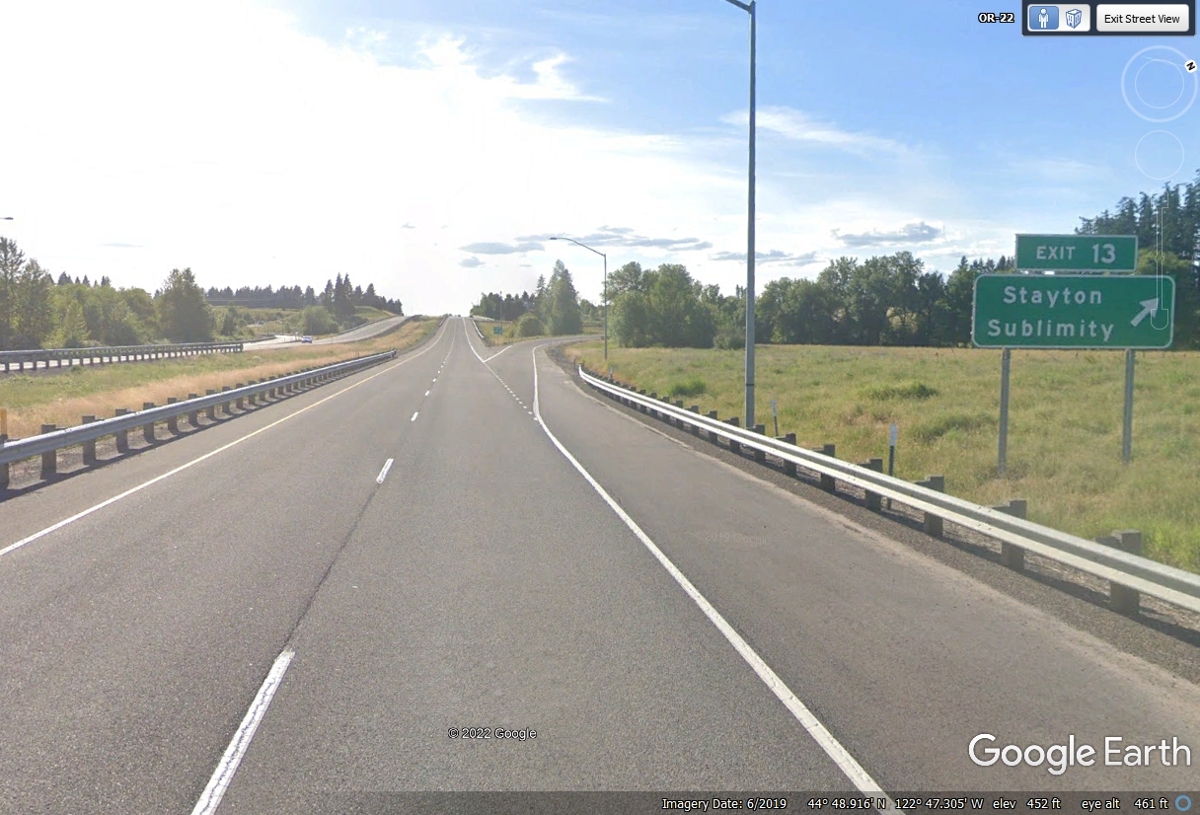 The dark lighting conditions matched the real weather when we stopped here on June 4, 2022. It was a light rain condition for all of us. Chase was first on some nearby grass. The restrooms inside were clean.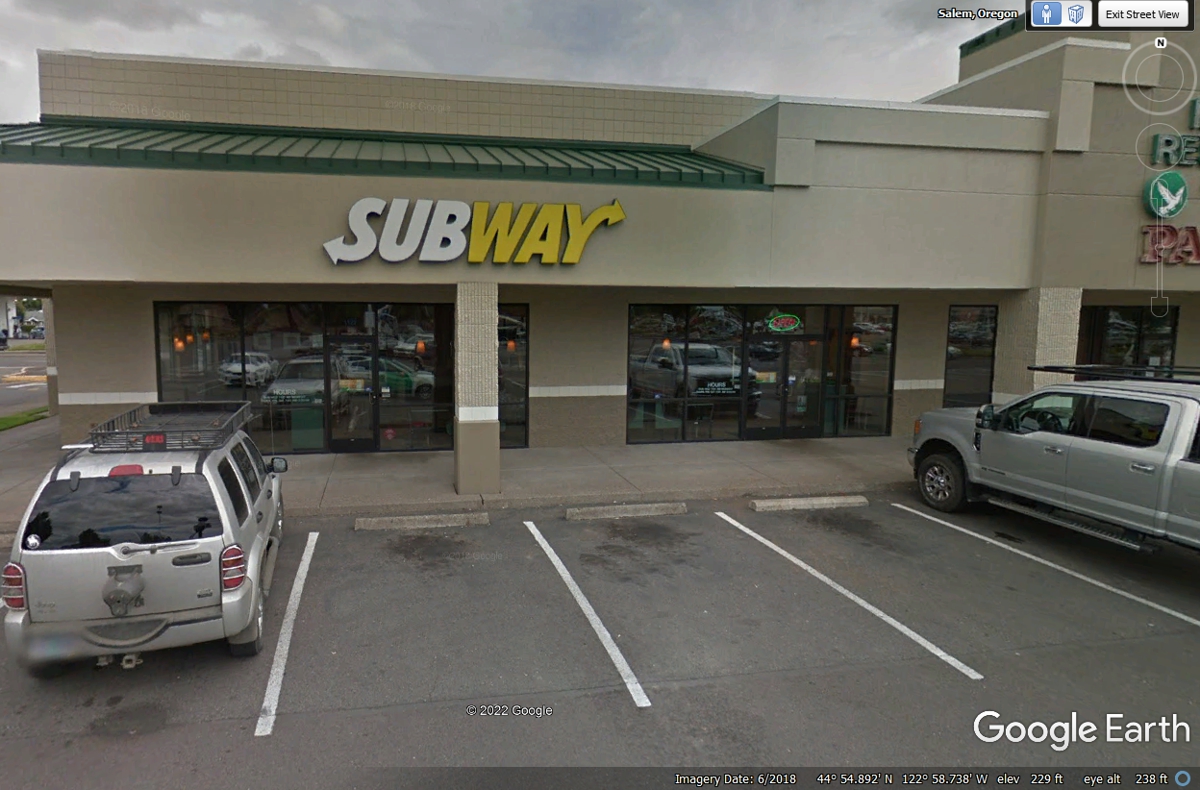 This is the on ramp to Interstate 5 from Oregon route 22 going up to the south side of Portland, less than 33 miles north of this location.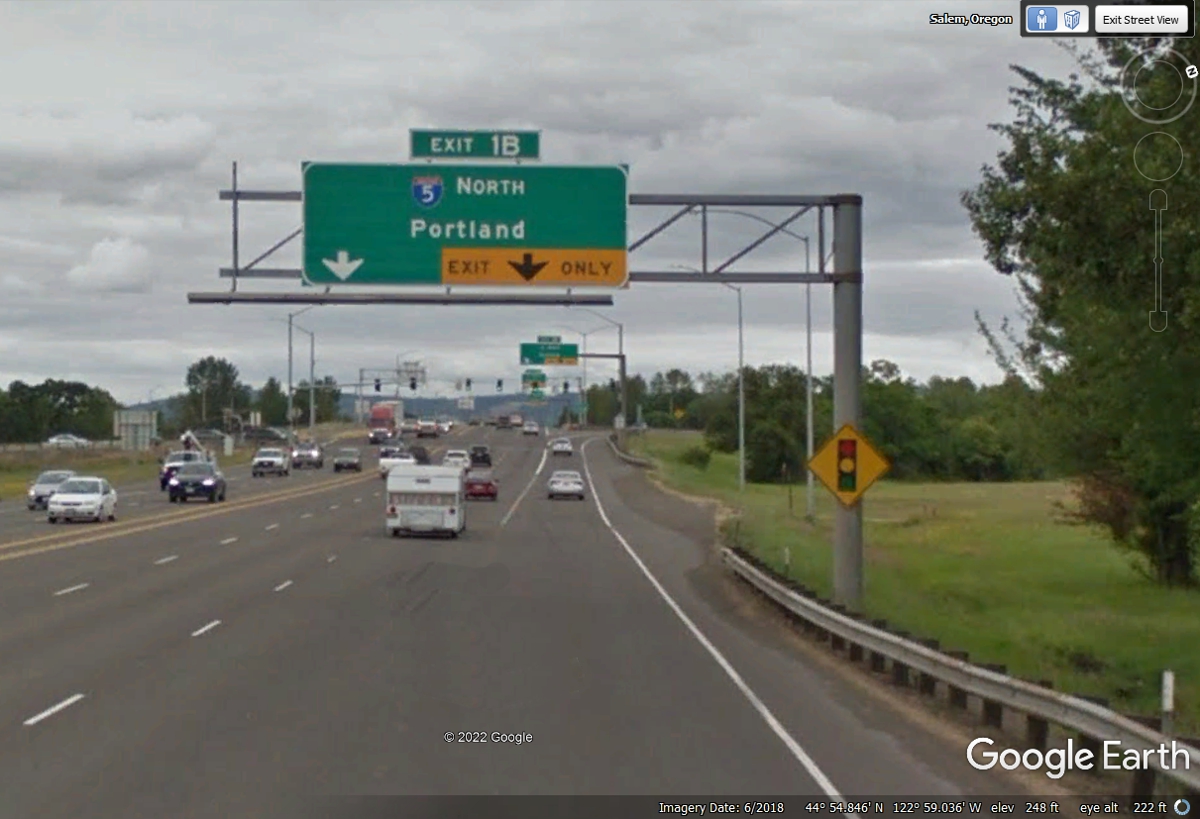 Interstate 5, Exit 286 is the way to our motel tonight south of Portland, Oregon.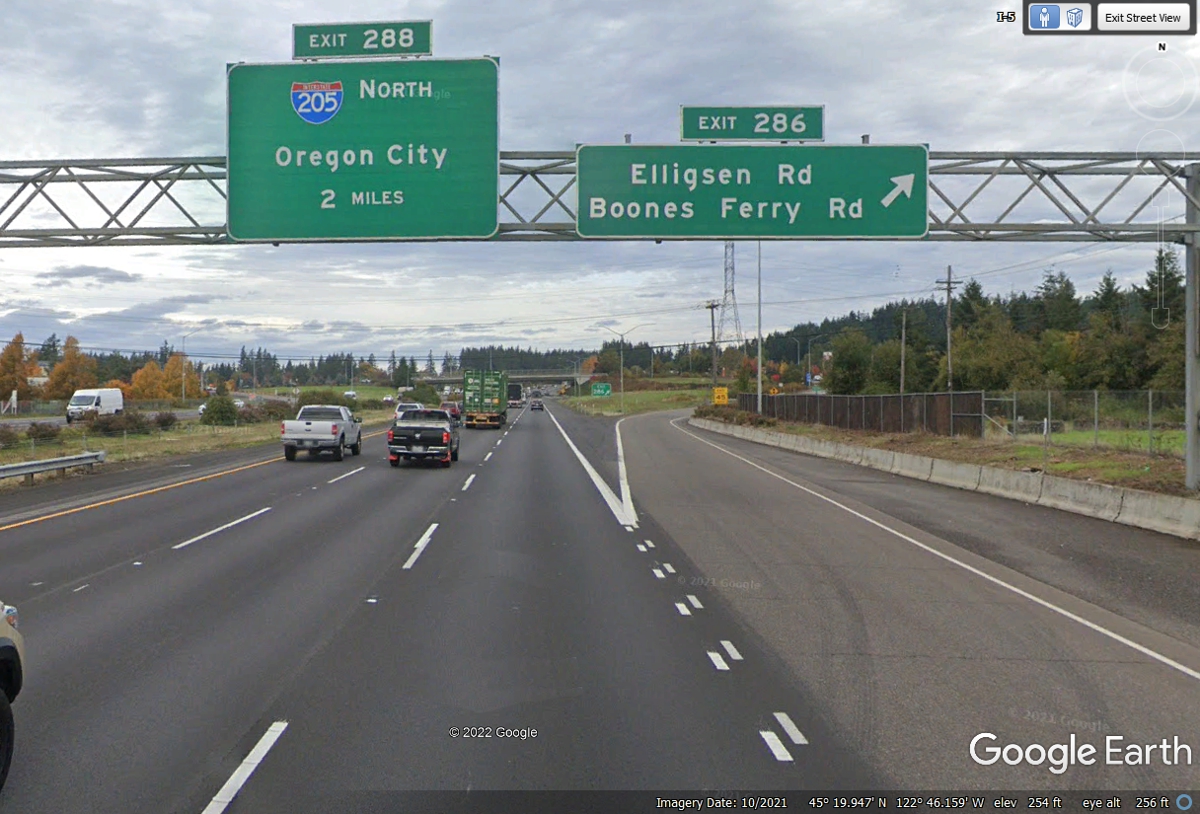 Here is our hotel for tonight South of Portland, Oregon.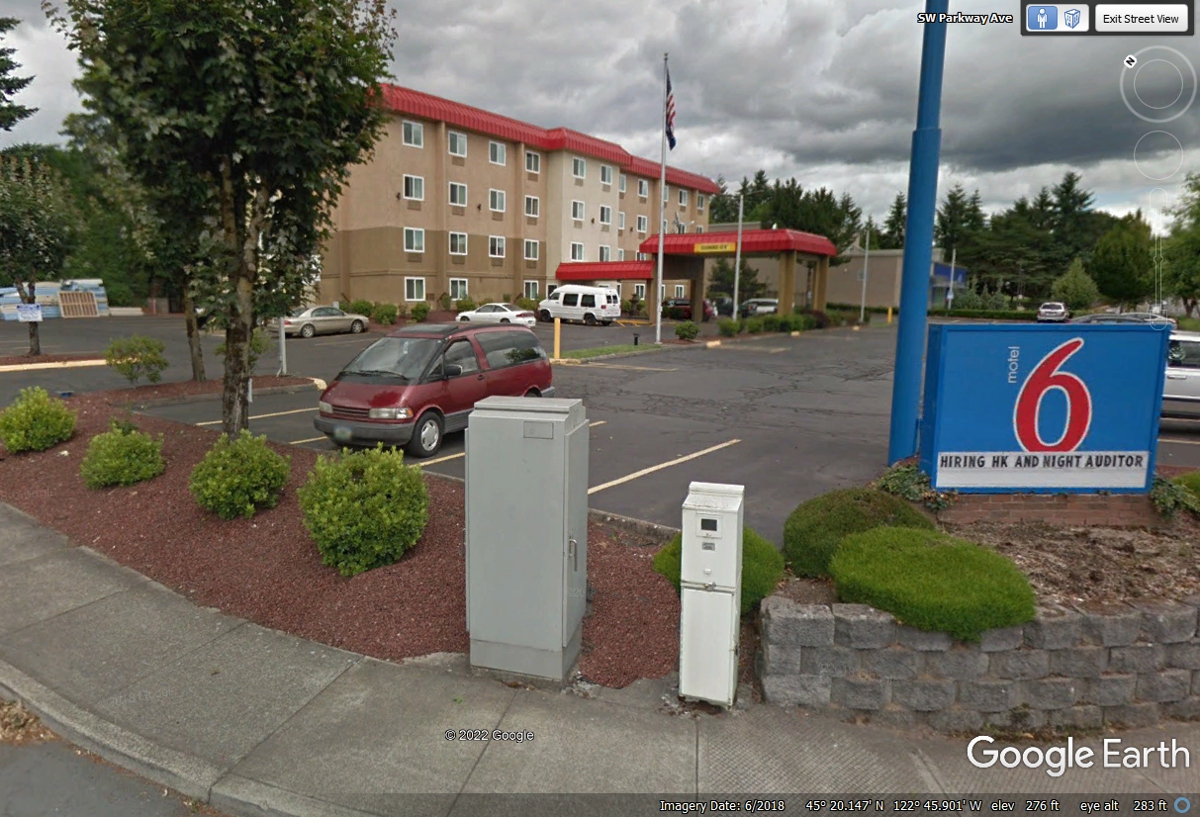 We learned about this Panda Express location from the clerk at the front desk at Motel 6. We were the last car through the drive thru lane at 9:27 PM on June 4, 2022. We both had our usual orders of their tasty Chinese meals before bedtime back at the motel.