June 2022 Vacation Day 11, Mark Twain Was Here · · PAGE 30.
June 2, 2022: This historical marker sign is the first hint of the history of Mark Twain in this area.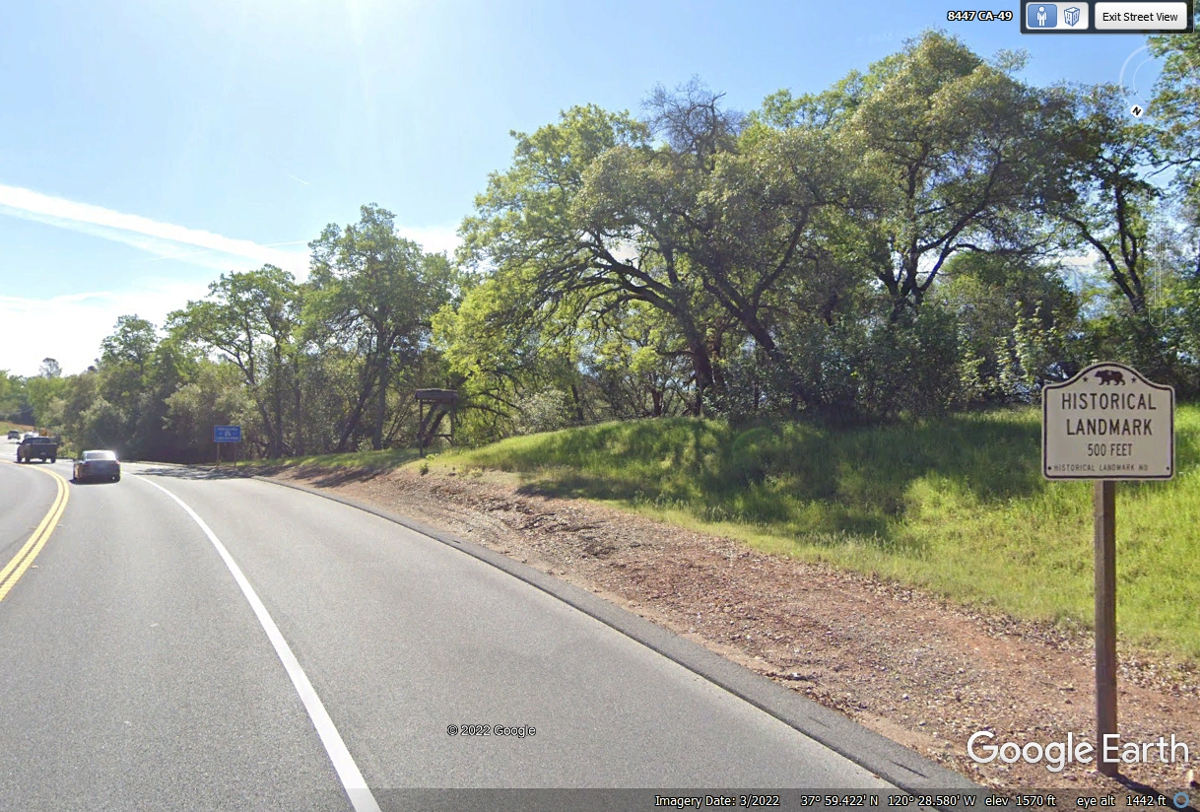 This plaque is the historical marker by the highway. Google Earth passed by it, but due to the poor lighting, it is not legible from the street. The image below was provided by the state of California online.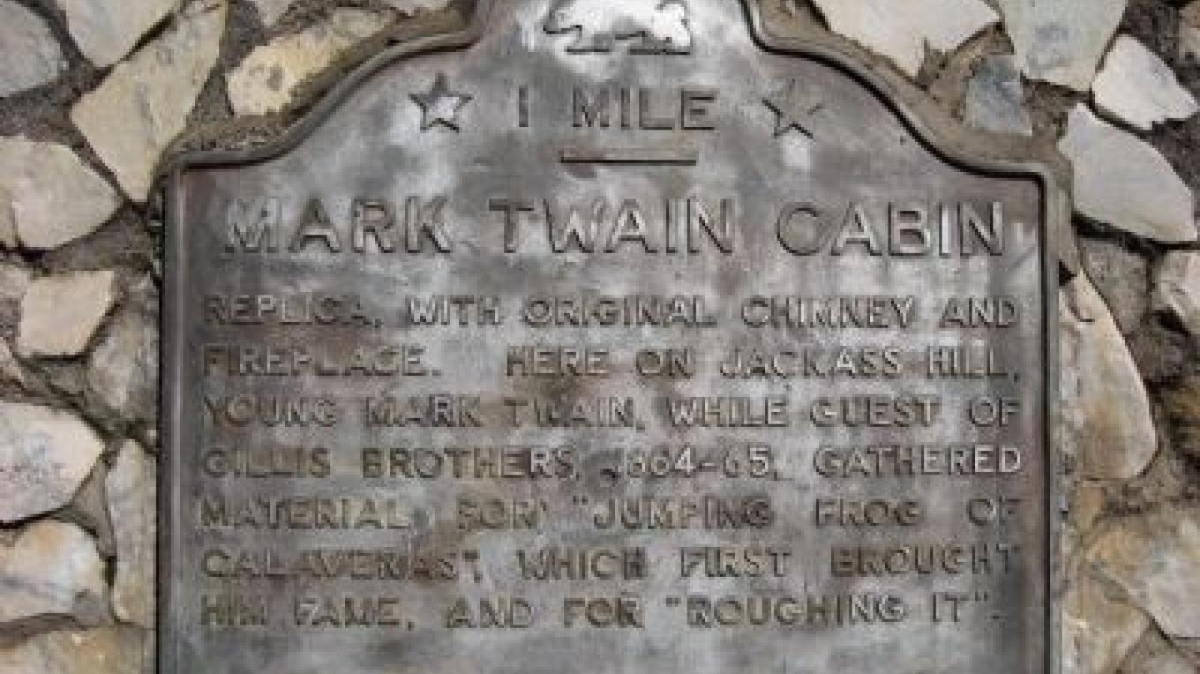 On the south side of the lake, this sign below indicates there is a place nearby where literary history was created. It says TURN LEFT ahead and go one mile on that side road.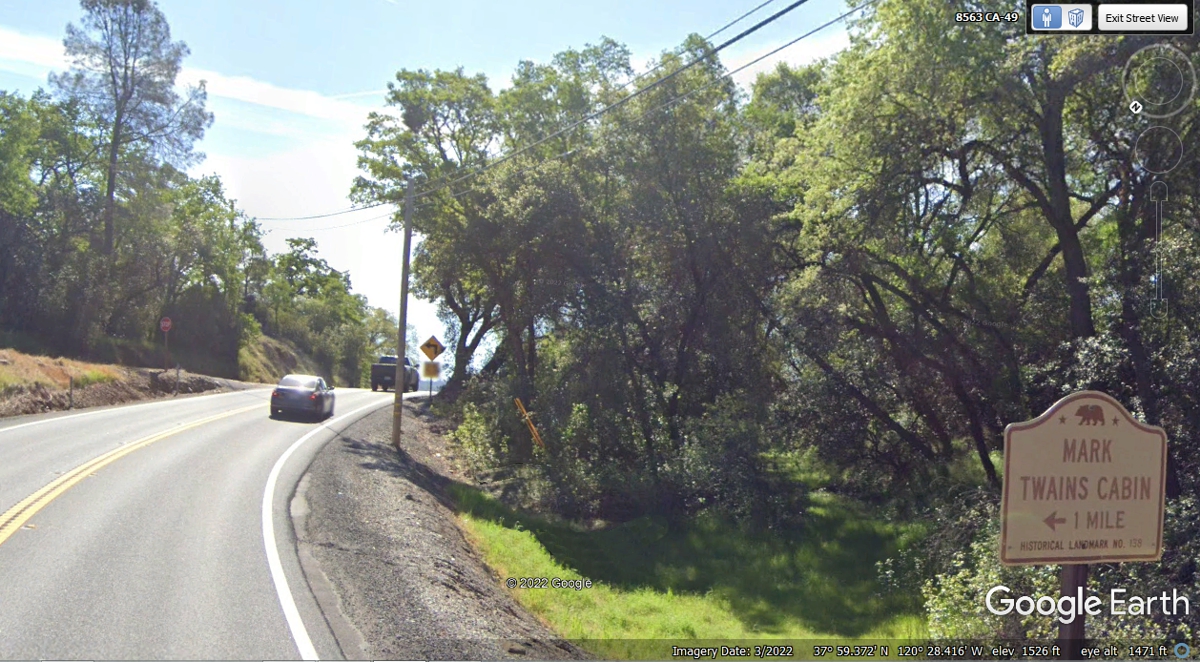 At the end of the one-mile access road, Google Earth captured this low-resolution image in September 2007. This is a replica of the original cabin used by Mark Twain.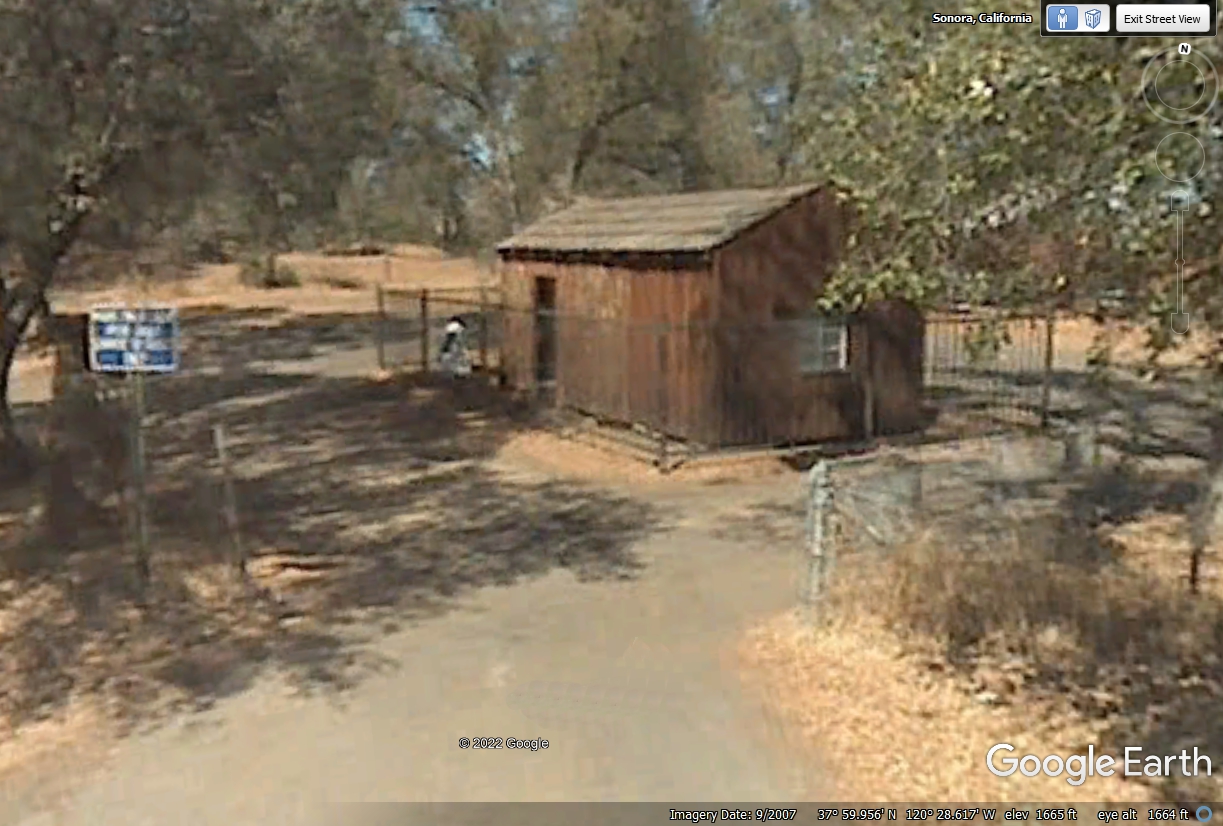 Here is a higher resolution image of the replica cabin.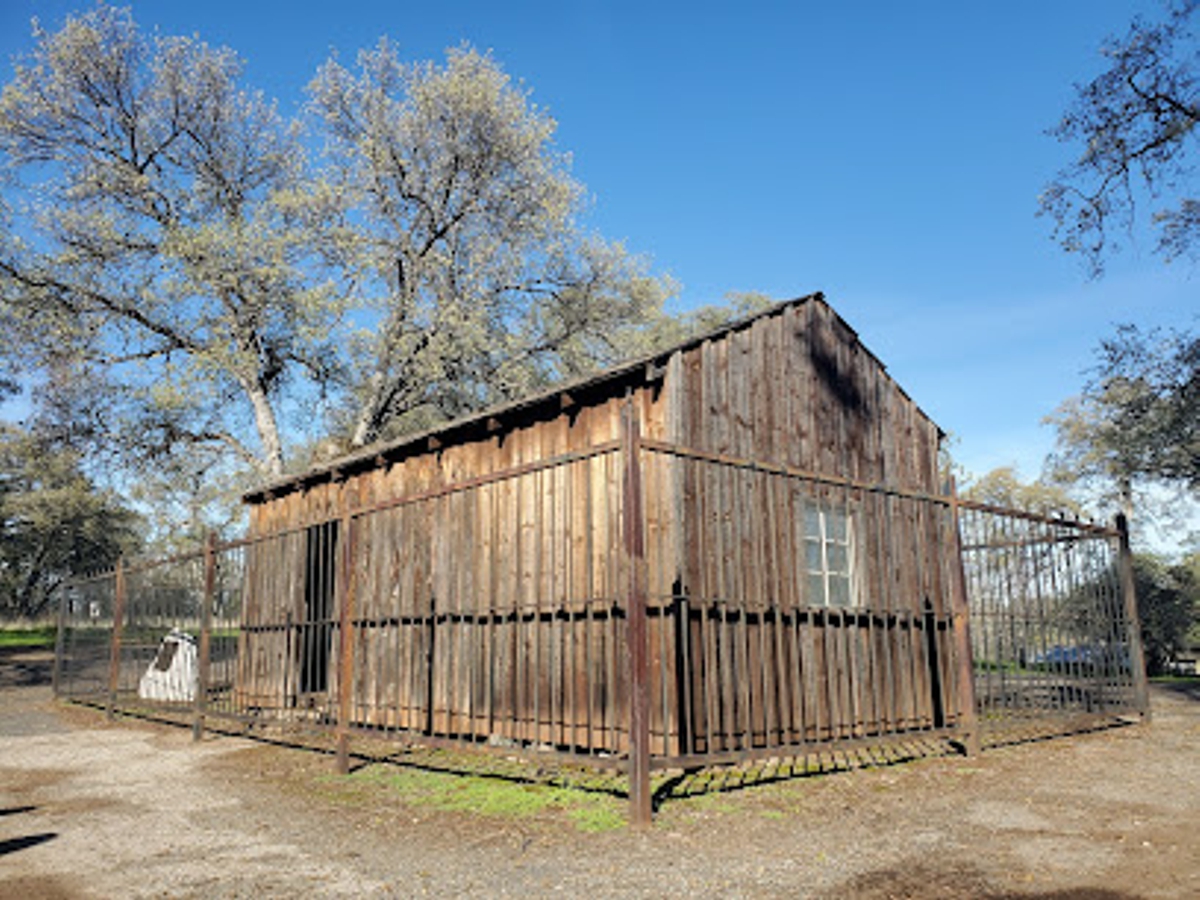 I remembered these curves ahead after starting down into the next valley going toward Sonora.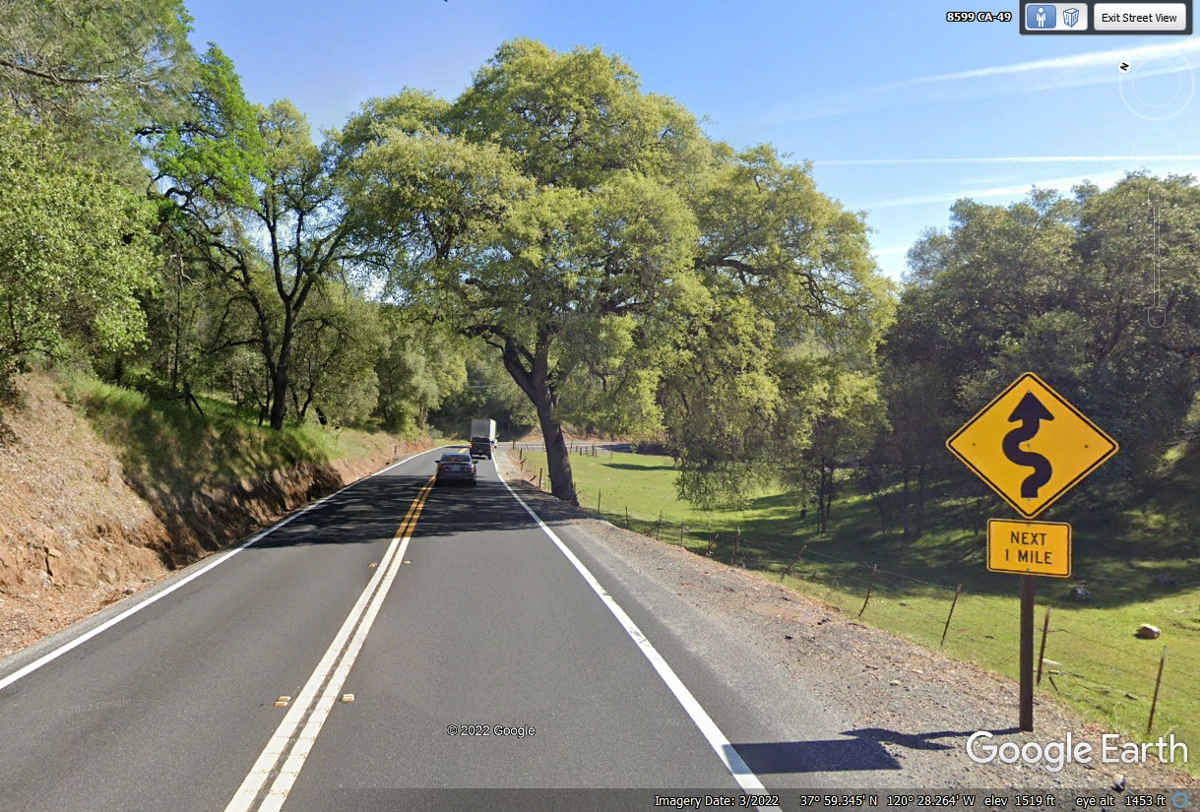 This intersection of county road E5 going to Jamestown tells us we are getting close to Sonora only 6 miles from here following the main highway going LEFT.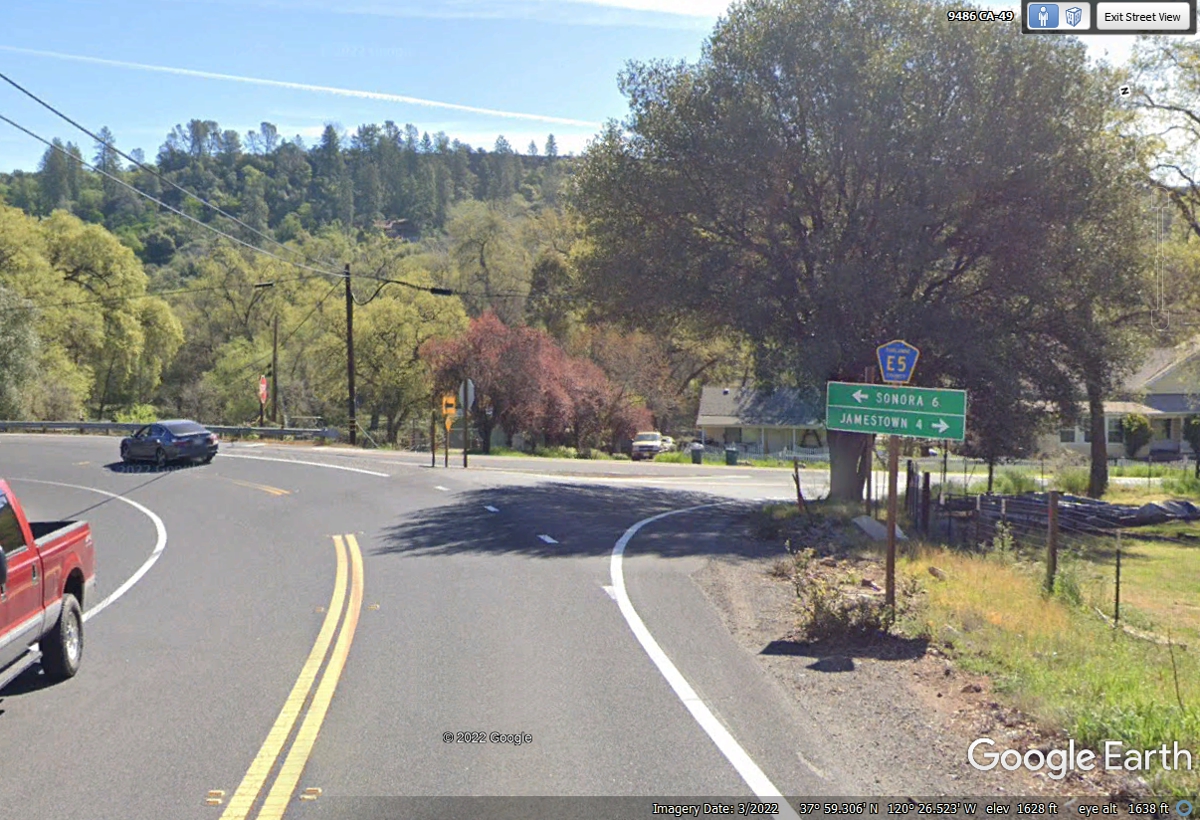 Our destination for lunch is getting closer, with our goal for Wendy's on the east side of town. With Linda's dog Chase, every meal is a drive thru experience. We are entering Sonora on the north side of town.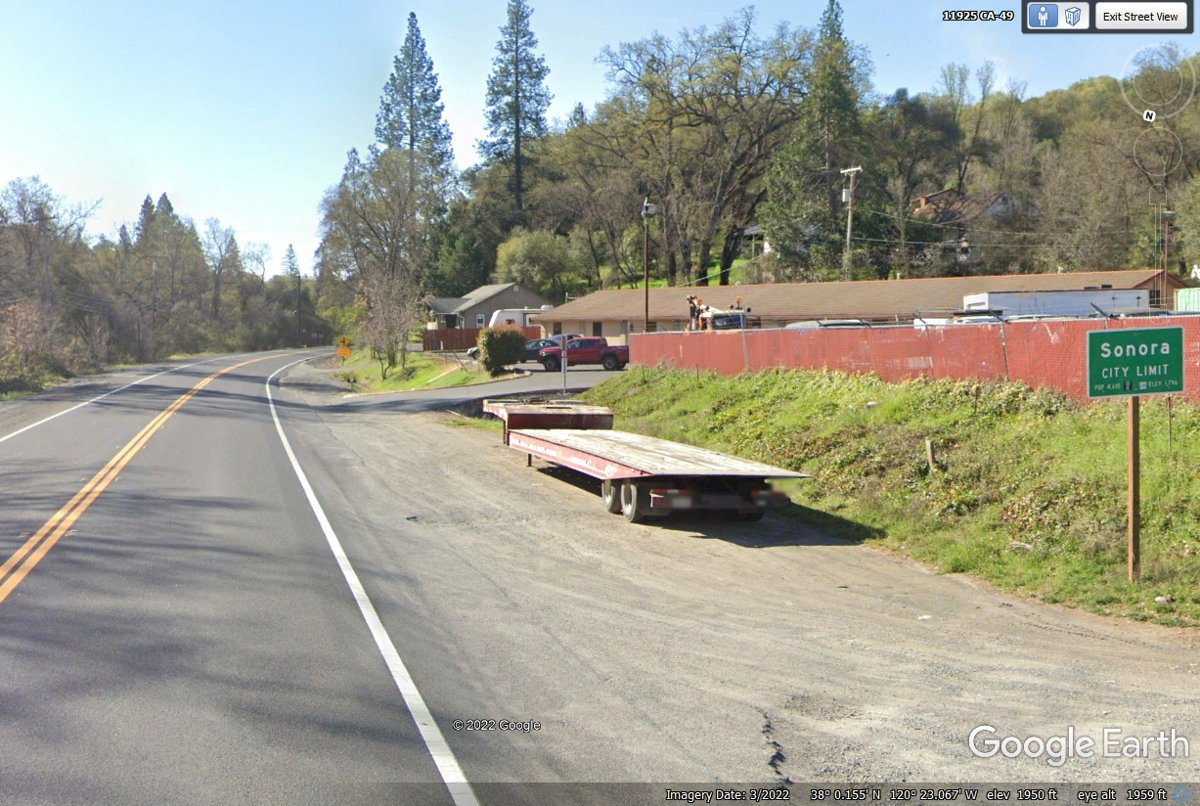 This is the north end of the heart of the town of Sonora looking south. CA 49 is still on this road, but makes a right turn a few blocks ahead.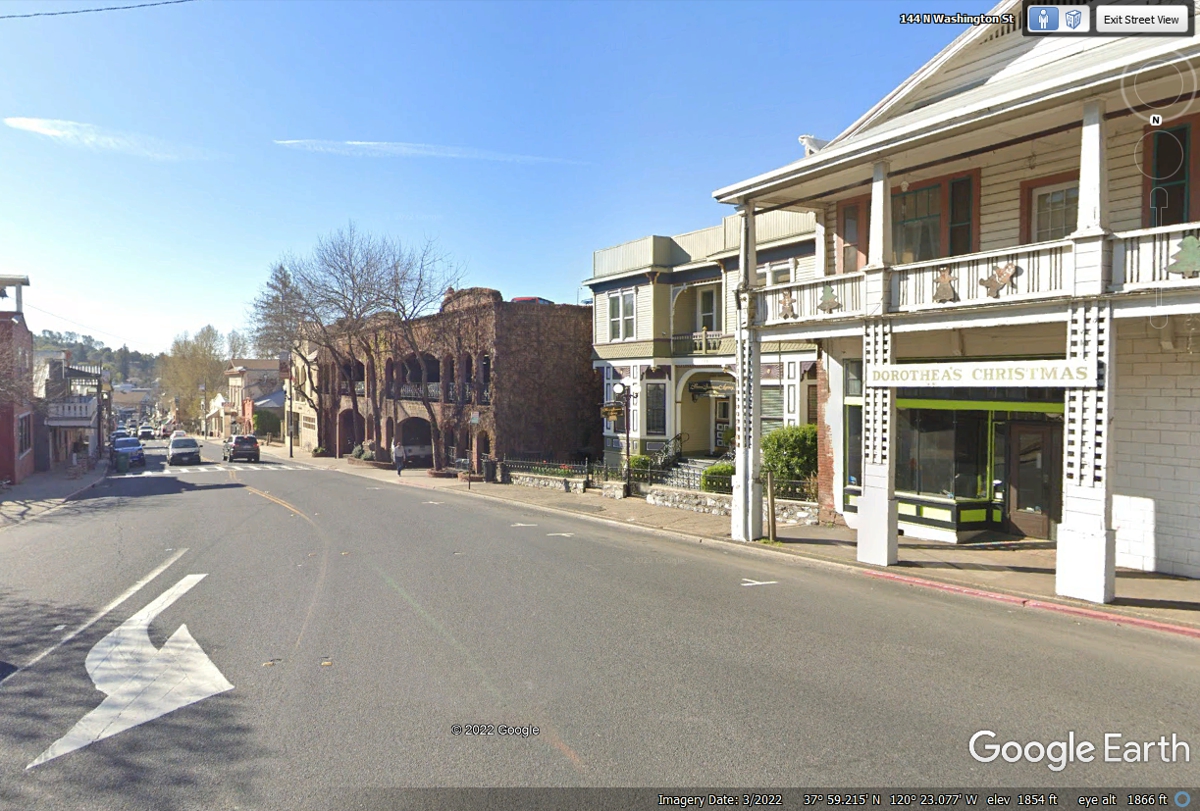 When CA 49 turned right near the center of town, CA 108 business route continued down to this intersection and turns left here.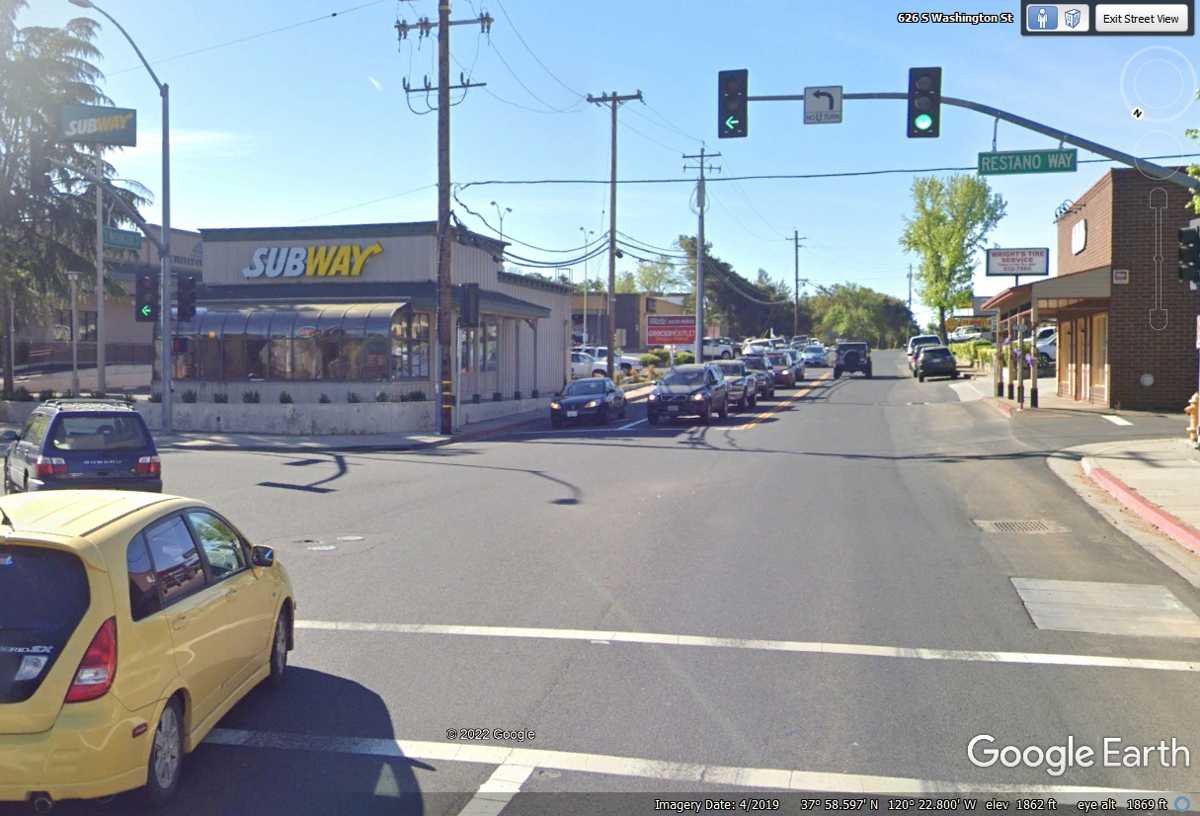 CA route 108 passes by the Subway sandwich shop then turns right at the end of this street onto Mono Way.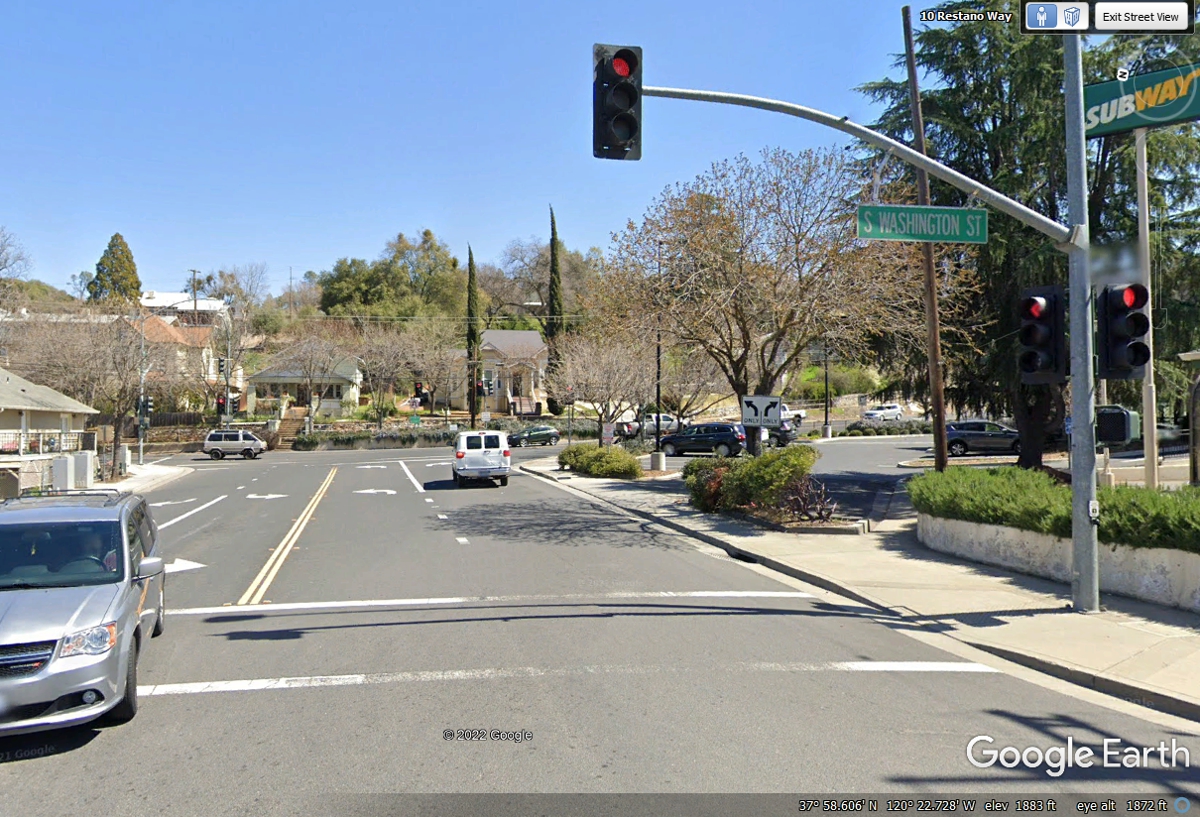 This is the business route for California 108 coming through part of Sonora heading to the East side of town. Notice the name TWAIN Harte, a place I have driven through to get up the mountain where Olson Technology is located. We are not going there today as we got here to late to visit with the staff on duty today. Mark Twain lived up there and another writer Bret Harte. They both lived there during the same era.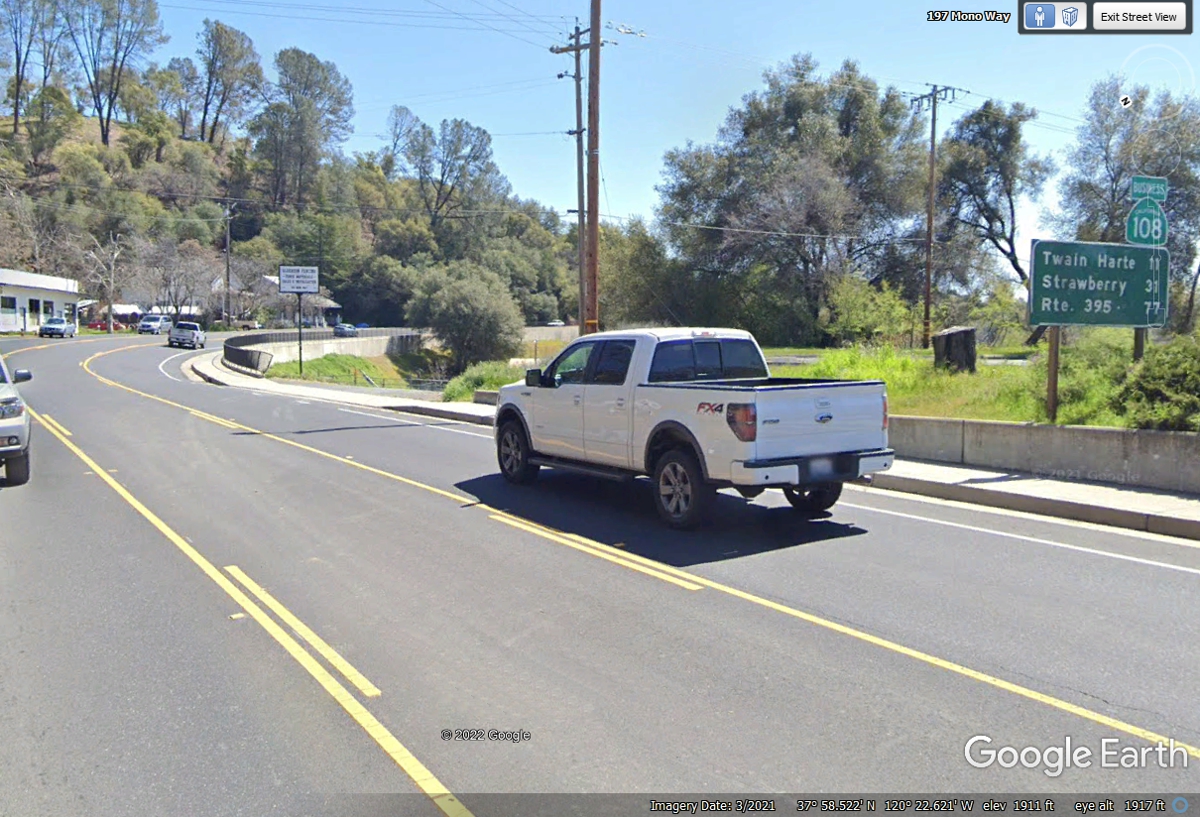 This is the Wendy's where we had lunch today at the end of Business route 108 at the intersection of the real California route 108 that will get us on the way toward the San Jose area.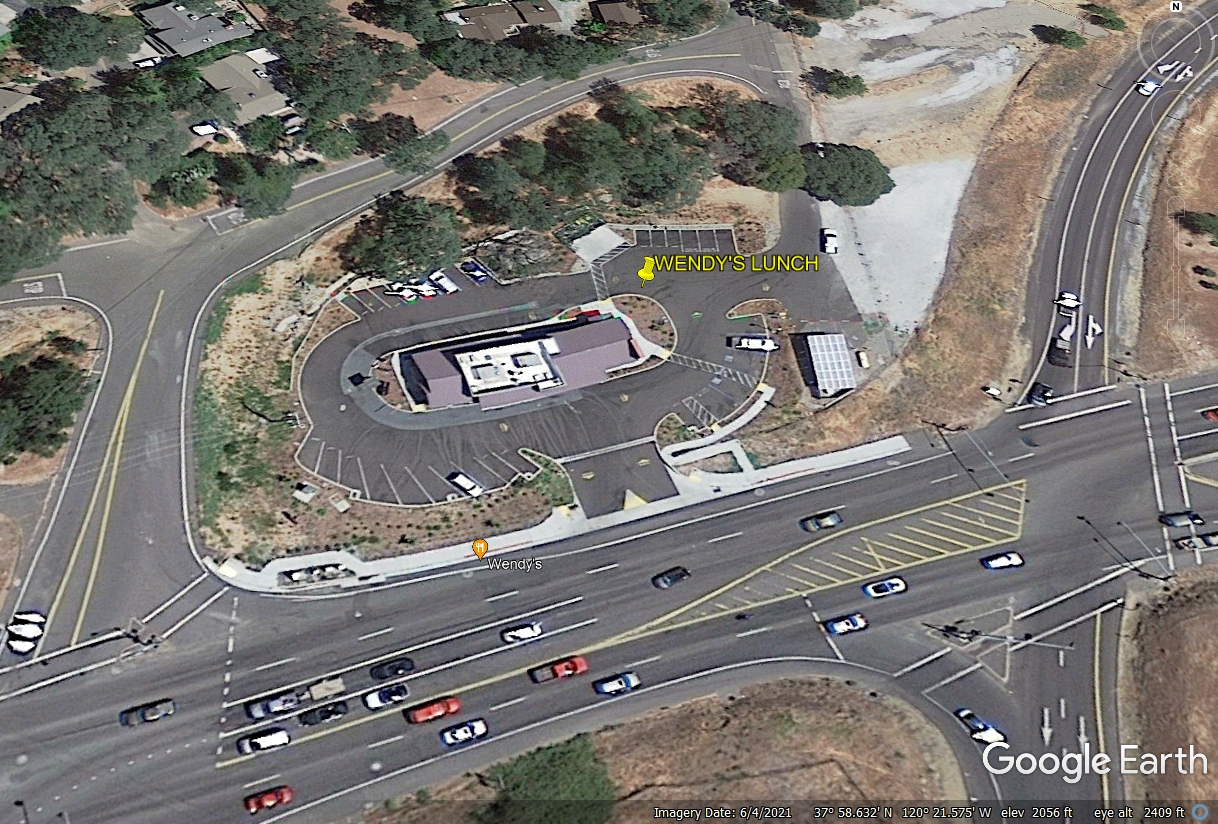 Here is the exit from Wendy's to get over to the entry to California Route 108 heading WEST toward San Jose and the San Francisco bay area.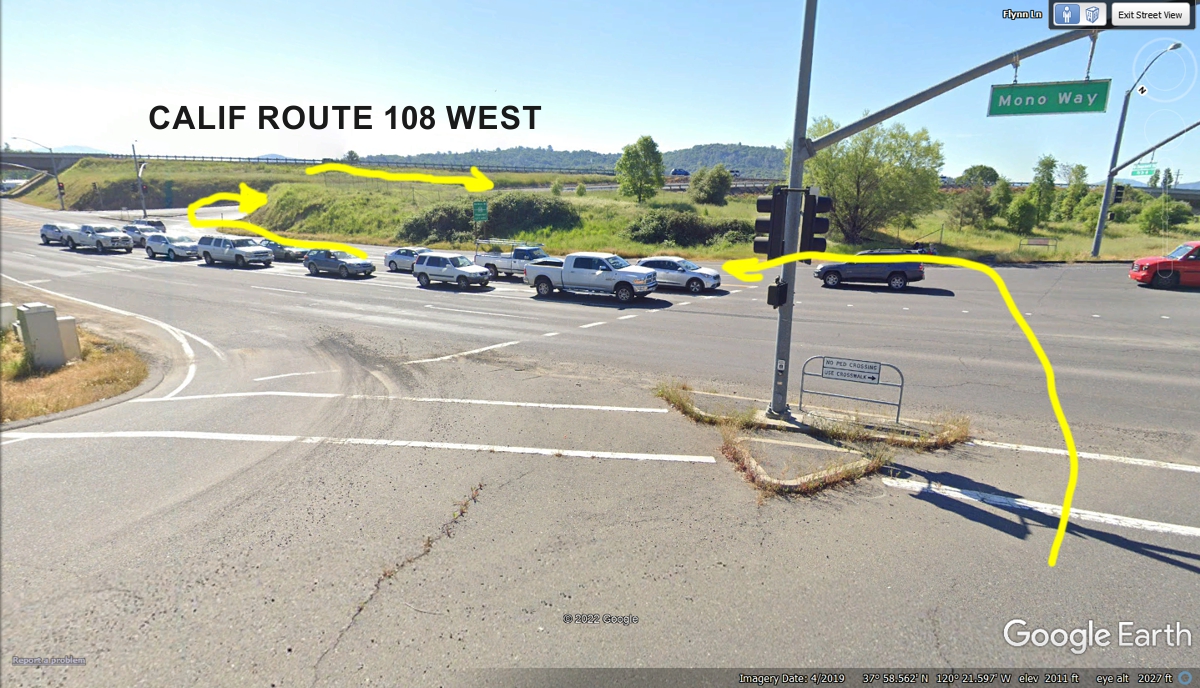 Railtown provided the steam locomotive used in Back-to-the-Future movie number 3. We turned left at the traffic light ahead to see what we could on Thursday, June 2, 2022.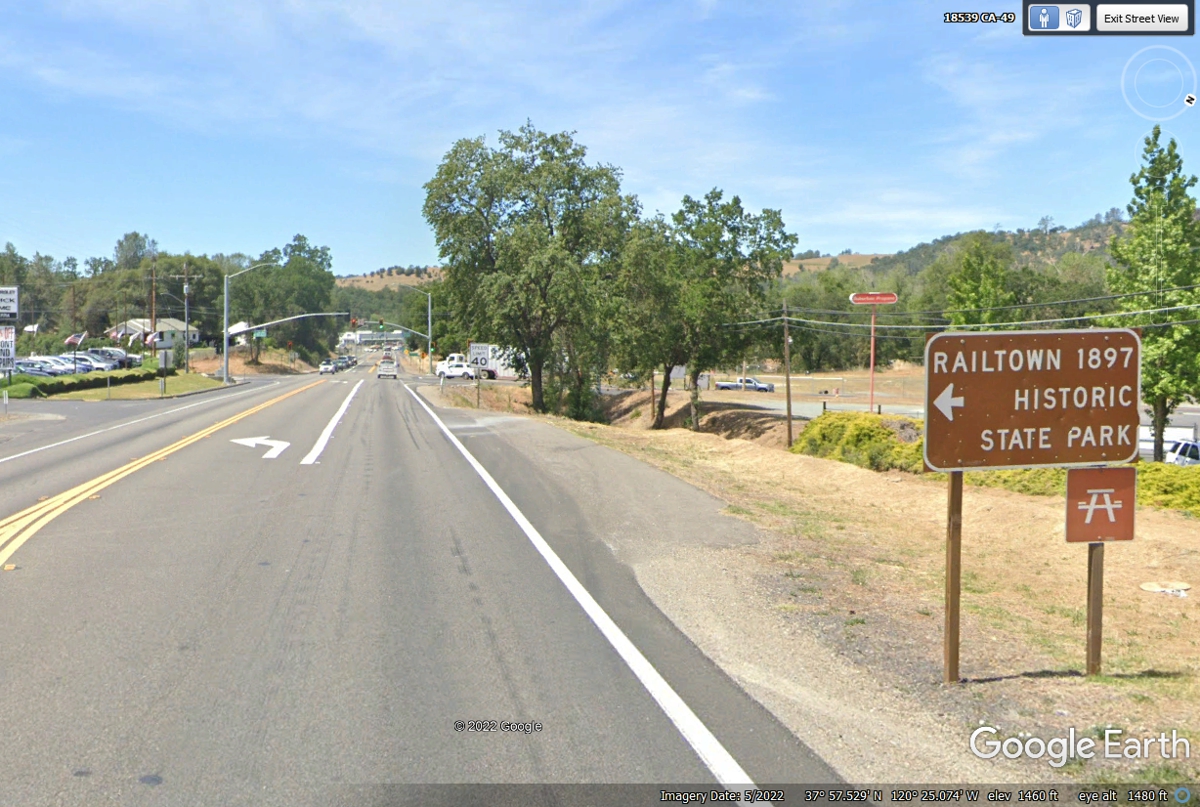 This is the intersection from CA route 108 to turn left going to Railtown.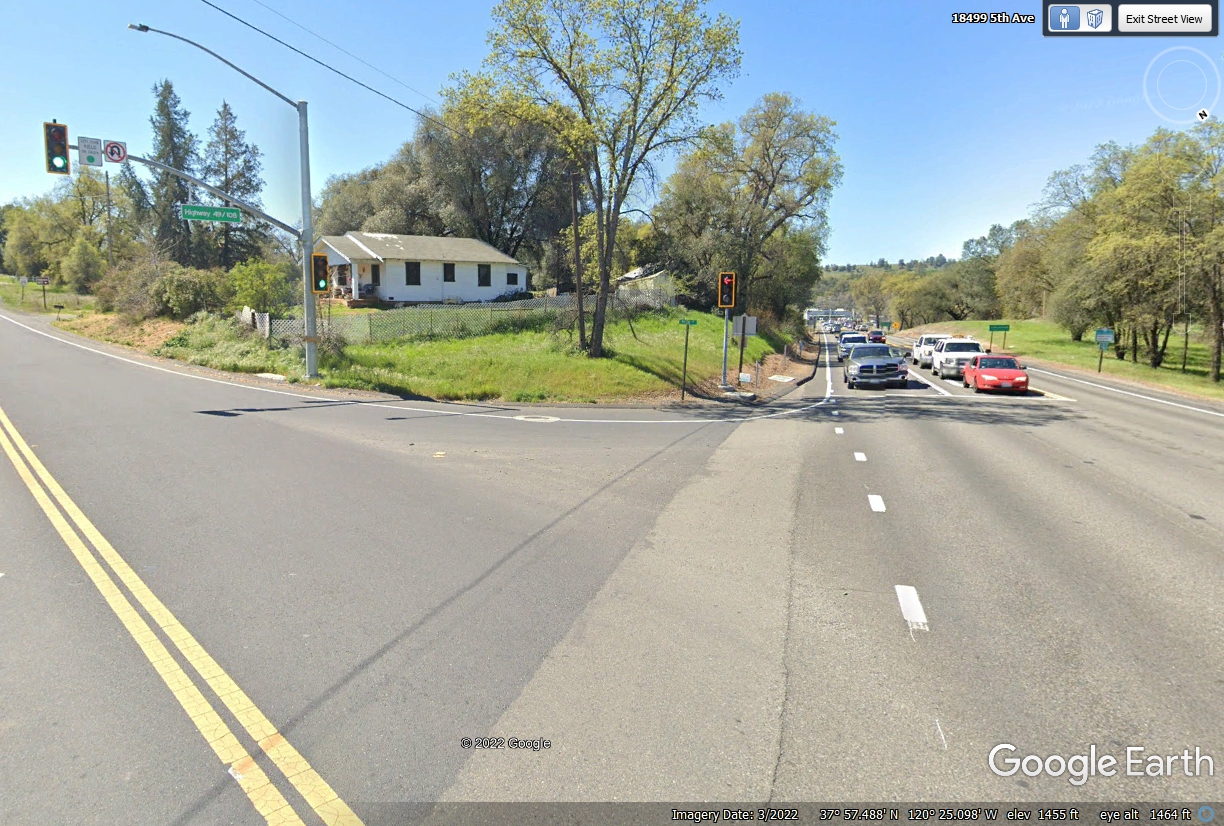 Google Earth drove by this portion of Railtown. When we drove by here today, it was after hours and they were closed.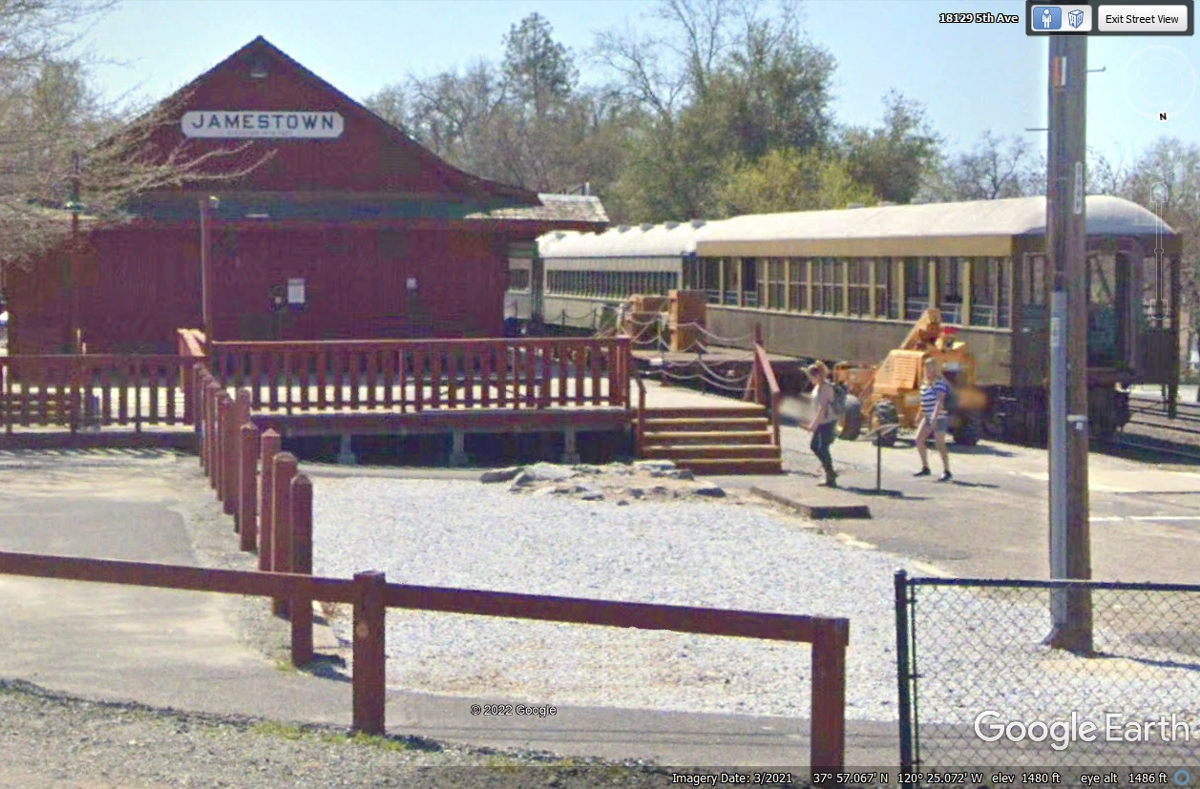 This is the most famous steam locomotive they have as it was used in the movie "Back to the Future III". This image is posted on the Railtown web site.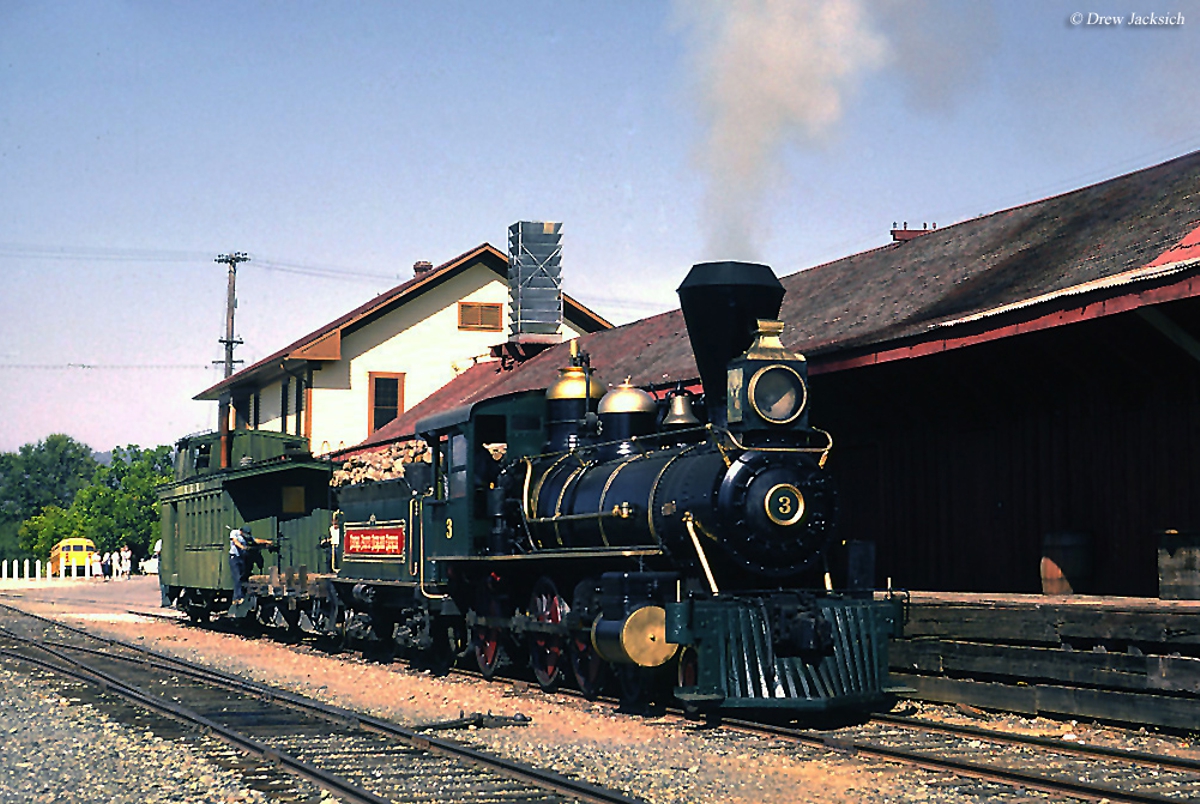 California highways 49 and 108 are together heading west at this point where we return to our route after a quick look at some of Railtown. We turned LEFT to follow route 108 west.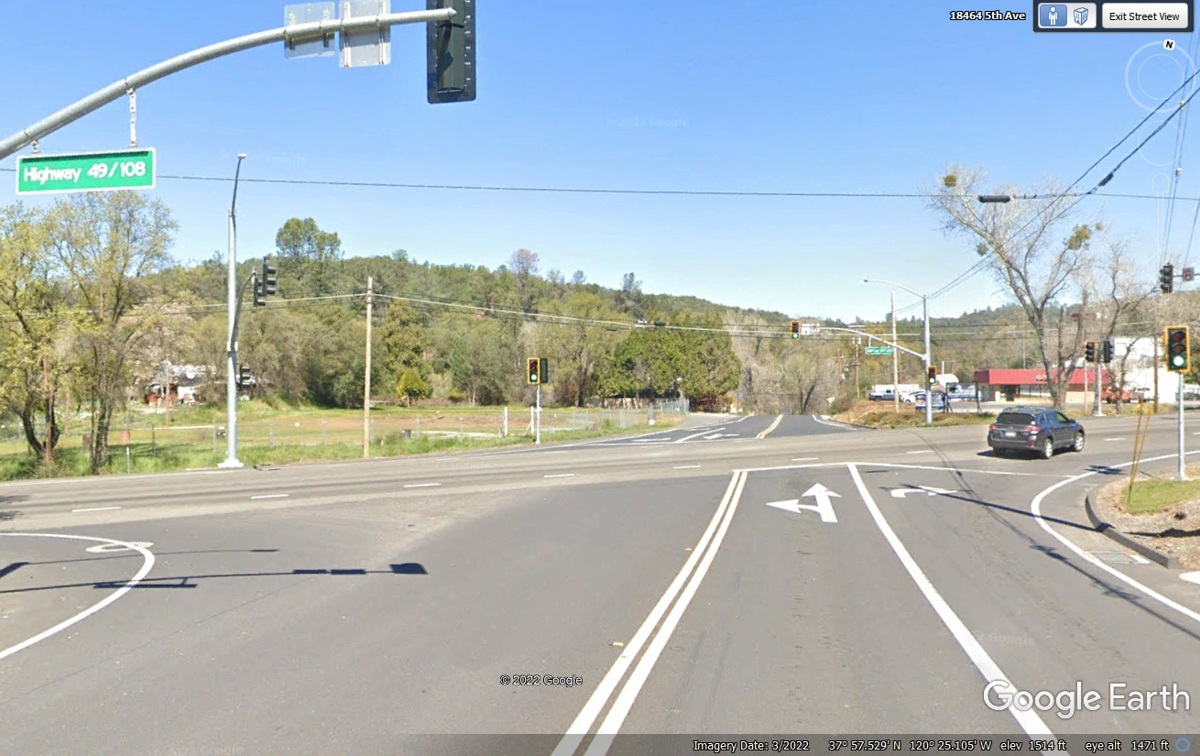 Route 108 bypasses the downtown section of Jamestown following a southwest heading. Route 108 continues fairly straight as it passes a big hill seen in this image below. That jet contrail could be a military aircraft since it does not match the contrail from an multi-engine airliner.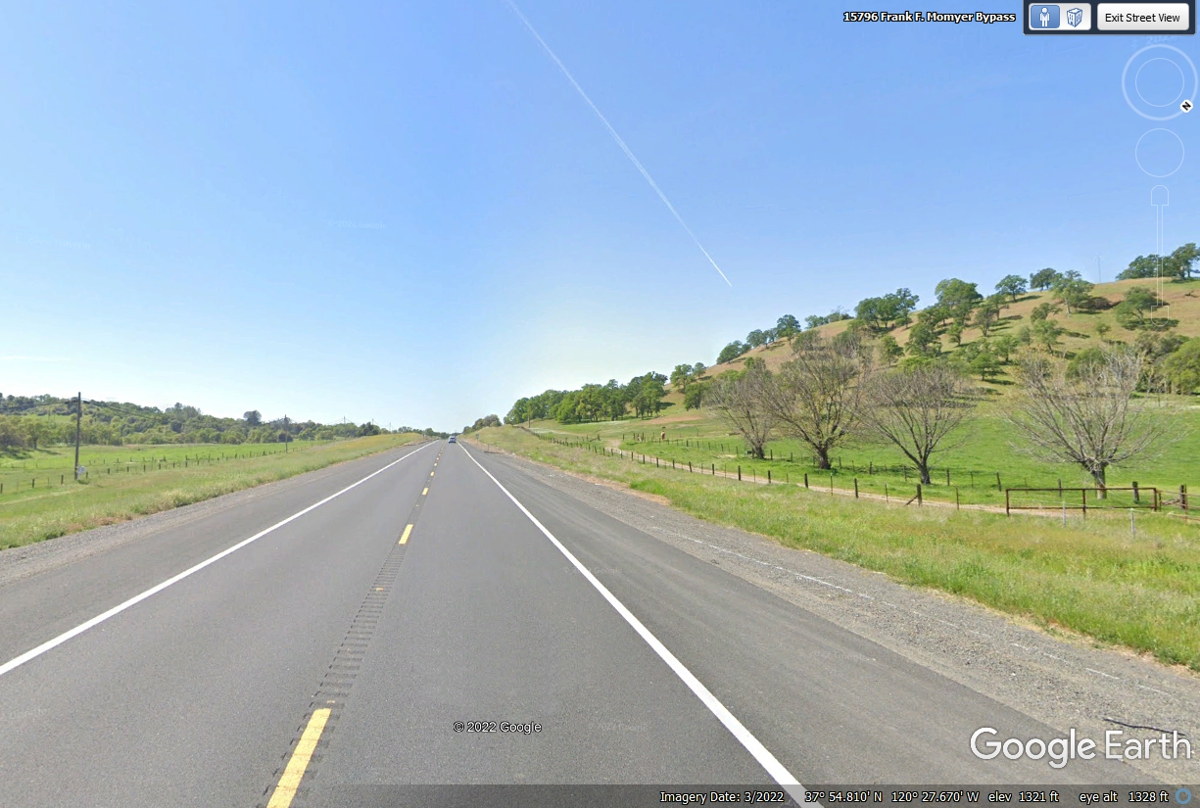 This is the first mention of Yosemite National Park 70 miles south of this intersection ahead.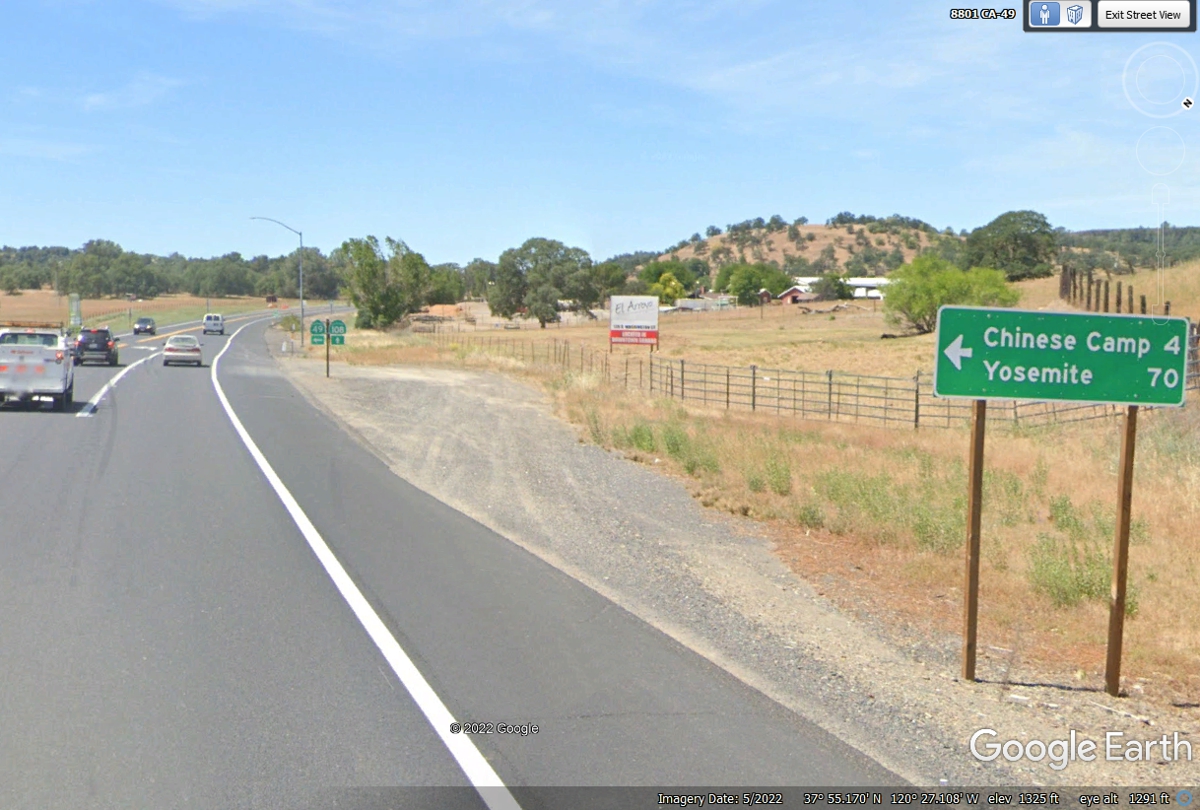 Chinese Camp is just 4 miles south of here on CA Route 49.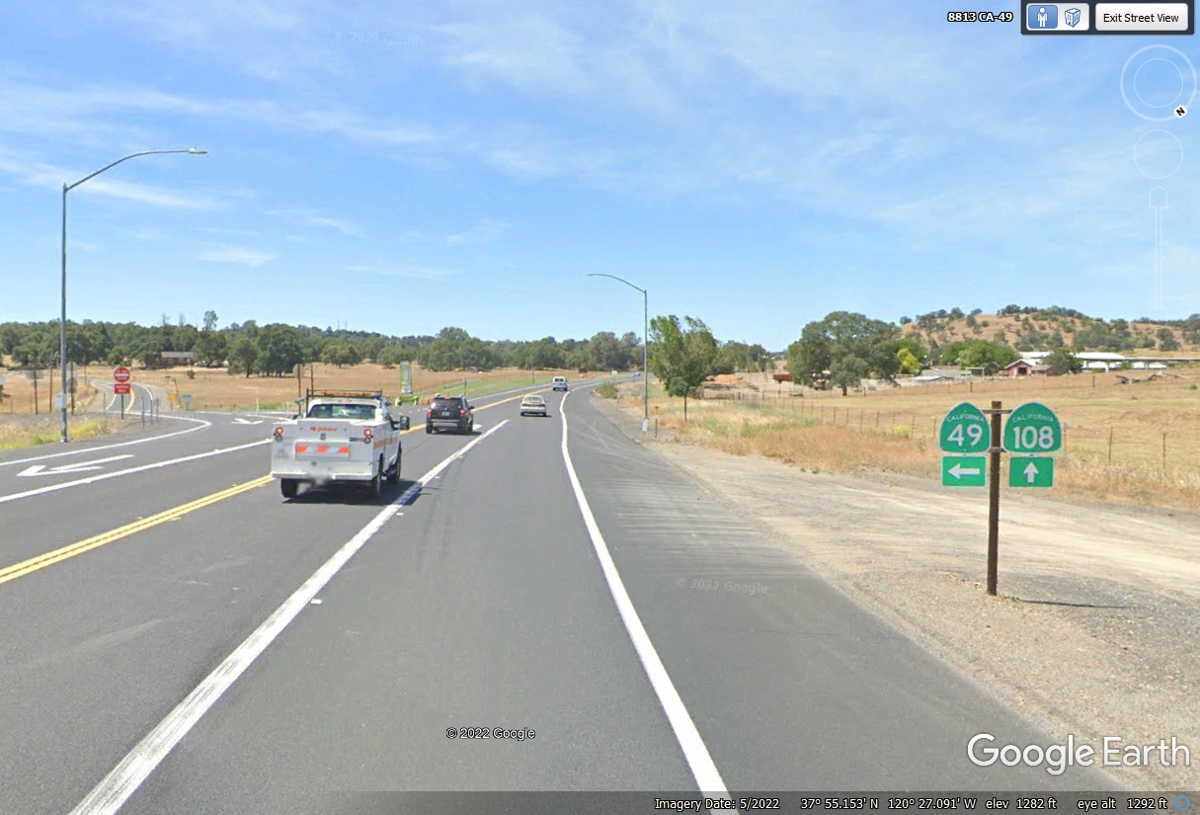 Our next highway will be California route 120 when we get to the town of Oakdale less than 28 miles from the intersection where 49 and 108 split. Route 120 has come this far East with Route 108 where it turns southeast to Chinese Camp and it will join CA route 49 until it is time for Route 120 to head East toward Yosemite National Park. This intersection is called Yosemite Jct.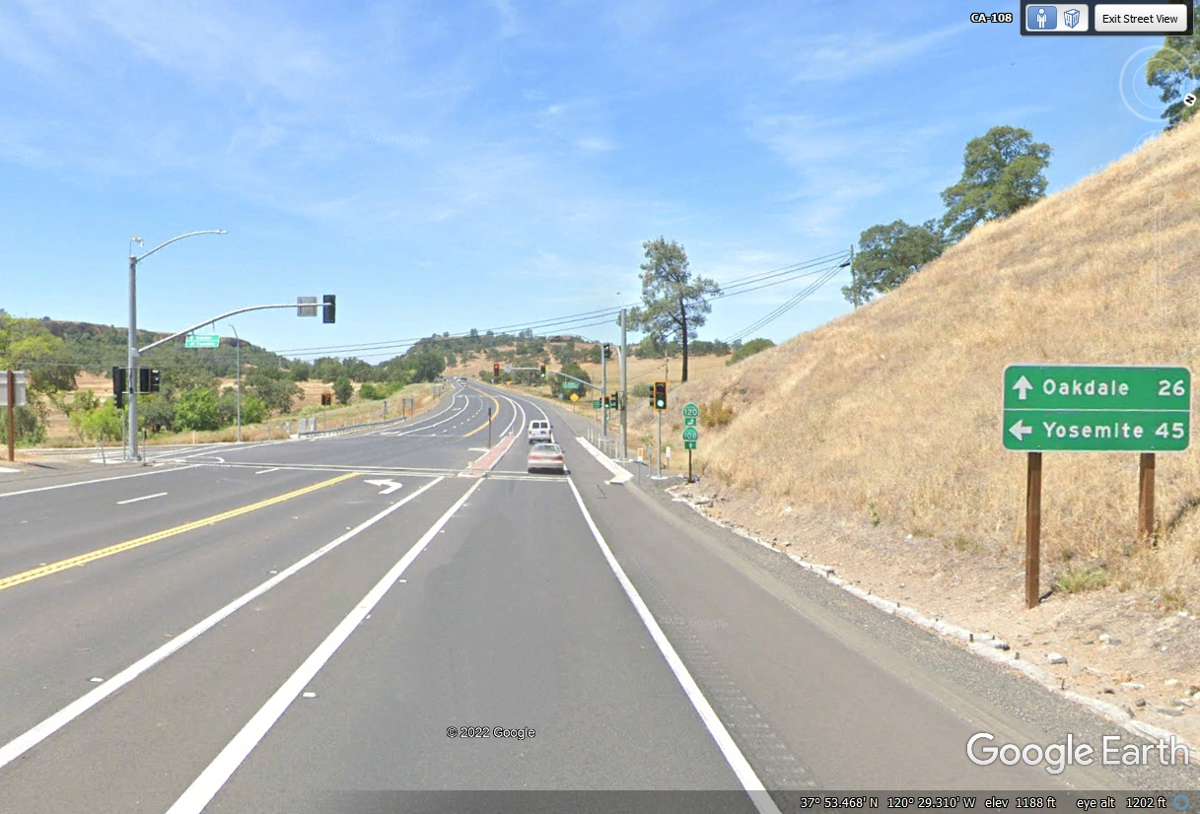 Here is the intersection from the photo above seen up close.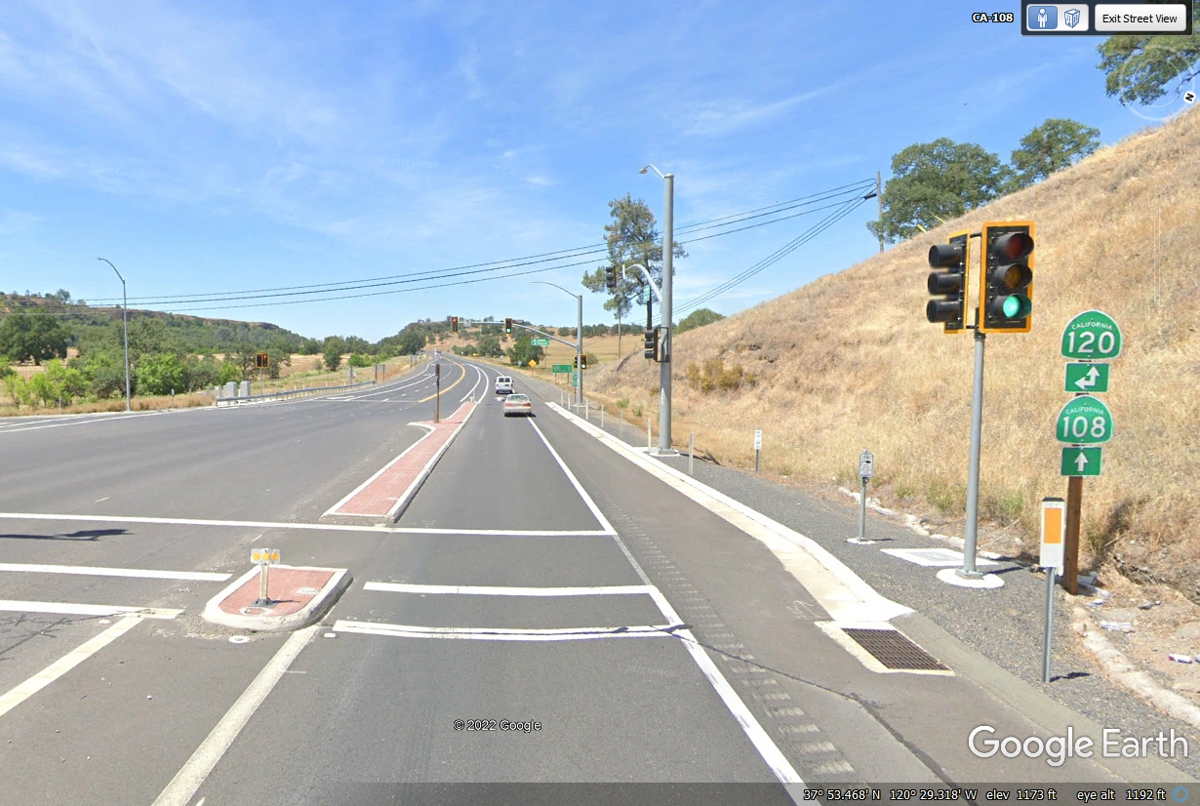 The four-lane divided highway to Oakdale, California is open country with some rolling hills that have been cut through as seen here.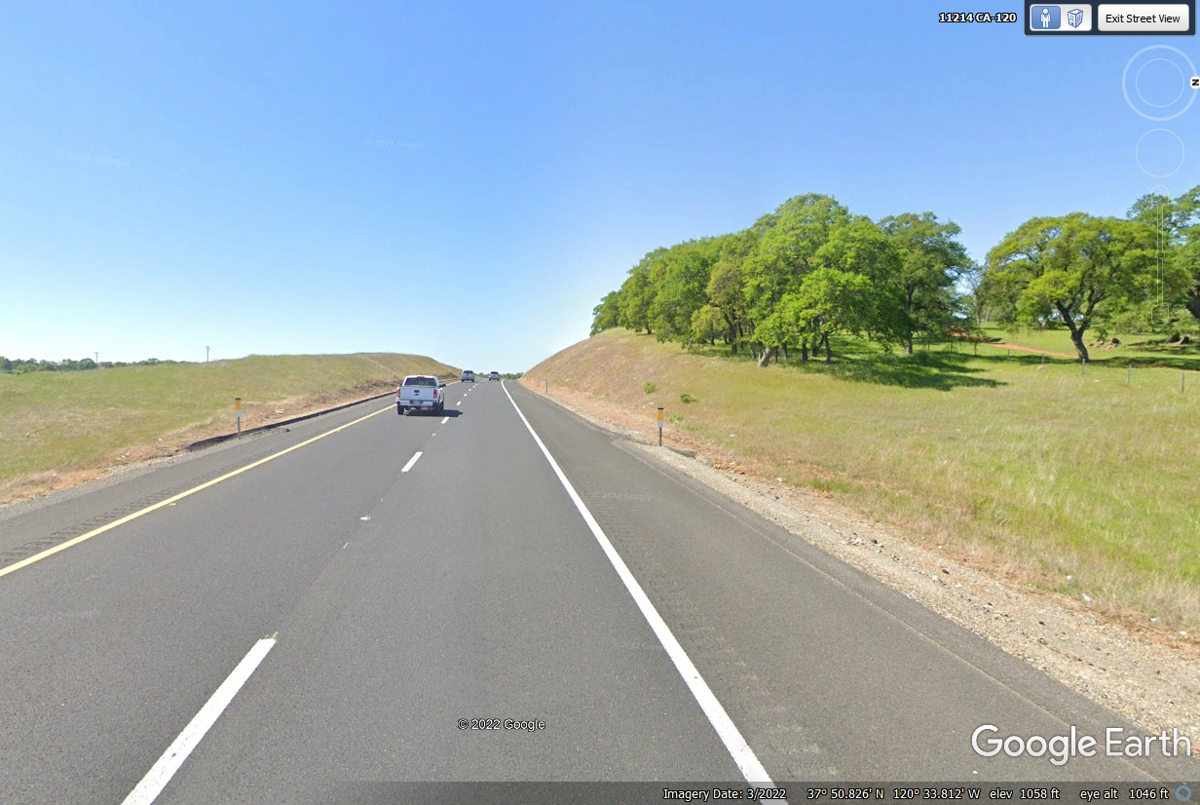 As CA 108 and 122 enter the town of Oakdale, the road becomes four lanes with turn lanes as needed. This Denny's looks bigger than most of them I have seen. The Burger King next door is their "normal size" and partially hidden by Denny's.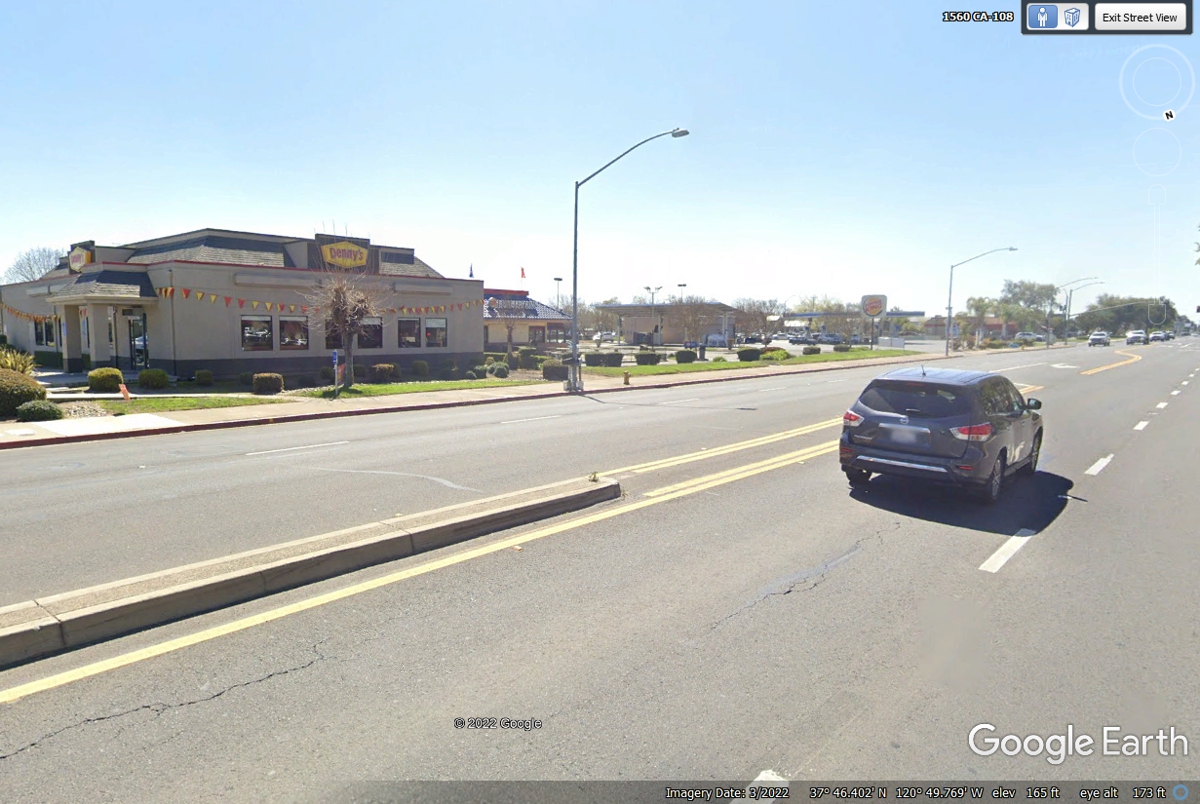 At the main intersection in the middle of Oakdale, California route 120 turns north west while route 108 goes straight ahead in a southwest direction. We are following route 120 that will turn due west after leaving town. We are going to Manteca, CA to buy fuel. The remaining fuel in the car was purchased in Carson City, Nevada early this morning at a lower price than they have in California.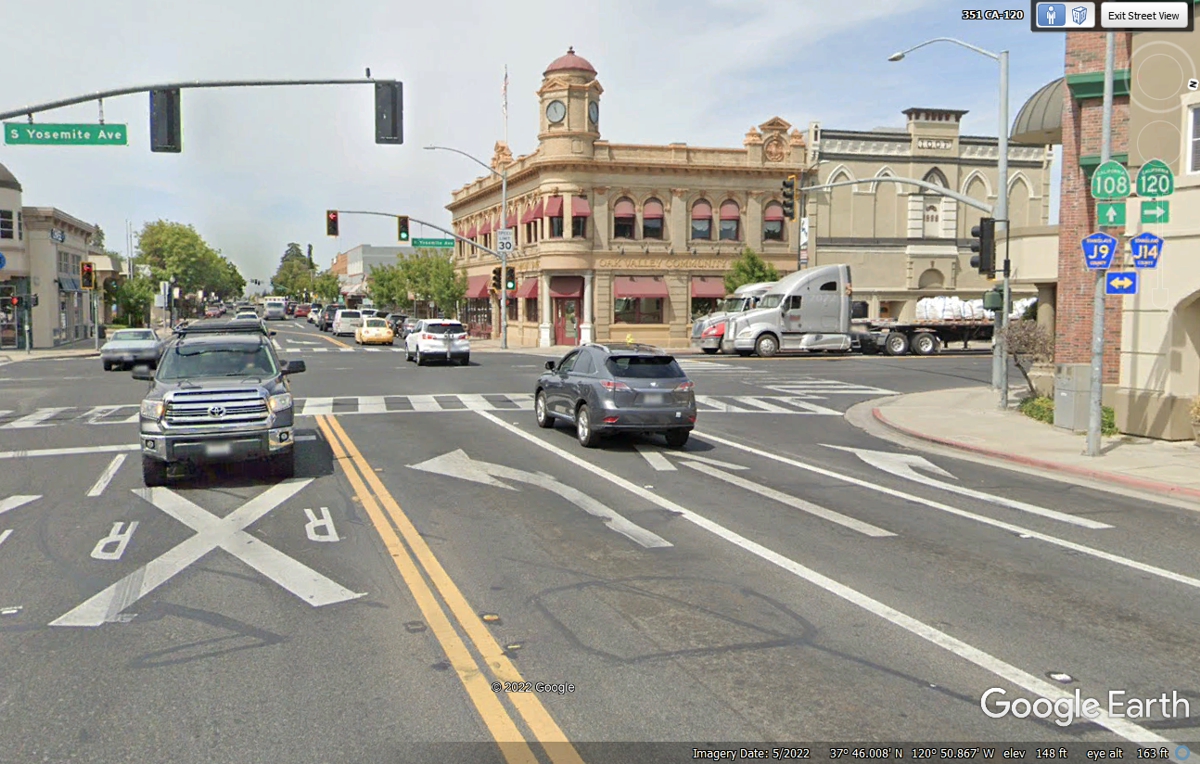 Here is our second crossing of the Stanislaus River today. The photo of the river and reservoir are at the bottom of PAGE 29 after we had passed Angels Camp. The image below is number 28 on this web page.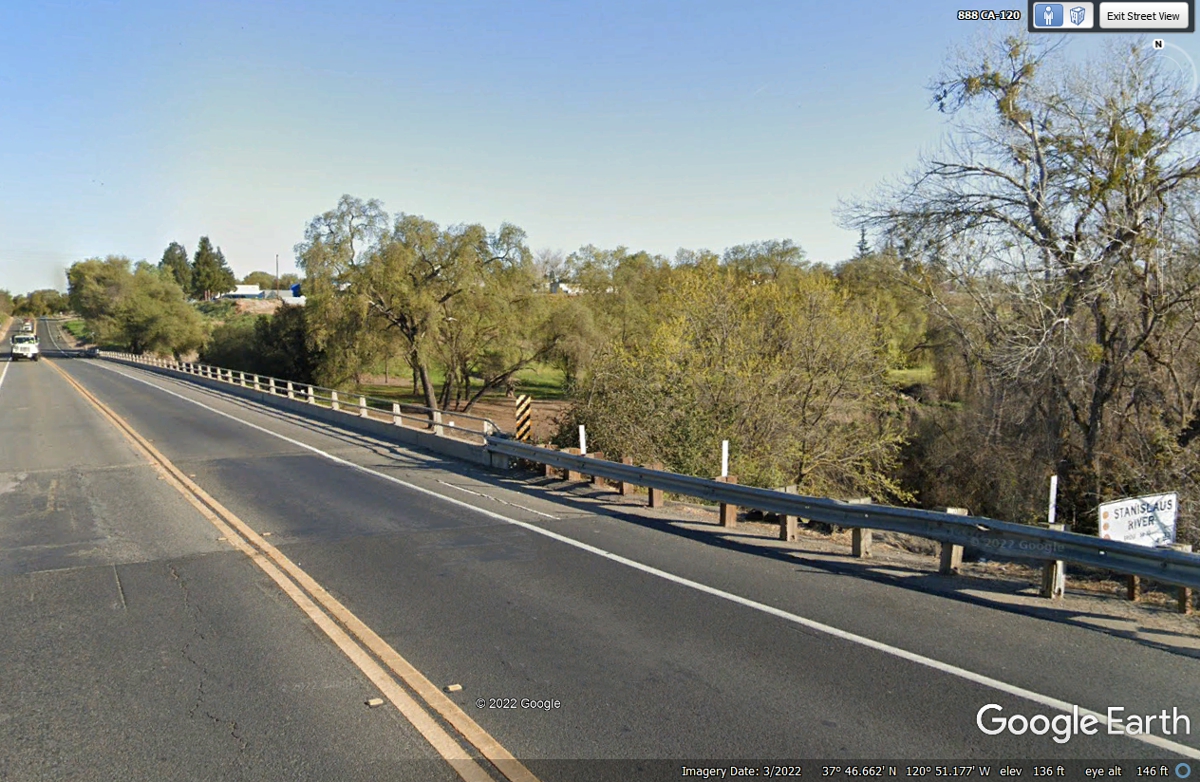 CA 122 turned west not far north from the river. Almond groves dominate much of the agriculture in this area. There are always bee hives to pollinate the flowers on the almond trees. We are now in the central valley of California.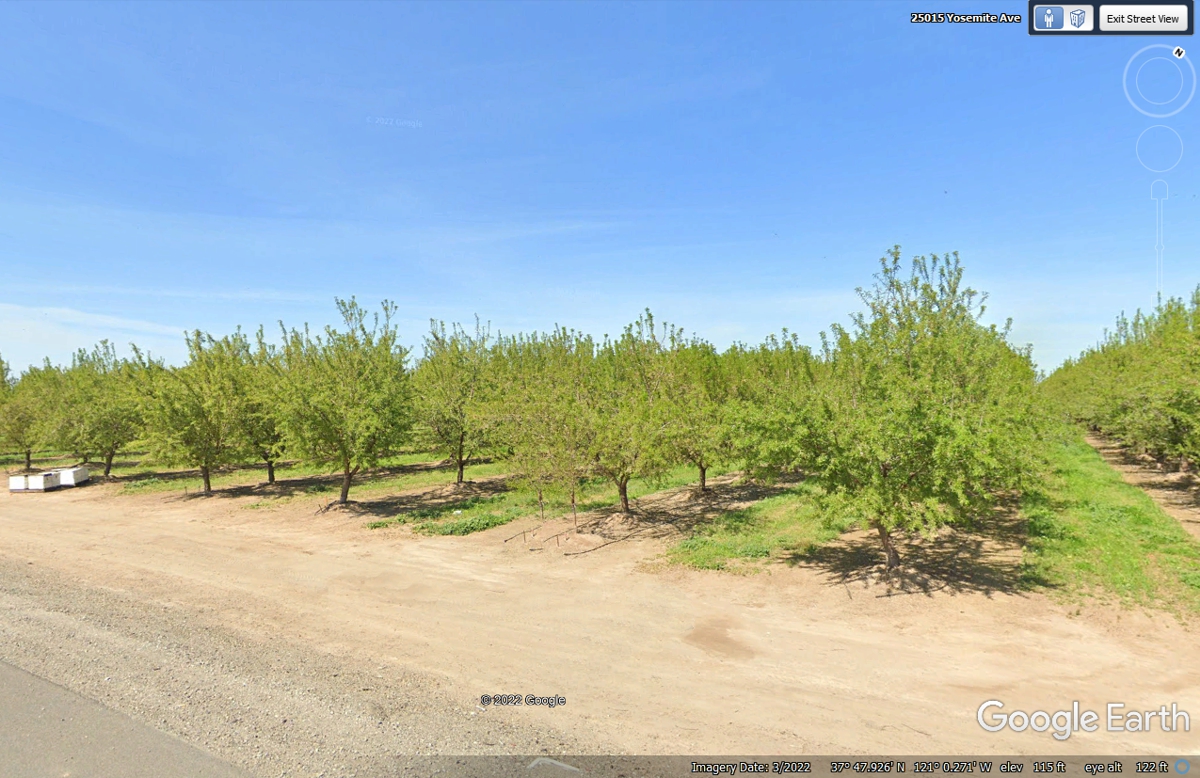 They also grow grapes in this area with wineries along side route 120.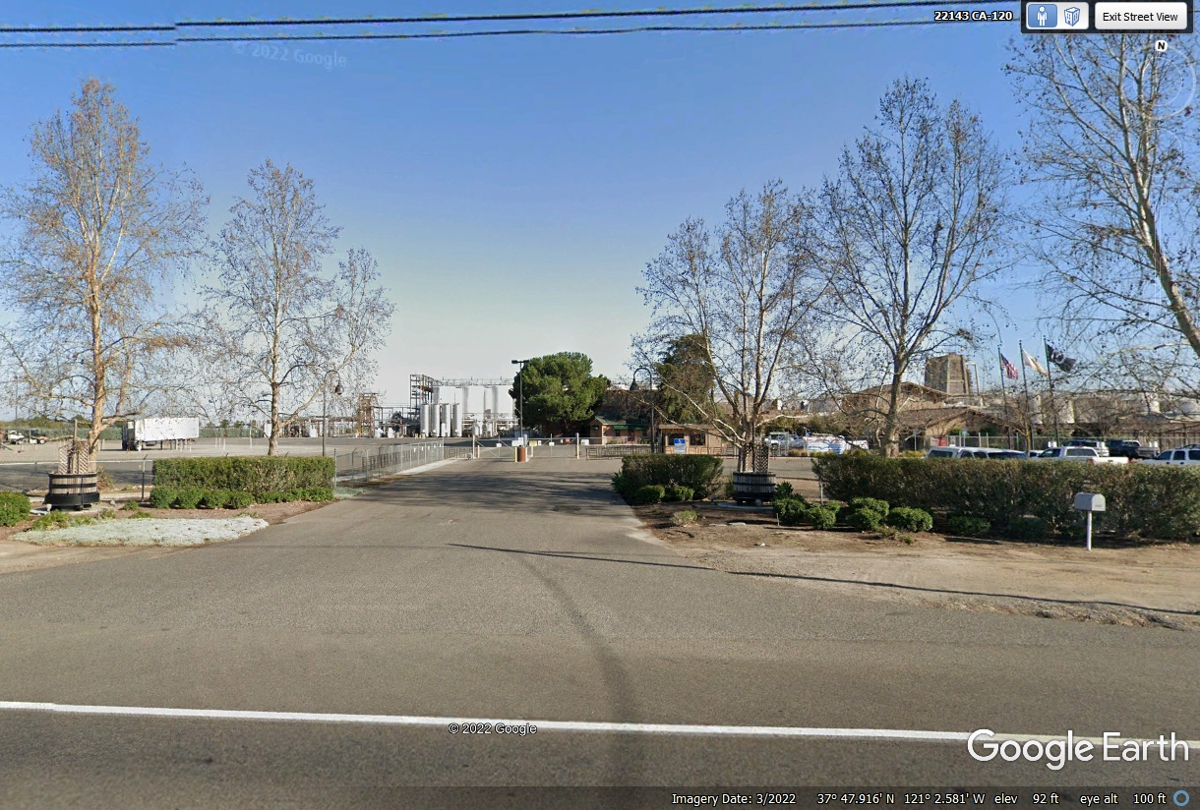 This aerial view shows there are many crops grown in this area. This is the Central Valley of California where agriculture is king!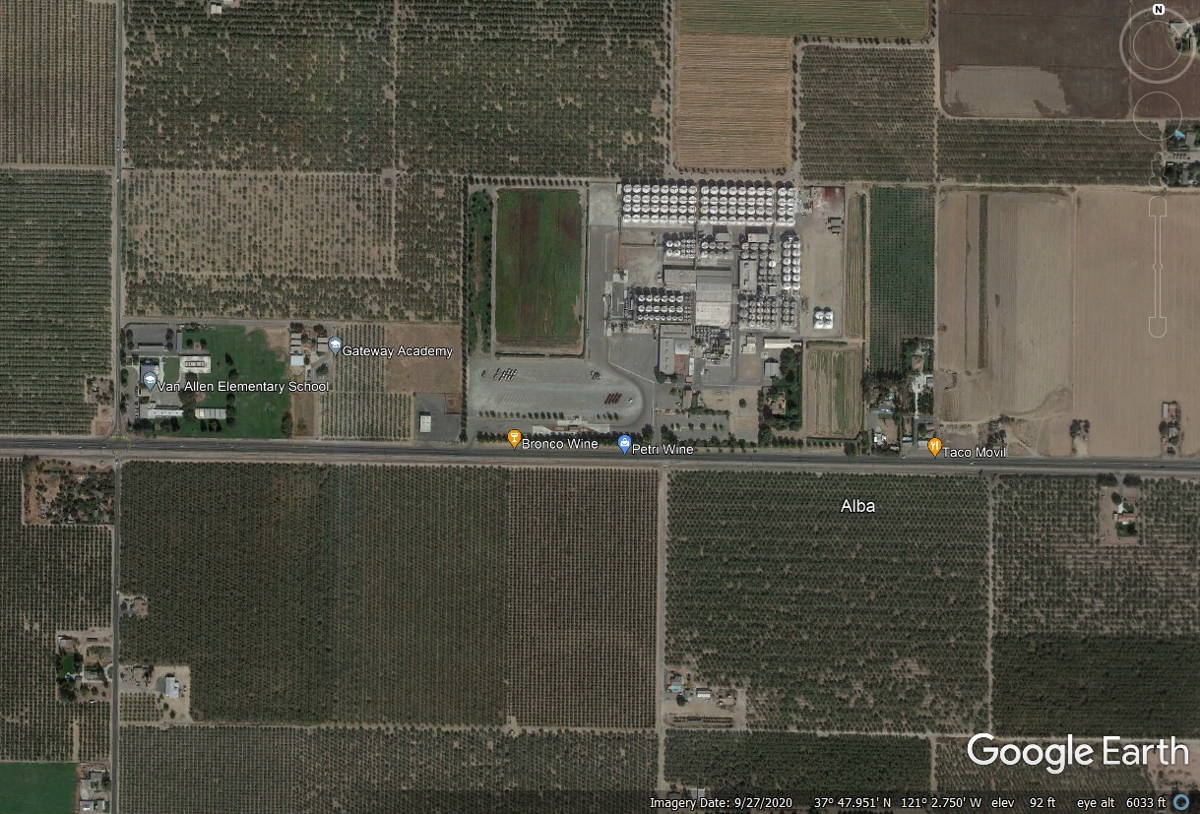 From agriculture areas to the town of Manteca on the other side of this freeway going west on route 120 into the town.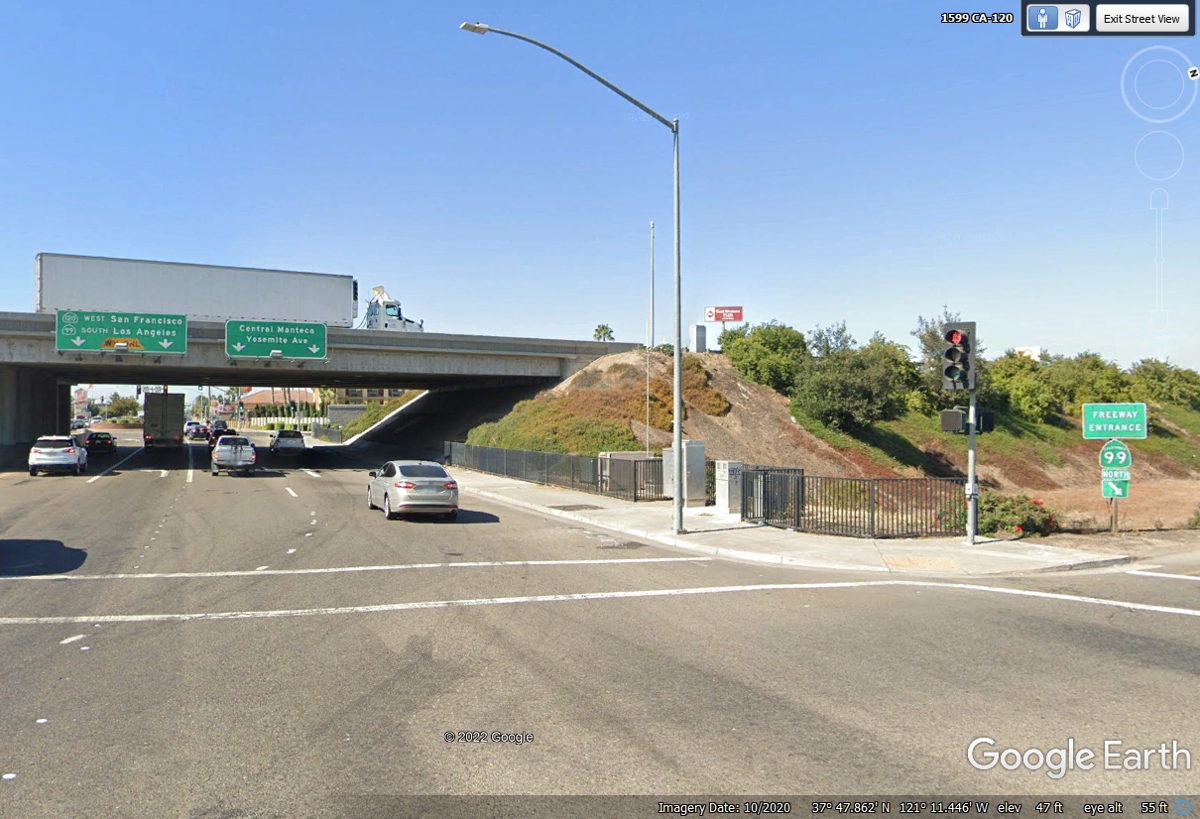 This is the first fuel purchased in California after our trip from Carson City Nevada. Linda's Chevy Equinox has been getting about 30 MPG on this vacation trip. We continued West on route 120 to get to Interstate 5 southbound to the next exit to get on I-205 westbound for about 5.5 miles to exit 8 from I-205.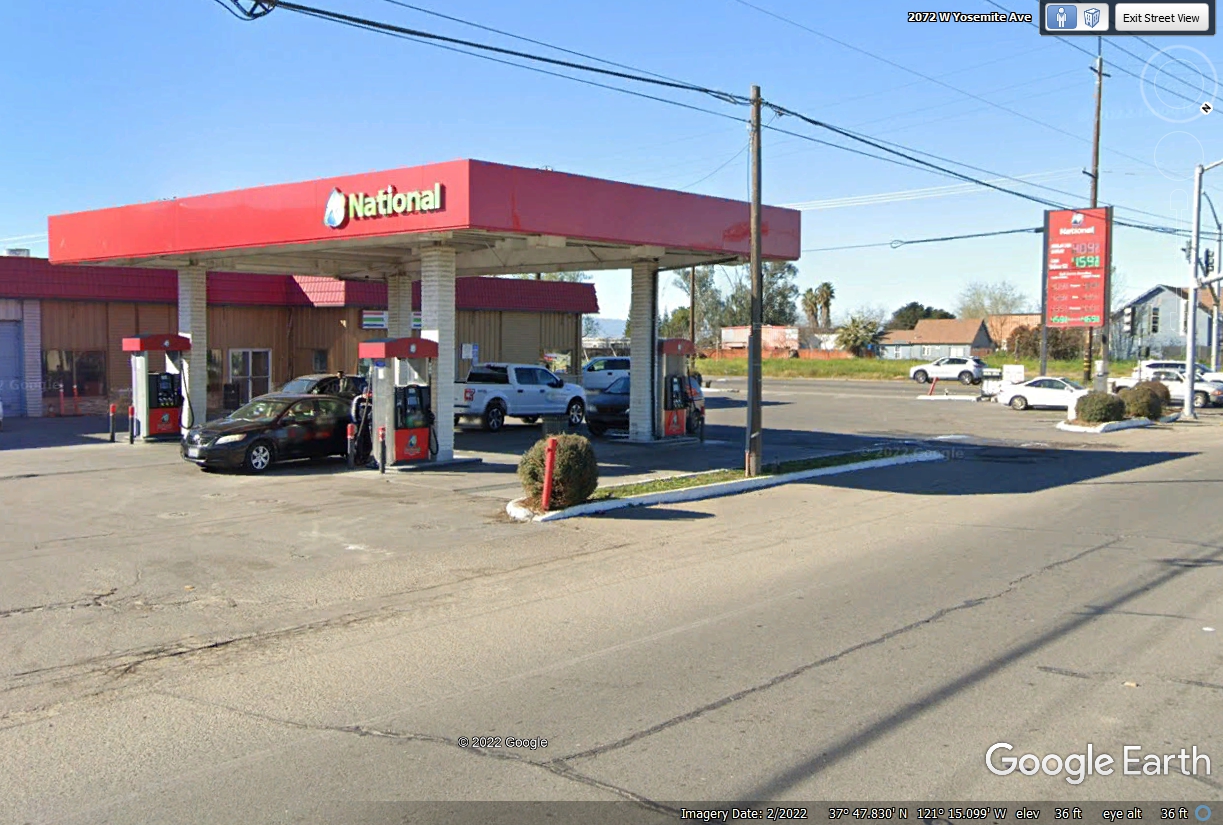 We got off at this exit and turned left to go under the freeway to our motel on the other side.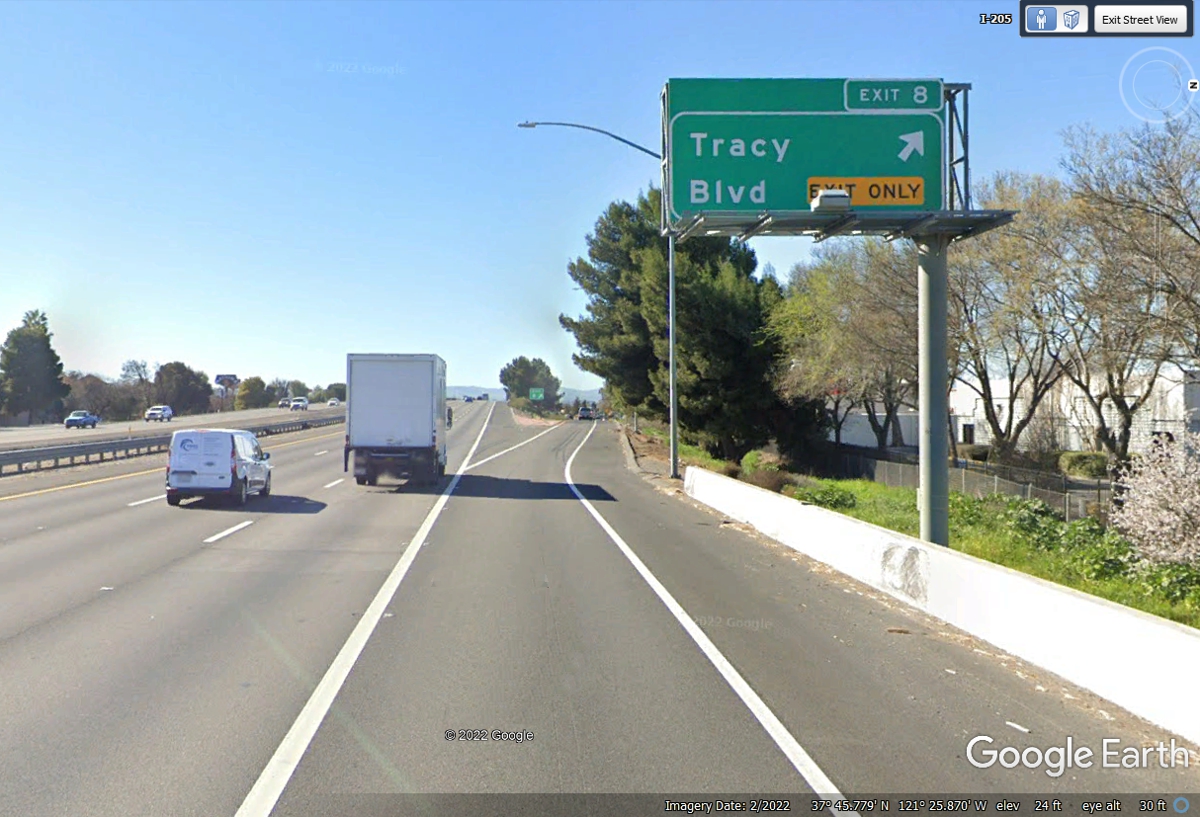 The EconoLodge is a pet friendly hotel we found using the Bring Fido web site. The Wendy's was the source of our take-out breakfast the next morning.