June 2022 Vacation Day 11 · · PAGE 26.
June 2, 2022: We crossed a lot of DESERT area yesterday between Salt Lake City, Utah and Fernley, Nevada located on Interstate 80. We were looking for Wendy's to get some breakfast biscuits this morning. We got on I-80 at exit 48 near our motel. The first Wendy's we found was at exit 46 we were crossing as we noticed it as seen here. We are in the western part of Nevada where the terrain is changing as we go into some of the Sierra Mountains and enter California. We did not double back to get to this location. There should be another Wendy's ahead as we approach Sparks and Reno. NV.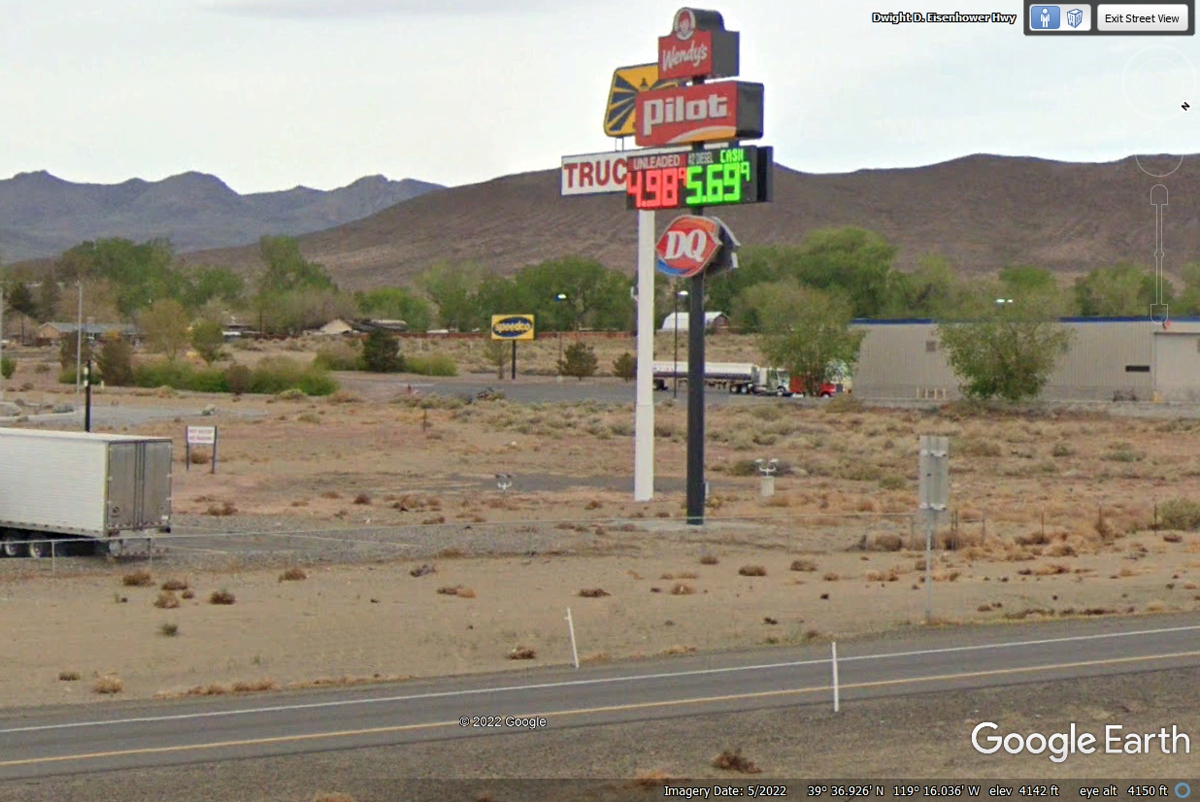 The route today is west on I-80 to Reno, Nevada then south down to Carson City, the capitol city of Nevada. That is the Truckee River on the left side of the image below. It is the only outlet for water from Lake Tahoe.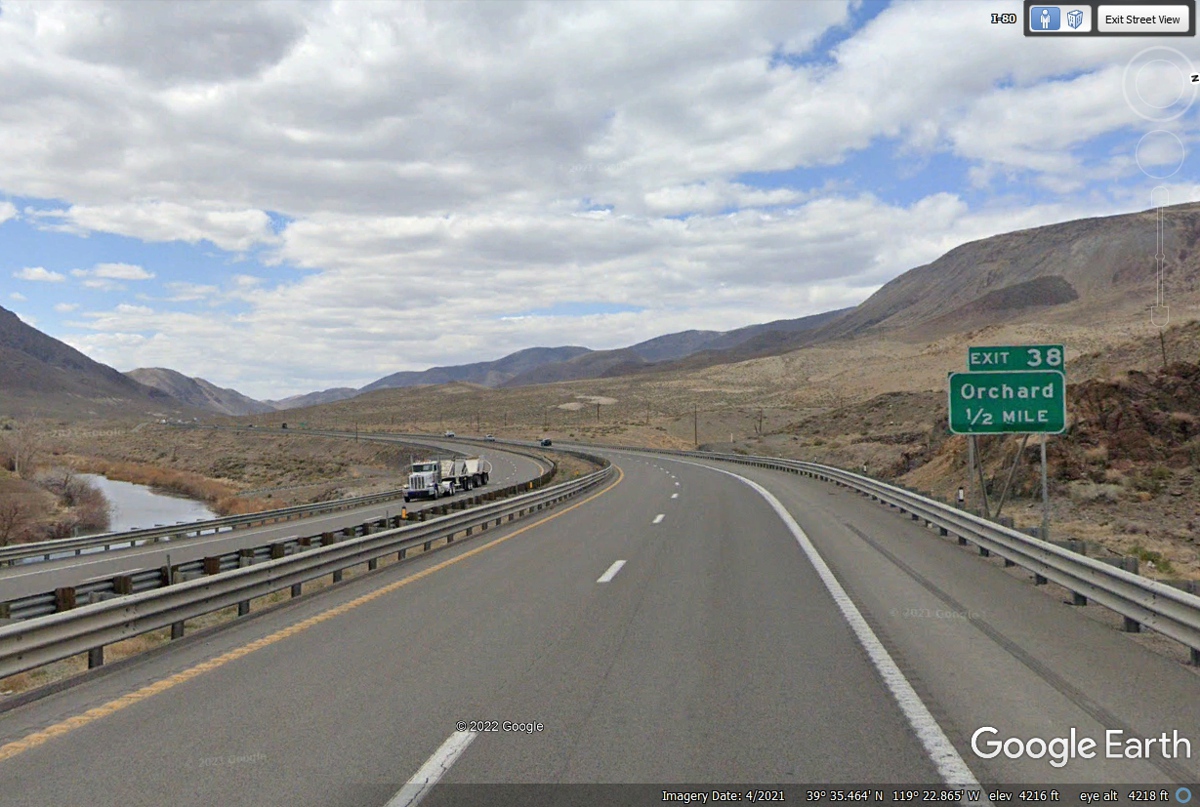 The town of Lockwood, Nevada is in these DRY mountains, but it has water from the Truckee River to keep this community alive and well.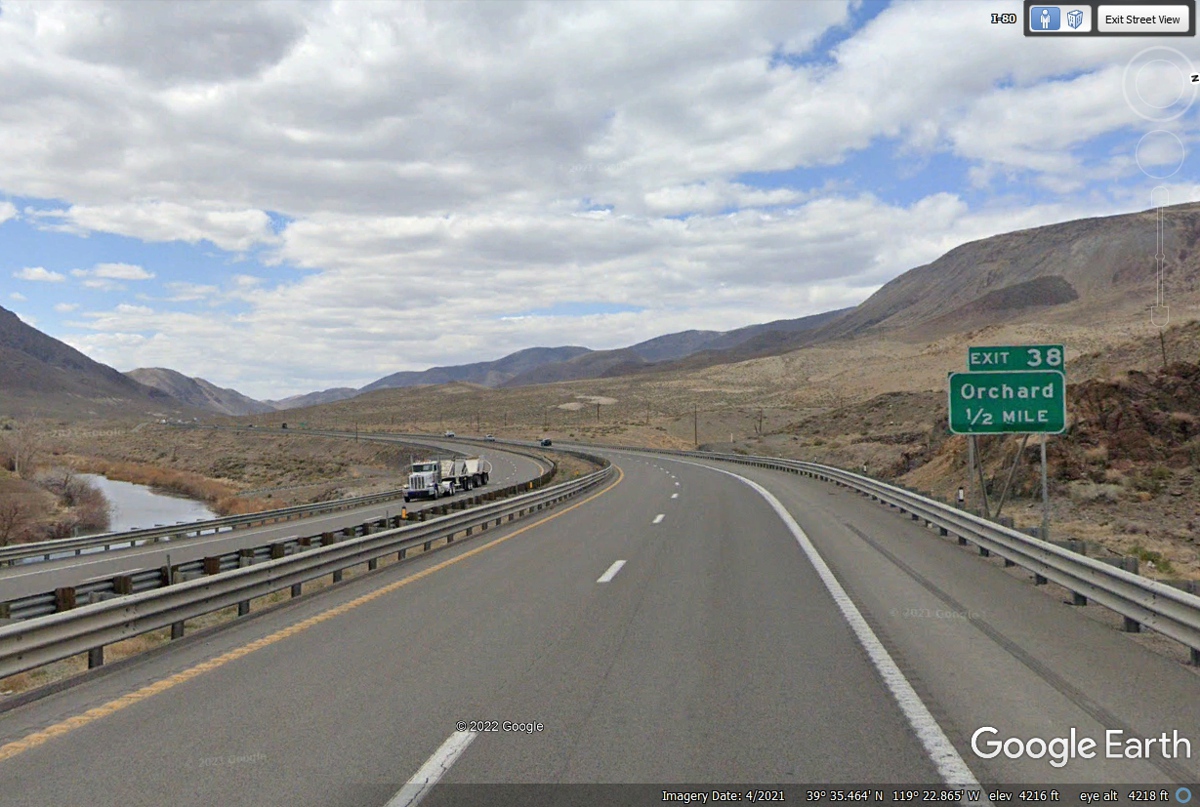 This sign gives us what we want for Breakfast! Wendy's is located at the next exit.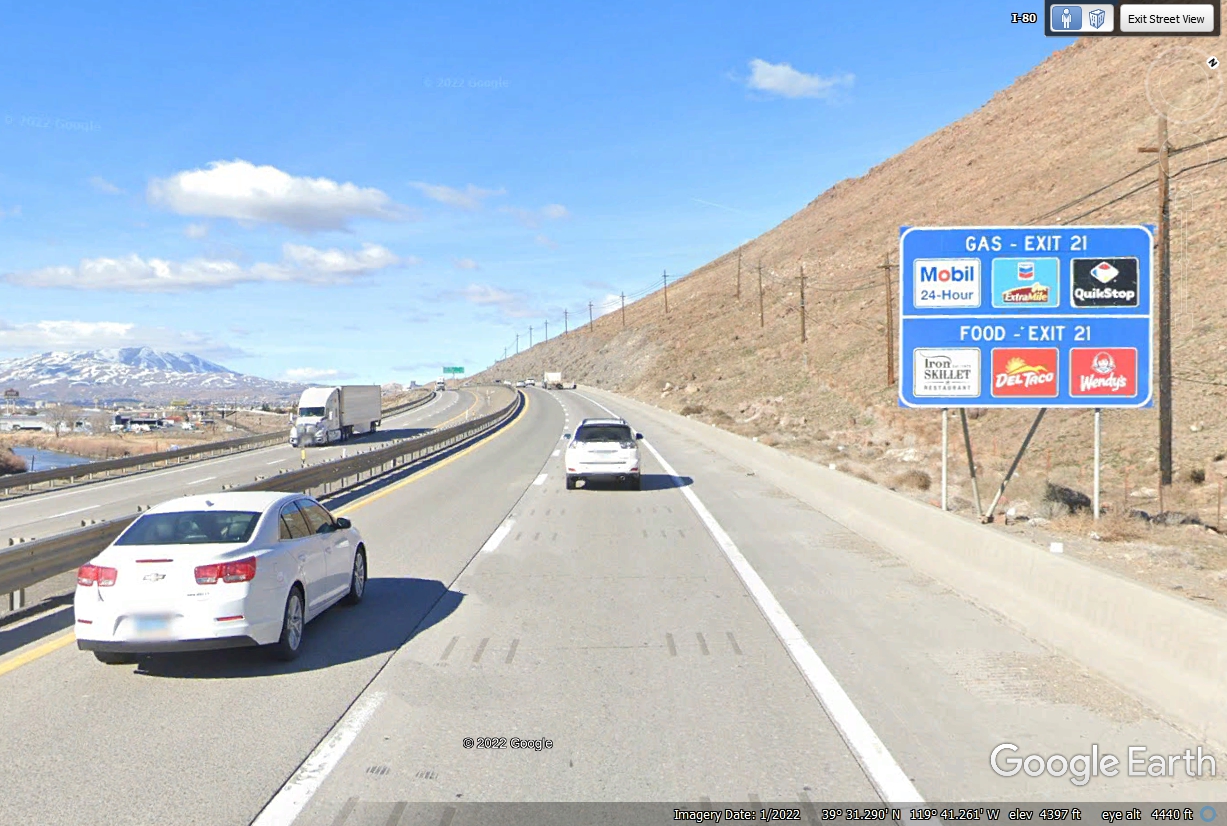 The right turn at the exit ramp and a short distance will put us in the drive through lane.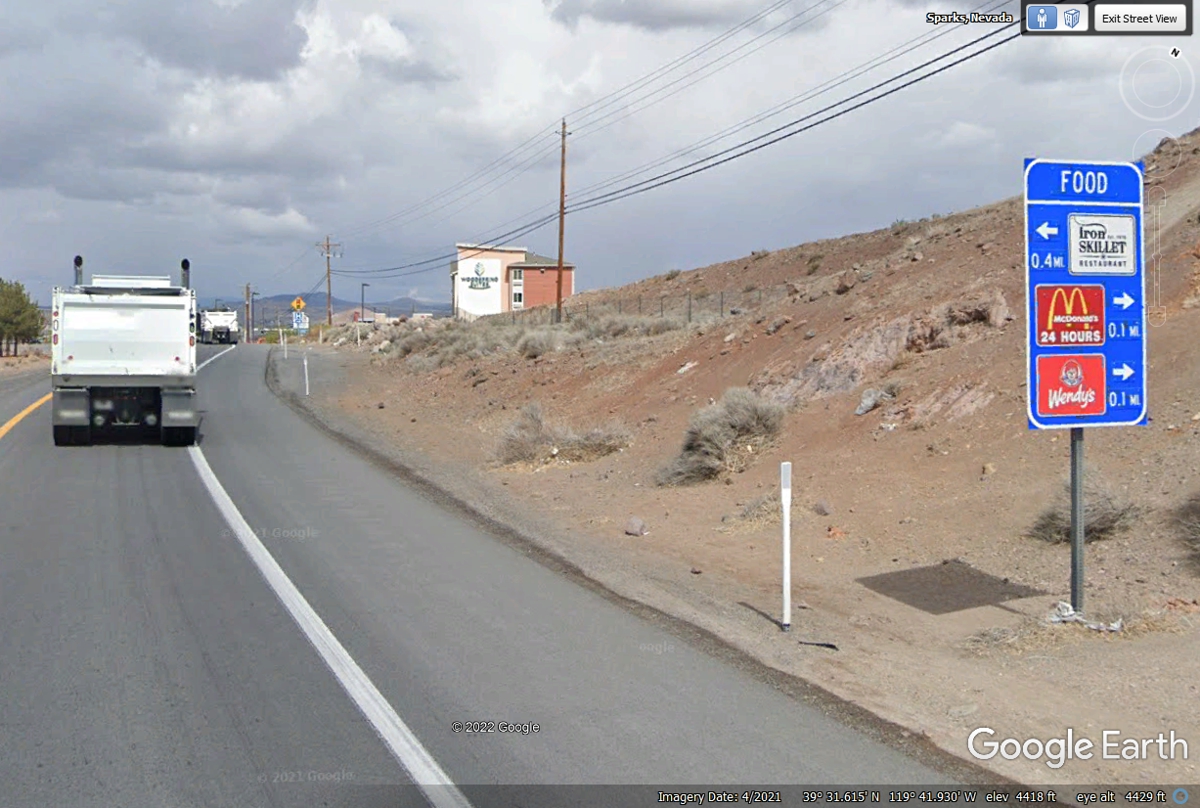 Since this Wendy's was not on the street corner, we had to turn right at the next traffic light which is very close. A short ride on the side street took us to the entrance to the drive through lane. We got here early and received quick service. We always get something for Chase to eat also.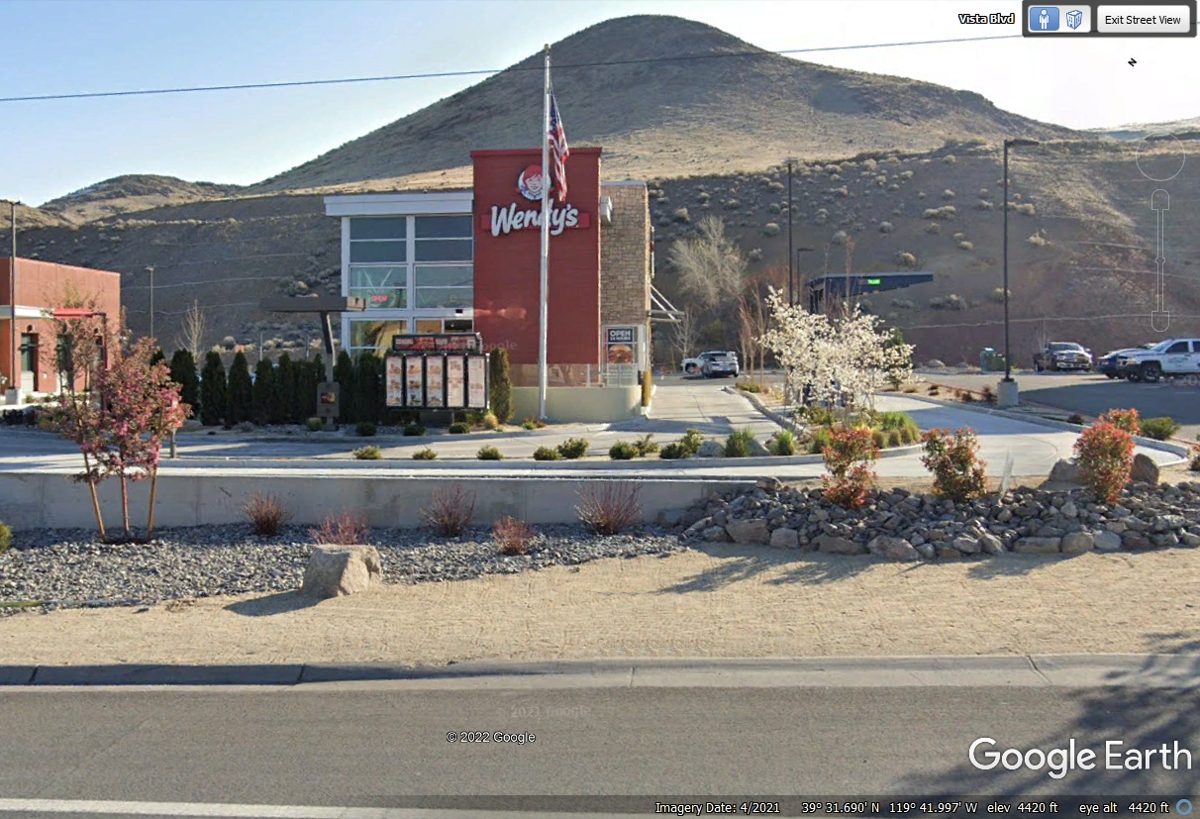 After our Wendy's breakfast snack, getting on I-80 going west was easy at the ramp seen here close to Wendy's.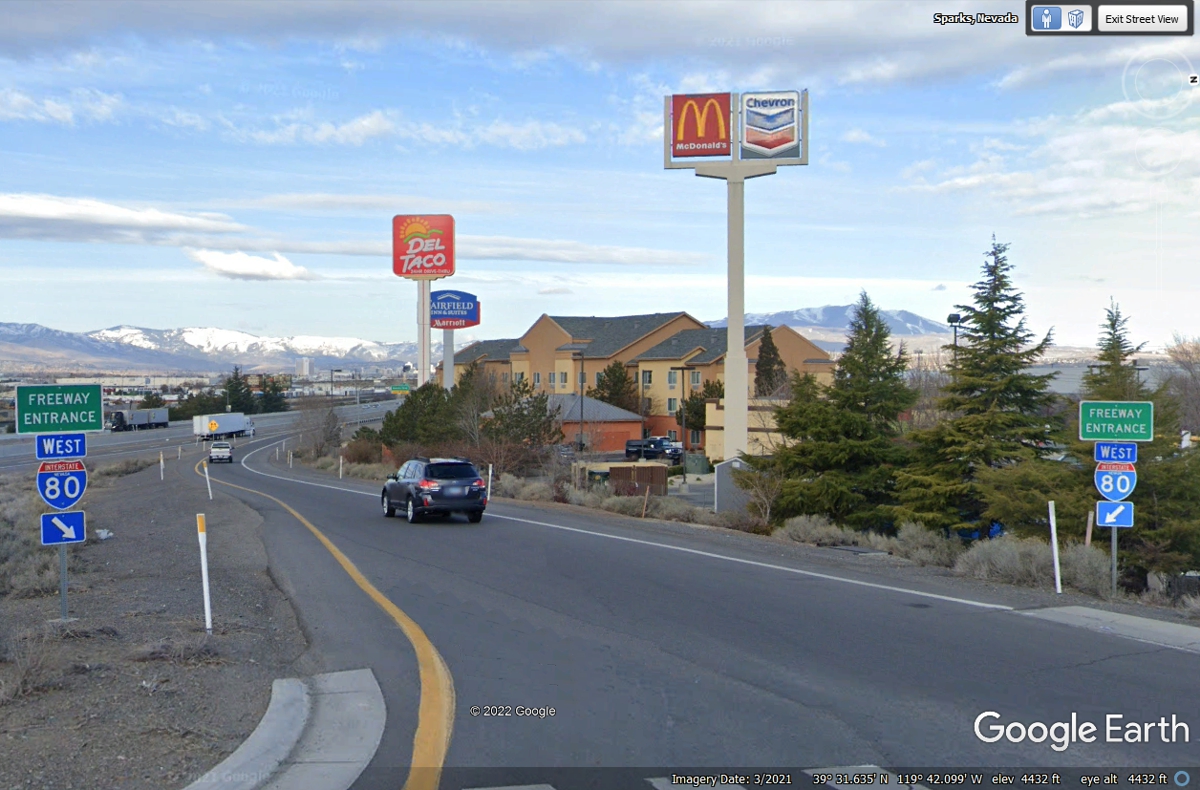 This exit sign for I-580 going to Carson City is just over FOUR miles from exit 21 where we had Wendy's Breakfast snacks seen in the image above. We are not going to Sacramento.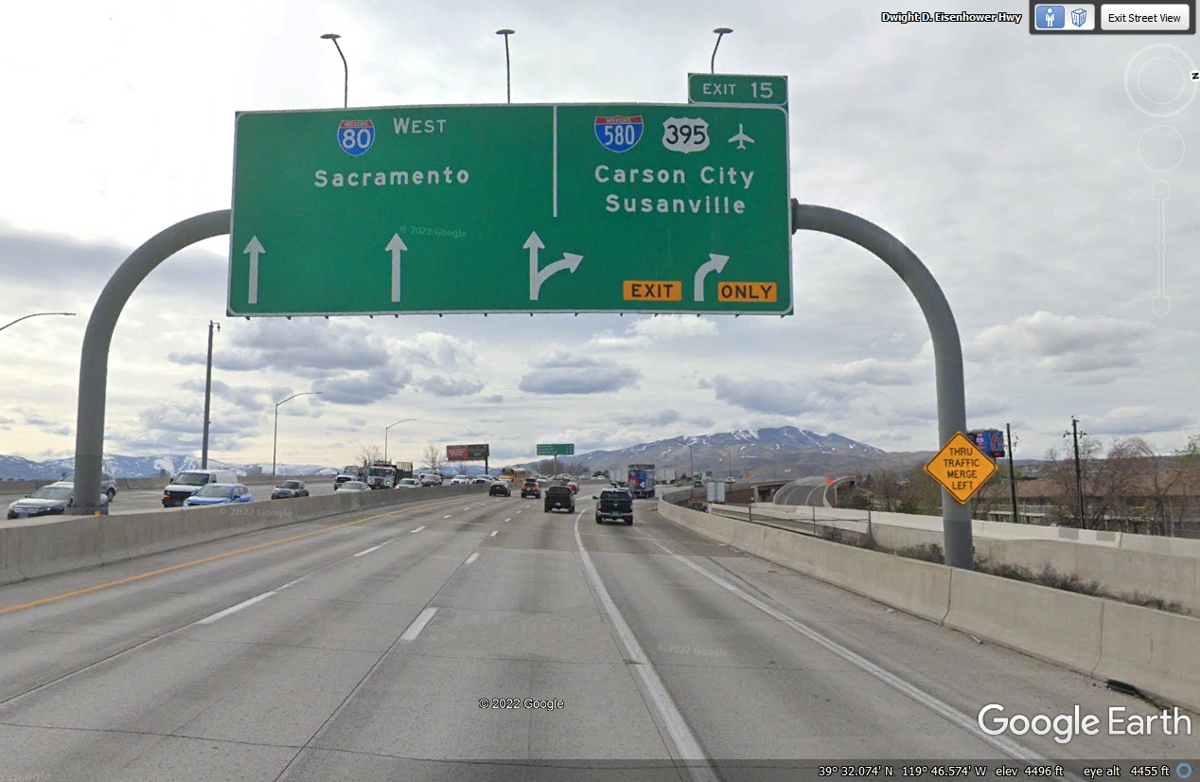 The two right lanes are separating for one lane to go south to Carson City and the other lane going north.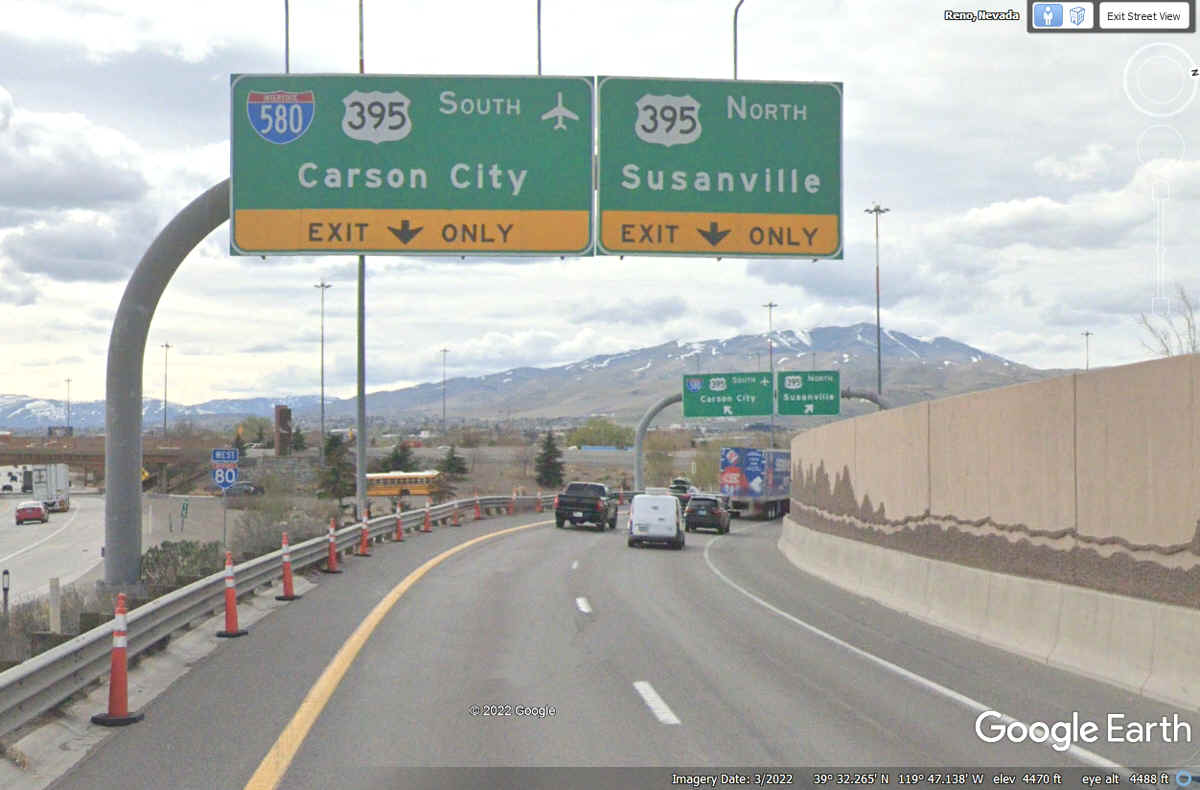 We are going SOUTH today to find US 50 down south of Carson City.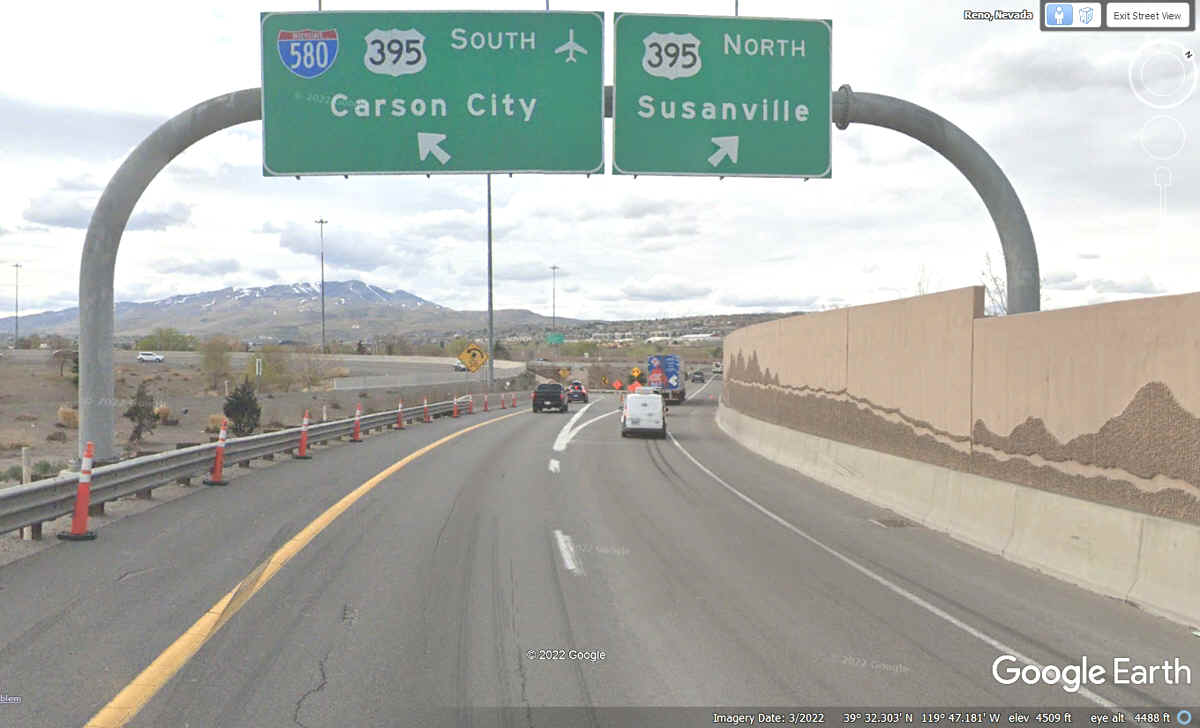 The first major exit south of I-80 is this one for the Reno/Tahoe International Airport.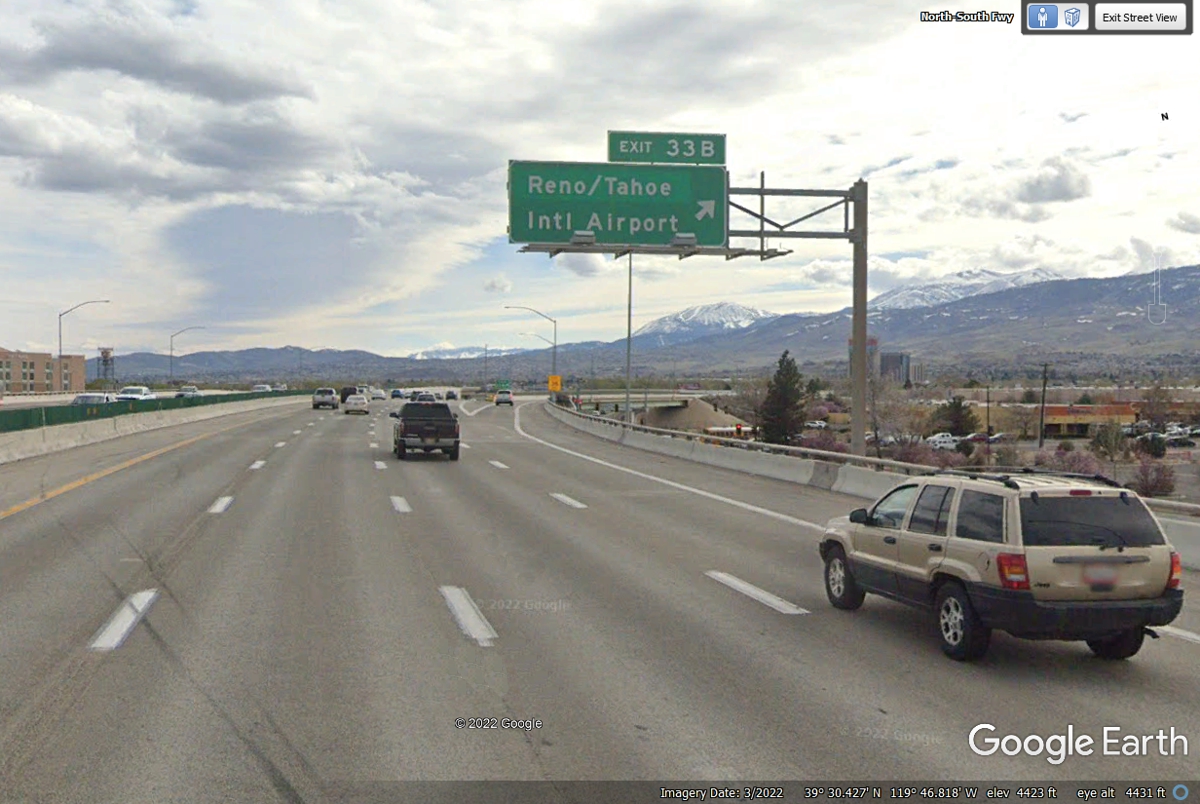 Twenty-Five miles south of the airport exit, we come to the US 395 exit to North Carson Street. Gas buddy pointed us to a place with good fuel prices.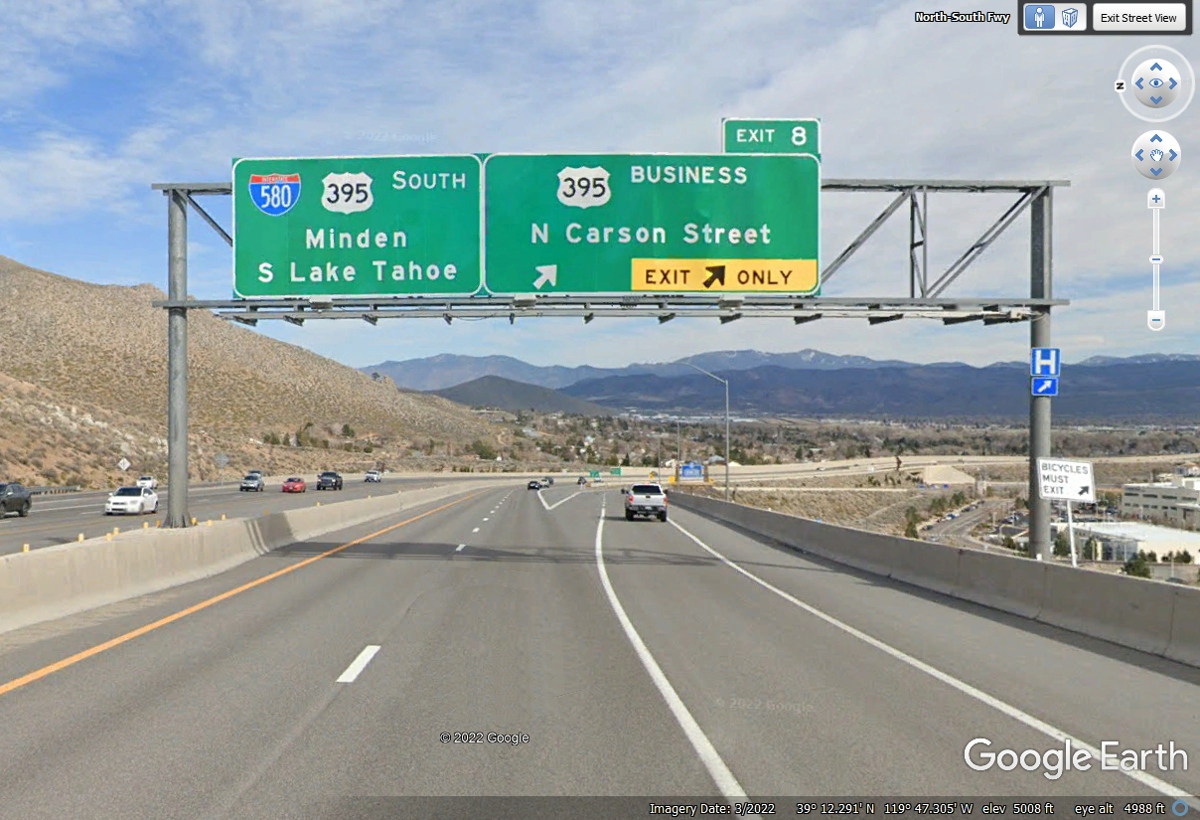 This 7-Eleven store was only 1.5 miles down North Carson Street from Exit 8 on I-580. The image below is from July 2018. We paid $5.21.9 on June 2, 2022. The idea was to fill our fuel tank here in Nevada to avoid even higher prices in California. The first station where we bought gas in California was 40 cents higher per gallon where we bought 6.546 gallons of unleaded fuel.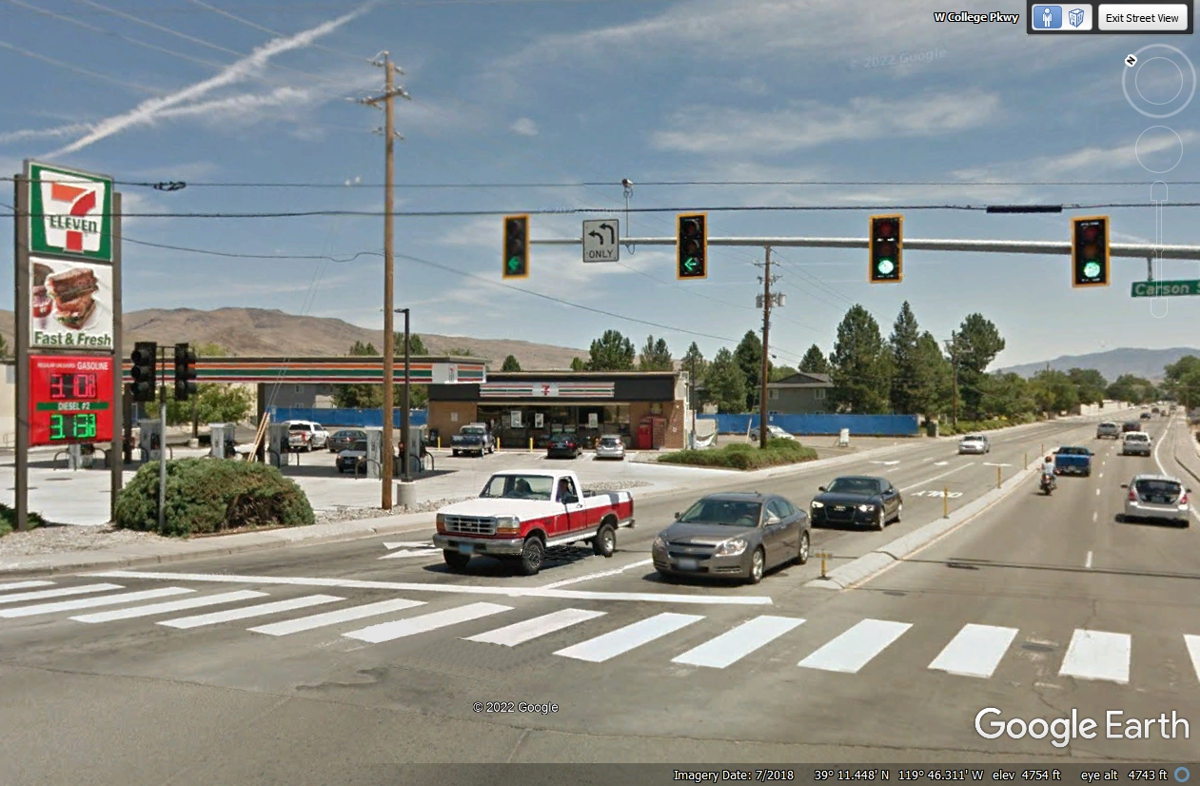 We drove down this street past the Nevada State Capitol but we did not see it since the trees were in full bloom with leaves blocking the view of the building. This Google Earth image is from April and the building is clearly visible. We passed this location on June 2, 2022.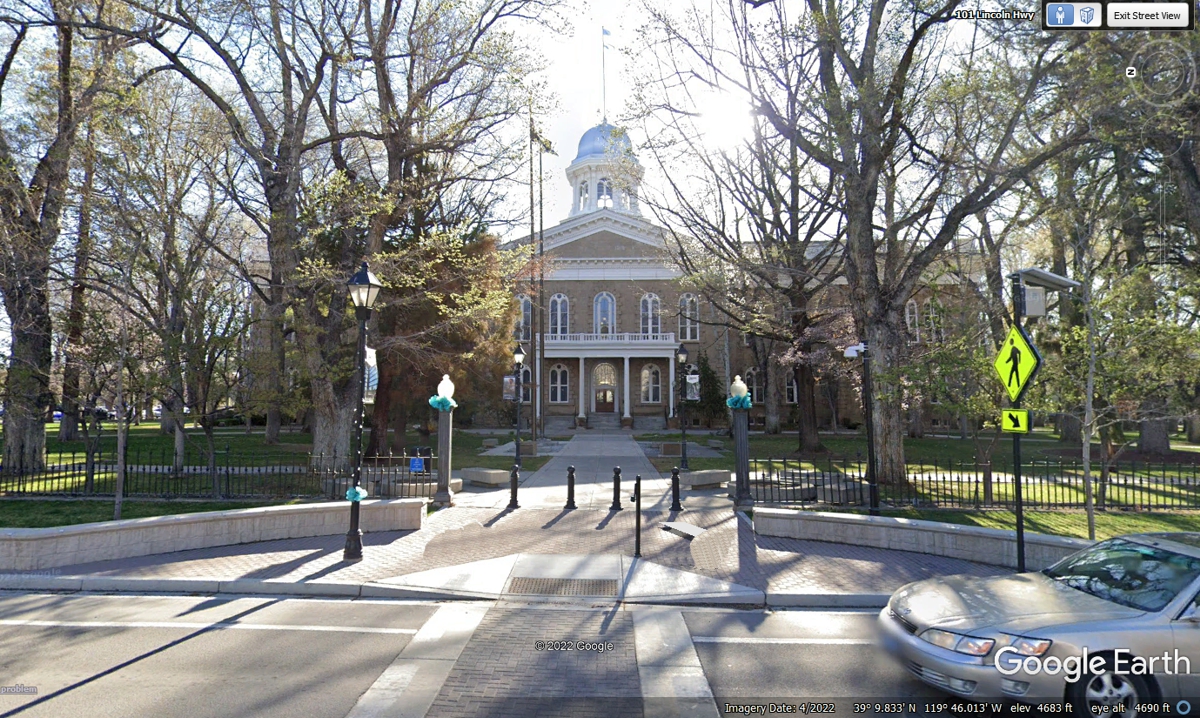 Interstate 580 was a bypass around Carson City. Along the way, US 50 came with it to this intersection where US 50 heads WEST to the Sierra Mountains and the central valley of California. That is our route for today.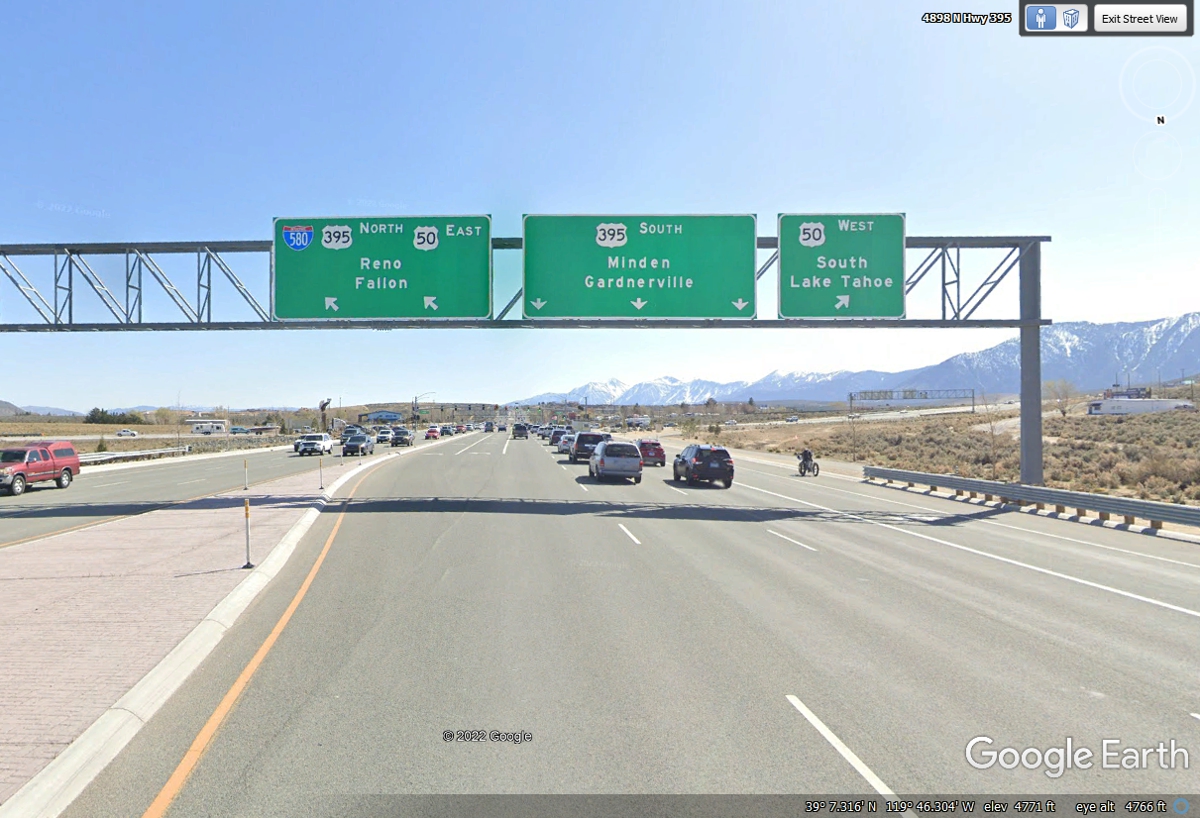 I see the date on this Google Earth Image is from January 2022. As this road climbs higher into the Sierra Mountains, the Google Camera vehicle used will be made for a colder environment or Google Earth limits their photographic road trips to warmer days.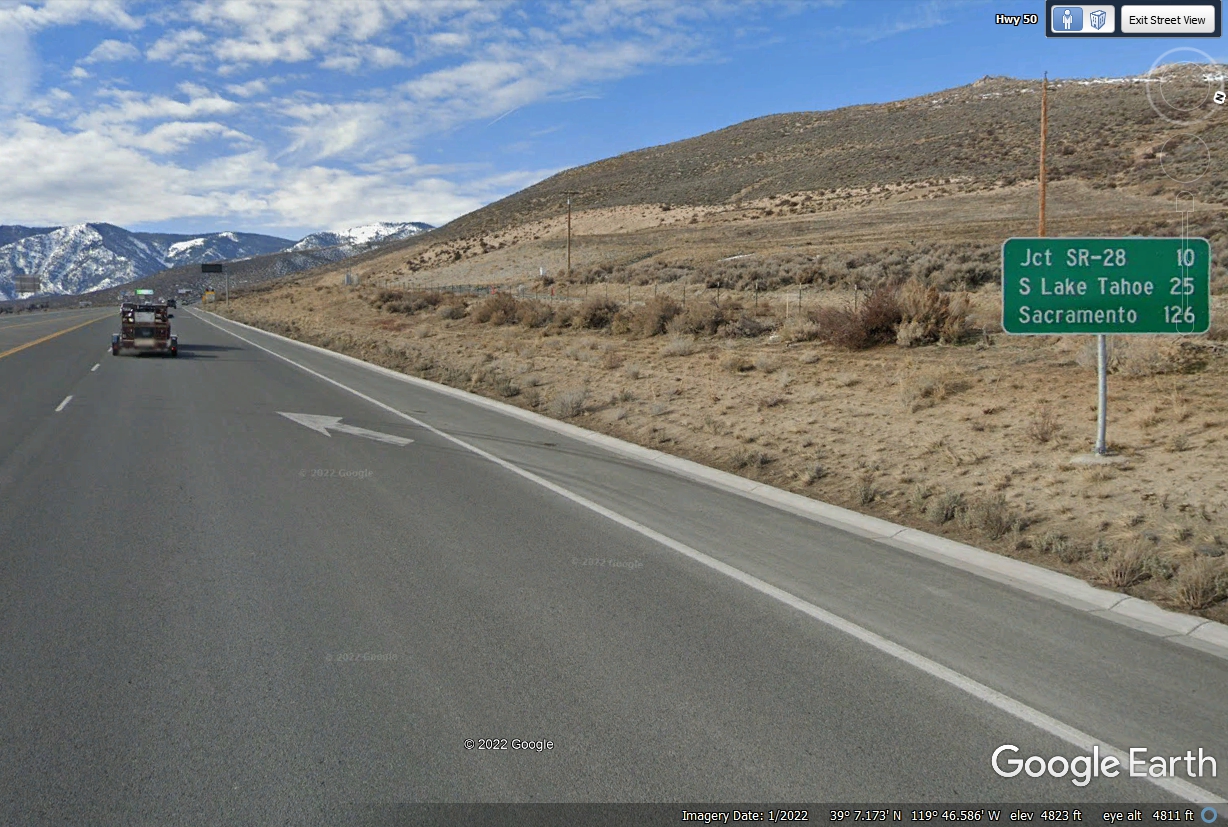 There is plenty of snow at the higher elevations along US 50 going west. This image from January 2022 is at an elevation of 5,400 feet MSL. Nevada DOT keeps the roads clear when snow and ice happens.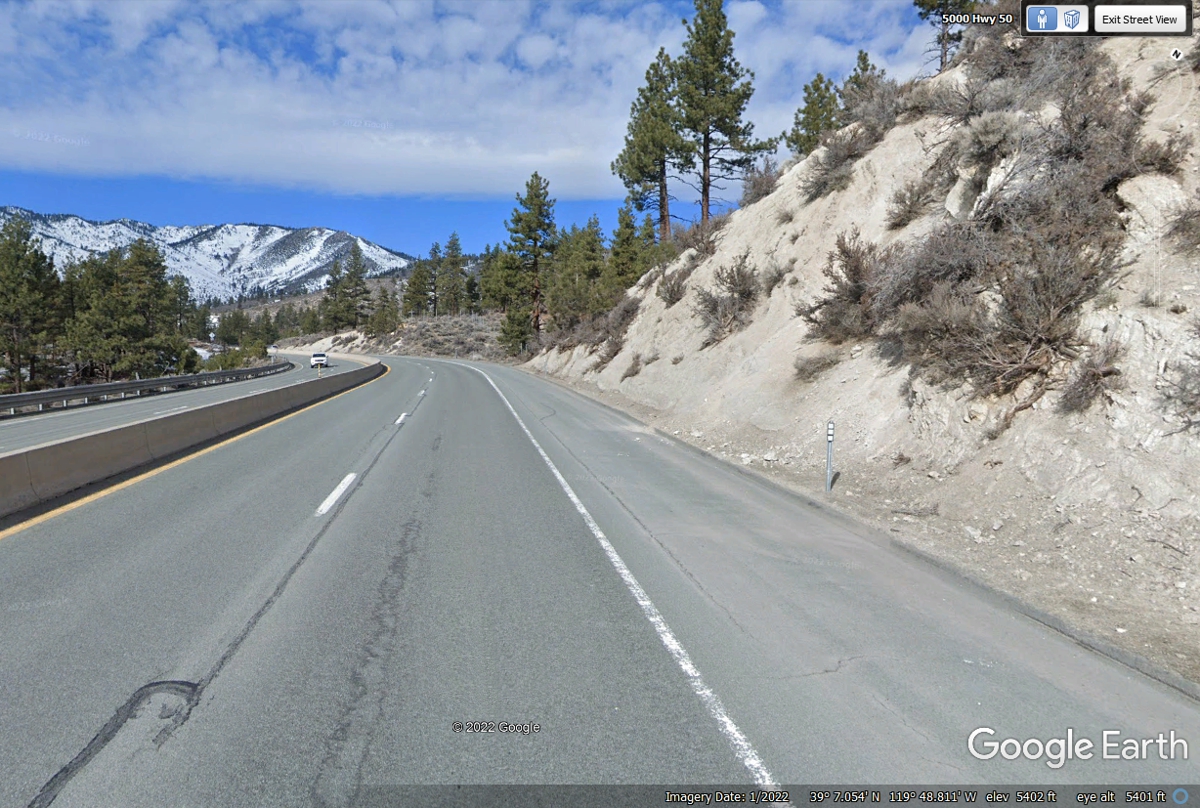 This US 50 image is taken at an elevation of 6,000 feet MSL also in January 2022.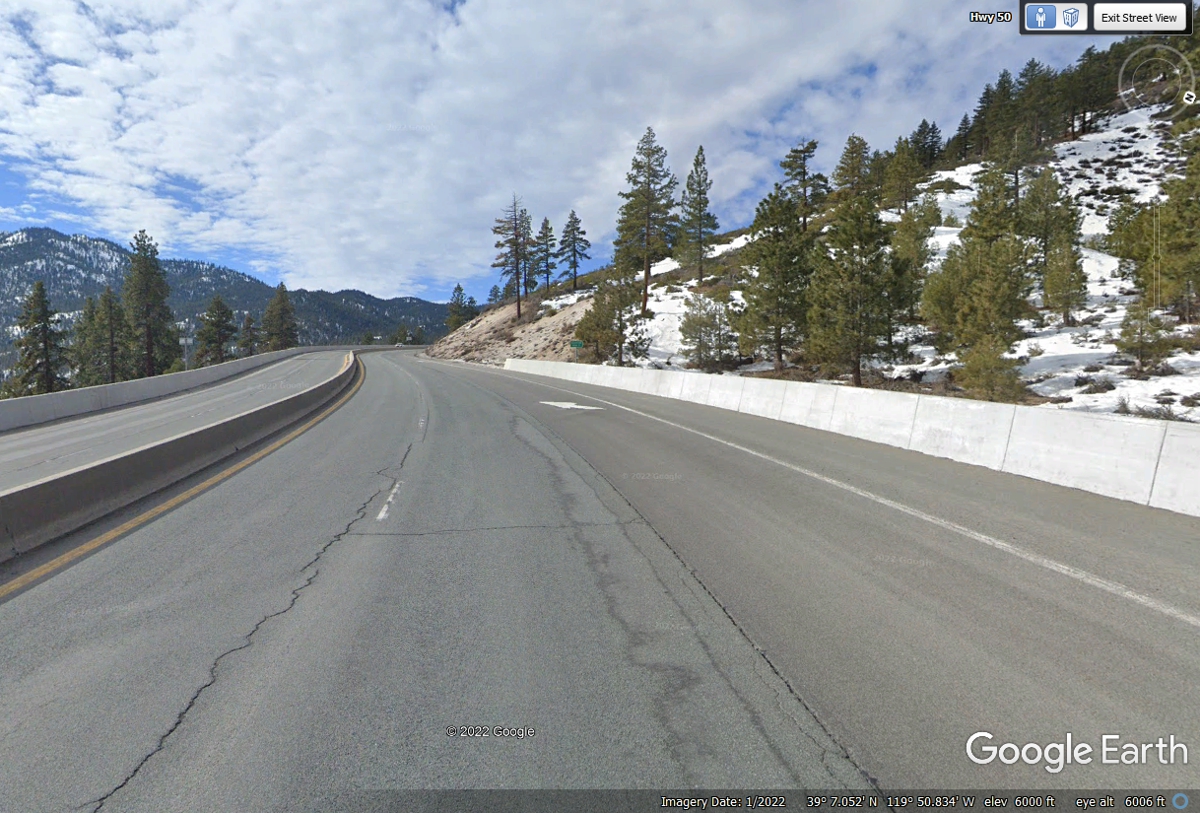 Elevation in this image below is 6,500 feet MSL.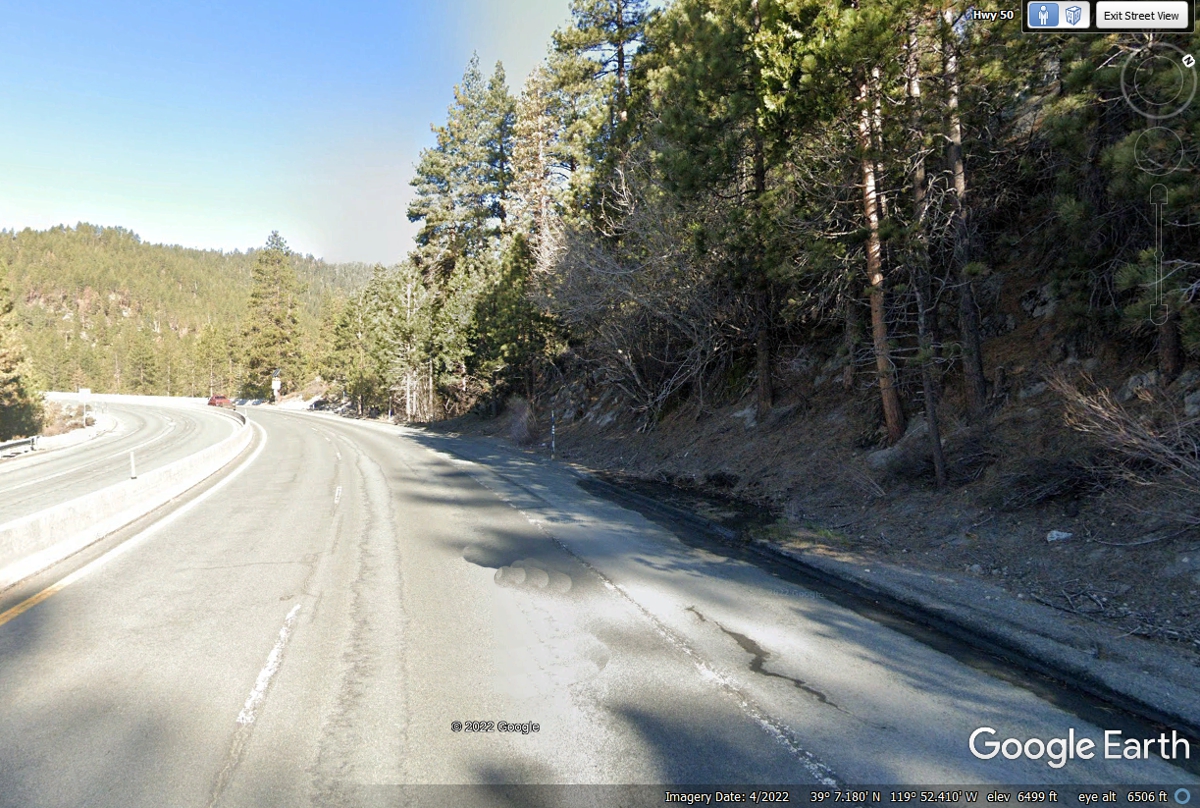 Elevation in the image below is 7,000 feet MSL.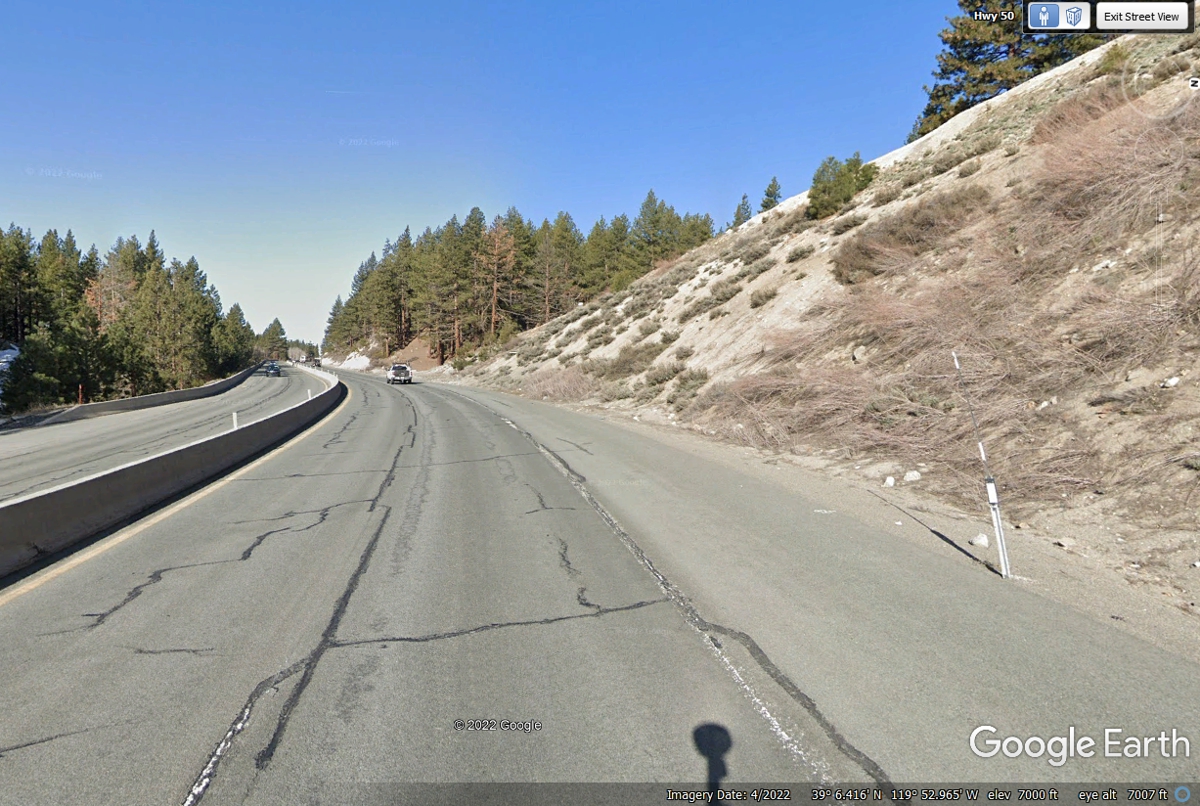 US 50 continues WEST from this junction where Nevada state route 28 runs north on the East side of Lake Tahoe. The elevation here is 7,065 feet MSL.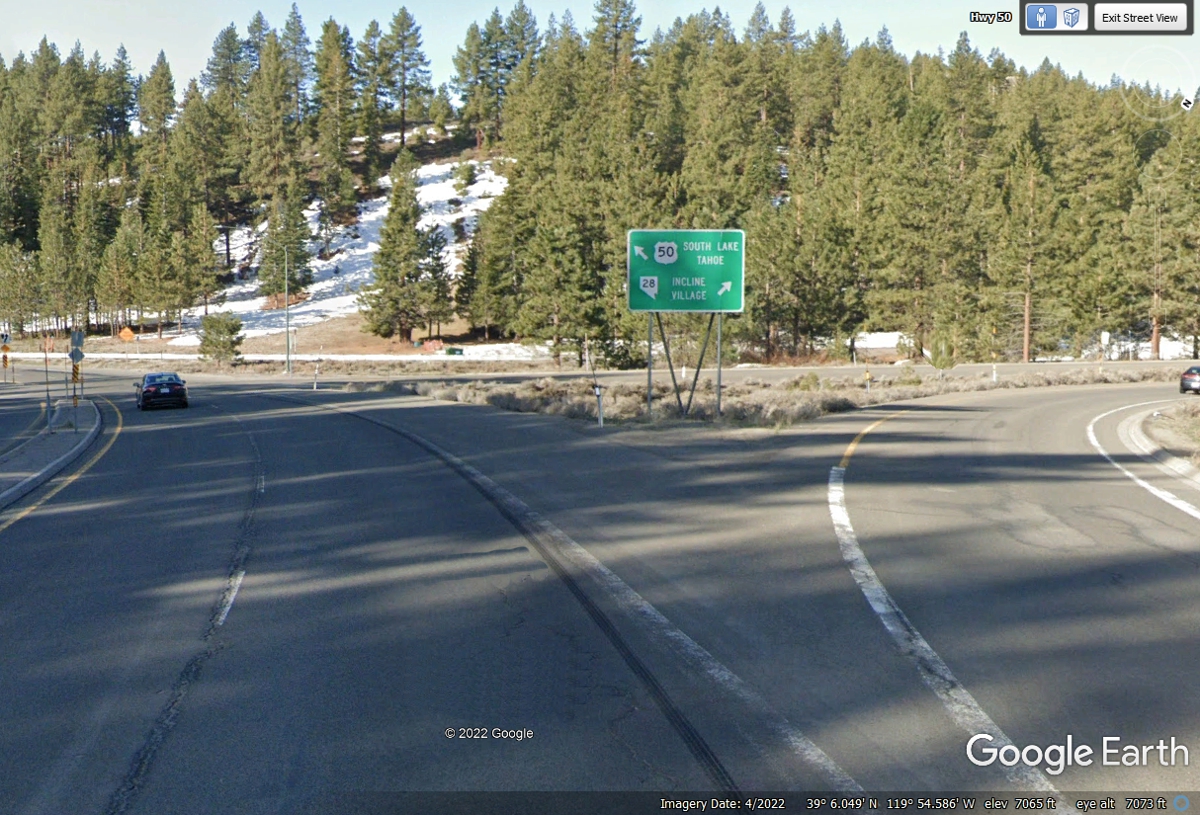 The image was captured during the month of April 2022. We passed this way on June 2, 2022 heading down to South Lake Tahoe. We turned left here to see what is ahead on US 50.