The House on the Rock Departure Heading Toward Milwaukee · · PAGE 15.
Less than half a mile up the road from House on the Rock is this road sign for a scenic overlook which was just off the roadway ahead.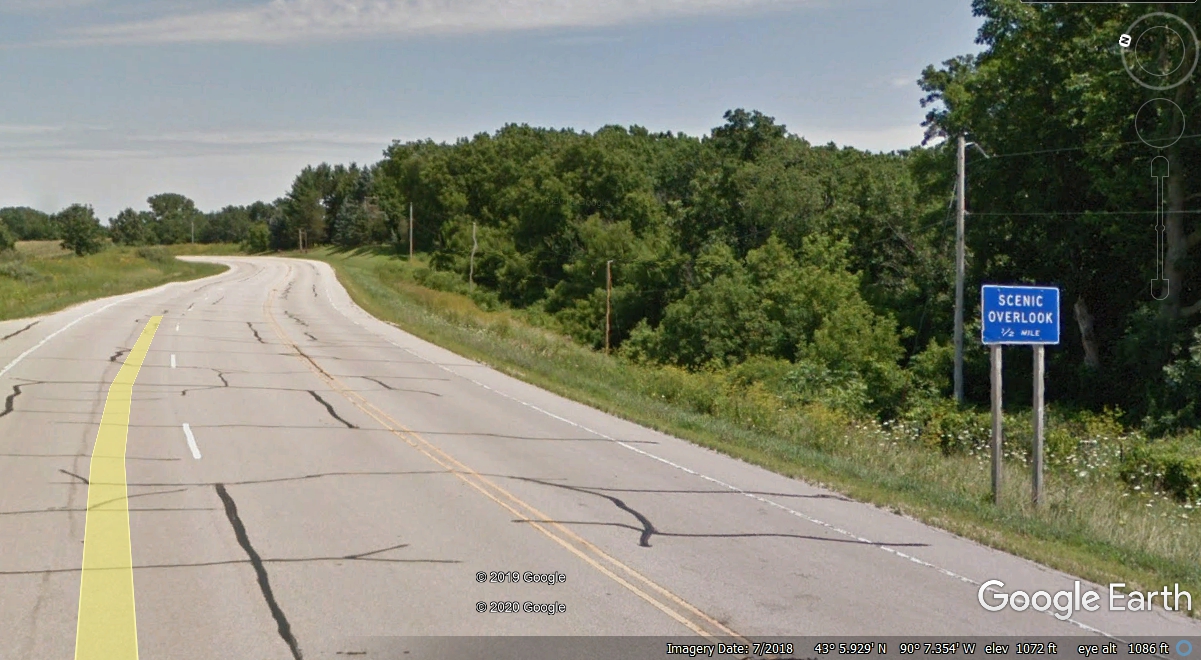 The scenic overlook has parking lot access from both sides of the highway connected by using a pedestrian bridge across the highway. The road here has three lanes allowing slow traffic to use the outside lane seen here with a yellow stripe put there by Google Earth showing the path of their camera vehicle.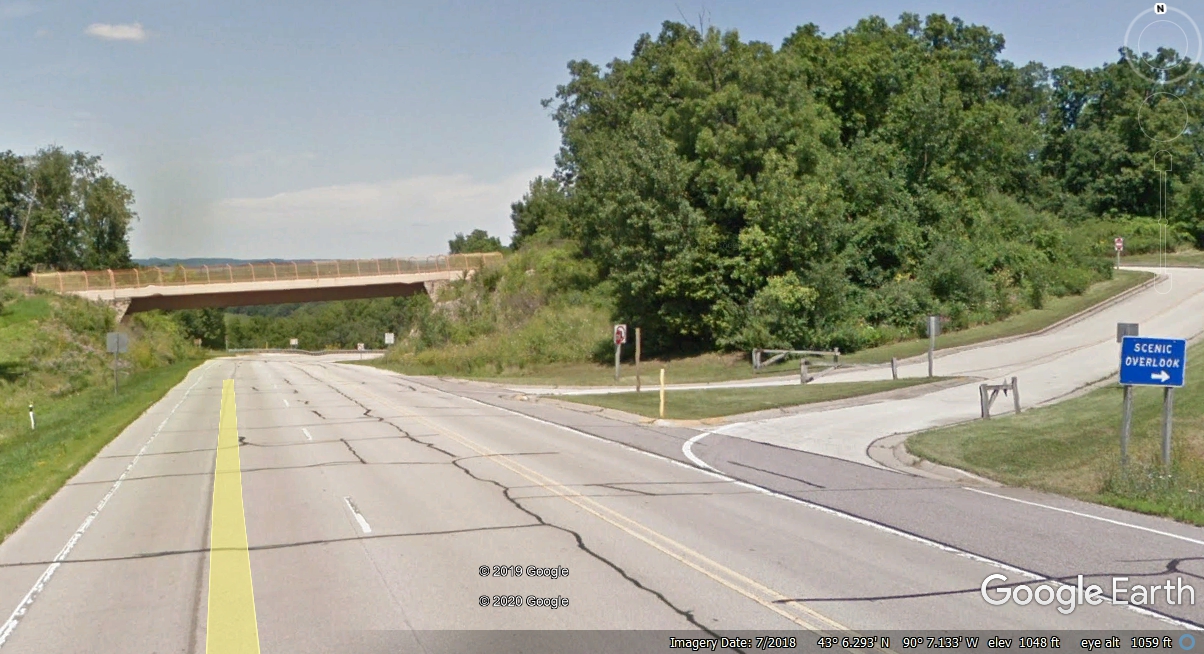 The Southbound traffic sees this DO NOT ENTER sign if they try to go into the parking area on the EAST SIDE where the actual overlook is located.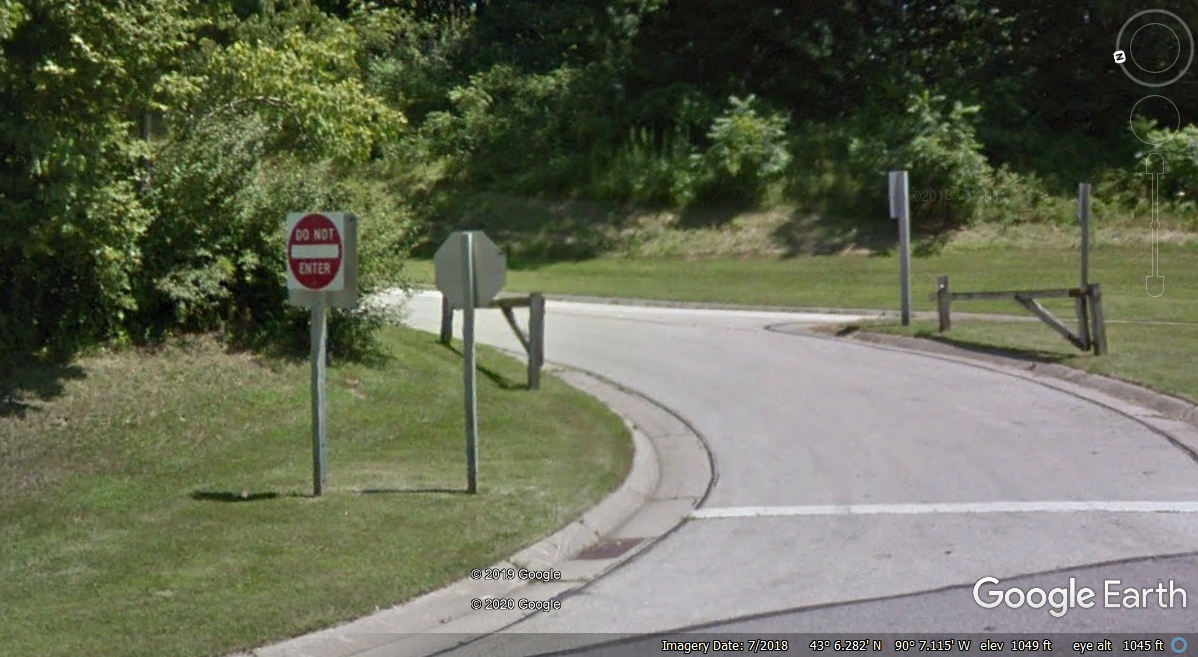 This aerial view shows the overlook on the right side with NORTH UP in this photo. On the left side is additional parking for SOUTHBOUND drivers.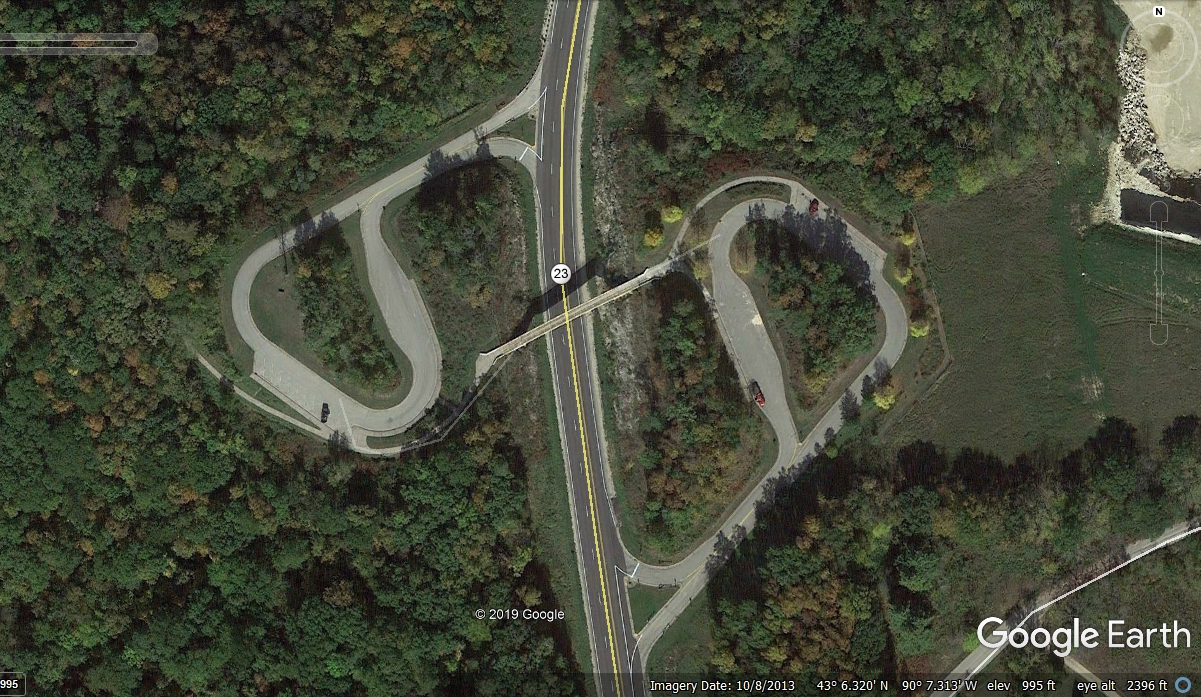 Since the Google Earth photo vehicle did not drive into the overlook, I had to simulate the view using the "camera" a few feet above ground level.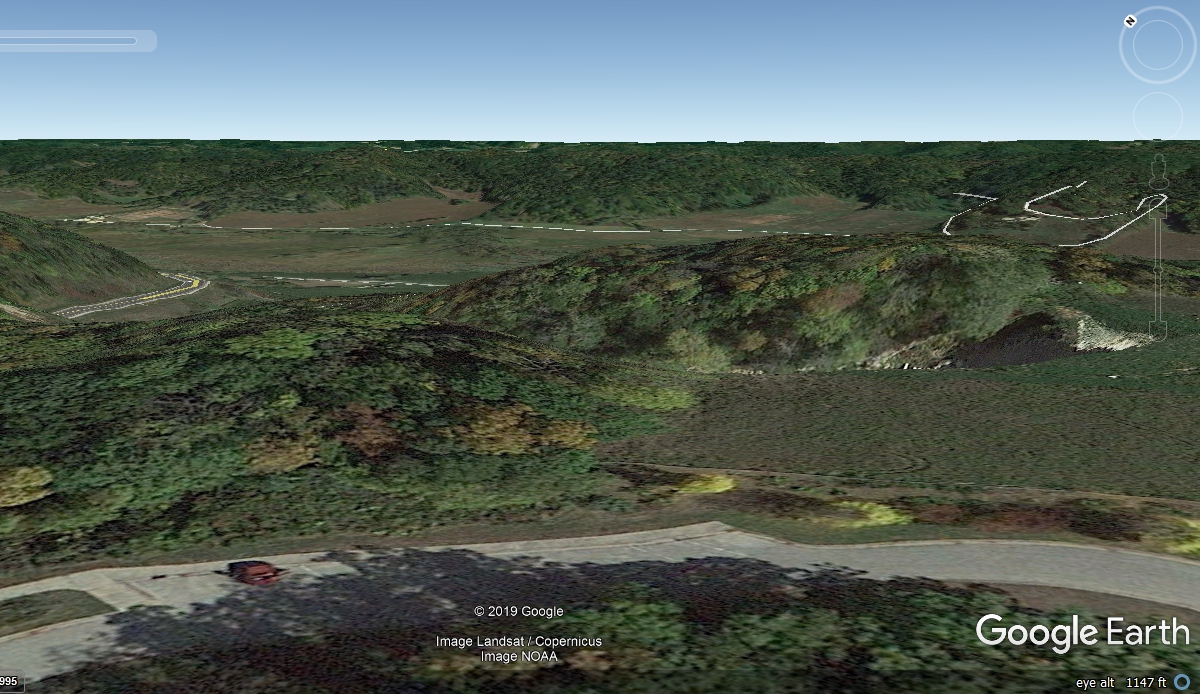 There was this sign on route 23 after the valley that was the scenic view. This part of Wisconsin is where Frank Lloyd Wright lived for much of his life. Here is a link to the official web site for the Frank Lloyd Wright Visitor Center: https://www.taliesinpreservation.org/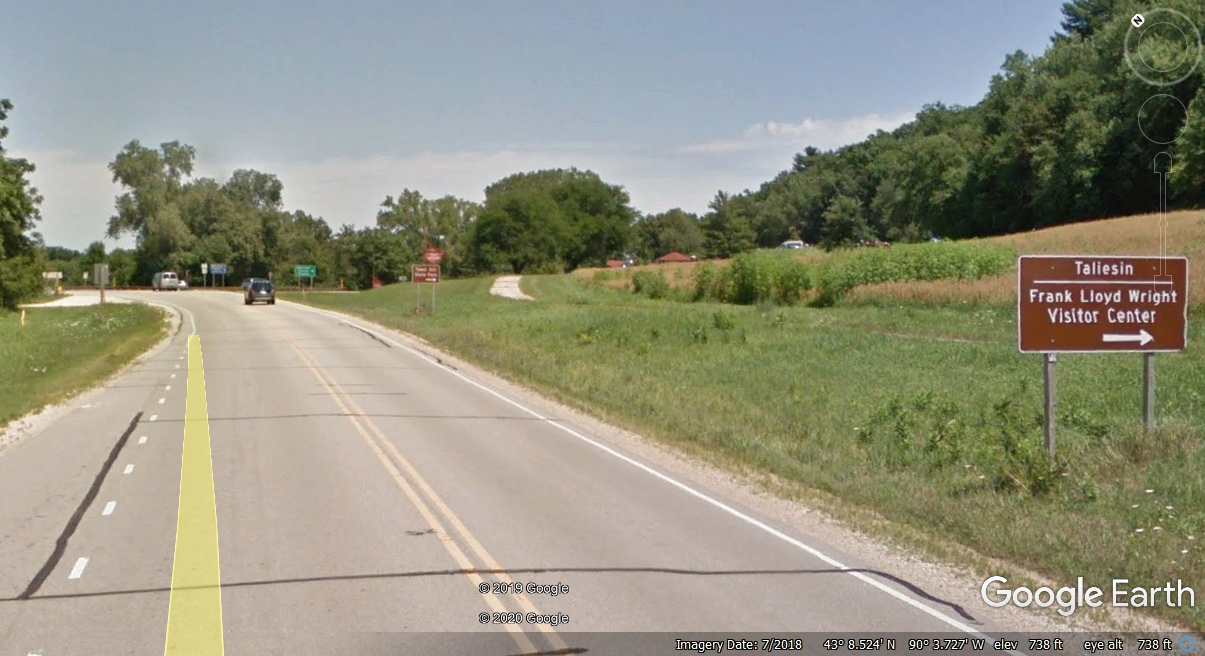 The GPS says to use US 14 East from this intersection where we say goodbye to Wisconsin route 23.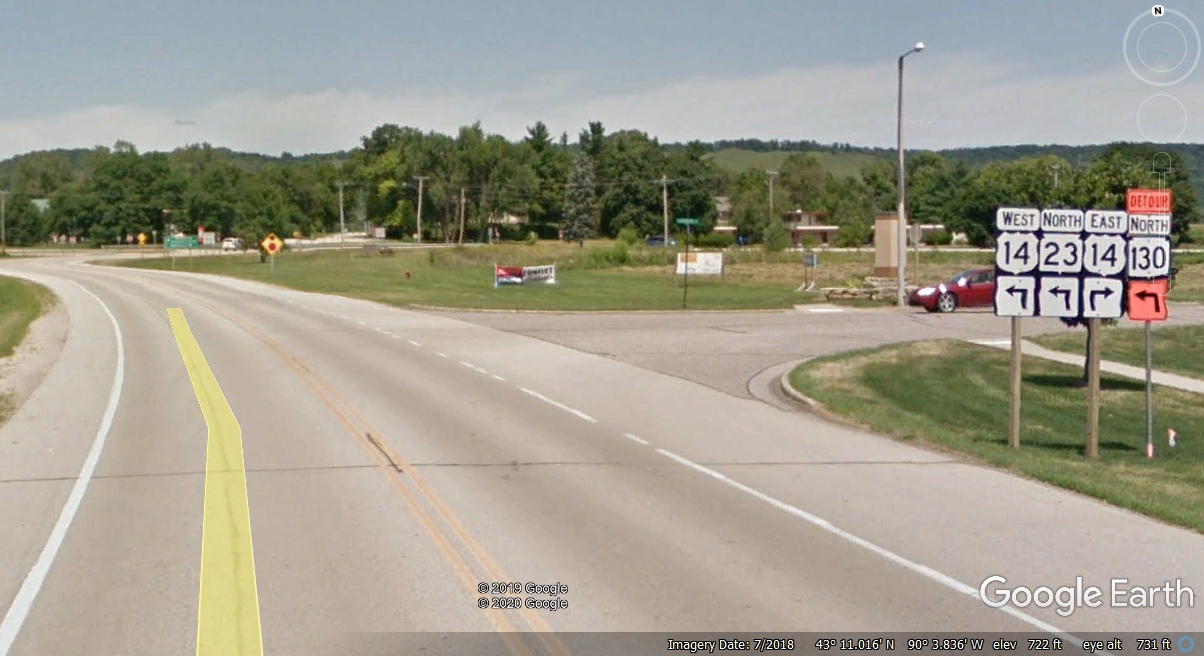 The Wisconsin River is about 1.5 miles to the East from the intersection seen above.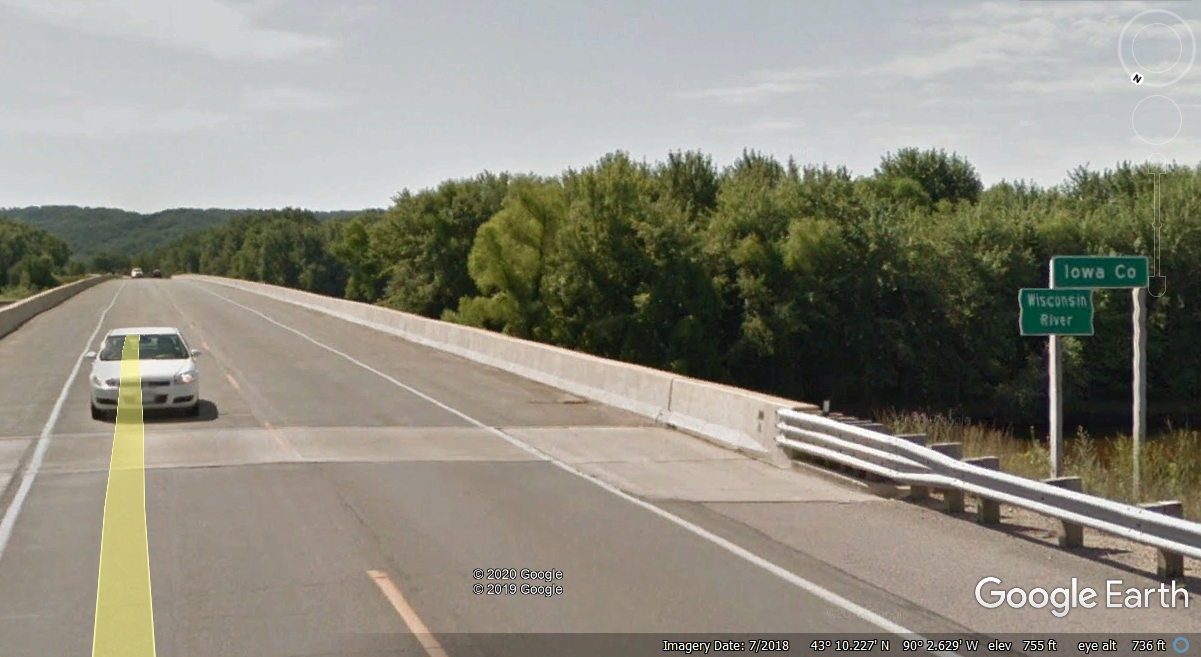 The Wisconsin River drains much of central Wisconsin into the Mississippi River just south of Prairie Du Chien, Wisconsin.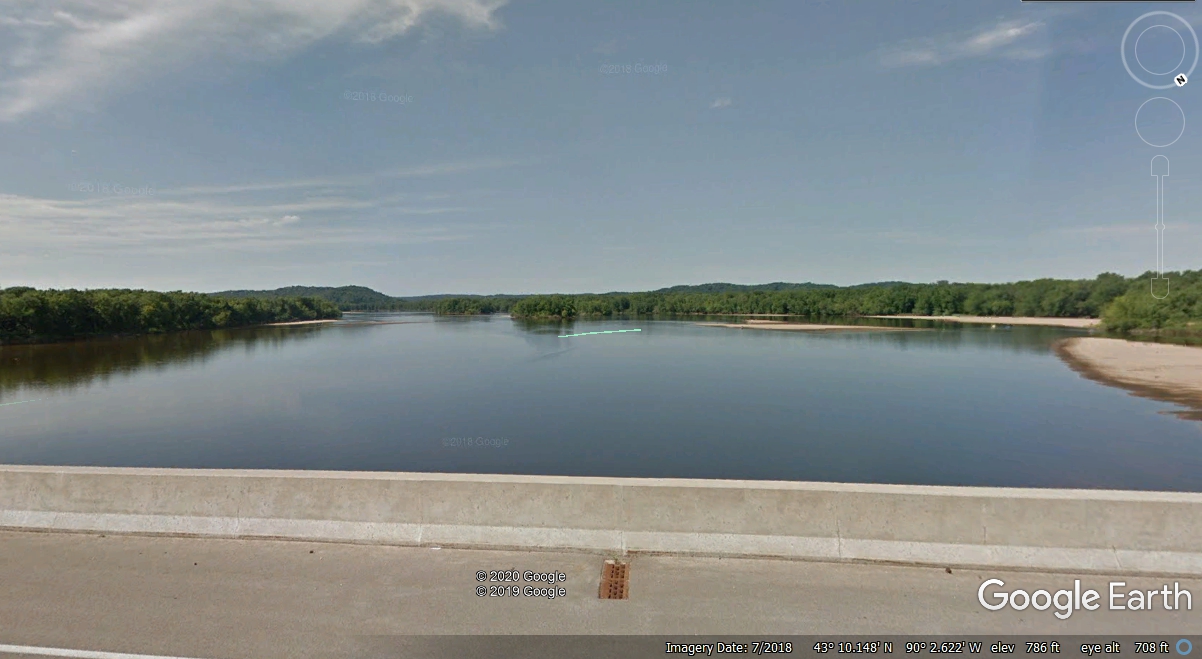 Just over 15.5 miles after joining US 14, the GPS shows a route that will keep us clear of Madison, Wisconsin. State route 19 will take us on a fairly direct route to connect to Interstate highway 90 north of Madison. We will head south on I-90 less than 14 miles toward Milwaukee.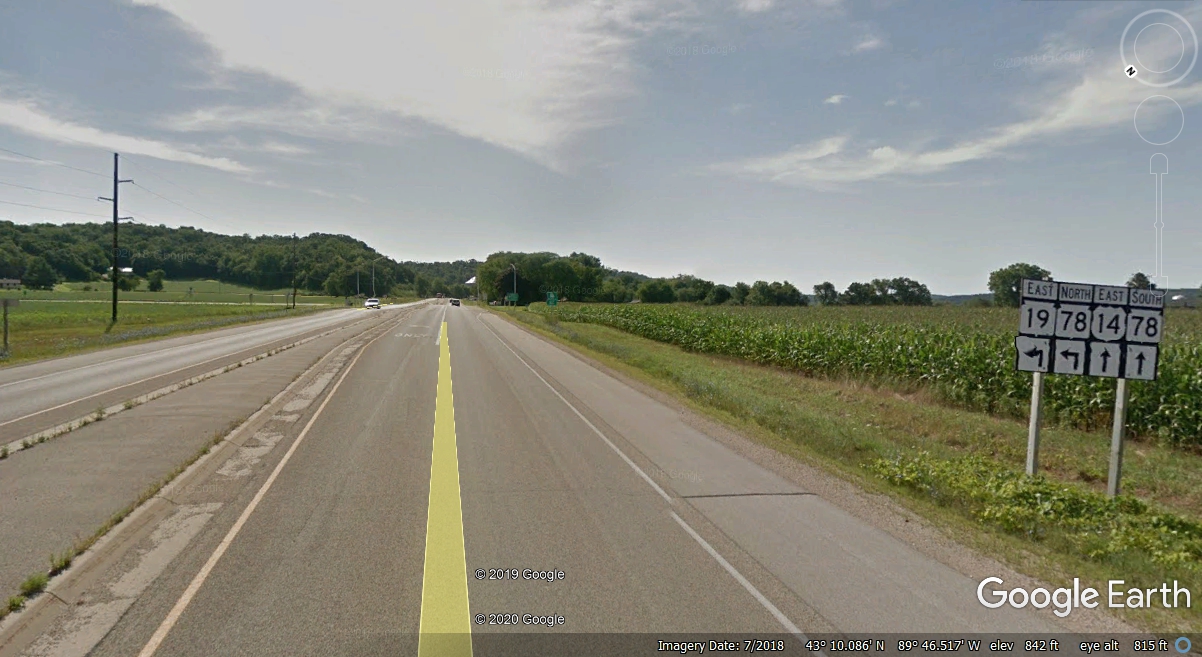 I figured the cell phone coverage would not be good on route 19 as it is on US 14 where we are now. Linda had been on the phone since we got on US 14 back at Spring Green, where we stopped following Wisconsin route 23.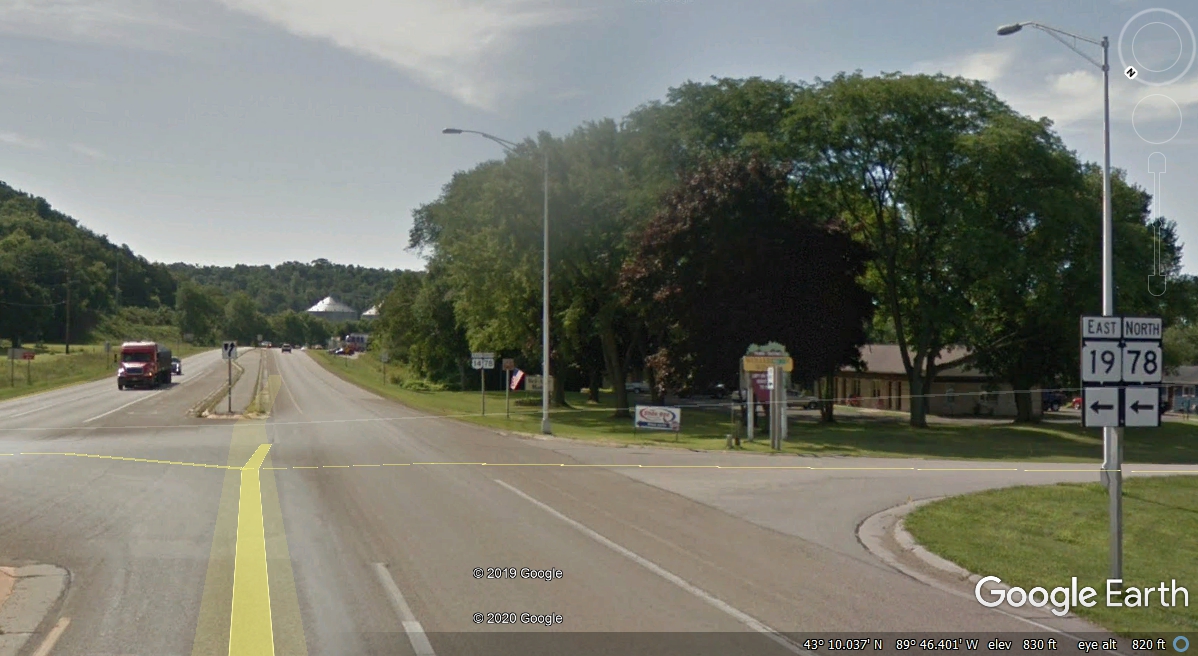 This restaurant was less than 1/4 mile south of the Wisconsin route 19 junction seen in the photo above. We pulled into the parking lot and shut down the engine, and with it the GPS showing the last time stamp at just before 4:50 PM Eastern Time. I worked on my phone to get a room for the night near Milwaukee on the west side or northwest side of town. By the time that was arranged, it was 5:18 PM and we got on the road heading East on route 19.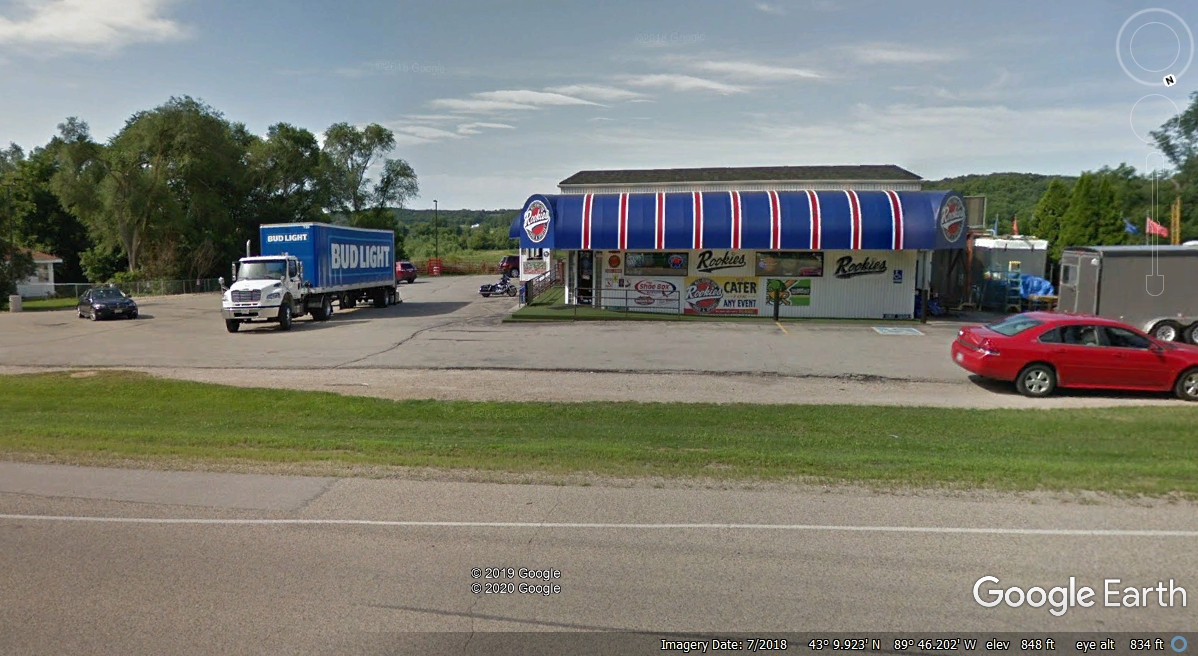 It is a short ride up to Wisconsin 19 intersection departing from US 14, then up to where route 19 turns closer to due East.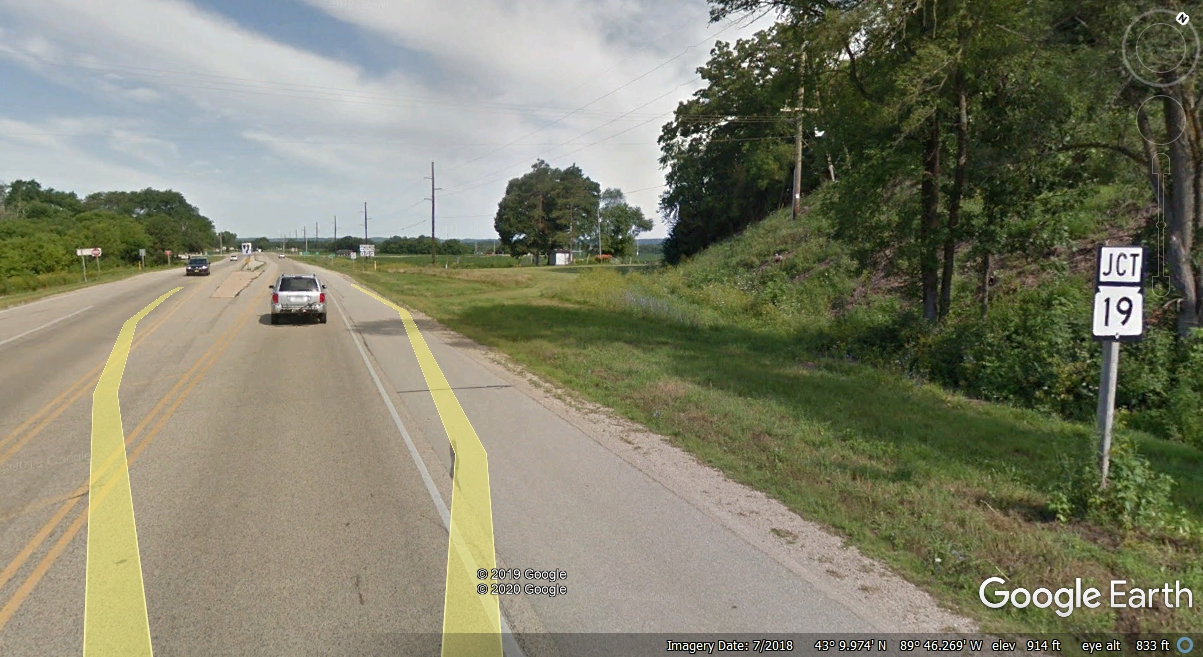 Wisconsin route 78 continues north as route 19 turns East for our next route which will be Interstate 90 less than 21 miles away.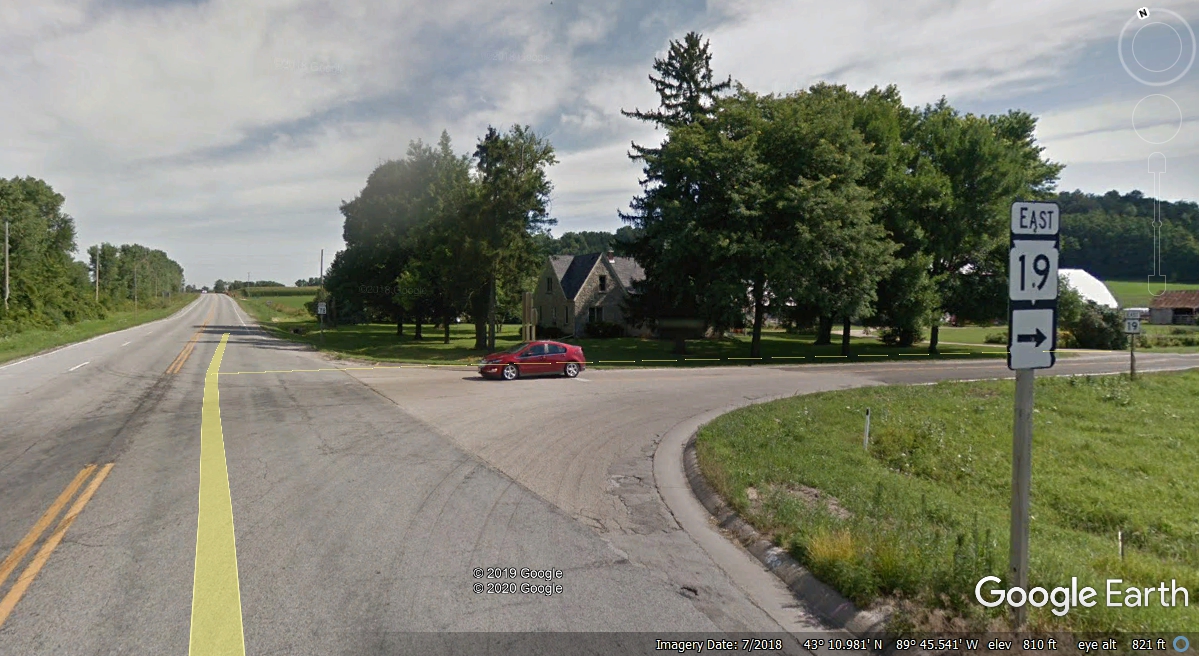 This stretch of route 19 is farm country where I passed a small church and cemetery just before I came to this lake and rolling hills covered with forest. This is a comfortable ride with very little traffic.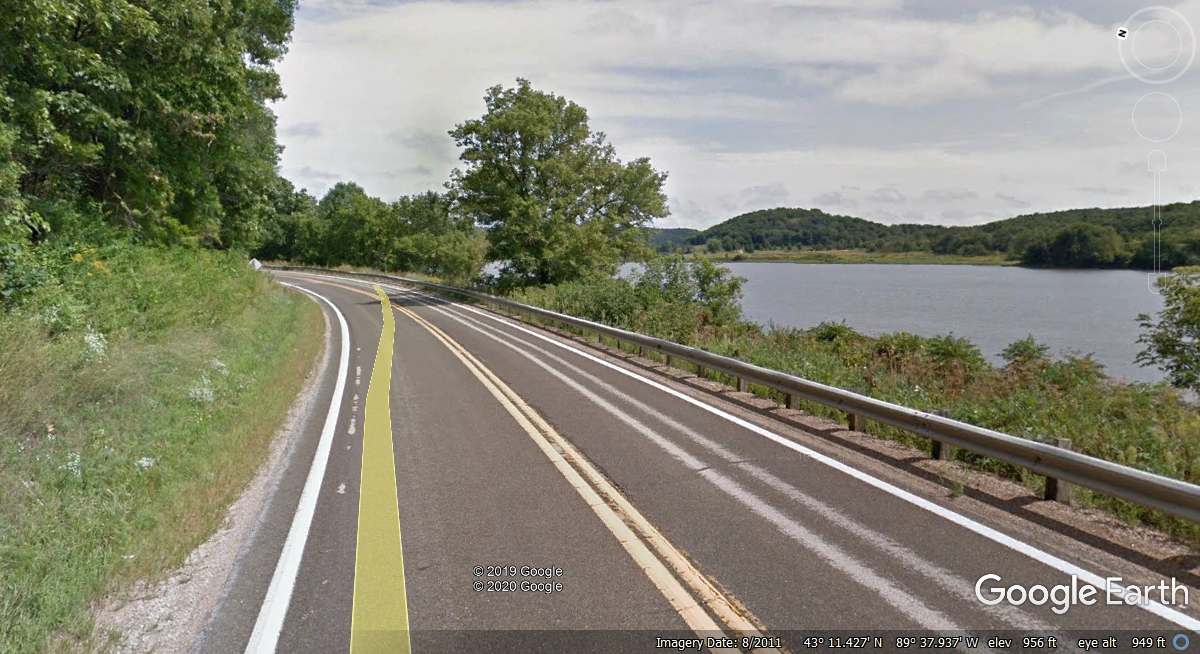 Route 19 joins up with US 12 for less that 1.5 miles before it heads East again with more country road. We are now less that 12 miles to Interstate 90, 94, and 39. I-94 will take us to our motel for this evening in the western suburbs of Milwaukee.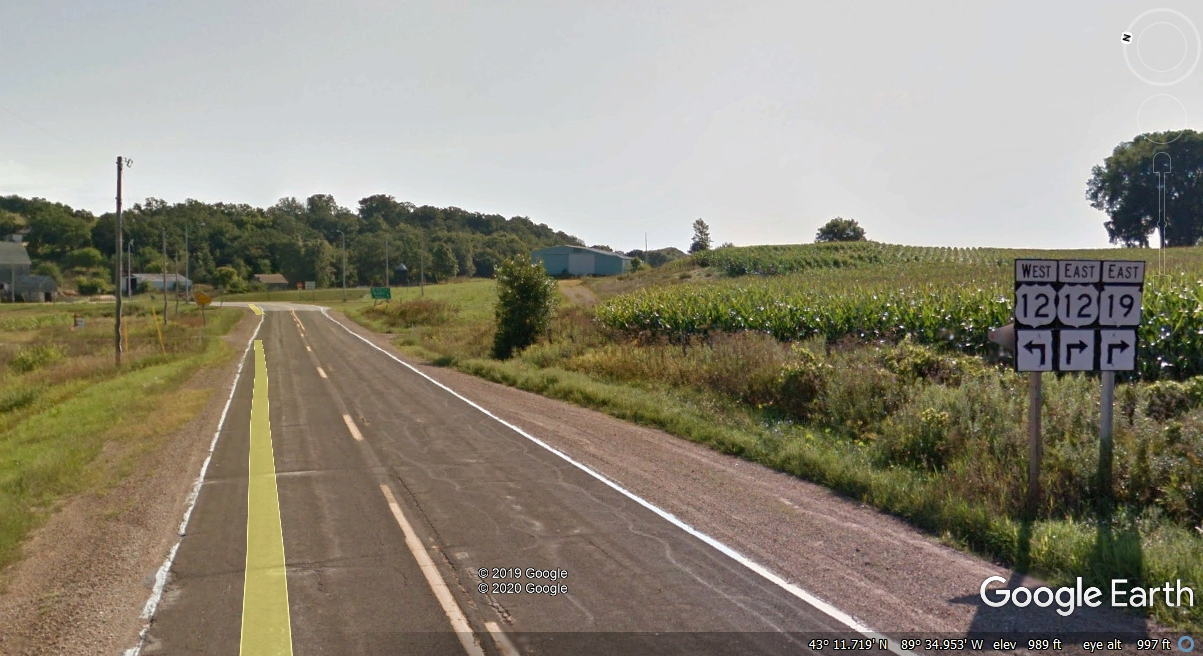 Off of US 12 now, there is one more town before we get to I-94. Waunakee is just a few miles ahead.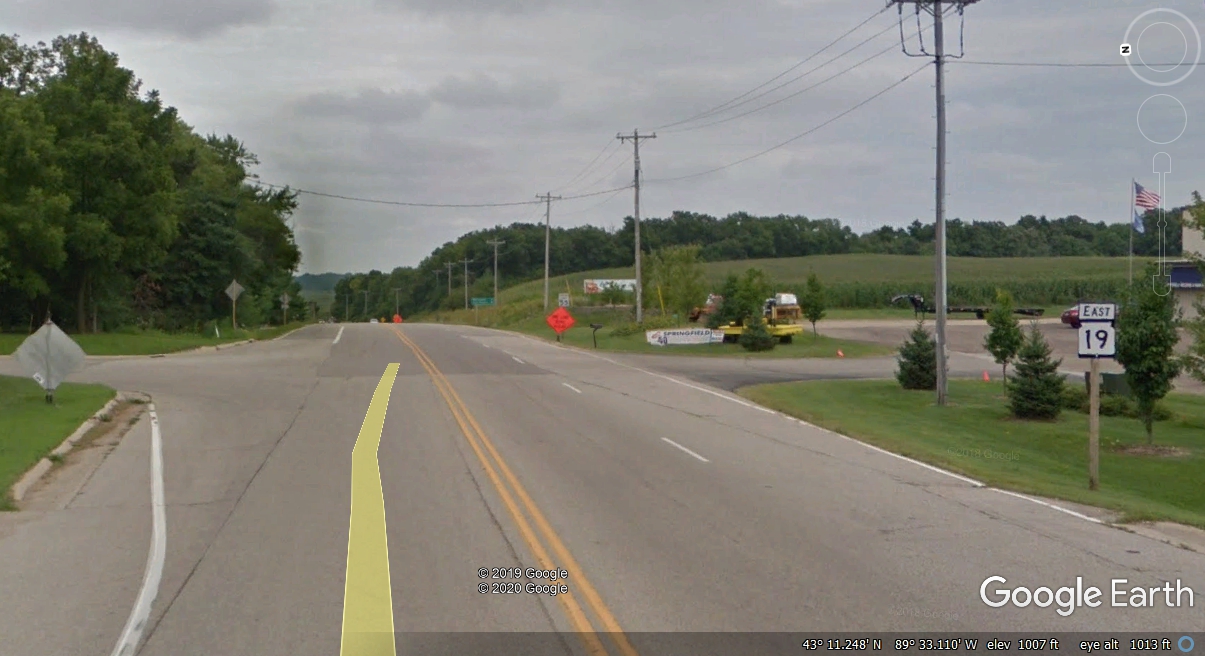 Here is an aerial view of route 19 between US 12 and Interstate highways 90, 94, and 39 at the right side of this image with NORTH UP. The airport for Madison is at the bottom right corner of this image.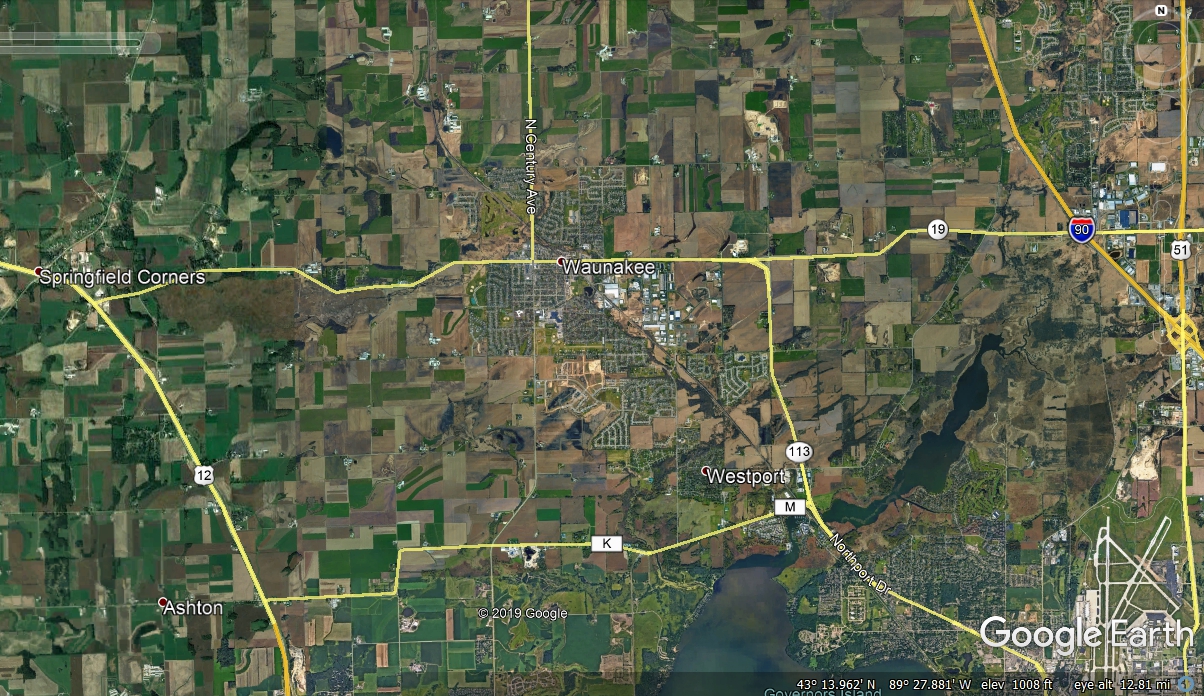 We are finished with route 19 when we get to that overpass ahead and turn south for a few miles where I-94 heads for Milwaukee.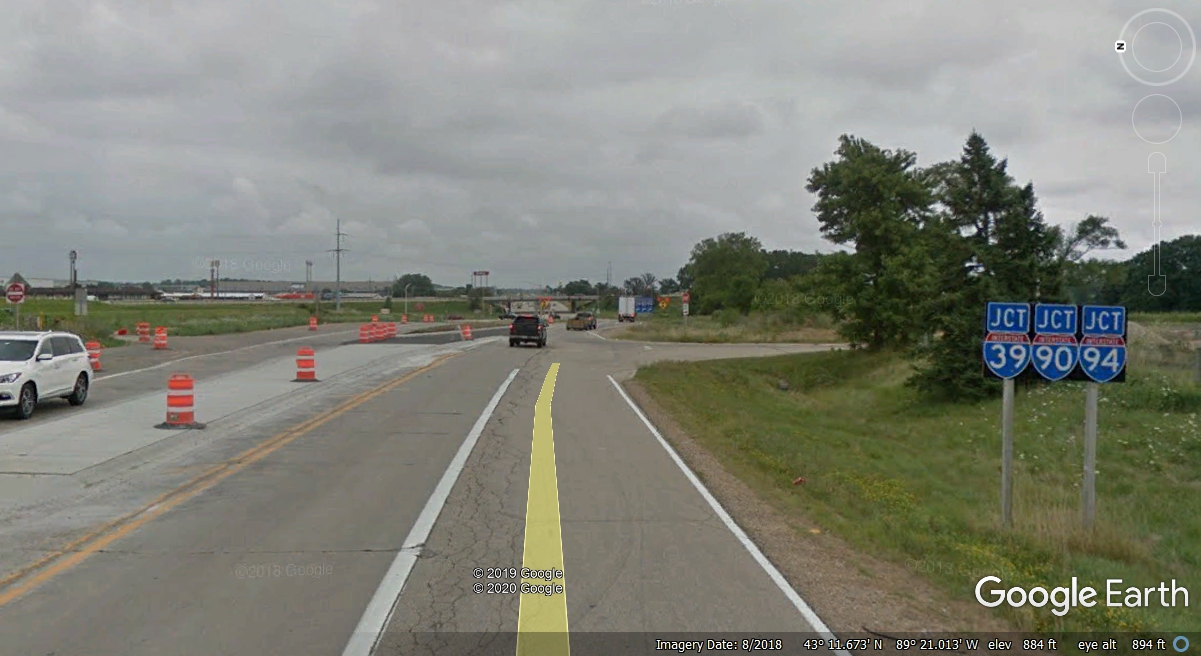 Seven miles south of where we got on I-94 from Wisconsin route 19 is where I-94 turns East toward Milwaukee.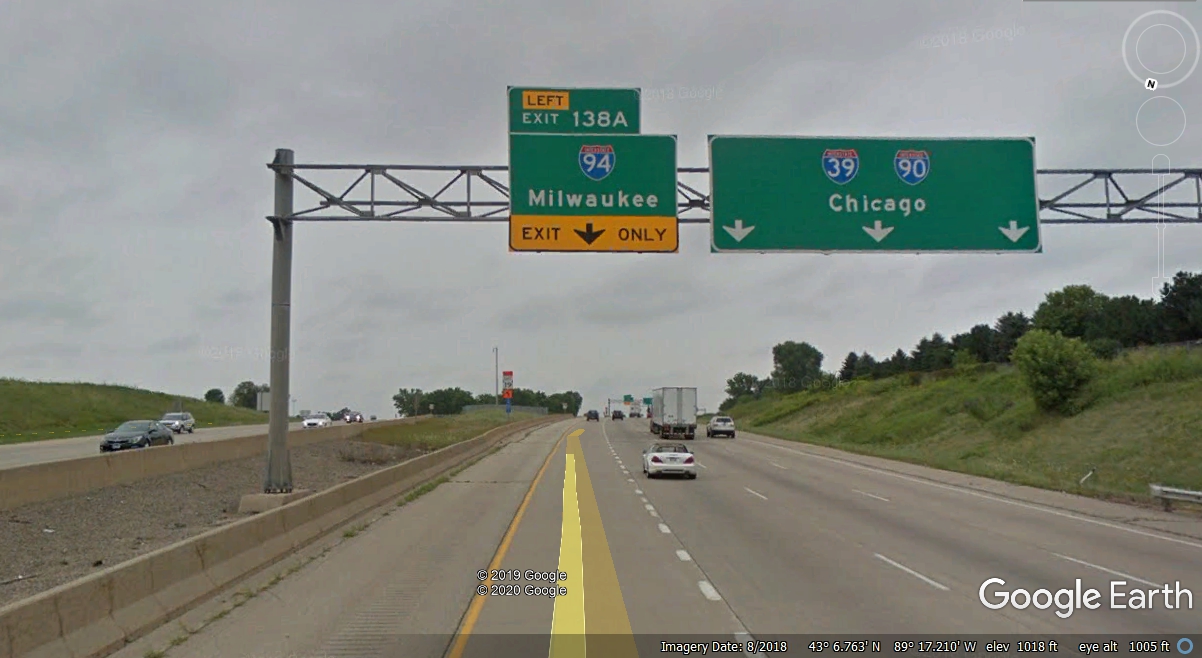 Here is our exit for the Quality Inn hotel for tonight located about 58 miles east from the junction seen in the image above.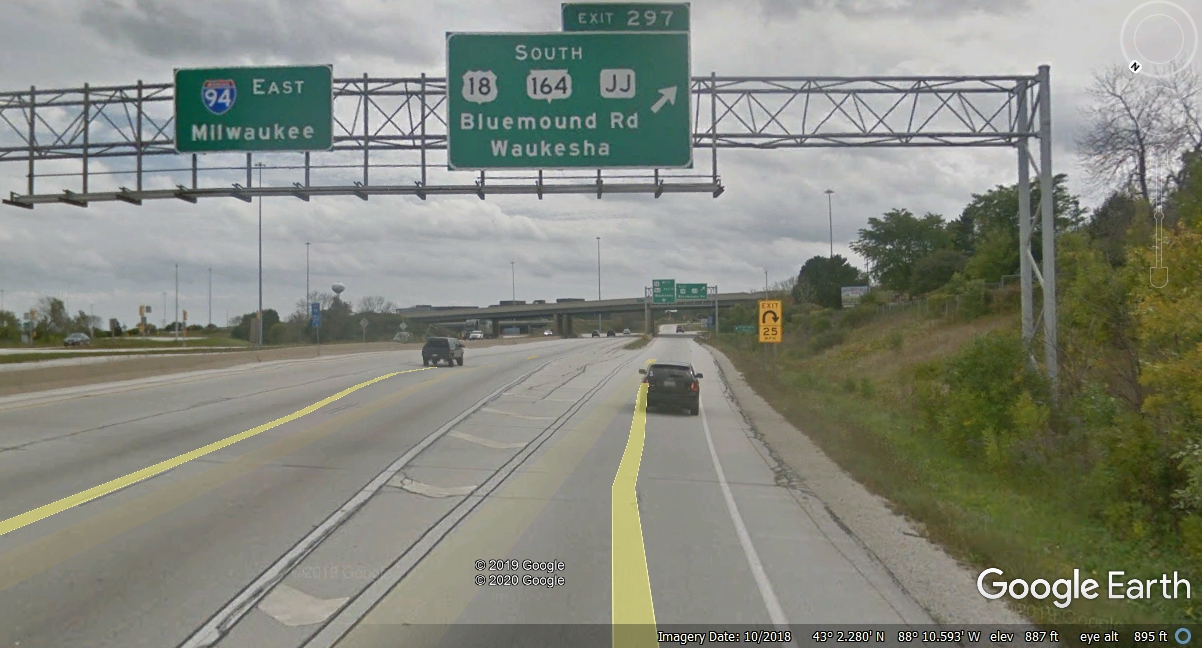 The Quality Inn is less than 1 mile from I-94. After getting checked in here, we went west on US 18 across I-94 to a Texas Road House restaurant. The food was excellent of course.