US 41 - Baraga, Michigan to Escanaba, Michigan · · PAGE 24.
July 25, 2019: This day was long indeed, with the rewards we sought along the route. We passed this way going North at 11:47 AM this morning and now we are heading East toward Marquette, Michigan at 7:58 PM.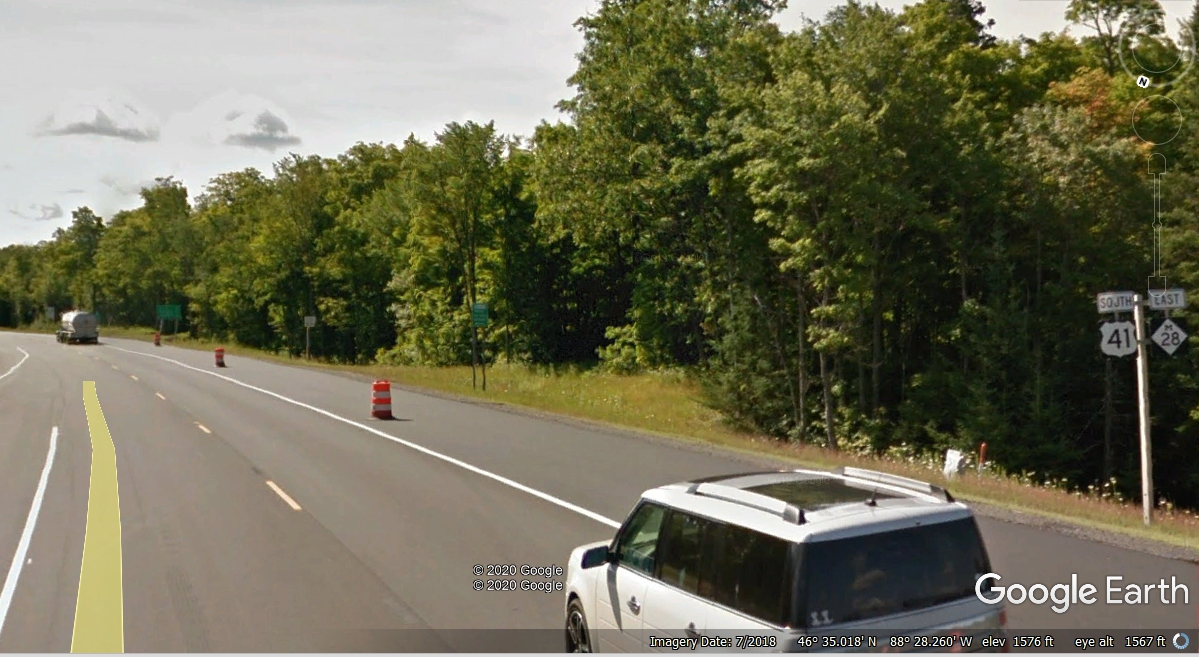 Here is the map for our travel this evening. From our gas stop near Baraga, the mileage for this evening is just over 135 miles based on the GPS route I chose to miss some road construction on US 41 in the Marquette area. The mileage from the intersection of US 41 and US 141 shown in the image above to our motel in Escanaba is about 117 miles. The GPS recorded our arrival time and the motel at 10:30 PM. We did not stop for dinner as we had such a late lunch today in Copper Harbor.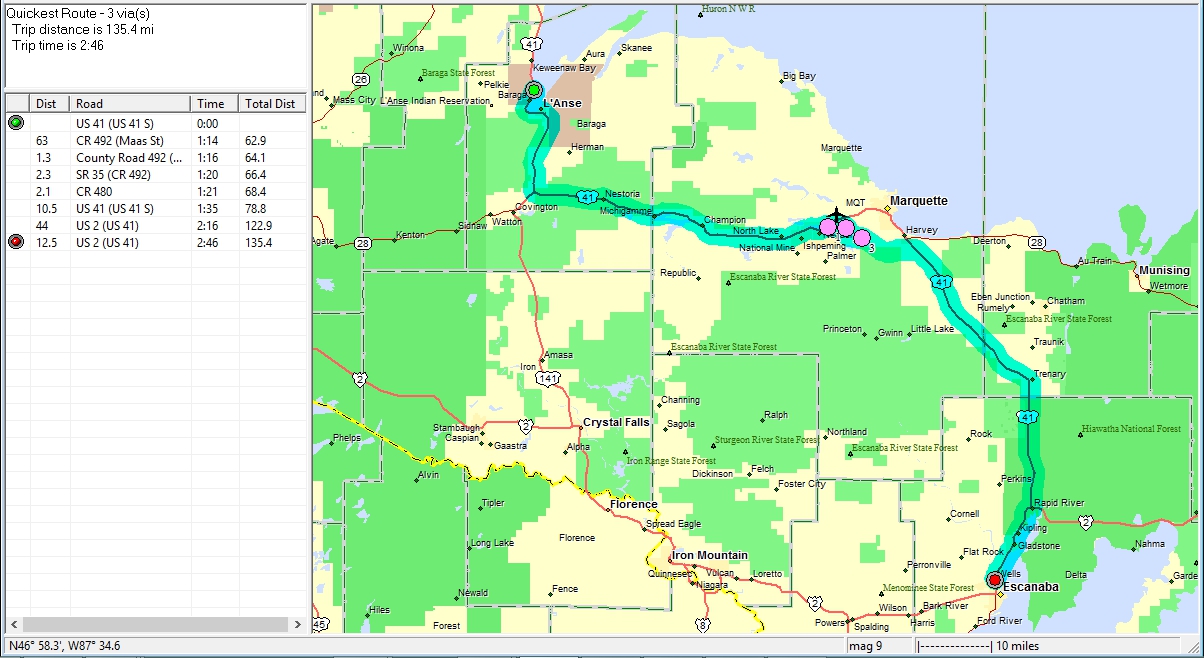 US 41 is now an eastbound route through forest lands for about half the distance toward Marquette, Michigan. This point on the highway is less than three quarters of a mile from the US 141 intersection which is now out of sight around the bend US 41 made as it went from going south to an eastbound track.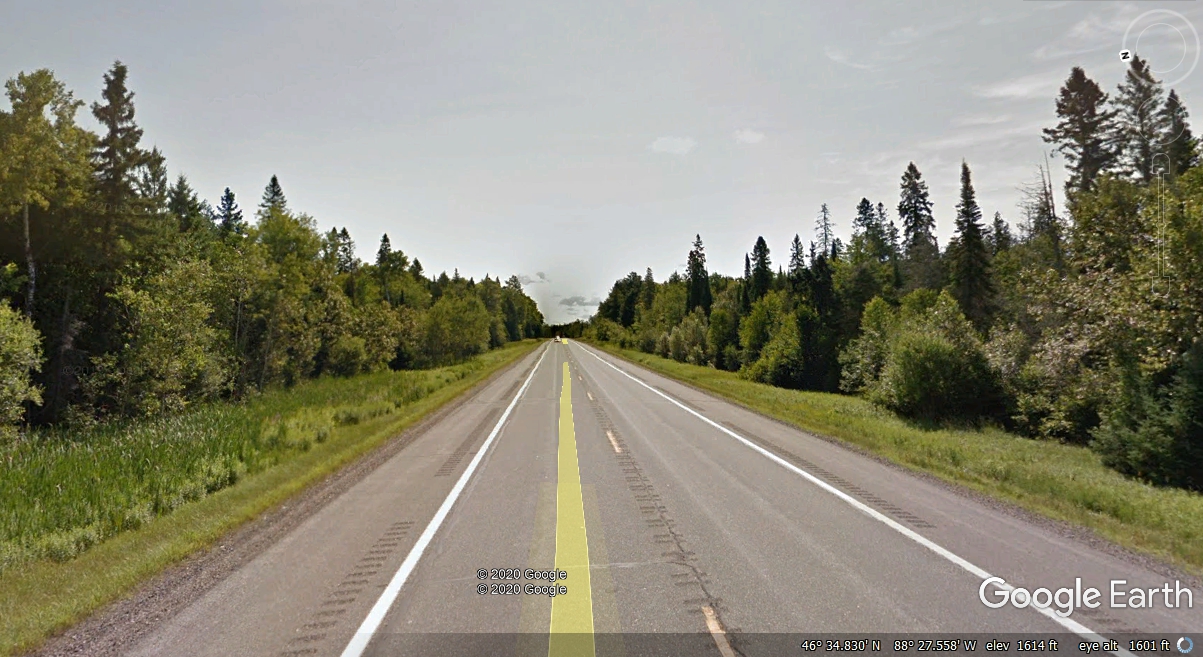 The trees are thick enough to hide a lake beside the highway if it did not have an access road as seen here.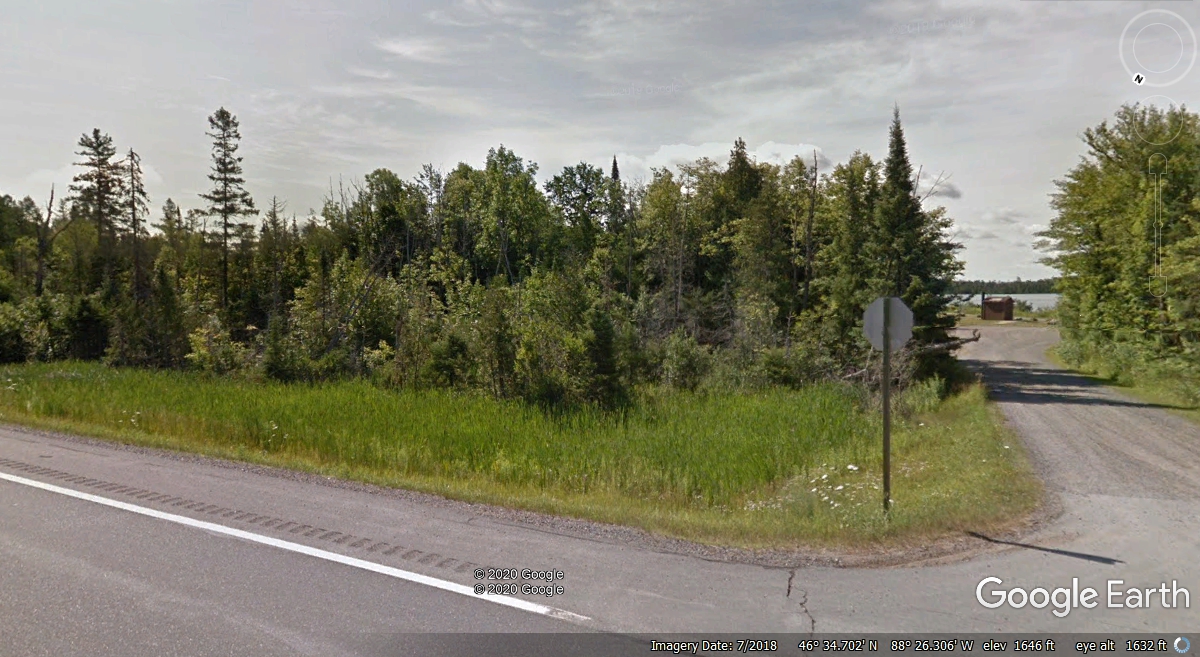 After miles of forest on straight roads with 3 miles between curves, US 41 weaves its way past the first of two lakes after the little village of Nestoria and before Michigamme.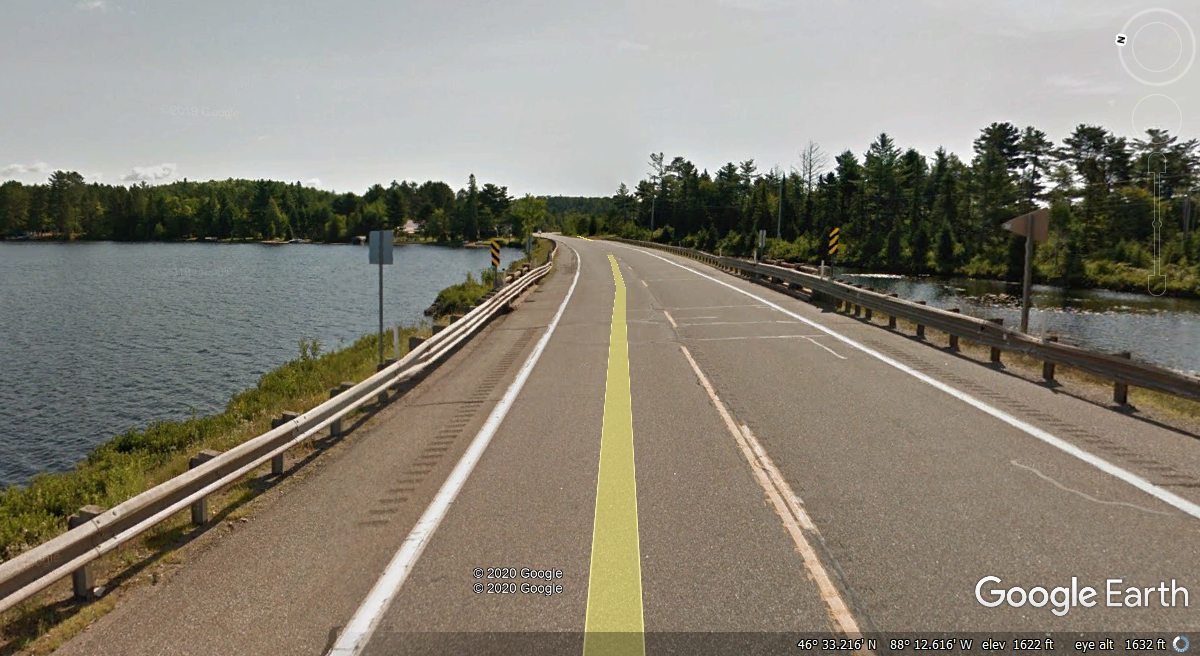 The second lake on the right side is before a gentle right curve to get back on course for the next towns.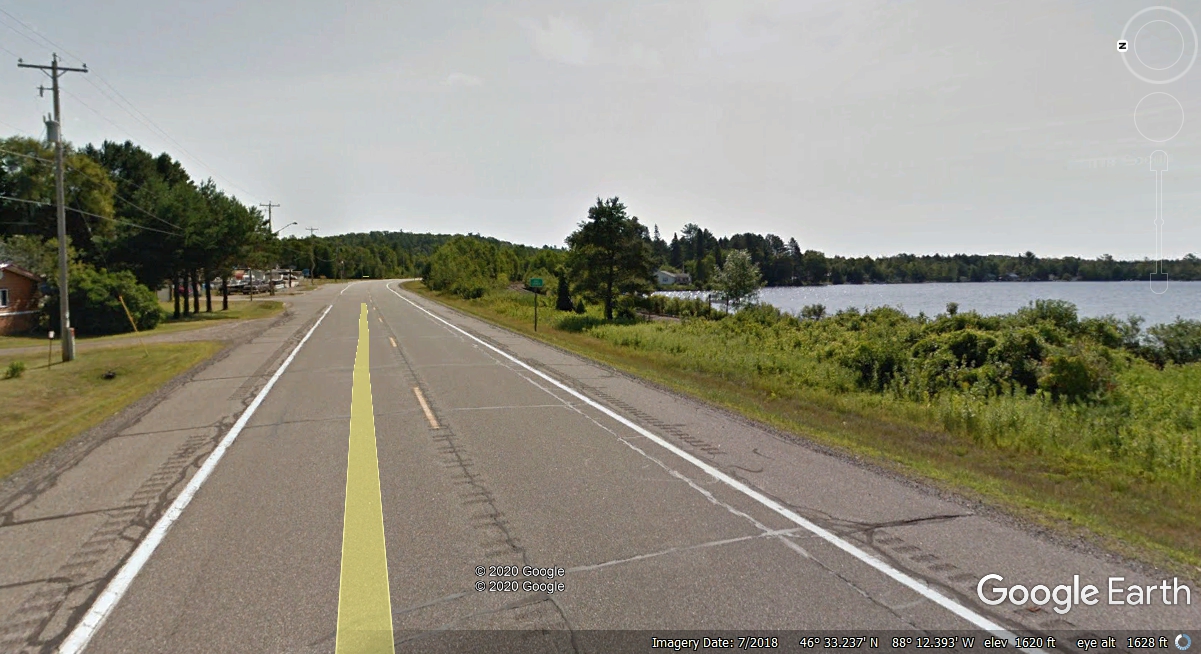 The railroad track seen here alongside US 41 is the same rail line that goes to L'Anse and Baraga where it ends.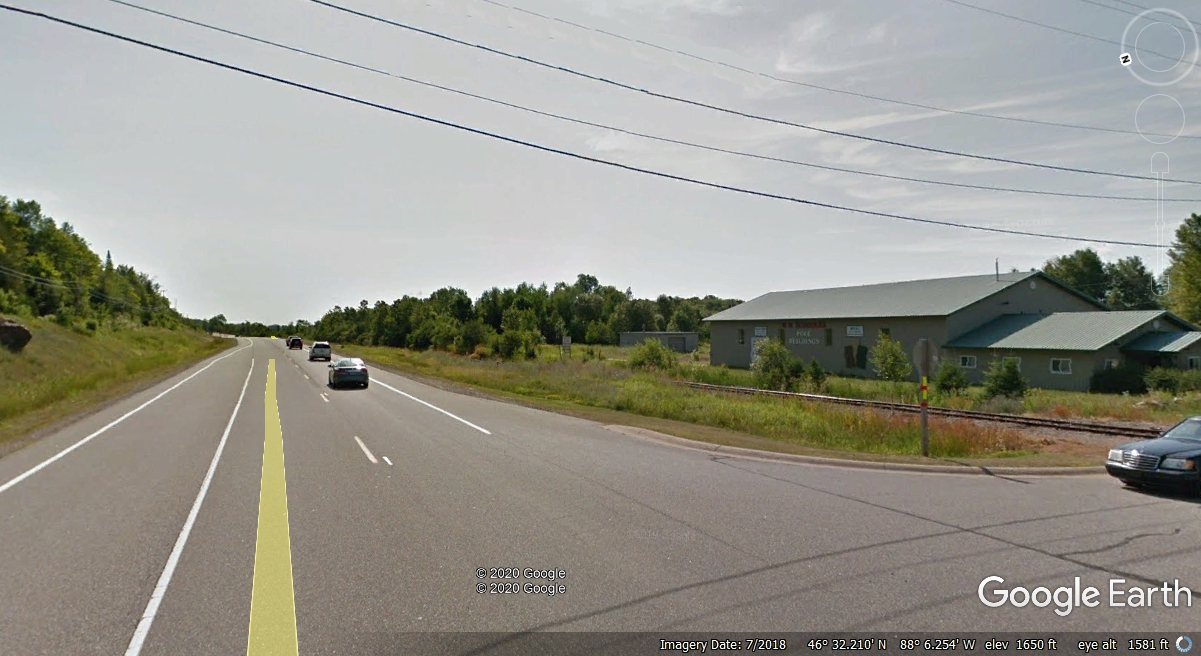 The Mount Shasta Restaurant is across the highway from a lake on the East Side of Michigamme. This view is looking west to take advantage of excellent lighting from the morning sunlight.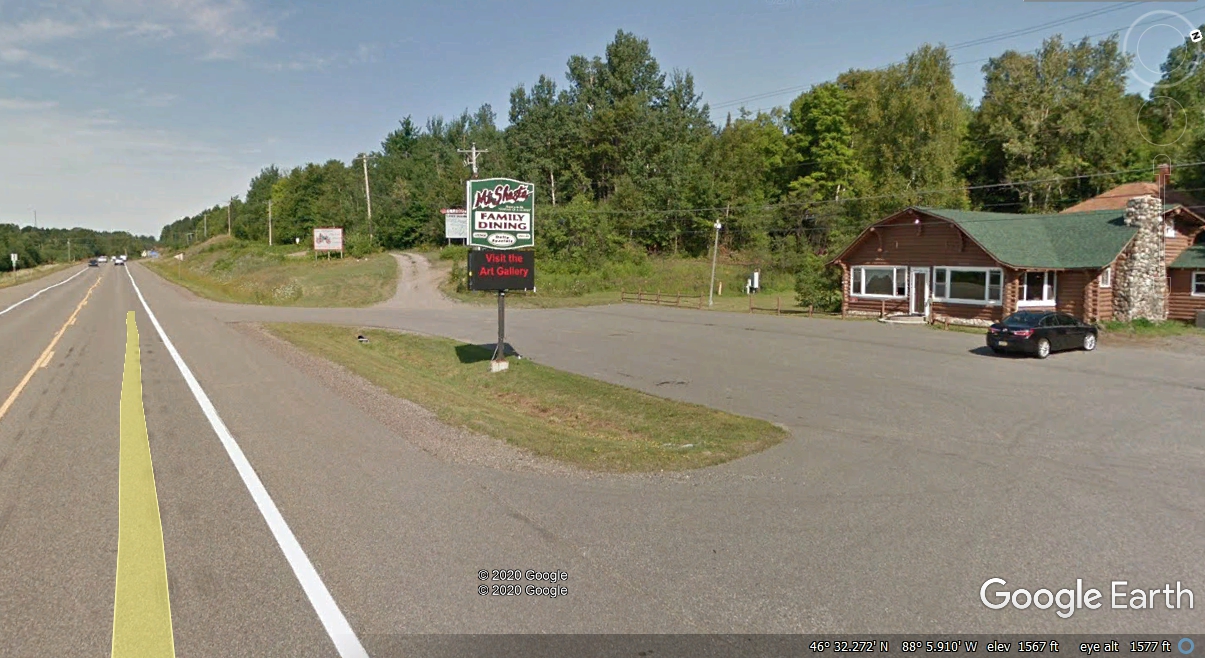 Take notice how looking East toward the sun puts the restaurant sign in shadow. The railroad track is on the right side of the highway heading toward Marquette and points south.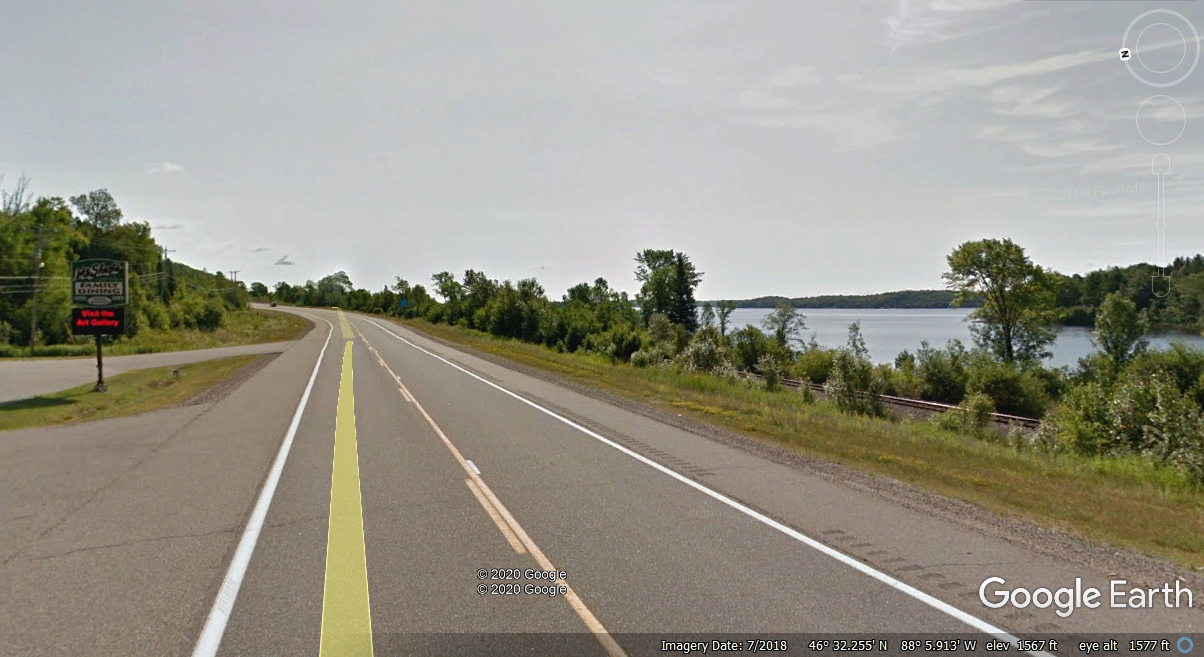 Finally, US 41 changes from 2-lanes to 4-lanes heading into West Ishpeming going toward Marquette.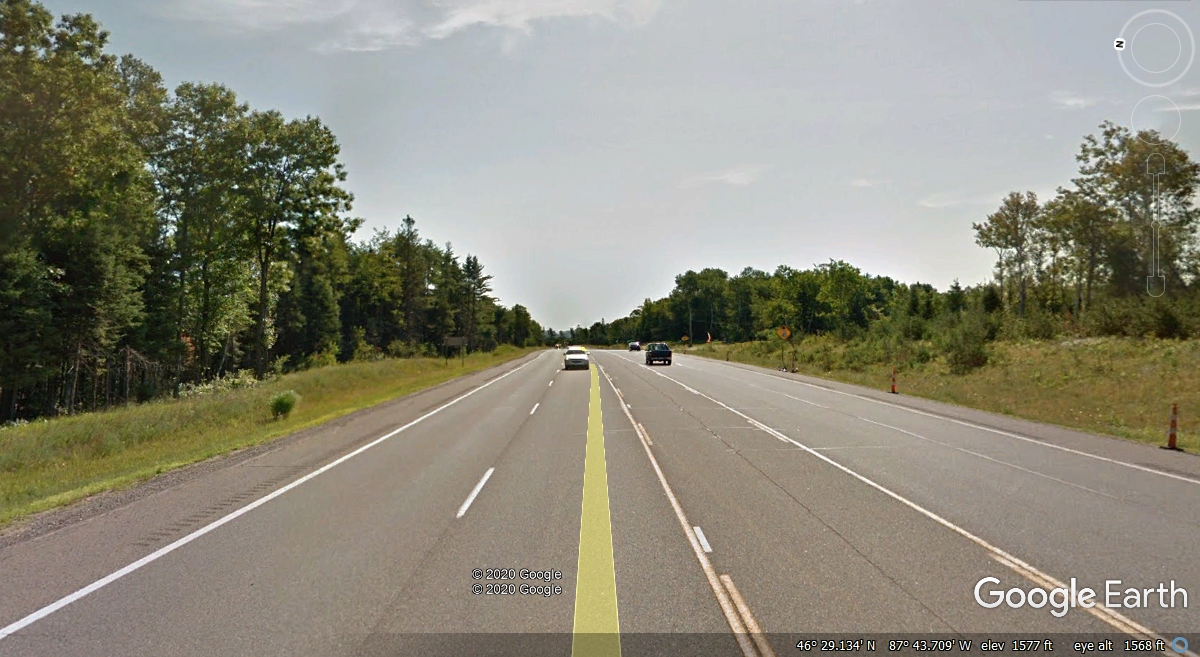 That pointed roof building is the National Ski Hall of Fame and Ski Museum. If you want to get there, you can turn right on this side of the circle where a sign points to downtown, then immediately turn left into the parking lot. OR, you can go through the traffic circle on US 41 and make the first right turn.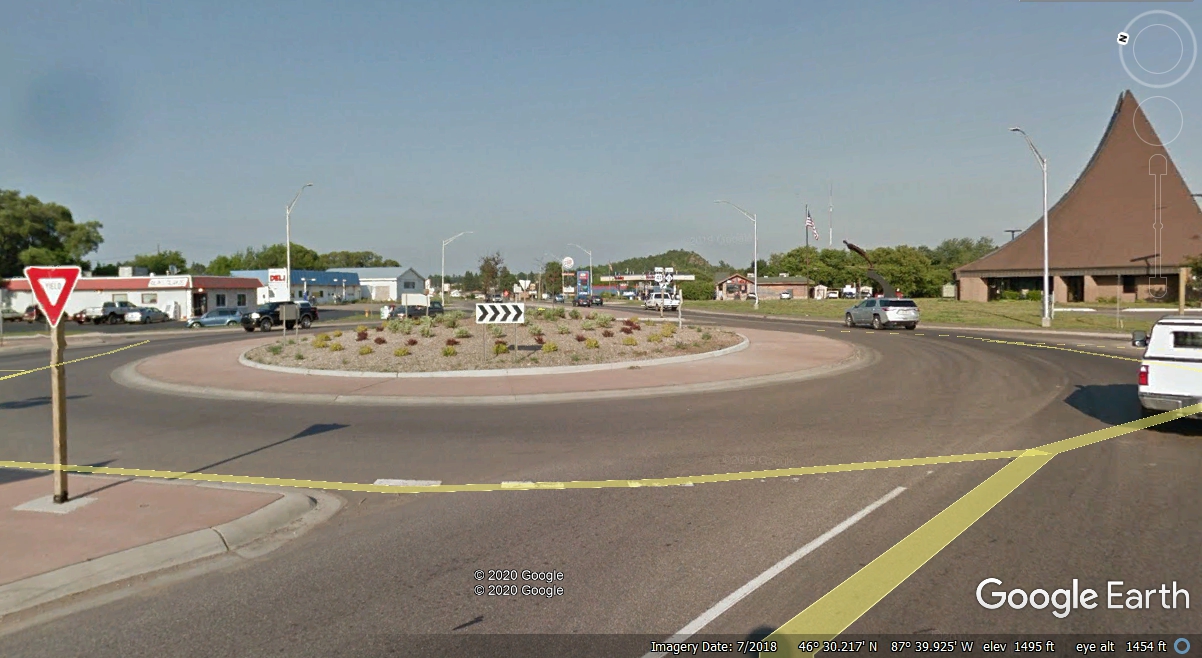 This is what you see by following US 41 through the traffic circle. Yes, the roof is fashioned to look like a ski jump for that statue out front.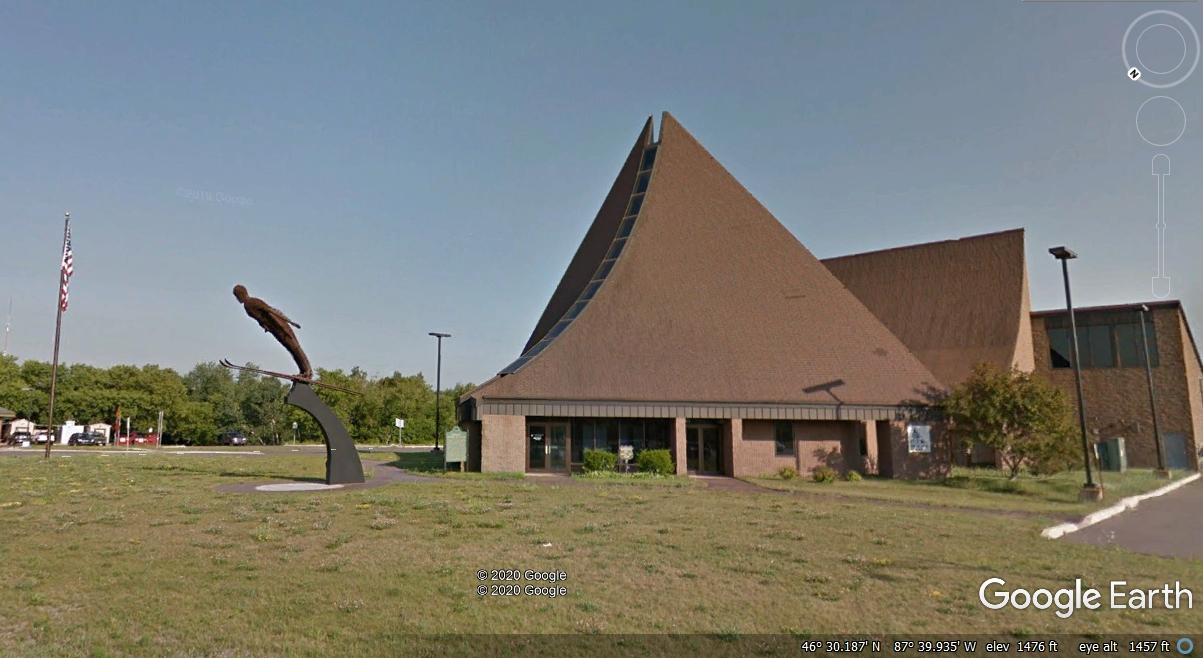 When we got to the town of Negaunee on US 41, there were a number of "major road construction signs" ahead on US 41 to Marquette. I looked at my GPS and took a couple of county roads to get to US 41 on the other side of Marquette. County road 492 got us off US 41 with a turn south on Michigan route 35 to connect with county road 480 to go over to US 41 and resume our route down to Escanaba.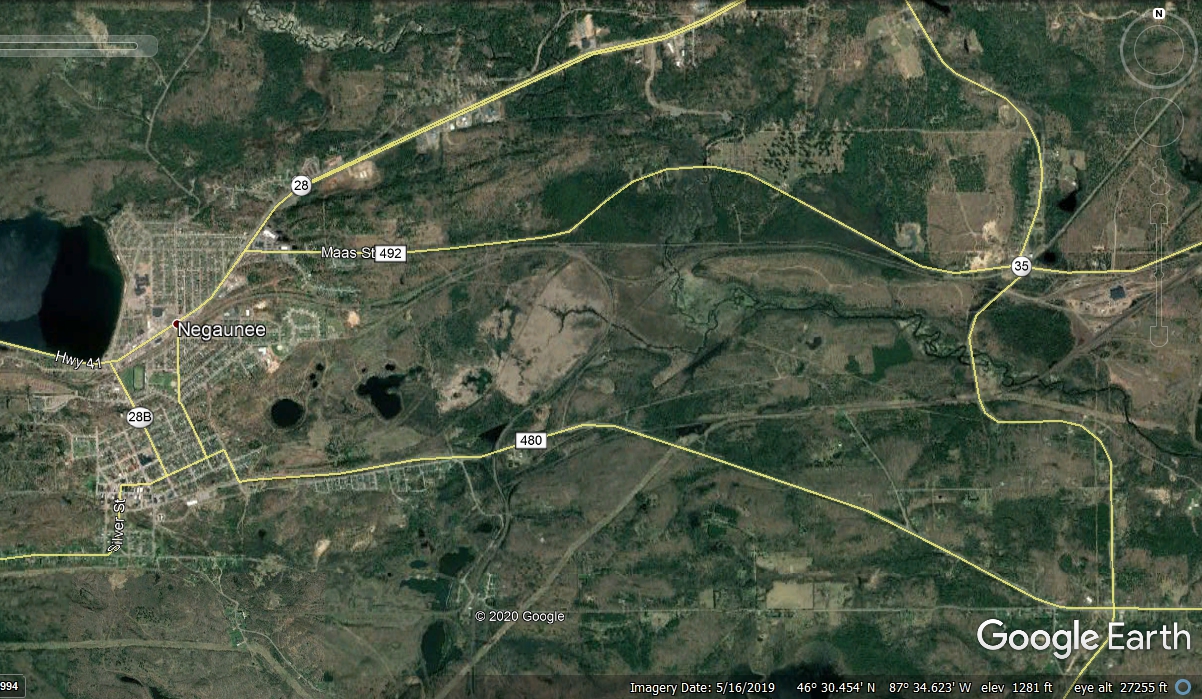 A reminder here that we were on this road July 25, 2019 with no snow in sight. The Google Camera car drove down this road in November 2016. We are looking and going East on county road 480 at the intersection of Michigan route 35 going south to the right of this image.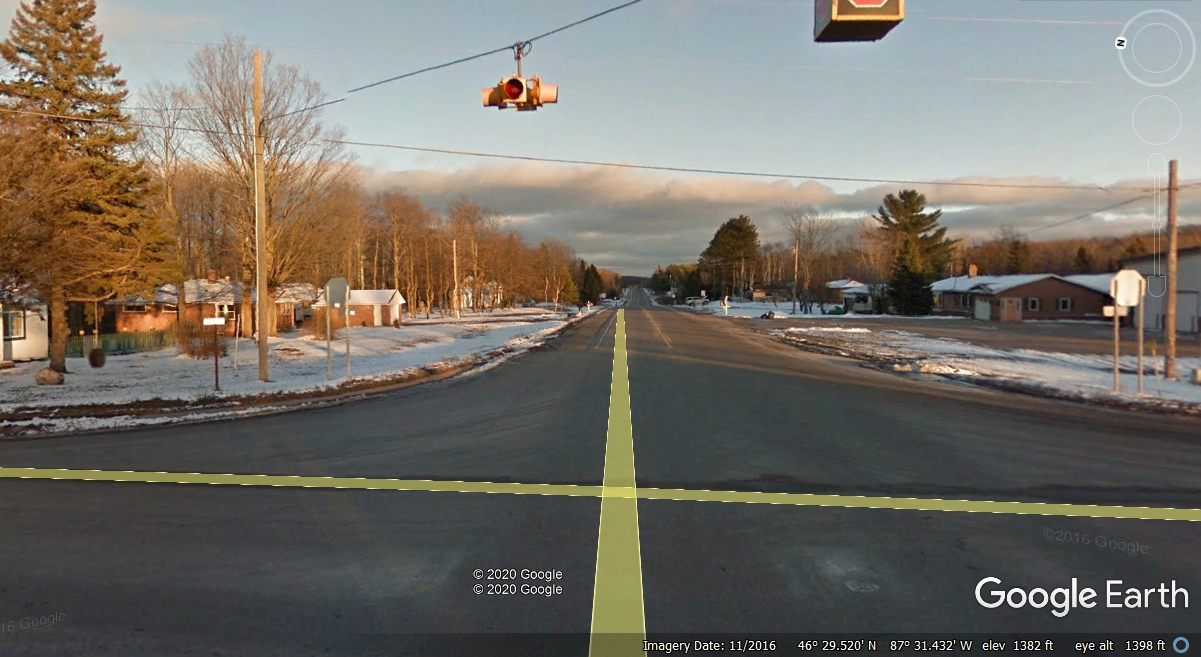 I checked the distance of our bypass via the county roads and US 41 through downtown Marquette to see both routes were 17.5 miles to the intersection of US 41 and CR 480 south of Marquette. Our "bypass" was open road and virtually NO traffic issues. The remaining distance to our motel for tonight is about 57 miles, mostly 2-lane highway. US 41 to the junction of US 2 is 44 miles south from this image seen below.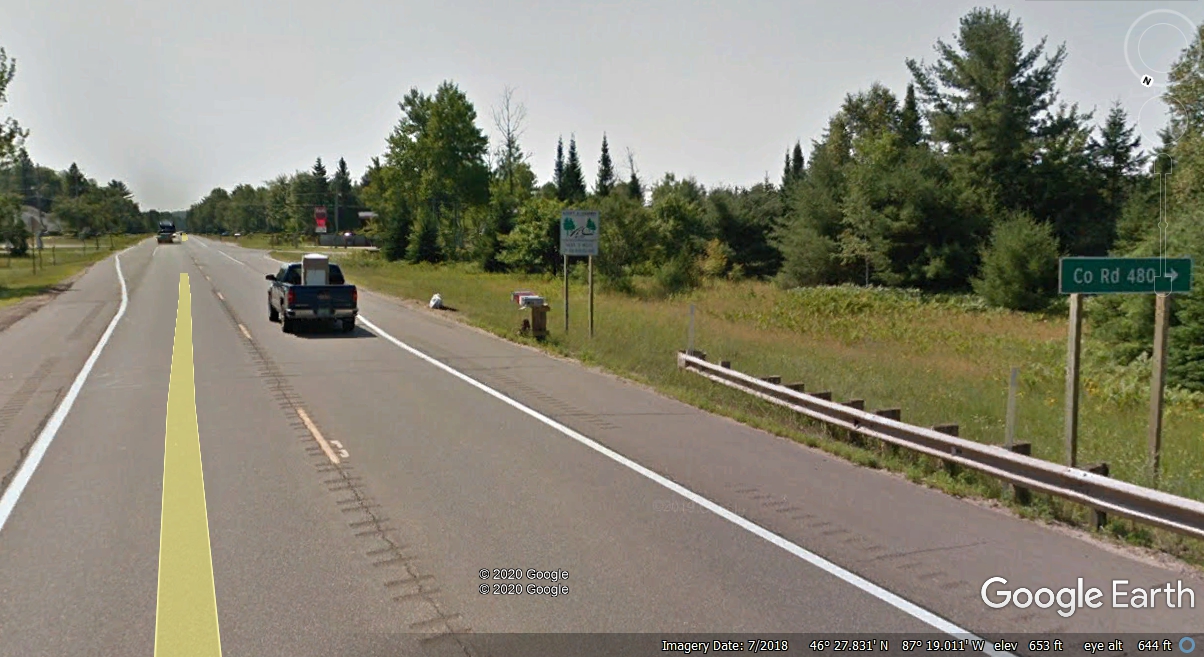 This was the end of the 44 miles of US 41 2-lane highway where it joins US 2 and becomes a 4-lane highway south to Escanaba, Michigan.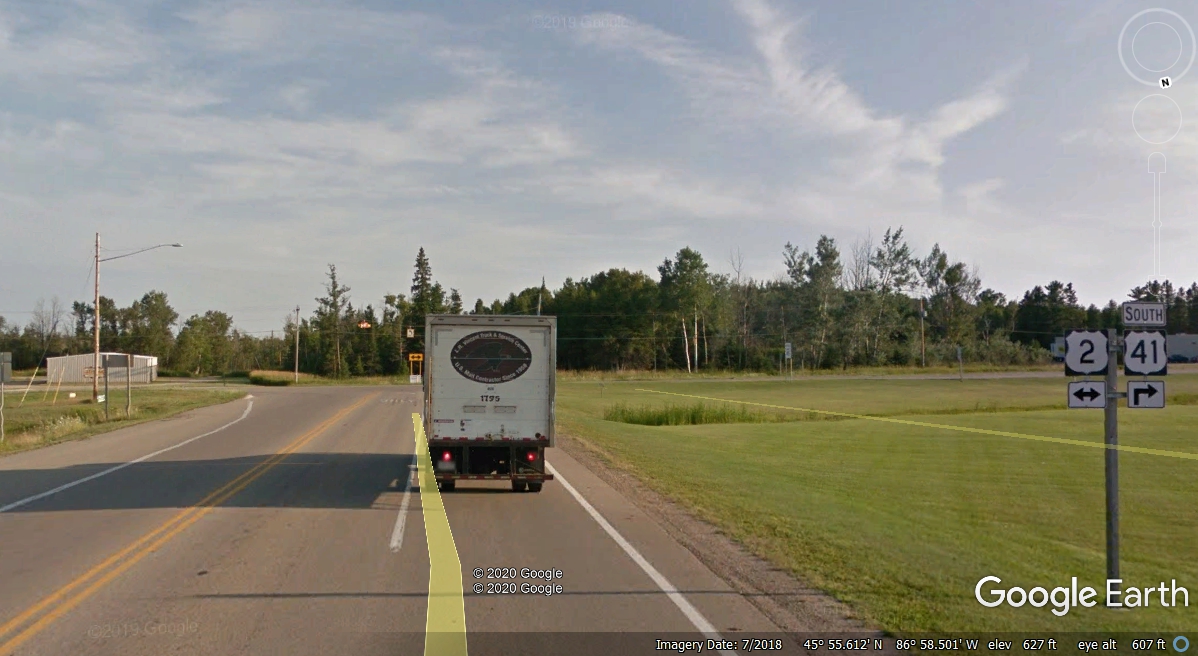 One of the southbound railroad tracks is behind these buildings on the right side of this image.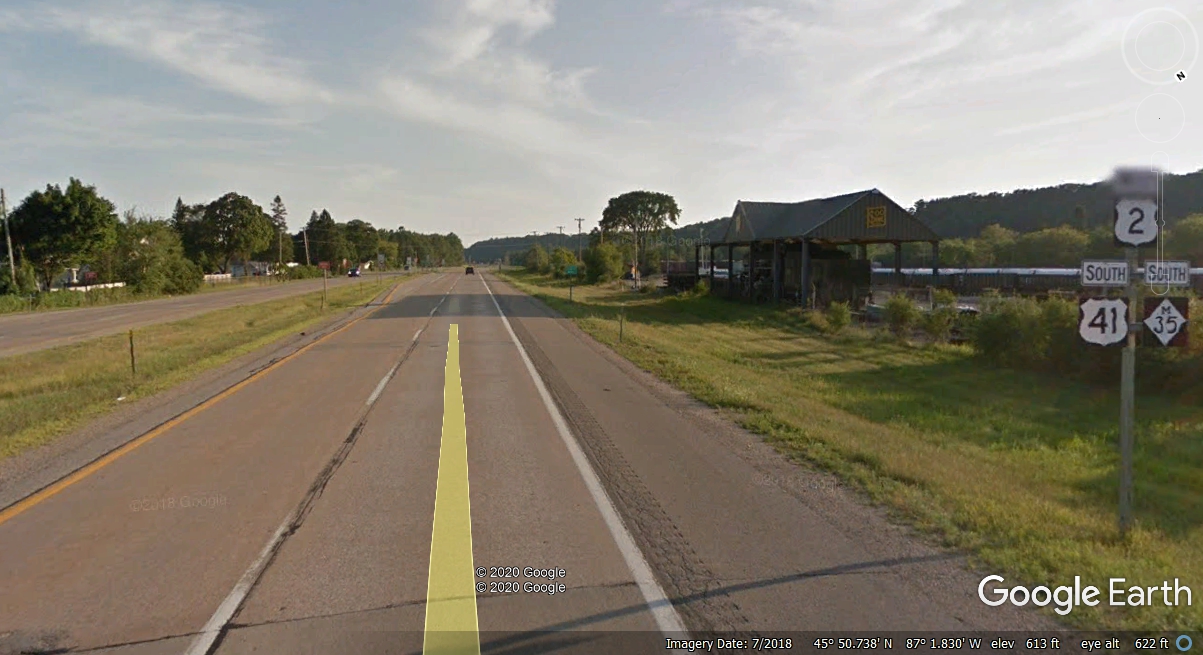 We got to this Super 8 motel well after sunset, shall we say "zero dark thirty" as a guess? The actual time of the last GPS waypoint today was as 10:31:47 PM Eastern Time.