Wendell Folks RV-8 at Airventure 2008 - Page 87.
August 1, 2008: The Oshkosh family that offered space to Terry and Wendell provided these photos. Wendell took them all out for dinner Friday evening in gratitude for their hospitality during the trip to AirVenture. The husband and father Neil is taking this photo at their residence. His wife Mary and daughter Susan are posing with our two aviators. It is plain to see they have all been out in the sunshine the previous few days.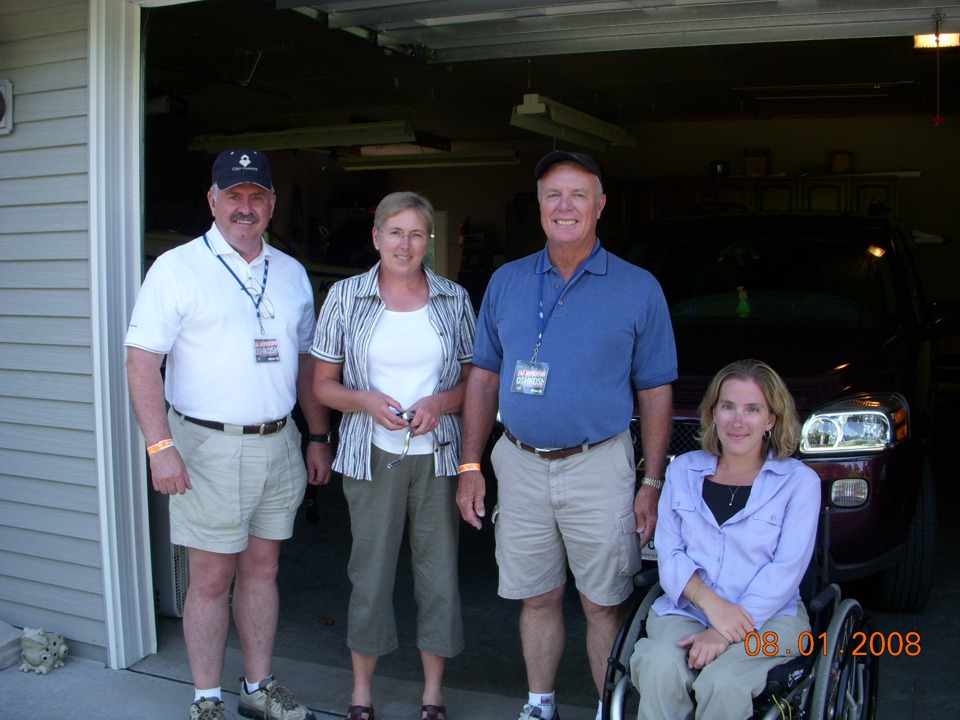 August 2, 2008: Saturday is departure day for our flyers. Packing up the tie-downs is the first order of business. Notice the RV-8 is parked with a bunch of Swifts and not with other RV's. Wendell did some negotiating with the head of the Swift organization and the EAA AirVenture parking team to get this spot close to the runway. He did not want to have a long taxi that would overheat the engine oil temperature.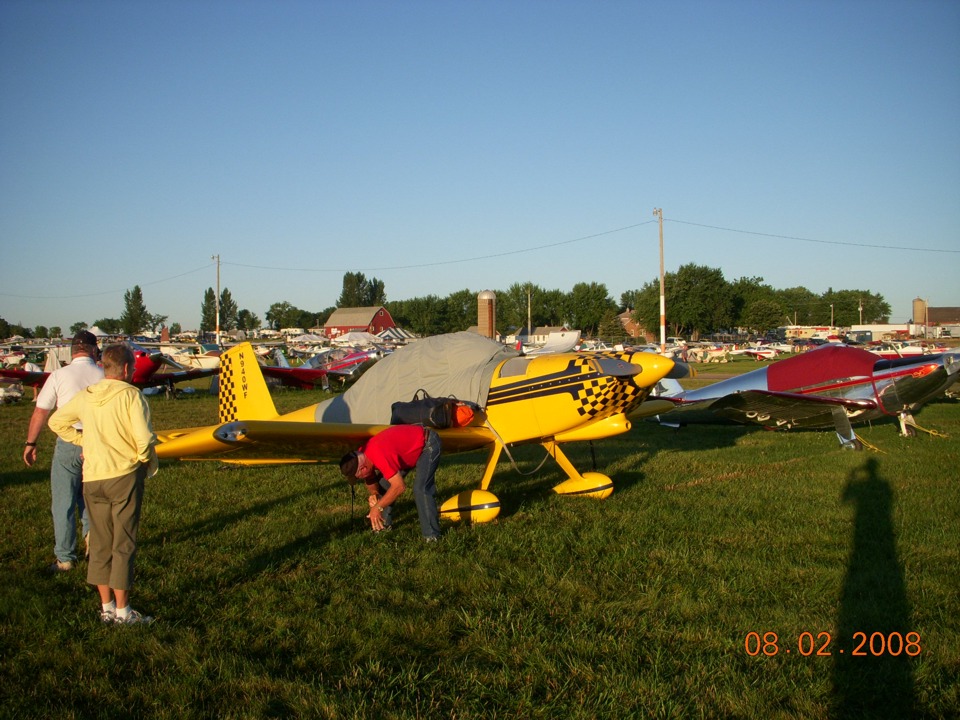 This reminds me a of a class photo: "Line up and smile for the camera" is repeated again. The airplane is now moved into engine start location at the end of the row prior to departure.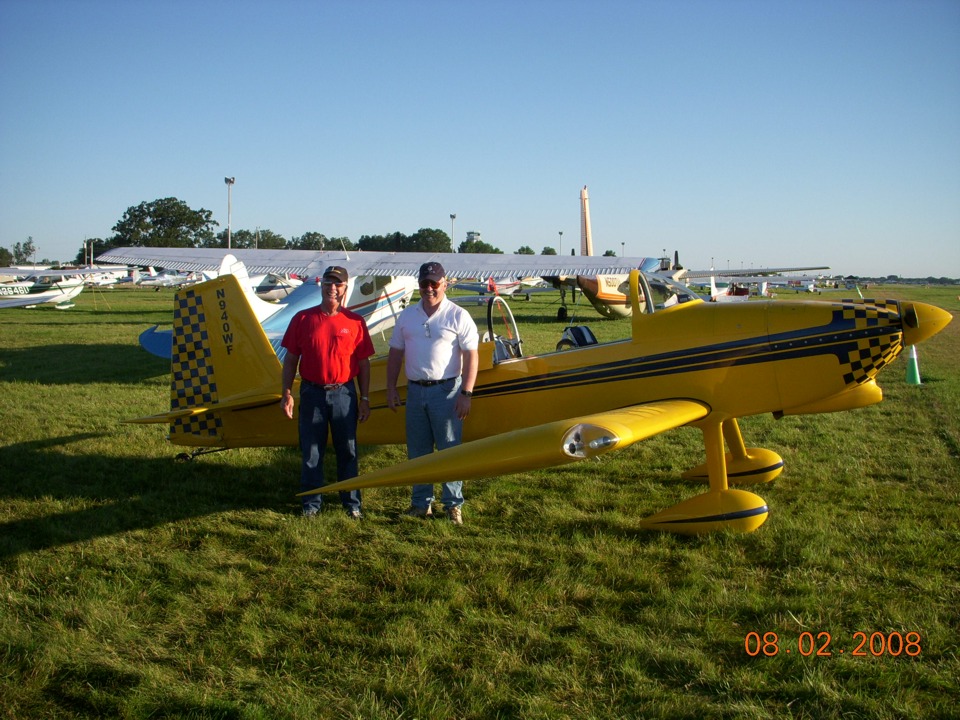 Notice that Neil's wife Mary is holding an empty oil quart container as the guys are seated and ready to depart. She is talking with Terry after looking inside the cabin at the instruments and seating arrangements of the RV-8.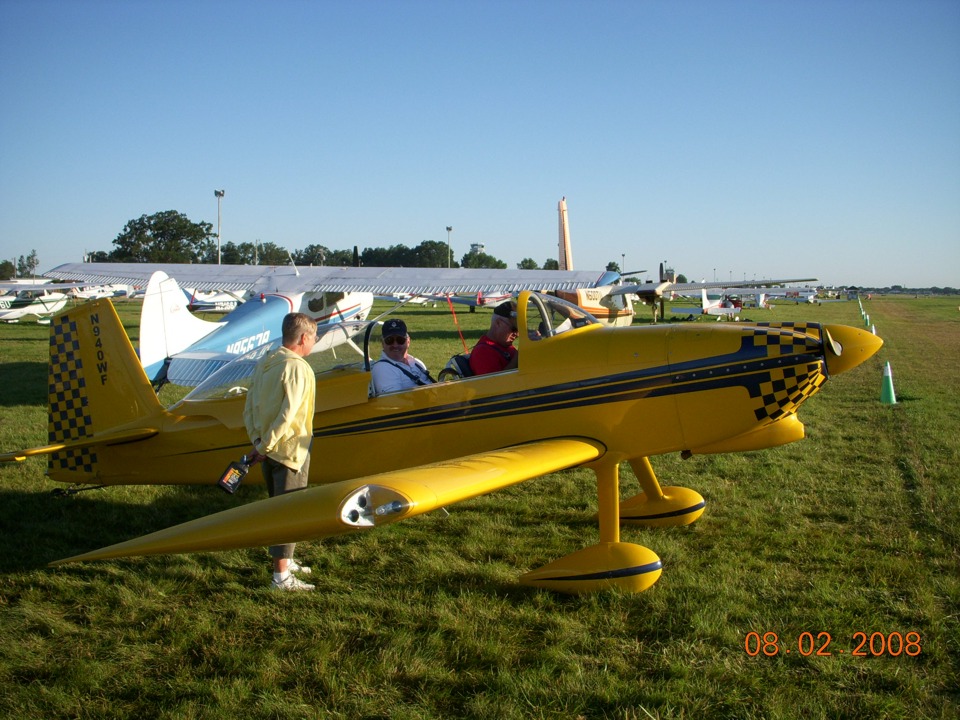 Neil got one more photo before his camera batteries gave out. He was sad to say that he could not get a photo of the "perfect liftoff." I was glad to receive his email and the photos you see above. The time stamp on the email was 10:07 AM Saturday morning. He must have rushed home to send it to me. Wendell had previously shown this web site to the family and they had a chance to see how we build these amazing airplanes!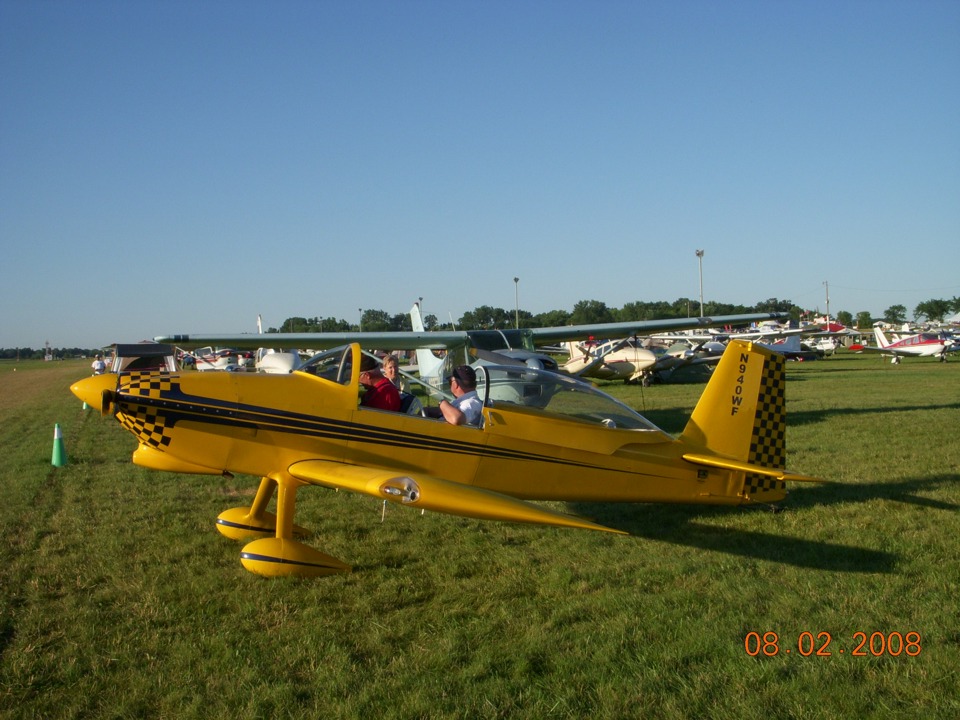 The guys got back home just after 12 noon on Saturday with no real problems with weather coming back from Oshkosh. The Garmin GPS396 and Trio autopilot did most of the enroute flying in the clear weather along their route home. Wendell said Terry was navigating from the back seat using aeronautical sectional charts with his finger on the "we are here" point of each chart. With these automated systems, the charts serve as a required backup when the technologies might fail.
August 23, 2008: I searched all the Oshkosh photos I could find on the web and found this one from an RV-builder from Switzerland. This shows the location of Wendell's airplane early in their visit while it was tied-down in home-built parking. AirVenture is an international event drawing folks from all over the world. His journey is documented on his web site here: http://www.flyvans.com/gallery/osh08/.