OSHKOSH 2010 -- Tuesday, Oshkosh to Texas · · PAGE 27.
July 27, 2010: Edward got this shot at 2:05 PM Central Time of the Osage Beach Airport serving the Lake of the Ozarks area of Missouri.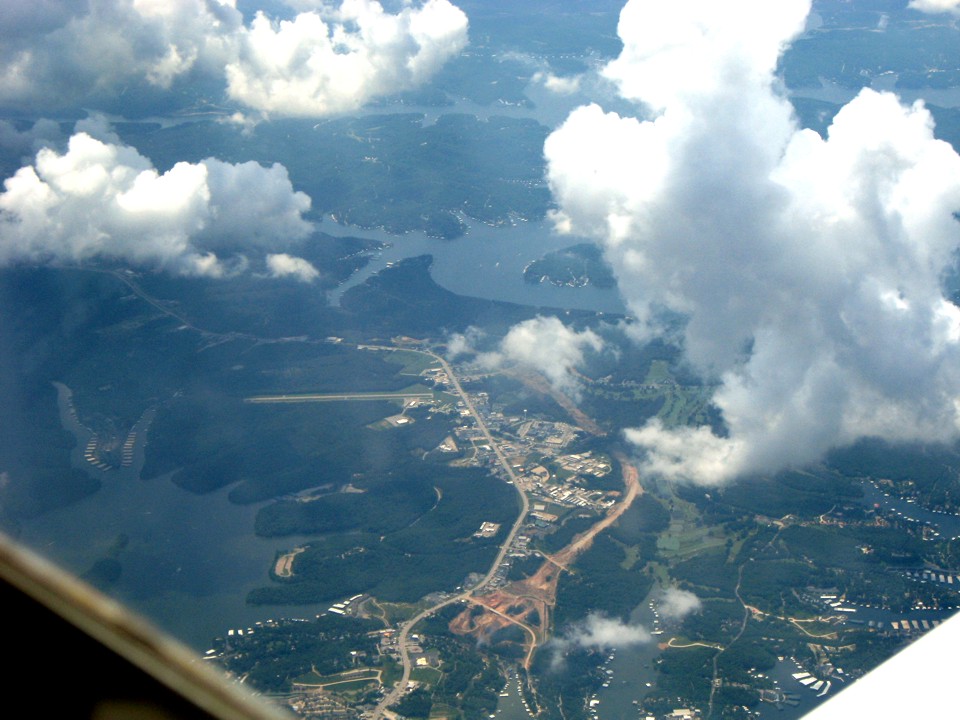 From here, the view forward and south is still clear at our altitude but things may not be so good ahead. We remained on this course to a point near Harrison, Arkansas.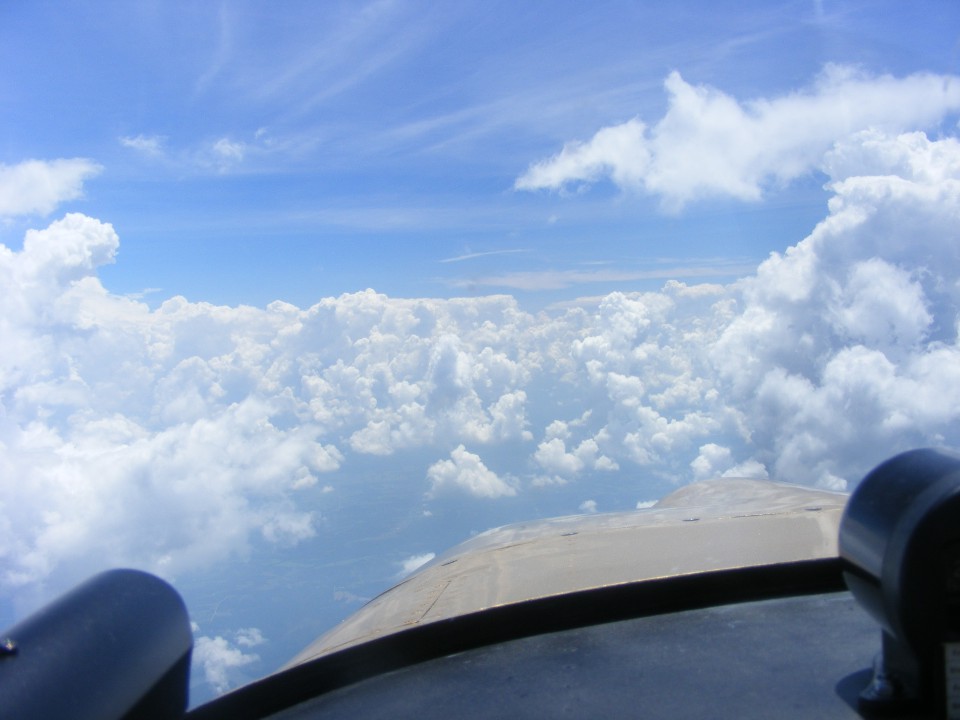 This photo was taken at 4:07 PM looking south at clouds as we are descendting and diverting into Oklahoma and heading away from Mount Ida, Arkansas. What you cannot see from the altitude is the large wall of clouds and thunderstorms that are to the south and covering our first choice for a fuel stop at Henderson, Texas. For now, Dequeen, Arkansas is up ahead on the left of our course toward Idabel, Oklahoma. I stopped there for fuel on the way to LOE5 back in October 2005.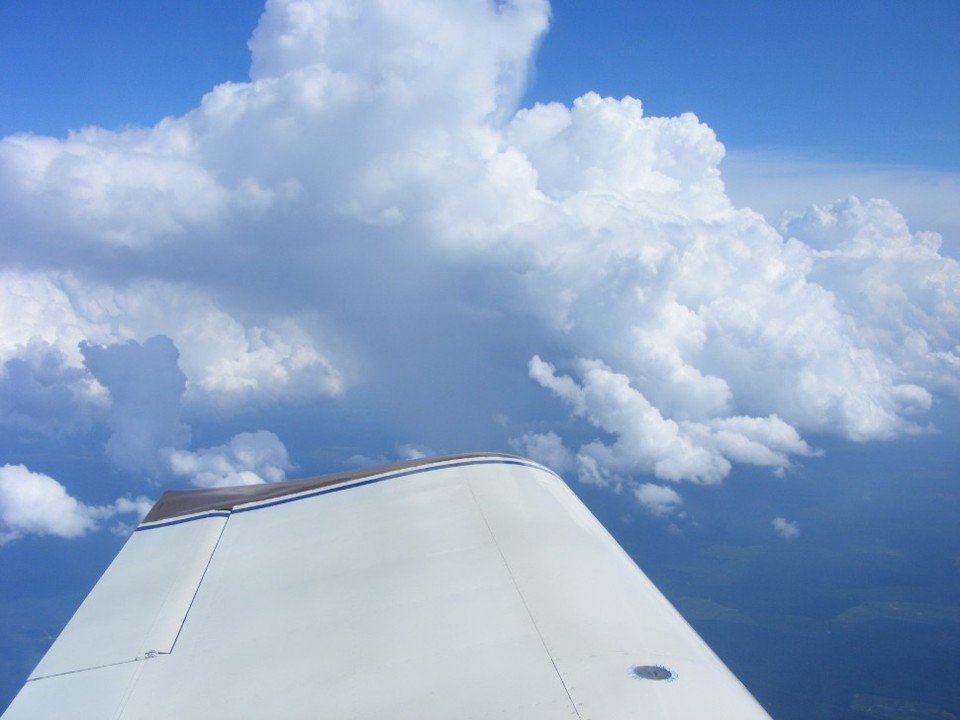 The view ahead still has some weather far in the distance, but not bad where we need to go right now.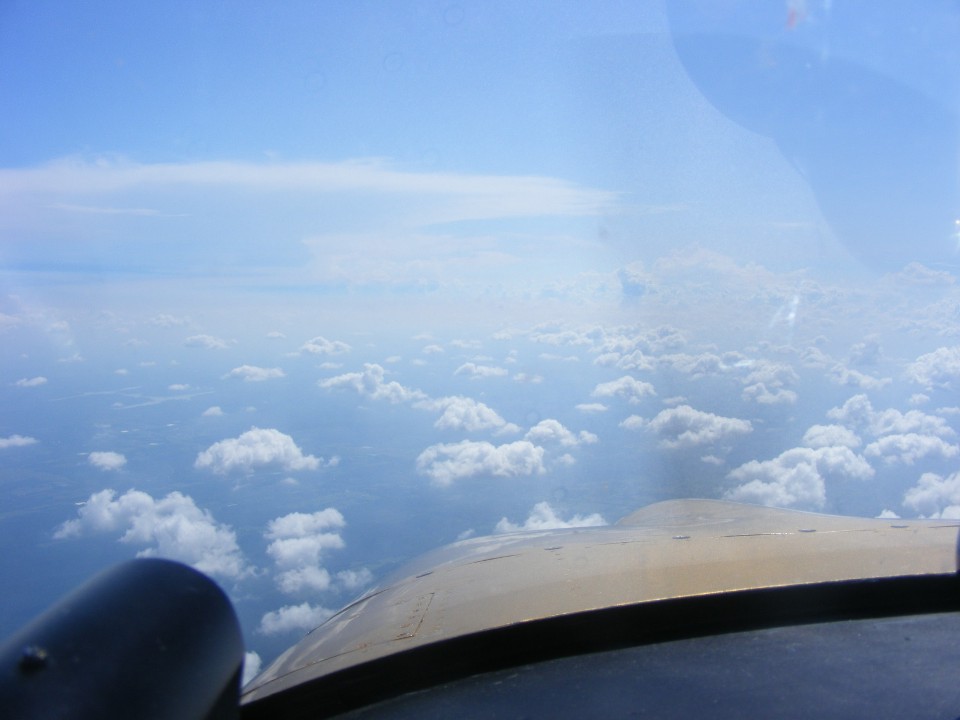 Edward took this photo of the dam at the south end of Broken Bow Lake. This location is about 8 miles north of Broken Bow, Oklahoma.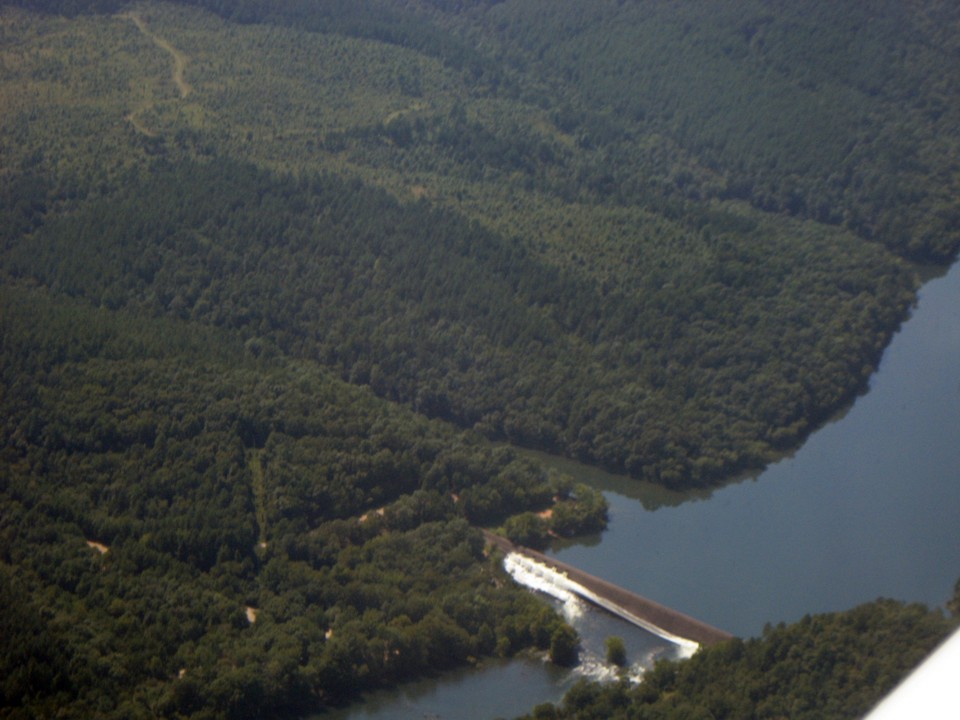 Here is the GPS ground track we flew avoiding the weather while determining our fuel range and reserves. The alternate fuel stop as you can see below was the airport serving Sherman, Texas (KSWI). We decided to bypass Idabel, but since I was down low, I flew past the coal-fired power plant where Rodney Wren works. It is located just about where you see that US 70 marker east of Hugo, Oklahoma.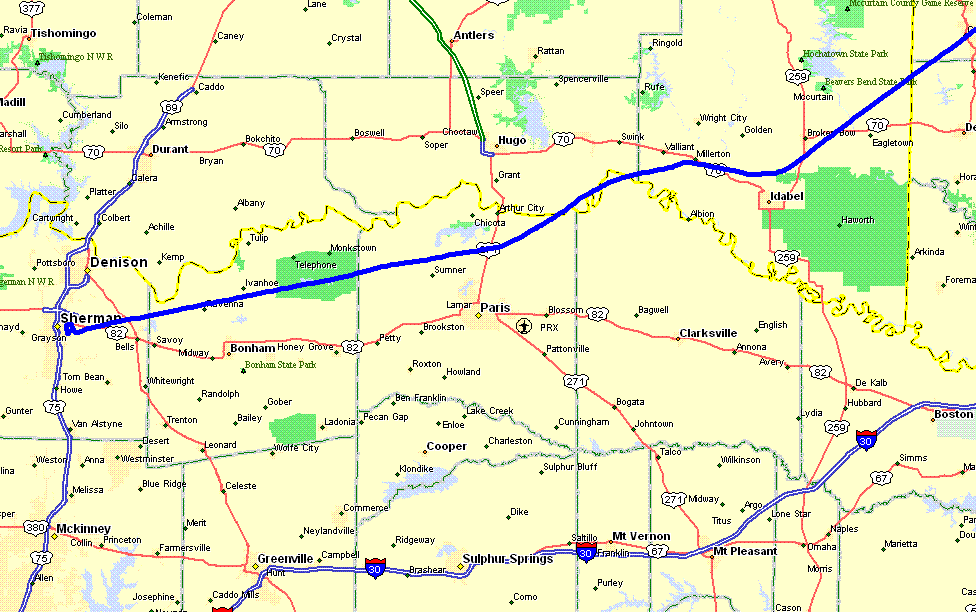 Edward got this photo of light rain shower over the lake located about 11 miles north of Paris, Texas. The town of Paris was on the other side of the airplane. When I see weather like this, I am glad I learned to fly in Florida, where it can be like this many days of the year.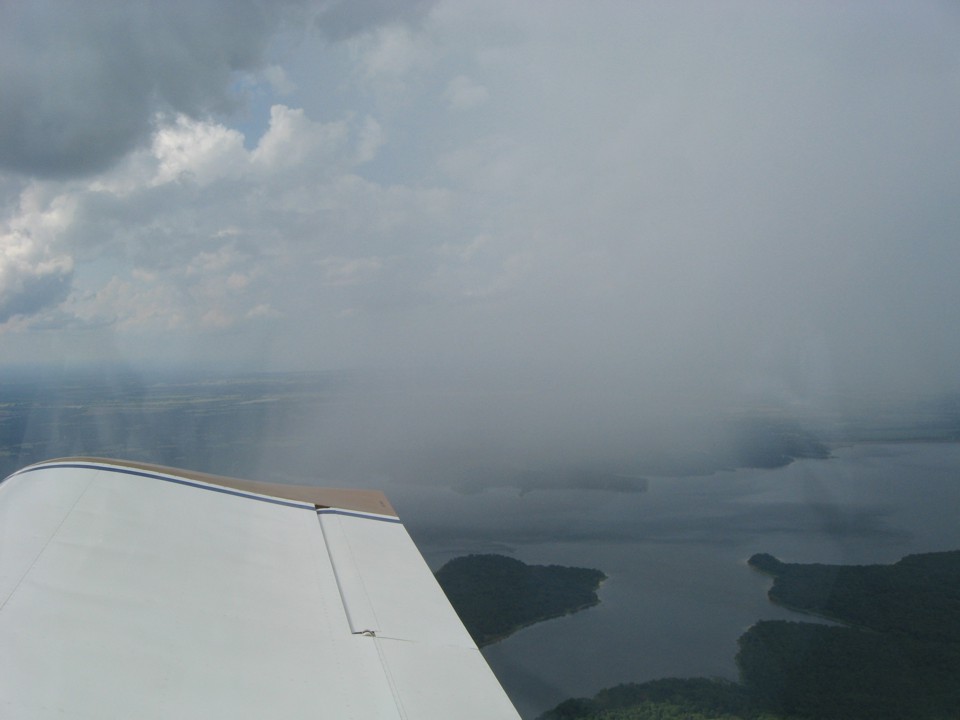 We were focused on the weather today. That little rain shower was all that was worth a photo as we headed over to Sherman, Texas for a landing, fuel, and an update on the weather between the DFW area and Georgetown, Texas. Ed pumped the fuel, I looked at the weather online, and neither one of us thought about taking a photo on the ground at Sherman! That's twice today with no photo at a fuel stop!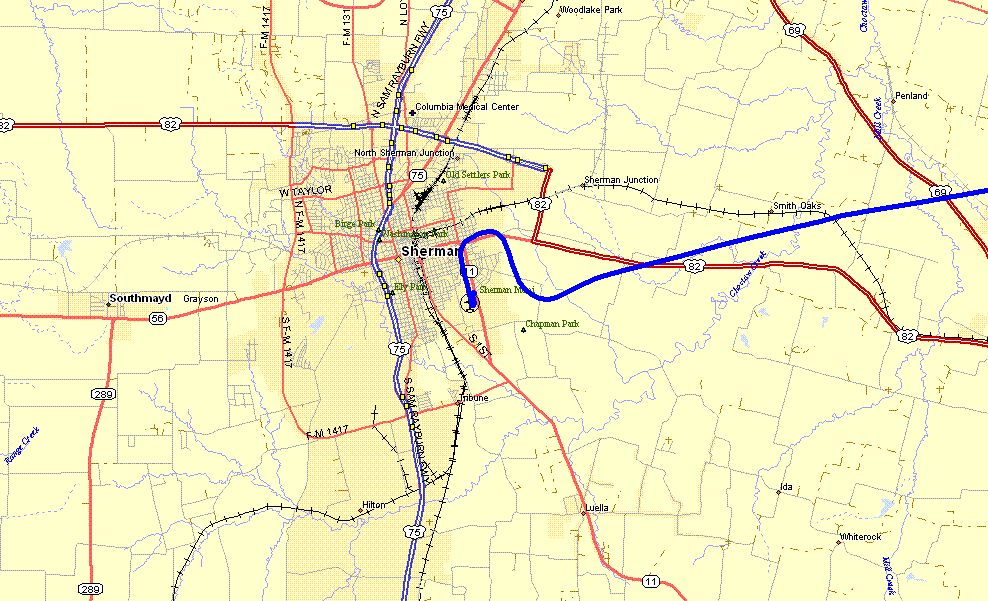 When we got airborne, the flight plan was simple, avoid the DFW Class B air space and the thunderstorms between there and Georgetown. This view taken at 5:04 PM Central Time is looking southeast toward the metro area as we crossed US 81 near Decatur, Texas.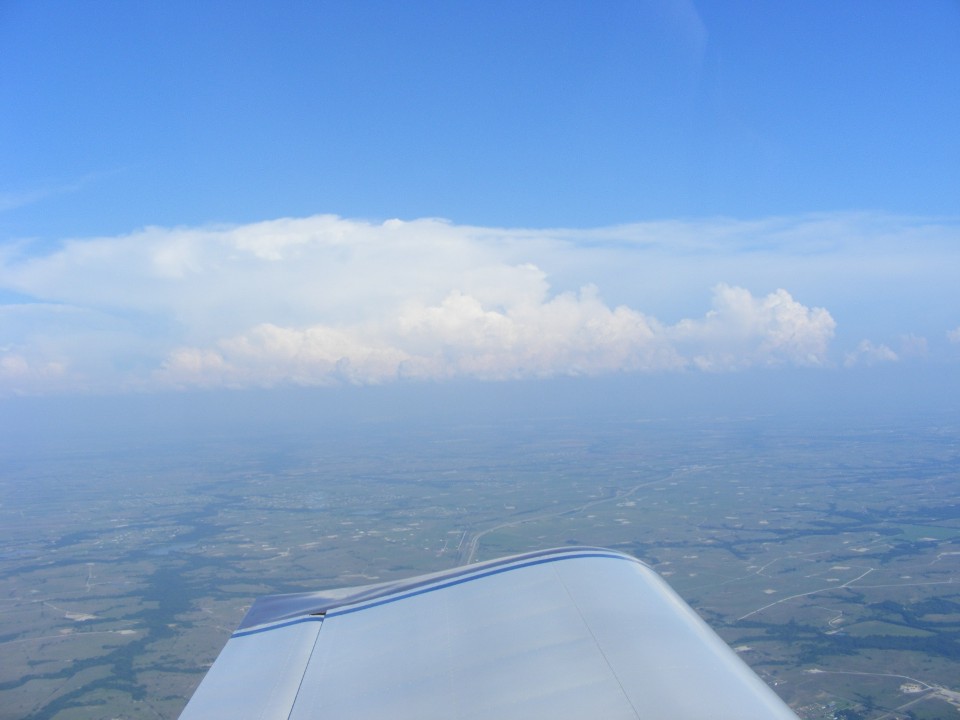 From the GPS ground track below, you can see where we passed Decatur and continued around the west side of the Fort Worth area. The weather would not let us fly direct to Georgetown, so a second diversion was required down around the west side of Kileen, Texas and the restricted air space near Fort Hood, Texas.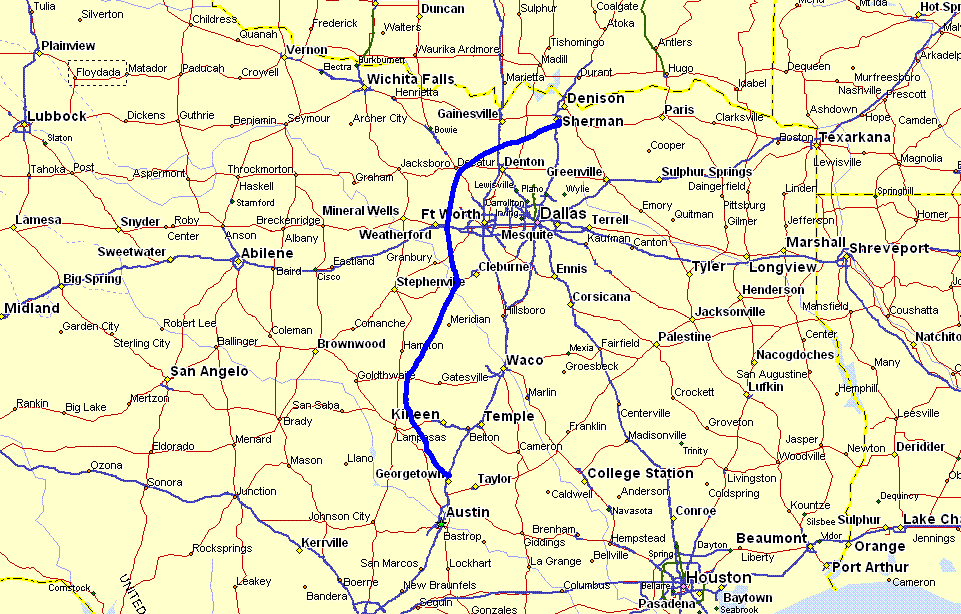 Edward took this photo of rain located about 35 miles north of Fort Hood as we start turning the corner around the weather and the restricted air space near the army base. This really reminds me of Florida.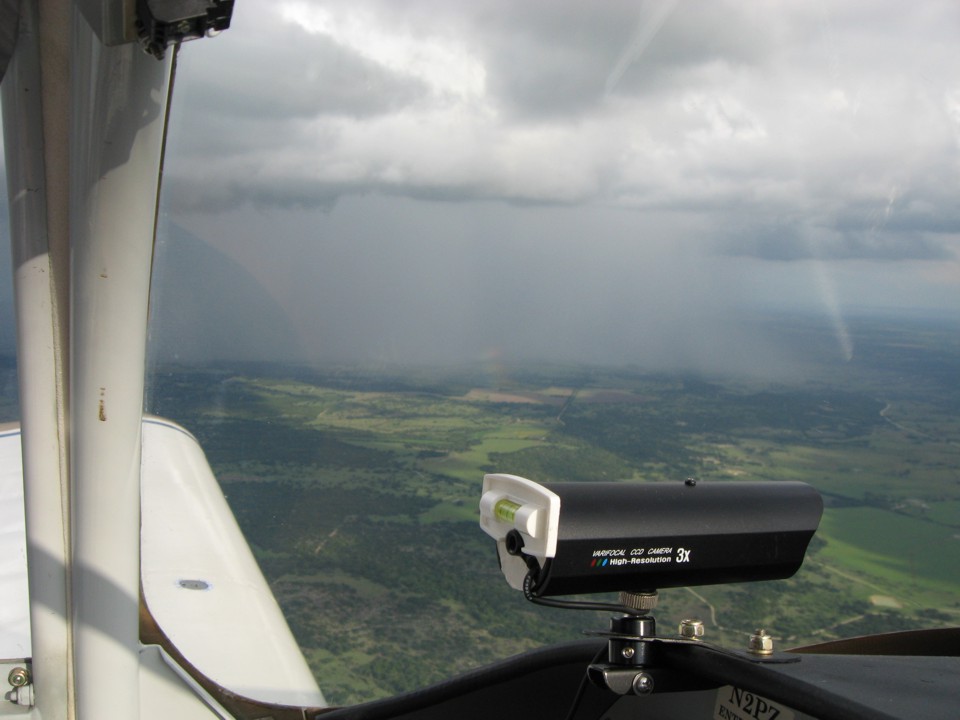 When you mix rain and a little sunshine, you get rainbows.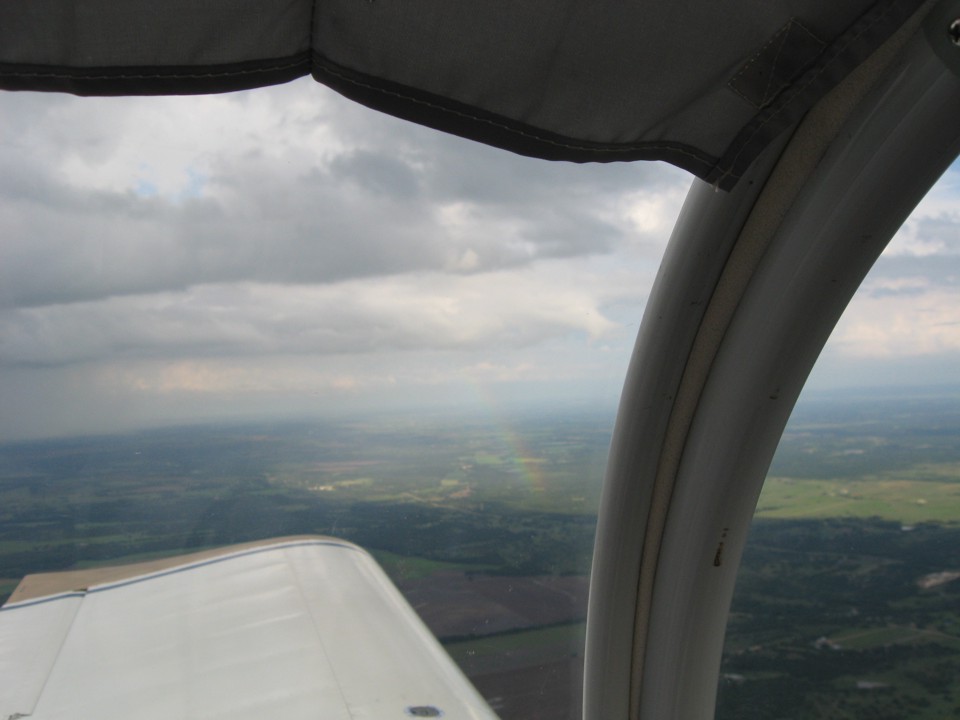 Every cloud has a silver lining. This photo was taken about 13 minutes before we landed back at Georgetown, Texas in time to pick up some barbecue dinner on the was home from the airport.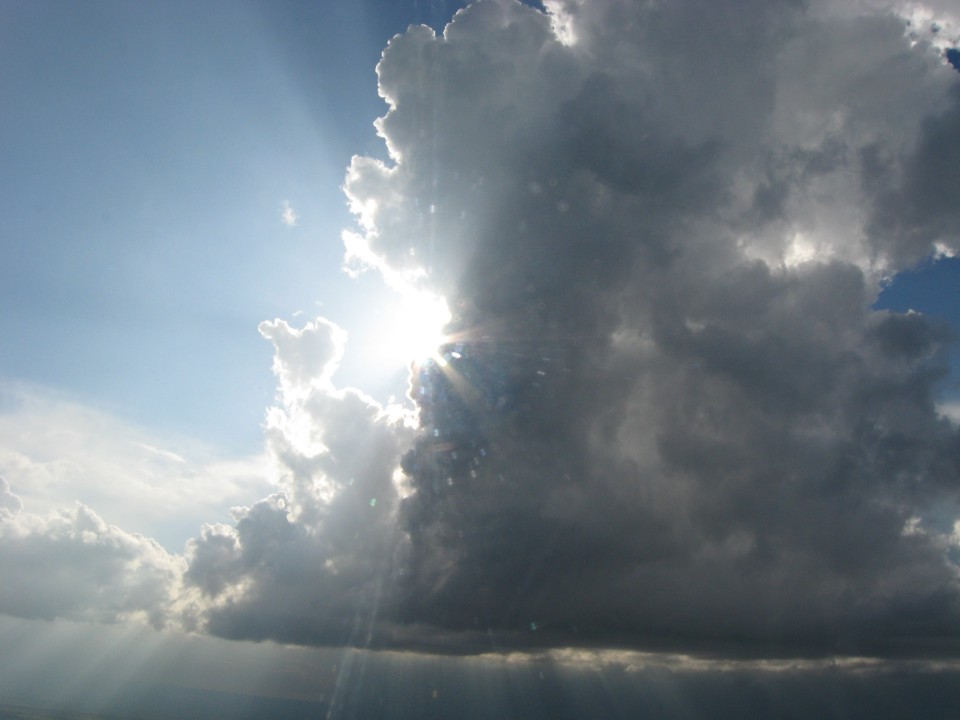 After dinner it was time to check the weather forecast for tomorrow's trip from Texas back home to Tennessee. I had time to visit with my grandson before his bed time. I was so glad to get a shower and turn in after this long day of flying. I spent 8.4 hours today being a pilot while flying over six states. It was good to get some rest and not worry about the weather as I went to sleep.