OSHKOSH 2010 · · PAGE 1.
Editors note: It is just after midnight on August 1, 2010 as I begin publishing this page. As always, the dates in BLUE on these pages will show the day of the photos and the story behind those photos. Be patient, like the trip to Alaska reporting, this will take a few days to get the 400+ photos and the movies prepared for all of you to make the trip with me to Oshkosh for AirVenture 2010. All photo time stamps are reported on Eastern Time.
July 23, 2010: This day started with a video and the usual departure photos from Folks Field. The "Enterprise" is out on the ramp at 8:22 AM Eastern Time ready for the big day. I had come out to the field early today to finish packing the airplane with my clothes and other personal things for this trip. The camping gear was packed earlier as reported on my PAGE 337. I had some help putting away Wendell's RV-8 after moving my airplane down to where it sits in this photo. The weather forecast for the Sunny Southland for today is HOT, HOT, HOT!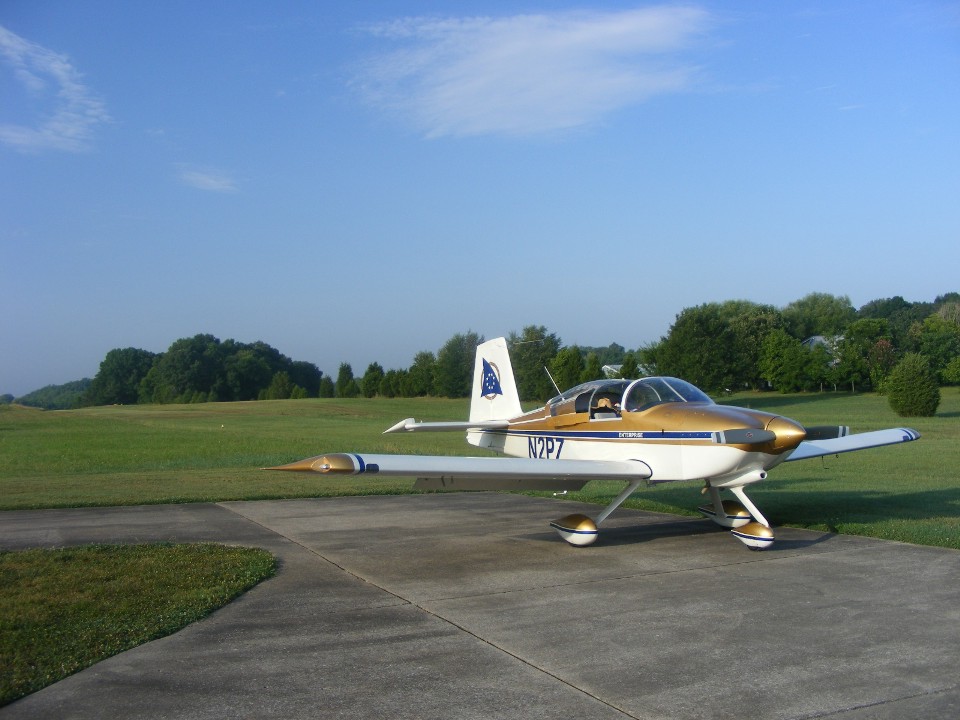 It only takes a few minutes to get the engine started and get ready for the takeoff. The photo below was taken at 8:36 AM after engine runup testing and just before I advanced the throttle and began the ride to Mississippi for fuel and lunch with an old friend. I had the video running for this departure and it will be posted soon.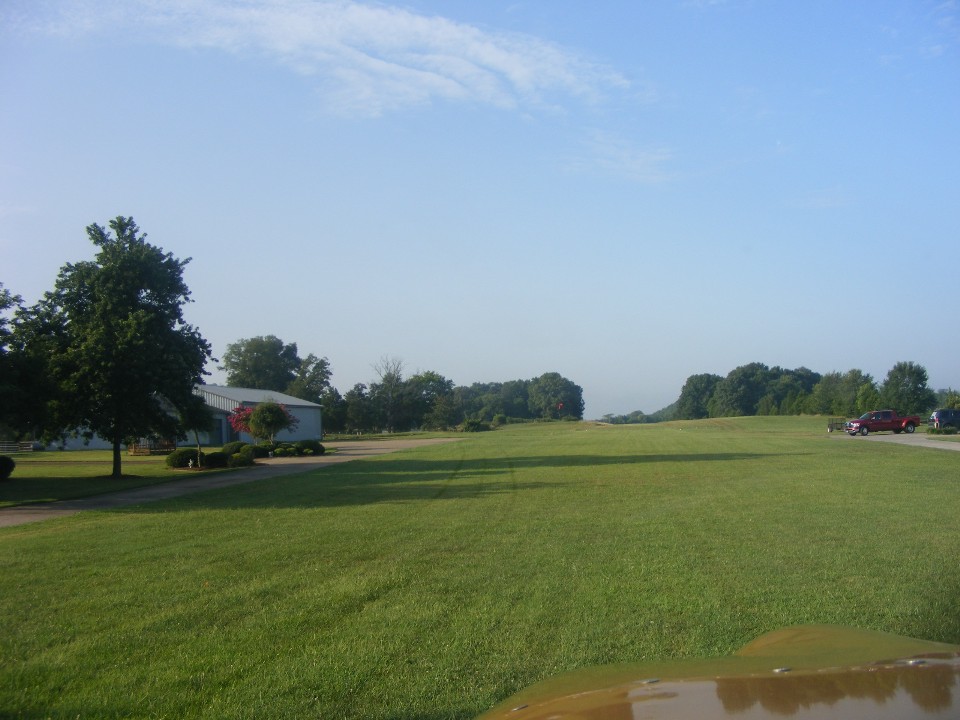 This photo taken at 9:13 AM EDT shows the boundary layer of the haze as seen at 10,500 feet MSL over Alabama.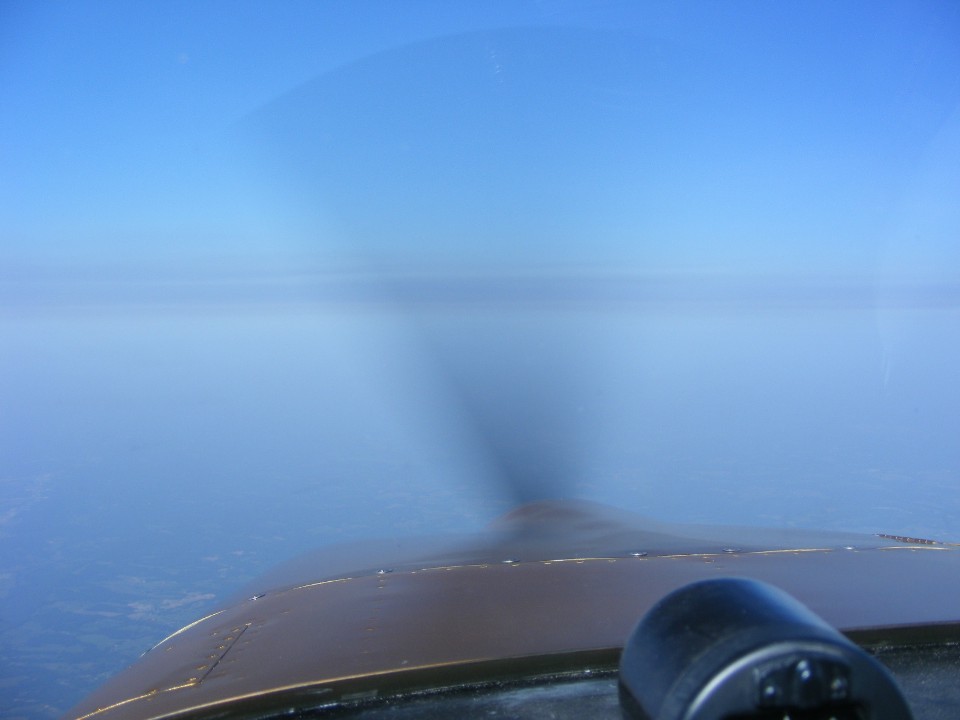 The Dynon D-10A is reporting winds light and variable at 10,500 MSL and a true airspeed of 157 MPH at 9:15 AM.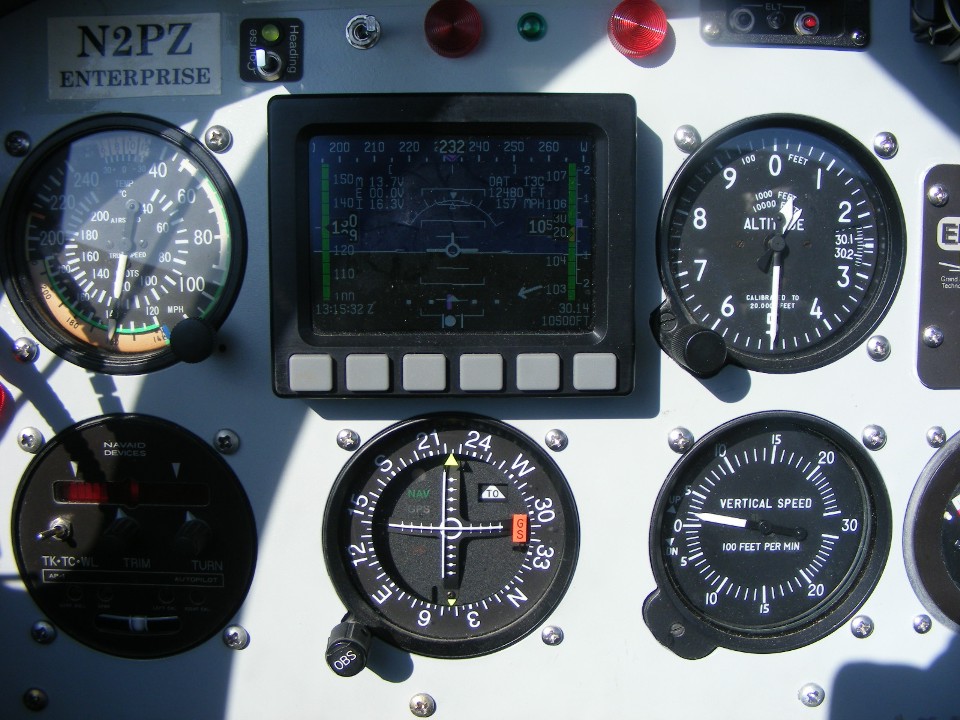 A regional jet climbed out of Birmingham, Alabama when I passed by. He was below me when I first spotted him, and by the time I took this photo he was out to the west and disappeared before I could point and shoot this photo showing the haze layer at 9:33 AM.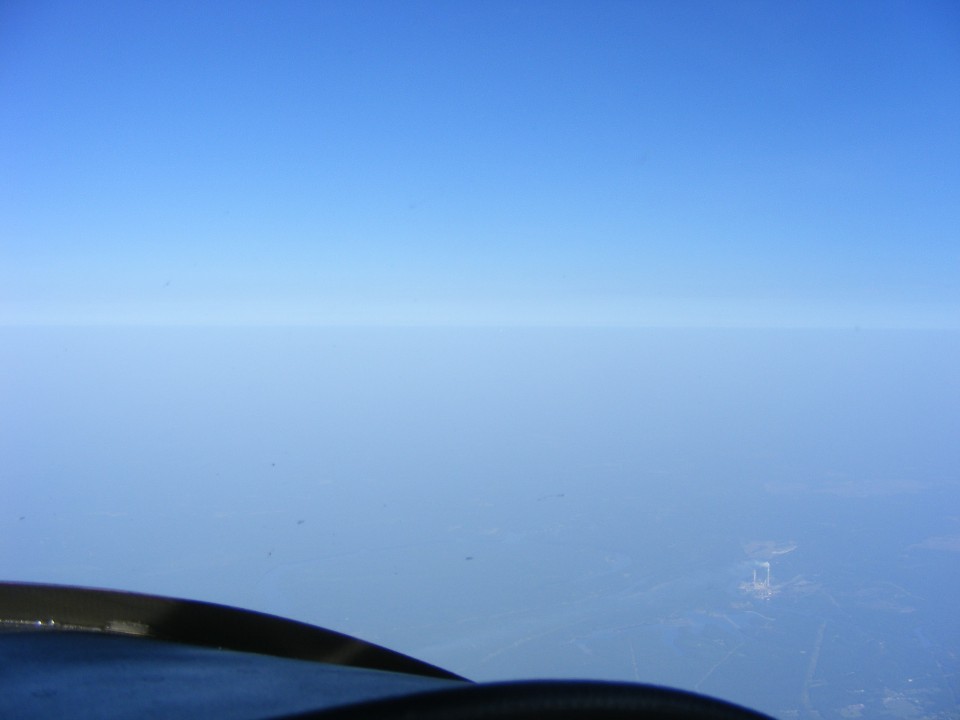 Tuscaloosa, Alabama passed under my wings at 9:45 AM. My straight line course from Folks Field to Key Field Airport (KMEI) near Meridian, Mississippi followed along the path of Interstate 59 with I-20 joining from Atlanta at Birmingham. That is the Warrior River winding its way south toward Demopolis, Alabama where it will join the Tombigbee River heading for the Gulf of Mexico. This photo is processed to minimize the haze.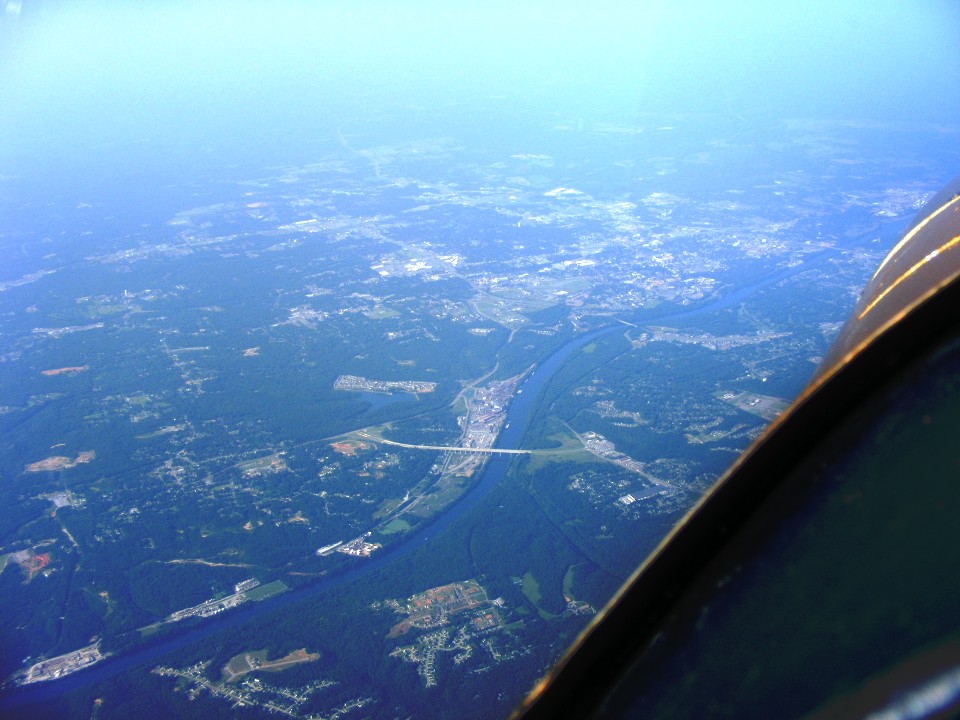 Here is the interstate highway crossing from under the wing and exiting the photo on the right side. Alabama route 69 is going south into the haze at the top of the photo below from the green cloverleaf intersection with I-20 & I-59. The Warrior River is at the right of the photo.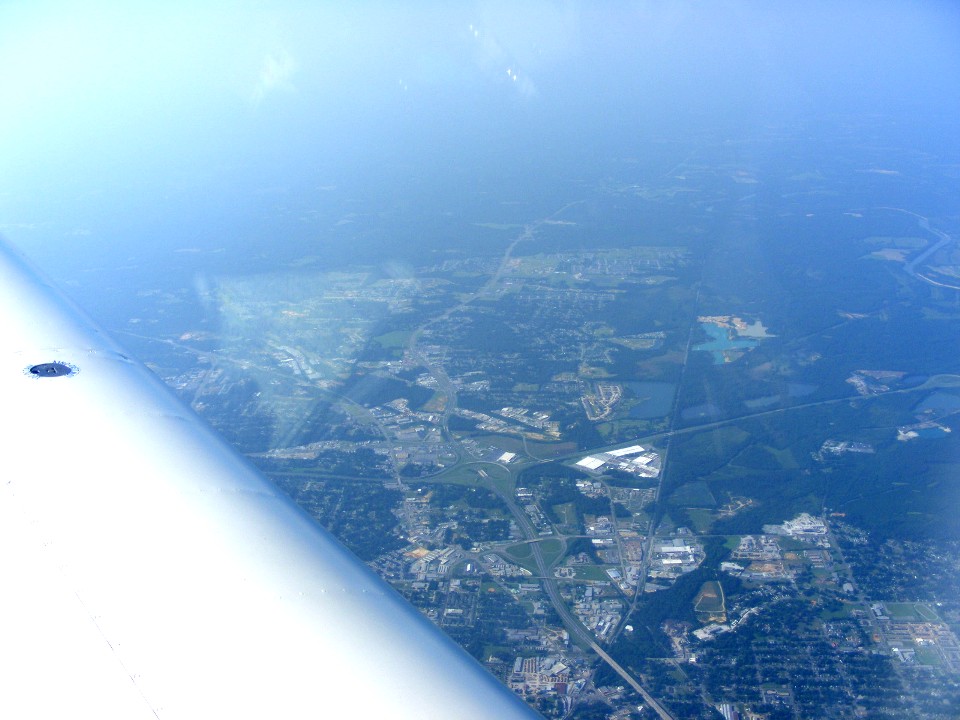 Here is a view of Meridian Naval Air Station (KNMM) located 19 miles northeast of Key Field (KMEI) near the city of Meridian, Mississippi. Although it is not marked on the charts as Class C air space, there is an approach controller located here to provide advisories about departing jet training aircraft. I was descending toward Key Field at 4,000 MSL when the controller asked me to hold my altitude when passing over the extended center line of the runway seen pointing in my direction. A flight of Navy jets departed and passed under me and slightly ahead at 2,000 MSL. There are several military operational areas (MOA's) nearby, but this area where I am flying is open air space along Victor airways. The photo below was taken at 10:12 AM Eastern Time, about 1 hour 36 minutes after my takeoff from Folks Field.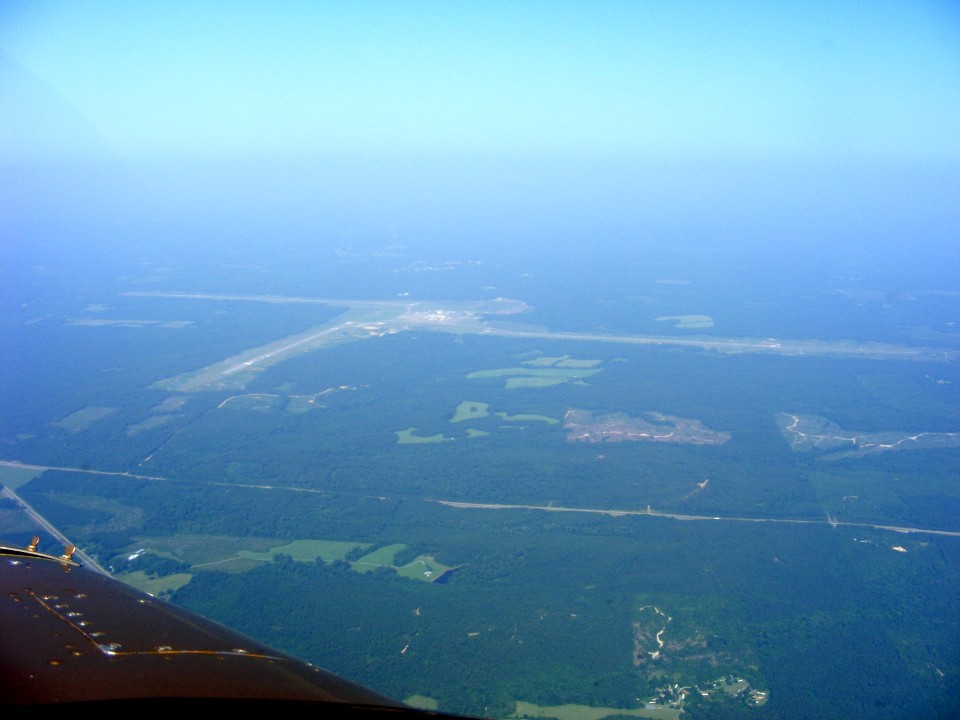 My arrival at KMEI was on runway 22 with a short taxi to the self-service pumps. I finished filling my tanks and pulled my airplane ahead to make way for this pilot in his Piper Arrow who arrived from South Florida flying out ahead of tropical storm Bonnie. He is heading for Denton, Texas to visit his son. He is also planning to fly to Oshkosh tomorrow. Two guys brought a Van's RV-4 out of a nearby hangar and departed before I had a chance to speak with them.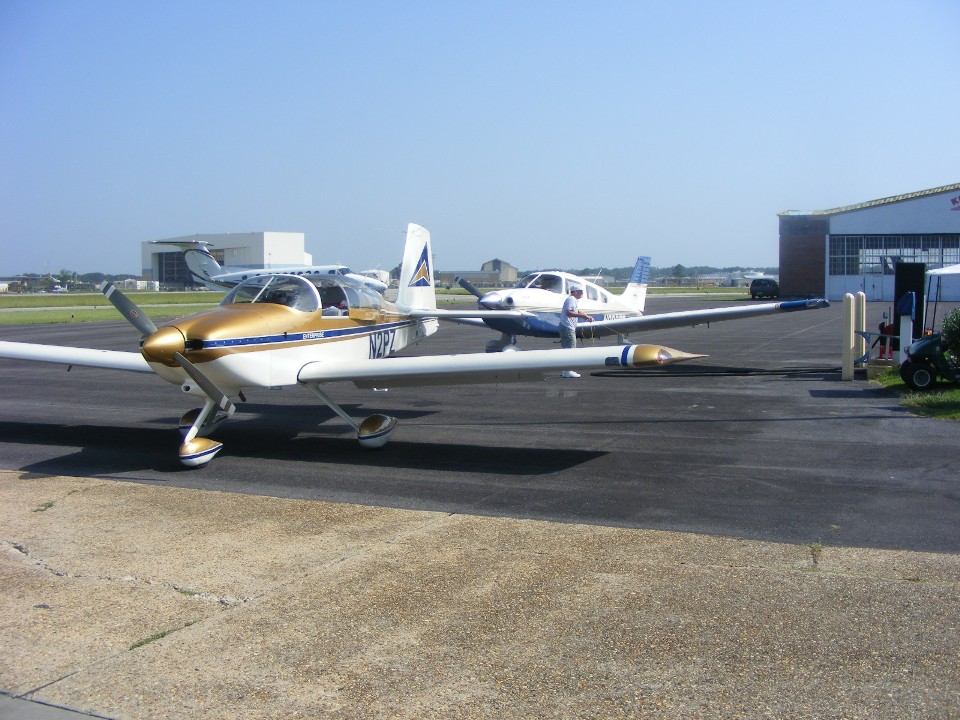 Here is a photo showing the very old and abandoned terminal building at Key Field.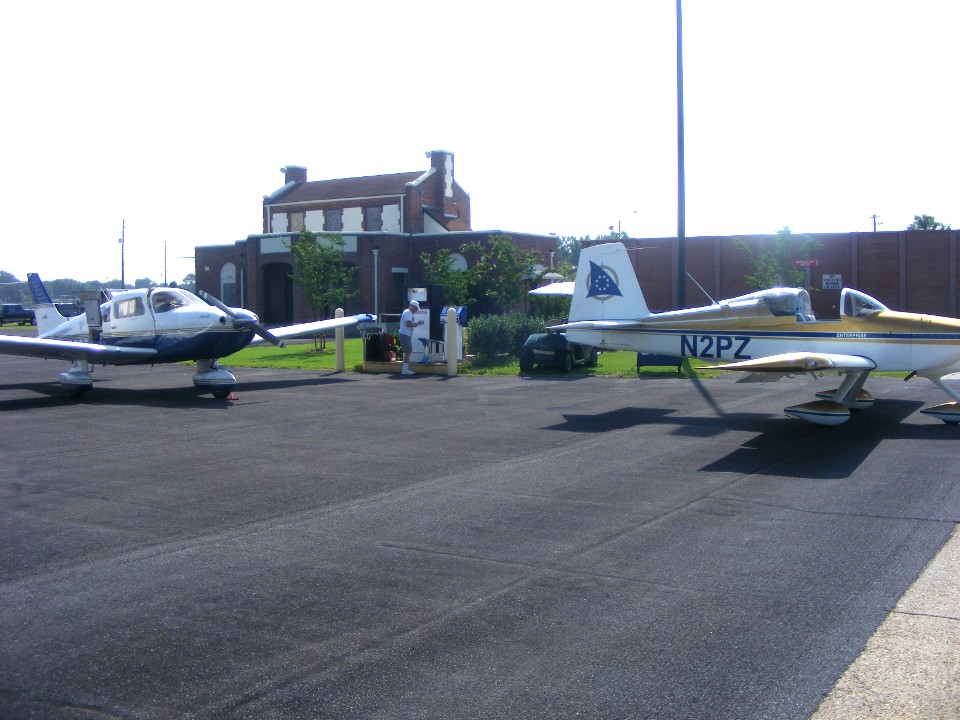 This is the modern facility just south of the self-service fuel pump. I put in 20 gallons of fuel after flying 1.9 hours from Folks Field to Key Field. These three photos on the ramp at Meridian were taken at 10:45 AM Eastern Time. What I failed to photograph to the right of this scene is a line of Navy training jets and some private Merlin III-B turboprop corporate airplanes. They are seen briefly in a departure video I made here.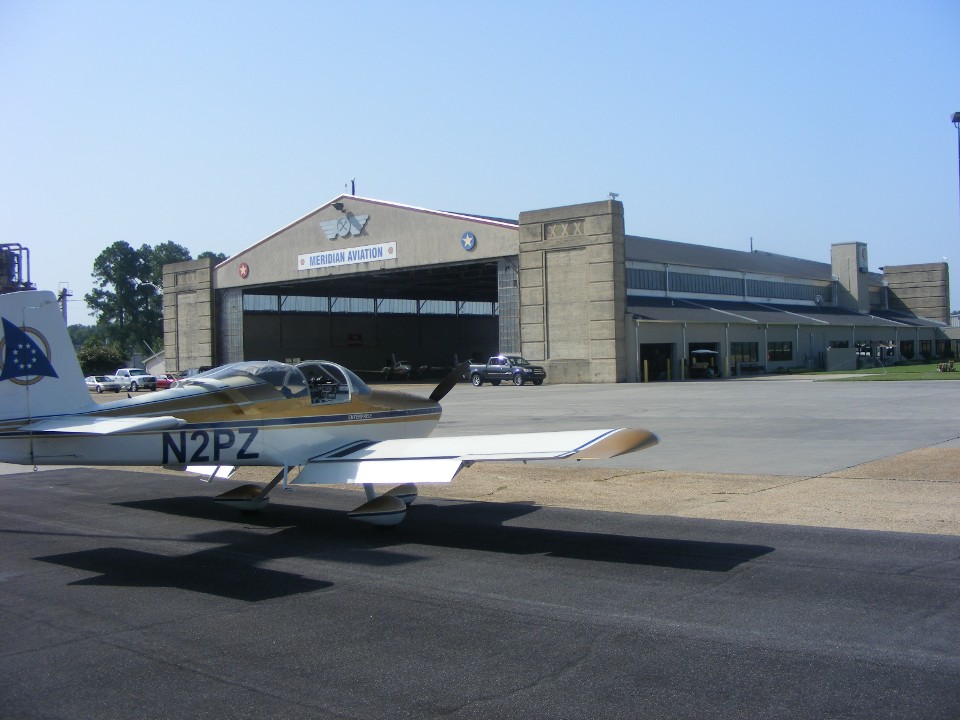 My route of flight to Meridian was virtually a straight line as seen on the map below.