June 2022 Vacation Day 20, Departing Denver Area · · PAGE 52.
June 11, 2022: Sunday, the Motel 6 did not offer a free breakfast. Linda had her usual apple with almond butter. I had a banana with my morning vitamins. We left the Motel 6 from last night and got on I-225 to head south.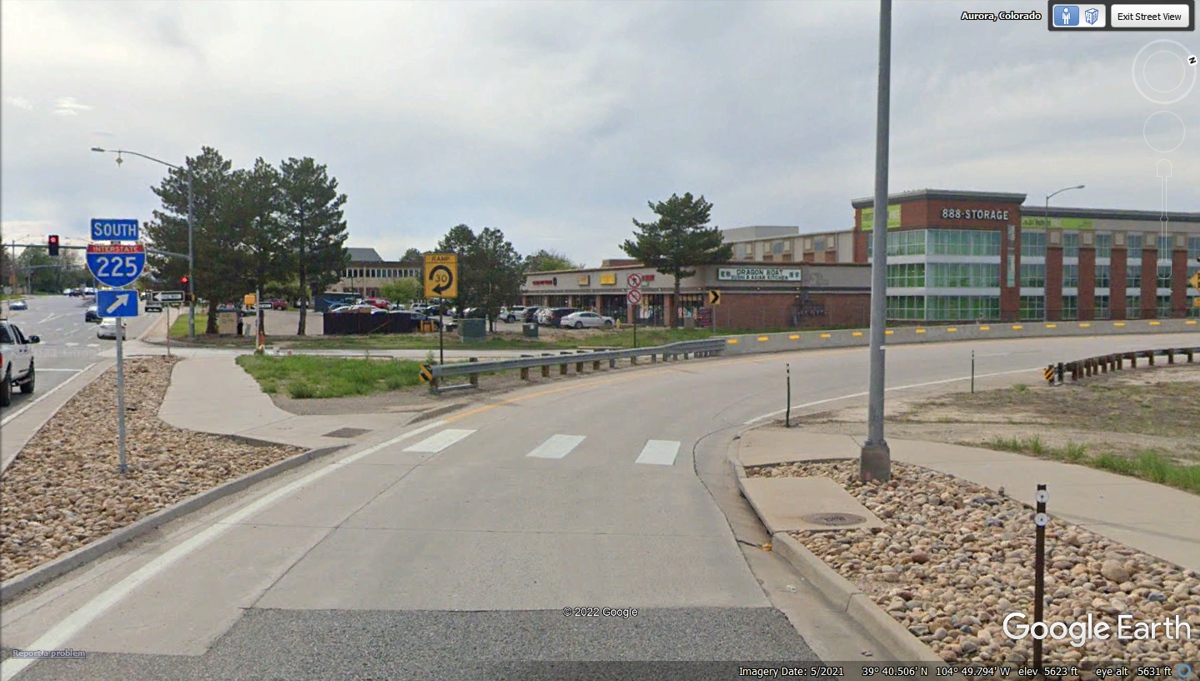 We reached the exit from I-225 to join I-25 going south from the Denver area.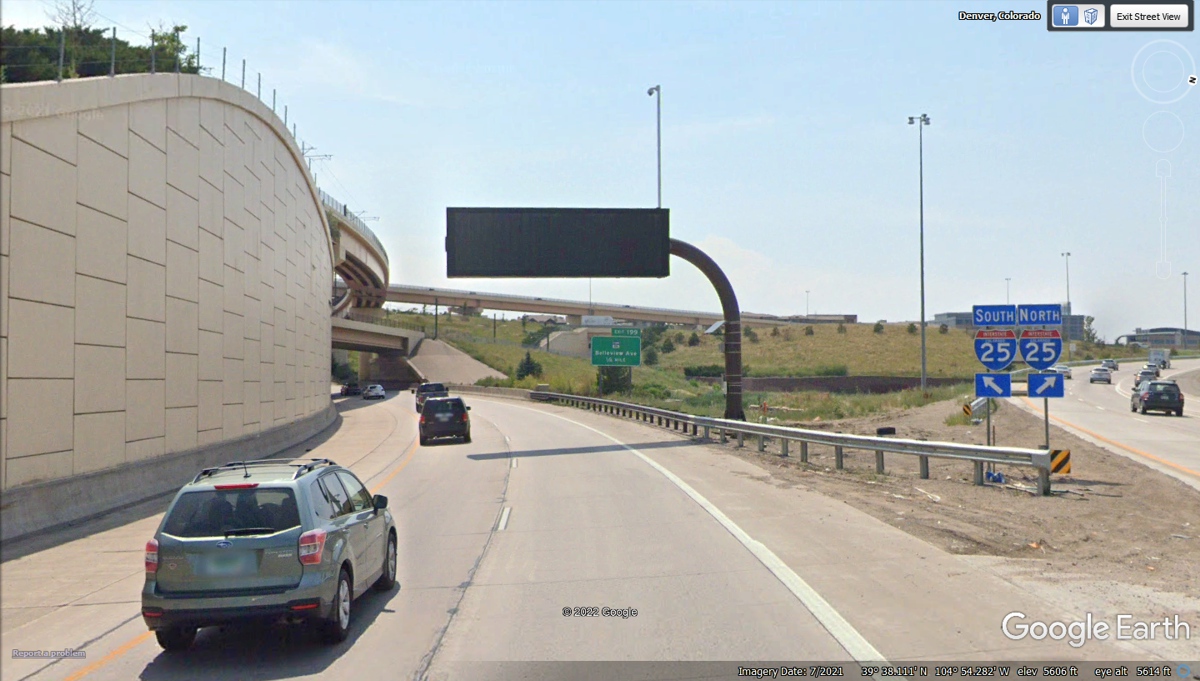 We got fuel at This Sinclair gas station that is close to I-25 north of Colorado Springs. The gas receipt had a time stamp at 9:56 AM. We spent some time looking for a Wal-Mart super center. When I found it, they did not do automotive service. I used my Garmin GPS to find a Wal-Mart with an auto center to get an oil change.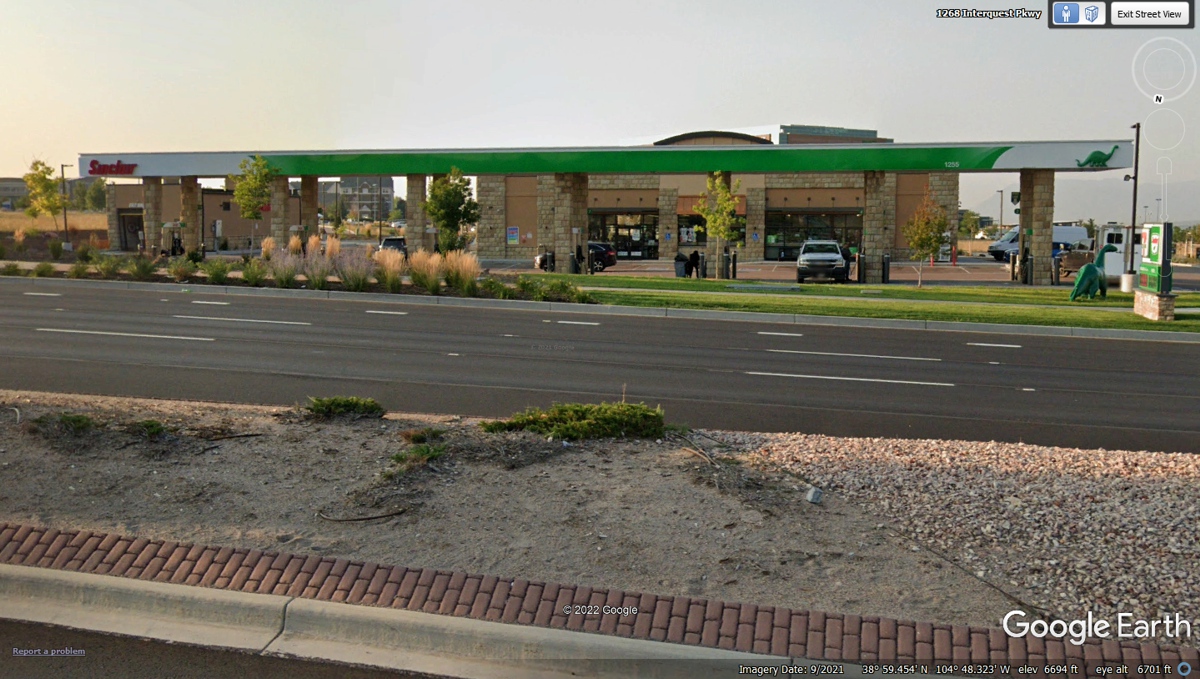 The oil was changed on Linda's Chevy Equinox before we departed from Kissimmee, Florida to begin this western tour. The odometer showed 21,265 miles on her car. My GPS data showed 7,420 miles since we left home with a fresh oil change the day before we started this trip. This oil change was only 13 miles from where we just purchased fuel at the station in the image above. We checked in the with automotive service desk at 10:51 AM and departed at 12:00 noon. There were several customers ahead of us when we arrived. This Wal-Mart is located on US 24 highway about 15 miles from where we rejoined Interstate 25 to continue south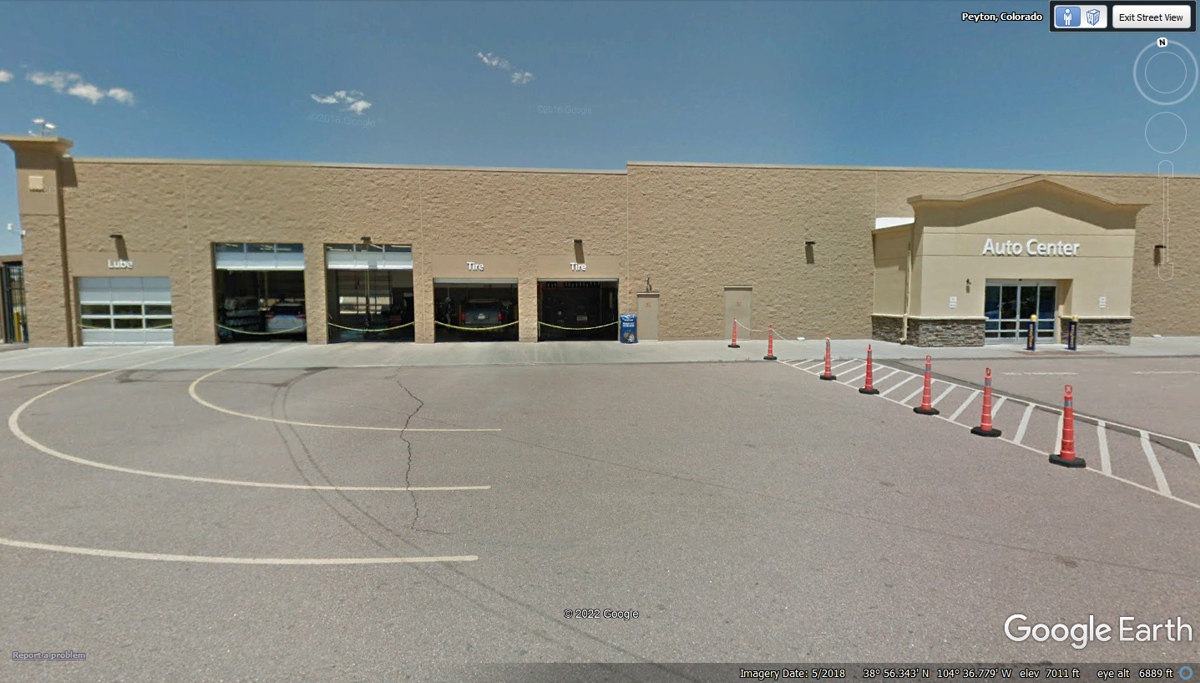 I have heard of Castle Rock, Colorado. When we drove past this place, I realized why they named the town after the big rock.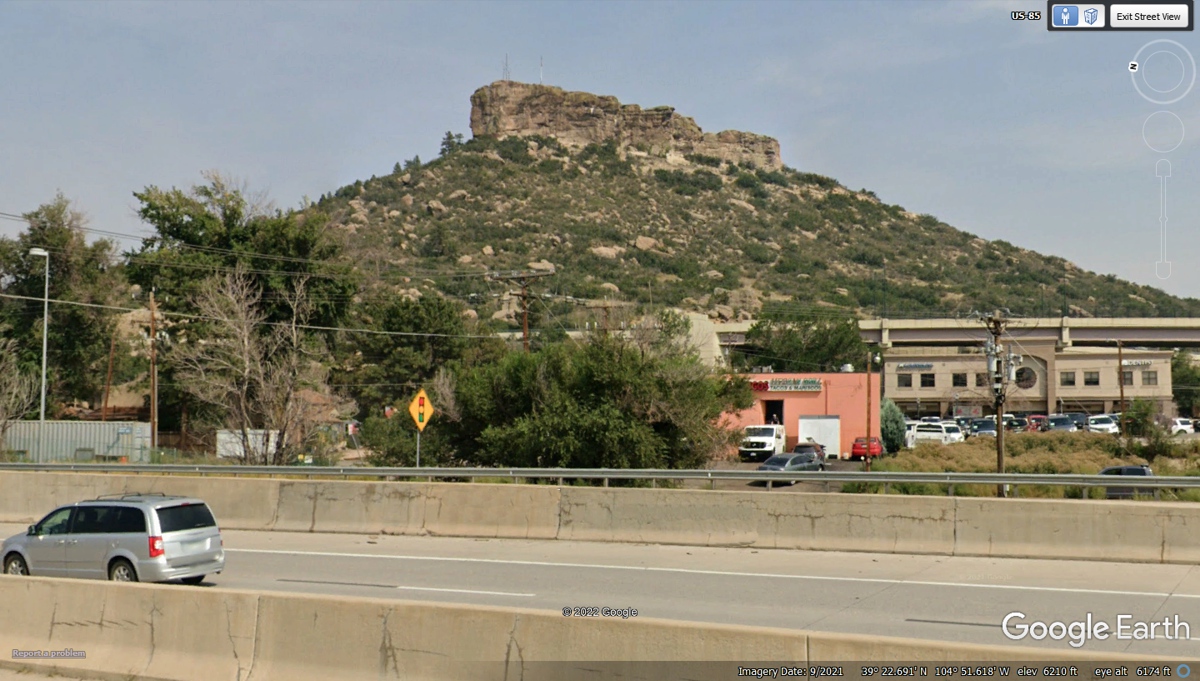 In my DAY JOB, I have sold Cable Television fiber optic transmitters and receivers to Peterson Air Force Base and helped them to maintain it since 2006.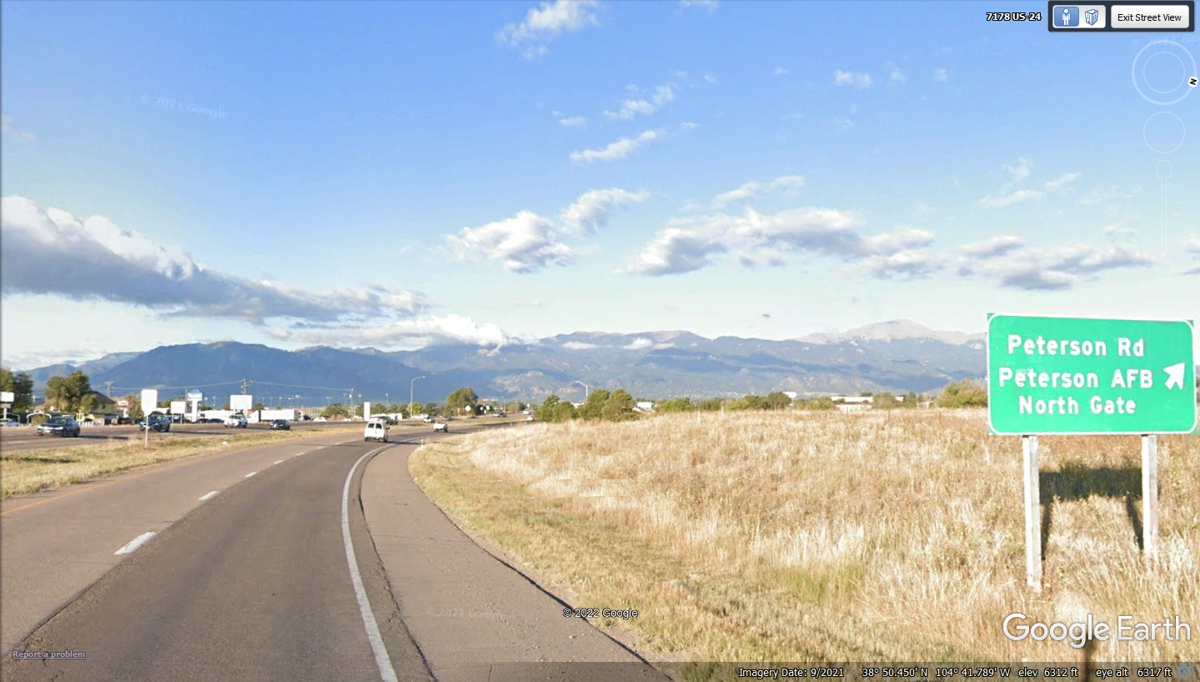 We were on US 50 earlier in this western tour in Nevada and California. US 50 starts at the Atlantic Ocean in the town of Ocean City, Maryland with it's western end at Interstate 80 just west of Sacramento. In earlier years, the western end was in San Francisco. That sign has the Spanish word for Canyon in English.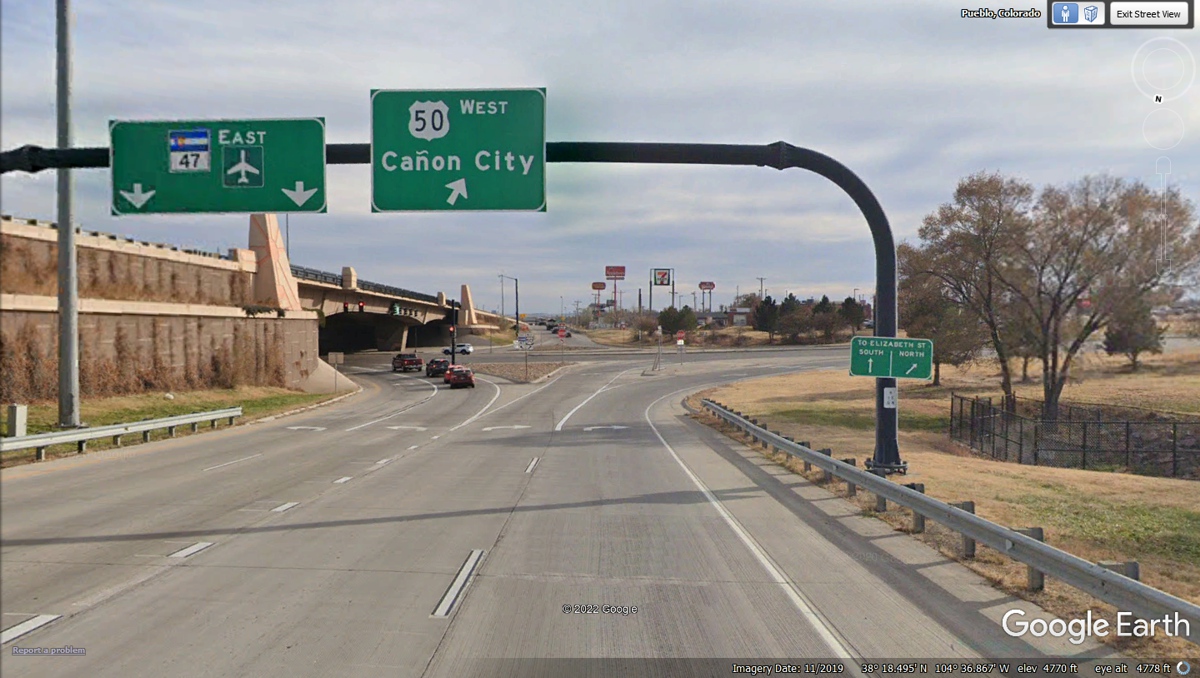 The Arkansas River passes through Pueblo from the Rocky Mountains headed across Kansas and the state of Arkansas to join with the Mississippi River. The people of Colorado and Kansas call this river R-CAN-US which becomes R-can-SAW when the river gets to the city of Fort Smith in the state of Arkansas. There is plenty of information about this river from https://en.wikipedia.org/wiki/Arkansas_River

Wendy's near Trinidad, Colorado is in the image below. We have seen a few other Wendy's sharing space with Shell Stations. We got our "late" lunch at 2:50 PM then got back on the road toward New Mexico and Texas for tonight.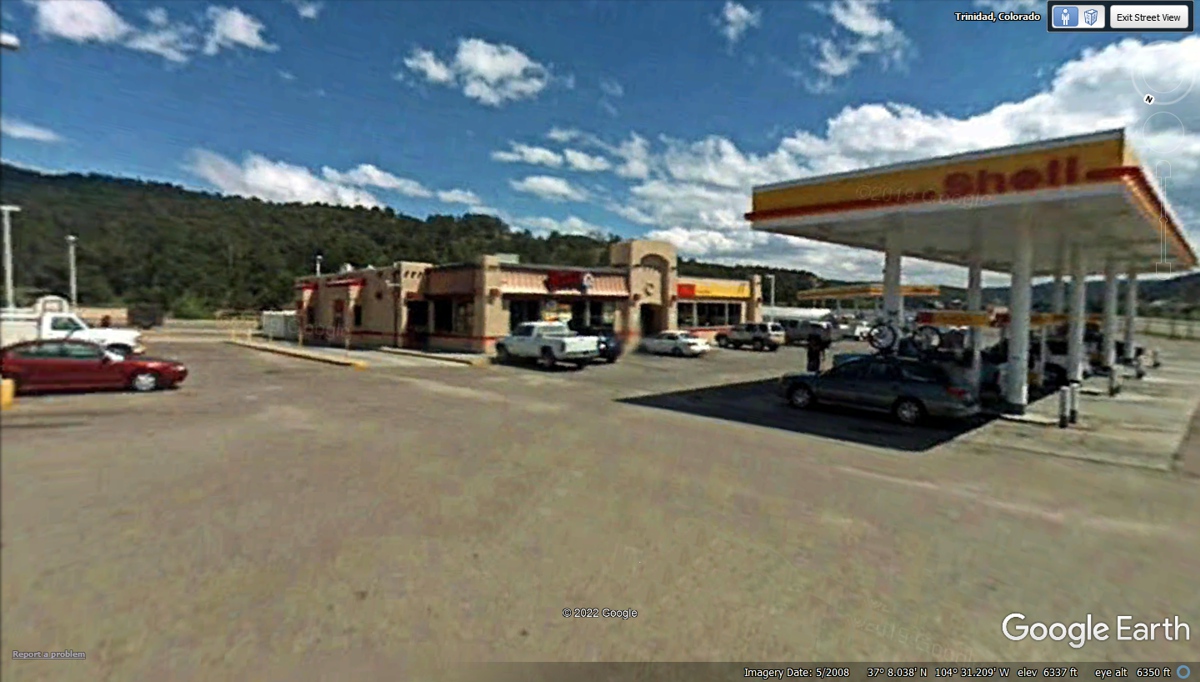 This is Exit 11 on Colorado Interstate 25 looking south after our lunch here today.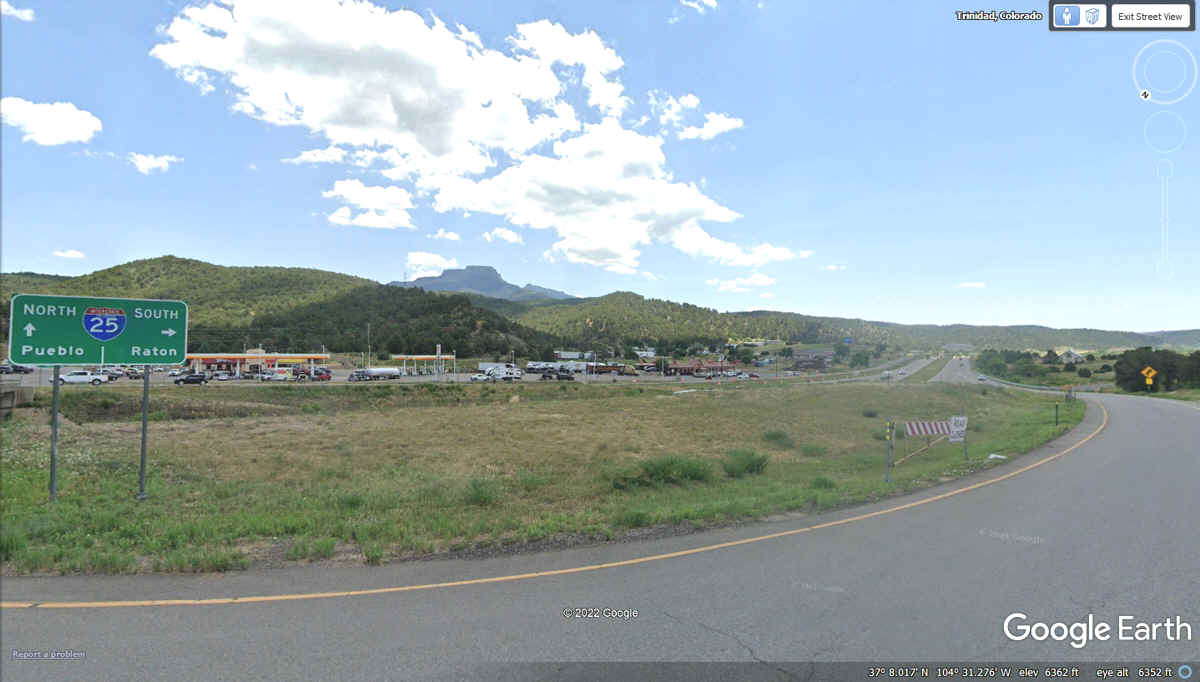 One can usually trust the DOT for changing the pavement at the state line. Colorado and New Mexico have agreed on this mountain pass as a good place to have interstate 25 cross from one state to the next. The port of entry weigh stations are placed here with one on each side of the state line. Google Earth elevation matched the sign erected by the state of New Mexico at 7,834 feet MSL.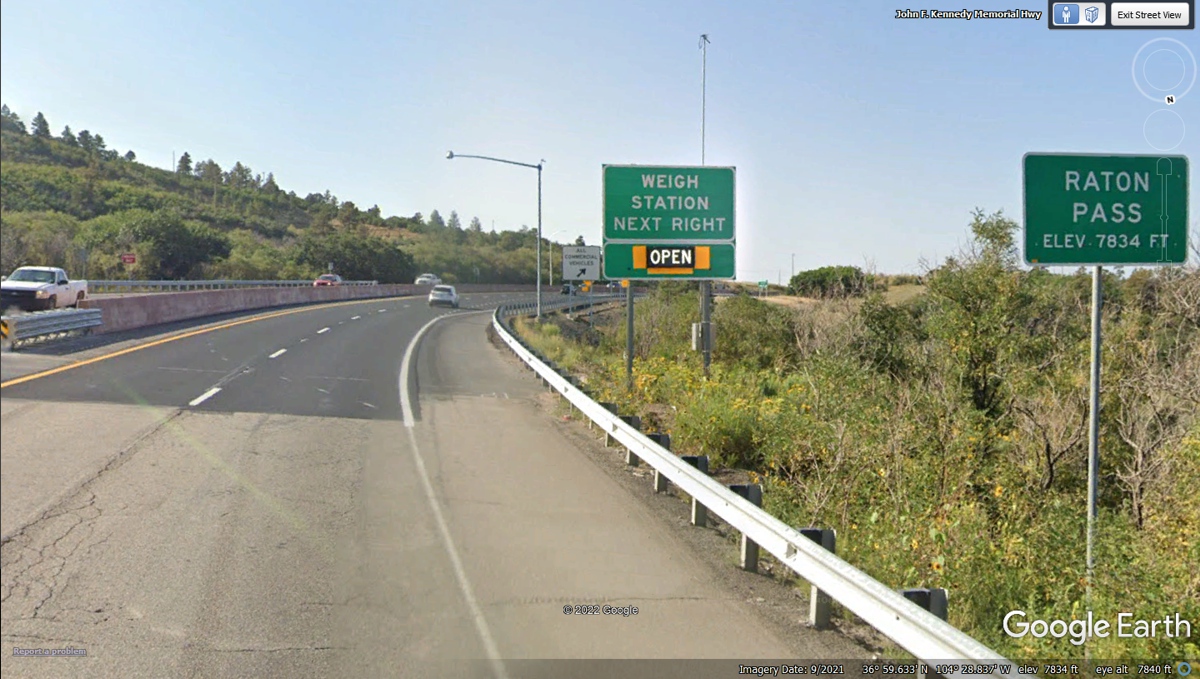 This Welcome to NEW MEXICO sign is on a road that is just past the weigh station closer to the Santa Fe Trail than to Interstate 25. The Google Earth camera car captured this image from a bypass road in the weigh station NOT from the I-25 southbound travel lanes. I did not see this sign as we passed this way on June 11, 2022 in the southbound travel lane near the top of Raton Pass.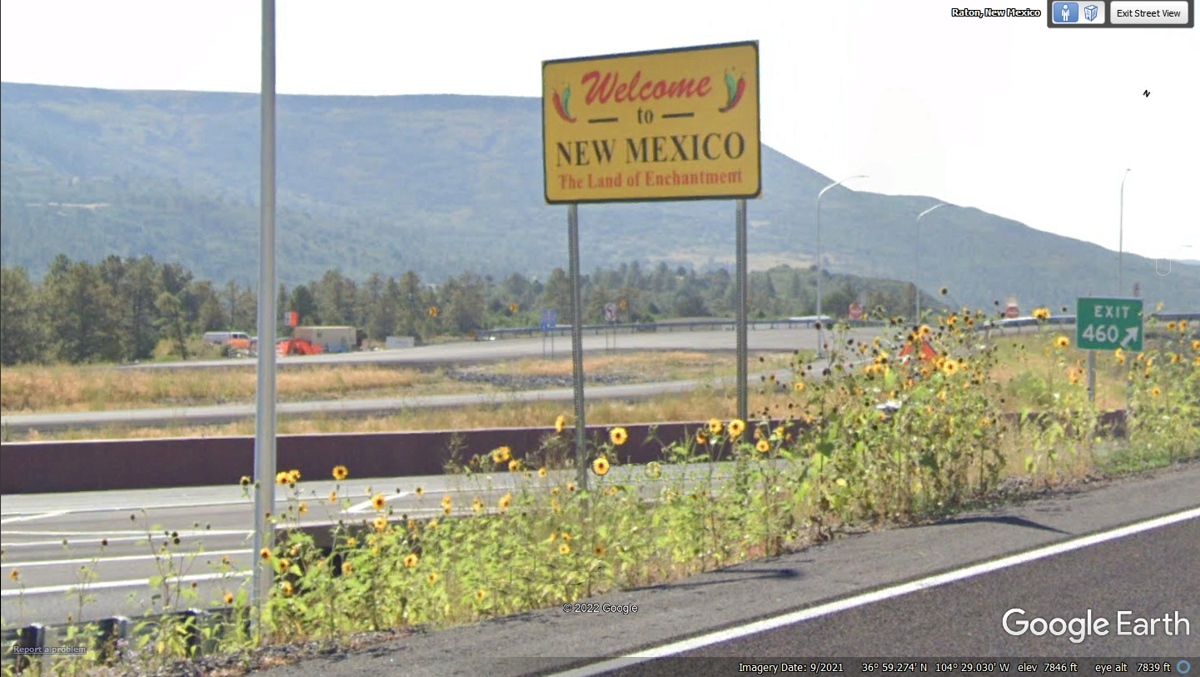 I-25 Exit 451 connects to these two US highways after the interstate gets to the flat terrain at the town of Raton which is RAT in Spanish. This is the exit that will put us on a southeastern path toward Texas using US 64 East.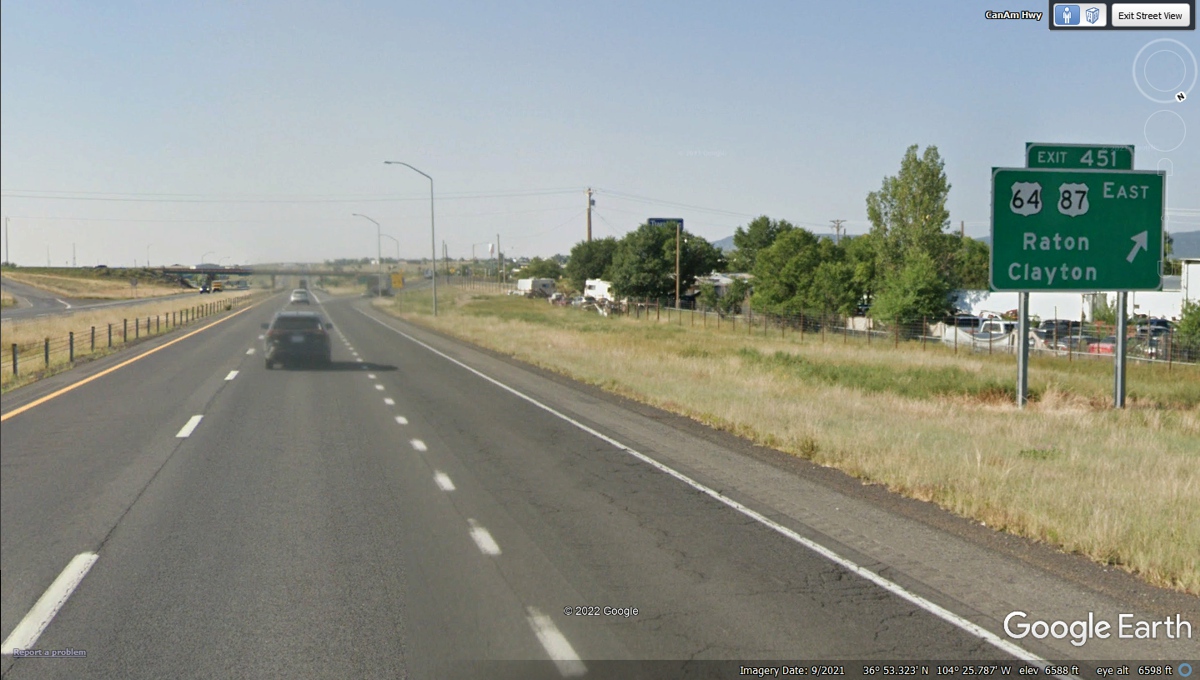 As usual, I look for these DOT signs showing the distances to the towns along this route. Based on the mileage between towns, Clayton, NM should be our next stop this afternoon. This town of Des Moines is NOT in Iowa.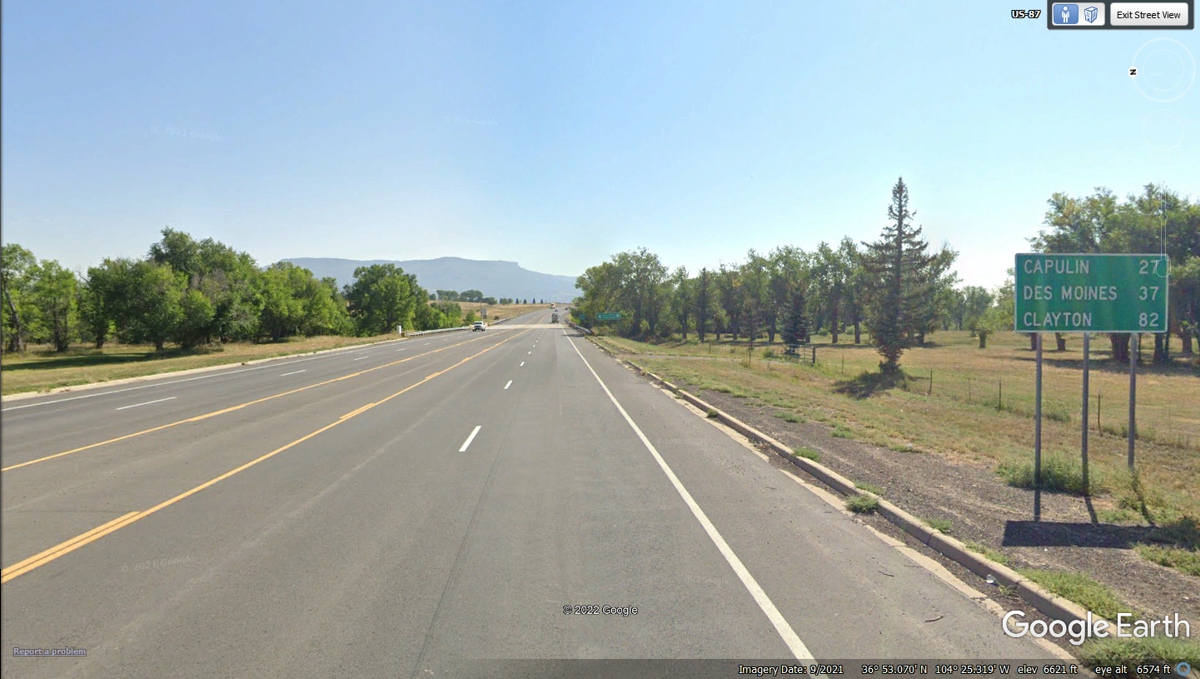 When we were coming into the town of Clayton, New Mexico US 64 joined US 56 and US 412 heading northeast. We continued through town on US 87 going southeast. Our choice of stops is based on fuel remaining in the car and the need for bladder relief for all three of us on this long cross country trip out west. Linda's dog Chase can whimper or whine when he needs to get out for relief. This is Love's truck stop in Clayton, NM on US 87 in town. We stopped here at 5:20 PM.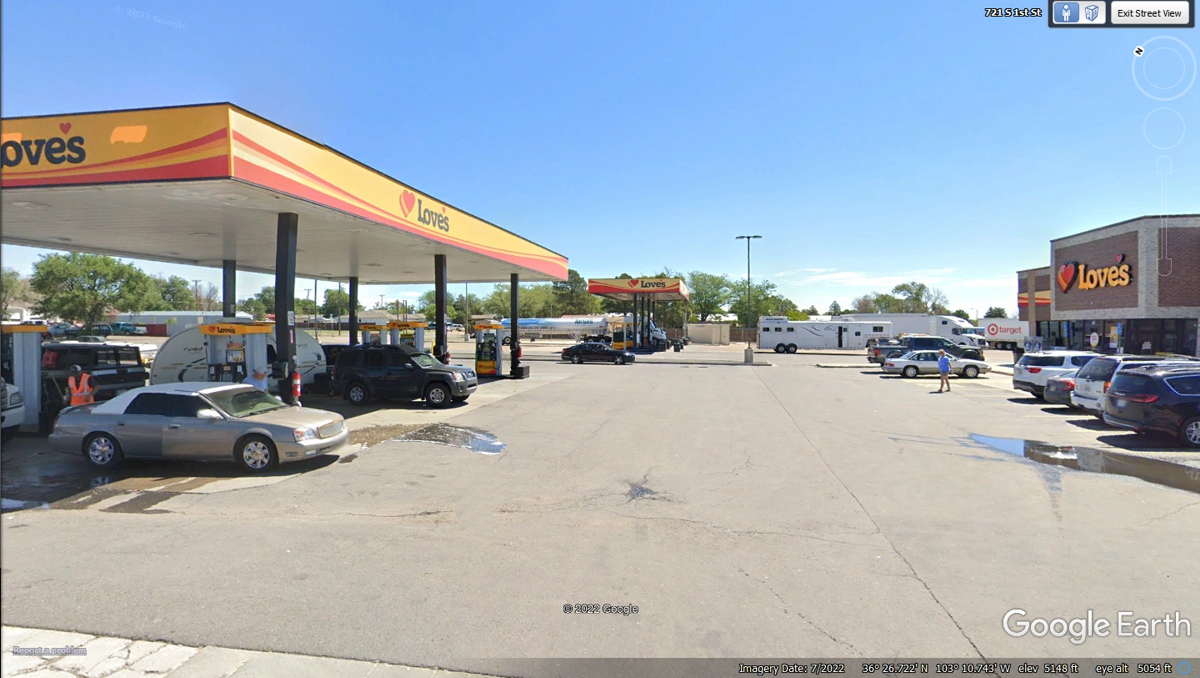 Here is the New Mexico / Texas State Line and the Central Time Zone as we go southeast on US 87.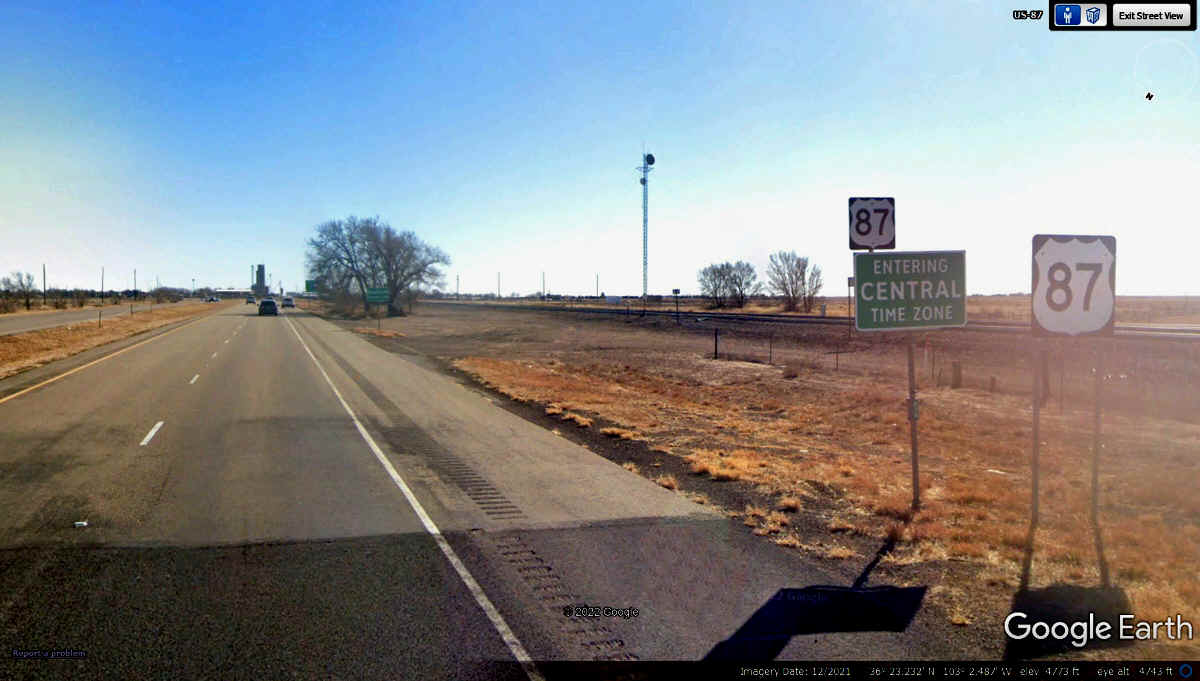 This Wendy's location at Valero in Dalhart, Texas was only about 45 miles from our previous stop as we were here at 7:25 PM. The weather channel records show that sunset here was at 9:08 PM on June 11, 2022. Two hours between rest room breaks is about right at our senior age. Our receipts along the way provide the time of our stops to buy a snack or fuel.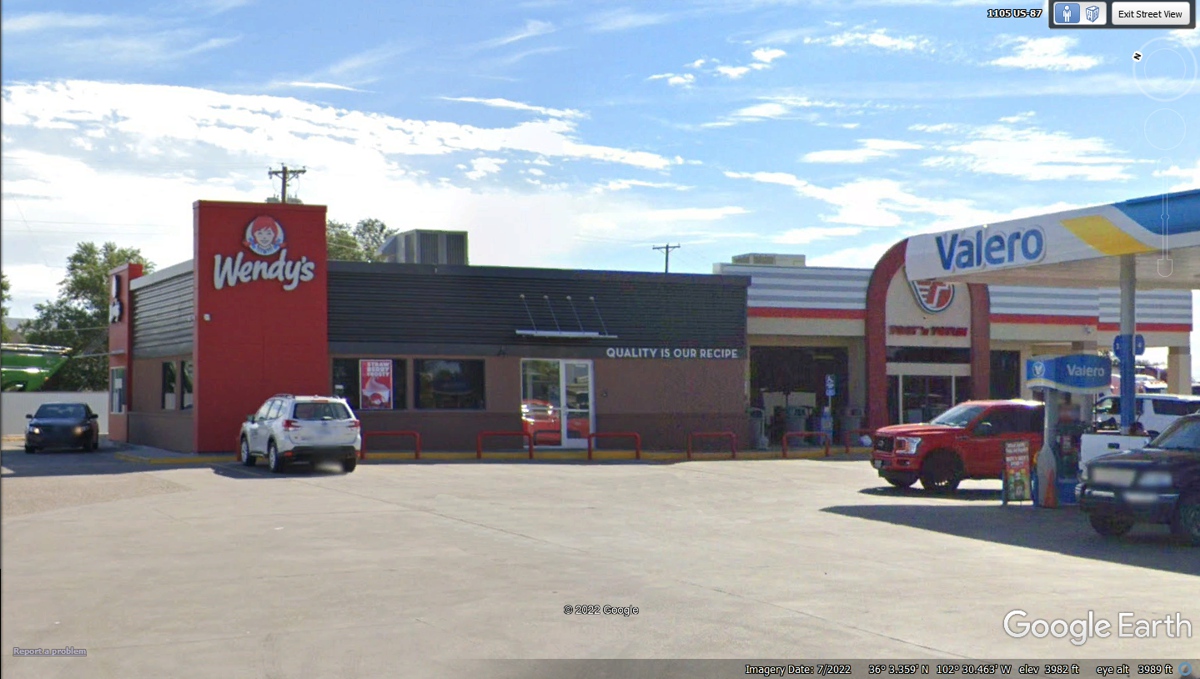 Dumas, Texas is our next place to change our route for tonight. Sunset is at 9:05 PM here in Dumas as we come into town on US 87 and pick up Texas 152 following the GPS link that begins our cross country ride to Shamrock, TX. This route on 152 avoids Amarillo, Texas. We do not have any planned stops between Dumas and our Motel in Shamrock, Texas.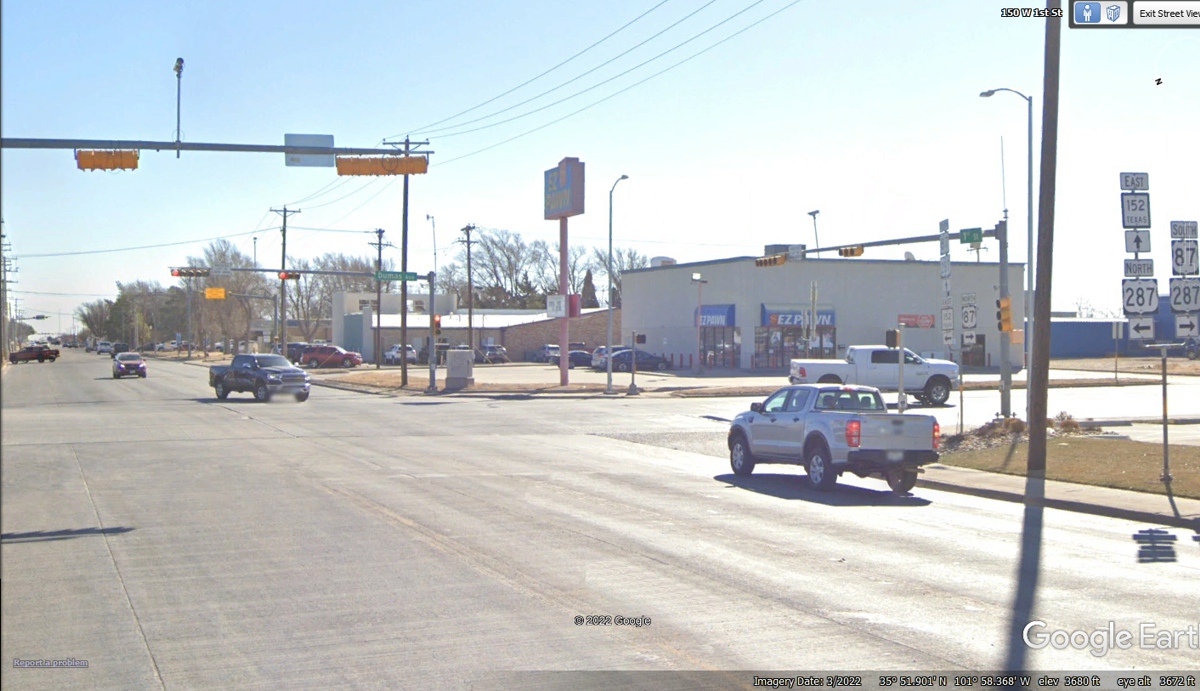 We have followed Texas route 152 into the town of Pampa, Texas for our next major intersection that will keep us out of downtown Pampa.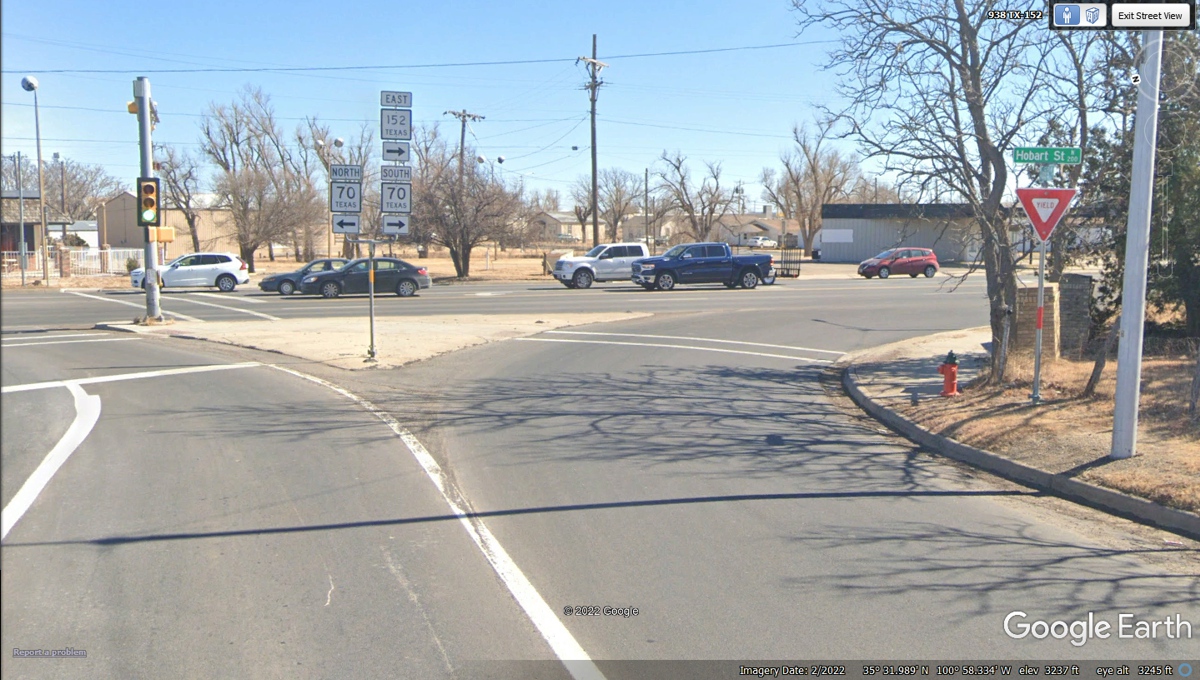 Texas 152 came south to this intersection with US 60, but the GPS is pointing us south on Texas route 70 for now. The GPS screen shows a bypass about one mile ahead that goes East to connect to another state route heading in our desired direction.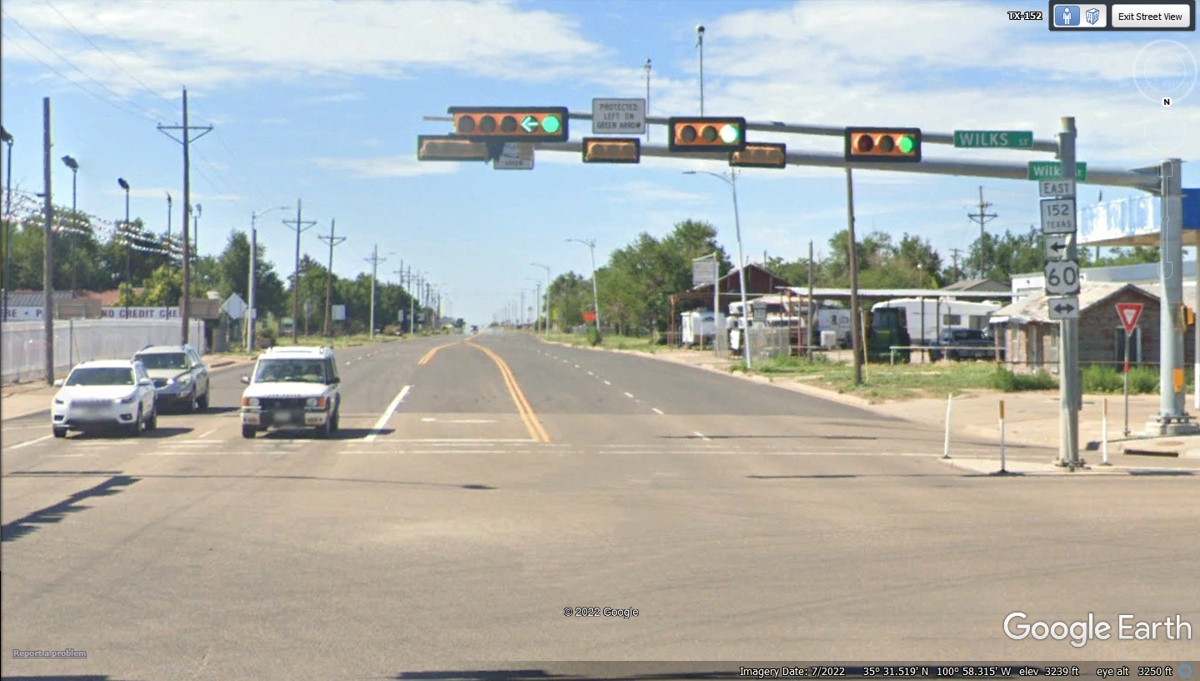 Texas 273 is our route departing Pampa, TX, going due East then south and East in steps toward our destination tonight, Shamrock, TX.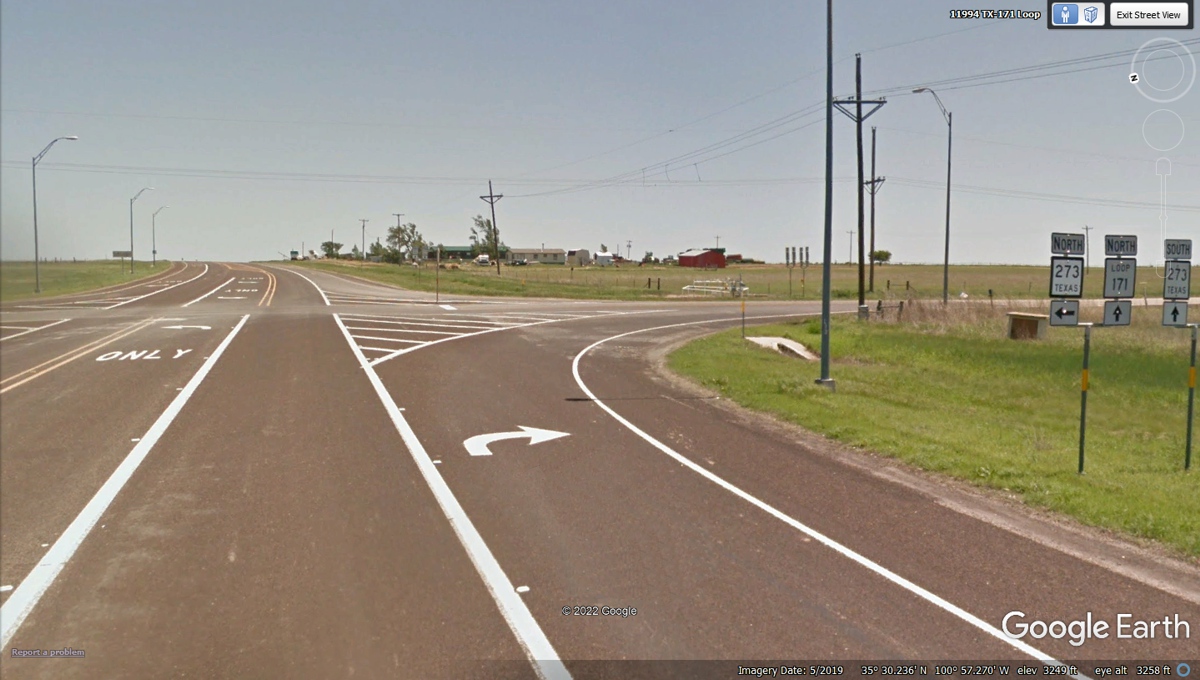 Texas route 273 comes to I-40 at a junction 21 miles west of our Motel in Shamrock Texas.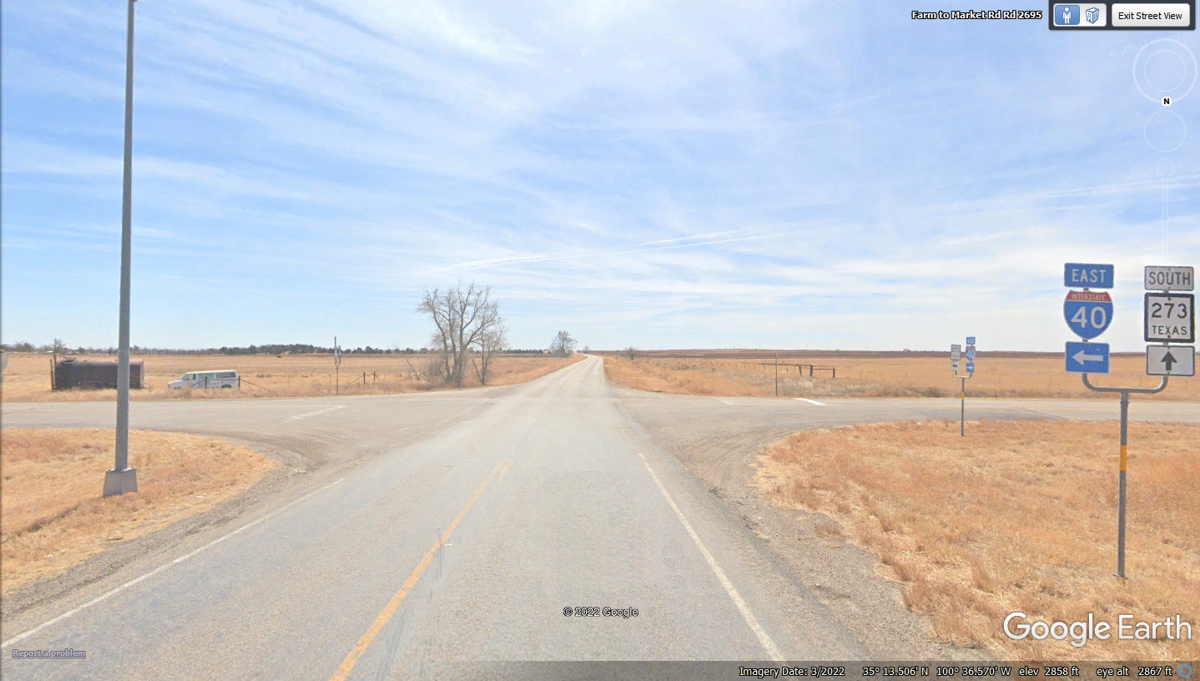 This mileage road sign is only 2 miles from where we got on to I-40. It gives us information all the way to Oklahoma City which will be tomorrow.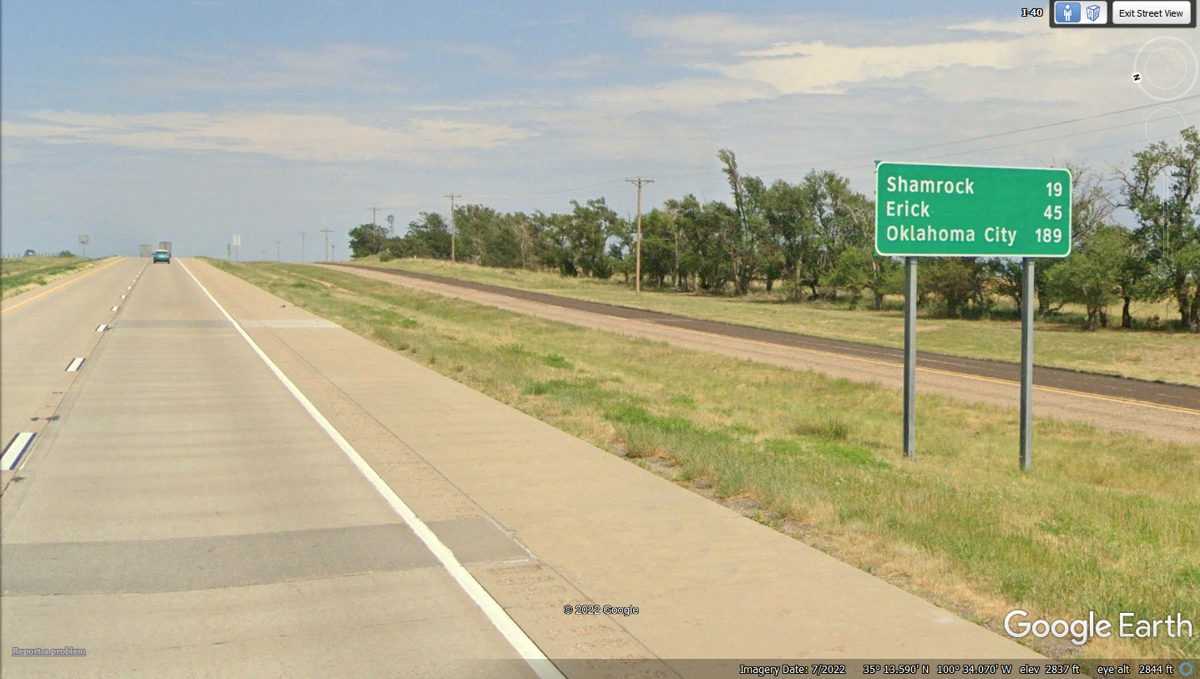 This frontage road was a part of old Route 66 in this part of Texas. Our motel for tonight is only 2 miles ahead.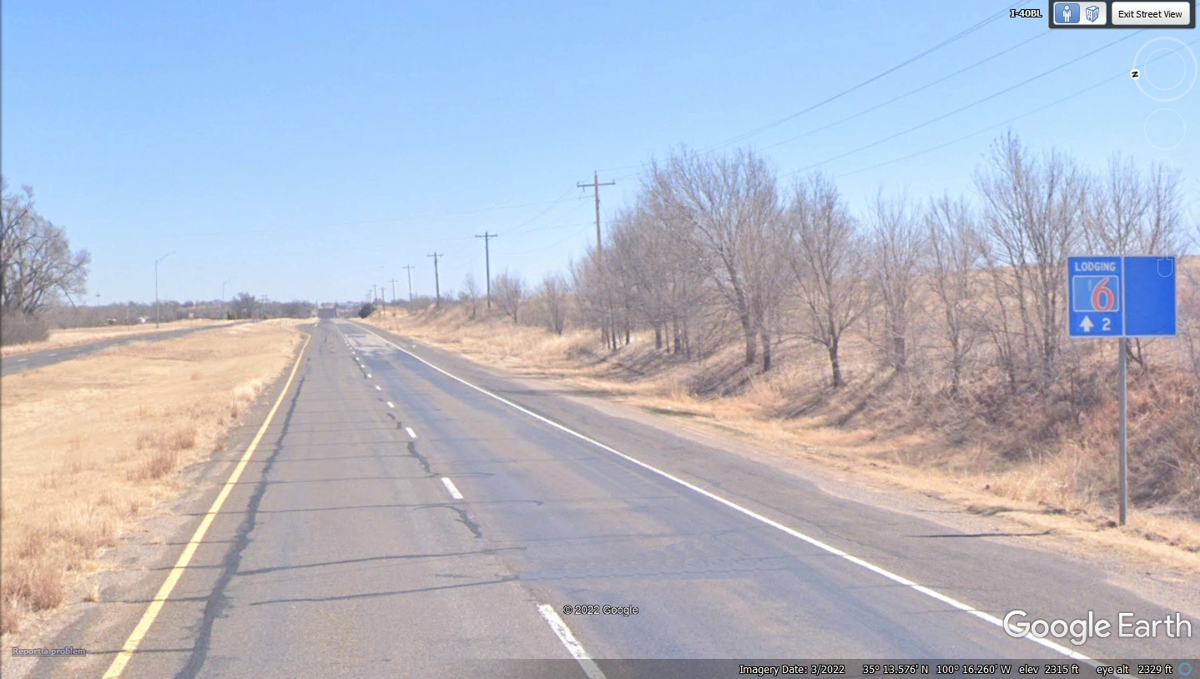 Here is the crossroad in Shamrock, Texas that only has flashing traffic lights and a stop sign.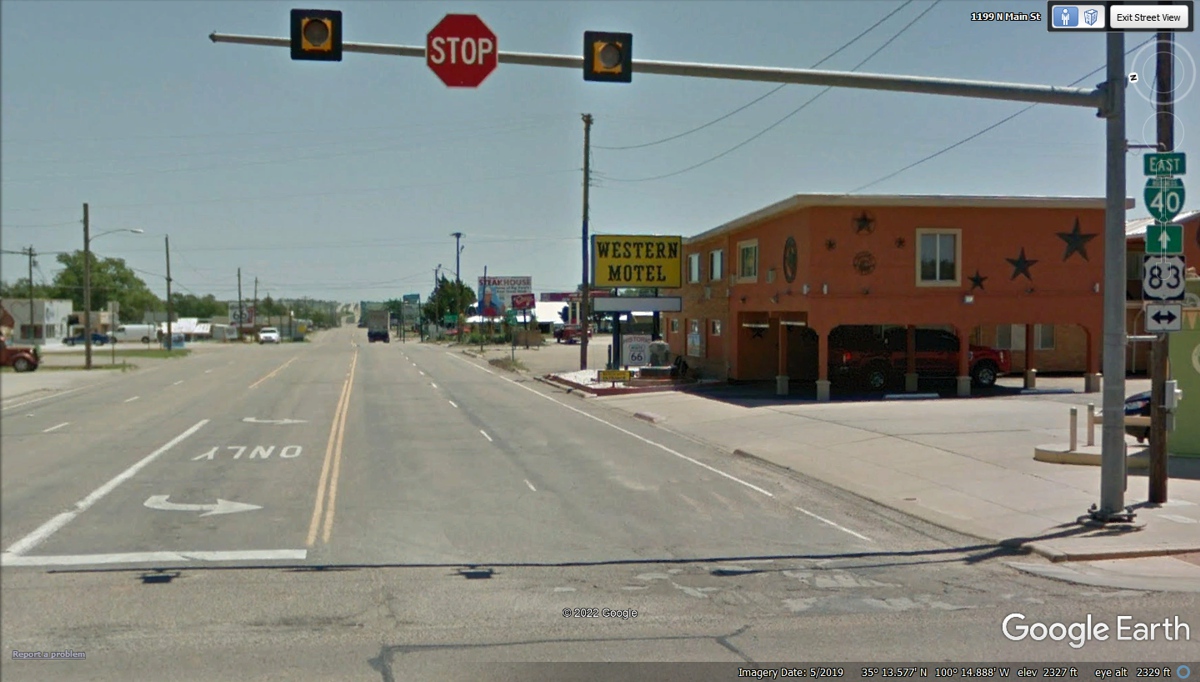 The lack of receipts until we reached our motel in Shamrock, Texas indicates the distance of 168.4 miles that can be covered when we have plenty of fuel and there are not many towns and traffic out in the open prairie of this part of Texas after dark. Yes, we got here well after sunset and it was DARK except for the lights on the motel property. We had room with a King bed and a refrigerator with a separate freezer up top. All of the water bottles were frozen solid by the time we checked out the next morning.