Southern Museum of Civil War & Locomotive History in Kennesaw, Georgia · · PAGE 6.

JULY 20, 2019: We arrived at 3:29 PM here in Kennesaw, Georgia to meet a piece of history On April 12, 1862, a real life drama of bravado and courage began just a few feet from this museum. The real locomotive "GENERAL" stolen by Union volunteer soldiers and civilian spies on that day in 1862 is displayed inside this building. They planned to sabotage the rail road bridges between Atlanta and Chattanooga.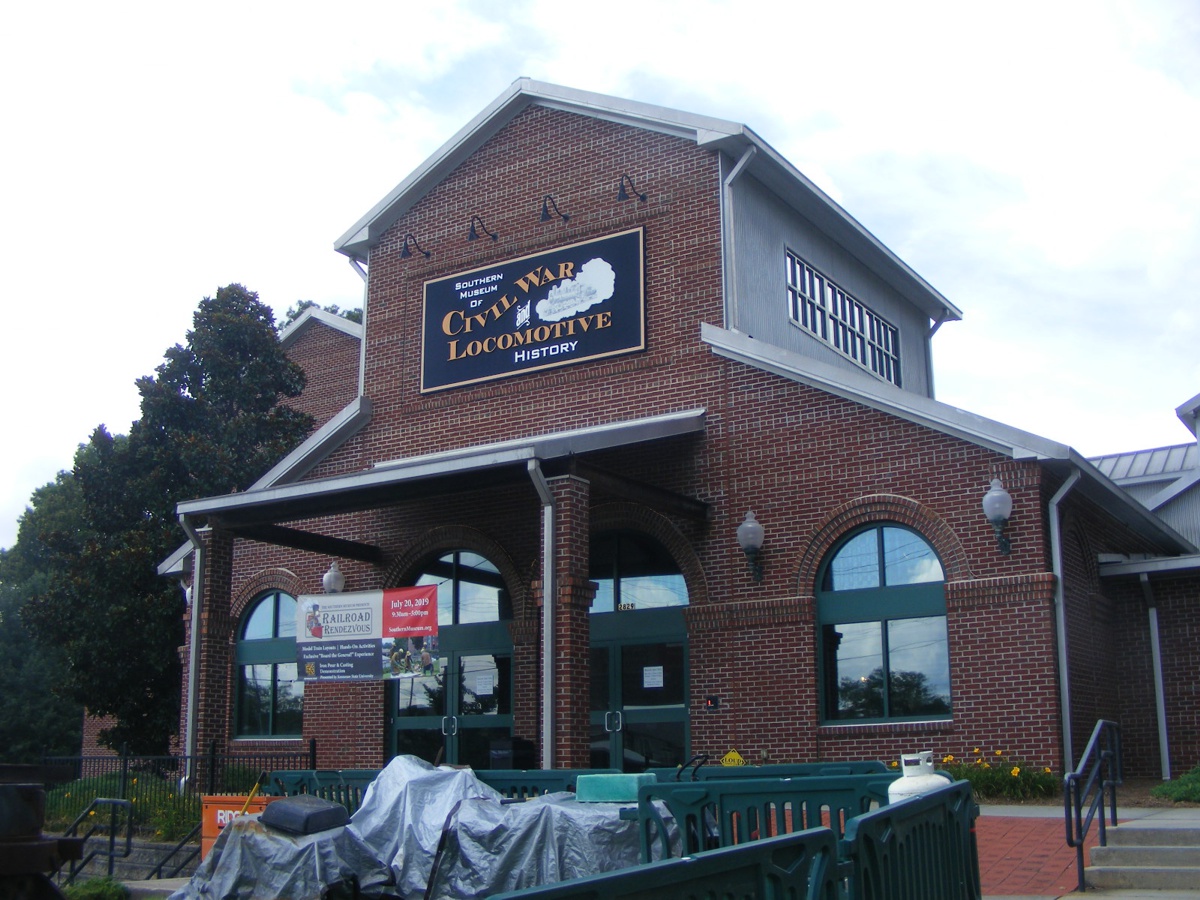 This is one of the museums affiliated with the Smithsonian Institution in Washington, DC.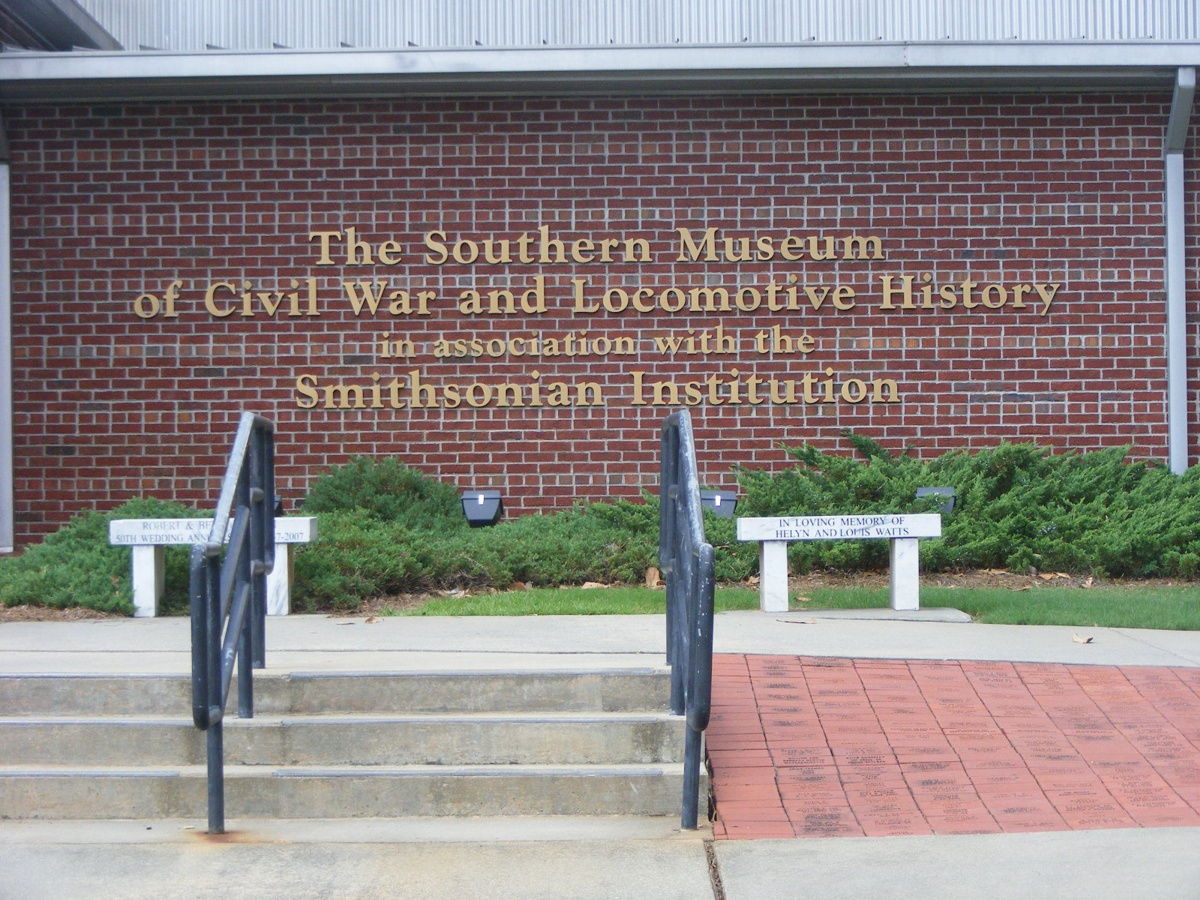 Walt Disney Studios made a movie in 1956 about the Andrews Raid. The movie was titled "Great Locomotive Chase" with details of the movie production found using this LINK to learn the back story to making the movie. Here is the one and only locomotive General. The story of the General began during the Civil War action known officially as the Andrews Raid, which if it had been successful, could have made that "War Between the States" a shorter conflagration. The last battle over this engine was in court over who owned this piece of history, the City of Chattanooga, or the State of Georgia. The case went all the way to the Supreme Court of the United States. The full history of this locomotive and how it eventually came to this museum is found on THIS WEB PAGE from Wikipedia.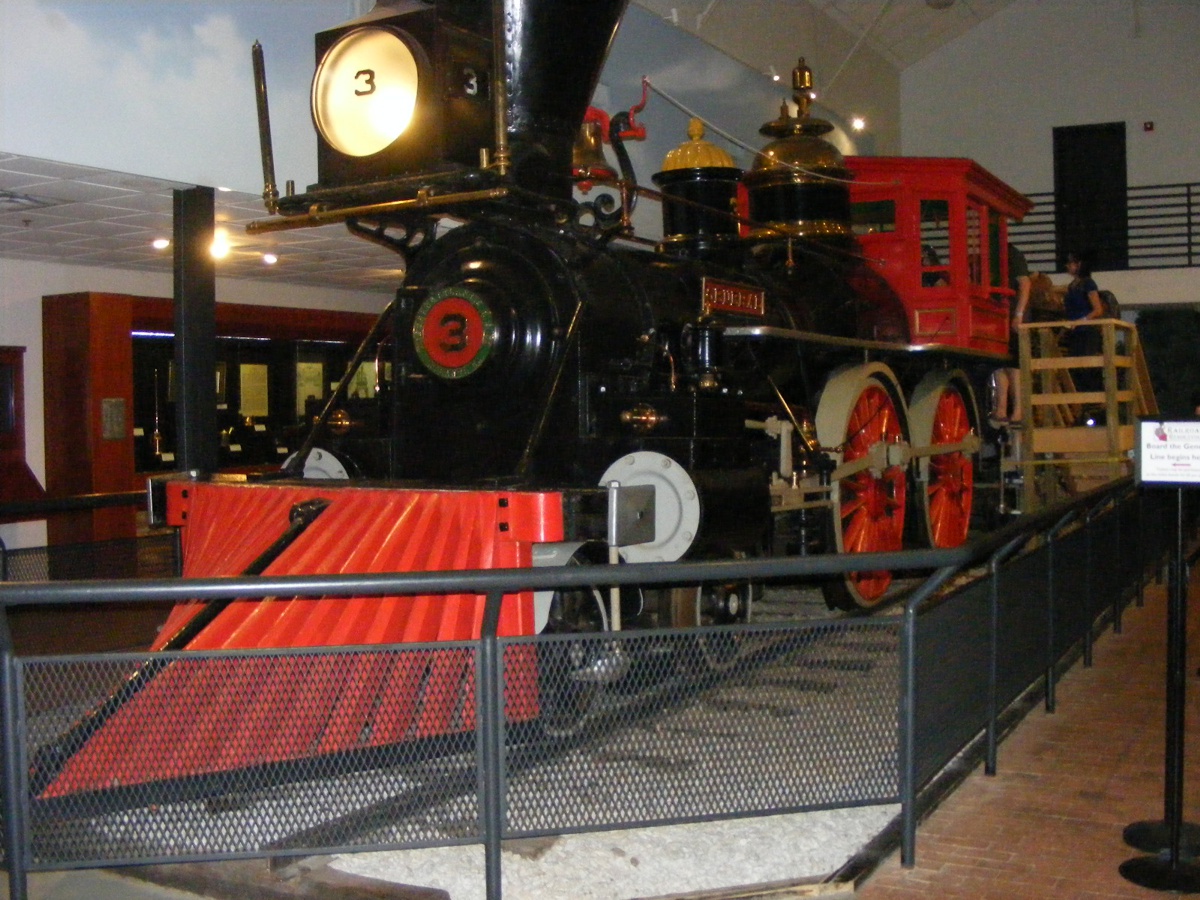 Those large driver wheels are 5 feet 10 inches tall and were originally set to run on rails that were FIVE FEET apart in the Confederate states. The engine has been rebuilt more than once in its history. I was first introduced to this locomotive in 1962, 100 years to the day after the Andrews Raid in April, 1862. The General stopped in Dalton, Georgia in 1962 and I was there that day. The driver wheels were re-spaced to run on American standard gauge railroad tracks that are 4 feet, 8 and one-half inches apart. The General and several old passenger coaches were used as a rolling museum from 1962 to 1965.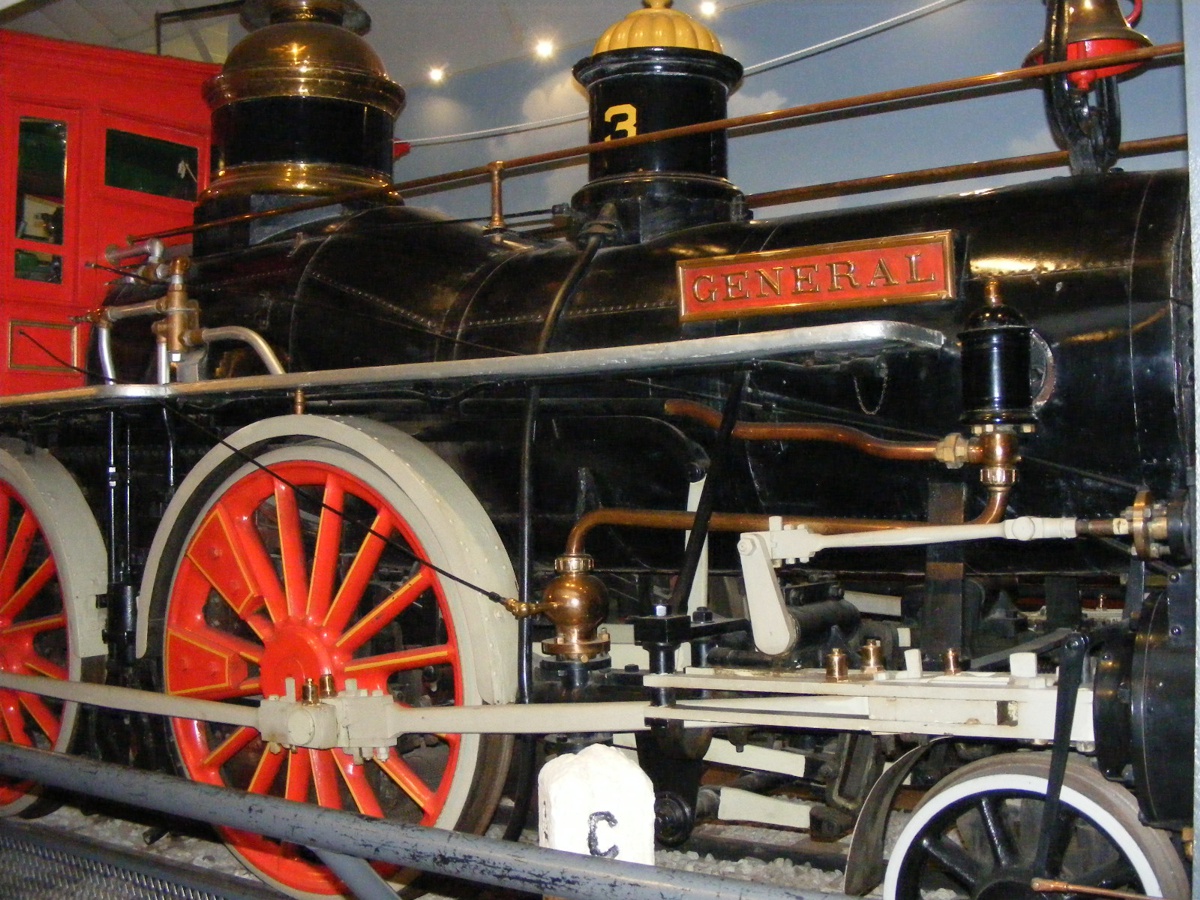 Linda also took pictures with her camera while we were in the museum.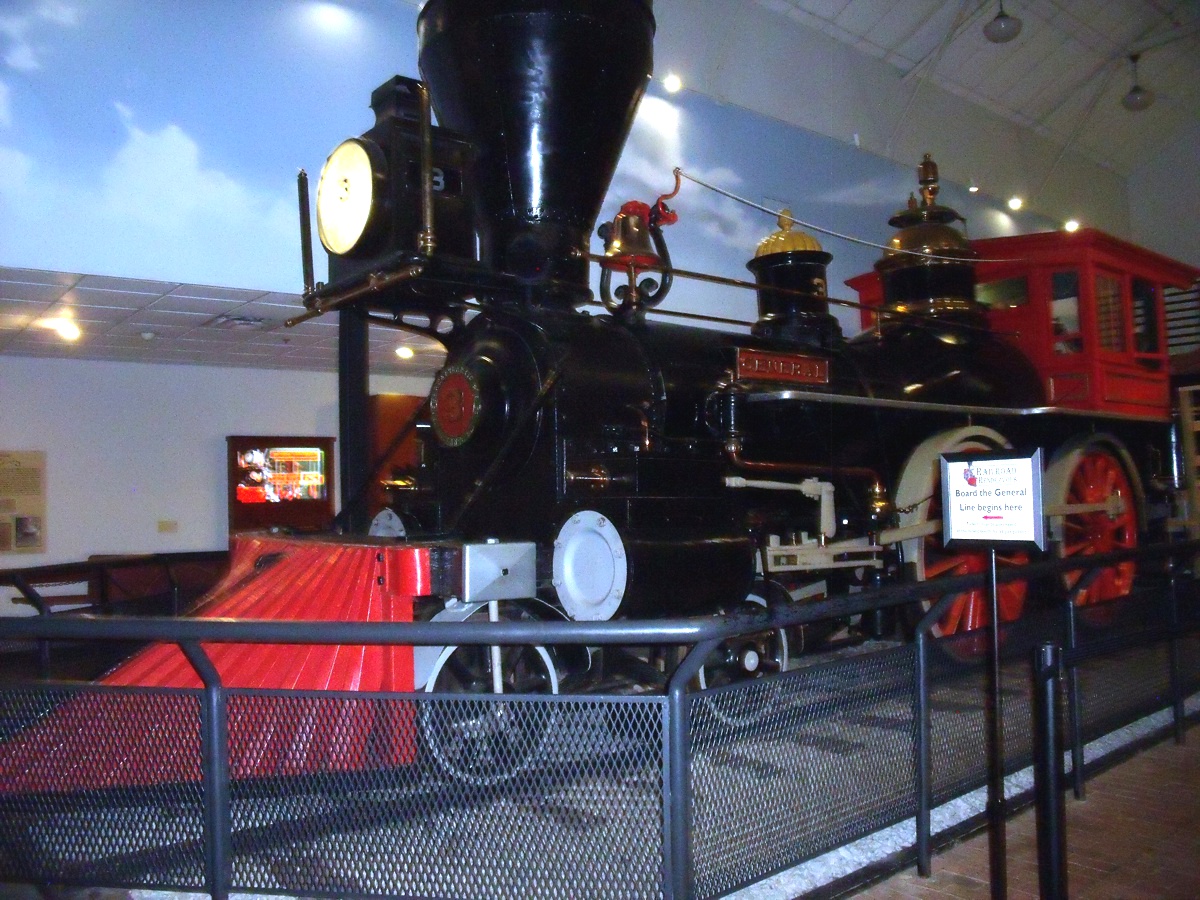 Her camera has a wider view than the camera I was using.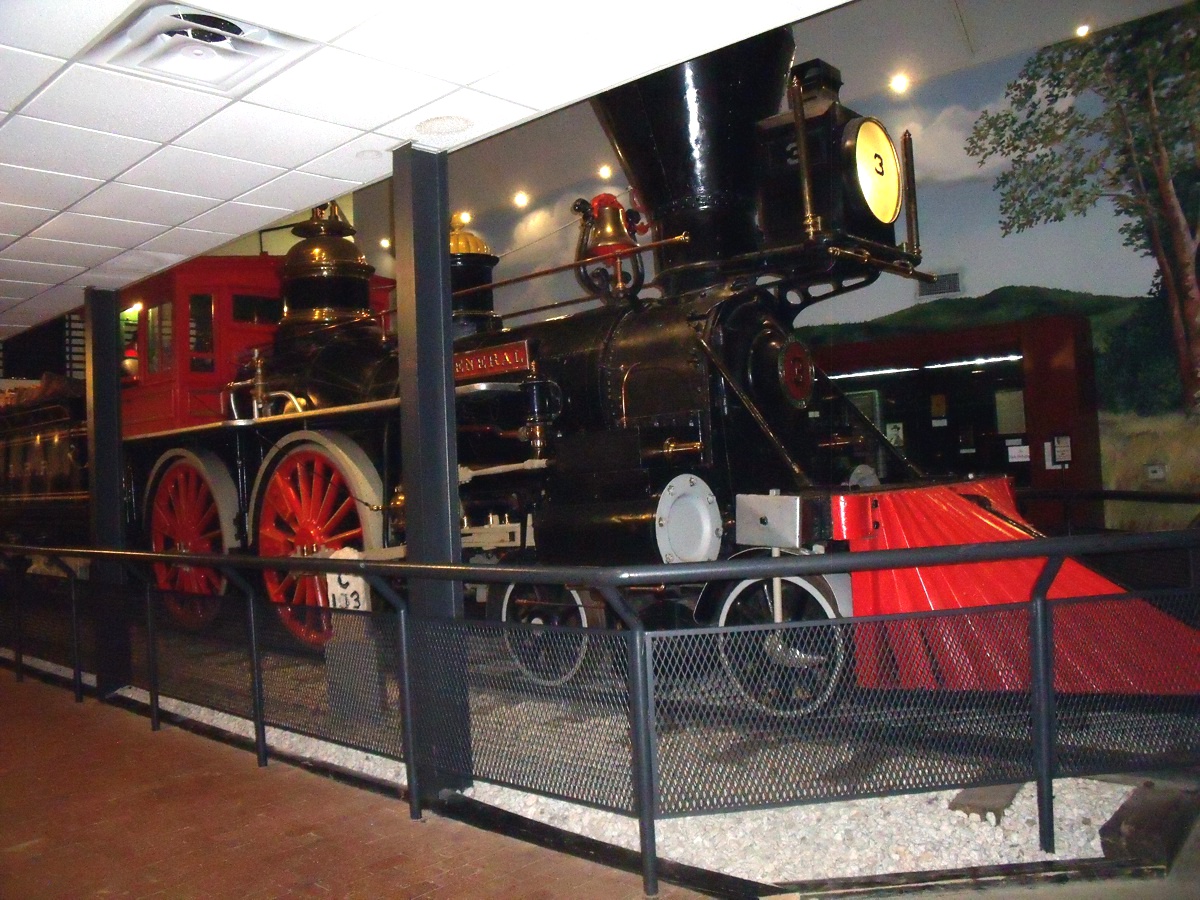 I have been to this museum in the past and wanted Linda to see what it is all about. She made sure to buy a ticket with access to the engine cab where I took photos from inside with my camera as you will see below.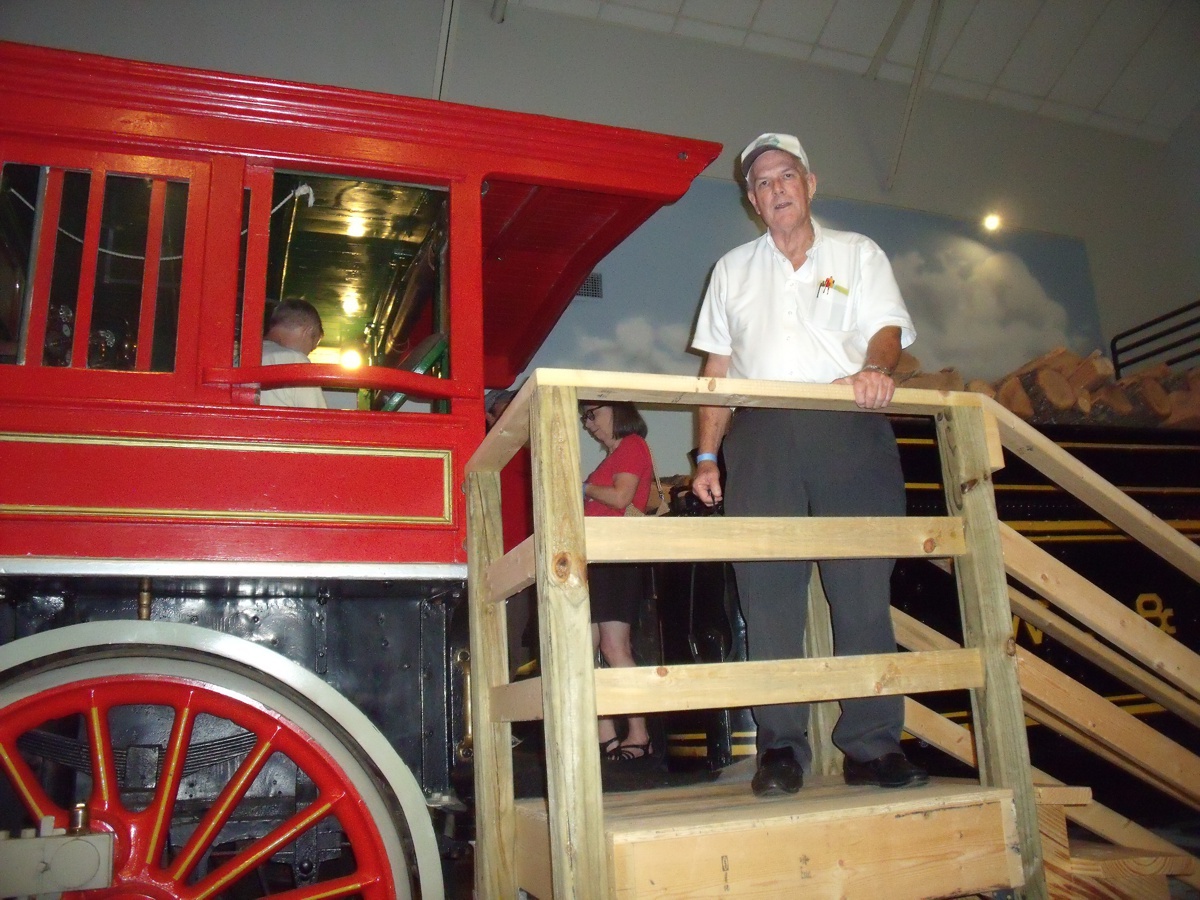 There were several people in the CAB when I was up there. They were kind enough to let me get these photos of the controls and gauges needed to operate a steam locomotive.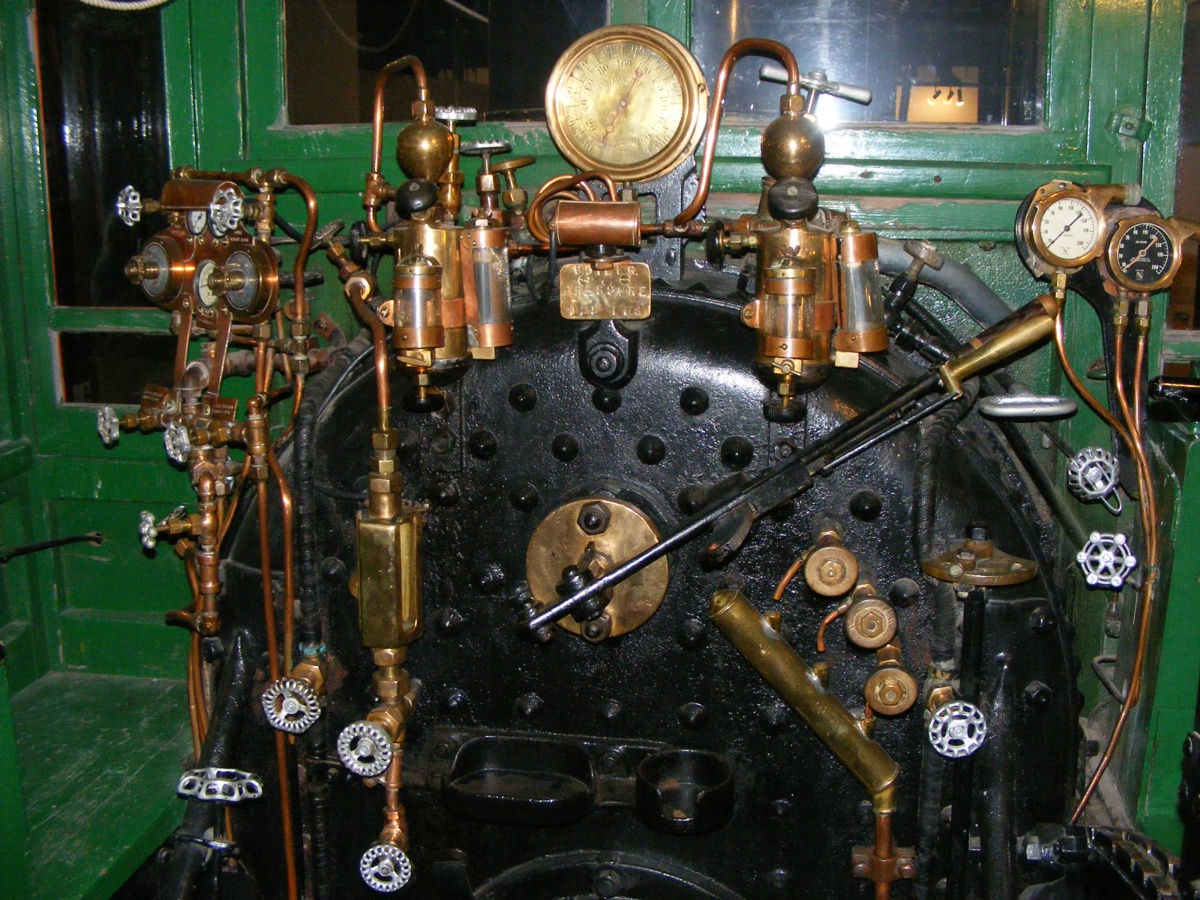 That silver door was for loading wood or coal as the engine was converted between those fuels during its exhibit life as described in the Wikipedia page about the GENERAL. The current configuration of the boiler is made to burn diesel fuel to generate steam to drive this locomotive.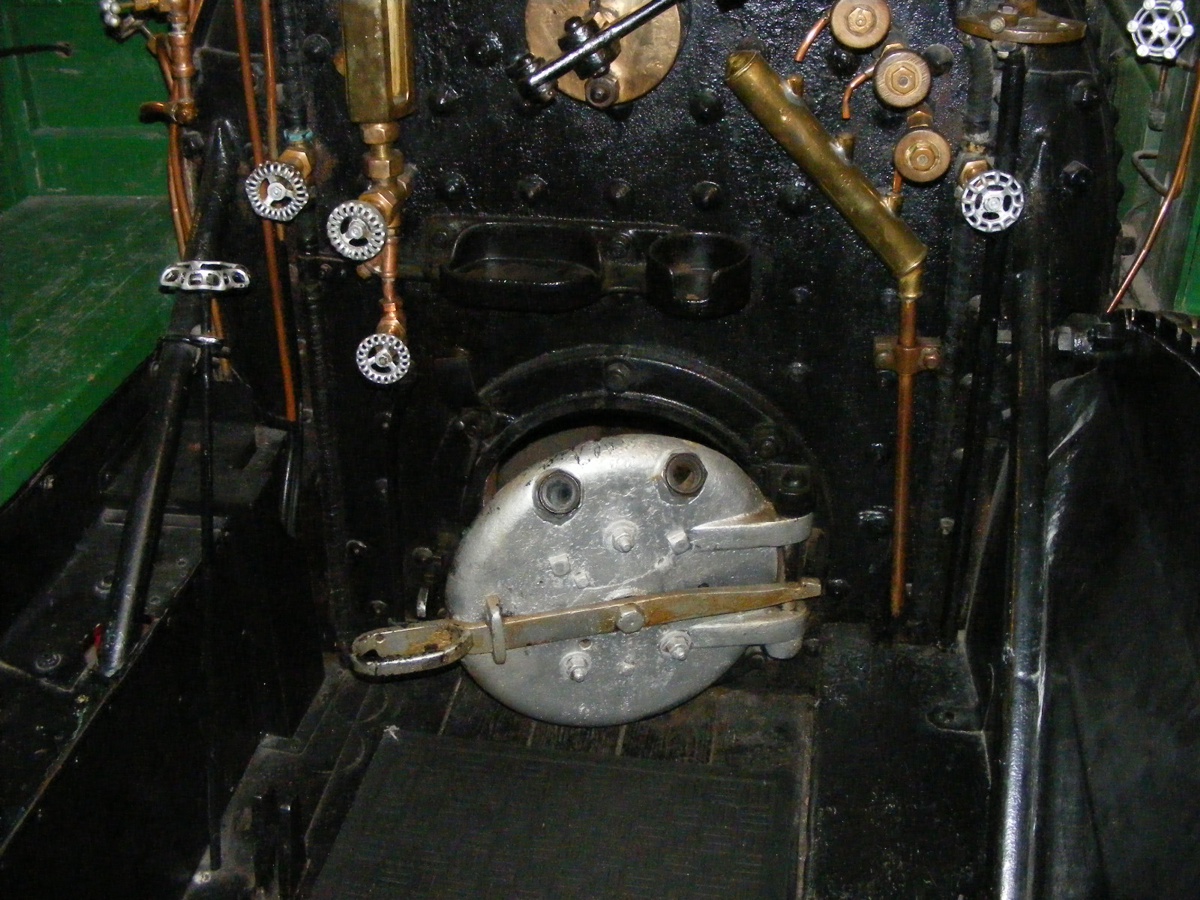 The engineer drives the train from this seat on the right side of the cab facing forward. That big lever is the throttle to feed steam to the big cylinders that drive the main wheels.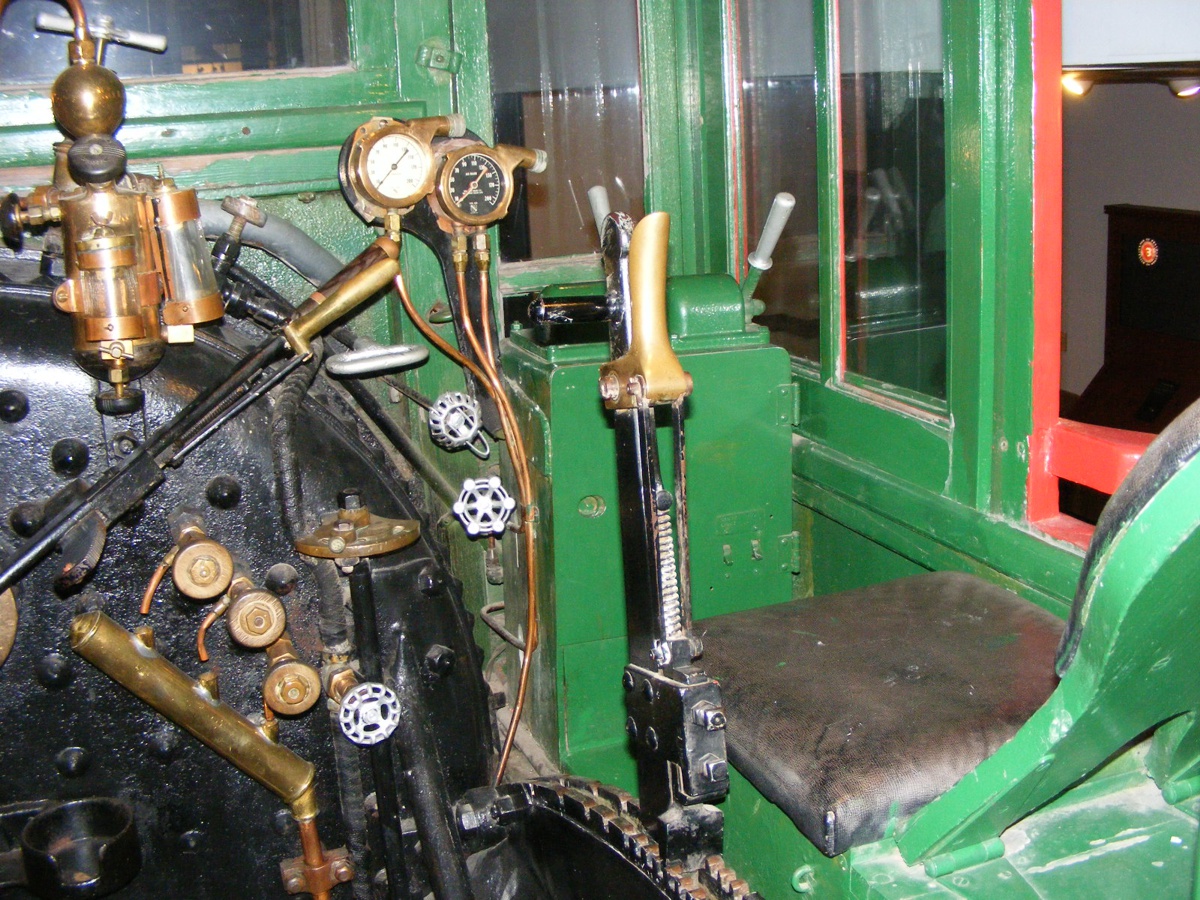 The fireman monitors the gauges and secondary controls from the LEFT seat and can also watch the track ahead for obstacles like cows or other animals. In the 1800's his job was to shovel coal or wood into the fire box under the boiler.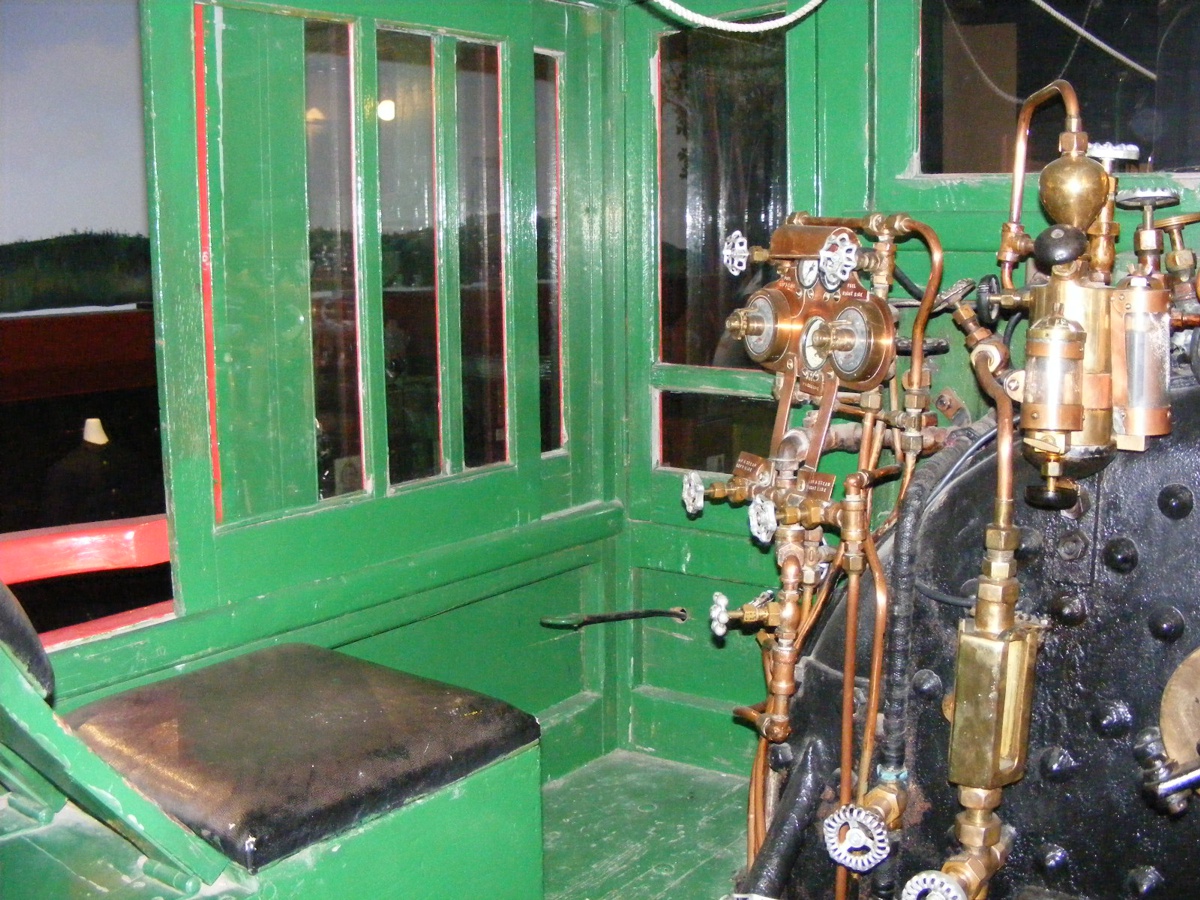 We departed the museum at 4:06 PM and went north on Interstate 75 up to visit my old friend Wendell Folks and his wife. We arrived at his home at 5:51 PM. After the introductions Wendell and I showed Linda where we built his RV-8 in the hangar and shop. Twenty minutes later, it was time to go for dinner at a steak house less than 10 miles from his home. Wendell and his wife Frieda always love to have good conversation with friends. We must have talked about 15 minutes out by the car before our departure. We entered Tennessee using Interstate 75 not long after leaving the steak house.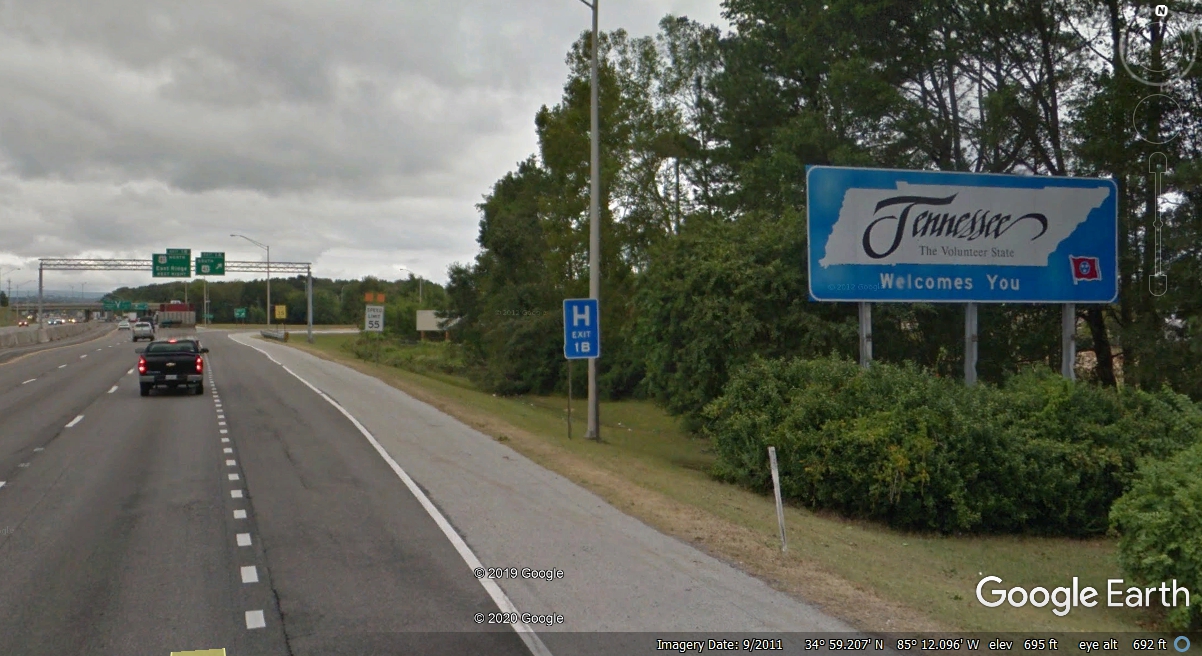 I drove over to my old town house where I built my airplane just to show Linda where I lived in East Ridge, Tennessee. You may recognize this photo from PAGE 1 of this web site.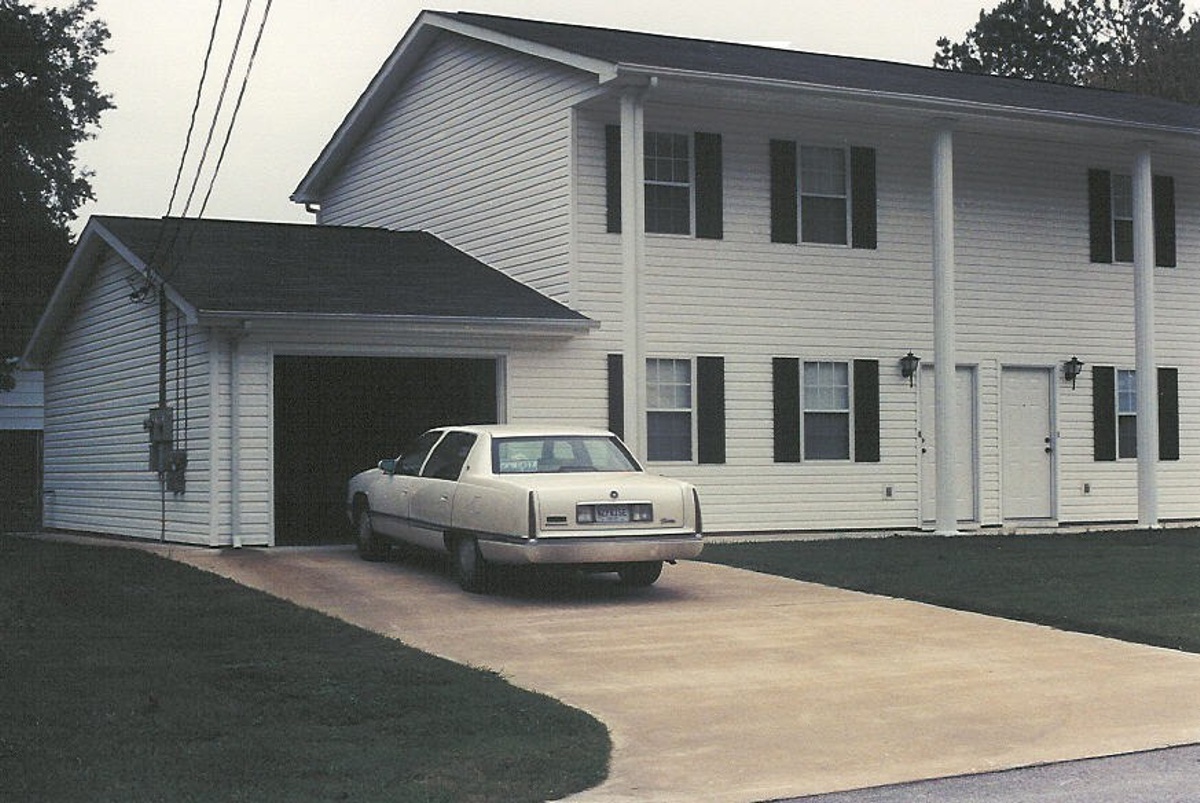 I had failed to turn on the GPS when we left the steak house. I made sure it was turned on when I got fuel at I-75 exit 1. This gas station has been the starting point of many of my road trips from 2001 to 2012. It is about one mile from where I lived in the town house in those days. That dark gray mountain on the horizon is Lookout Mountain that dominates the skyline of Chattanooga.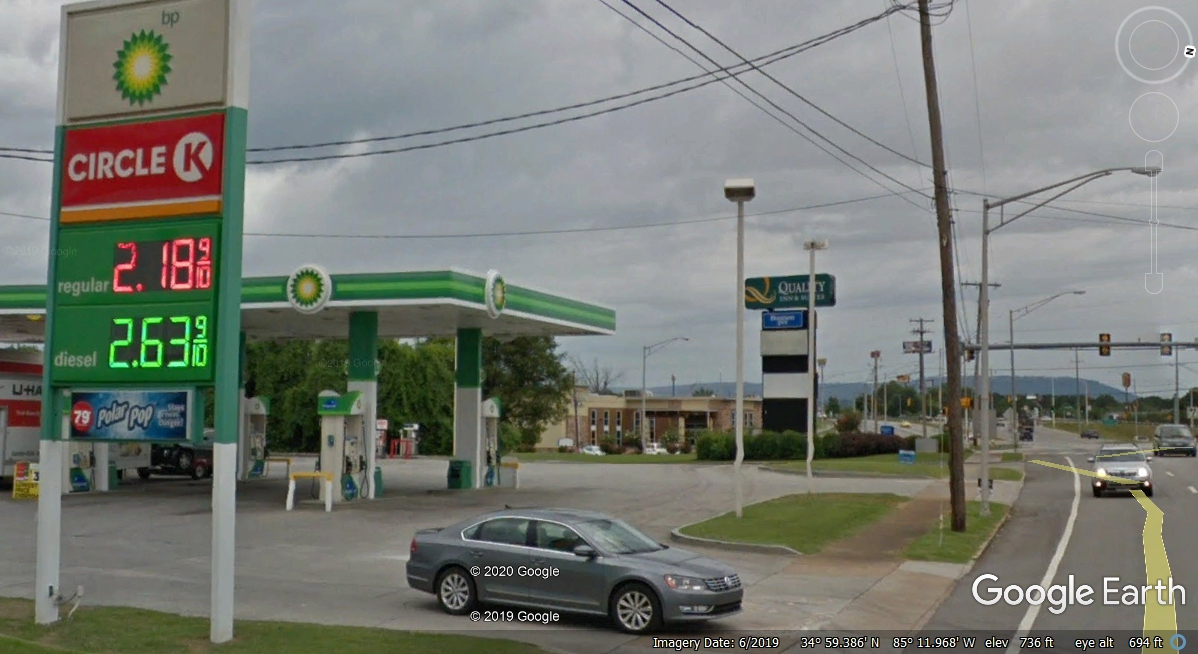 It was just after 8:35 PM when we got on I-75 for the one-mile ride up to the junction of Interstate highway 24 that goes through Chattanooga as the main route heading to Nashville and toward Saint Louis. It does not get dark here until around 9 PM in mid-summer. This Google Earth Image was taken near noon as evidenced by the shadows of the cars and trucks.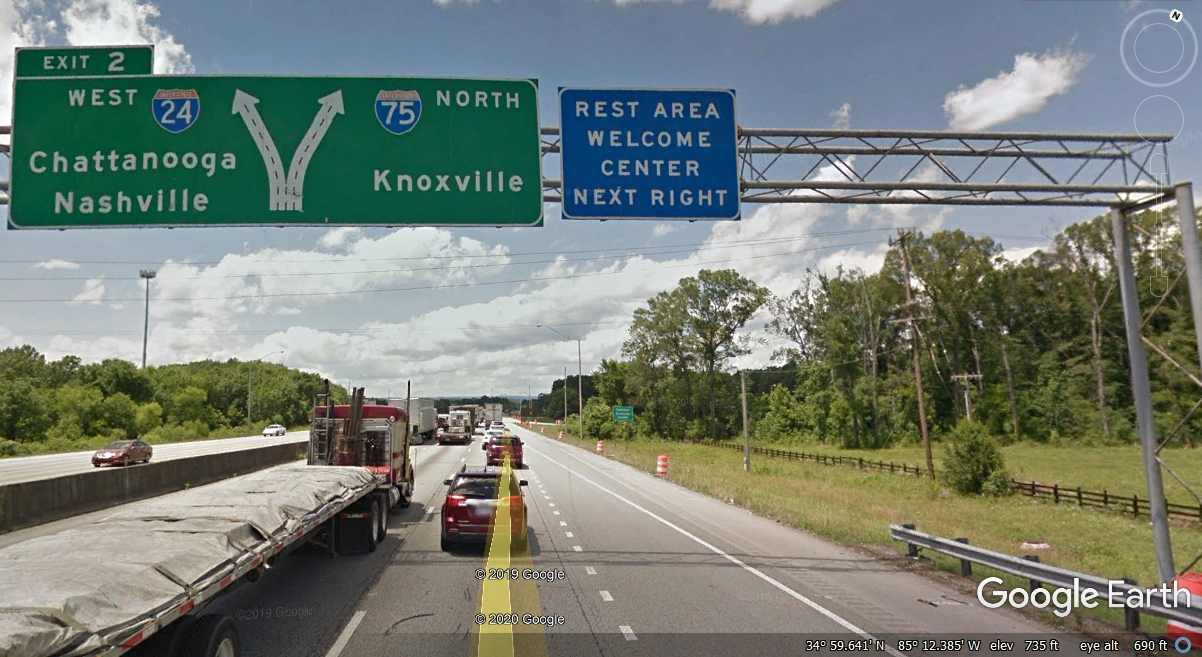 This view of Lookout Mountain from Interstate 24 was taken from the PASS over the ridge in June 2019, about one month before we made this trip.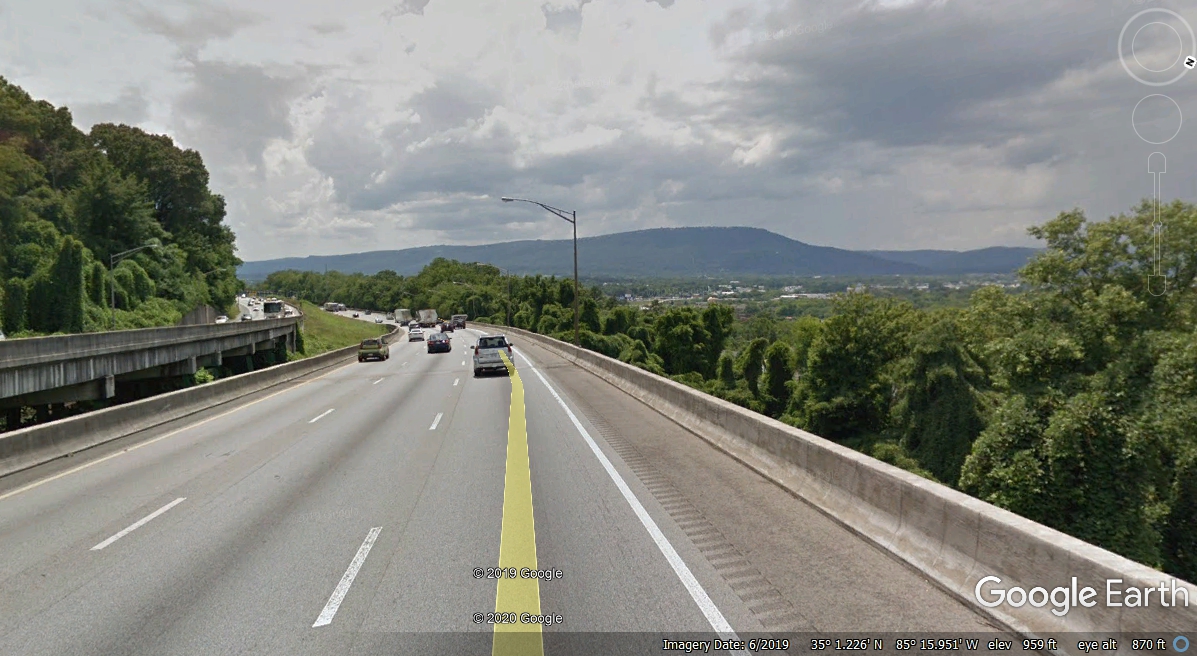 There was still some daylight left when I got off I-24 at 8:47 PM and drove on US 41 as it ran parallel with the Tennessee River over to the next exit where we could re-join I-24. We were about half way through this scenic drive on US 41 when we came to a road construction site with one lane of traffic open. Part of the other lane had suffered a land slide and was being repaired. We waited a few minutes for our turn to use the open lane going west on US 41. After that, it was just a few miles to the entrance ramp at mile 161 to get on I-24 at 9:08 PM. My GPS ground track information provides all the exact times of these events.
The interstate highways can be dull and boring, unless there is less than perfect weather. It was dark as we started up Monteagle Mountain with rain falling and some fog. I got off at exit 135 to check out a motel at top of the mountain at 9:35 PM. They only had one room left and it was a smoking room. Another couple came in when we were there and they also refused to take the room. It was 9:42 PM as we got back on the interstate highway where the elevation was 1,920 feet above sea level. I have been across this mountain many times. I convinced Linda the weather would be clear by the time we would get to the valley floor north of the mountain, and it was. The elevation there was below 1,100 feet which is the average in this part of Tennessee. We got a motel room at exit 114 and checked in at 10:03 PM.
Our second day of this vacation started at 8:33 AM when we left the hotel in Madison, Georgia to explore the town with its classic old homes and local downtown buildings around the town square and park. We left Madison at 10:55 AM via Interstate 20 heading toward Atlanta from exit 114. We got off at exit 74 at 11:35 AM heading toward Stone Mountain Park arriving at 12:21 PM. The GPS came on again at precisely 2:12:46 PM which meant we stayed in the park 2 hours and 37 minutes. We drove to Southern Tech, my old college campus in Marietta, Georgia. We drove around on campus from 2:50 PM until 2:59 PM to see how much has changed since 1968 when I graduated with my degree in electrical engineering. We drove through the town of Marietta and used the original US 41 highway through Kennesaw Mountain Battlefield National Park to the museum housing the locomotive "General" as seen on this page. The distance traveled today was about 288 miles on a day that was 13 hours 30 minutes of activities and travel.
Here where we stayed on the second night of our first vacation together on a road I have driven many times of the years. Tomorrow, we visit the Jack Daniels distillery in Lynchburg, Tennessee not far from this location just off Interstate 24 at Manchester, Tennessee.